Rainbows and washi tape are two things I get super giddy about. We've combined the two of them together today to make this rainbow washi tape craft that is perfect for a spring kids craft. You can create it as a stand alone rainbow craft or make your washi tape rainbow into a darling rainbow greeting card that will put a big smile on someone's face. Grab some colorful washi tape and get ready to make this simple and cheery rainbow washi tape craft!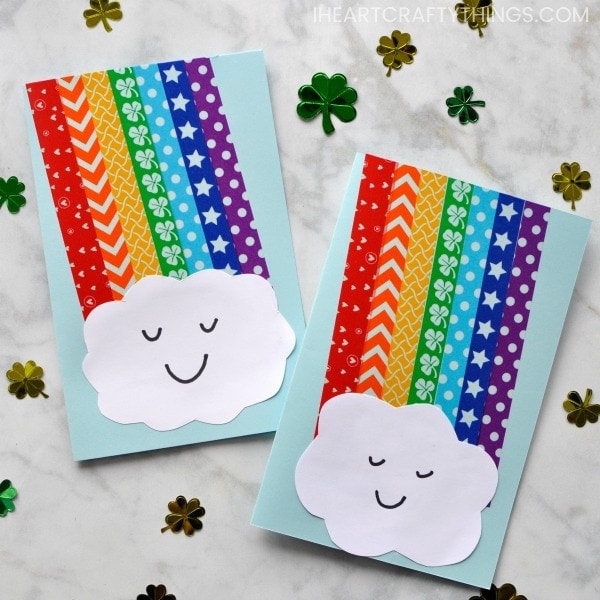 How to Make a Rainbow Washi Tape Craft
This post contains affiliate links to the products mentioned. I Heart Crafty Things is a participant in the Amazon Services LLC Associates Program, an affiliate advertising program designed to provide a means for sites to earn advertising fees by advertising and linking to amazon.com.
Supplies:
Washi Tape Rainbow Craft Instructions:
1. Begin by folding your light blue cardstock in half to make a card. If you don't want to make your washi tape rainbow into a card, simply cut your blue cardstock in half.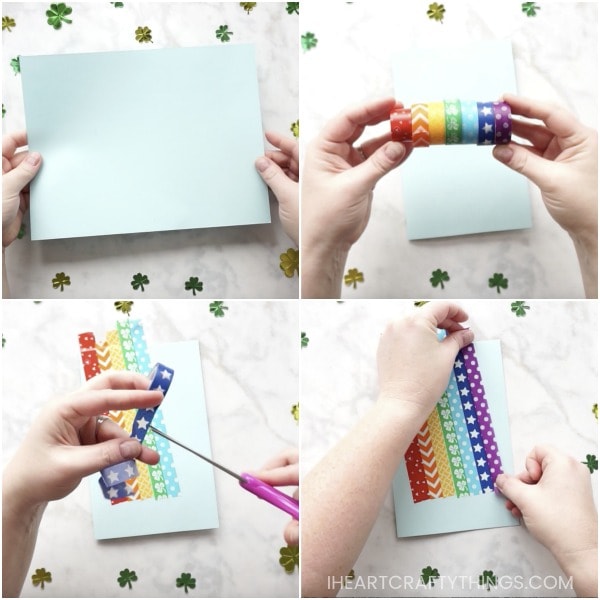 2. Grab your red washi tape. Cut off a section about 3/4 length of the card and then place it down next to the left side of your card. Don't worry if some hangs off the top at this point. Then continue cutting and adding each color of your washi tape to create a rainbow.
3. Use your scissors to cut off any extra washi tape hanging off the top of your rainbow card.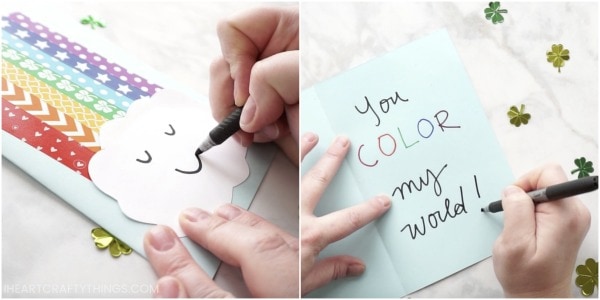 4. Cut out a cloud from your white cardstock. Glue it at the bottom of your washi tape rainbow. Then use a marker to draw a cute smiley face on your cloud.
5. Open up your rainbow washi tape craft and write a happy message on the inside of the card like "You color my world!" or "You make gray skies blue."
Your rainbow washi tape craft is complete!
Looking for more fun washi tape crafts?
These colorful washi tape hot air balloons make a fun spring kids craft.
Use washi tape to create a slithery, slinky snake craft.
This simple washi tape shamrock craft is a fabulous fine motor craft for toddlers.
If you are looking for more rainbow inspiration, you might enjoy these darling rainbow corner bookmarks from our friend at Red Ted Art.