This fun space shuttle paper craft is a great summer craft for kids or for school to accompany a solar system unit. The space shuttle wing popping off the page gives this paper craft a fun 3D effect to it. The finished space shuttle craft would look great up on display on a classroom bulletin board for an end of the year theme with the saying "Blasting off into 2nd grade" or the beginning of the year with "Blast off into a new year" or "3-2-1 Blast off into a Learning Adventure".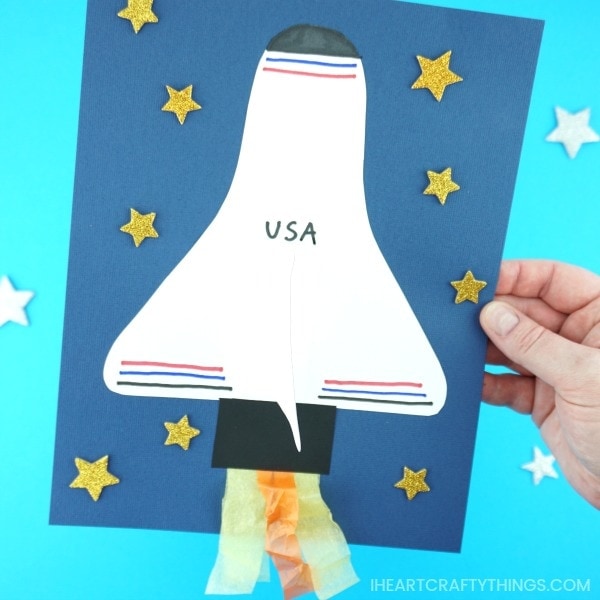 How to Make a Space Shuttle Paper Craft
This post contains affiliate links to the products mentioned. I Heart Crafty Things is a participant in the Amazon Services LLC Associates Program, an affiliate advertising program designed to provide a means for sites to earn advertising fees by advertising and linking to amazon.com.
Supplies needed to make a space shuttle craft:

NOTE: If you are in the EU, please visit our TpT Store to purchase any of our templates.
Instructions for making this paper craft:
1. Start by cutting out the pieces of the space shuttle paper craft template. Use the rectangle shape of the template to cut out a rectangle from your black cardstock or construction paper (or you can color the rectangle black with crayons).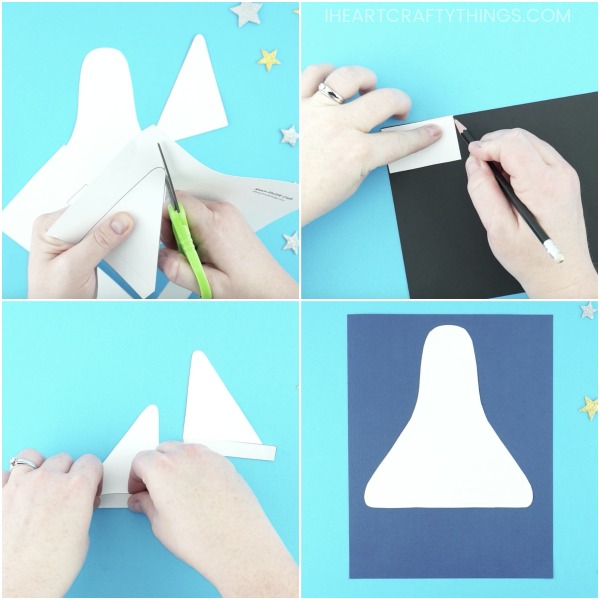 2.Fold the bottom flap of both of the wings up along the dotted line. Align the two wings and glue them together with the flaps on the outside of the wings.
3.Glue the space shuttle onto the top of your dark blue cardstock or construction paper.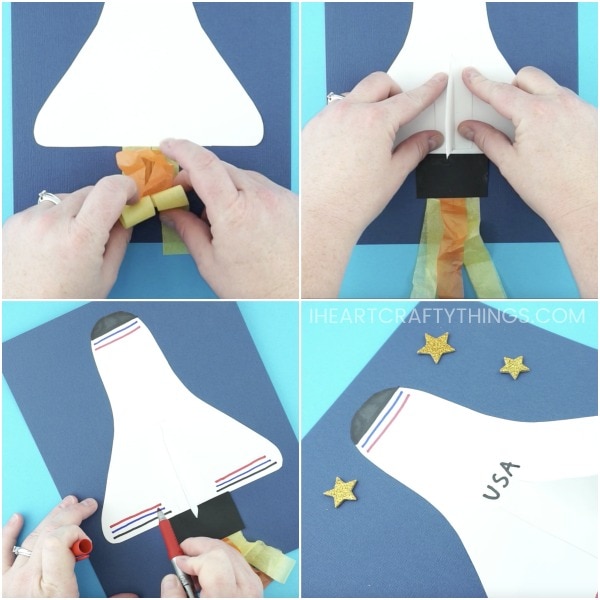 4.Cut out small strips of yellow and orange tissue paper and glue them at the bottom of your space shuttle.
5.Glue the black rectangle at the bottom of the space shuttle. Then add glue to the bottom of the flaps on the wings and glue the wing at the bottom of the space shuttle.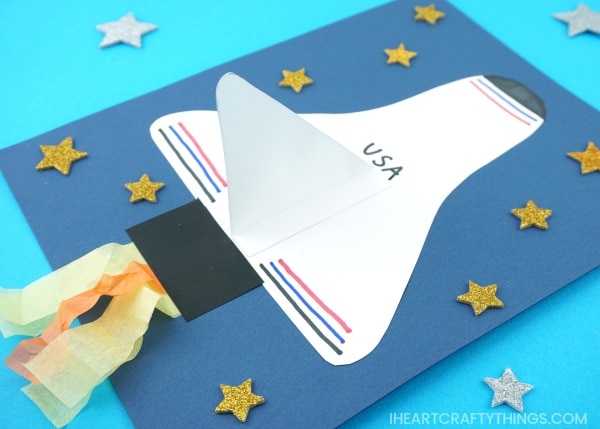 6.Use markers or crayons to decorate your space shuttle.
7.Finish your space shuttle paper craft by gluing star stickers on your dark blue paper. As an alternative you can use a white or yellow crayon to draw on stars.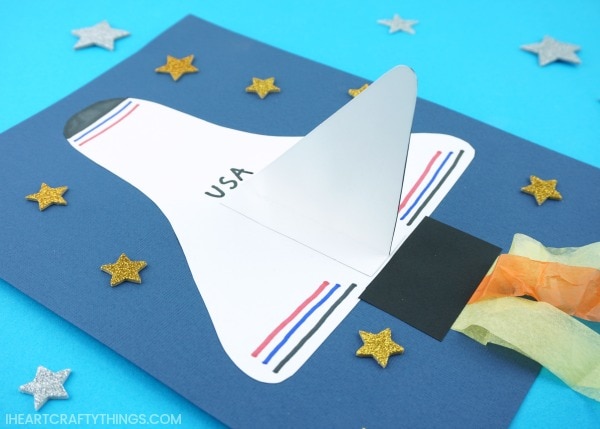 More Awesome Space Crafts for Kids
This black glue galaxy craft is gorgeous and makes a colorful and gorgeous summer art project for kids.
The texture in this Eric Carle inspired moon art project creates a fun sensory experience for children. It makes a great book-inspired craft.
Here's another solar system craft that even young children can enjoy creating. The unique way of creating speckled stars around the paper with a toothbrush is so much fun for kids.
Looking for more ideas for a preschool space theme? Check out these fun preschool space crafts and activities!