This 3D Spring paper tree craft is a great way to celebrate the beginning of the spring season. The beautiful light and dark pink colors mixed with the green is reminiscent of pretty cherry blossom trees that come to life every spring. If you are excited for the beautiful colors of spring to make their appearance next month, grab some colorful cardstock and have fun creating this gorgeous 3D spring paper tree craft today!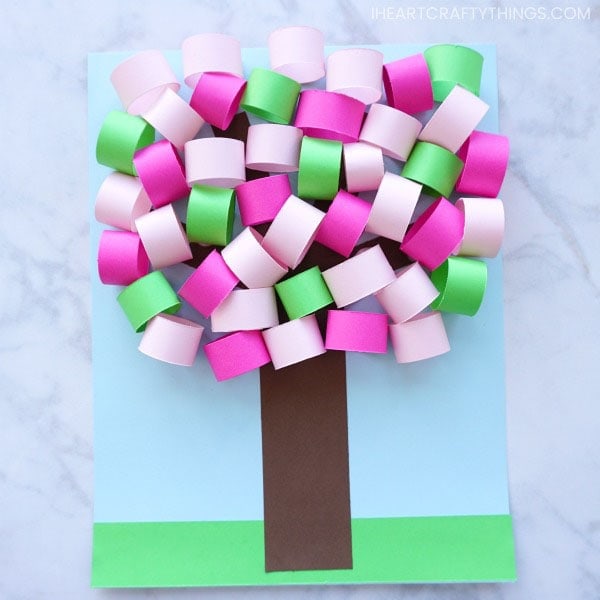 How to Make a 3D Spring Paper Tree Craft
This post contains affiliate links to the products mentioned. I Heart Crafty Things is a participant in the Amazon Services LLC Associates Program, an affiliate advertising program designed to provide a means for sites to earn advertising fees by advertising and linking to amazon.com.
Supplies:
Spring Paper Tree Craft Instructions:
1. Cut out a rectangle from your light green cardstock for grass. Glue it onto the bottom of your light blue cardstock. Then cut out a tree trunk and branches from your brown cardstock and glue them onto your light blue cardstock.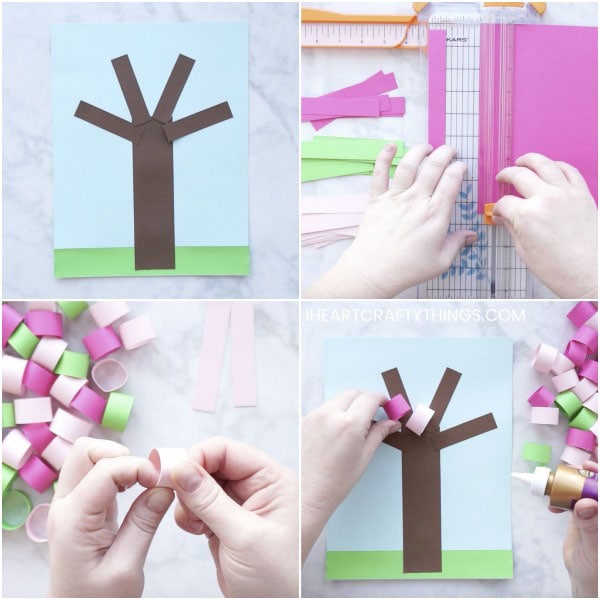 2. Use a paper cutter to cut out strips of pink, dark pink and light green cardstock that are 3/4-inch by 4 1/4-inches. You'll need anywhere from 40-50 of these paper strips.
3. Use your glue stick to add some glue to the end of a paper strip and then fold it into a circle, gluing the two ends together. Continue folding and gluing all of the paper strips into circles.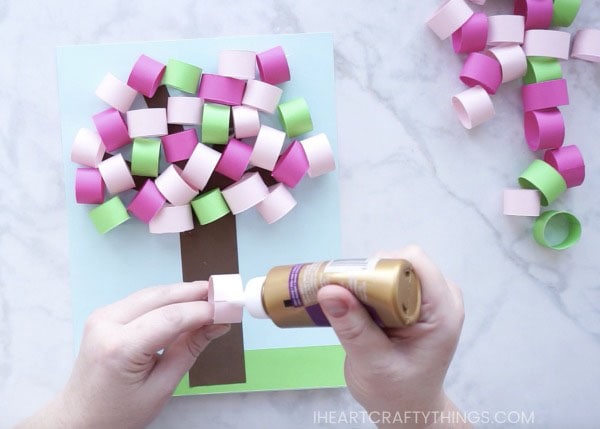 4. Add a dot of Tacky Glue onto the bottom of a paper circle and then glue it onto the branches of your spring tree. Continue adding glue to each paper circle and then glue them around all of the branches of the spring paper tree craft.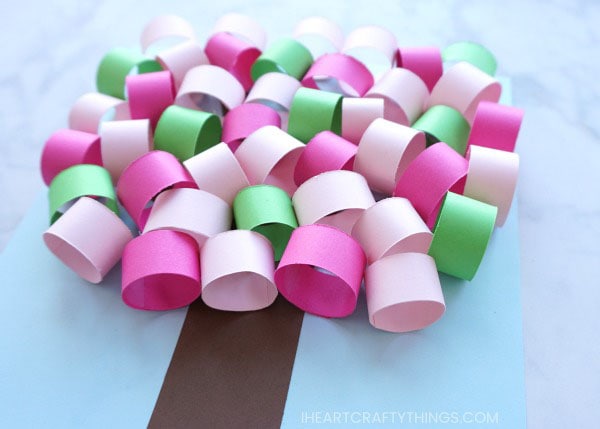 5. Once you have filled up your spring paper tree craft with paper circles, allow the glue to dry completely.
Your spring paper tree craft is complete!
The pretty mixture of pinks and green popping off the page is a lovely reminder of how gorgeous the colors of spring are. Hang up your beautiful paper tree craft for everyone to enjoy all season long.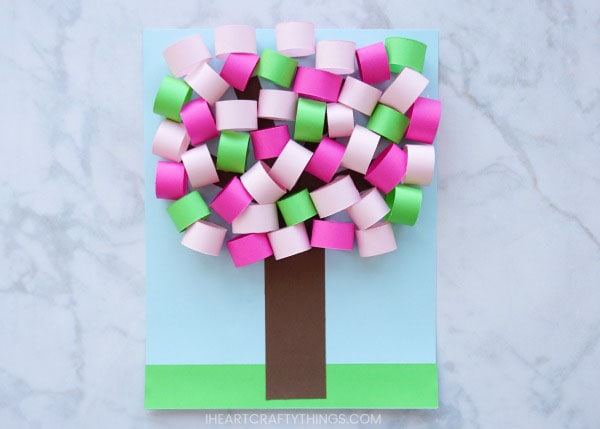 Looking for more fun spring crafts?
These gorgeous 3D Paper Tulips are a perfect craft for celebrating the spring season. The free template makes prep time a breeze.
Cheer up someone's day with this simple washi tape rainbow card this spring!
This black glue and watercolor butterfly art project is another gorgeous craft kids will love making.