Are you ready for spring time rain showers and beautiful spring flowers? I sure am! This cupcake liner daffodil craft is super easy for kids to create this spring as a simple flower craft. 
Yellow is my favorite color so it's no surprise how much I love when my daffodils pop up every spring in my front yard. I have several patches of them because they are one of my favorite spring flowers.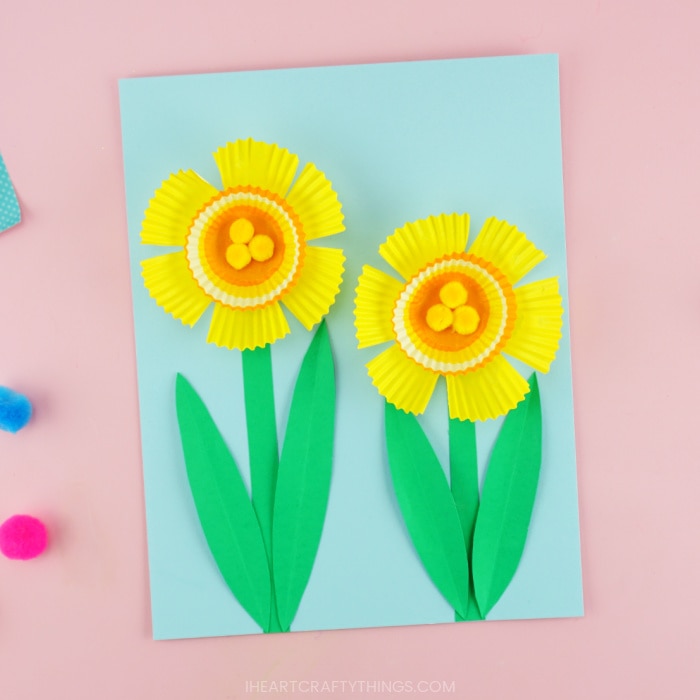 If you are looking for a fun way to craft up some daffodils this spring season, look no further! This daffodil craft we are sharing today is easy peasy to make, and it looks stunning hung up on display for the spring season.
All you need to make this easy spring flower craft is some yellow cupcake liners, cardstock paper and small yellow pom-poms. Get ready for loads of fun making these bright and colorful daffodil flowers.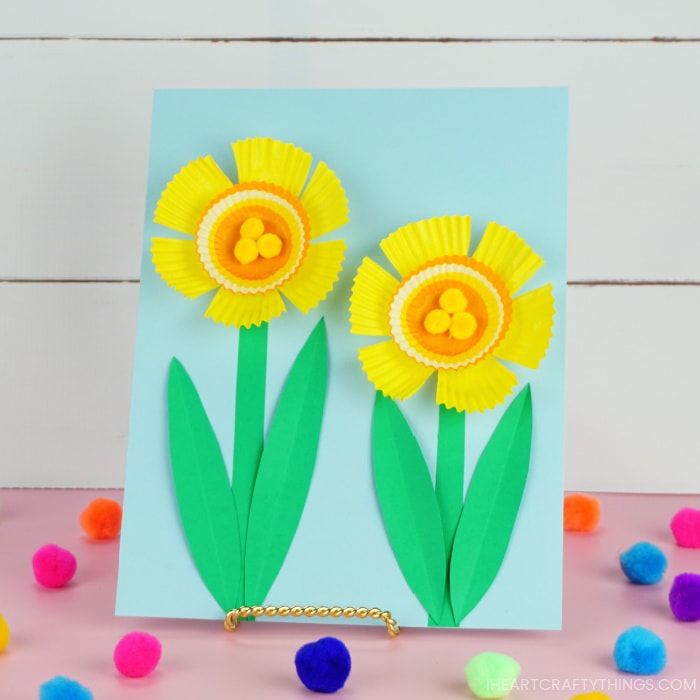 How to Make a Cupcake Liner Daffodil Craft
The three-dimensional look of the cupcake liner flower petals and green leaves popping off the page makes this flower craft a show stopper. These pretty paper flowers are guaranteed to look stunning hung in the classroom or at home during the spring season.
Read our step-by-step tutorial below for how to create your own easy daffodil paper craft. We also have a video tutorial inside this post you will find helpful before you get started on your craft project.
Supplies needed for your Daffodil Craft:
This post may contain affiliate links to the products mentioned. Read our disclosure policy for more information.
Instructions for making your cupcake liner daffodils
1. Open up and flatted out your yellow cupcake liners. Using your scissors, cut six slits around the perimeter of each cupcake liner to create daffodil flower petals. Make sure to stop each of your cuts when they reach the inside circle of the cupcake liner.
2. Cut a stem out for each of your flowers from a green piece of cardstock paper.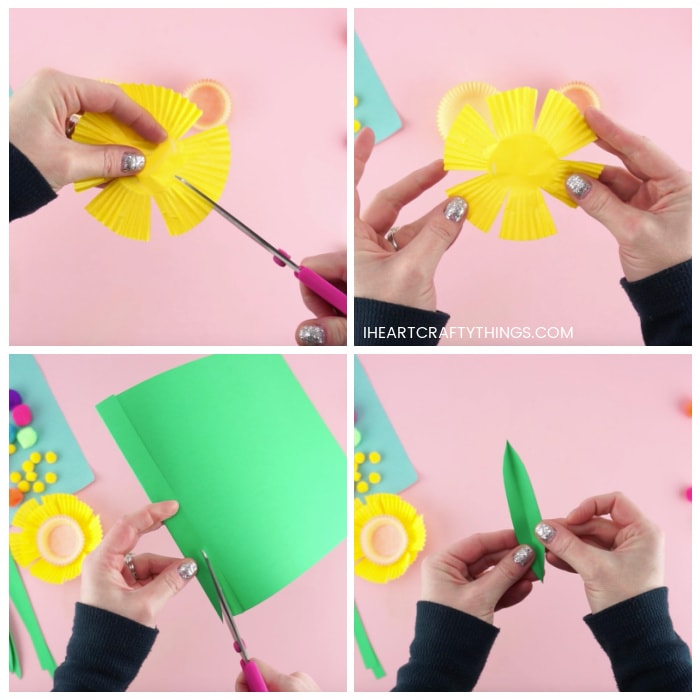 3. Make a fold in your green cardstock paper to cut out your flower leaves. Then cut out half of a leaf shape along the folded edge. Open up your paper to reveal your daffodil leaf. Cut out two leaves for each flower.
4. Add glue on the back circle of each yellow cupcake liner and glue them onto a light blue piece of cardstock paper, near the top one-third of the paper.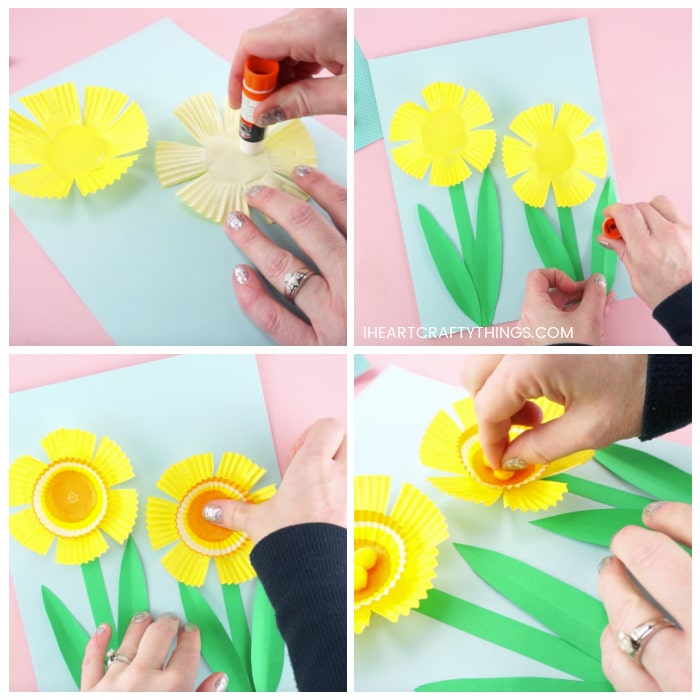 5. Glue your flower stems and leaves onto your flower.
When we glued on our leaves, we added a line of glue directly down the middle and glued them onto our flower without pressing down the sides of the leaves. This helps to leave a fun 3-D look with the leaves popping off the page slightly.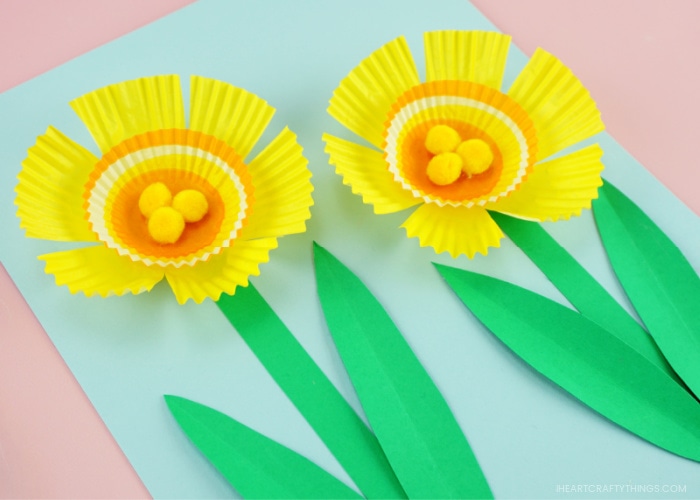 6. Turn each of the mini yellow or orange cupcake liners inside out to use them for the center flower section. Add glue in the center of the yellow daffodil flowers and glue down the mini cupcake liners in the center of the flowers.
7. Use an extra strength glue stick or tacky glue to glue three small yellow pom-poms on the inside of each of your daffodil flowers.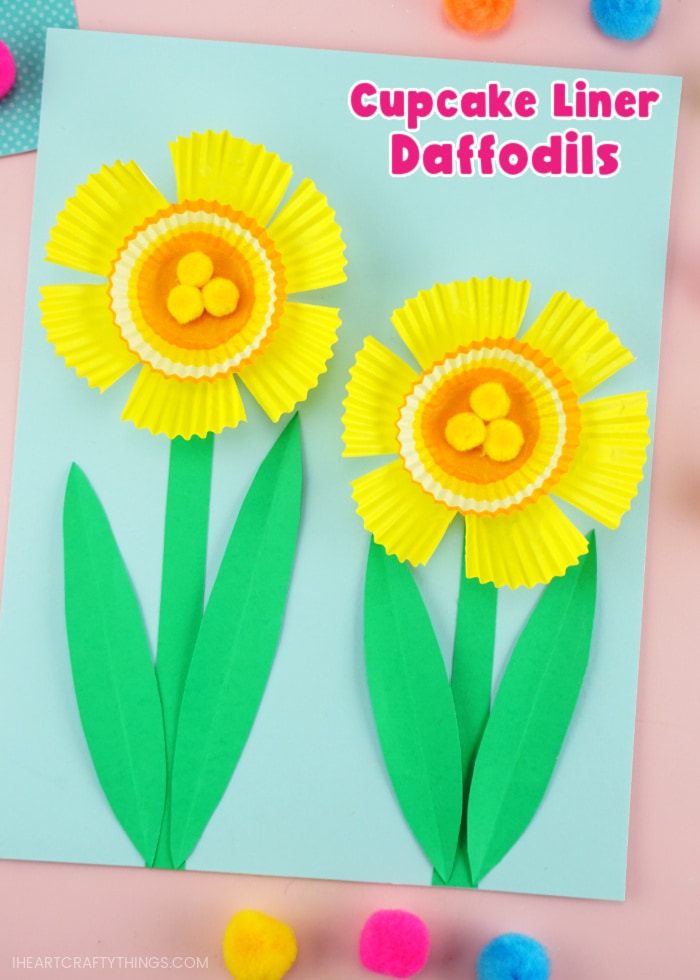 More Easy Flower Crafts for Kids
Brighten a friend or family member's day by making them a beautiful pop up flower card. These cards are so colorful and easy to create.
Use different colors of cupcake liners and a recycled egg carton to create this fun flower garden craft. Planting the flowers is great fine motor work for little fingers.
These colorful flower windsocks are a fun and creative way for kids to bring the beauty of spring into your home this year.
Want more flower crafts inspiration? Check out our fantastic list of beautiful 3D Flower crafts for kids.