If you are looking for a fun and playful spring craft to keep the kids busy and entertained this weekend, this butterfly finger puppet craft is perfect!
These colorful butterfly finger puppets require a little adult assistance for little ones to make but afterwards kids will have a blast with their butterflies, fluttering them around the house endlessly.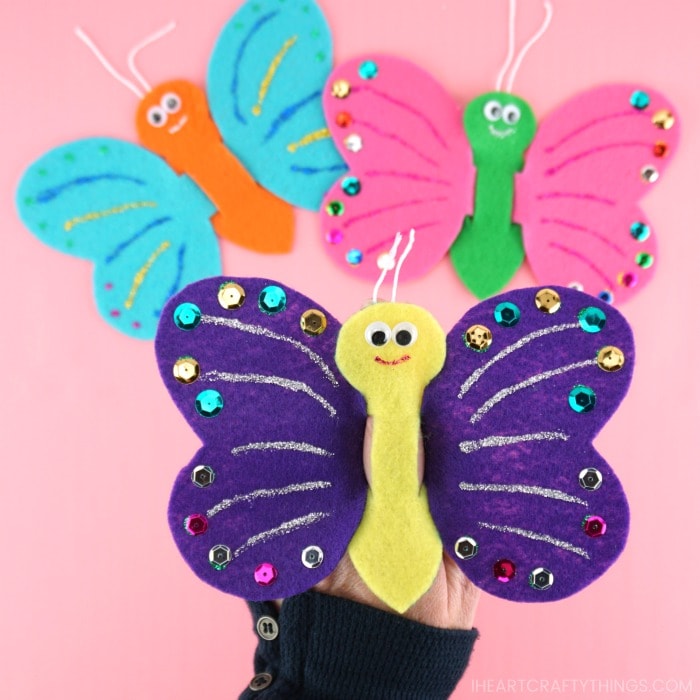 How to Make a Felt Butterfly Finger Puppet
Our handy template makes creating these butterflies super easy, along with the fact that you only need a few simple craft supplies to make them.
Follow along with our easy tutorial below to make your own butterfly puppets. Make sure to watch our video tutorial inside this post before you get started too.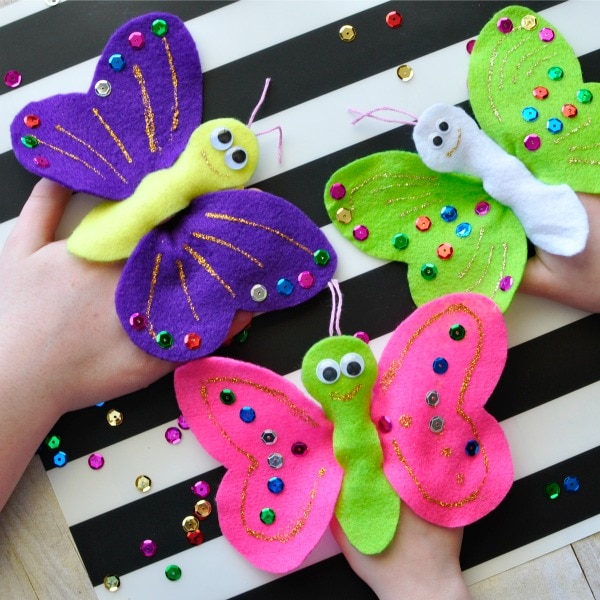 Supplies needed to make your felt finger puppets:
Butterfly Pattern <—– Get the craft template here
felt (colors of your choice)
googly eyes
sequins
glitter glue
string
scissors
pen for tracing
Instructions for making a butterfly finger puppet
1. Download and print out the butterfly template. Cut out each of the butterfly pattern pieces. Trace the patterns onto your felt pieces with a pen and then cut them out with a sturdy pair of scissors.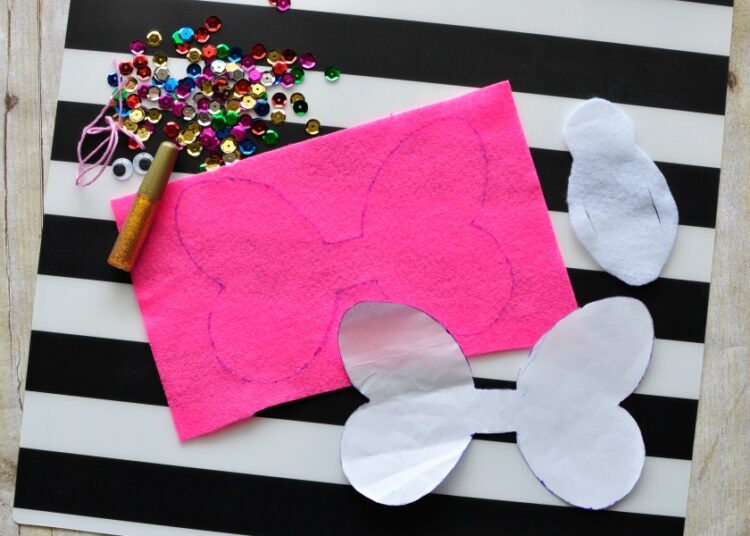 2. Fold your felt butterfly body in half and cut two small slits in the body, close to the edges. See picture above and below as a guide.
3. Roll one side of your felt butterfly wings up and put them down through one slit in the butterfly body and then up through the other slit. Unfold your butterfly wing.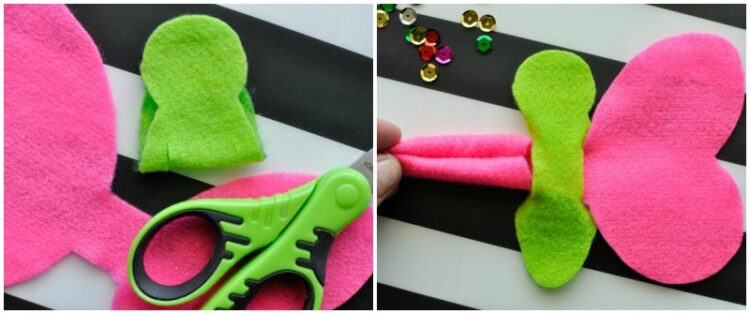 4. Use the glitter glue and sequins to decorate your butterfly puppet. You will also want to use your glitter glue to glue on your googly eyes and give your butterfly a smile.
5. Cut off a piece of your string for the antennae. Fold it in a V-shape and glue it onto the back of the butterfly head.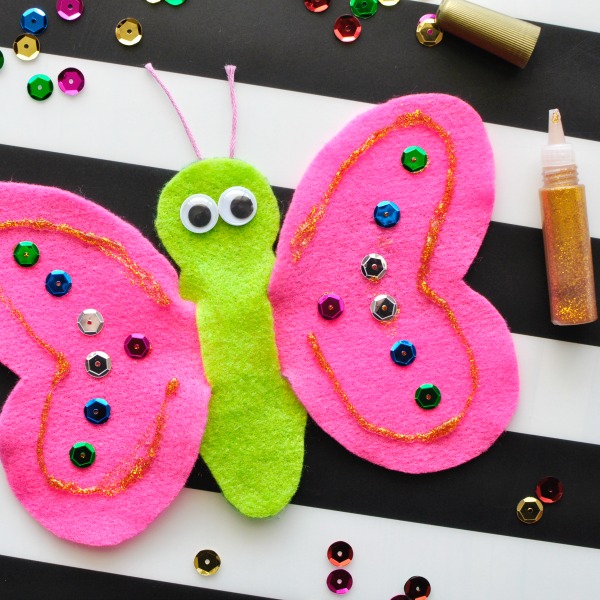 6. Let the glitter glue and glue on your butterfly dry completely before playing with it.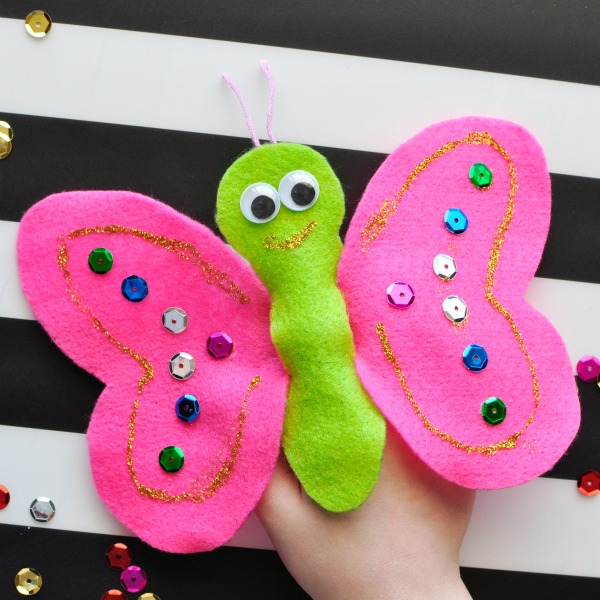 How to Play with your Butterfly Finger Puppet
When your finger puppet is finished drying, slide your finger between the two pieces of felt under the butterfly body.
Now children can move their finger and hand up and down and side to side to watch as their butterfly flutters around.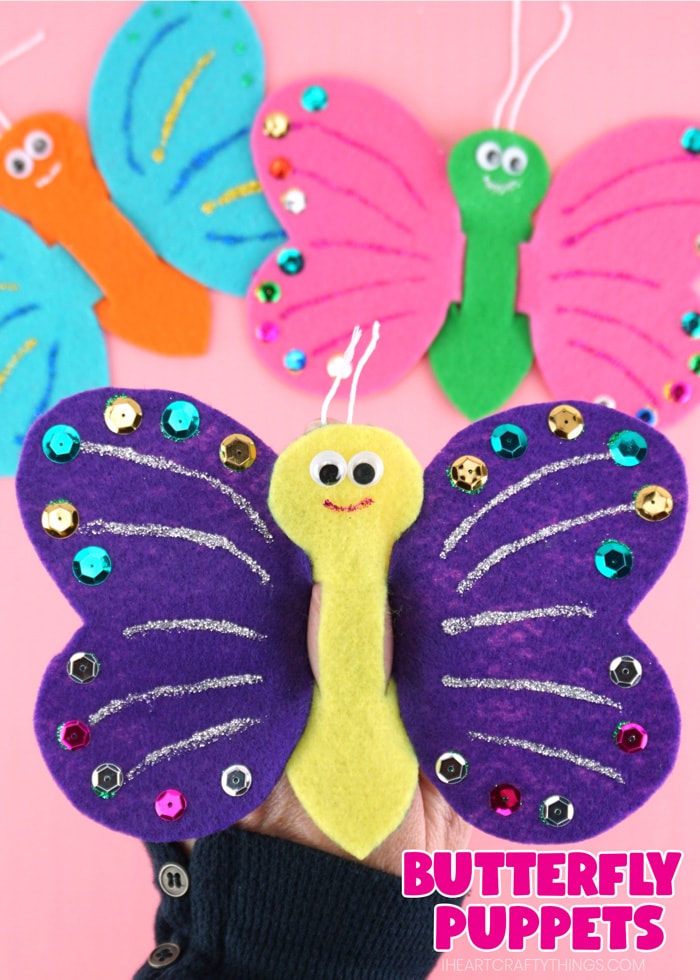 More Finger Puppets Your Kids will Love
These paper koala finger puppets are adorable and so fun for kids to make and play with! Our template makes them super simple for kids to create too!
Do you love cute little gnomes? If so, you are going to adore making these fun gnome finger puppets. We made them for winter but you can make them any time of the year.
Here's a fun way to repurpose old gloves into pretty butterfly puppets. Kids will love customizing them with colorful puffy paint.
Check out this great resource of over 150 fun and easy spring crafts for kids!