This shop has been compensated by Collective Bias, Inc. and its advertiser. All opinions are mine alone. I hope you have fun on your hunt for the 7th Minion at Walmart and enjoy making DIY Minion Stick Puppets with your cereal box. #The7thMinion #CollectiveBias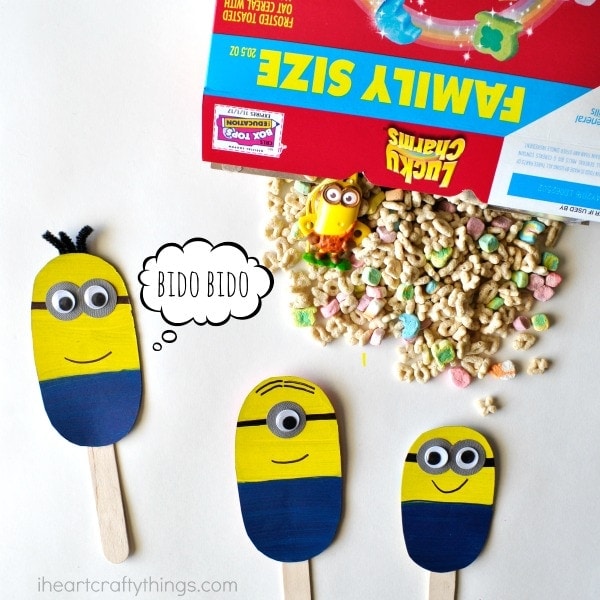 It's been a long time since I was a child but I can still vividly remember the excitement over finding the prize in the cereal box. In fact, since the prizes were so treasured by my siblings and me, I often woke up extra early so that I could be the first person to reach my hand into the cereal box and dig around for the special prize. Sometimes that prize was impossible to find so I found a big bowl to dump the cereal out into and then carefully poured it back into the box. {Shhh, don't tell my Mom!}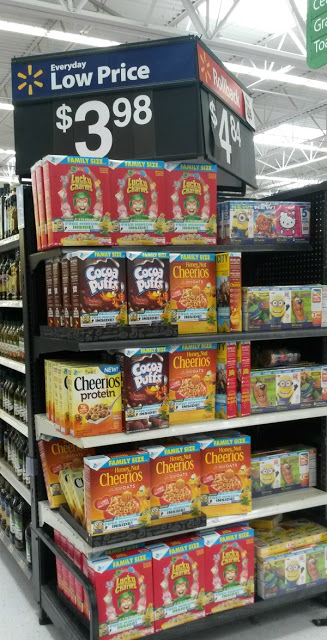 Now that I am a Mom I get to enjoy the excitement of the special prize through my children's eyes, and truthfully, it's still just as fun for me! I recently found out that General Mills has included adorable Minion toys in specially marked Minions movie packaging XL/Family Size cereal boxes at Walmart for a limited time. The fun cereal prize couldn't have come at a more exciting time since my kids have anxiously been counting down the days to the new Minions movie coming out soon. There are seven different Minion characters to collect in all with the 7th prehistoric figure being exclusive to Walmart.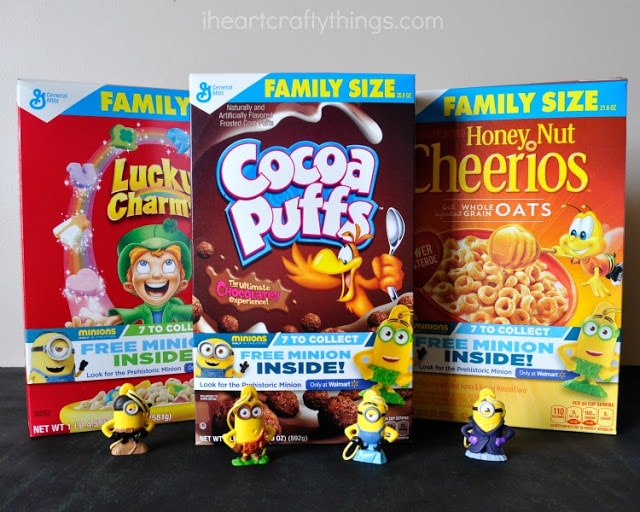 My kids were super excited to see that the prize is included in several of their favorite cereals like Honey Nut Cheerios, Cinnamon Toast Crunch, Cocoa Puffs, Lucky Charms, Reese's Puffs, Trix and Golden Grahams. When we opened up our first cereal box I was surprised that you no longer have to dig around in the cereal to find the prize. It is conveniently placed inside the box on the side of the cereal bag. So far we have collected four of the Minion characters but are still on the hunt for the special 7th prehistoric Minion. All of the characters arms interlock with each other making them even more fun for the kids.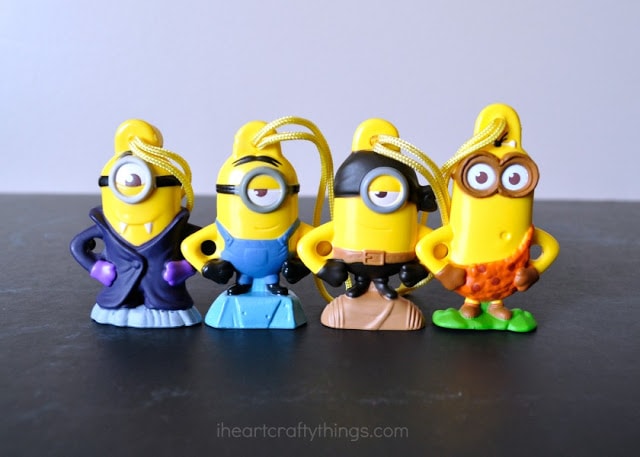 While we were enjoying our yummy cereal we thought of a fun way to re-purpose our cereal boxes by making them into DIY Minion Stick Puppets. It is a simple kid craft that can provide hours of fun pretend play for the little Minion lovers in your life.
HOW TO MAKE DIY MINION STICK PUPPETS
Supplies you will need:
General Mills Cereal Box
scissors
blue and yellow paint
paint brush
craft stick
googly eyes
gray cardstock paper
black marker
black pipe cleaner (optional)
tacky glue
Directions:
1. Start by cutting oval shapes out of your cereal box for your Minions. Paint the top of your oval yellow and the bottom of your oval blue. Set them aside to dry completely.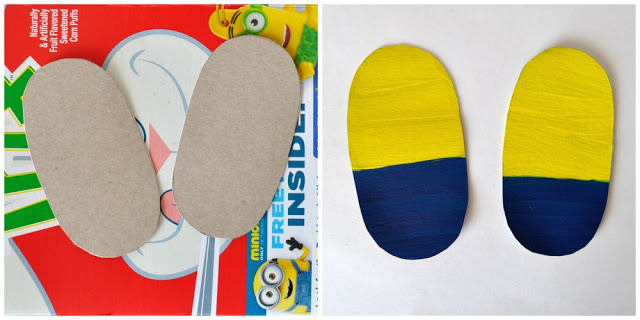 2. Cut out circles from your gray cardstock paper and glue one or two of them onto each of your Minions for the glasses. Glue your googly eyes onto your gray circles.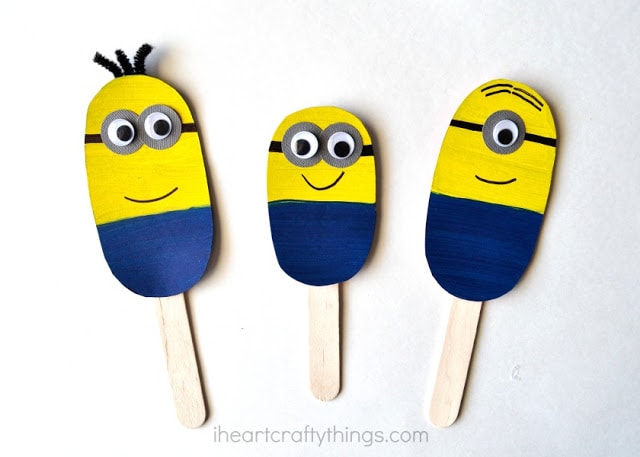 3. Finish your Minion puppets by adding details with your black marker, i.e. glasses frames, smile, hair. You might also like to add small pieces of black pipe cleaner to the back of your Minion for hair.
My daughter has been having a blast playing with her Minion puppets alongside her Minion cereal box prizes! Her favorite character is the caveman Minion. I've taken a liking to the little pirate. Which character is your favorite?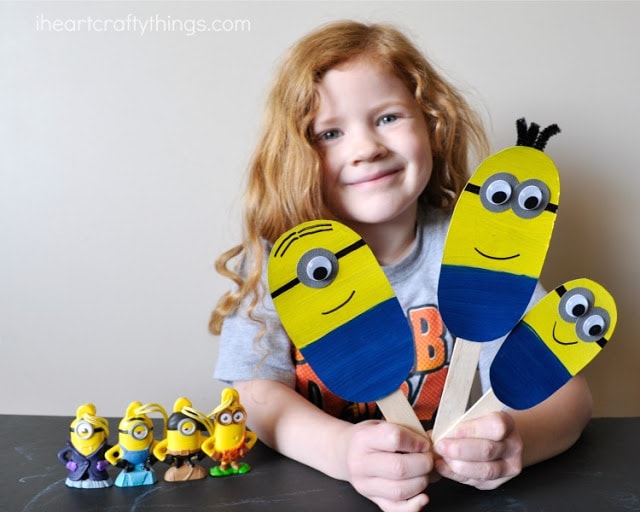 Be sure to look for the 7th Minion at Walmart!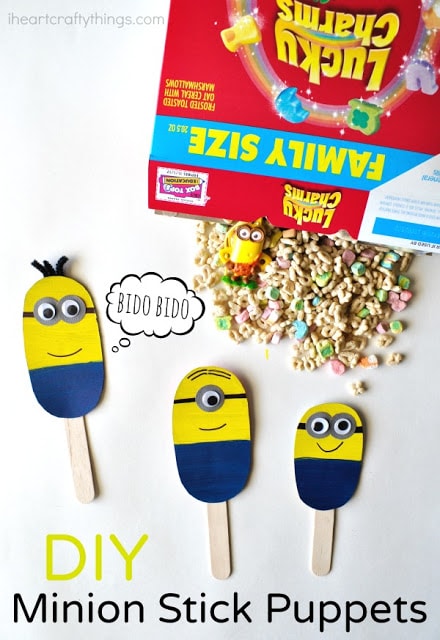 Follow I Heart Crafty Things on Facebook, Pinterest and Instagram for more crafty fun!