Ahoy, Mateys! Do you have pirate fans at your house? If you do they are going to love making this awesome Pirate Craft that we are sharing with you today.
These adorable pirates make cute puppets and they go along great with a myriad of children's books with pirate characters. Make one or two, or a whole crew with a fun cardboard ship to go along with them. Avast! What are you waiting for?
Grab your supplies and let's get making some pirates! Arrrr!!! Look for some fun book recommendations at the bottom of this post.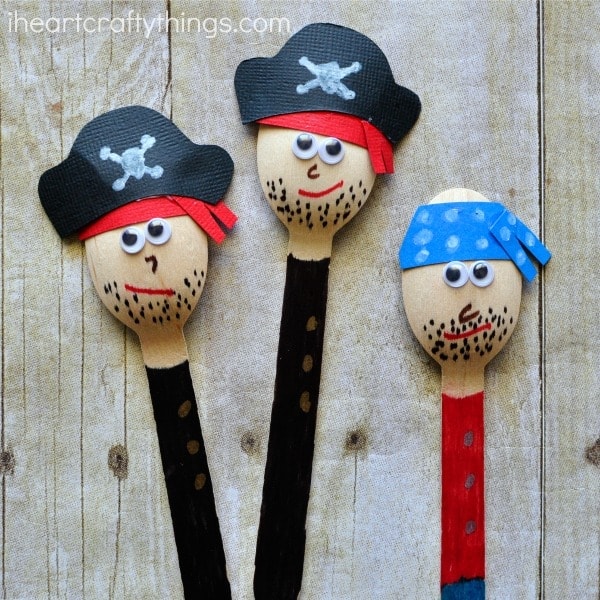 This post contains affiliate links to the products mentioned. Read our disclosure policy for more information.
How to Make a Wood Spoon Pirate Craft for Kids
Supplies Needed for this Pirate Craft
– wooden party spoon
– black and red cardstock paper (or the colors of your choice)
– small googly eyes
– permanent markers
– white chalk marker (optional)
– tacky glue
– scissors
Directions for this Pirate Wooden Spoon Craft
1. Start by cutting out a pirate bandanna and hat from your cardstock paper. Use tacky glue to glue them onto the end of your spoon. After adding each piece, we held it in place for a good 30 seconds to help adhere it to the spoon.
2. Glue your small googly eyes onto your pirate face. Use your white chalk marker to draw a skull and bones or polka-dots on your pirate hat or bandanna (optional).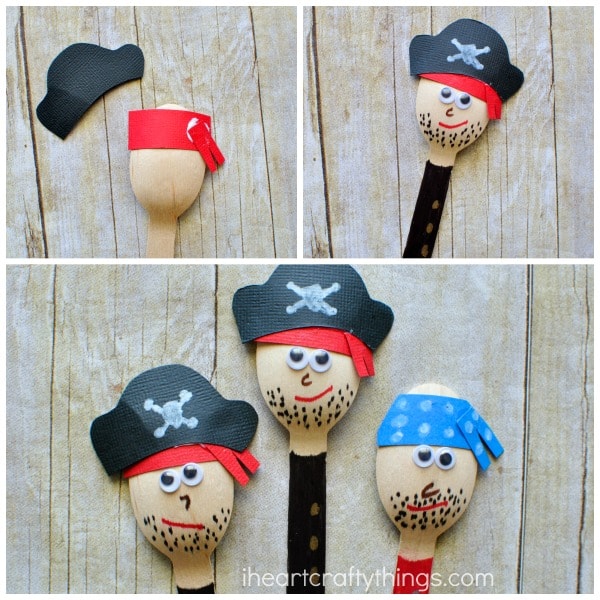 3. Finish your pirate craft by using your permanent markers to draw facial details and clothes on your pirates. For the face, we drew on a nose, mouth and some bead stubble. You could also draw a mustache or hair strands coming out from under the bandanna. For the the clothes we simply colored the wood spoon and added some shirt buttons.
I definitely recommend using permanent markers for this craft, as washable markers will tend to come off onto your fingers as you handle your puppets. You could also opt to paint on the clothes to avoid any marker smudges on your fingers.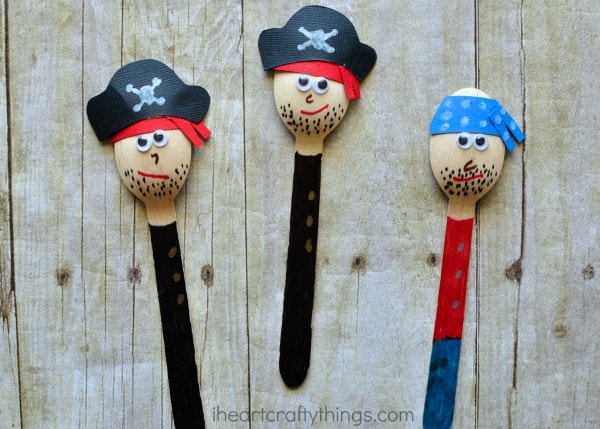 Looking for some fun pirate books to go along with this cute pirate craft? Try one of these:
– How I Became a Pirate by Melinda Long
– Pirate Pete's Talk Like a Pirate by Kim Kennedy
– Do Pirates Take Baths? by Kathy Tuckert