These colorful flower windsocks are a fun and creative way for kids to bring the beauty of spring into your home this year.
Our flower craft template helps to make this fun spring craft easy for preschoolers and elementary age children to create. All you need is a few simple craft supplies and kids will be ready to make their own colorful spring windsock craft.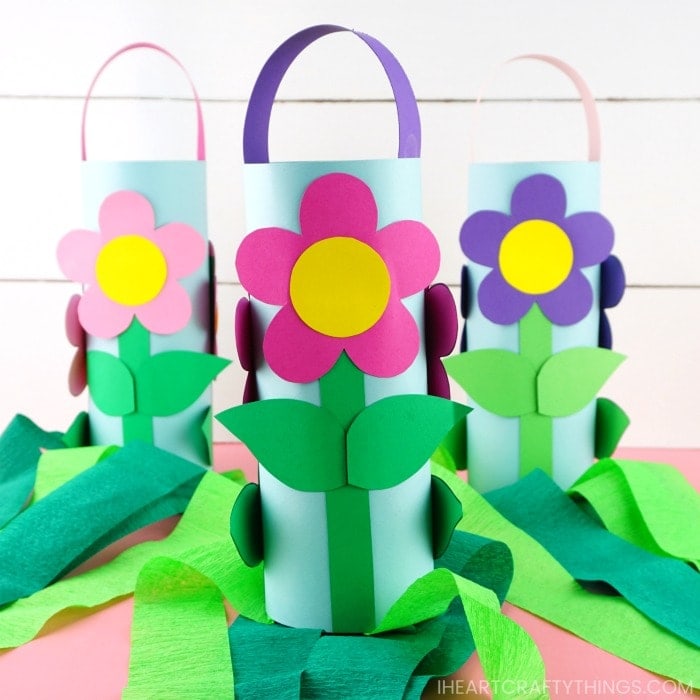 We made this gorgeous craft with spring in mind, but these windsocks would also make a wonderful Mother's Day craft for kids to make as a gift. Kids can even personalize the flowers on their windsocks by writing special messages on them to mom, grandma or any loved one.
After making these beautiful spring windsocks, hang them up from the ceiling on display in the classroom, at home or under a covered front porch. Kids will love watching their colorful flowers and streamers spin around in the spring breeze.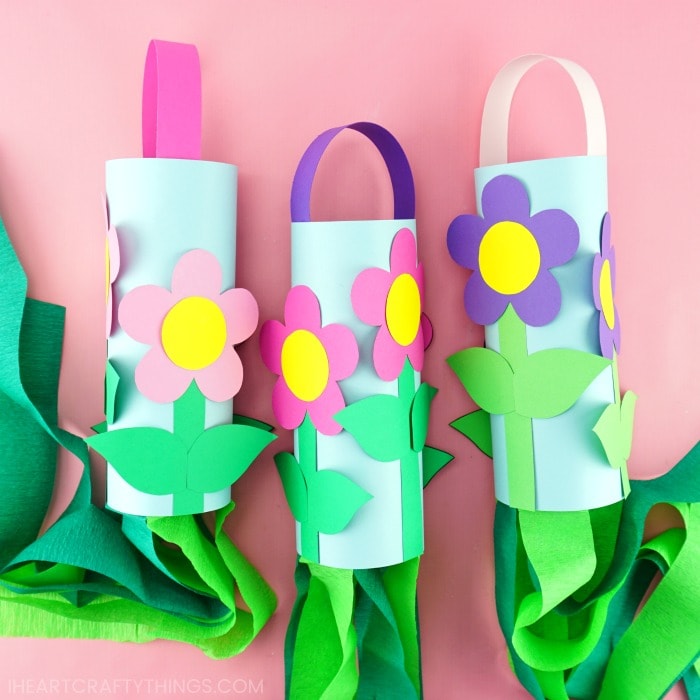 How to Make Colorful Flower Windsocks
Read our simple step-by-step instructions below for how to make these gorgeous flower windsocks.
You will also want to make sure you watch our easy video tutorial inside this post before you get started.
Supplies needed to make this easy spring craft
flower windsocks printable template <—– Get the craft template HERE
65 lb. cardstock or construction paper (light blue, green, yellow, pink and purple)
light green and dark green crepe paper
scissors
extra strength glue stick
stapler
Instructions for making a flower windsock
Step 1: Download and print out the flower windsock craft template on colored cardstock paper. Print the flower stem and leaves page on green paper, the flower inside circles page on yellow paper and the flowers on pink, purple or red paper. Cut out each of the pieces from the template.
Step 2: Glue three flower stems on the front of a light blue piece of cardstock. Make sure to leave about 1-1/2 inches on the side of each stem to allow room for stapling the windsock together.
Step 3: Add glue in the center of each flower and glue one at the top of each stem. You might like to vary the height of each flower to add extra dimension to your craft. Then glue a yellow circle in the middle of each flower.
Step 4: Glue two flower leaves onto each flower stem.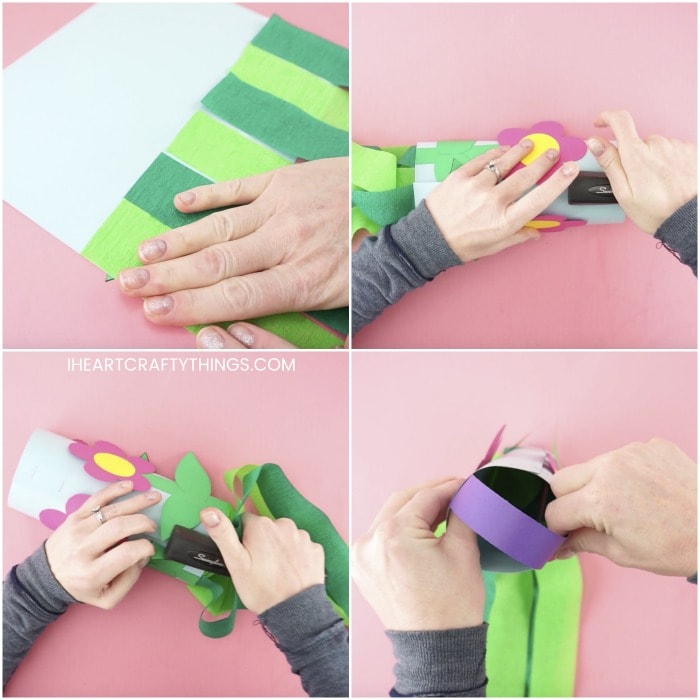 Step 5: Turn your light blue cardstock paper over so the flowers are face down. Cut out six pieces of 18-inch green crepe paper and glue them on the bottom one-third of the back of your blue cardstock. We used a mixture of light and dark green crepe paper.
Step 6: Bend your flower windsock into a circle, connecting the ends together. Place two staples at the top and bottom of the windsock to join the ends together.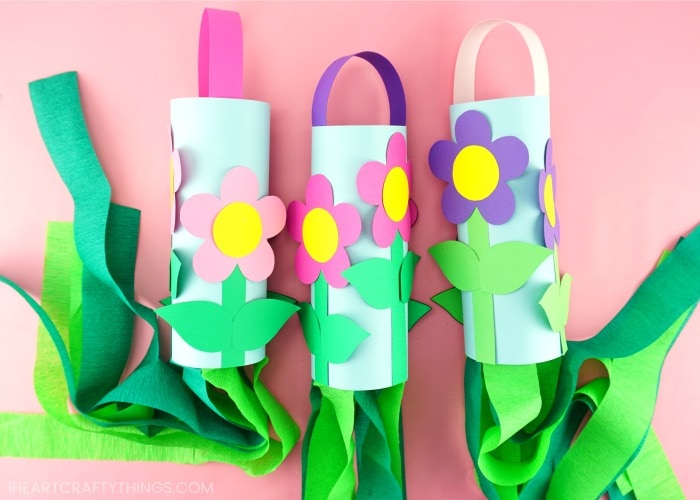 Step 7: Cut a paper strip handle that is 1-inch by 9-inches. Add a generous amount of extra strength glue stick on each end of the paper strip and attach it inside the top of the windsock for a handle.
Once the glue is finished drying on your flower windsocks, hang them up from the ceiling or a covered porch and watch them spin around in the breeze.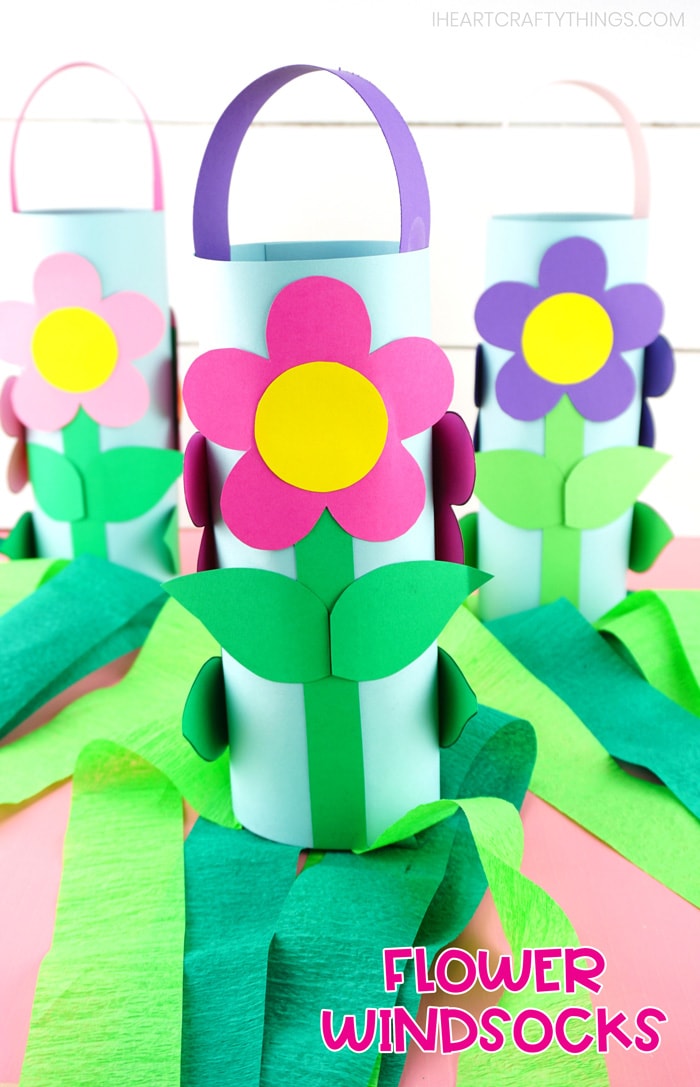 More Spring Craft Projects and Flower Crafts for Kids to Enjoy
These cute insect windsocks are another fun kids craft for spring. We have a butterfly, ladybug and bee design for kids to create.
Cheer up someone's day with a darling homemade spring card. Our template makes creating these cards a breeze for kids.
All you need is a few simple craft supplies to create this easy caterpillar craft. If you are learning about the life cycle of a butterfly, kids will love making this paper butterfly craft too.
Use this printable from our friend over at Fireflies and Mud Pies to get outside in nature this spring and go on a nature scavenger hunt.
Looking for more fun and easy spring crafts kids will love? Check out our list of over 150 fun and easy spring crafts for kids.