Do you have a box full of leftover patterned scrap papers from different arts and crafts projects and need a fun idea of how to use them? This paper scrap Christmas tree craft is a simple and easy way for kids to use up some of those scraps for holiday crafting.
While we made this fun paper scrap tree on cardstock as a craft, you could also make it into a folded Christmas card or add it to plain wrapping paper or Christmas tags to dress them up.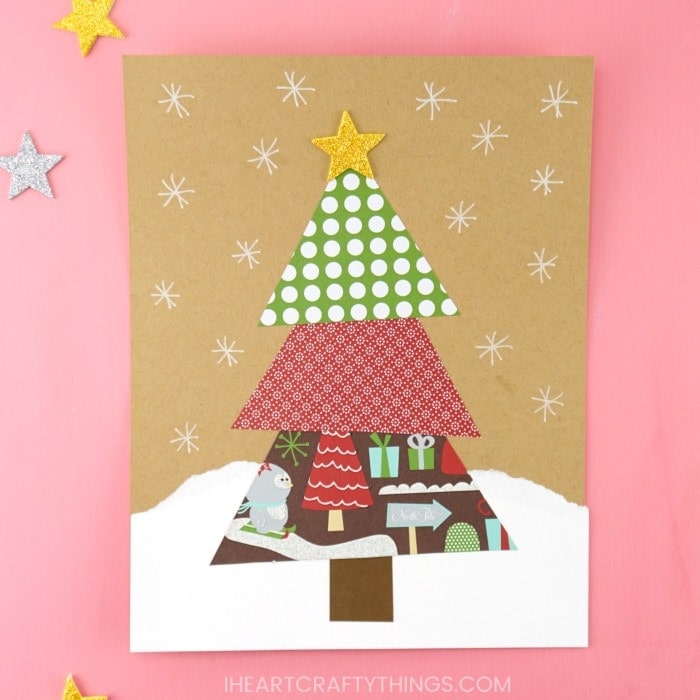 We used brown and neutrals as our background to give the craft a rustic feel but you can use a blue background or any color of your choosing to make your scrap paper tree.
Our handy Christmas tree shapes template makes creating this craft super easy for little ones. If older children want more of a challenge though they can cut out different sized paper strips and layer them together to create their Christmas tree.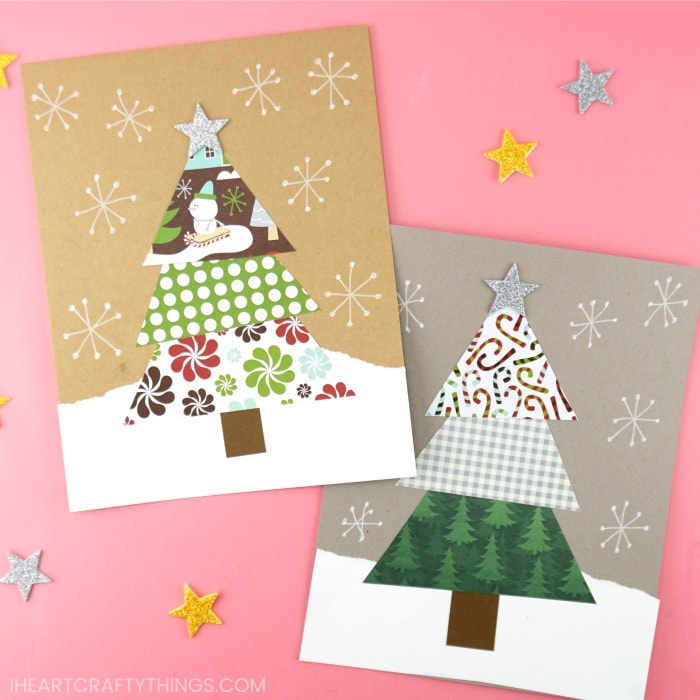 How to Make Easy Paper Scrap Christmas Trees
I Heart Crafty Things is a participant in the Amazon Services LLC Associates Program, an affiliate advertising program designed to provide a means for sites to earn advertising fees by advertising and linking to amazon.com.
Craft Supplies needed for your Scrap Paper Christmas Craft:
Christmas tree triangle shapes template <—– Get the Template HERE
patterned scrap paper
cardstock (for background)
white cardstock
brown cardstock
glitter foam star stickers
white chalk marker
scissors
glue stick
Instructions for making this Christmas Tree Craft
Step 1: Download and print out the triangle shapes template for your crafting project. Cut out the triangles and use them as a pattern to trace and cut out the shapes on your paper scraps.
Step 2: Tear a strip off the bottom one-third piece of white cardstock. You want the top of the piece to be uneven to look like a snowy winter scape. Tearing the paper leaves a different texture at the top giving the craft extra dimension.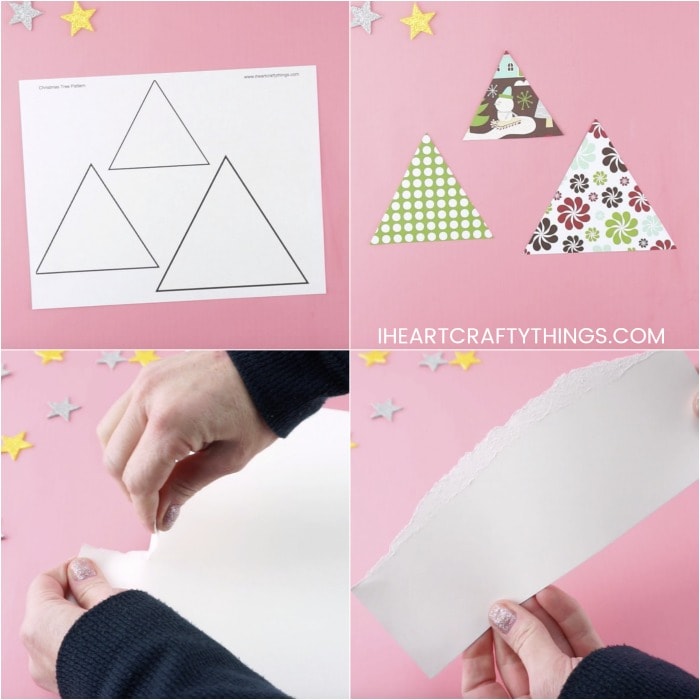 Step 3: Use a glue stick to add glue on the back of your winter snow paper and glue it at the bottom of your background cardstock paper.
We chose to use neutral colors for our background to give our Christmas craft a rustic feel. Feel free to use any color of your choosing.
Step 4: Cut out a rectangle Christmas tree trunk from brown cardstock paper. Glue the tree trunk onto your white snow cardstock.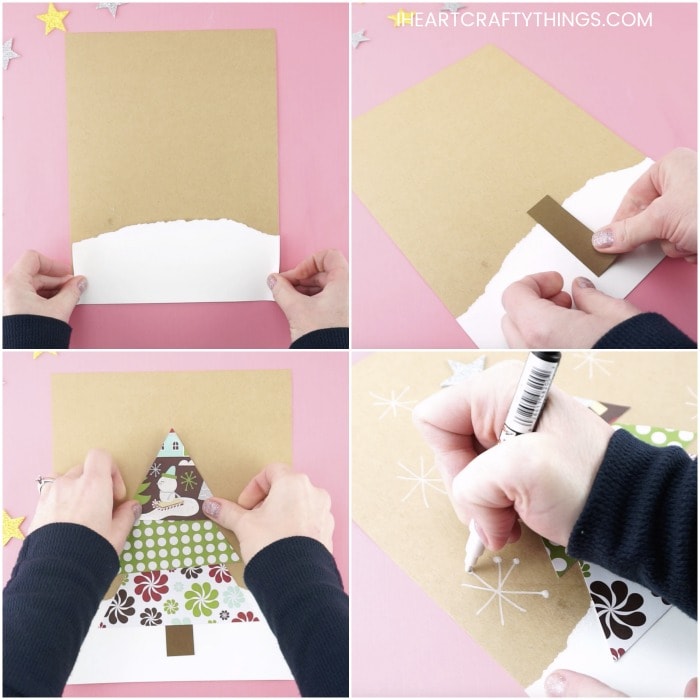 Step 5: Start at the bottom of your Christmas tree, and glue the large triangle onto the tree tree trunk. Then glue the medium sized triangle on your paper, overlapping the large triangle some.
Finally, glue the small sized triangle on your paper, overlapping the middle triangle at the top.
Step 6: Remove the backing off the foam glitter star sticker and place the star at the top of your paper scrap Christmas tree.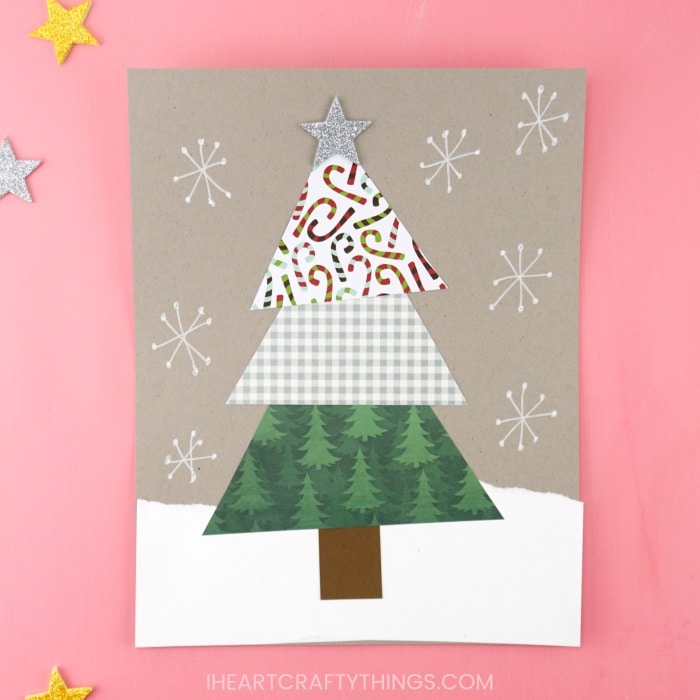 Step 7: Using a white chalk marker, draw snowflakes on your background cardstock paper, around your paper tree. Add small dots at the ends of your snowflakes or little lines to add dimension to your flakes.
Note: A chalk marker is not necessary but it helps the snowflakes stand out on the cardstock paper. You can also use white crayons or a white colored pencil.
Want to add more to your paper scrap tree? Decorate your Christmas tree with little embellishments like small pom-poms, buttons or colorful sequins.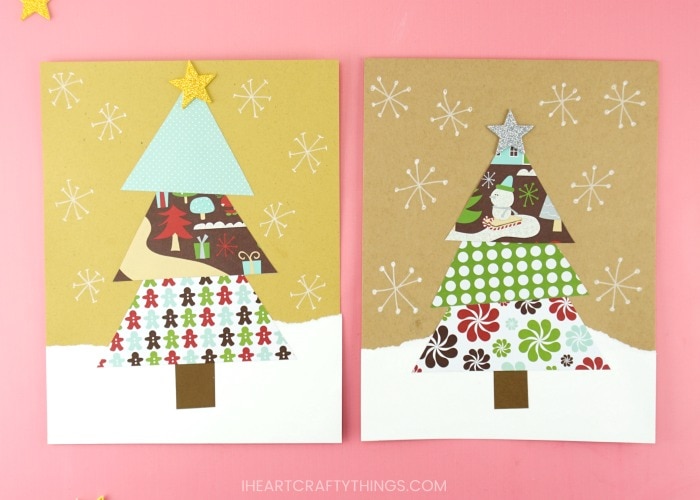 Video Tutorial: Step-by-Step guide for making a Paper Scraps Tree
Before you get started making your Christmas tree craft, watch the video below for a quick step-by-step guide on how to make the paper tree.
Find more Christmas crafts and fun crafts for kids browsing the categories at the top menu bar of our website.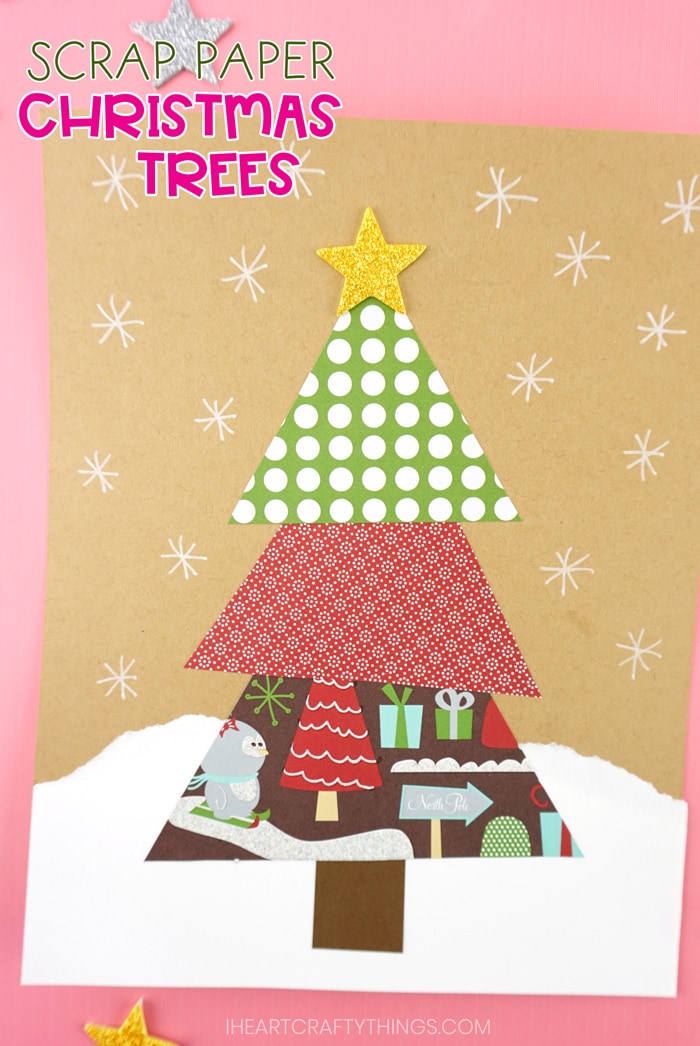 More Fun and Easy Christmas Crafts
This popsicle stick fireplace ornament is such a festive and simple Christmas craft for kids to make. Kids will love decorating the mantel and stockings on their fireplace.
Paper plates are a staple in my crafting closet. Here's a simple way to use them to make a paper plate Grinch craft. So much fun for Christmas!
You'll definitely want to add these cute craft stick Christmas puppets to your crafting to-do list this year. Kids will have a blast making them and then playing with them.
My friend over at Fireflies and Mud Pies shares a fun and simple way to make a Christmas tree out of a pine cone.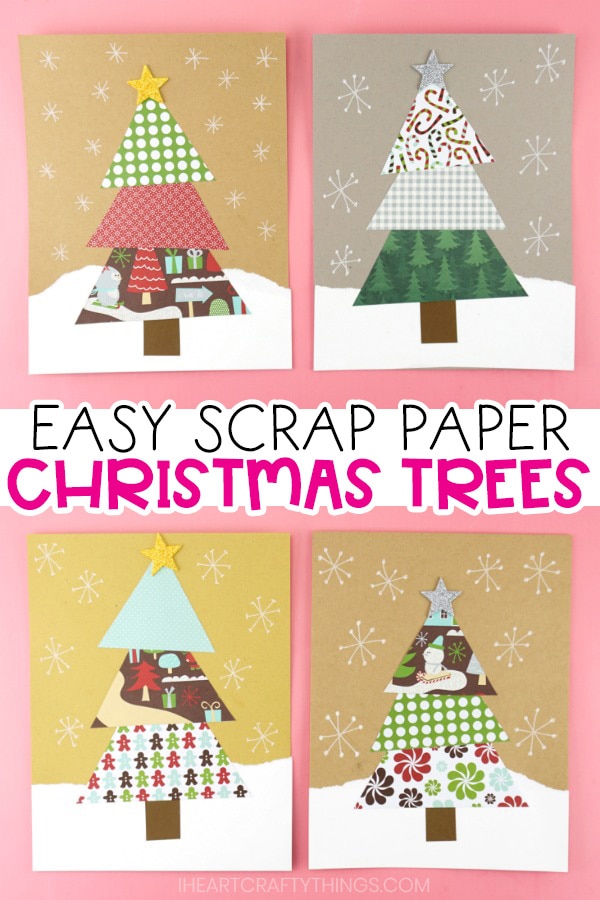 Looking for more fun and simple Christmas crafts for kids to make over the holidays? Check out our collection of over 50 beautiful Christmas arts and crafts ideas for kids.