We hope you and your kids enjoy counting down to Christmas in December after making this adorable Santa Beard Christmas Countdown Craft.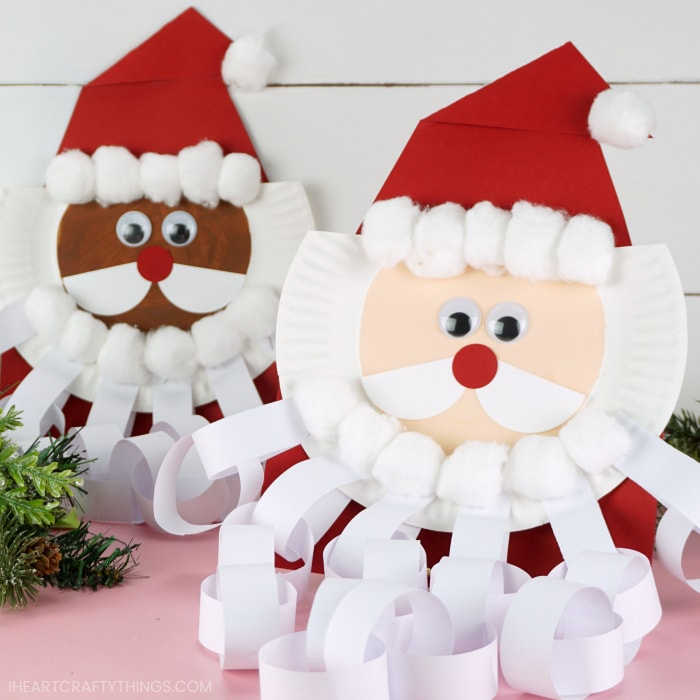 Do your kids love counting down the days till Christmas during the month of December? This Santa beard Christmas countdown craft made from a paper plate, cardstock, cotton balls, paper chains and Elmer's Glue is perfect for keeping kids excited about Christmas all month long.
Check out our free Sonic coloring pages!
Simply cut off one link of the paper chain every day with scissors and when you reach the end of Santa's beard it's Christmas day.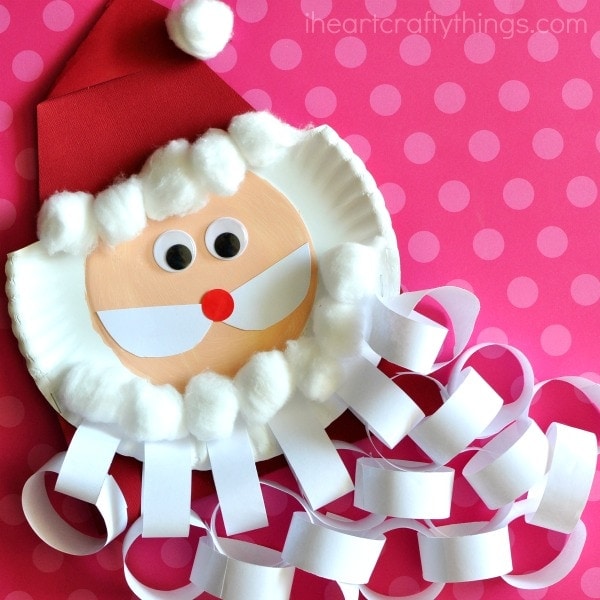 [This craft was originally created as a sponsored post for Elmer's and was published on November 15, 2015. It has since been updated to remove all sponsored links, the tutorial text has been updated, additional photos and a video tutorial have also been added.]
How to Make a Santa Beard Christmas Countdown Craft
Read our easy step-by-step tutorial below for how to make your own Santa countdown craft. Make sure to watch our video tutorial inside this post before get started too.
Supplies Needed to Make this Christmas Countdown Craft
paper plate
flesh colored paint
paintbrush
red and white cardstock
white copy paper
cotton balls
stapler
scissors
googly eyes
glue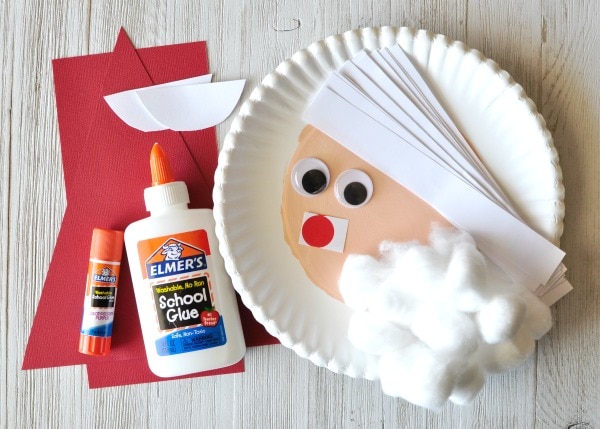 Directions for making this Paper Plate Santa Craft
1. Start by painting the inside circle of your paper plate with your flesh colored paint. Set the paper plate aside to allow the paint to dry.
2. Lay out your red cardstock horizontally and cut it so you have one piece 4-inches wide and one piece 7-inches wide. The 4-inch piece will be used for the Santa shirt. Cut a triangle out of the 7-inch piece for the Santa hat.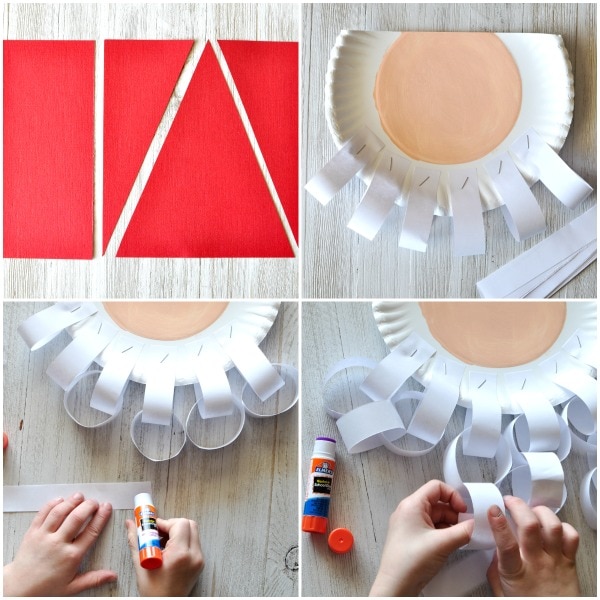 3. Cut off a small strip along the top of your paper plate to make a straight edge.
4. Cut out 25 white strips from your copy paper, each about 1-inch by 7 ½-inches. Loop six of the strips around the bottom of the paper plate and staple them in place to start making the Santa beard. Now use your Elmer's Glue Stick to glue on the remaining 19 pieces. Add some glue to the end of each strip, pull it through one of the existing paper circles and glue the strip shut to make another circle in the paper chain.
You can design the paper chain beard for your Santa any way you choose with your 25 paper strips. If you want to follow our Santa beard paper chain shape, connect the paper strips as follows:
Row 1- 2
Row 2- 5
Row 3- 5
Row 4- 5
Row 5- 5
Row 6- 2
Use the last paper strip to connect the bottom two circles on the 3rd and 4th row together.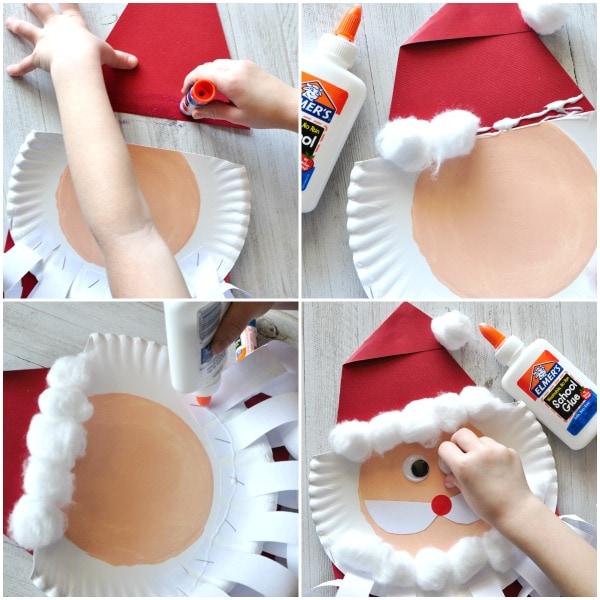 5. Use your stapler to attach your red rectangle Santa shirt to your paper plate underneath your Santa beard. Then use your glue stick to glue the triangle hat at the top of your Santa face. Fold the top of your Santa hat down and use some school glue to glue a cotton ball on the end of the hat.
6. Squeeze a line of Elmer's School Glue along the top of your paper plate at the base of the Santa hat. Place a line of cotton balls along the glue line. Squeeze another line of school glue along the bottom of your paper plate over your staples and place another line of cotton balls along the glue line.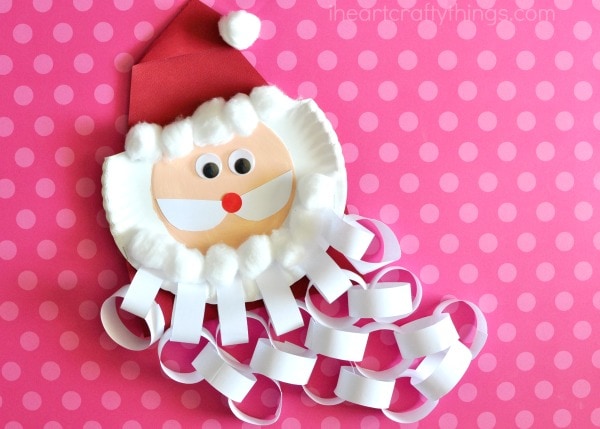 7. Cut out a 3-inch circle from your white cardstock to use for the mustache and then cut that circle in half. Glue the circle halves in the middle of your Santa face as a mustache. Cut out a 1-inch circle from your red cardstock paper and glue it in the middle of the mustache for Santa's red nose.
8. Finish your Santa Beard Countdown Craft by gluing googly eyes onto Santa's face.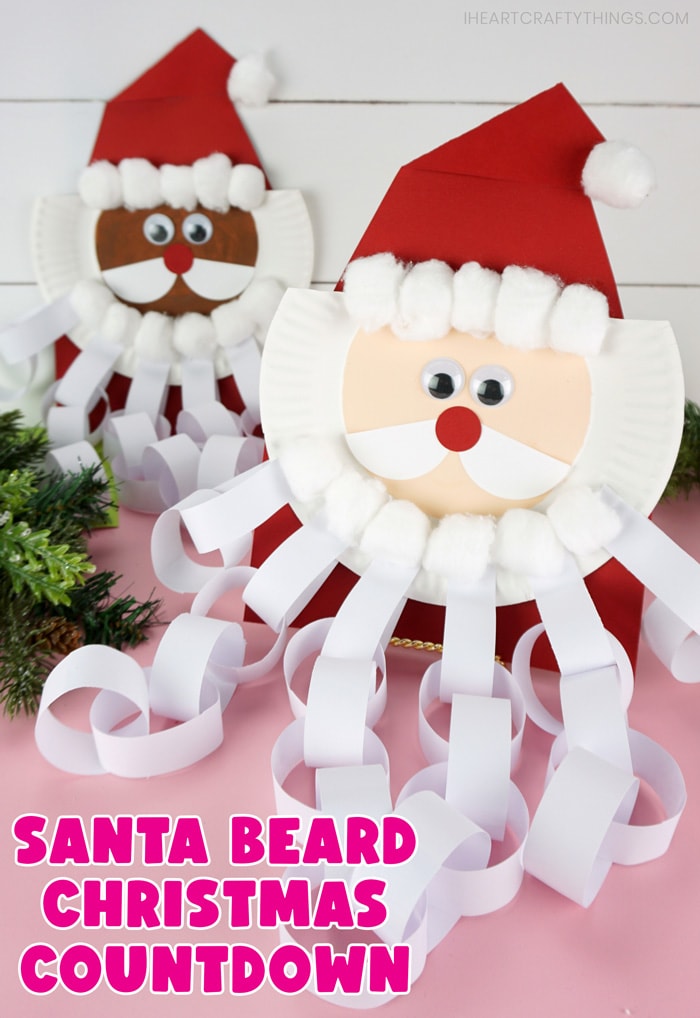 Tape your Santa up on a wall or attach a string to it and hang it up somewhere you will see every day in your home. Starting December 1st and every day after, use scissors to cut off one of the paper chains from the Santa beard. When you are finished cutting off the last paper chain strip, it's Christmas Day!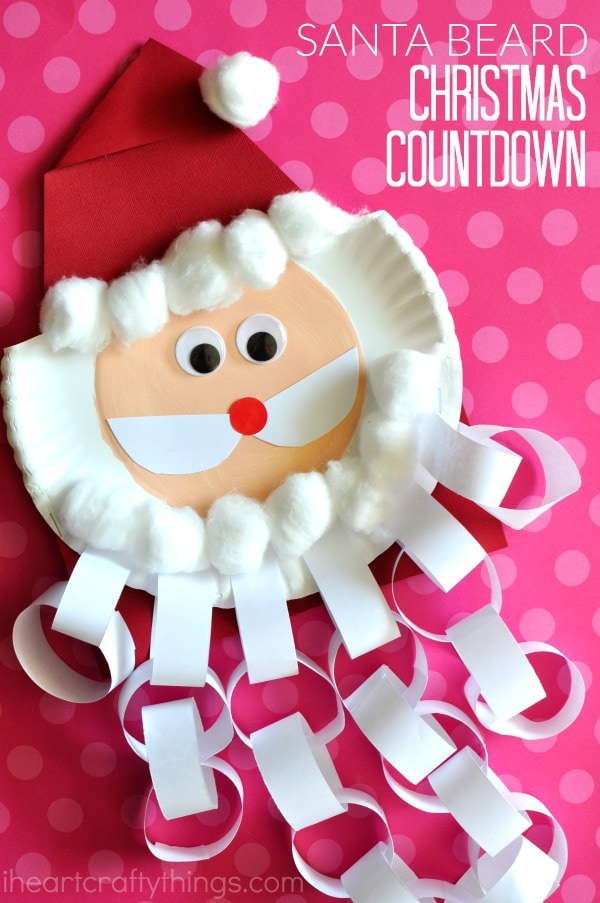 More Fun and Easy Christmas Crafts for Kids
Get ready for an afternoon of fun with kids designing and decorating their own ugly Christmas sweaters. This fun paper craft is made simple for kids of all ages with our free template.
Kids will love creating this simple and cute Santa card for a friend, loved one or teacher this holiday season.
Stockings hung on the mantle is an iconic holiday scene. Here's a fun way for children to create the festive scene by making this craft stick fireplace ornament.
Looking for more fun ideas for a Christmas Advent Calendar? Check out these fun DIY advent calendar ideas over at our friend Red Ted Art.
Check out our amazing list of over 50 fun and easy Christmas arts and crafts ideas for kids!