These darling DIY angel ornaments are a super easy craft for kids to make as Christmas gifts for parents and grandparents. Grandma and grandpa's hearts will melt when they see the personalized photos at the top of the ornament that turns their grandchildren into darling Christmas angels. 
Homemade ornaments using photos are one of my favorite ways to decorate the Christmas tree. As a parent I can tell you that there's no greater thing than trimming the tree and having it filled with memories of past Christmas' and homemade photo ornaments.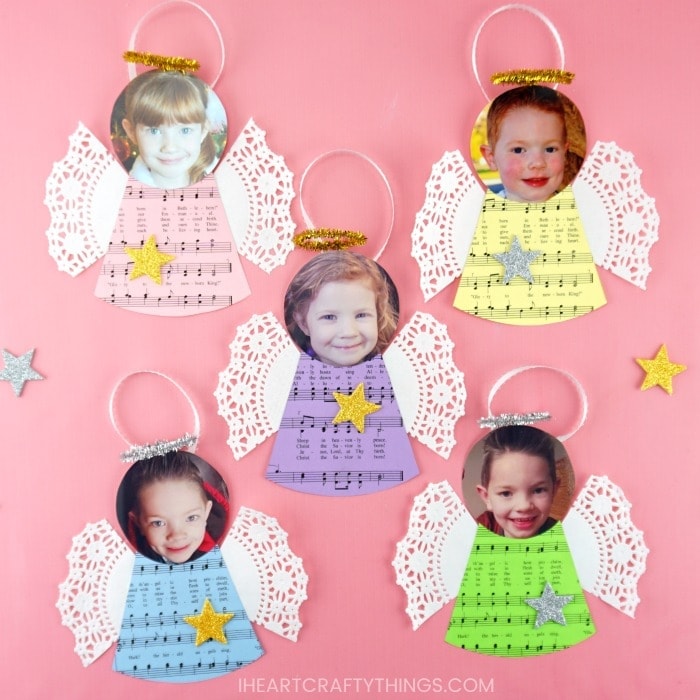 Whether you make these cute angel ornaments at home, school or for a fun Christmas church craft, they are sure to bring a big smile to Mom, Dad, Grandma and Grandpa this year.
You only need a few craft supplies to make these cute angels so after a little bit of prep and a whole lot of fun, you will have these cute Christmas photo ornaments whipped up and ready for gifting in no time at all.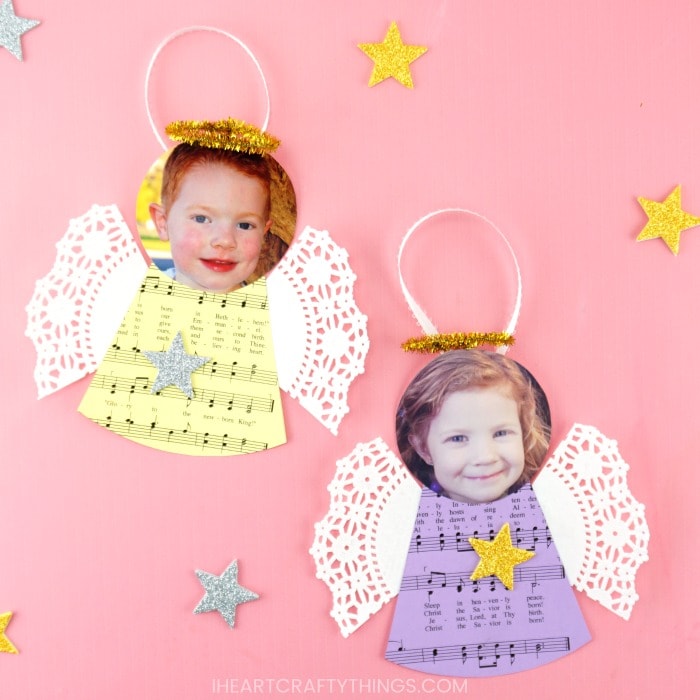 How to make DIY Angel Ornaments
I Heart Crafty Things is a participant in the Amazon Services LLC Associates Program, an affiliate advertising program designed to provide a means for sites to earn advertising fees by advertising and linking to amazon.com.
Supplies needed for your Christmas Angel Ornaments:
angel ornaments template <—– Get the template Here
Christmas Hymn template
colored cardstock
6-inch round doilies
glittery foam star stickers
silver or gold pipe cleaners
small white ribbon
child's photo
scissors
pencil
glue stick
hot glue gun (adult supervision required)
Instructions for making your Angel Ornament Craft
Step 1: Download and print out the easy angel template. Cut out the template pieces to use as pattern.
Step 2: Print out a Christmas hymn on colored cardstock paper. We chose the hymns "Hark the Herald Angels Sing" and "Silent Night" to go with our handmade angel ornaments.
The easiest way I found to find a hymn for printing was to simply search "hark the herald angels sing hymn pdf" on Google. You will want to make sure the hymn find has a public domain copyright so you can copy and use the hymn for your diy Christmas ornament.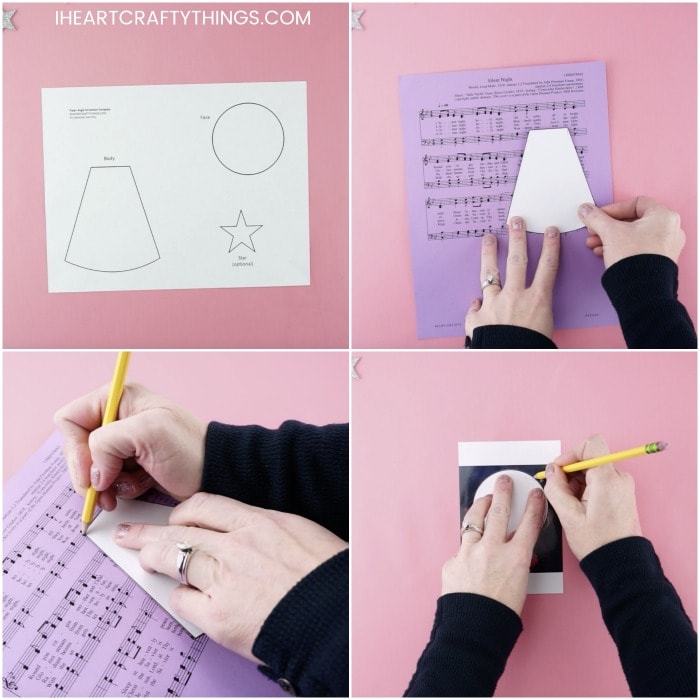 Step 3: Place the angel ornament body template on your printed hymn. Use a pencil to trace the template on the music. Then use scissors to cut out the angel body.
You can use trace and use the hymn several times on the same sheet of music to make several ornaments.
Step 4: Gather your child's photo. Place the angel head template around the child's face in the photo and use a pencil to trace the circle. Then cut out the child's angel face.
Note: The angel face template is a 3-inch circle so we printed a 4-inch by 4-inch photo where the child's face filled the majority of the frame.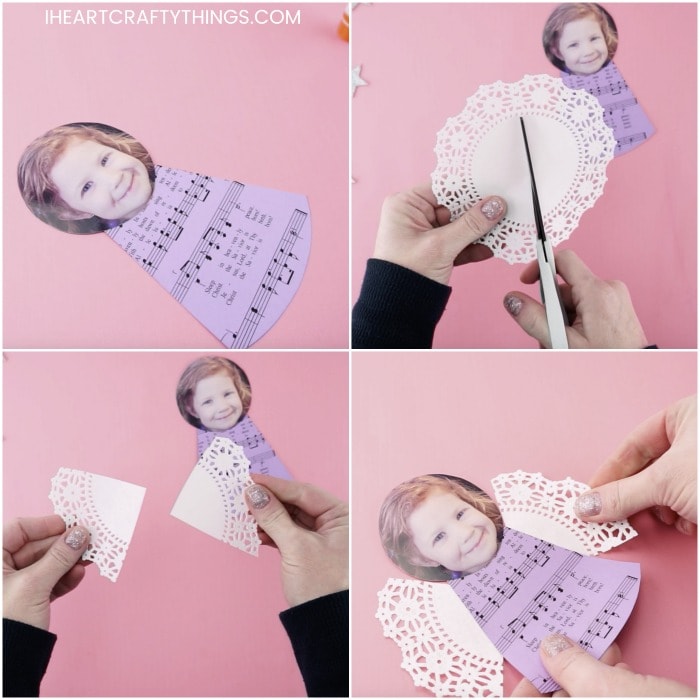 Step 5: Using a glue stick, add glue at the top of the angel body. Glue the angel face at the top of the body.
Step 6: Cut angel wings out of a 6-inch round doily. To do this, cut a doily in half. Then cut one of the doily halves in half one more time. The two triangle pieces are perfect for angel wings.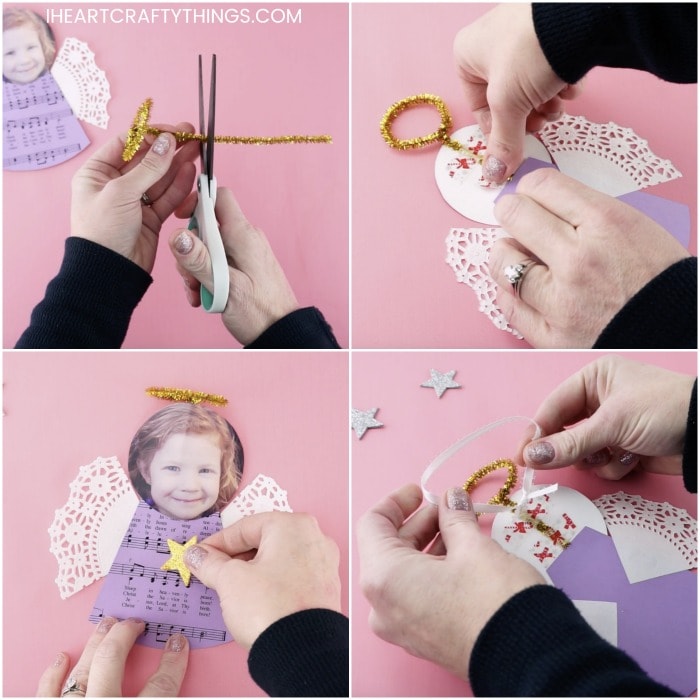 Step 7: Add glue on the end of each of the angel wings and glue them on the back of the angel ornament.
Step 8: Create an angel halo out of a silver or gold pipe cleaner. To make the halo, bend the end of a pipe cleaner to create a circle. Twist the end of the circle around itself to seal it shut. Cut the extra pipe cleaner off about 1 to 1-1/2 inches down from the halo.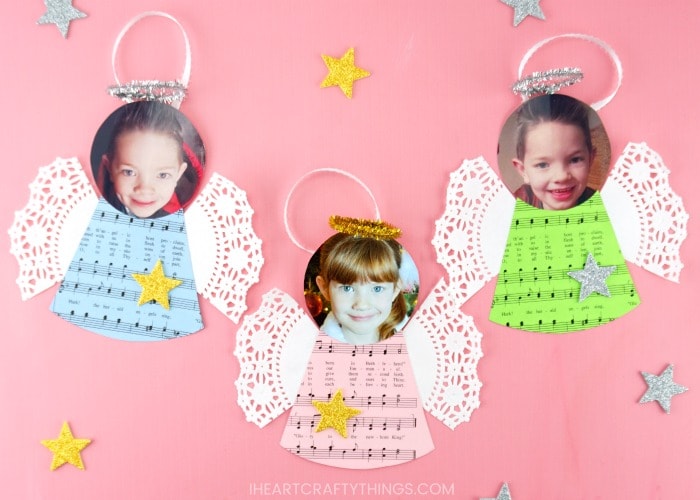 Step 9: Flip your diy angel ornament face down. Attach the halo to the back of the angel face with tape. Turn your angel right side up and bend down the halo down so it hangs on top of the angel ornament.
Step 10: Peel the backing off a glitter foam star sticker and place it on your angel ornament.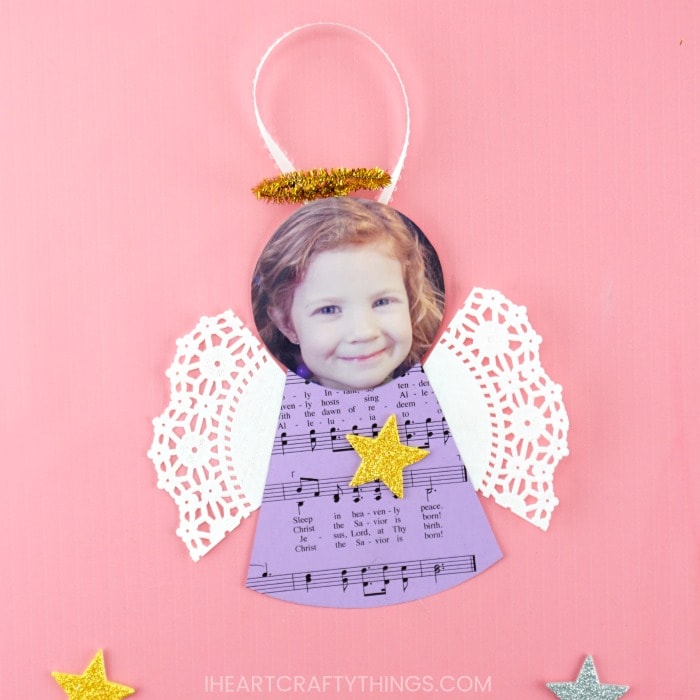 Step 11: Cut off a piece of small white ribbon about 9-inches in length. Make a loop with the ribbon and tie a knot in the end to seal it shut. Cut off any excess ribbon hanging on the side of the knot.
Step 12: Heat up your hot glue gun. (Remember, adult supervision is always required when using a hot glue gun.) Place a dot of hot glue on the back of the ornament behind the angel face. Place the hanging loop knot onto the glue to secure it on the back of the handmade ornament.
Hang your new tree ornament up on your Christmas tree and admire it's cuteness!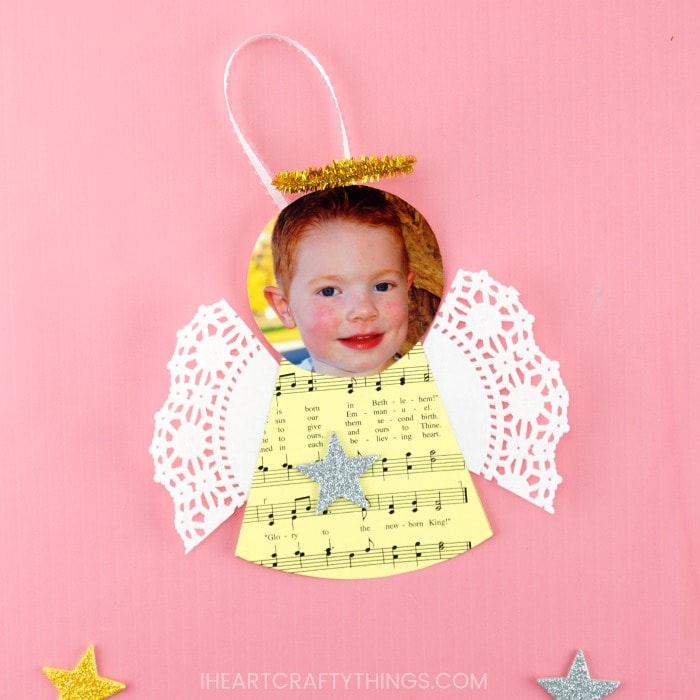 Video Tutorial: Step-by-Step guide to making this homemade Christmas Ornament Craft
Before you get started making your beautiful diy angel ornaments, watch the video below for a quick step-by-step guide on how to make them.
Find more Christmas crafting ideas, homemade Christmas crafts and easy craft ideas for kids by browsing the categories at the top menu bar of our website.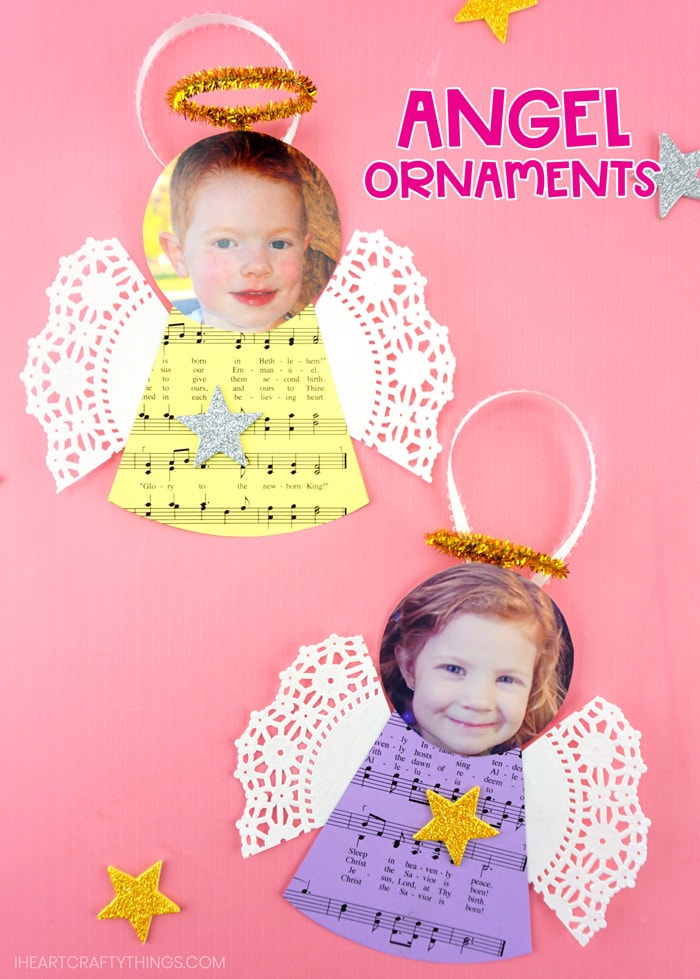 More Fun Angel Crafts and Christmas Craft Ideas
Wooden spoons are the perfect material for making these gorgeous Christmas angel ornaments. You can personalize the spoons to look just like you too!
Kids will love having a puppet show after creating one of these beautiful Christmas angel puppets. Here's another fun and simple way to make a paper angel craft for Christmas.
Have any extra wooden clothespins in your craft supplies and need a fun way to use them? Create this beautiful clothespin angel Christmas ornament.
It doesn't get more simple than using coffee filters to make this easy angel ornament. This cute craft also makes a fun tree topper.
All you need is some craft wire to create these simple and cute wire angel ornaments. These are a fun option for older children to make as gifts for friends and family.
Start collecting wine corks to whip up some of these simple diy angel ornaments. They also make fun gift toppers for a bottle of wine gift.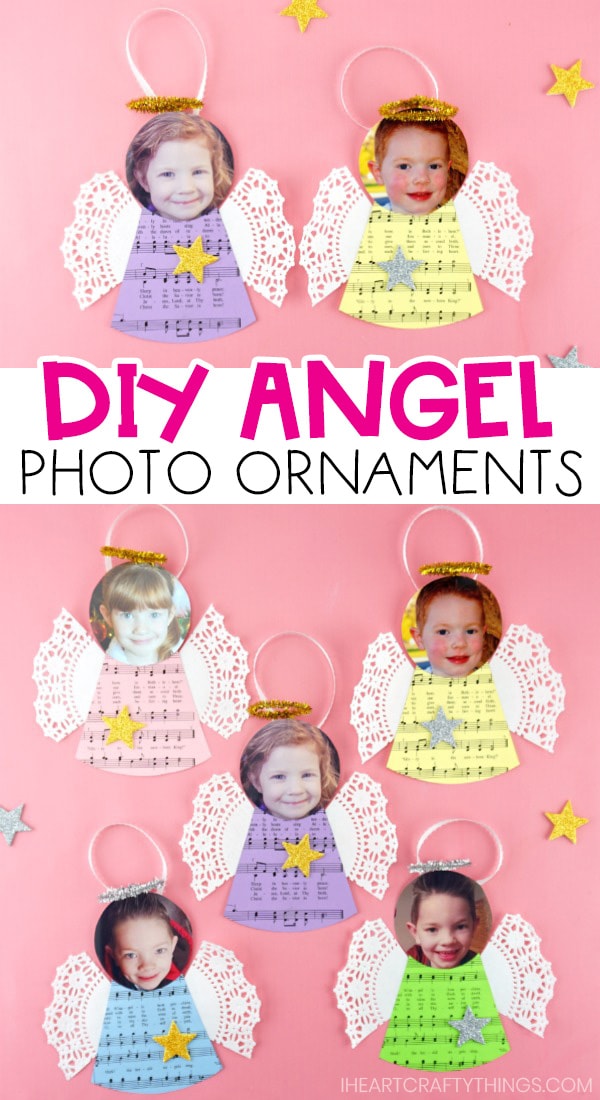 Looking for more simple and fun Christmas crafts for kids? Check out our collection of over 50 beautiful Christmas arts and crafts ideas for kids.