Homemade Christmas cards are a perfect way to send family and friends special greetings during the holiday season. This colorful gingerbread house card is sure to bring a big smile to someone's face this Christmas.
There are so many fun little details on this beautiful card that help give it a festive and amazing look, yet it is super simple for even preschoolers to create. We have helped making this card extra easy for kids of all ages too with our card template.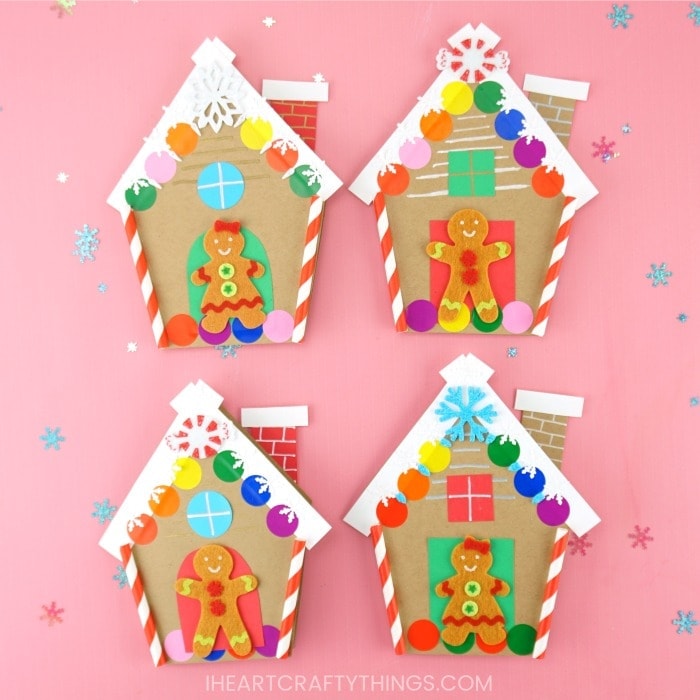 I host a gingerbread house making party with my extended family every year during the holiday season and it's of my most favorite traditions. Every child gets a house of their own to decorate with white icing and a big selection of gum drops, candy canes and other candies.
It's fun seeing each child's take on how they decorate their house with each one looking beautiful and completely different from each other.
These colorful gingerbread house cards are another fun way for kids to use their creativity this holiday season. Kids will love decorating and personalizing the front of the card to look like a wintery, yummy gingerbread house. As you can see from my examples, each card truly has it's own unique look about it.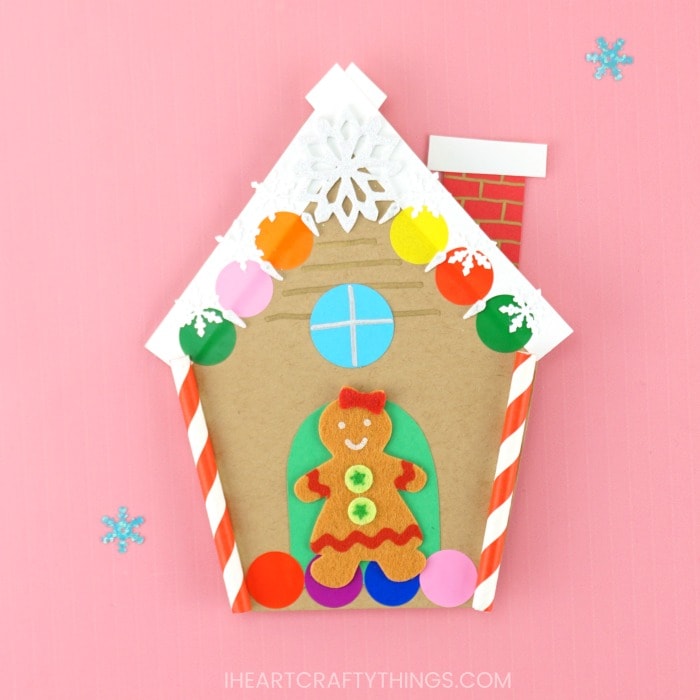 These cute cards are fun for sending happy holiday wishes for Christmas but they can also be used as a thank you card to friends, family and relatives for Christmas gifts received.
Whether you make them at home, with a large group at school or at church, kids will have a blast creating these colorful gingerbread house cards.
Read our simple how-to instructions for making these colorful Christmas cards below, and make sure to catch our full video tutorial near the bottom of this post.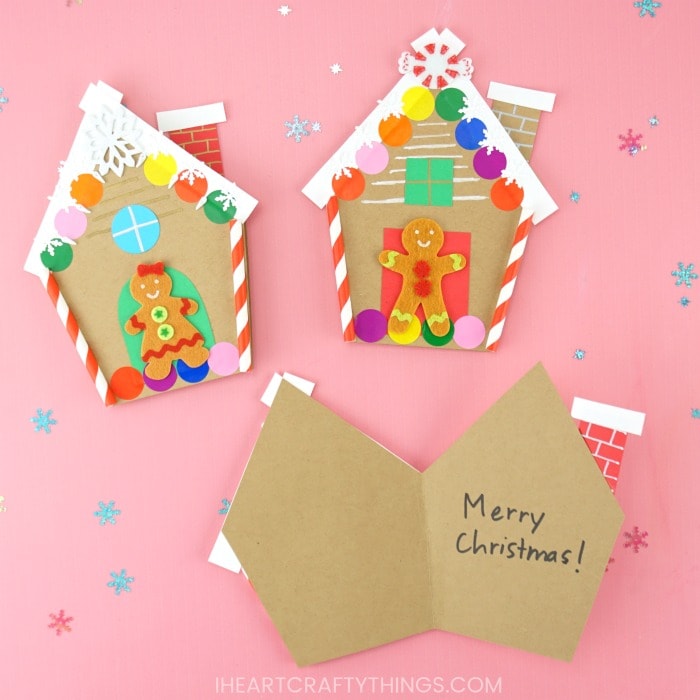 How to Make a Gingerbread House Card
I Heart Crafty Things is a participant in the Amazon Services LLC Associates Program, an affiliate advertising program designed to provide a means for sites to earn advertising fees by advertising and linking to amazon.com.
Supplies needed for making your Homemade Christmas Card:
Instructions for making Gingerbread House Greeting Card
Step 1: Download the gingerbread house card template. Print the card template on brown kraft cardstock paper and the house details page of the template on white paper.
Step 2: Fold the card template in half along the dashed line. Then cut out the gingerbread house.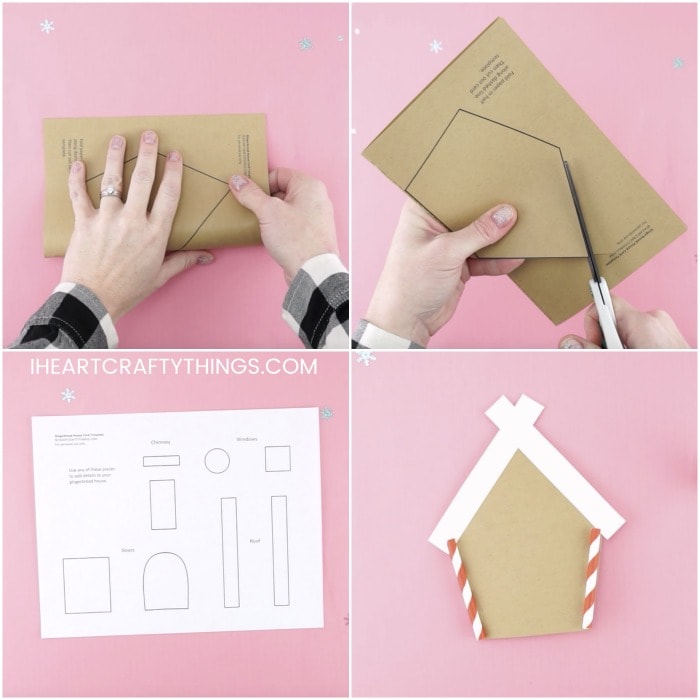 Step 3: Use the house details template page as a pattern to trace and cut out the pieces you want to use for your gingerbread house on colored cardstock. Pick out one door and one window, then the chimney and roof pieces. If you want a snowy look for your house, you'll want the roof pieces and the top of the chimney to be white.
Step 4: Glue the two rectangle roof pieces at the top of the gingerbread house so they cross each other at the top of the house. Trim off any excess overhang from the top of the house that you don't want.
Using white gives your house a winter wonderland look, similar to what you'd achieve when decorating a gingerbread house with white icing.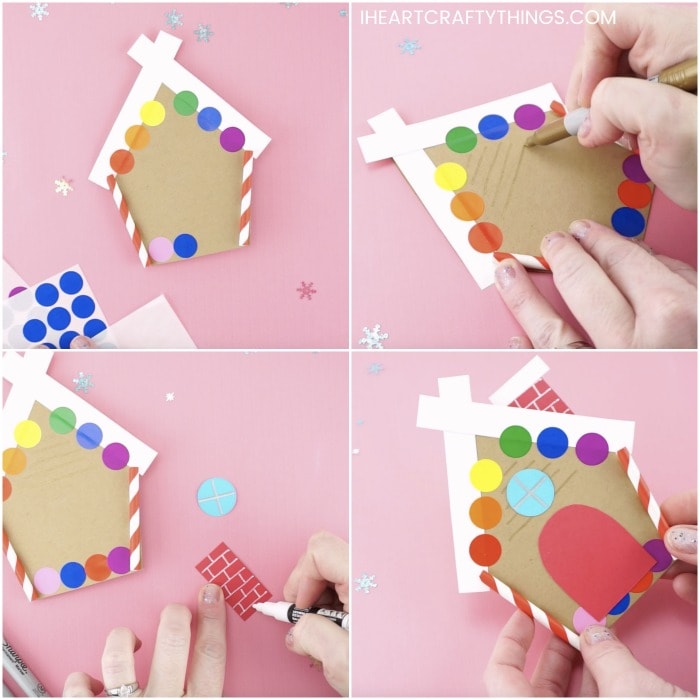 Step 5: Cut a red striped paper straw in half. Glue one piece on each side of the gingerbread house. You may need to trim the straw more if it hangs below the house. The stripes of the red straw make it look like a candy cane on your house.
Step 6: Use 3/4-inch circle label stickers to decorate the roof line of the house and the bottom of the house. The colorful stickers look like gum drops.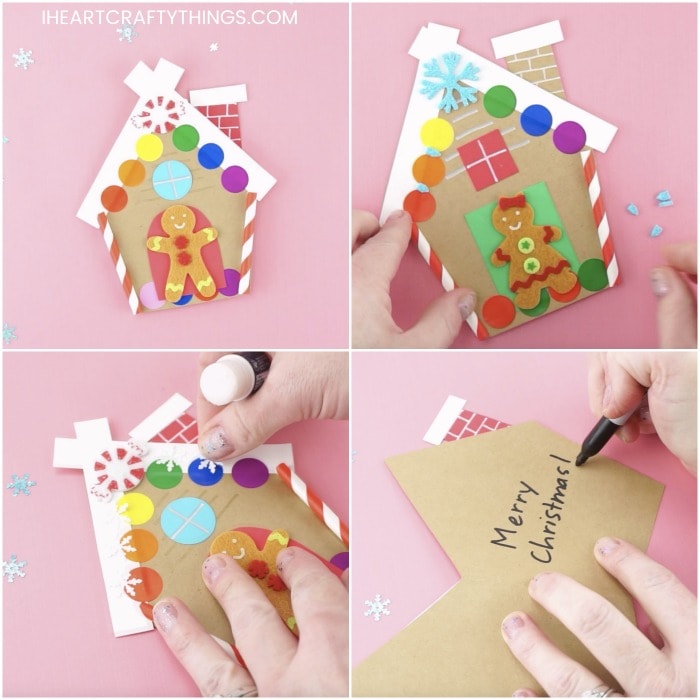 Step 7: With a metallic Sharpie marker or a white chalk or paint pen, add some details to your house and detail pieces. Draw lines at the top of the house to make a roof line. Then draw an X inside your window to create a window. You can also had lines on your chimney to define bricks on it.
Note: A great alternative to using permanent markers with little crafters would be crayons, washable markers or colored pencils.
Step 8: Glue the gingerbread house door, window and chimney onto your card. It's best to glue the chimney on the back of the card to not only add dimension but also so it doesn't interfere with opening and closing the card.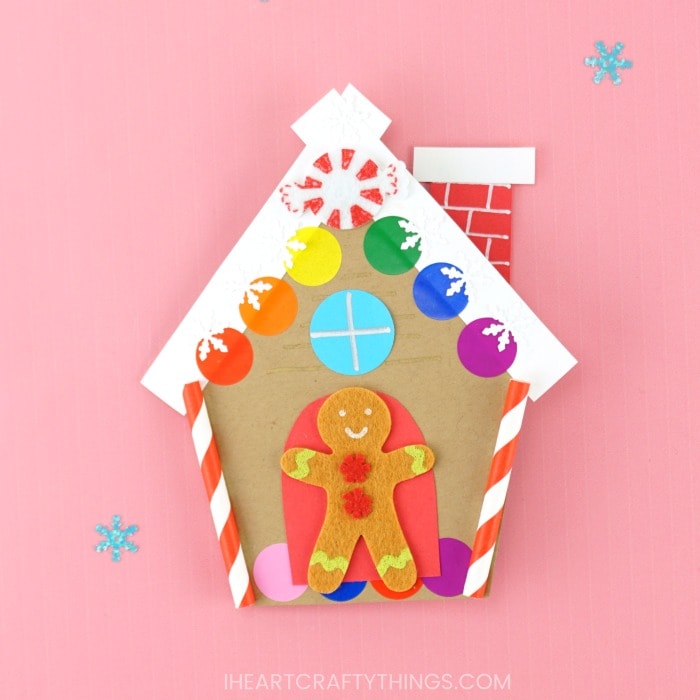 Step 9: Peel the backing off your felt gingerbread man sticker and adhere it on the front of your card. If your sticker pack comes with peppermint stickers, add one at the top of the gingerbread house roof.
Another fun alternative is using glittery snowflake stickers. When you remove the small pieces out of the inside of the snowflake sticker, keep them and place them between some of the gum drop stickers on your house to look like icicles hanging from the roof.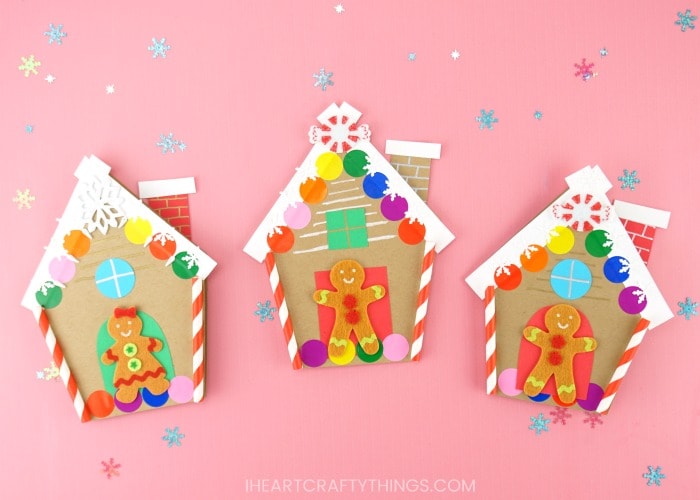 Step 10: Use your small snowflake punch to cut out several white snowflakes. Glue them around the roof of the gingerbread house.
Step 11: Open up your card and use a marker to write a greeting on the inside like "Merry Christmas" or "Happy Holidays". You can also give the card as a thank you to friends or family for an act of service they helped you with, or as a thank you for a gift you received during the holiday.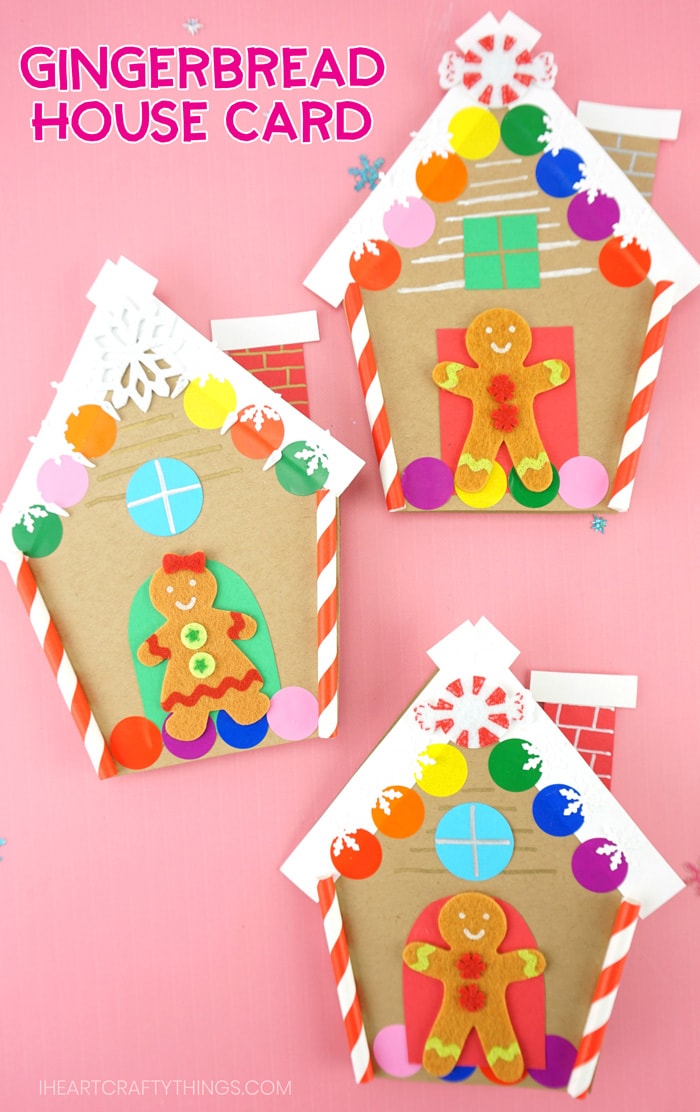 Video Tutorial: Step-by-step guide for making a gingerbread houses greeting cards
Before you get started making your cute holiday greeting card, watch the video below for a quick guide on how to make it.
Find more Christmas crafts, homemade card ideas and easy paper crafts for kids by browsing the categories at the top menu bar of our website.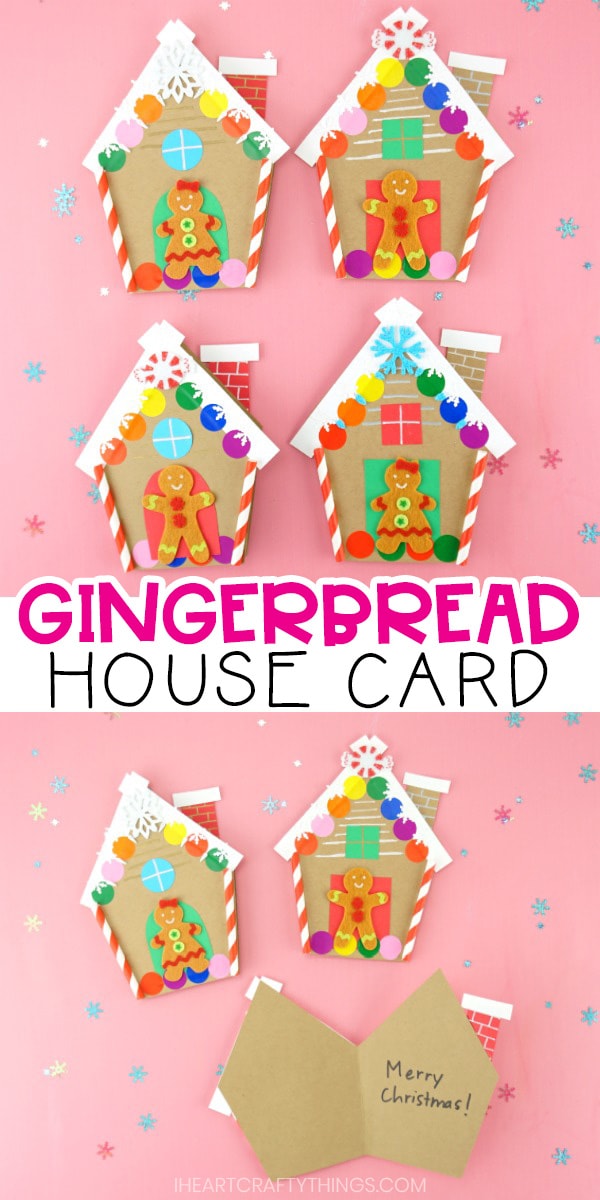 More Easy Christmas Crafts for Kids
Our free template makes creating this simple paper snowman craft easy for kids of all ages. It's perfect for the whole winter season too.
Do you love adding homemade ornaments to your Christmas tree? If so, you'll definitely want to make some of the gorgeous Christmas marble ornaments. These paper straw snowflakes are another fun diy ornament idea.
These kid made string art Christmas cards are another fun and simple way to make a DIY greeting card. So great for practicing fine motor skills with the little ones too.
Looking for more fun and easy Christmas projects for kids? Check out our list of over 50 Christmas arts and crafts ideas. Santa crafts, reindeer crafts, Christmas trees, elves and so much more.