Homemade greeting cards are the perfect way to make family and friends feel extra special this holiday season. This Christmas tree card is super simple for kids and adults to make and it is sure to brighten someone's day. 
I love when I'm driving through my neighborhood at night during the holiday season and see beautifully decorated Christmas trees shining through big front windows. It's a picturesque, perfect scene for Christmas, and that's why it was the inspiration behind our easy to make Christmas tree cards.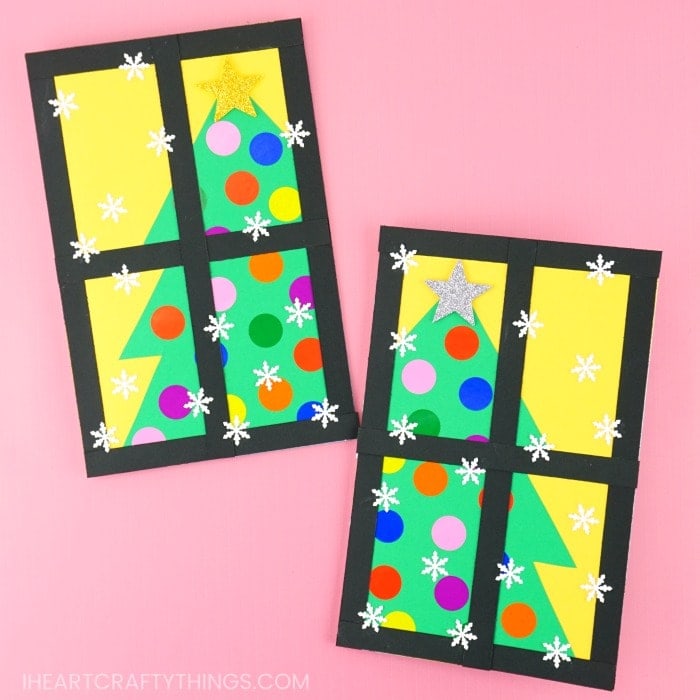 We've made crafting this gorgeous Christmas card simple for kids of all ages with our card template, which you can find linked below in the supplies list.
I really love the addition of colored circle stickers for tree decorations because it gives the card an extra pop of color. Are you ready to add this beautiful Christmas craft to your to-do list?
Get ready for an afternoon of fun with your kids making this gorgeous, easy-to-make Christmas tree card.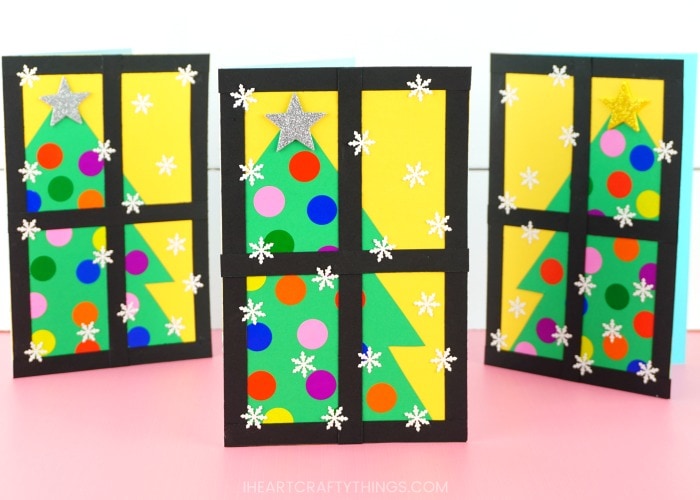 Read our simple how-to instructions for making these beautiful homemade Christmas cards below, and make sure to catch our full video tutorial near the bottom of this post.
How to Make a Christmas Tree Card
I Heart Crafty Things is a participant in the Amazon Services LLC Associates Program, an affiliate advertising program designed to provide a means for sites to earn advertising fees by advertising and linking to amazon.com.
Supplies needed to make a DIY Christmas Card:
I've had a few people message me that they have had problems printing the Christmas tree page of the template, where the Christmas tree comes out as a black box. If you are having troubles with that page, please try downloading the image form of the template HERE. Once you have downloaded the image simply print it at 100%.
glitter star stickers (We found ours at Michael's but THESE are similar.)
scissors
glue
Instructions for making a Christmas tree card
Step 1: Download and print out the Christmas tree card template. Use the template to cut out the Christmas tree piece on green cardstock and the window pieces on black cardstock.
Step 2: Fold your light blue cardstock in half and crease it in the center to create a card.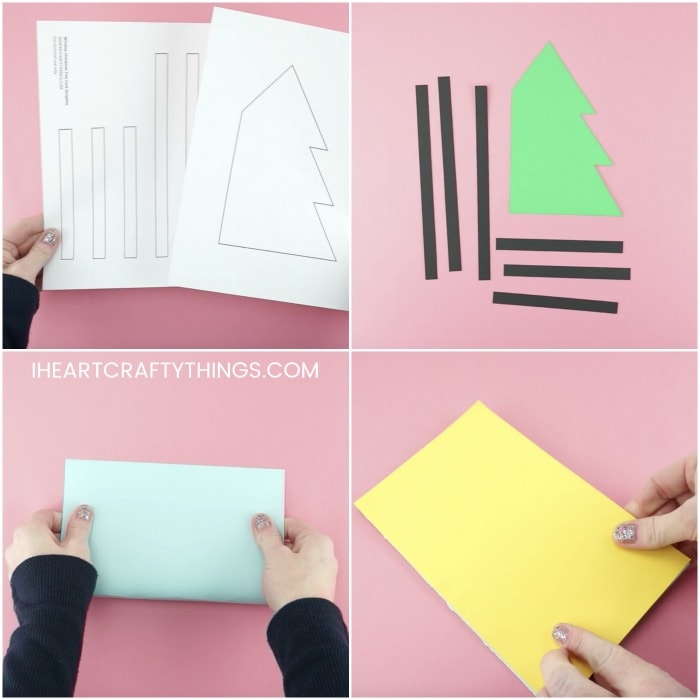 Step 3: Cut a rectangle from yellow cardstock that is 8 1/2-inches by 5 1/2-inches. Glue the yellow rectangle on the front of your greeting card.
Step 4: Glue the Christmas tree template on the bottom corner of the front of your card.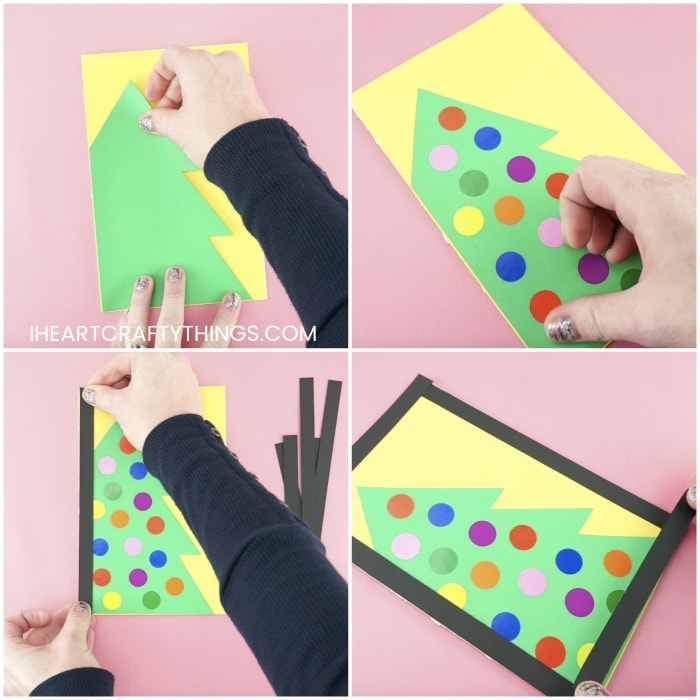 Step 5: Decorate the Christmas tree with colored circle stickers.
Step 6: Add glue on the back of the window frame pieces and place them on the perimeter of the front of the Christmas card.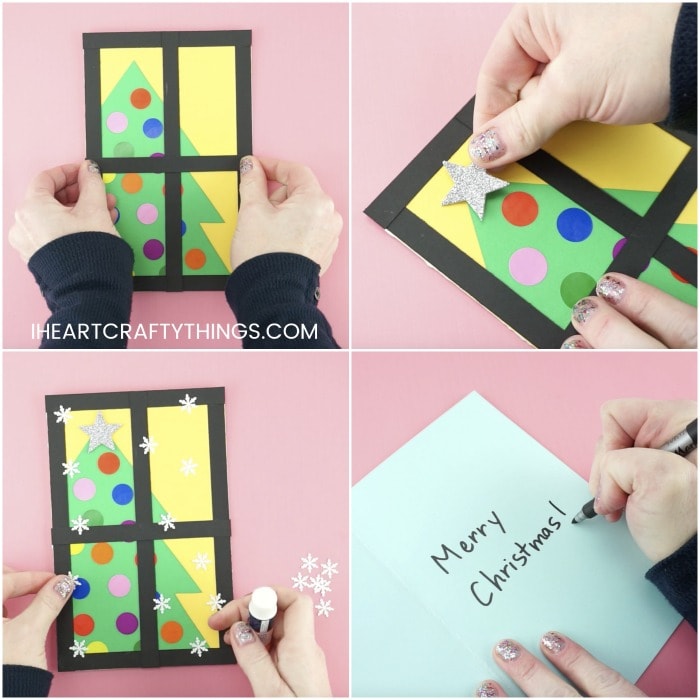 Step 7: Add glue on the two remaining black rectangle window frame pieces and glue them in the center of the card in a t-shape to complete the window frame.
Step 8: Place a glittery star sticker at the top of the Christmas tree.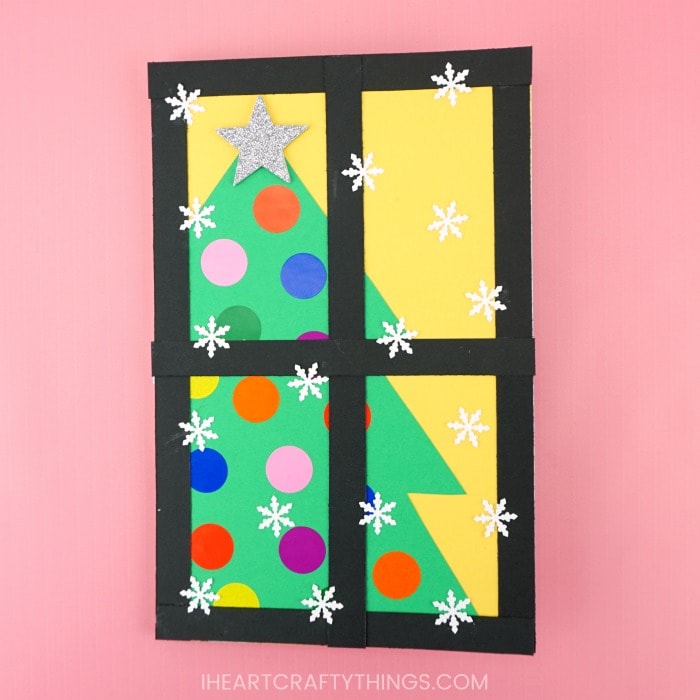 Step 9: Use a small snowflake punch to cut out about 10-15 snowflakes from white cardstock paper. Glue the snowflakes around the front of the tree card.
Make sure to glue some of the snowflakes touching the black window frame to achieve the look of it snowing outside the window.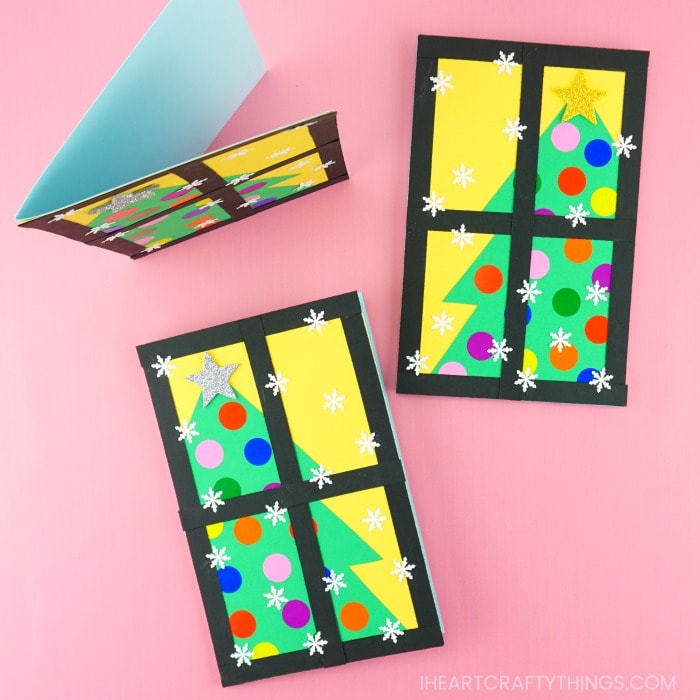 Video Tutorial: Step-by-Step Guide for making a Christmas Tree Greeting Card
Before you get started making your card, watch the video below for a step-by-step guide on how to make our easy DIY Christmas tree card.
Find more Christmas crafts and easy paper craft ideas by browsing the categories at the top menu bar of our website.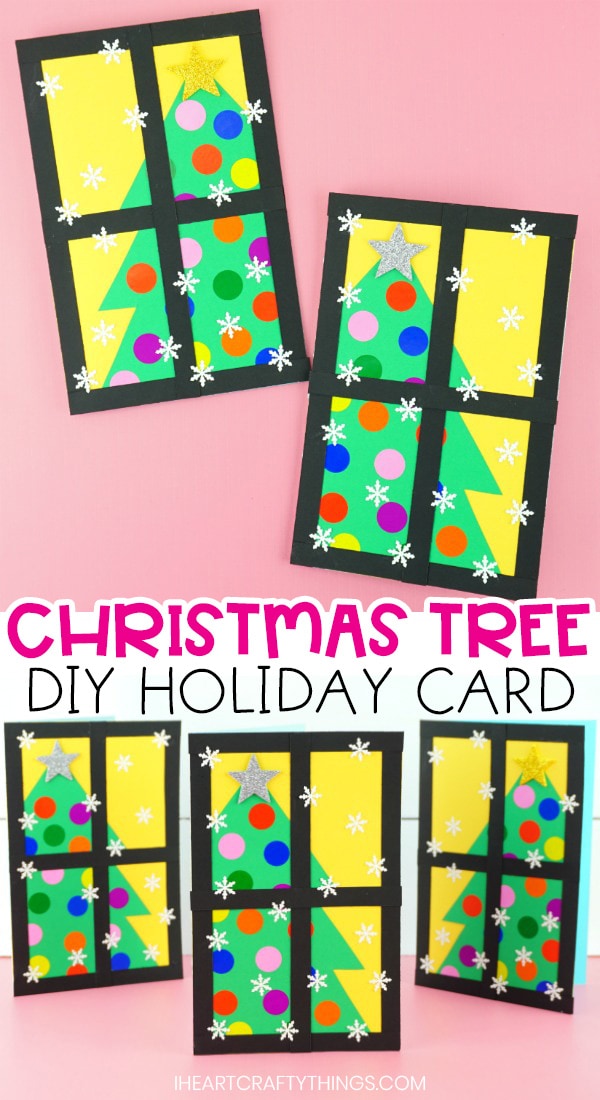 More Easy Christmas Crafts for Kids
These darling DIY Cactus Christmas Cards are not only super cute, but they come with a fun ornament on the inside for an easy gift.
Get ready for some amazing play time after making this cute Christmas gnome finger puppets. Kids of all ages will love this fun make and play Christmas craft.
Looking for more simple and fun Christmas crafts for kids? Check out our collection of over 50 beautiful Christmas arts and crafts ideas for kids.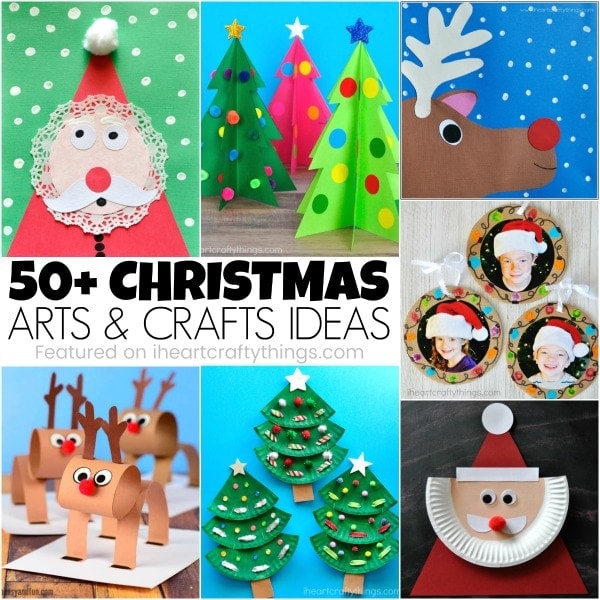 Want to make this idea as an art project instead of a card? Find the instructions for how to make a mixed media Christmas tree art project over at our friend's website.
These glittery Christmas trees are another simple and beautiful way to create a homemade Christmas card.