It's officially the Christmas season and that means it's time to put on some of your favorite Christmas movies, turn on some Christmas carols and get out the craft supplies for some fun Christmas arts and crafts projects like this easy paper plate reindeer craft we are sharing with you today.
There is something adorably irresistible about Rudolph the red-nosed Reindeer, isn't there?! I have so many fond memories of watching the classic movie on TV as a kid. We couldn't resist making a fun Rudolph craft this holiday season to go along with family movie night.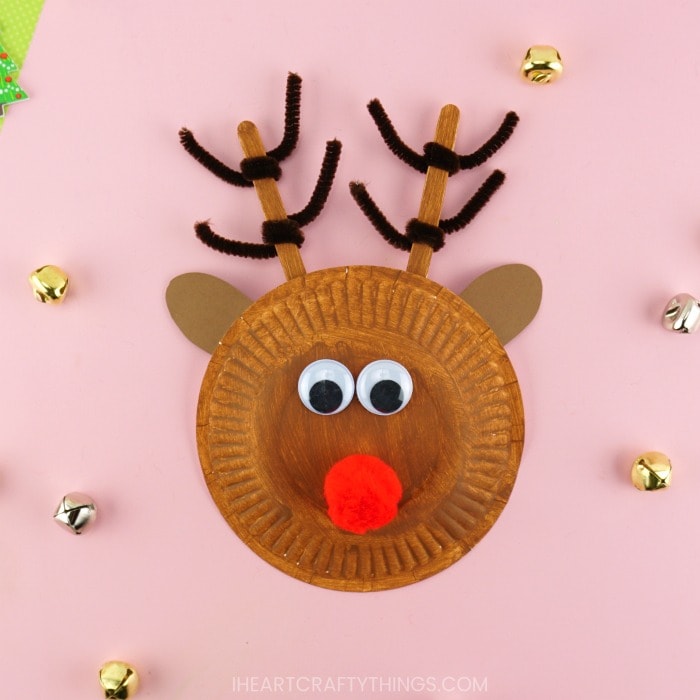 [This craft was originally published on November 20, 2014. It has been republished and updated with a how-to video, a revised tutorial and additional photos.]
How to Make a Paper Plate Reindeer Craft
Using paper plates makes this reindeer craft super simple for preschoolers and kids of all ages. We used smaller, dessert sized paper plates to create our reindeer crafts but you can use whatever you have on hand.
Read our easy tutorial below for how to create make your own Christmas angels. Make sure to watch our video tutorial inside this post before get started too.
Supplies needed to create this Paper Plate Christmas Craft
This post contains affiliate links to the products mentioned. Read our disclosure policy for more information.
paint brush
brown cardstock or construction paper
scissors
tape
glue
Directions for making your reindeer craft
1. Start by painting the bottom of your small paper plate and 2 craft sticks with brown paint. Set them aside and let them dry completely.
Pro Tip: We used a small dessert sized paper plate because it was what we already had on hand at home. You can use any size of paper plates to make this craft though. If you use a regular sized paper plate we recommend using large craft sticks for the antlers to accommodate for the larger paper plate.
2. Once your brown paint has finished drying, cut both of your brown pipe cleaners in half. Wrap two sections around each craft stick to hold them in place and point them upward to form antlers.

3. Tape your antlers to the back of your paper plate. You can also use Tacky glue or hot glue (with adult supervision) to attach the antlers to your paper plate.
Pro Tip: If you want to add some extra personalization to this Christmas craft, swap out the craft stick antlers for handprint antlers. Simply trace your child handprints on a piece of brown paper, cut them out, and glue them at the top of the paper plate reindeer for antlers. Check out how to make our reindeer handprint card for more inspiration.
4. Glue the googly eyes and large pom pom red nose onto your paper plate.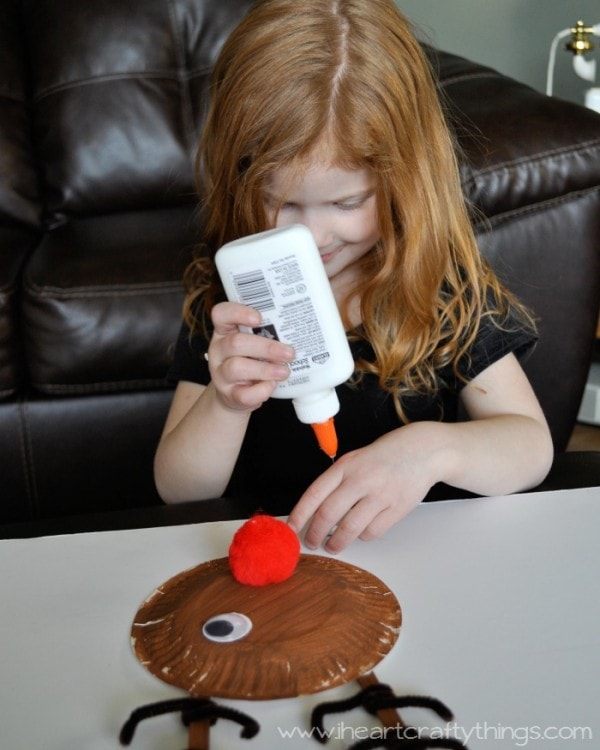 5. Cut two ears out of your brown construction paper and glue them onto the back of your paper plate.
If you are making this craft with preschoolers, I recommend drawing the ears onto the brown paper for the child and then having them cut them out. This is what I did for my daughter. Toddlers might need more assistance with cutting out the ears.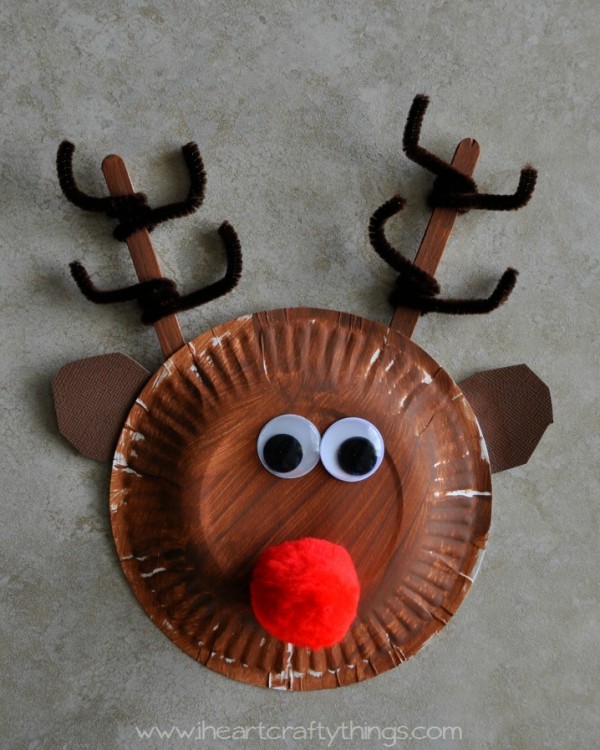 This paper plate reindeer craft is a fun Christmas craft for kids to make at both home or school.
It's a great way to extend the holiday fun by making it after reading a Christmas book about Rudolph the Red-Nosed Reindeer, or watching a holiday movie.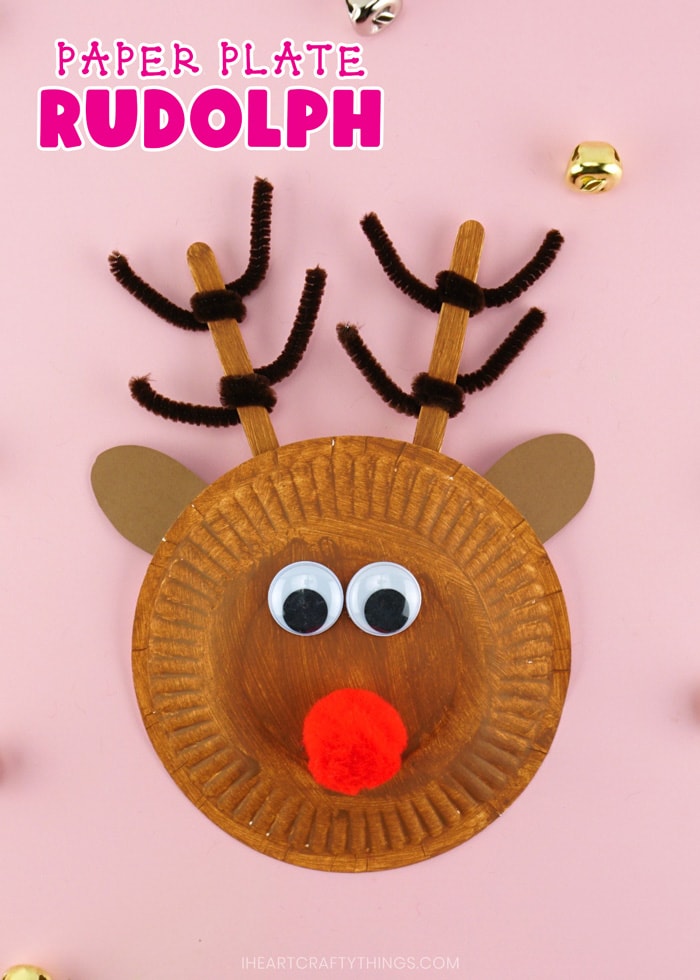 Looking for more Reindeer Crafts for Kids inspiration?
We have you covered! See our step-by-step tutorials for how to make a reindeer craft out of newspaper, darling reindeer finger puppets, sponge painted reindeers, and how to work fine motor muscles with this easy yarn wrapped reindeer craft.
Do you love using paper plates crafts? Check out these fun and easy paper plate animal craft ideas.
You might also love our amazing list of over 50 Christmas arts and crafts ideas for kids.