This is a sponsored post written by me on behalf of Huggies® because "Kids Outgrow Diapers, Not Messes™". As always, all opinions are my own. We hope you enjoy an evening of crafting this holiday season making this fun pinwheel pasta Christmas Tree Craft.
Looking for a bright, colorful and simple Christmas kids craft to make with your family this holiday season?
This Christmas Tree Craft made from pinwheel pasta, cardboard, yarn and glitter is the cutest Christmas tree craft around! It is fun for kids of all ages too so you most definitely want to add it to your to-do list this holiday season.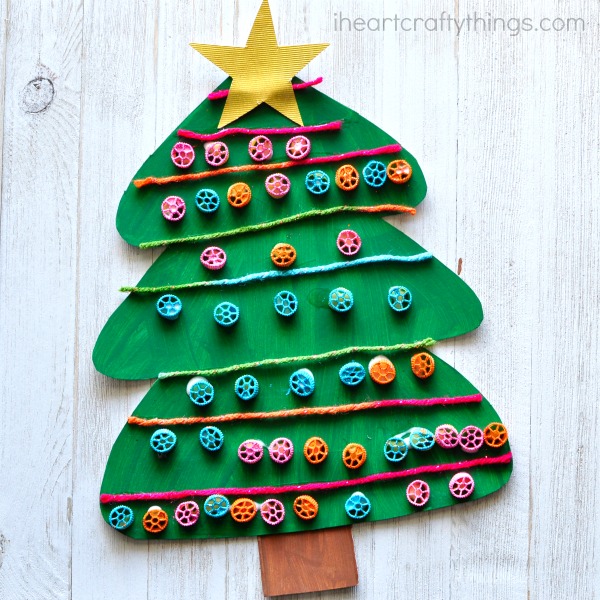 How to Make a Pinwheel Pasta Christmas Tree Craft

Supplies Needed to Make this Pasta Christmas Tree Craft
– cardboard (or a cereal box)
– acrylic paint (green, brown and colors of your choice to paint your pasta)
– paintbrush
– paper plates
– pinwheel pasta
– glitter
– yarn (we used a multi-colored metallic yarn)
– gold cardstock (optional)
– school glue
– Huggies® Wipes
Directions for Making this Christmas Tree Pasta Craft

1. Gather your supplies. Start by cutting out the shape of a Christmas tree and a tree trunk from your cardboard or cereal box. We cut our star out of gold cardstock but you could use cardboard instead. Pour some green and brown paint onto a paper plate and use your paintbrush to paint all the cardboard pieces. Set them aside to dry.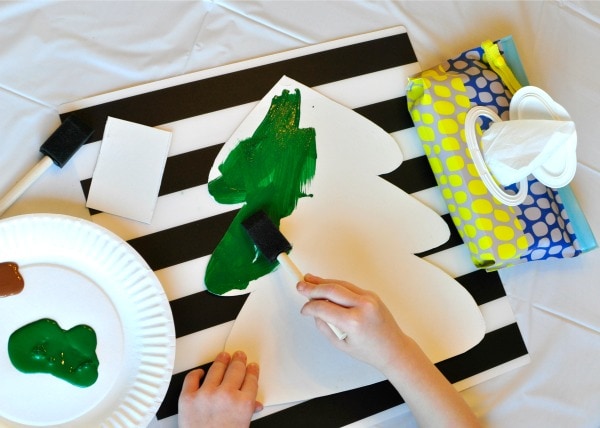 Make sure to have your Huggies® Wipes out on the table, open and ready to tackle any messes while you make the craft. They are super convenient for wiping up hands immediately after painting. Not only do their triple layers help clean paint off hands and faces gently and easily, but having them right at the table makes it so your kids don't have to trek across the house with wet paint on their hands.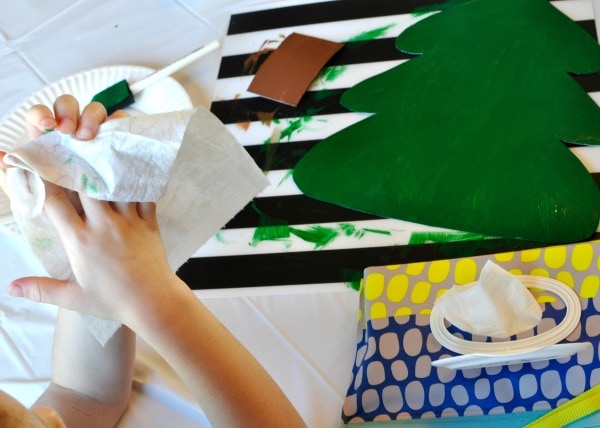 2. Now it's time to paint your pinwheel pasta. Squeeze out a few different colors of paint onto a paper plate. One at a time, dip your pinwheel pasta into the paint to cover one side of them and then place them paint side up onto a place mat or tablecloth to let them dry.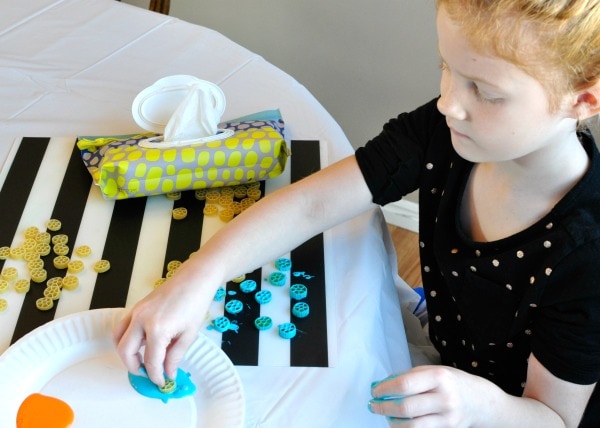 3. While the pasta is still wet sprinkle them with glitter to give your Christmas craft some fun sparkle. Switching between the different colors when painting the pasta was a breeze for my daughter since she just grabbed a Huggies® Wipe and cleaned the paint off her fingers between colors.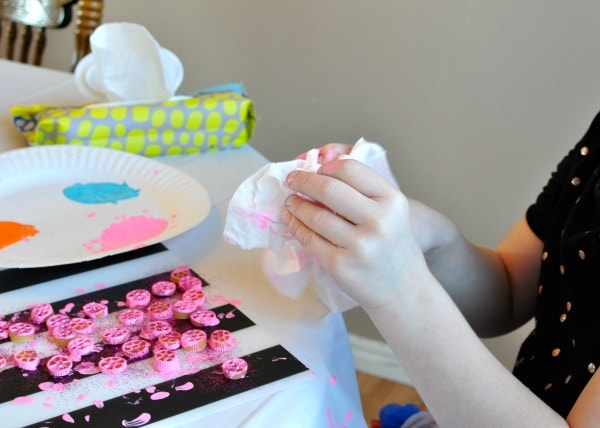 4. After the cardboard pieces are dry, glue the trunk to the bottom of your Christmas tree. Now cut several different strands of yarn to decorate your tree with. Add lines of school glue across your Christmas tree and place your pieces of yarn on the glue. If you have pieces that hang off the sides of the tree, trim them with scissors.
5. Glue your gold star at the top of your pasta Christmas tree craft.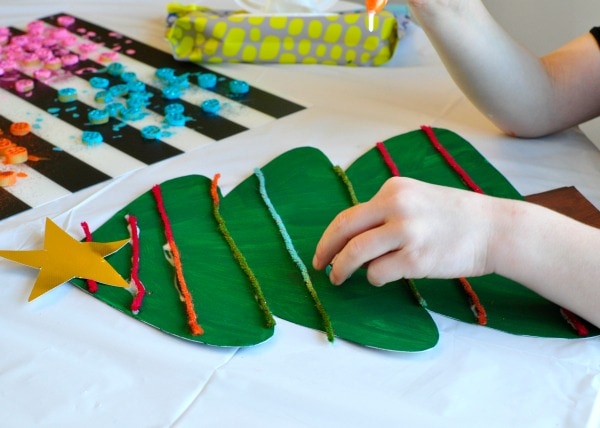 6. Finish your pasta Christmas Tree craft by adding dots of school glue all over your tree and gluing on your pinwheel pasta as colorful, sparkly ornaments.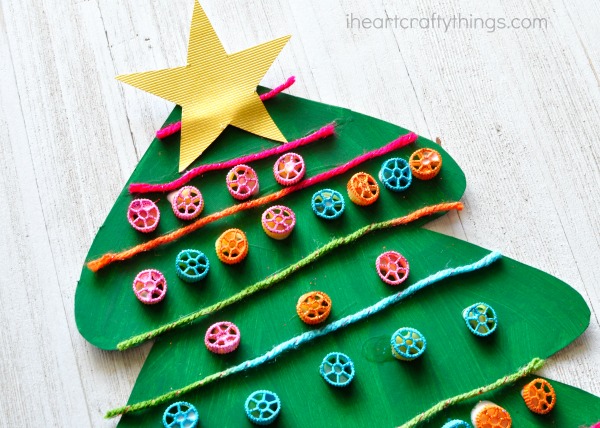 Even simple crafts that require school glue can get messy so having your Huggies® Wipes out every time you craft is a great idea. We even like to keep a package of Huggies® Clutch 'N' Clean Pack in our car since you never know when unexpected messes might happen. I love how they have a fun and awesome assortment of convenient sized packages so everyone in the family can get exactly what they need.
Does your family love messy activities? Join the Huggies® #HugTheMessSweepstakes by tagging your messy kid photos on Instagram and Twitter for a chance to win $2,500. We would love to see some messy Christmas craft entries!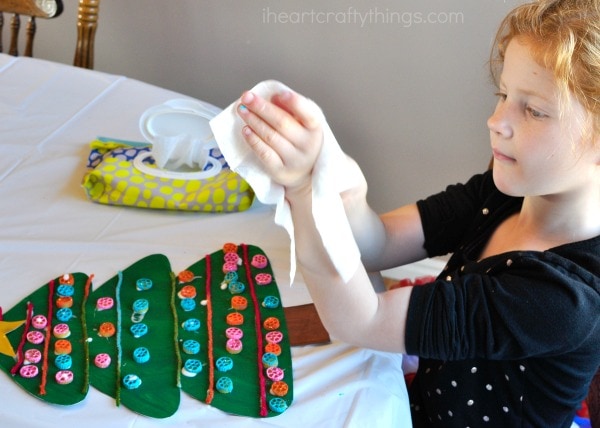 Visit Huggies® to purchase wipes for your craft supplies, or find them at your local store (not just in the baby department). Make sure to stay connected by following Huggies® on Facebook, Instagram and Twitter.
MORE FUN ART ACTIVITIES SPONSORED BY HUGGIES®:
Marbled Art Earth Day Craft
Puffy Paint and Footprint Ice Cream Cone Craft
Mixed Media Columbus Day Craft