Newspaper has become my favorite crafting material this year so I am super excited to share this darling newspaper Santa Claus craft with you today. It makes a fantastic Christmas craft for kids of all ages to enjoy.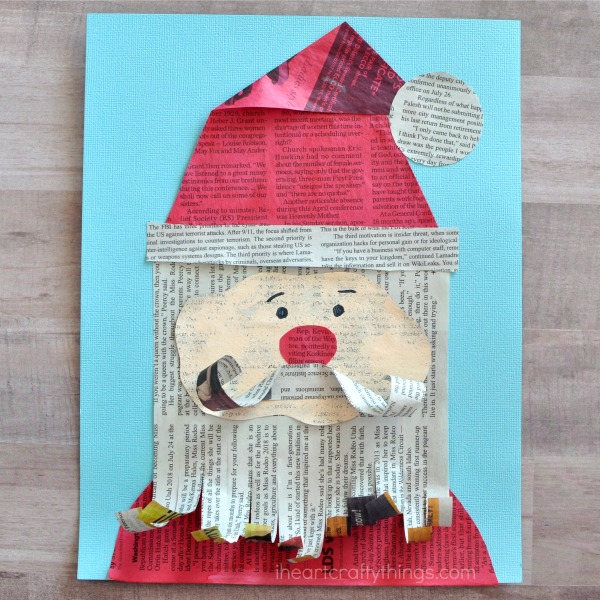 How to Make a Newspaper Santa Claus Craft
Using newspaper gives this adorable Santa craft a fun mixed media look to it but you could also swap out the newspaper for paper for a more traditional craft.
This post contains affiliate links to the products mentioned. I Heart Crafty Things is a participant in the Amazon Services LLC Associates Program, an affiliate advertising program designed to provide a means for sites to earn advertising fees by advertising and linking to amazon.com.
Supplies needed for this newspaper craft:

NOTE: If you are in the EU, please visit our TpT Store to purchase any of our templates.
Watch the full tutorial before you get started and subscribe to our YouTube channel so you never miss a new video!
Instructions for Making this Santa Claus Craft:
1. Begin by painting a section of your newspaper with red watercolors. The newspaper will be saturated but let it sit to dry completely and as it dries it will crisp back up.
2. Now use your sponge dabber painting brush to paint a small section of your newspaper with peach acrylic paint. Set the painted newspaper aside to dry completely.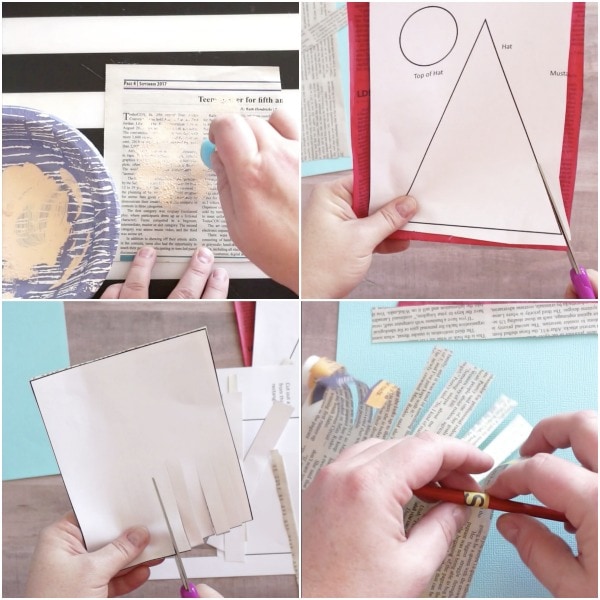 3. When your painted newspaper is finished drying, cut out the pieces you'll need to make your adorable newspaper Santa Claus craft. If you purchase the pattern from our store this step is easy.
If not, you will need to cut out these pieces:
From your unpainted newspaper, cut out a rectangle for the Santa head and beard. Make slits about half way up the rectangle for the Santa beard. You'll also need two slim rectangles, one for the brim of the Santa hat and one for Santa's mustache from your unpainted newspaper. Lastly, cut out a circle for the end of the Santa hat.
From your red painted newspaper, you'll need to cut out a triangle Santa hat, a half circle body and an oval Santa nose.
From your peach painted newspaper, cut out a Santa face.
4. Use a pencil to wrap the ends of the paper beard strips around it and up to make curls at the end of the beard. Then glue the beard onto your blue cardstock paper.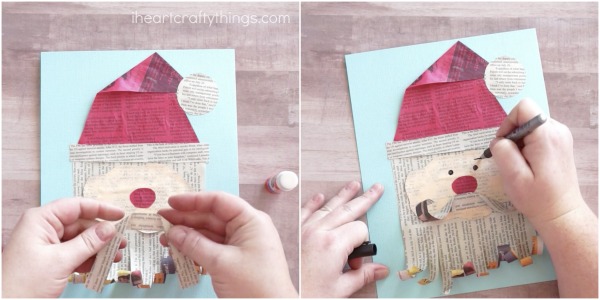 5. Fold over the top of the red triangle and glue it down into place to make a Santa hat. Glue the hat at the top of the Santa head. Then glue the circle onto the end of the Santa hat and the rectangle hat brim at the bottom of the hat.
6. Glue peach Santa face onto the Santa head and the nose in the center. Then fold down two sections of your rectangle mustache and glue it at the bottom of the red nose. Use a pencil to curl the ends of the mustache.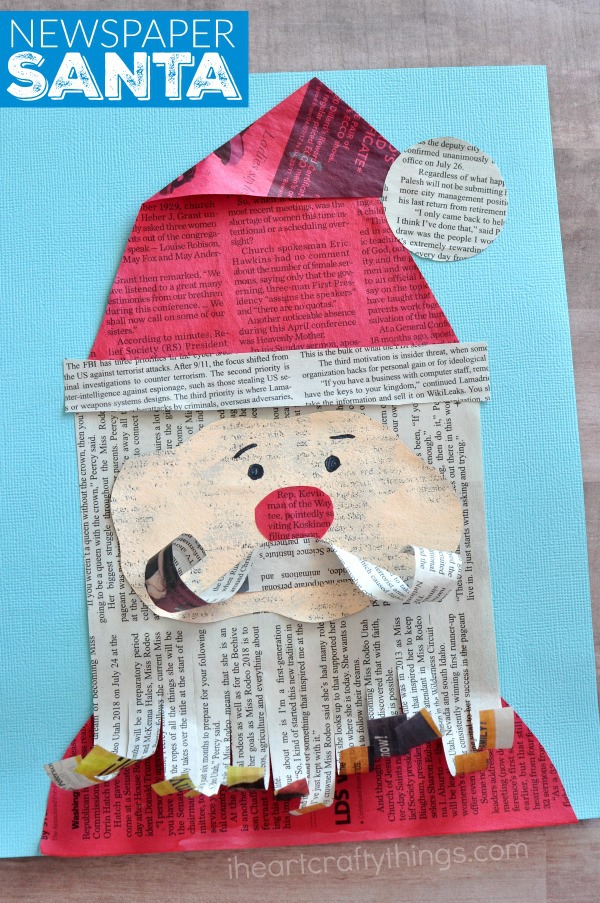 7. Glue the red Santa body at the bottom of your blue cardstock underneath the curly Santa beard. Finish your adorable newspaper Santa Claus craft by using a black marker to draw eyes and eyebrows onto your Santa.
Your newspaper Santa Claus Craft is complete!
Looking for more fun Christmas arts and crafts?
Check out these creative Christmas tree arts and crafts ideas! Or you might also enjoy this beautiful paper Rudolph Craft.