The holiday season wouldn't be complete without an adorable reindeer craft! We pulled out one of our favorite crafting materials this past week and created this awesome newspaper reindeer craft.
This cute reindeer makes a fabulous Christmas craft for kids and if you'd prefer, you can swap out the newspaper for colored cardstock. Either way, this cute newspaper reindeer craft is sure to fill your afternoon with loads of fun!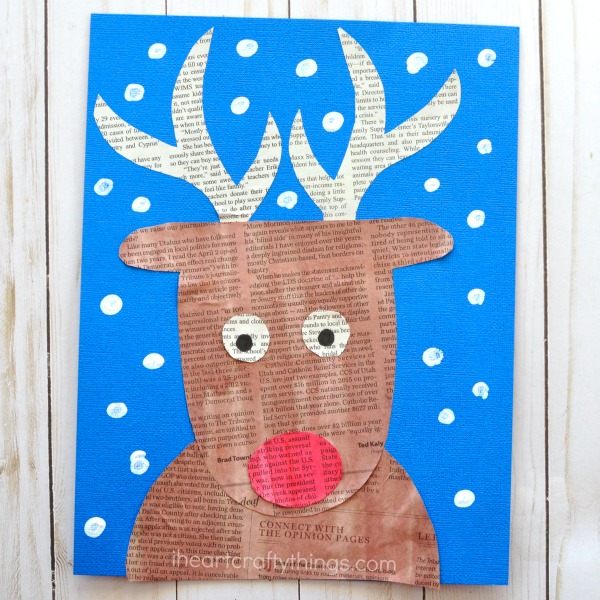 How to Make a Newspaper Reindeer Craft
This post contains affiliate links to the products mentioned. I Heart Crafty Things is a participant in the Amazon Services LLC Associates Program, an affiliate advertising program designed to provide a means for sites to earn advertising fees by advertising and linking to amazon.com.
Supplies needed to make this newspaper craft:

NOTE: If you are in the EU, please visit our TpT Store to purchase any of our templates.
Instructions for making a Newspaper Reindeer Craft:
1. Begin by painting a sheet of your newspaper with brown watercolors and small section of newspaper with red watercolors. The newspaper will be saturated but as it sits and dries it will crisp back up.
2. Use the reindeer craft pattern to cut out the different pieces for your reindeer. If you choose not to purchase the pattern you'll need to cut out a half circle reindeer body and a reindeer head and ears from your brown painted newspaper. Cut out antlers and circle eyes from your unpainted newspaper. Lastly cut out a reindeer nose from your red painted newspaper.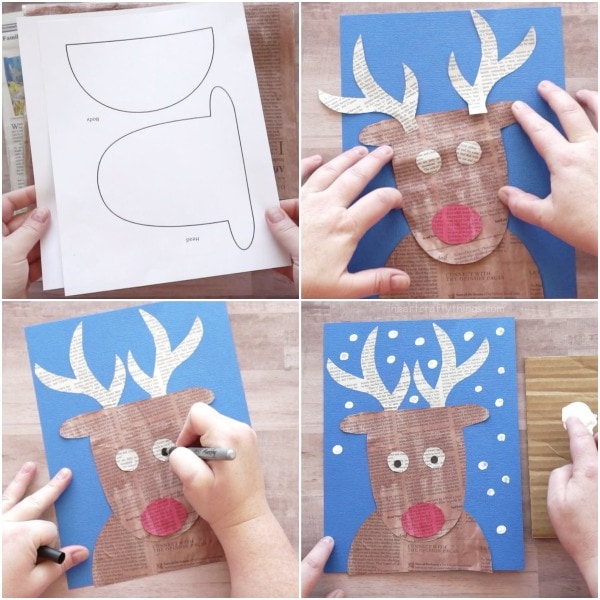 3. Glue the reindeer body at the bottom of your blue cardstock. Then glue the reindeer head at the top of the body.
4. Glue the reindeer antlers at the top of the reindeer head. Finally, glue the eyes and nose onto the reindeer face.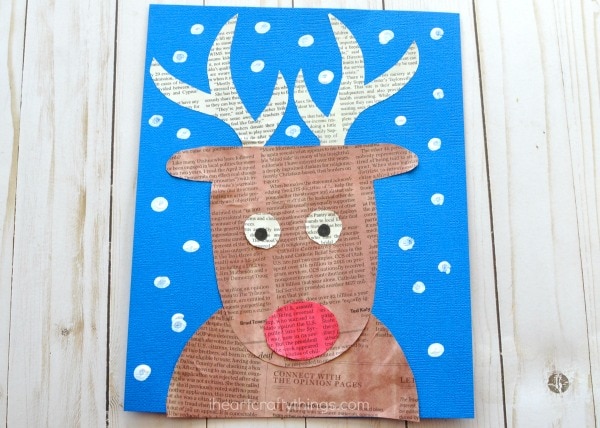 5. Use a black marker to draw pupils inside your reindeer eyes.
6. Finish your newspaper reindeer by making white fingerprints around your blue cardstock to look like it is snowing.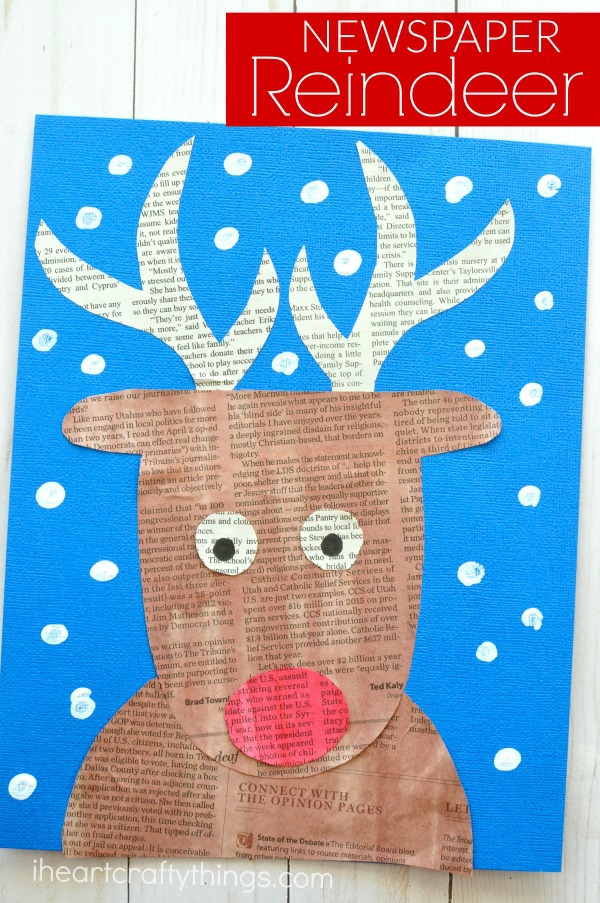 Looking for more fun Christmas arts and crafts activities?
Check out these awesome 3D Christmas Trees. You might also enjoy this beautiful paper bag angel craft.
We have a huge collection of over 50 Christmas Arts and Crafts ideas to browse through too!