We created these Marble Christmas Ornaments as a sponsored craft for Testors®. All opinions expressed are 100% my own. We hope you and your children enjoy making these beautiful DIY marbled ornaments for your Christmas tree this year.
Get ready to fall instantly in love with these gorgeous marbled ornaments we are sharing with you today! Don't be intimidated by their beauty because they are super easy for kids and adults to create. They will make such a fun and festive addition to your Christmas tree.
We made our ornaments with classic Christmas colors like red, green, silver and gold, but they can be customized with any colors to match your Christmas tree and holiday decor.
Our use of cardboard as the base for our marbled ornaments is a fabulous choice for the environment and is a great way to use up those boxes from all of your online Christmas shopping. The flat surface is also perfect for achieving an amazing marbled effect on each ornament.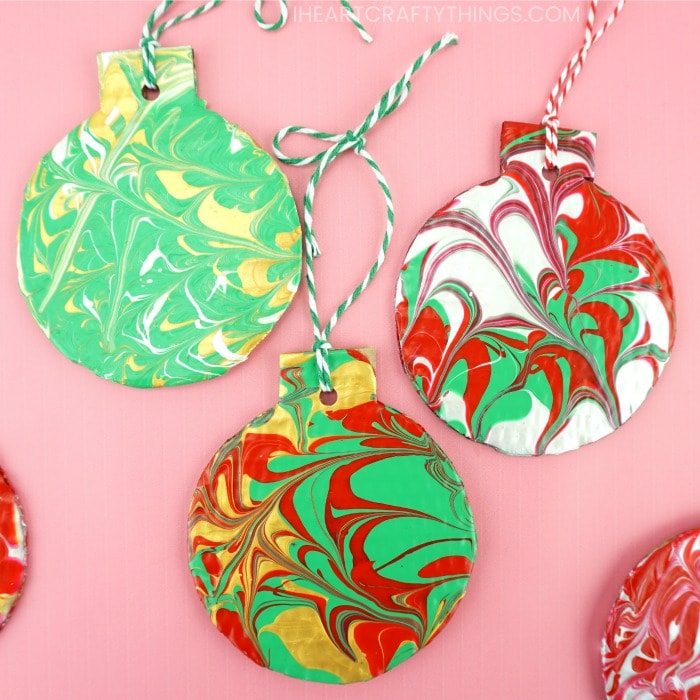 We've seen tons of DIY marbled ornament ideas out there that require harsh chemicals like nail polish and use glass ornaments which aren't child friendly.
Sure you can use plastic ornaments instead with those ideas, but our marbling technique is so much easier and is safe for children to help you create. Kids and adults are going to love making these beautiful Christmas ornaments!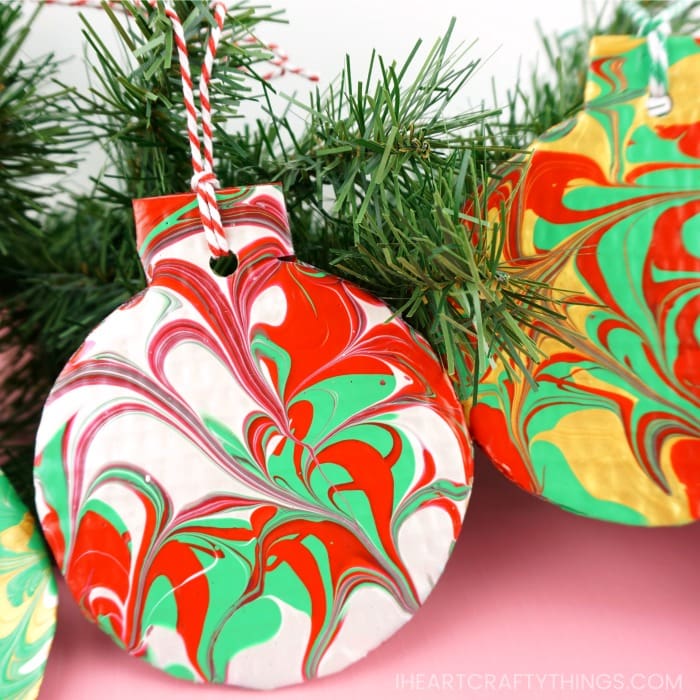 How to Make DIY Marble Christmas Ornaments
The secret to achieving the smooth marble effect of these DIY ornaments is made easy with Testors® Marbling Medium.
Continue reading our step-by-step tutorial below and watch our video near the end of this post to see how you can whip up some of your own marbled ornaments in no time at all.
Supplies needed to make your marbled ornaments:
Christmas bauble ornament template <—– Get the template HERE
cardboard
paper cups
measuring cup (we used 1/8 cup)
plastic spoons
metal tray
hole punch
baker's twine
scissors
pencil for tracing
Instructions for how to make Marble Christmas Ornaments
Step 1: Begin by downloading and printing out the Christmas bauble template.
Step 2: After cutting out the template, use a pencil to trace it on a piece of cardboard. Cut out each of your traced cardboard ornaments.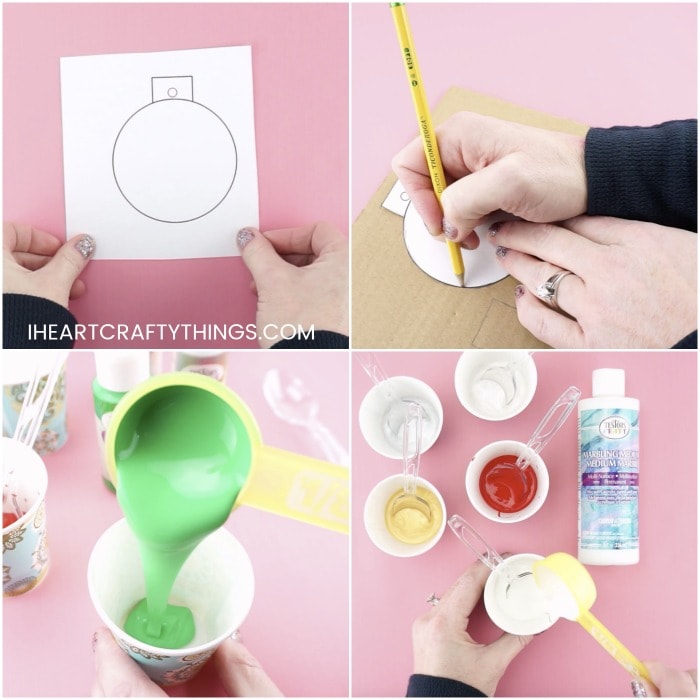 Step 3: Choose which colors of acrylic paint you want to use to create your Christmas ornaments. You can make each ornament with different colors, or make several with the same colors.
For optimal marbled effect, I recommend using 3 different colors for each ornament.
Testors® Craft has such a great variety of acrylic paints to choose from, so no matter what color scheme you are looking for to match with your Christmas decor, you are sure to find a pack that is perfect for making your marble ornaments. Look for Testors® Craft acrylic paints and marbling medium at your local craft store.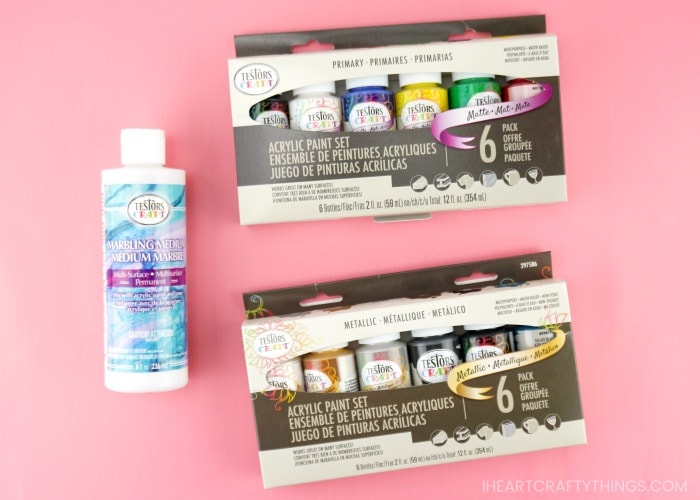 Step 4: Lay out paper cups for mixing together your acrylic paint and marbling medium. Add equal parts acrylic paint and marbling medium in your cups. Stir the mixture together thoroughly and then let it sit for several minutes to let any air bubbles settle.
Note: We used a 1/8 cup measuring cup and mixed the paint and marbling medium in 5 oz paper cups. (You could also use a plastic cup.) We used five different colors total and had enough to make about 6-8 ornaments.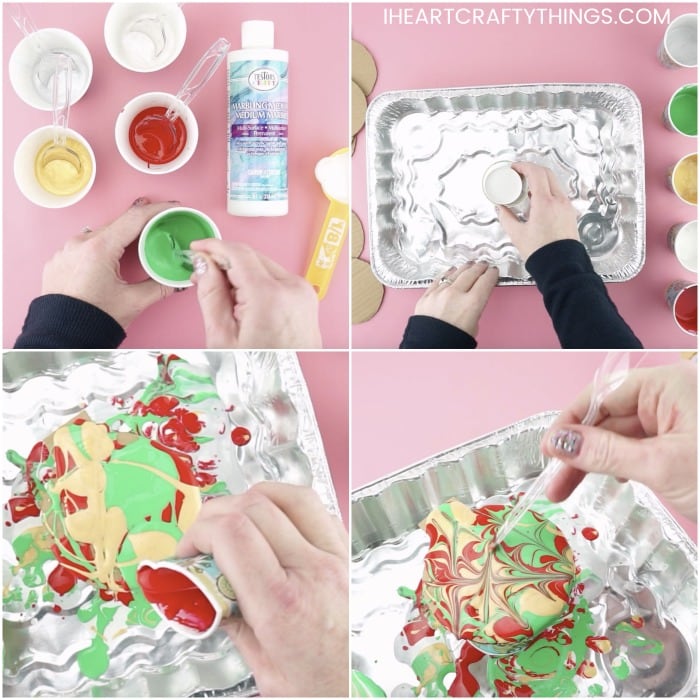 Step 5: Place a paper cup upside down inside your metal tray. The tray helps collect the extra paint that falls from the ornaments and makes for easy clean up. Lay one of your cardboard ornaments onto the paper cup.
Step 6: Pour lines and blobs of the different paint mixtures onto the cardboard, covering the ornament. Then use the end of a plastic spoon to draw lines up, down and diagonally across the paint mixtures to create a marbled effect on the ornament.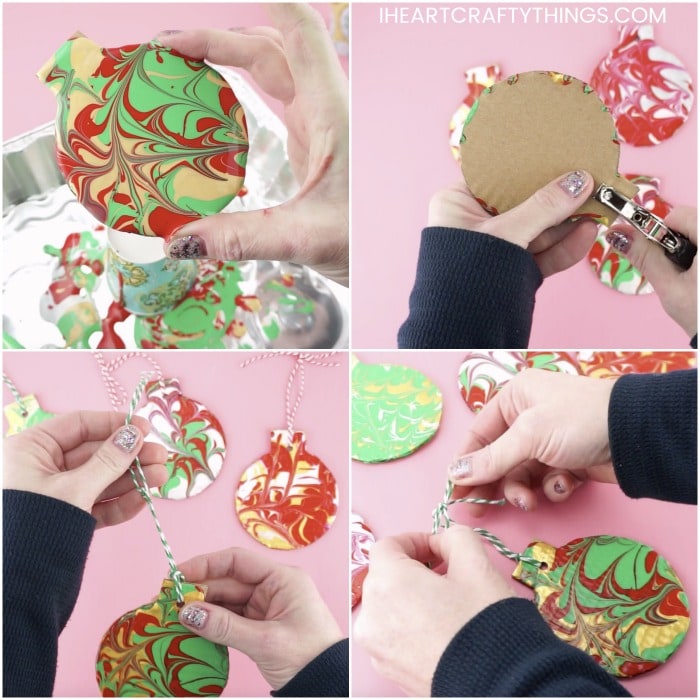 Step 7: Carefully pick the cardboard ornament up and roll the paint around to increase the marble effect and to cover the ornament completely with paint. Some paint will drip off the ornament into the metal tray.
Set the cardboard bauble back onto the paper cup and allow the ornament to dry completely, about 24 hours.
Continue adding another paper cup upside down in your tray and follow the process again, making as many marbled Christmas ornaments as you want.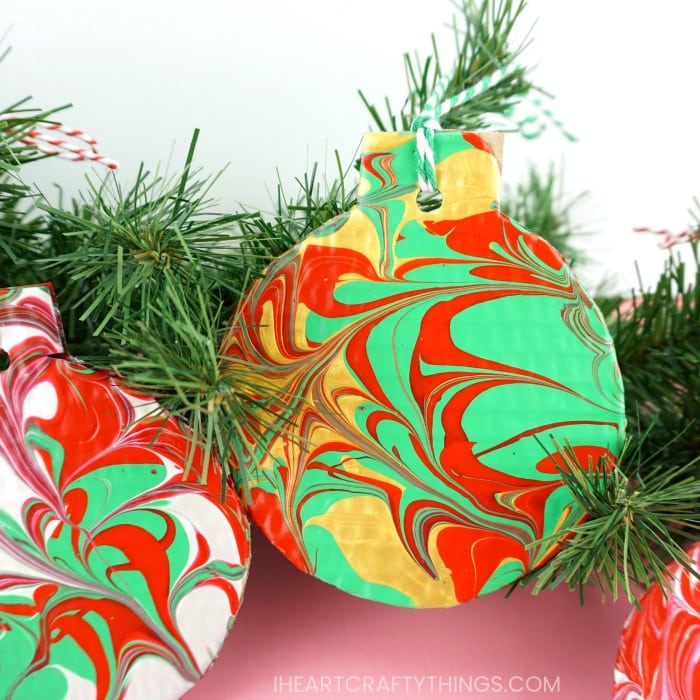 Step 8: When your ornaments have finished drying completely, use a hole punch to punch a hole at the top of the bauble.
Step 9: Cut a section of baker's twin about 15-18 inches in length. Create a circle for hanging your ornament and tie a knot in the baker's twine to seal it shut. Do not cut off the excess baker's twine at the top.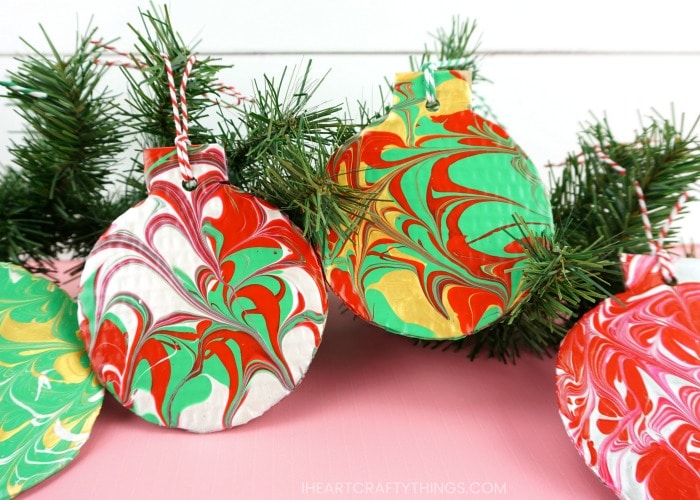 Step 10: Push the bottom of the hanging loop you just created in step 9 through the hole in the front of the Christmas ornament. Push the opposite knotted end through the loop created at the back of the ornament and pull it tight so it secures the tie onto the ornament.
Step 11: Tie a bow with the excess baker's twine at the top of the ornament.
Your gorgeous finished ornament is now ready for hanging on the Christmas tree.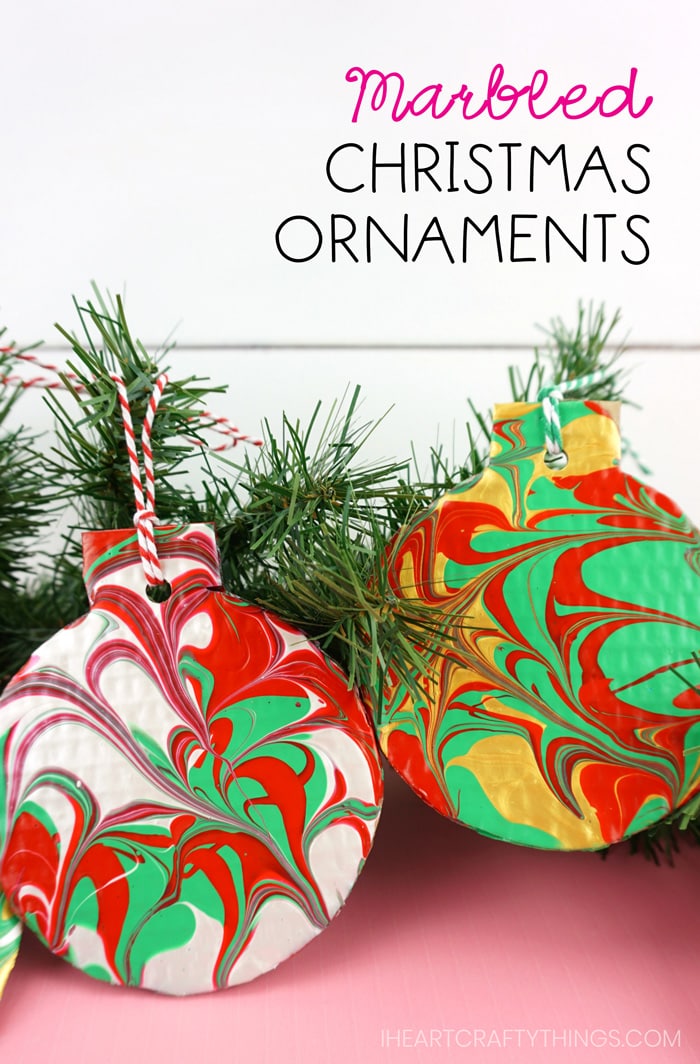 Video Tutorial: Step-by-Step guide for making marbled Christmas ornaments
Before you get started with this craft, watch the video below for a step-by-step guide on how to make these easy marbled ornaments.
Find more easy kids crafts and Christmas craft ideas for kids by browsing the categories at the top menu bar of our website.
Visit Testors® website for more information about their craft products and to get more Christmas craft inspiration.