This fireplace craft is so easy and festive for kids to create for a Christmas craft. Add a hanging cord on the back of the craft and turn it into a homemade Christmas ornament for extra fun!
Make this festive Christmas craft at home, at school or with a small group for a play date. It's sure to provide an afternoon full of smiles and fun for kids!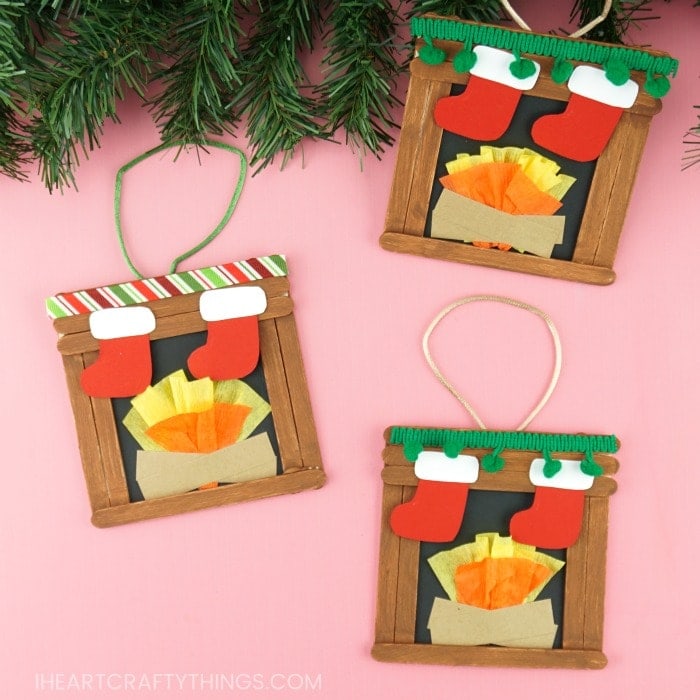 Who else loves sitting by the fire during the holiday season and staring up at the stockings hung with care? I sure do!
This beautiful craft stick fireplace ornament is a fun way to bring Christmas to life and it's super easy for kids to create. Our handy template helps make prep time a breeze too!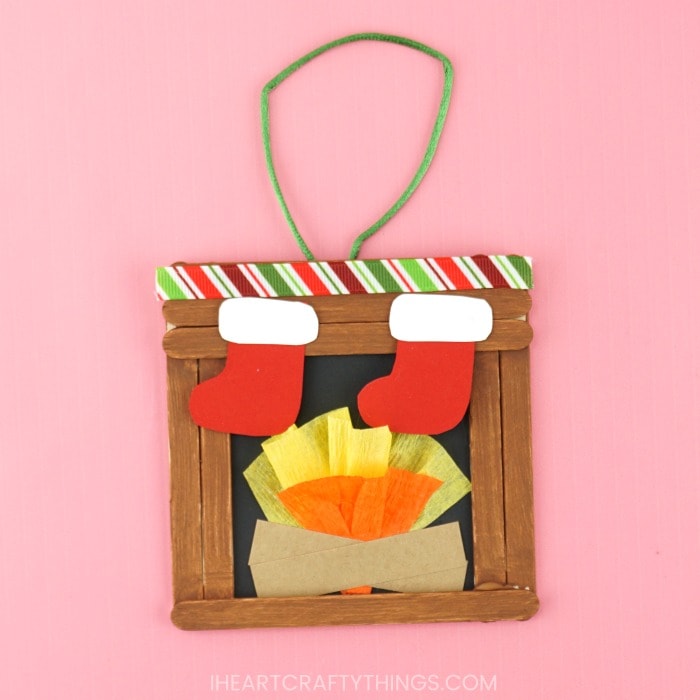 How to Make a Craft Stick Fireplace Craft Ornament
I Heart Crafty Things is a participant in the Amazon Services LLC Associates Program, an affiliate advertising program designed to provide a means for sites to earn advertising fees by advertising and linking to amazon.com.
Supplies needed for making Fireplace Ornament:
Fireplace Craft Template <—– Get the Template HERE
black, red, white and brown cardstock
Christmas ribbon (We received our pom-pom trim from our friends at Orientaltrading.com. All opinions expressed are my own.)
Christmas cording (We received our cording from our friends at Orientaltrading.com. All opinions expressed are my own.)
hot glue gun (adult supervision required)
glue stick
scissors
Instructions for making Fireplace Craft
Step 1: Gather eight wooden craft sticks to make your fireplace. Glue the craft sticks together with a hot glue gun to create a fireplace.
To do this, start by lining two craft sticks together. Add a dot of hot glue on the ends of the two craft sticks and place a craft stick horizontally along the bottom corner to start to form the box.
Then line two more craft sticks together, add glue at the bottom and attach the opposite end of the horizontal craft stick onto them. Glue three craft sticks horizontally at the top to finish building the fireplace.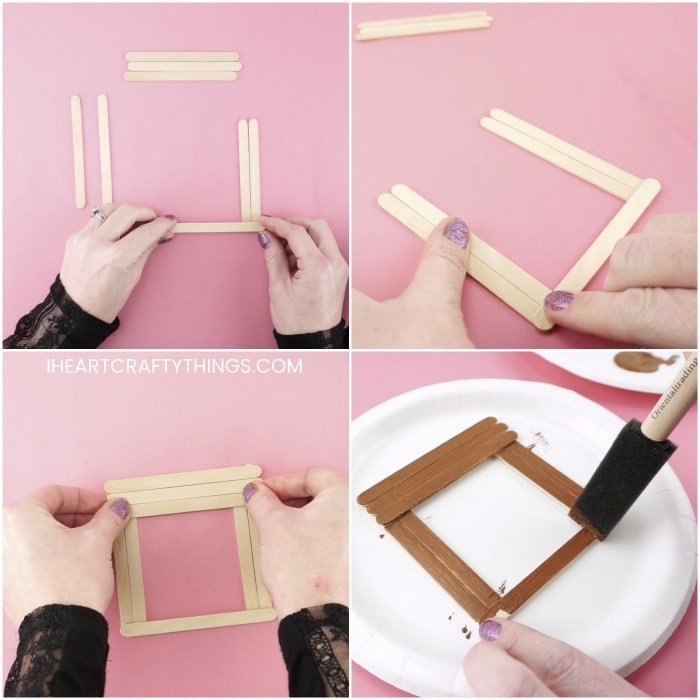 Alternatives to using a hot glue gun
Caution should always be used when children are using a hot glue gun and adult supervision is always required. If you are creating this craft with young children, I recommend having an adult assemble the craft stick fireplace prior to starting the craft.
Or, as an alternative to using a hot glue gun, you can use Tacky Glue to assemble the sticks or Glue Dots. Using Tacky Glue will require several hours of drying time so plan for this in advance.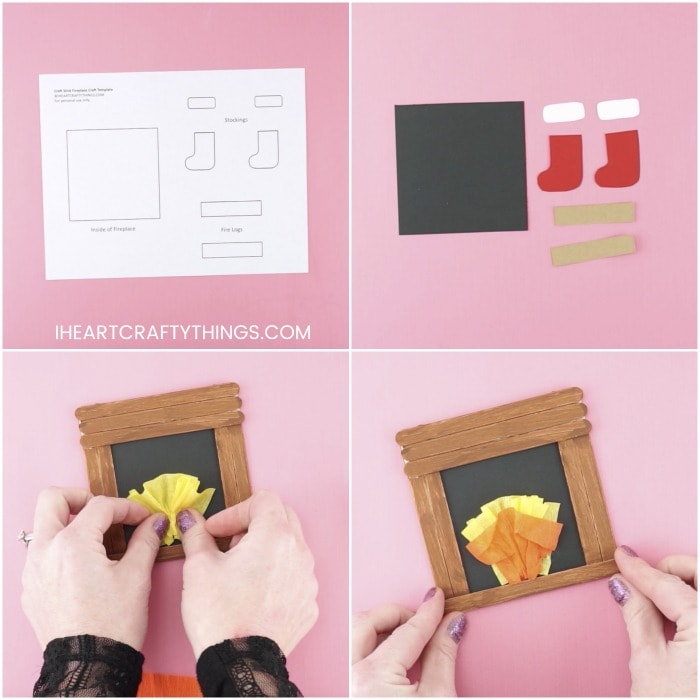 Step 2: Paint the craft stick fireplace with brown paint. Set it aside to let it dry completely.
Step 3: Download and print out the craft template. Use the template as a pattern to cut out each of the pieces for your fireplace craft. Cut out the inside of the fireplace with black cardstock or construction paper, the fire logs with brown cardstock or construction paper and the stockings with red and white cardstock or construction paper.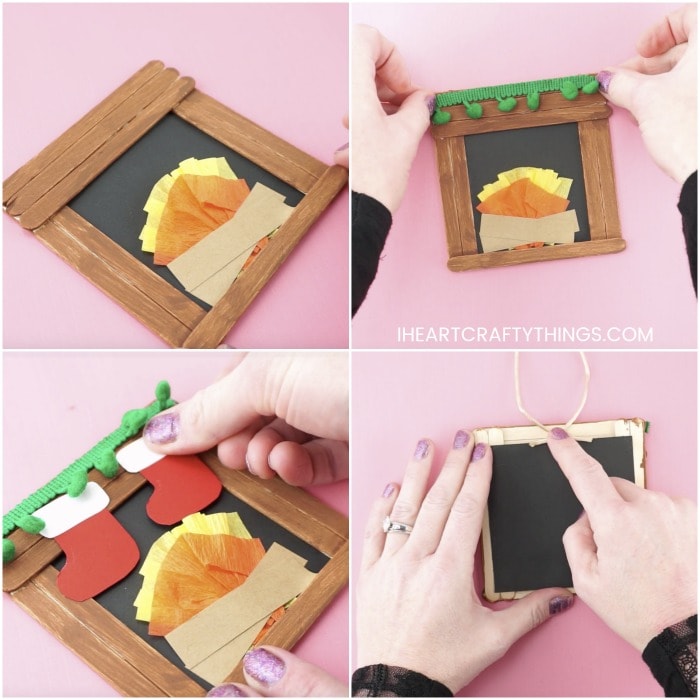 Step 4: When the paint on your craft stick fireplace has finished drying, add glue on two sides of the black square and glue it on the back of the fireplace.
Step 5: Cut off a section of yellow crepe paper about 6-inches in length and a section of orange crepe paper about 3-inches in length. Carefully bundle the yellow crepe paper together to make fire. Add glue at the bottom of your fireplace and place the yellow fire on it.
Then bundle the smaller orange crepe paper together and glue it on top of the yellow crepe paper to add orange color to your fire.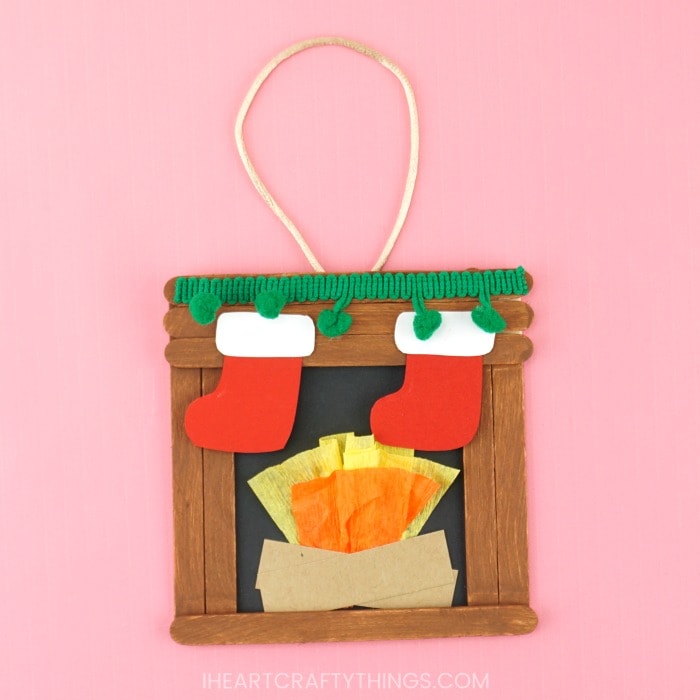 Step 6: Glue your two fire logs at the bottom of your fire with a glue stick. We placed them both at an angle to create a bit of an "X" out of them.
Step 7: Add hot glue along the top of the fireplace and place a Christmas ribbon on it to decorate the mantle of the fireplace. Note: You can try using Glue Dots for this step if you are creating this craft with young children.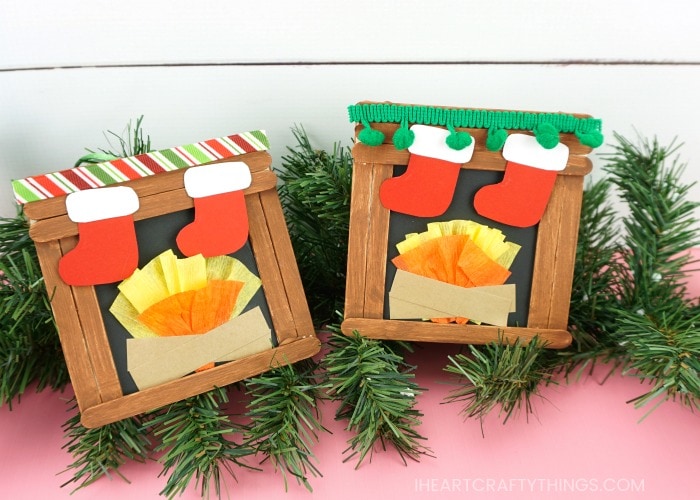 Step 8: Glue the small white rounded rectangles at the top of your red stockings. Add glue on the back of each stocking and glue them along the mantle of the fireplace.
Step 9: Cut a strand of Christmas cording about 8-inches in length. Bend the cording into a loop and tie a knot in the end to create a hanging cord for your fireplace ornament.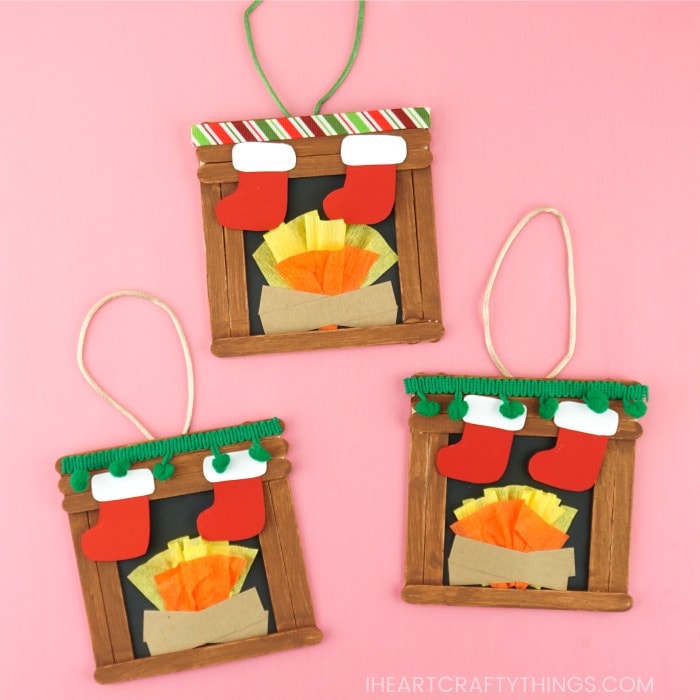 Step 10: Turn your fireplace craft face down. Add a dot of hot glue at the top and middle of the fireplace and attach the hanging cord to it.
Your homemade fireplace ornaments are complete! Now simply hang them up on your Christmas tree to enjoy.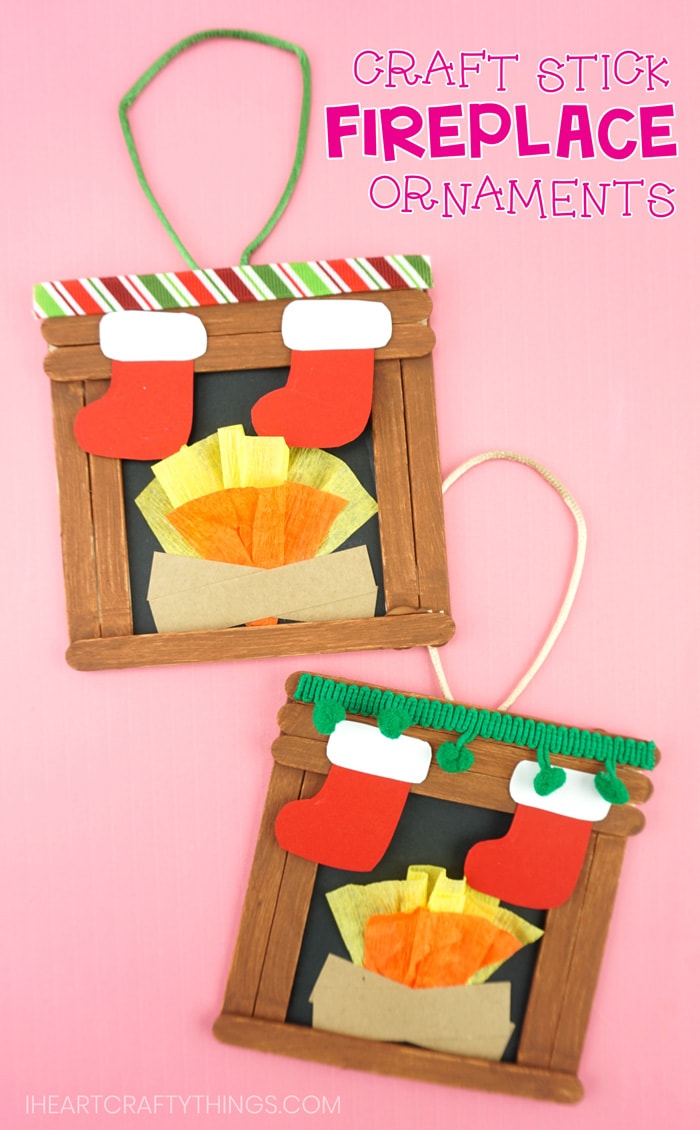 Video Tutorial: Step-by-step guide to making a homemade craft stick fireplace ornament
Before you get started making your festive fireplace craft, watch the video below for a quick step-by-step guide on how to make the homemade ornaments.
Find more Christmas crafts, homemade card ideas and
diy ornament
crafts by browsing the categories at the top menu bar of our website.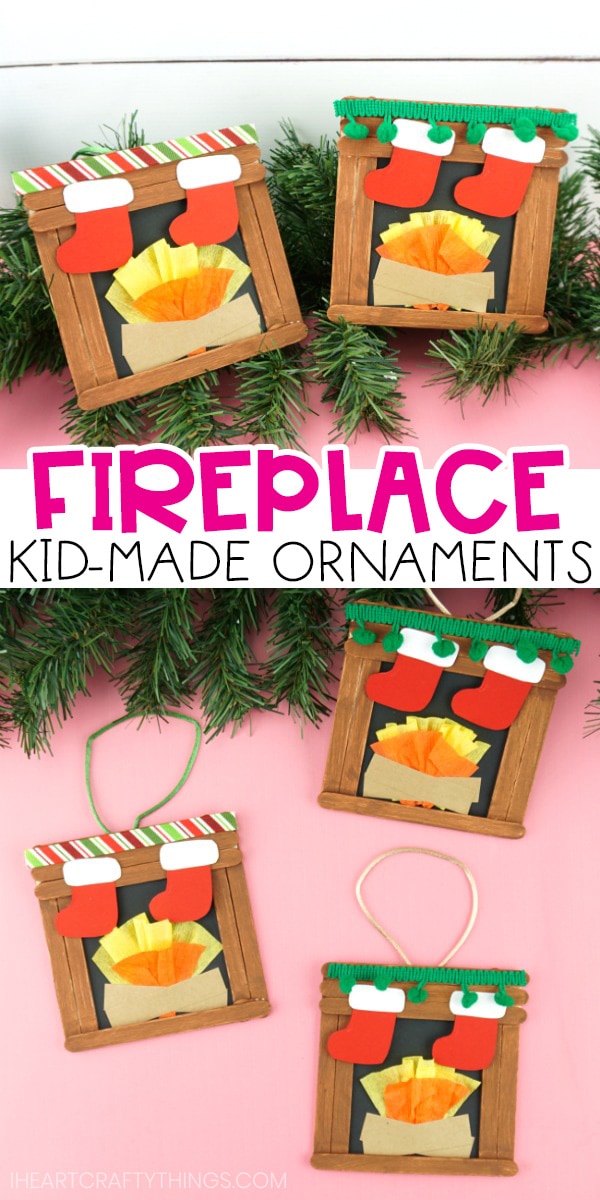 Looking for more simple and fun Christmas crafts for kids? Check out our collection of over 50 beautiful Christmas arts and crafts ideas for kids.
You might also enjoy this popsicle stick Nutcracker ornament from our friends at Fireflies and Mud Pies.