Homemade greeting cards are the perfect way to make family and friends feel extra special during the holiday season. Receiving a Christmas card in itself is enough to make someone smile, but there's nothing quite as delightful as opening up a homemade card and seeing the love and care that was used when creating it.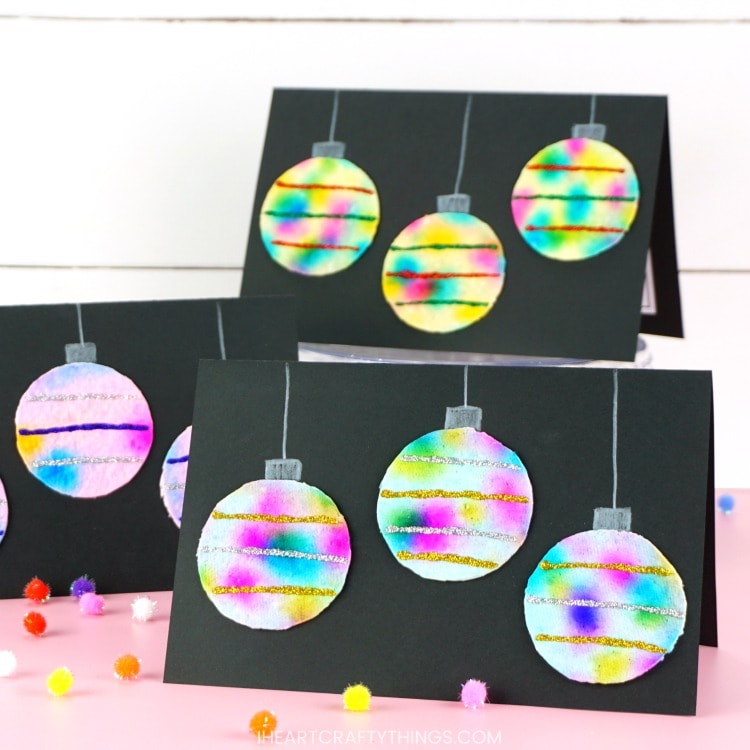 This colorful hanging ornaments Christmas card we are sharing today is so much fun for kids to make! The added step of using homemade paper to create the colorful hanging Christmas ornaments on the card gives it an additional homemade component that is sure to bring a huge smile to someone's face.
Get ready for an afternoon of fun with your kids turning colorful DIY paper into these gorgeous Christmas cards.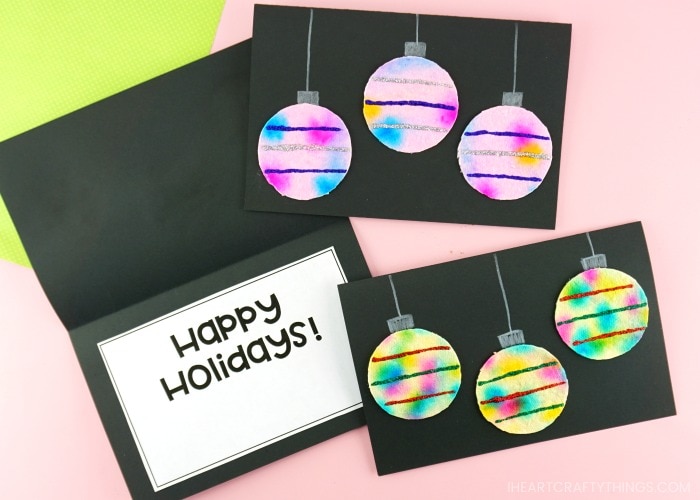 How to Make a DIY Hanging Ornaments Christmas Card
Read our simple how-to instructions below for how to make these beautiful homemade Christmas cards.
We also have a handy video tutorial inside this post for you to watch before you get started creating your own DIY paper and holiday cards.
Supplies needed to create your own DIY Christmas Cards
Instructions for making a Hanging Ornaments Christmas Card
My 10-year old daughter loves DIY craft kits and projects so she was overjoyed when we recently got our hands on Crayola's new Paper Maker™.
As soon as we opened the box together we couldn't wait to get started creating our own paper. After making our first sheet of paper we knew the vibrant colors would add a perfect touch to our homemade Christmas cards this year.
We created this colorful hanging ornaments Christmas card as a sponsored craft for Crayola®.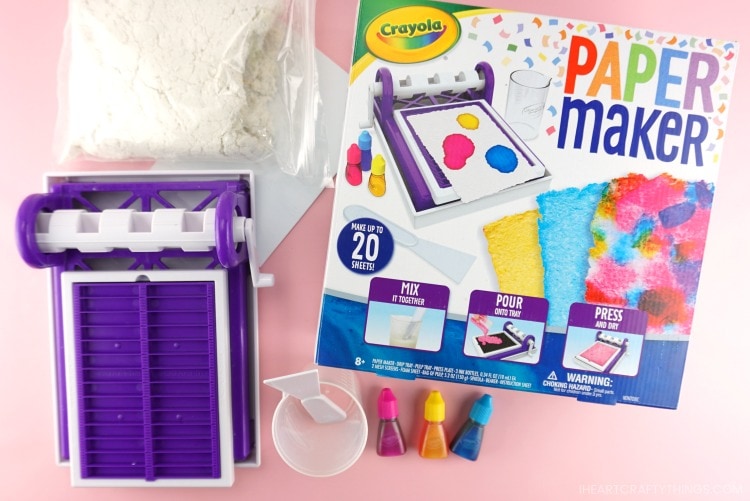 The Crayola® Paper Maker™ is great for children aged 8 years and older. You can see pictured above the kit comes with 3 ink colors (red, blue and yellow) and all of the supplies needed to make up to 20 sheets of your own 5"x 8" usable paper for making cards, décor or notes. I especially love how each customized paper sheet can be dried quickly in the oven with parent's help.
You can find the Paper Maker™ at Crayola.com and at retailers nationwide for $19.99.
Begin by making your DIY Paper with your Paper Maker™
1. Assemble the Paper Maker™ unit in the drip tray according to the instructions. Lay one of the mesh screens inside the pulp tray.
2. Fill the plastic beaker included in the kit with pulp to the 250 mL line. Then use the spatula to press down and flatten the pulp inside the beaker to the 50-75 mL line.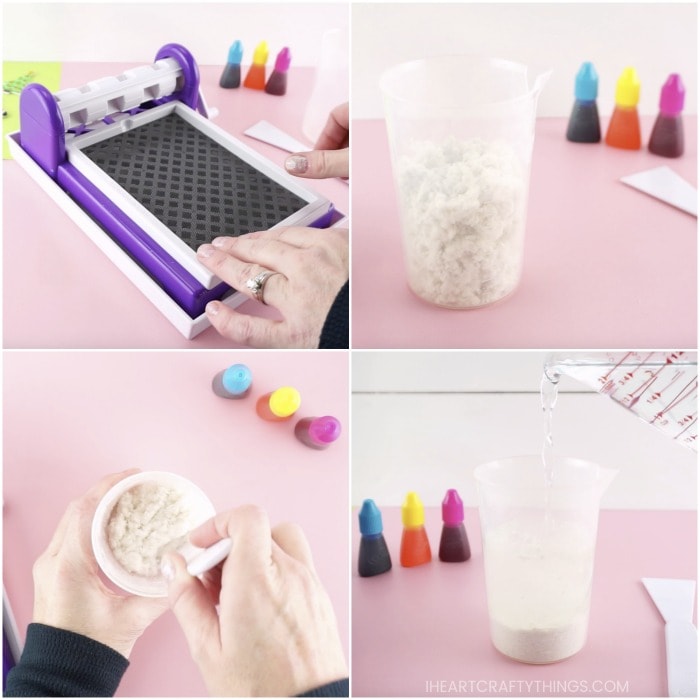 3. Fill the beaker with water until it reaches the 250 mL line. Add ink drops from the kit if you want to create a specific color of paper. We started by adding 10 drops of ink and mixing the pulp, and then added more coloring if needed.
4. Use the spatula to mix together the pulp slurry until it is a thick, uniform consistency. Then pour the pulp slurry onto the prepared mesh screen.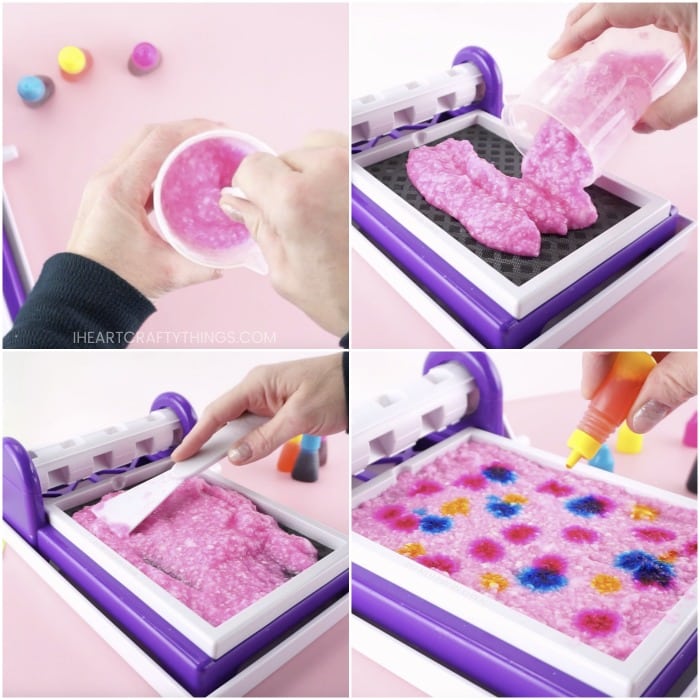 5. Using the spatula, spread the mixture evenly over the screen. If you want to add additional color splotches to your DIY paper (which we highly recommend), place drops of the ink around the pulp slurry.
The extra dots of color add an extra fun mixture of colors to your homemade paper. The dots remind me of colorful Christmas lights so it's a perfect addition to the Christmas card.
6. After laying the second mesh screen on top of the pulp tray, along with the press plate and the foam sheet, carefully turn the handle of the unit counter-clockwise to move the tray forward under the roller one time. Then turn the handle to move the tray back to the original position. This removes excess liquid from your paper.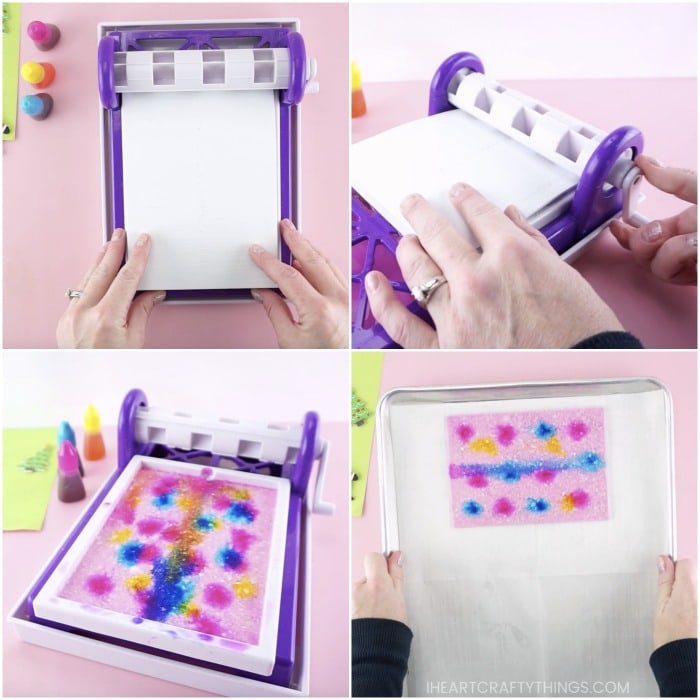 7. Remove the foam sheet, press plate and top screen from your paper. Then place your paper with the mesh screen on the bottom of it onto a baking tray lined with parchment paper.
You can let your paper air dry (we found it takes about 24 hours), or have an adult bake the paper in an oven according to the Paper Maker™ instructions. Note: An adult MUST perform the oven step.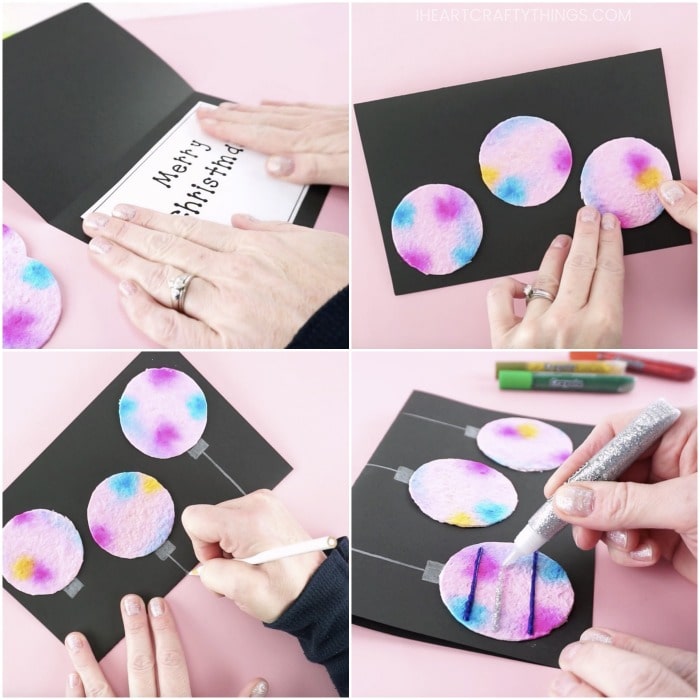 Assembling your hanging ornaments Christmas Cards
Once your homemade paper is completely dry, you can finish creating your DIY Christmas cards.
1. Begin by downloading and printing out our free Christmas card greeting template on white paper. Cut out along the border of whichever greeting message you wish to use for your card.
2. Fold a piece of black cardstock paper in half to create a folded card. Open up the card and glue the Christmas message on the inside of the card.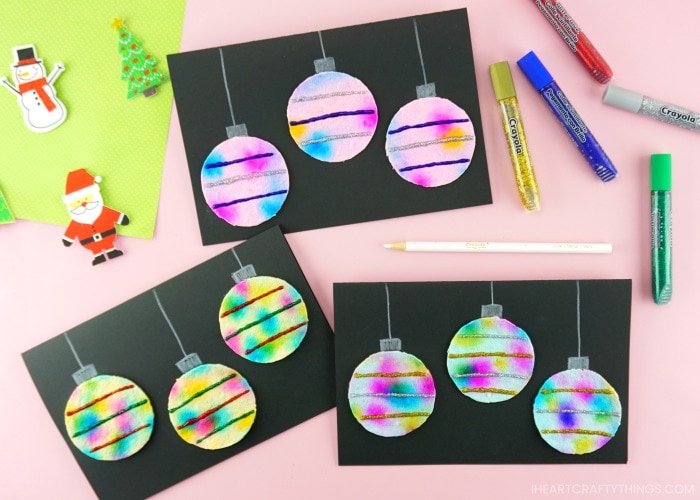 3. Trace three circles on your DIY paper about 2 1/2-inches in diameter, and then cut them out.
4. Add a generous amount of glue stick or school glue on the back of each paper circle and glue them on the front of your card, each at a different height.
5. Use a Crayola® white colored pencil to draw a square at the top of each ornament. Then draw a line from the white square up to the top of the card so it looks like each bauble ornament is hanging at varying lengths.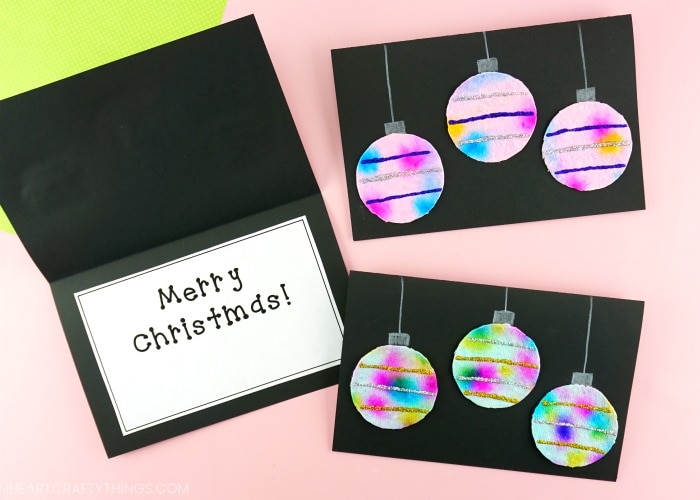 6. Add additional sparkle and lines to your DIY paper ornaments with Crayola® Washable Glitter Glue.
Once the glitter glue has finished drying, write a personal message on the inside of your Christmas card for a family member, friend or a teacher.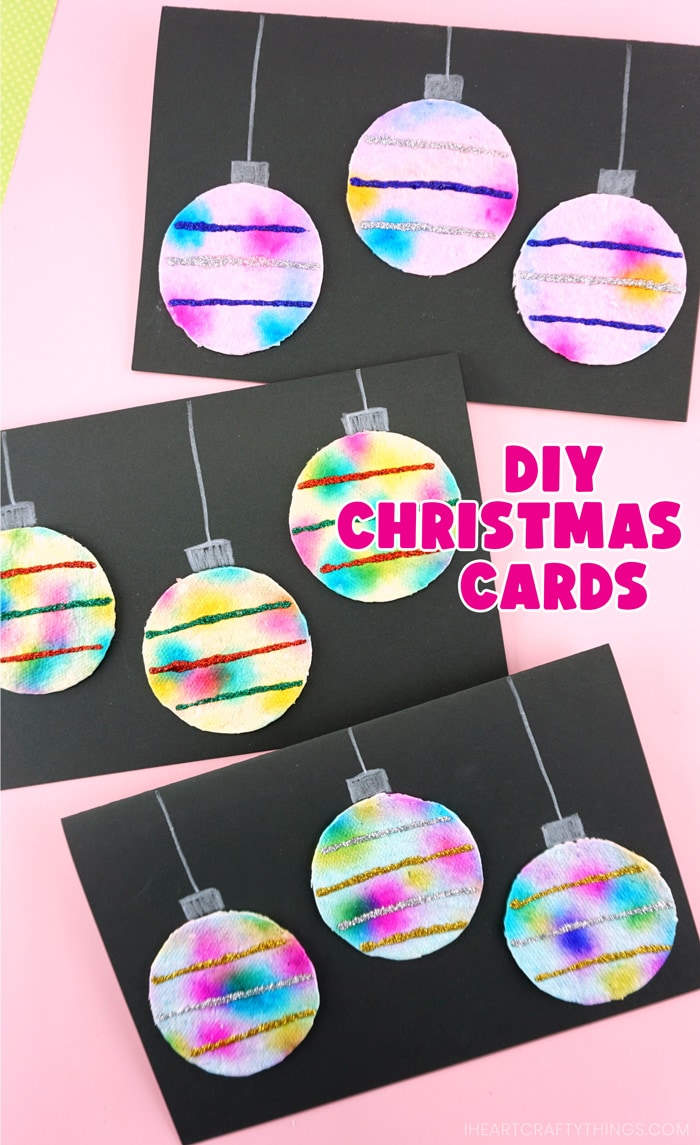 Visit Crayola for more information about the Paper Maker™ and other Crayola craft products, and to get more arts and crafts ideas to make with your kids.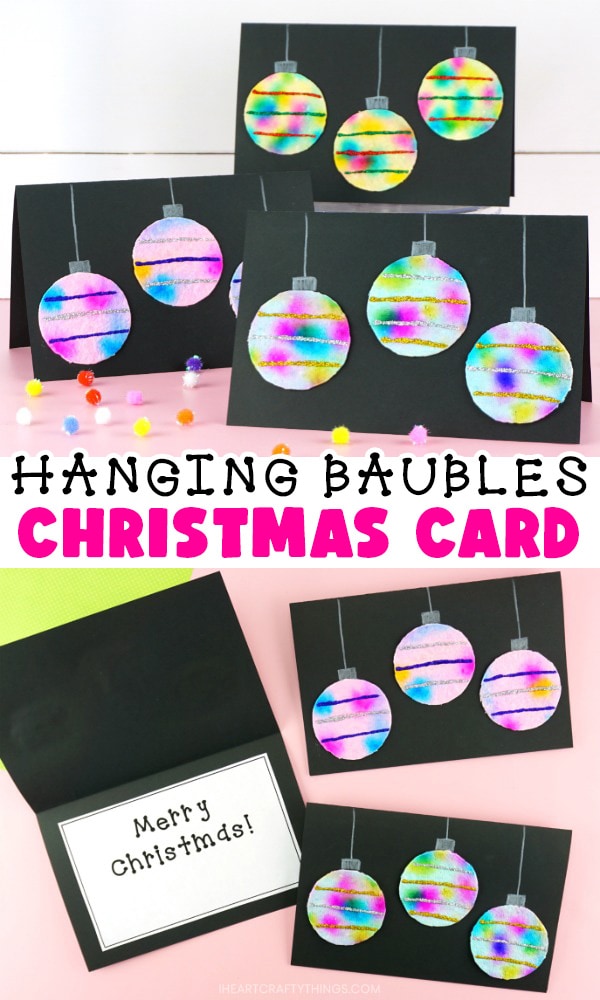 More Easy DIY Christmas Cards for Kids
There are so many fun little details on this beautiful gingerbread house card that gives it a festive and amazing look, yet it is super simple for even preschoolers to create.
We've made crafting this gorgeous Christmas tree card simple for kids of all ages with our free card template.
Kids will love making this cute Santa Card for friends and loved ones this holiday season! It is a simple and unique Christmas card idea.
Check out our amazing list of over 50 fun and simple Christmas arts and crafts ideas for kids.