The letters of our alphabet can be used to convey all sorts of things. We can create anything we want by forming words that can become poems, stories of scientific formulas to name a few uses.
However, letters can be taken even further in their meaning, and even the way they look can add to that.
Having bubble letters can create a sense of fun and happiness for an occasion, making a guide on how to draw bubble letters very useful for creating this fun font type!
We created that very guide on how to draw bubble letters for you to use and enjoy!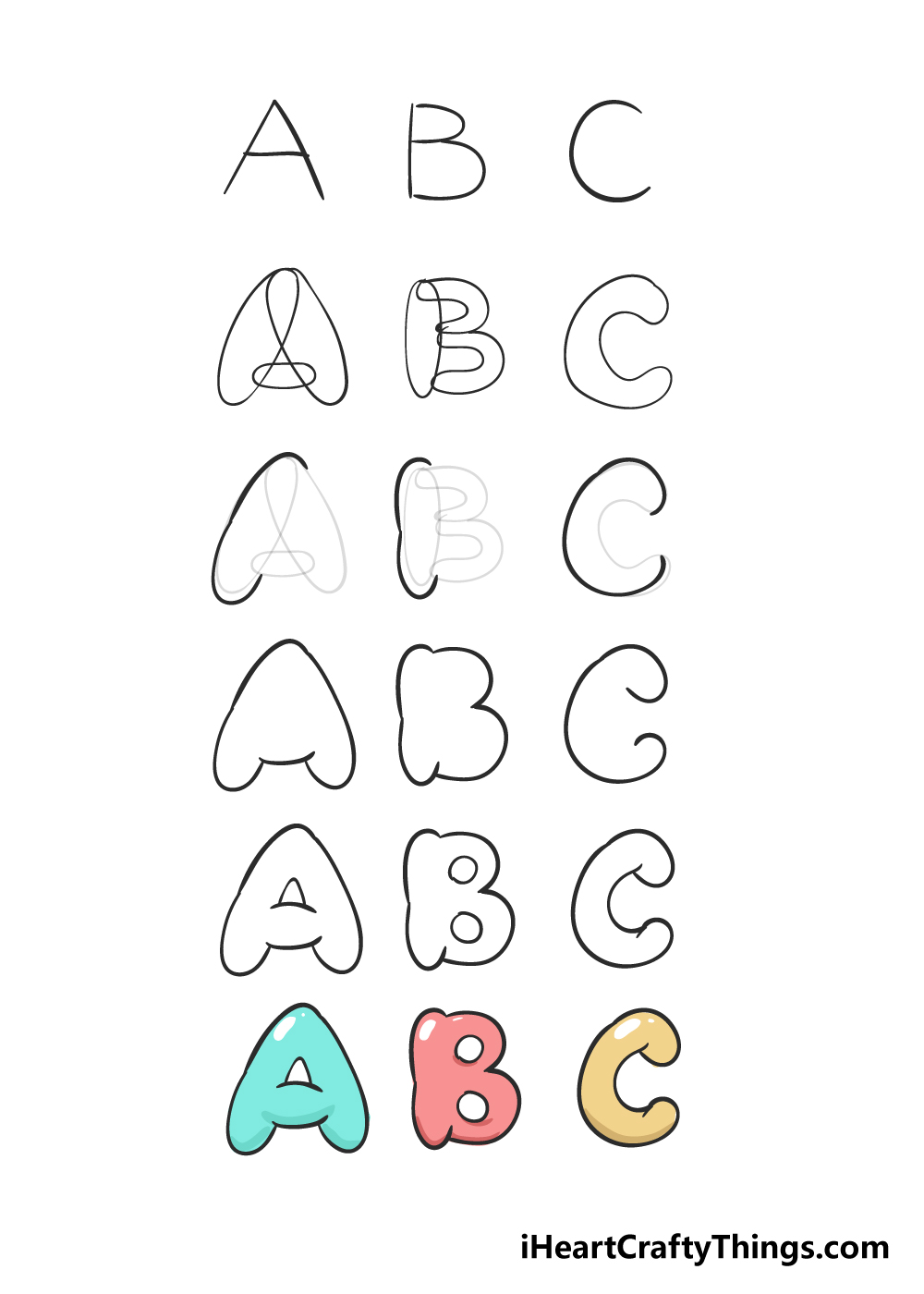 How to Draw Bubble Letters – Let's get Started!
Step 1
For this first step in our guide on how to draw bubble letters, you will need a pencil to help you plan it out.
We will be focusing on the first three letters of the alphabet for this guide, but once you have the hang of it you could apply what you learn to other letters and numbers.
For now, use your lightest pencil to draw an A, B and C as they would normally appear. We are using a pencil for now, as these will just be there to guide you and won't show up in the final image.
Step 2 – Draw more shapes for your planning
Now that you have the letters drawn out from step one, you can keep using your pencil to build more shapes onto them for this part of your bubble letters drawing.
For the A, you can use two larger ovals at horizontal angles that touch at the top. Then, you can use another smaller oval between them for the middle of the A.
Then, for the letter B, you can use a fat and long vertical oval with two thin and curved shapes for the wounded parts of the letter.
Finally for the letter C, you can use a single curved, sausage-like shape to create this letter over the planning one that you drew.
Step 3 – Now, we shall start drawing the final lines of the letters
We've been using a pencil so far in this guide on how to draw bubble letters, but from this point on you can start using your pen.
Using the shapes that you drew in the previous step, you can start to trace around the edges of these shapes on the left-hand side of the letters.
As you can see in our reference picture, we shall be drawing the other sides of the letters in the next few steps.
Step 4 – Finish the outlines of your letters
In this next step of your bubble letters drawing we shall be finishing off some more of the outlines.
Carefully draw around the pencil shapes that you drew previously to complete the outlines of the A and the B. Then, use two small, curved lines inwards on the letter C.
Step 5 – Now, you can finish off the final details
You will finally be able to finish off the drawing part of the letters you've been working on in this step of our guide on how to draw bubble letters.
To finish these off, you can draw a small triangle shape inside of the A. For the B, you can use two small circles inside each bubble of the letter to form the holes in them.
Finally, you can draw the rest of the C. Now that these letters are drawn in pen, you can erase the pencil lines that you used.
Before you move on to the final step, you could use the steps in this guide to draw more letters of the alphabet!
If you wish to do this, then you simply need to follow the steps of drawing out the letters as they appear and then use some basic shapes to build on that skeleton.
Once you have the hang of it, maybe you could write your name in this style!
Step 6 – Finish off your bubble letters drawing with some color
Your bubble letters drawing is all finished up at this point, and there is only one thing left to do! Now that they are drawn, you can bring them to life with some amazing colors.
This is a step where you should really let your creativity flow as you choose which colors you would like to use.
This style of letters lends itself well to fun occasions and they give off a bright and happy vibe when you look at them.
For that reason, if I were coloring this bubble letters drawing I would use the brightest, most vibrant colors I could. That being said, it would also look great with some more muted colors if you prefer!
When you know what colors you would like for this image, you can then have some fun choosing the art mediums that you would like to use to bring the colors to life.
If you go for a brighter color scheme, then something like acrylic paints, colored pens or markers would help make the colors pop!
If you would prefer a more subdued look, then something like watercolors or colored pencils would work brilliantly for that. How will you color in your drawing?
Your Bubble Letters Drawing is Complete!
We hope that you had an incredible time working through this guide on how to draw bubble letters!
The great thing about this guide is that it not only shows you how to draw the bubble versions of these letters easily, but also shows you how you could create the rest of the alphabet.
Once you can draw any letters and numbers that you want, there are plenty of uses for these letters! They would be perfect on a hand-drawn birthday card or for a colorful poster, as some examples.
What will you use your bubble letters to create?
We have lots of fun step-by-step drawing guides similar to this one on our website for you to enjoy!
We have guides covering everything from cartoon characters to beautiful landscapes, so be sure to check in often as we have plenty more coming out frequently.
Once you have finished your bubble letters drawing, we hope that you will share your creation on our Facebook and Pinterest pages!
We can't wait to see what you spell out with these awesome letters.