Usually, when something is popular, it will maintain that popularity for a few years before people move on to the next thing.
Sometimes though, that popularity never seems to fade, and that's true of everyone's favorite sea sponge: Spongebob Squarepants.
This happy-go-lucky sponge has been delighting audiences both young and old since 1999, and he shows no signs of slowing down! If you've ever wanted to learn how to draw the lovable sponge, then this is the guide for you.
This step-by-step guide on how to draw Spongebob in 8 easy steps will let you have fun while learning to draw this colorful character!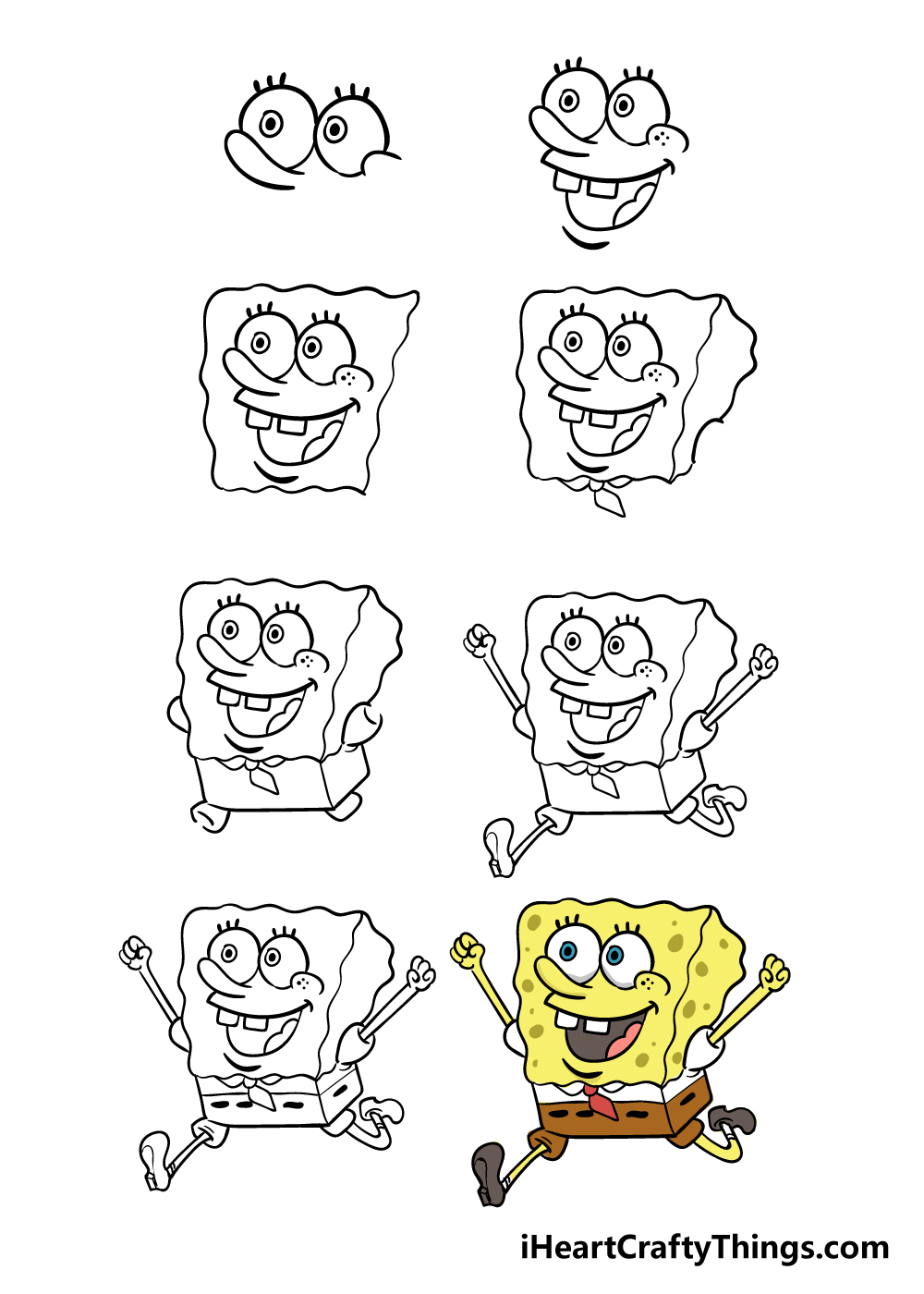 How to Draw Spongebob – Let's get Started!
Step 1
To begin this guide on how to draw Spongebob, we shall start with his eyes and his nose. Let's begin with his nose. His nose is quite long and curves up as it goes along.
Once you've drawn it in to look like the picture, you can add in the eye on the left. Drawing from the nose, try your best to draw as perfect a circle as you can.
Be sure to leave a small space on the right-hand side of the eye, as that is where the other eye will intersect.
Then carefully draw in the eye on the right, but leave another space on the lower right of the eye, then draw in a curved line for his cheek.
You can finish off this step with three lines atop each eye for his eyelashes.
Step 2 – Next, draw in his mouth and cheek
It's rare to find Spongebob without a big smile on his face, so we shall add one in for this step of your Spongebob drawing.
First, draw a small, curved line down from his nose. It should be very short and then turn sharply right into another curved line that extends until it's under the cheek.
Once you have that line drawn, draw in two square shapes to form his distinctive teeth. Then, you can finish it off with a curved line underneath it from the teeth to the corner of his mouth. Don't forget to give him a tongue!
Lastly for this step, draw in the rest of his cheek and add three dots to give some freckles. A curved line under his mouth will give him a chin.
Step 3 – Now you can start to draw in his body
The face is complete, so for this part of our guide on how to draw Spongebob, we will begin with his body.
While he has square in his name, Spongebob is more of a 3D rectangle shape. For now, draw in a rectangle shape around his face as you see it in the reference picture.
As you can also see, you should use a wavy line, as the lines that make up Spongebob aren't completely straight.
Step 4 – Add in more of his body and his tie
For this step of your Spongebob drawing, start off by giving him his shirt and tie. This will be made up of triangular and circular shapes with the tie extending down from the bottom line of his body.
Once you have that, you can draw in the side portion of his body as it appears in the image. Be sure to leave a smooth, curved space at the side, as his arm will go in there later.
Step 5 – Now, give Spongebob his shirt and pants
It's time to dress up Spongebob! Let's begin with the arms of his shirt. These will be made with a few curved lines.
The arm on the right will slot into the space you left earlier, and the one on the left will come straight from his body.
Then, you can use some straight lines to form a rectangular shape to make his pants. These lines will be straight, unlike the lines of his body.
Add in more curved lines for the legs of his pants and you're ready to proceed!
Step 6 – Draw in the limbs for Spongebob
Your Spongebob drawing is looking really good! Let's give him some limbs in this step of our guide on how to draw Spongebob.
His arms are very straight in the air, so they can be made ith two straight lines with curved lines for fists at the end.
The leg on the left with be straight out, and the one on the right will be curved to show him running. The reference picture will show you how to use some curved and straight lines to form his shoes.
Step 7 – Next, draw in some final details
It's almost time for the final step of your Spongebob drawing! Before you can move on to the coloring stage, let's add in some final details.
Use some straight lines to divide his shirt from his pants as you see in the picture. Then, you can use some thick but small black rectangles making a pattern to show his belt.
Lastly, add in some lines above his shoes to show his socks.
Step 8 – Now finish off your Spongebob drawing with some color
You've successfully drawn an awesome Spongebob, so now you can have some fun coloring him in!
Spongebob has a distinctive yellow coloring, and the image shows how different shades of yellow for different parts of his body will help give him depth.
What fun art mediums will you use for your Spongebob drawing? I would personally use some acrylic paints, as they give a nice vibrant look to colors that would suit Spongebob perfectly.
That's just one way to do it though, and we can't wait to see what colors and art tools you use to finish this off!
Your Spongebob Drawing is Complete
Now that you have the final details and colors, you have reached the end of our guide on how to draw Spongebob!
We hope that this guide was not only super helpful but lots of fun for you to use!
We created it to make drawing Spongebob a fun and easy process, and we know that if you follow the guide you'll be drawing him with ease soon!
Now you can add your own touches to this drawing as well. You could change his body position a bit or even draw in a fun background inspired by the show!
The possibilities are endless, and we hope to see what you decide to draw in to make this image unique.
We have so many more fun step-by-step drawing guides in the pipeline, so we hope you will check in to our site frequently to join in the fun.
We would also love to see your finished Spongebob drawing, so please do share it on our Facebook and Pinterest pages so we can see how creatively talented you are!