Do you have fun plans this summer to spend time out in nature? Every summer we take a few weekend trips up to a small little town in Wyoming where we are surrounded by forest and nature and no cell service at all (Gasp!)…And it's wonderful!
The kids easily keep themselves busy using their imagination and all the things nature has to offer, but we still like to bring up a few simple activities for them to do during the day.
This simple color scavenger hunt for kids is unbelievably easy to throw together last minute and the kids have fun with it every single year.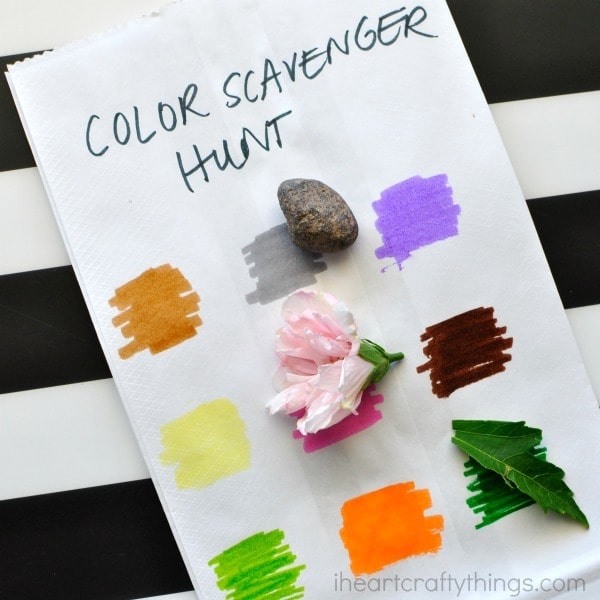 This post contains affiliate links to the products mentioned. Read our disclosure policy for more information.
The best part about this simple color scavenger hunt is that it's so versatile. You can pretty much use it anywhere that you'll be enjoying outdoors. Make one for a trip to the park, for a weekend camping trip, or even for playing in your own backyard. Using a paper lunch sack is also perfect because kids have a place to store all of their new treasures. Also, you can return the items you found back to nature and play all over again as many times as you'd like.
Feel like something different? Learn how to draw a flower!
How to Make a Simple Color Scavenger Hunt for Kids

Supplies Needed for this Color Scavenger Hunt
– white paper lunch bag
– markers
Directions for this Scavenger Hunt for Kids
1. Write "Color Scavenger Hunt" at the top of your white paper lunch bag.
2. Choose the colors you want the children to hunt for and use your colored markers to scribble small squares onto the front of the bag of each color.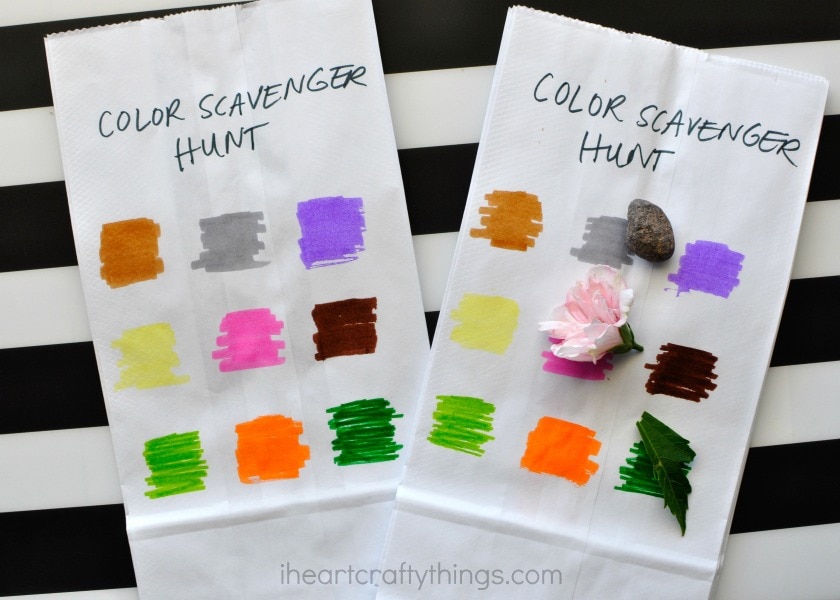 3. Pass out the bags to the children and let them have fun finding all of the colors on the bag. When they find an item that matches one of the colors, place it in the bag. When everyone is finished, sit in a circle and have a fun time having a show and tell about all of the items everyone found.