I love how the different atmosphere's of the planets give them all a different marbled look about them. Our creative preschool buddies are focusing on a
space and solar system theme
this week and I decided it would be fun to focus on my love for the colored planets and create a
preschool space craft
with my daughter. We used a popular marbled shaving cream painting method to make this beautiful
Marbled Planets Art
.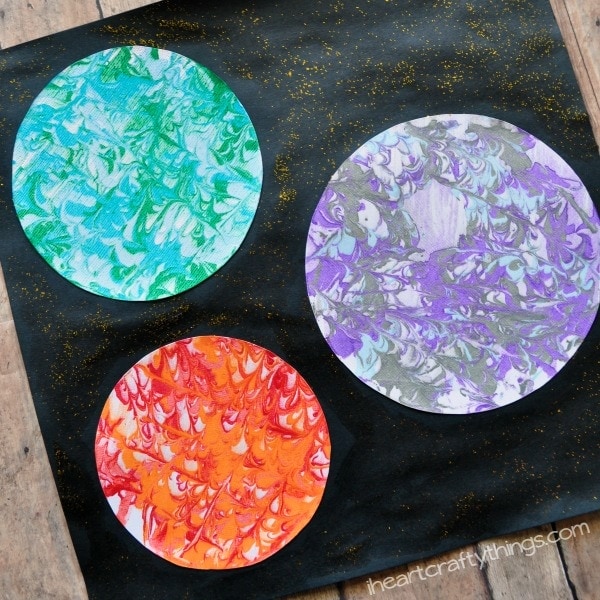 HOW TO MAKE MARBLED PLANETS ART
Supplies you will need:
black and white cardstock paper (12-inch by 12-inch size)
acrylic paint in several colors
shaving cream
3 foil containers (we found ours at Dollar Tree $1 for a pack of 4)
rubber spatula
toothpicks
squeegee
gold glitter glue
sponge brush or paint brush
glue stick
Directions:
1. Start by cutting 3 different sized circle shapes from your white cardstock paper. I used different sized cups and containers to trace my circles.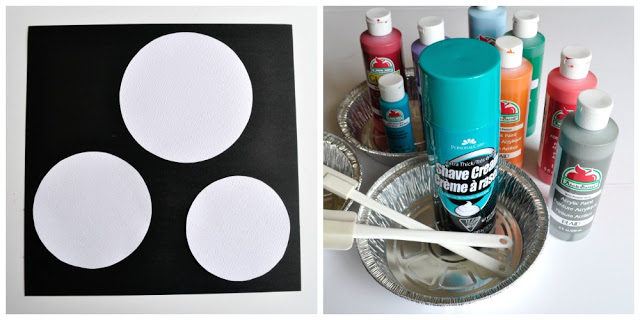 2. Squirt shaving cream into your foil containers, enough to fill the bottom of the pans. Use your rubber spatula to spread the shaving cream out evenly and make it as smooth as you can.
3. Squirt various colors of acrylic paint onto your shaving cream. We do lines in various directions. Use your toothpick to make lines up and down, side to side and diagonally to create a marbled look in your paint.

4. Press your circle down into the paint and lightly rub all over the circle to get the shaving cream to stick to the entire circle. Carefully remove the circle from the paint and let it sit for 1-2 minutes. Use your squeegee to remove the shaving cream from your circle. You are left with a beautiful marbled planet.
5. Glue your planets onto your black cardstock paper.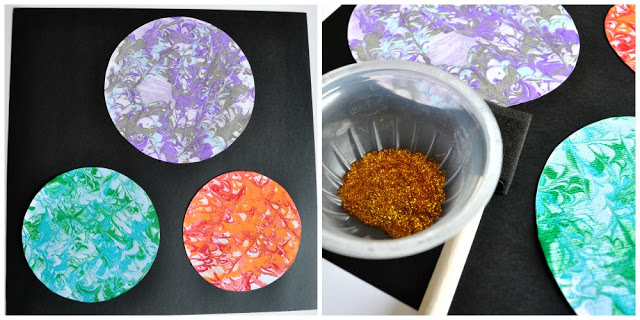 6. Finish your art by painting some gold glitter all over your the black part of your paper. The gold glitter glue adds a bit of shine and the glitter makes it looks like little stars.
PIN ME PLEASE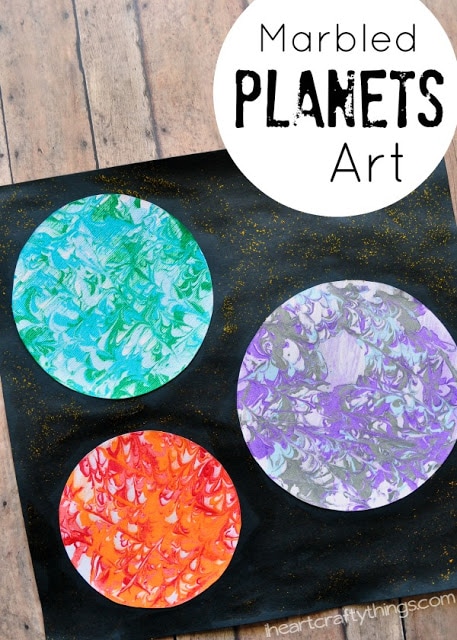 This post is part of a collaborative preschool series where five bloggers and myself have joined together to bring you fun crafts and activities based on a common preschool learning theme. This week we are sharing ideas focused on space and solar system.
Check out more space and solar system crafts and activities from our creative preschool buddies: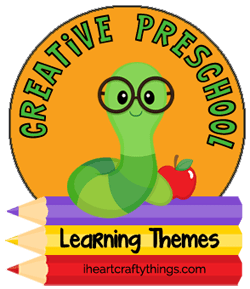 Join us May 29, 2015 for Water Play Activities.
You might also enjoy these crafts: