Baby owls are pretty much the most adorable thing ever, don't you agree? After reading the book Owl Babies by Martin Waddell several times last week we decided it would be fun to make a craft to go along with it. This darling owl babies craft was inspired by an idea found at a website called Blue Moon Palette. Unfortunately the website is no longer available so I will leave instructions below for how we created the baby owl art project.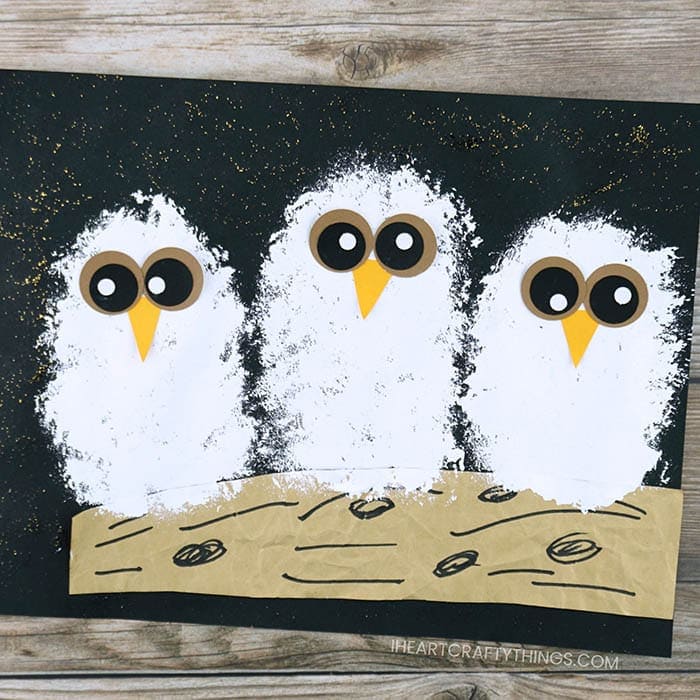 [This craft was originally posted on September 28, 2011. The text and photos have been updated.]
The book Owl Babies by Martin Waddell (affiliate link) is story is about 3 owl babies, Sarah, Percy and Bill, who worry about their mother while she is gone on her night flight. It's a really simple story but my kids got a kick out of Bill because he says "I miss my Mommy" throughout the entire story and I said it in a pouty voice every time which made them chuckle.
One of my favorite ways to incorporate craft time after reading a book with my children is by simply re-creating a scene in the story. We focused on the cover of the book when making our owl babies craft.

How to Make an Owl Babies Craft
This post contains affiliate links to the products mentioned. I Heart Crafty Things is a participant in the Amazon Services LLC Associates Program, an affiliate advertising program designed to provide a means for sites to earn advertising fees by advertising and linking to amazon.com.
Supplies:
*We received our poms from our friends at Orientaltrading.com. Any opinions expressed are 100% my own.
Instructions:
1. Tear off a piece of brown paper to use as our branch for the owls to sit on. I happened to have a piece of brown packaging paper on hand so we used that, but any piece of brown paper would do. You can use brown craft paper or even a brown paper lunch sack. Crinkle the paper up into a ball and then unfold it to give it more of a tree branch texture.
2. Add some glue on the back of your tree branch and glue it at the bottom of your black cardstock paper.
3. Use a black marker to create lines and knots on your tree branch. I was super impressed by how well my boys did this step. There tree branches looked awesome!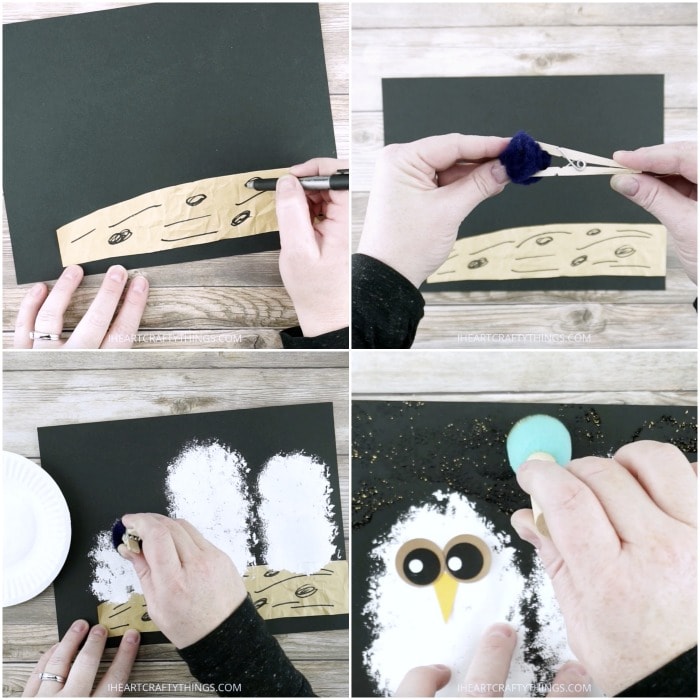 4. Now it's time to paint your baby owls at the top of the tree branch. Start by attaching a pom-pom to a clothespin to use it for a dabber paintbrush. Pour some white paint onto a small paper plate. Dab the pom-pom brush into the white paint and then onto your black paper at the top of the tree branch. Dab several time onto the paper with the pom-pom to start making the shape of a fluffy baby owl.
Continue dabbing the pom-pom brush into the white paint and back onto your paper to create three owl babies on top of your tree branch. We tried to make our owls small, medium and large, just like in the story. My youngest son got a little carried away with his largest owl, but I can't blame him really because it was so fun painting with the pom-pom.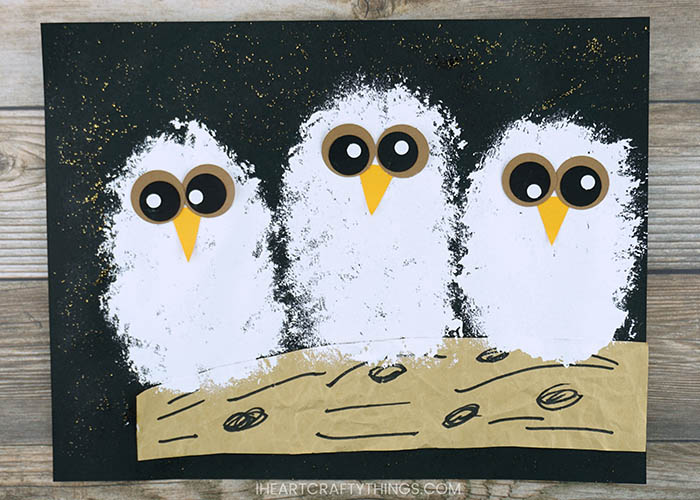 5. Before we started the project I pre-cut circles for the eyes and triangles for the beak to glue on. The brown circles were 1″ diameter, black circles were 1/2″ diameter, and the white circle is just a hole punch. You could also easily have the kids cut out their own circles. Glue all of the pieces for the eyes and the beaks onto each of the owl babies.
6. To create a nighttime background that looks like twinkling stars, pour some gold glitter glue on a small paper plate. Use a circle foam brush to dab the glitter glue all over your black cardstock, around your baby owls, to create stars.
Your owl babies craft is complete!
7. (optional) My children decided to draw a moon on their owl babies craft with a yellow crayon.
Video Tutorial: How to Make an Owl Babies Craft
Watch the video below to be guided through each step of this adorable owl babies craft. You can view more easy kids craft tutorials on our Facebook page, or right here on our website.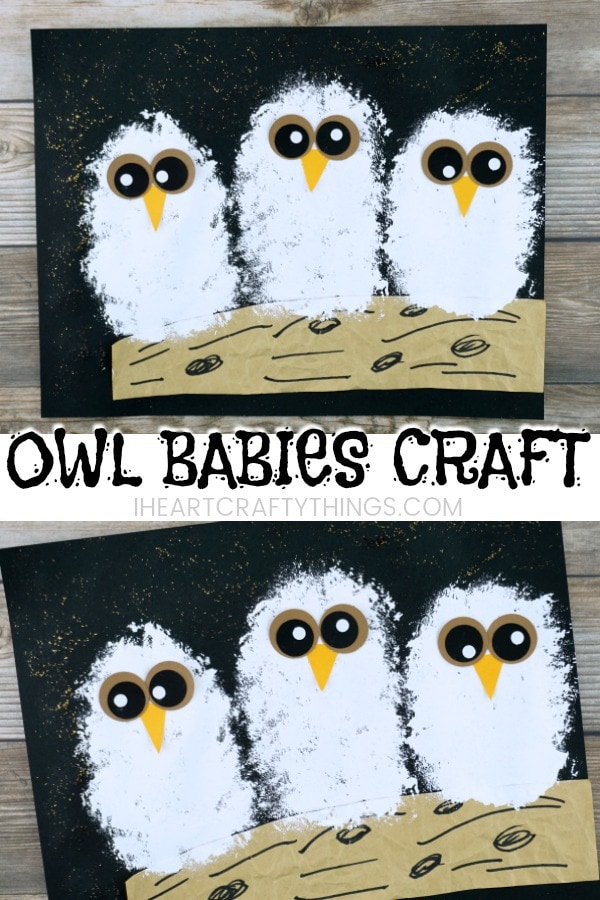 More Fun Bird Crafts for Kids
Do you love birds? if you, you will love these 11 awesome bird crafts. You'll find a little bit of everything including a toucan, parrot and more colorful owls.
These colorful accordion fold paper birds are among my favorite on our website. They are so simple to make and you can get extra creative with colors and patterns when making your bird.
This gorgeous birds on a wire craft was inspired after seeing some birds hanging out at sunset on a power line by my house. Kids will adore creating this colorful art project.