This cute heart shaped Valentine's Day card is a simple and fun homemade card for kids of all ages to make. The adorable googly eyed faces and conversation heart sayings combine to make this a darling paper heart card that will put a huge smile on anyone's face.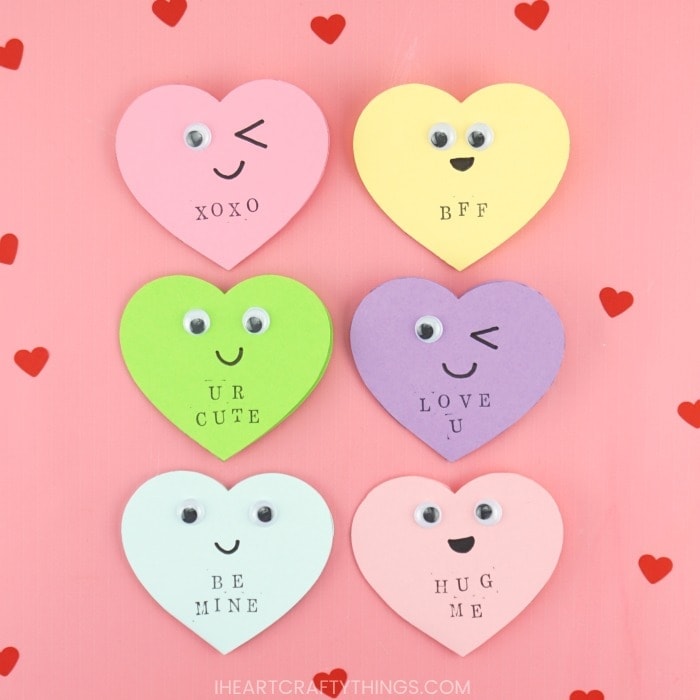 Homemade Valentine Cards from friends and family are the best! This heart shaped Valentine's Day Card is super easy for even young children to make.
All you need is a few simple craft supplies and our card template and you'll have a handful of these cute Valentine's made in a jiffy!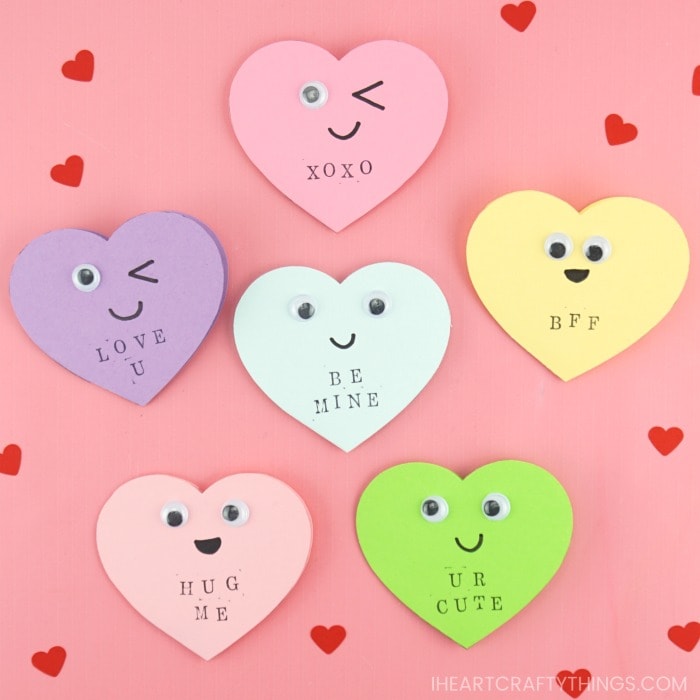 How to Make Heart Shaped Valentine Cards
If you are looking for a fun and simple homemade card idea for your kids to make this year for Valentine's Day, look no further!
These cute cards are perfect for kids to make at home for classmates, or they can also be made in the classroom for kids to bring home to someone they love.
Before you get started making your heart shaped cards, make sure to watch our full video tutorial inside this post.
Supplies Needed for your Heart Valentine's:
This post contains affiliate links to the products mentioned. Read our disclosure policy for more information.
Instructions for making a Paper Heart Card
Step 1: Download and print out the heart card template on any pastel colored cardstock paper. The pastel colors make the homemade card look reminiscent of traditional Valentine Day conversation hearts. If you don't have pastel colors, simply use what you have on hand.
Another alternative is to print the cards on white cardstock and have children color the front of the card with crayons, colored pencils or markers.
Step 2: Fold the card template in half along the dashed line in the middle of the page.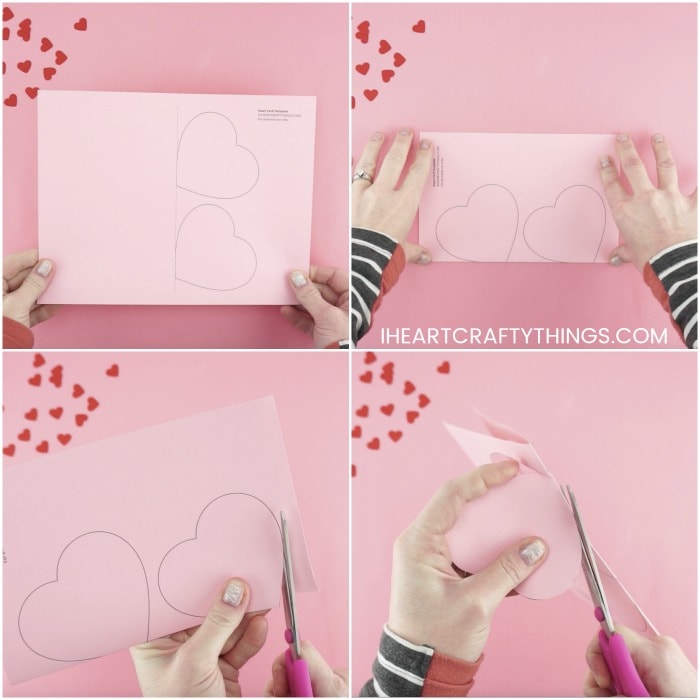 Step 3: Use scissors to cut out both of the heart cards from the template. Make sure to cut out only along the black line of the heart, leaving the section along the dotted line uncut.
The section along the dotted line connects the two hearts together to make the folded card.
Step 4: Place two googly eyes at the top of your heart-shaped card. We love using adhesive googly eyes for simple projects like this so we don't have to wait for any glue to dry.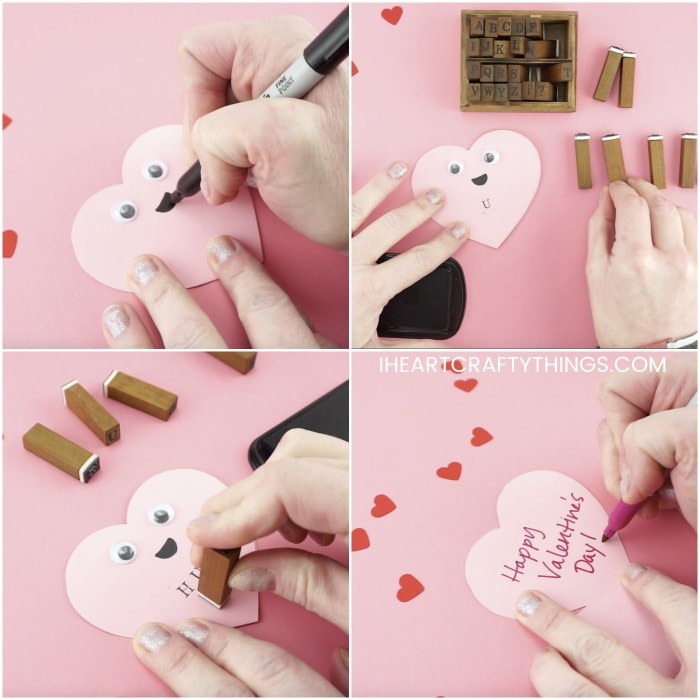 Step 5: Use a black marker to draw a smile on your paper heart card.
You can get as creative as you want with designing the face of your cute Valentine card. Make a winky face, a kiss face, add eyelashes to your googly eyes, or any clever combination you can think of.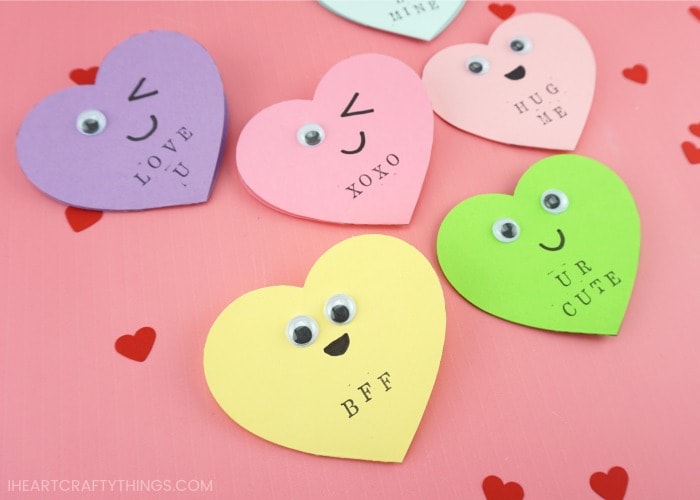 Step 6: Choose a conversation heart saying you want to use for the front of your card. There are so many fun ones to choose from.
Here are a few examples:
LOVE U
XOXO
BFF
U R CUTE
HUG ME
BE MINE
SWEET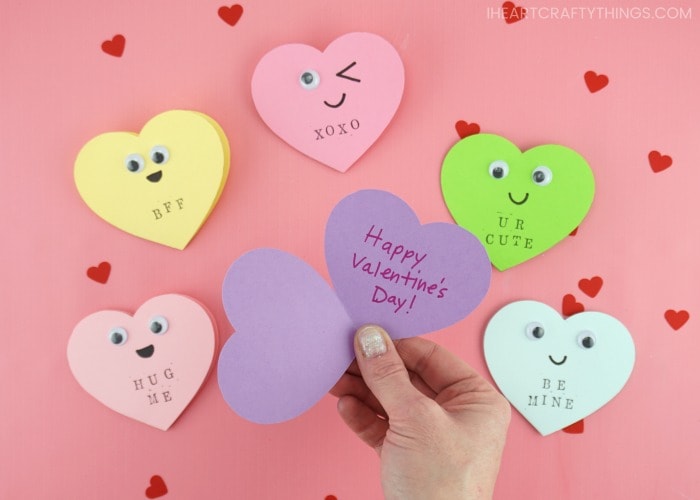 Step 7: Using small uppercase alphabet stamps and a black stamp pad, stamp the saying you've chose on the front of your Valentine card.
To finish your heart-shaped Valentine's Day Card, use markers to write a personal message on the inside of your card.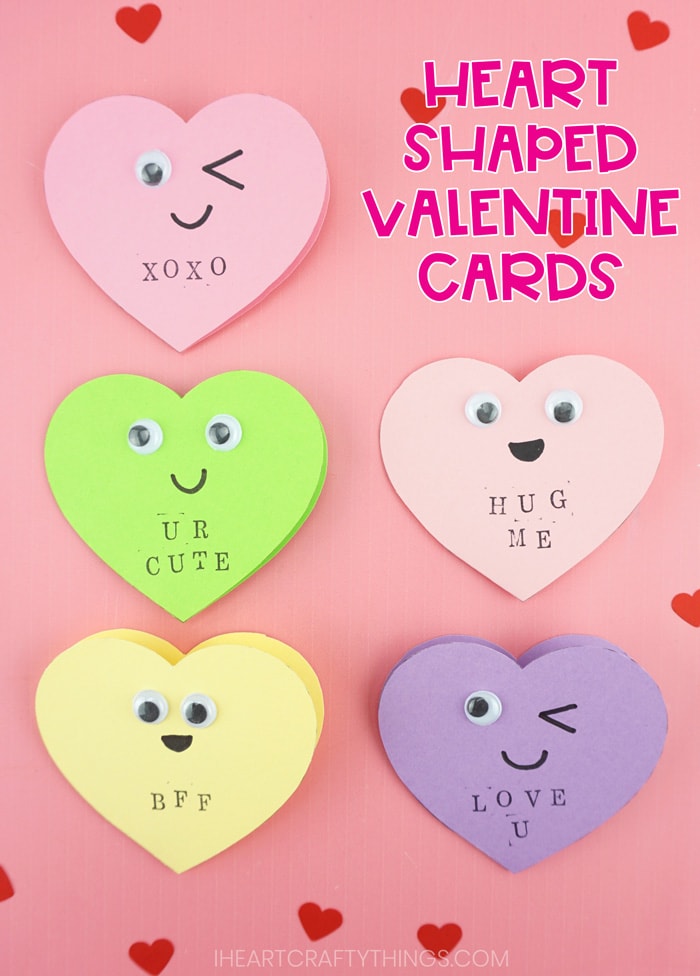 More fun and easy homemade Valentine's Day Cards
Do you love someone a whole lot? If so, this cute llama Valentine card is a perfect way to show them just how much. our template makes creating this Valentine a breeze.
This adorable blowing hearts Valentine Craft is a simple and perfect gift for kids to make for Mom, Dad or Grandparents for Valentine's Day.
Here is another fun and easy Valentine card for kids to make with a Robot theme. It's a super fun way to show someone that you are "nuts and bolts" about them.  🙂
These conversation heart buddies over at Red Ted Art are a perfect compliment to our heart shaped cards. Head over and see how easy they are to make.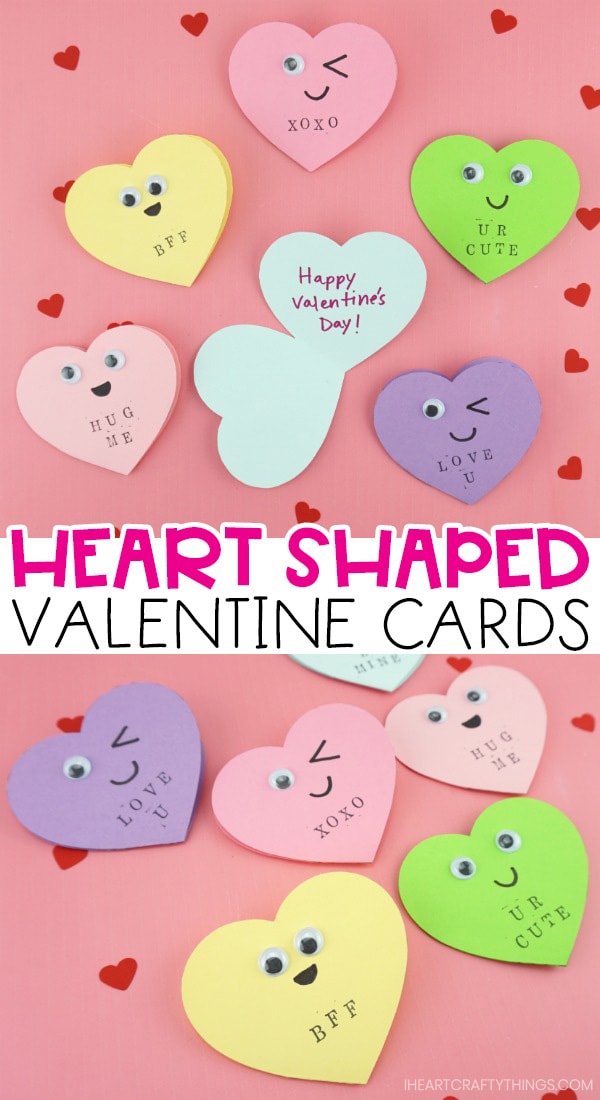 Looking for more fun Valentine's Day craft ideas? Here are more than 40 of the best Valentine's Day crafts for kids of all different ages to make.