Along with making the traditional Santa Claus, Rudolph and Christmas tree crafts every year, we also love angel crafts.
Our latest is this pretty paper bag angel craft. It is incredibly easy to make and screams cuteness!
Your little ones can put their hands inside the bag and will have a blast flying around their sweet angel puppets.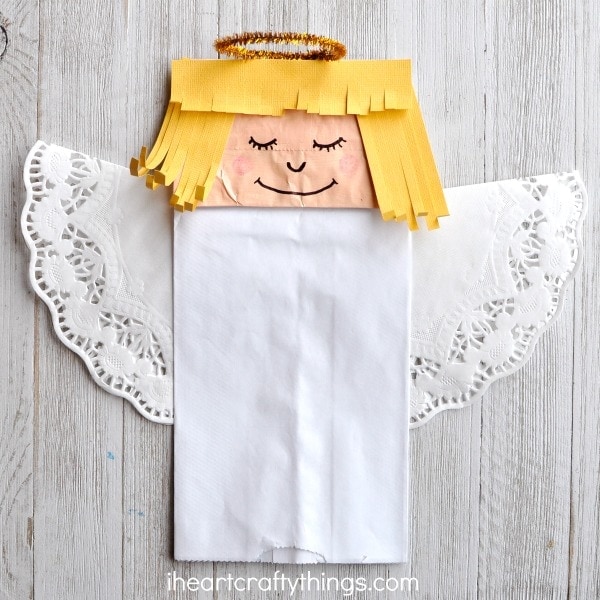 How to Make a Paper Bag Angel Craft
This post contains affiliate links to the products mentioned. Read our disclosure policy for more information.

Supplies Needed to make this Paper Bag Angel
– white paper lunch bag
– skin tone paint
– paintbrush
– 10-inch circle doily
– gold glitter stick (we received ours from our friends at Craftprojectideas.com. You can find them at your local Walmart in the craft supplies aisle.)
– yellow cardstock or construction paper (or whatever color you want to use for the hair)
– black marker
– scissors
– glue stick
– tape (we used duct tape)
Directions for Making this Angel Craft
1. Start by painting the bottom rectangle section of your paper bag with your skin tone paint. Set your paper bag aside for the paint to dry.
2. Cut your 10-inch doily in half, then fold each of those section in half again. Secure the wing sections by adding a dot of glue on each folded corner. When your paint is finished drying, glue the doily wings onto the back of the paper bag.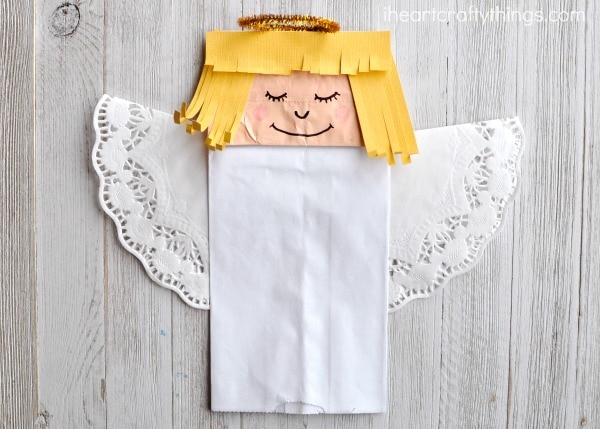 3. Cut out three rectangles from your yellow cardstock or construction paper to use for you hair. Glue them around the face of your paper bag angel craft. If you want to define the hair, cut small slits along all of the rectangle pieces and separate and curl the end of the pieces. If you choose to make a boy angel, you can simply use one rectangle glued to the top of the paper bag.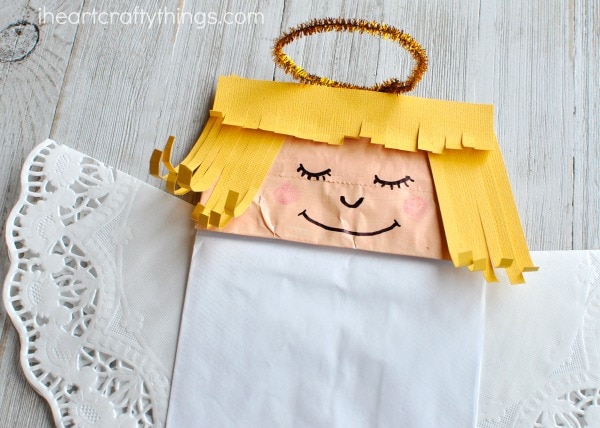 4. Bend one end of your gold glitter stick to make a halo circle. Wrap the end of the circle around the remaining section of the pipe cleaner to close it. Tape the gold halo onto the back of your angel with a piece of tape.
5. Finish your pretty paper bag angel craft by using your black marker to draw on eyes, a nose and a smile. We also used a pink crayon to color in some rosy cheeks.