Has the Pokemon Go craziness hit your household like mine? My kids and I have been enjoying the game all summer long and I've loved being outdoors and being more active with them by walking and walking and walking to hatch all of those eggs and get all of those Pokestops.
If you have Pokemon Go fans at your house they will love bringing the fun indoors by making this DIY Pokemon Go Charm Bracelet. I tend to cater to the younger crowd with crafts but this is an awesome craft for Elementary-age children and tweens to enjoy making.
The secret to these cute little charms is Shrinky Dinks which are soooo fun! If you have boys that don't want to wear bracelets the little charms can also be turned into necklaces or key chains.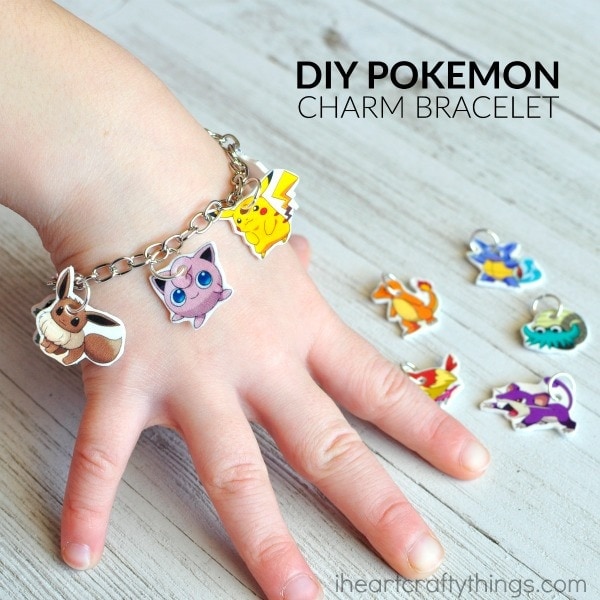 This post contains affiliate links to the products mentioned. Read our disclosure policy for more information.
How to Make a DIY Pokemon Go Charm Bracelet

Supplies Needed to Make these Pokemon Go Charm Bracelets
– Shrinky Dinks Ink Jet Pack
– Ink Jet Printer
– Pokemon clip art
– scissors
– hole punch
– toaster oven
– parchment paper
– jewelry chain (You can find the next couple items at your local craft store. Size will depend on your preference and the size of your Pokemon charms.)
– lobster clasps
– jump rings
– small jewelry pliers/tools
Directions for a DIY Pokemon Go Charm Bracelet
1. Start by finding your Pokemon clip art online and make a Word Document with them. The back of the Shrinky Dinks package gives you an idea of what size you will want your clip art so use that for reference when inserting your clip art. When your document is finished, print your page onto your Shrinky Dinks Ink Jet paper.
2. Cut out each Pokemon and use a hole punch to punch a hole at the top of each Pokemon.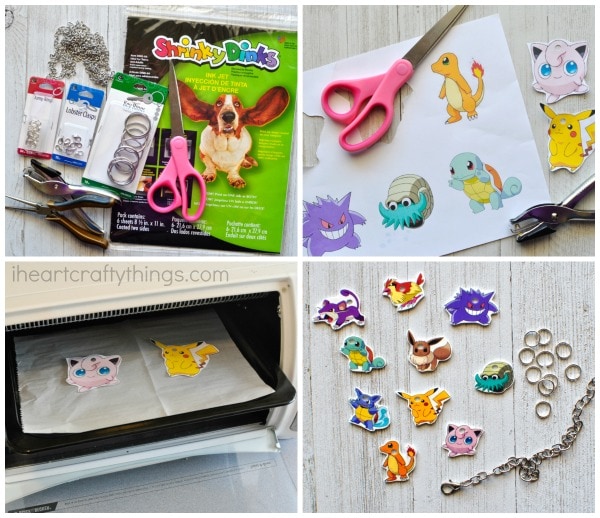 3. Preheat your toaster oven to around 300-325 degrees. Place a piece of parchment paper onto your toaster oven cooking tray and place 1-2 Pokemon onto the tray. You will want to make sure the Pokemon are similar shape and size if you put them together so they both take the same amount of time to cook. Place the tray into your toaster oven and cook them for 3-5 minutes. You'll want to keep a good eye on them so they don't cook for too long. Ours curled at first but by around 3 minutes they were shrunk and flat. The package directions say that once they are flat to keep them in the oven for 30 more seconds.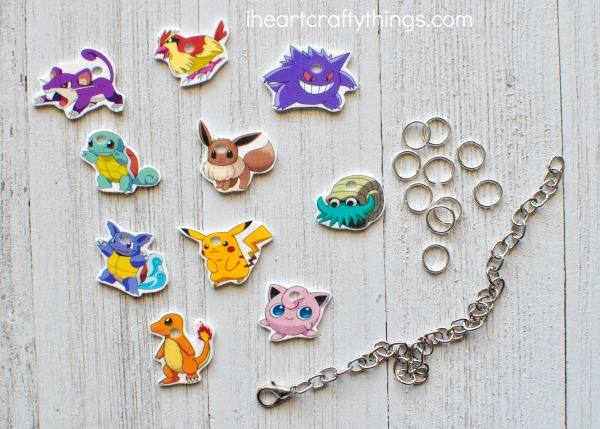 4. The little Pokemon charms turned out so stinkin cute! Grab your chain, lobster clamp, jump rings and jewelry tools to assemble your charm bracelet. First, measure and cut out the size of chain you'll need by putting it around the wrist. Then attach a lobster clamp to one end. Attach jump rings to each of your Pokemon charms, then attach them all over your bracelet.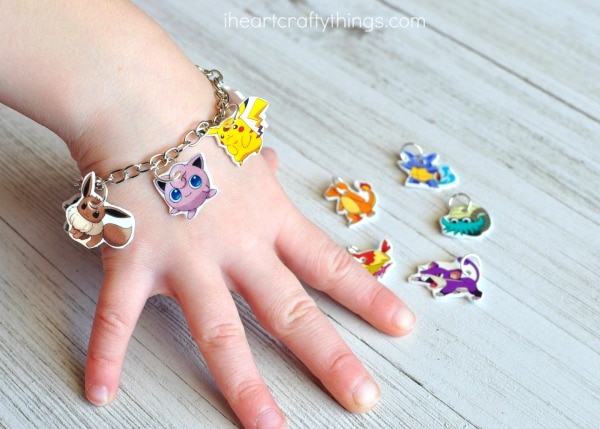 These little charms don't have to be limited to a DIY Pokemon Go Charm Bracelet either. They work great for making a darling necklace too. We made a few characters larger and turned them into fun key chains for my children's school back packs too.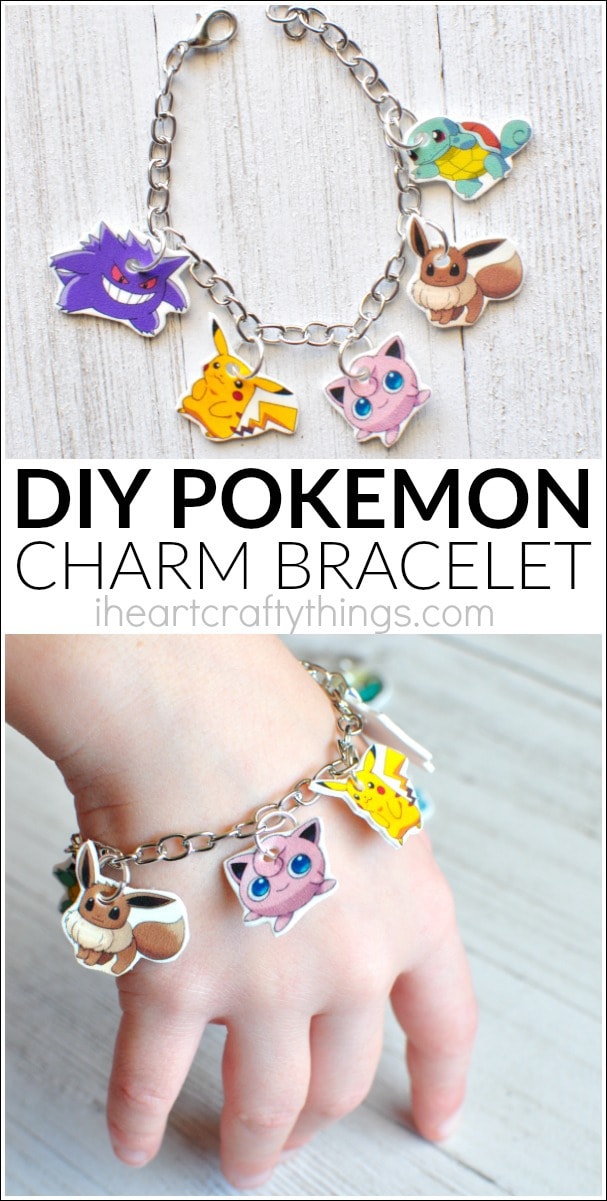 More Pokemon Crafts your kids will love:
9 Pokemon Bookmark Corner Designs | Red Ted Art
Simple Pokemon Sugar Cookies | Lemon Lime Adventures