Did you catch the harvest moon last week??
I picked up By the Light of the Harvest Moon by Harriet Ziefert at the library last week and fell in love with the illustration on the front cover of the book before even reading one page.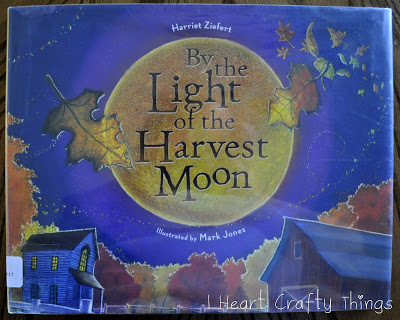 As the harvest moon shines down, the wind picks up, sending orange, yellow, and
crimson leaves dancing, until they settle in a pumpkin patch. One-by-one, leaf
people emerge to celebrate the autumnal equinox.
While the story focuses on leaf people celebrating the autumnal equinox, I decided to focus our craft on the beautiful, bright harvest moon just as displayed on the amazing front cover of the book. Our artwork turned out beautiful!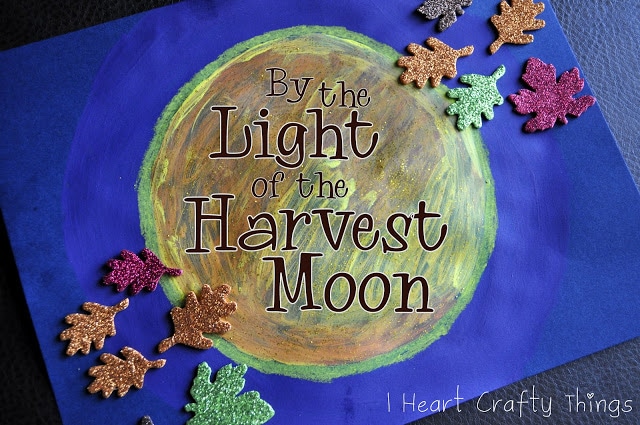 My oldest son (7 years), made this craft with me. He often stays up past his bedtime on weekends with my husband to catch a glimpse of the Moon, stars and planets in our telescope on clear nights, so this craft was right up his alley.
We started by tracing a bowl with yellow crayon onto a dark blue sheet of card stock paper. Then we used purple paint to paint the hue around the moon.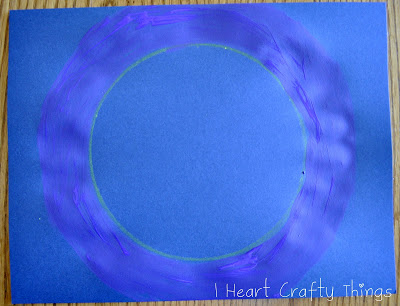 Next, using orange and yellow paint, we painted the Moon. Don't worry about covering up the yellow crayon.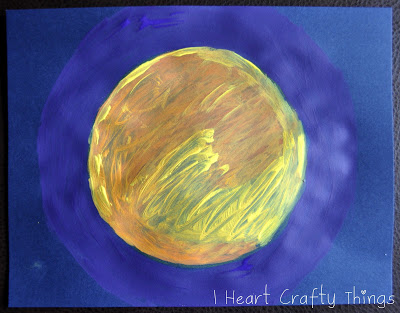 Once the paint is completely dry, we used a yellow oil pastel to draw a thick yellow line around the Moon to make it stand out even more. Then squeeze some gold glitter glue all over your Moon and use a paint brush to spread it over it's entirety.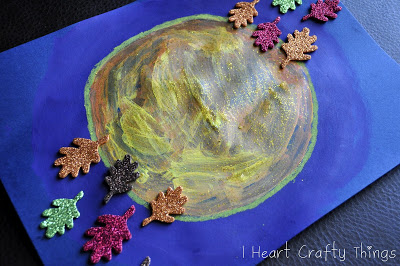 To tie into the theme of the book, we also added glittery Fall leaves dancing around the Harvest Moon. (I found these at Michael's last year and we are just now getting around to using them.)
Here is my son's completed artwork: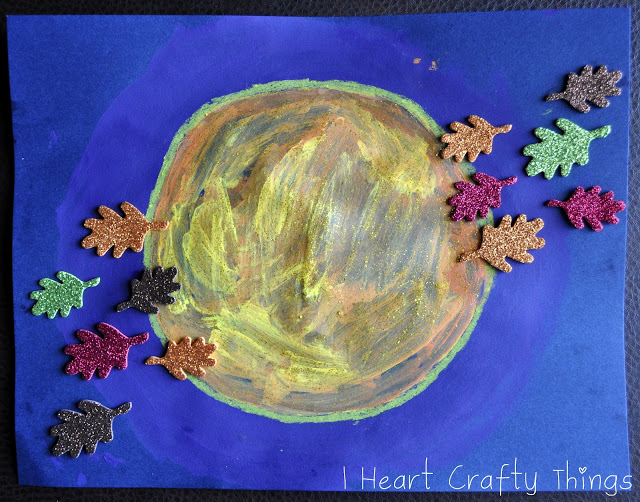 The pictures don't really do justice to how bright and stunning the artwork looks. If you haven't taken a couple minutes to stand outside at night and take a look at our beautiful Moon in a while, you should totally do it!! Somehow it's pureness and brightness always brings peace and serenity to the soul.
Thanks for stopping by!!