We can all agree that dinosaurs are pretty cool, and everyone has a favorite dinosaur. Whether it's the mighty tyrannosaurus rex or the majestic stegosaurus, it's hard to pick one!
Another favorite is the gentle triceratops, a dinosaur that's instantly recognizable with it's little horns and shielded head.
We don't know for sure what colors real dinosaurs were, so that provides a perfect opportunity to show off what we think they might have looked like!
These free triceratops coloring pages are the perfect opportunity for you to show what you think these gentle giants may have looked like.
Once you've finished your coloring pages, please share them on our Facebook page for us to see! We're sure there's going to be many wild and wonderful creations for us to behold.
REMEMBER: You can get the COMPLETE set of these coloring pages >> HERE
15 Brand New Triceratops Coloring Pages – Free to Print and Color
The first image in our series of free triceratops coloring page printables shows a cute triceratops embarking on an adventure in some mountains.
It looks like it's a beautiful clear day, so I think some bright colors for the background with a light blue sky would work perfectly for this triceratops day out.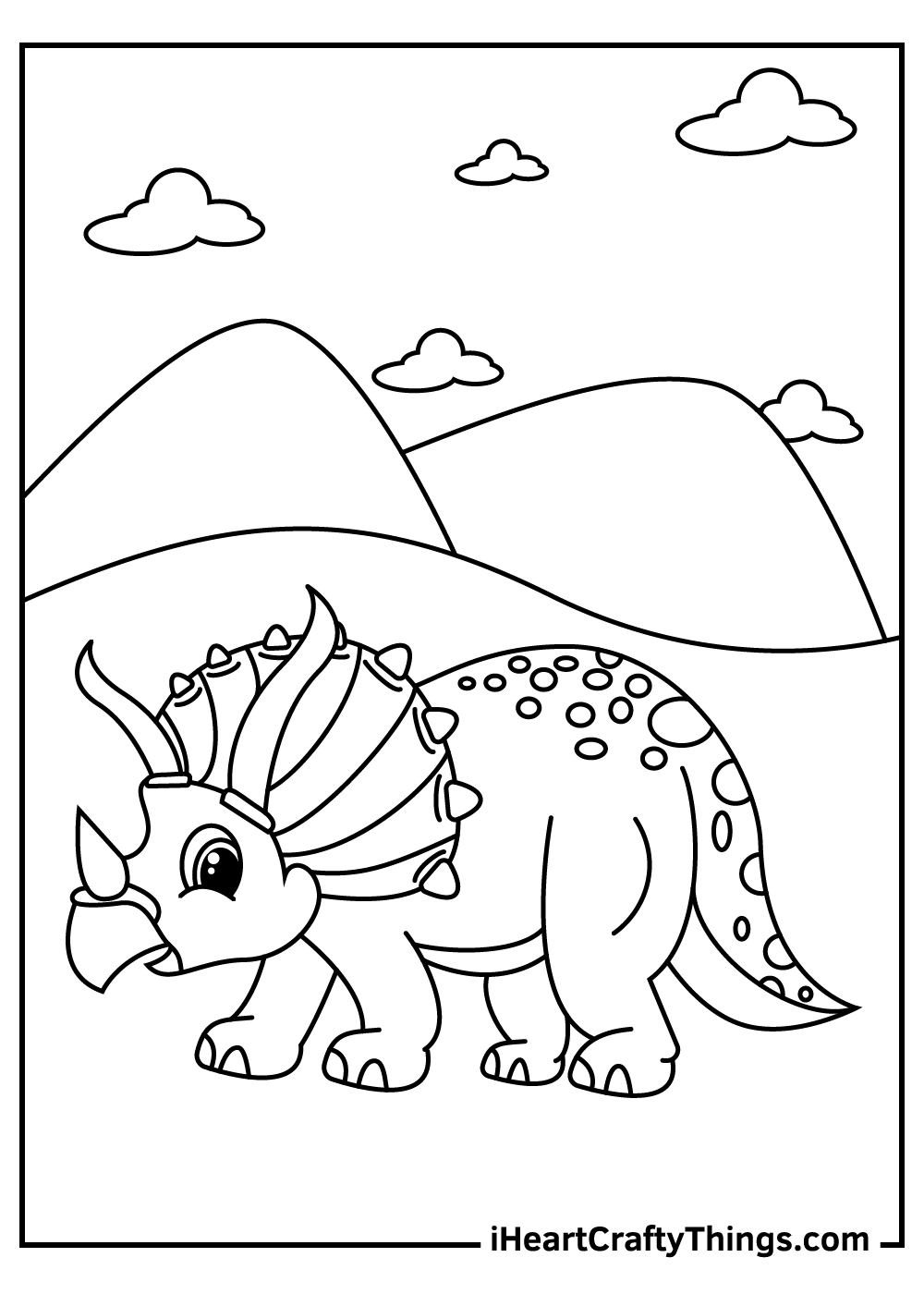 This coloring page shows triceratops with spots on its body. The spots make it look unique and adorable. Do you like its spots?
It's in a playful mood. It is lifting its tail high and smiling. Maybe it is happy to see you or it is enjoying the sunny day.
The triceratops has three horns and a frill on its head. These are not only for protection, but also for communication. The triceratops can use them to signal its emotions and intentions to other triceratops.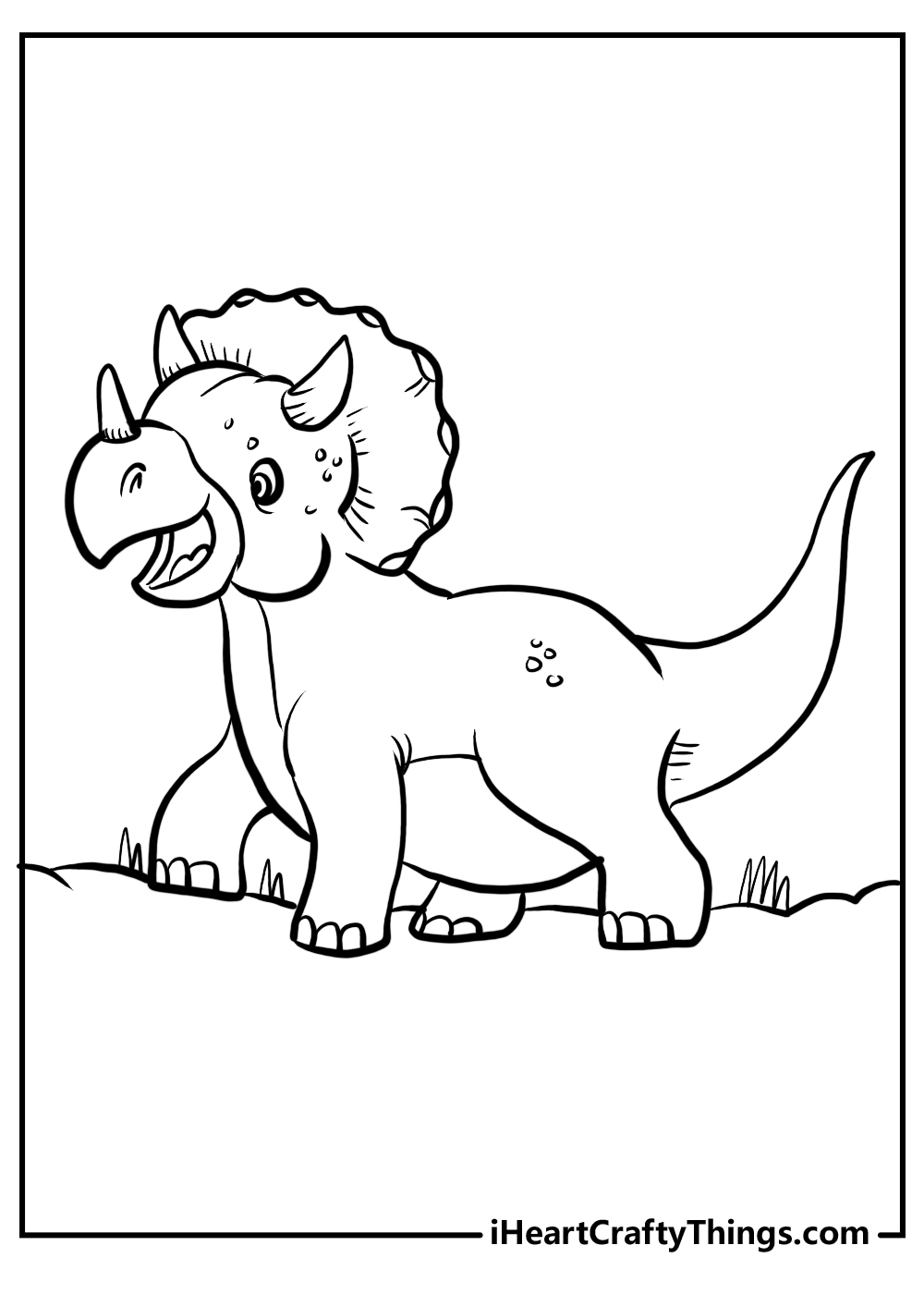 In the next triceratops coloring page, we have one surrounded by stars and looking like a star itself!
This looks like a fancy triceratops, so it would look great to represent that with some bright, bold colors for him and some equally bright yellows or reds for the stars, what do you think?
The next printable coloring sheet shows a triceratops out in the wild and also on an adventure. There's a tree and some mountains and he looks pretty happy to be there!
Because there's so much nature around, the background could have some muted browns, greens and blues, or you could go wild and use all kinds of crazy colors to show off some prehistoric flair!
REMEMBER: You can get the COMPLETE set of these coloring pages >> HERE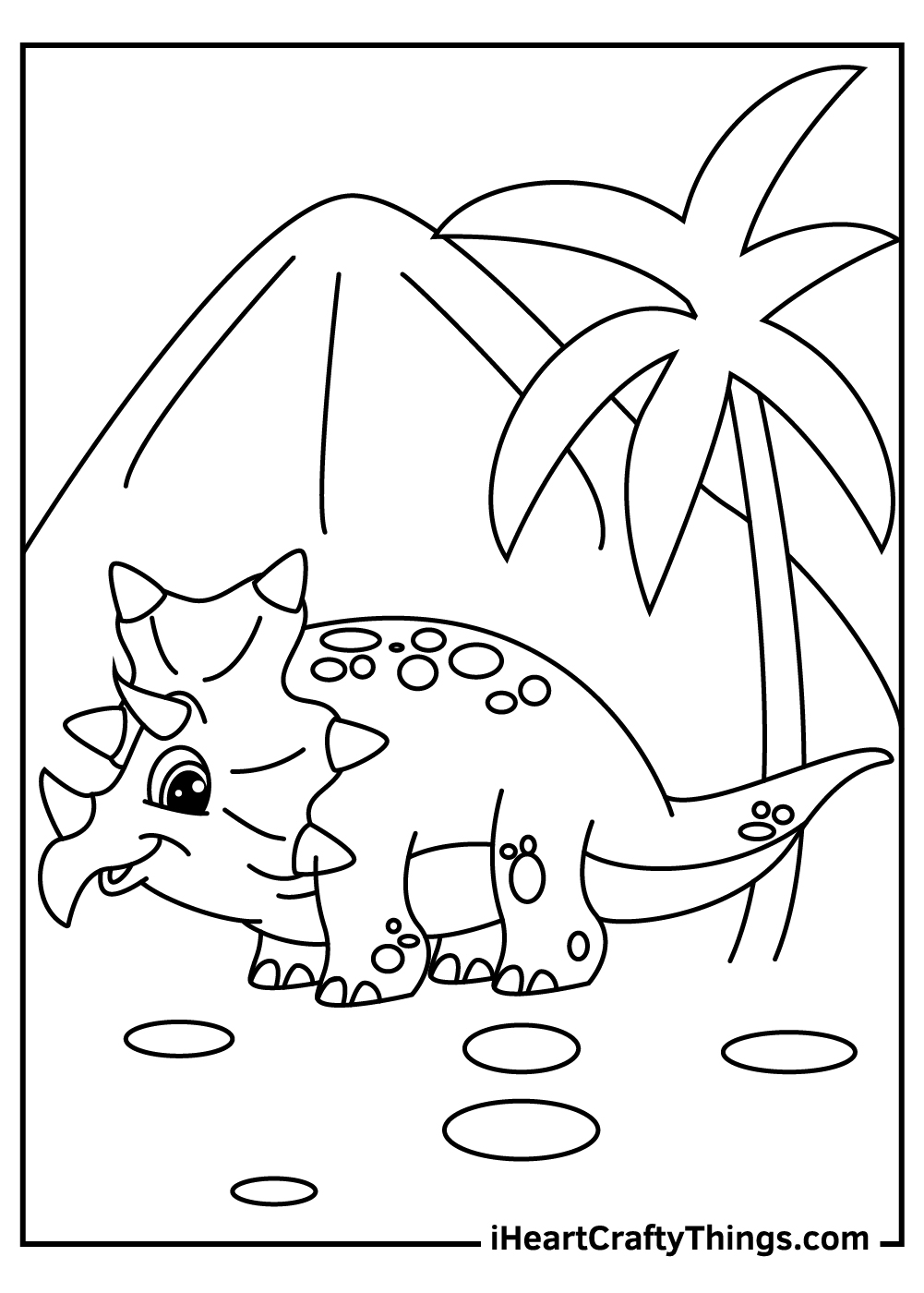 This coloring page depicts triceratops walking in the hills. It looks calm and peaceful. Maybe it is looking for some food or a place to rest.
The triceratops is facing you and has a gentle expression. It seems to be curious and friendly. It wants to greet you and show you its horns and frills.
You can use cool colors like blue, green, and purple to make your triceratops look more calm and peaceful.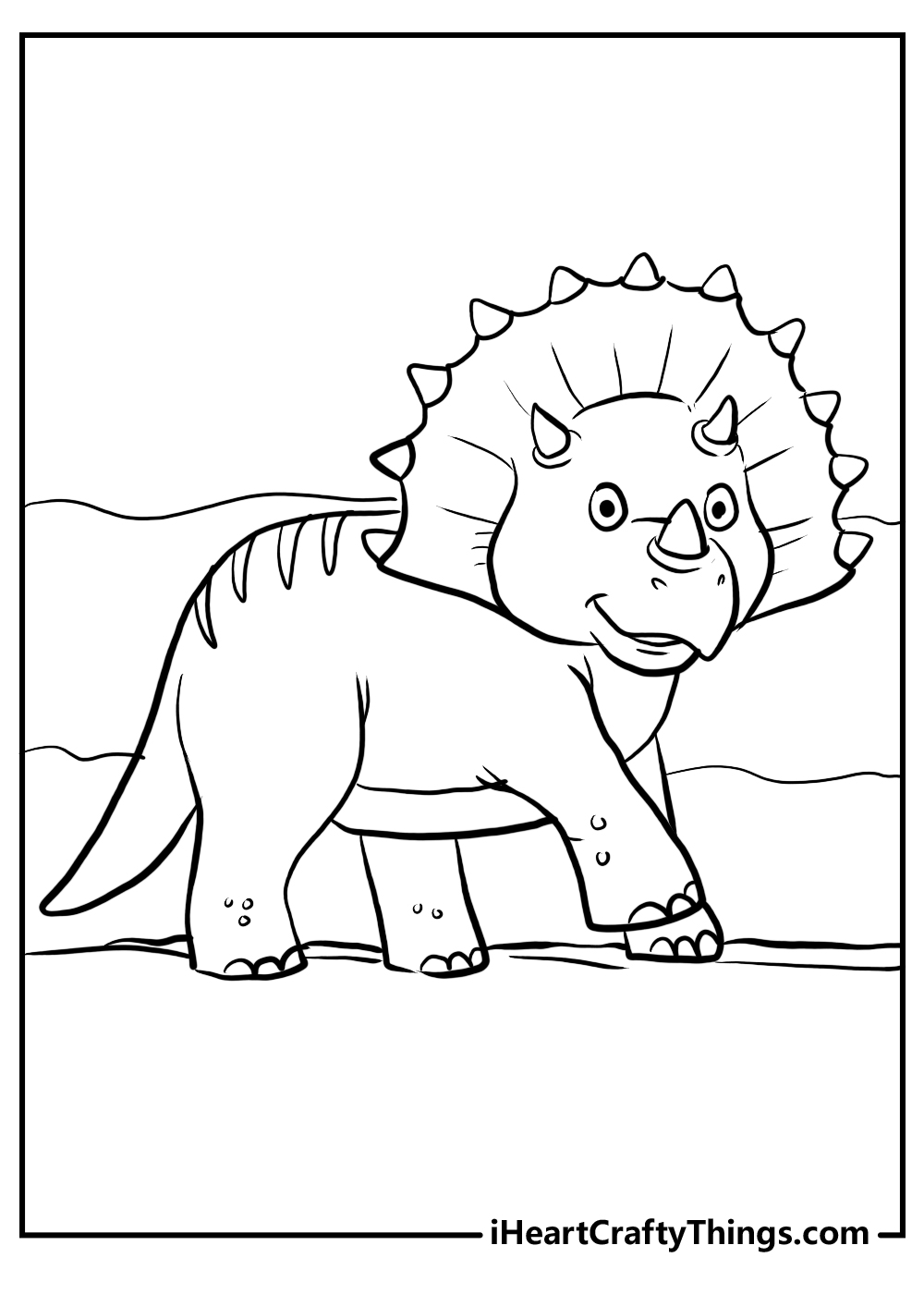 The triceratops in this coloring page printable isn't looking so happy and seems to be having a bit of a bad day!
To represent the mood of this one, maybe this one should be colored in blues and greens that are a bit cooler in their palette to suggest his blue feeling. Will you go for cooler colors or maybe try to brighten up his day a little bit?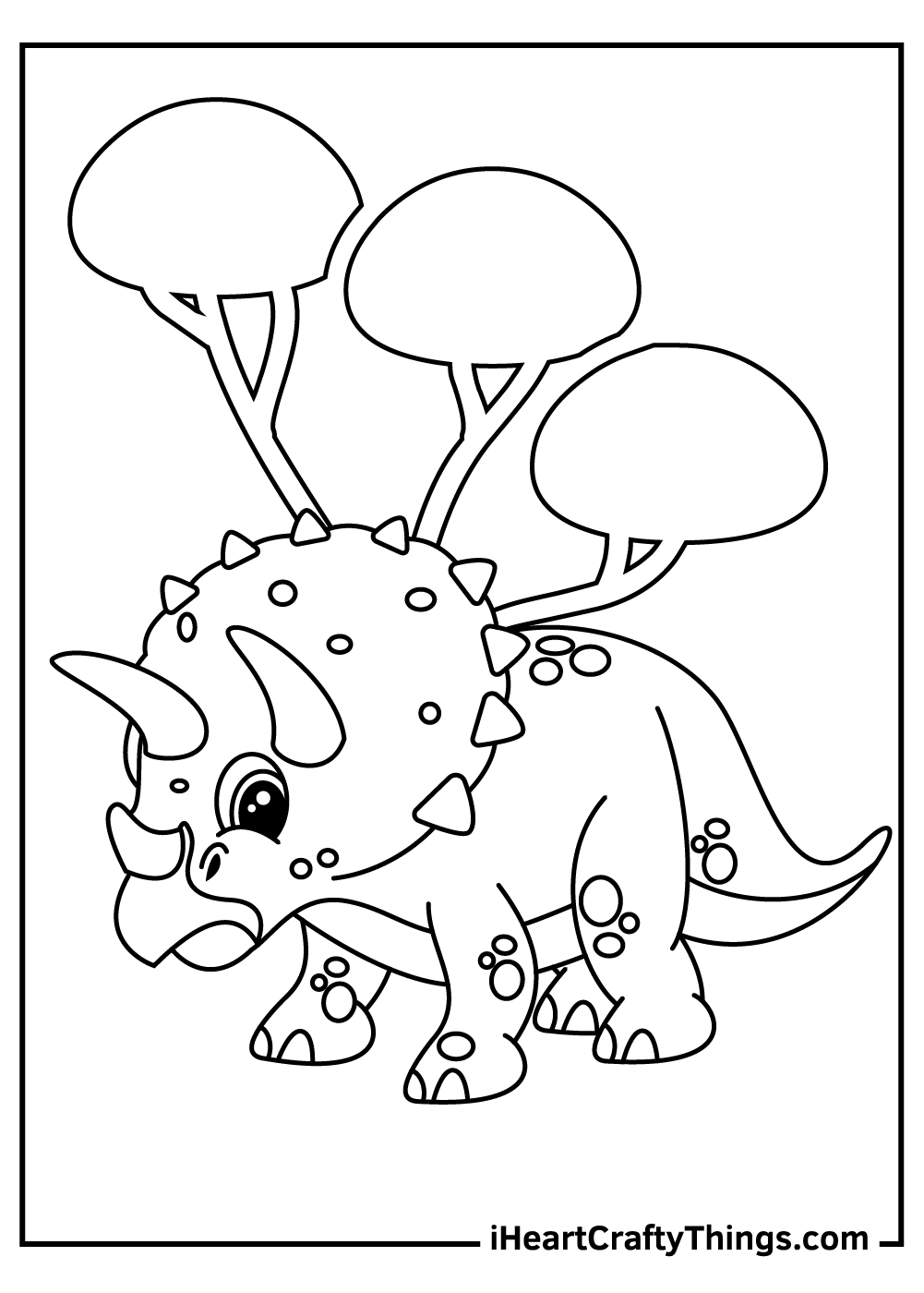 This coloring page features a triceratops with a big smile on its face. It looks like it is very happy and friendly. Maybe it is greeting you or it is enjoying a joke. What do you think?
The triceratops is standing on the ground with its tail up. It has three horns on its head that are used for defense and display.
I would use warm colors like red, orange, and yellow to make your triceratops look more lively and energetic.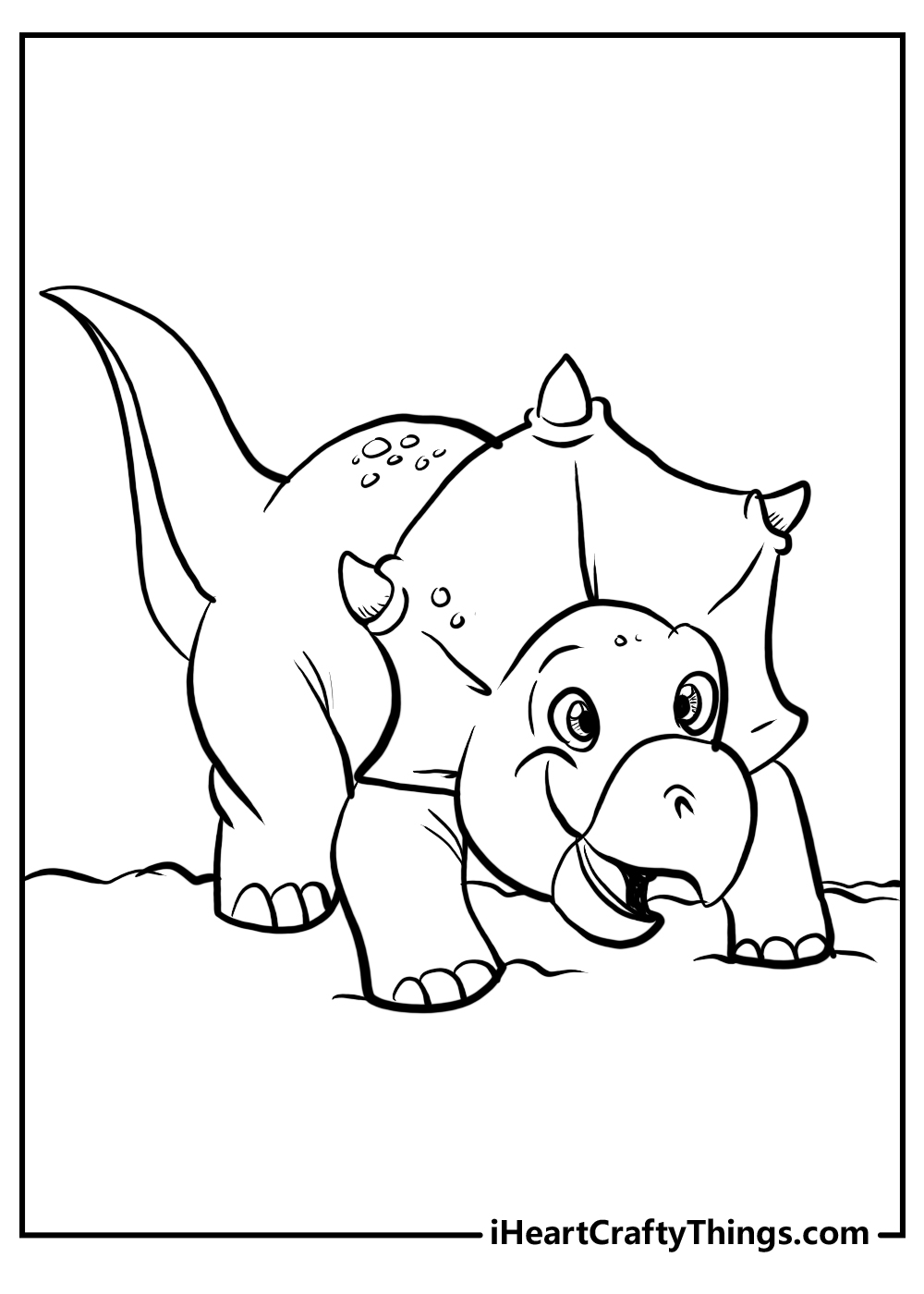 Along with the previous coloring page, the triceratops in this next one isn't looking as excited as the first few! This one is looking a bit shy or nervous, and I wonder why?
Maybe you can color it in with unusual shapes and patterns that set it apart from the other triceratops a bit, which would explain why it might be feeling a little bashful.
REMEMBER: You can get the COMPLETE set of these coloring pages >> HERE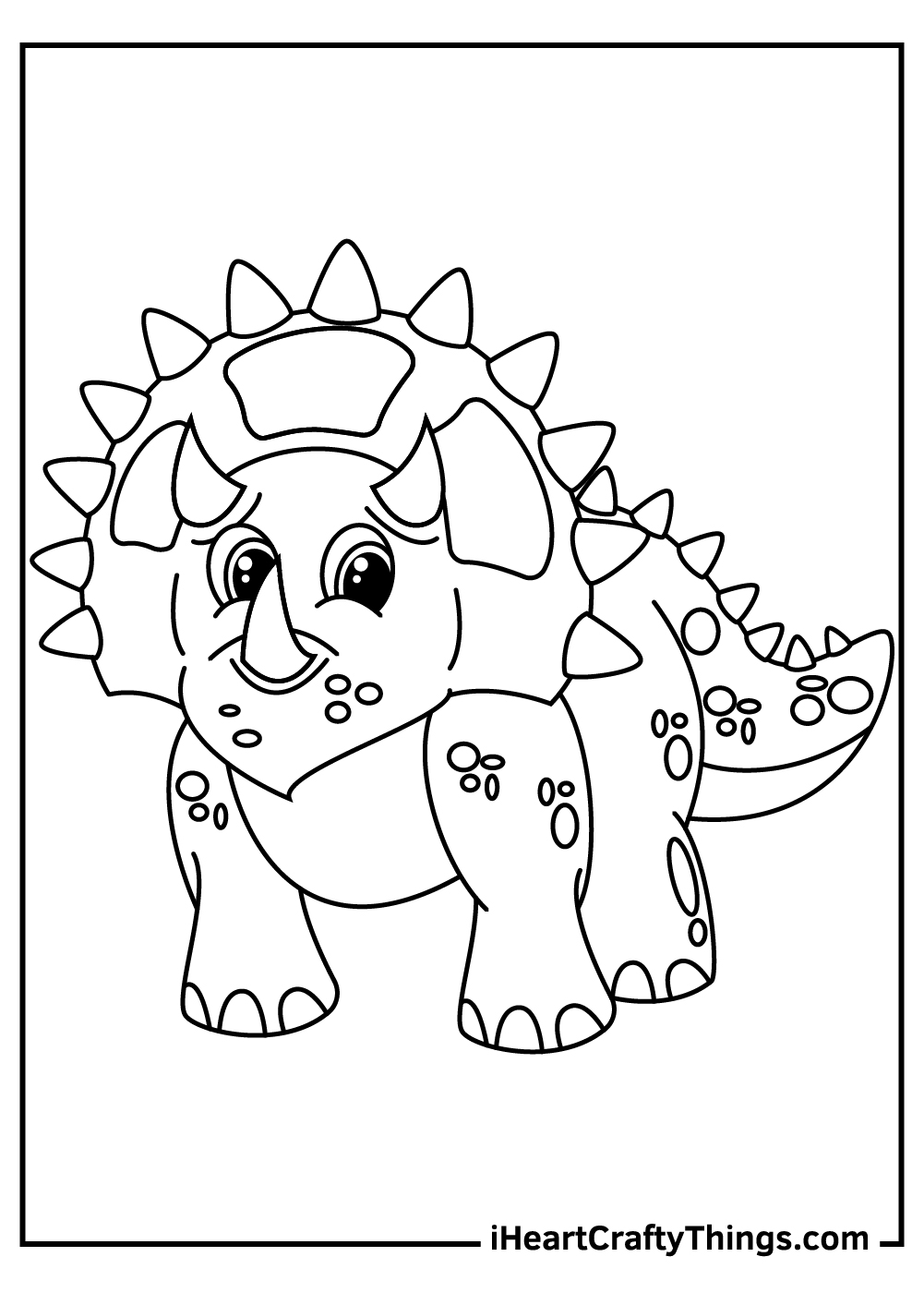 After too less excited triceratops, the one in this coloring page is looking a lot more happy and excited!
There's a huge smile on her face so she must be having a good day. Maybe she found some tasty leaves for lunch! What do you think has put her in such a good mood?
I think bright and contrasting colors would suit this happy triceratops perfectly and provide a fitting contrast to the previous coloring sheets.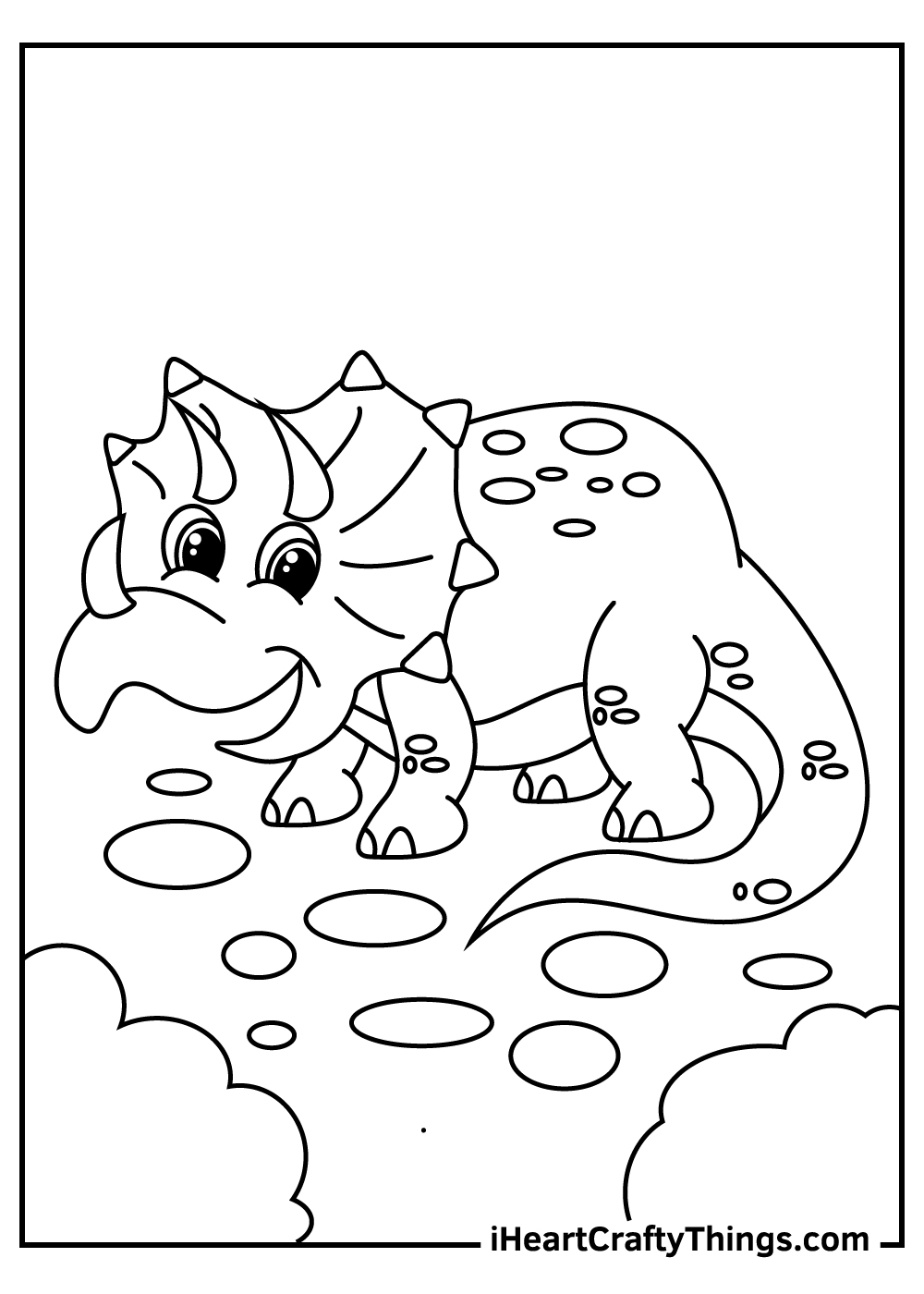 This coloring page shows a triceratops that has a bumpy and scaly skin. It looks like it is very strong and brave.
It is walking on the grass with its head down. It also has a frill around its neck that has small spots on it. These spots make it look unique and colorful.
I would use brown, blue, yellow to color these adorable triceratops. Add details to the triceratops like stripes, sparkles, or a spider.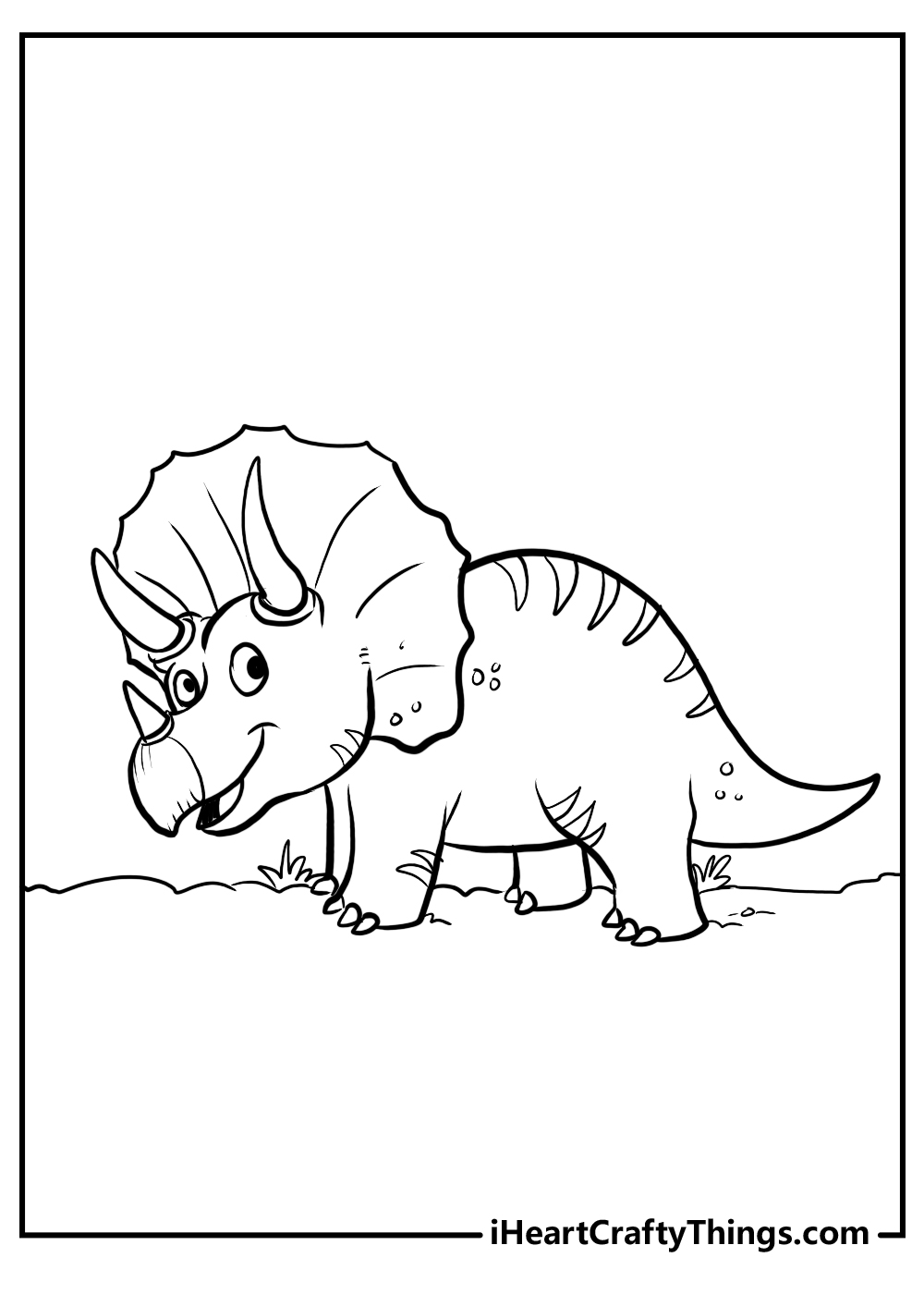 This triceratops is standing in a circle in front of some rocks, almost like it's standing in a spotlight!
This is a great time to get creative and show with some cool shapes and crazy colors why this triceratops has a spotlight on it, and this could be one of the more brightly colored in this series of triceratops coloring pages!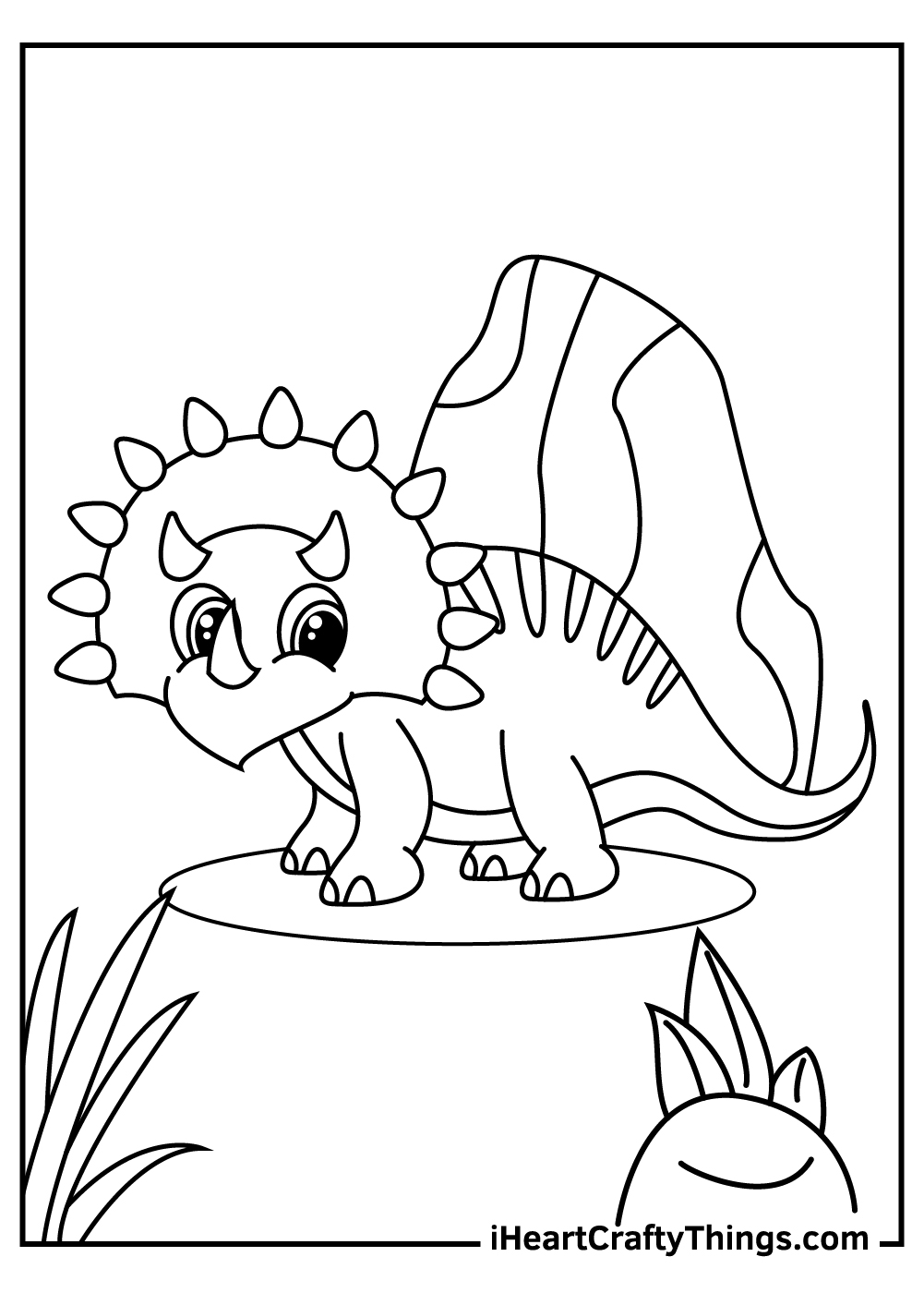 It's another day out in nature in this coloring page printable. This triceratops is standing in front of a very strange, prehistoric looking tree. What colors do you think this strange plant would be? Maybe it has colored polka dots or squares on it!
This is our chance to imagine what these times might have been like so we may as well use our imaginations!
It will be interesting to see your interpretations on what a prehistoric world looked like when you share your creations on our Facebook page.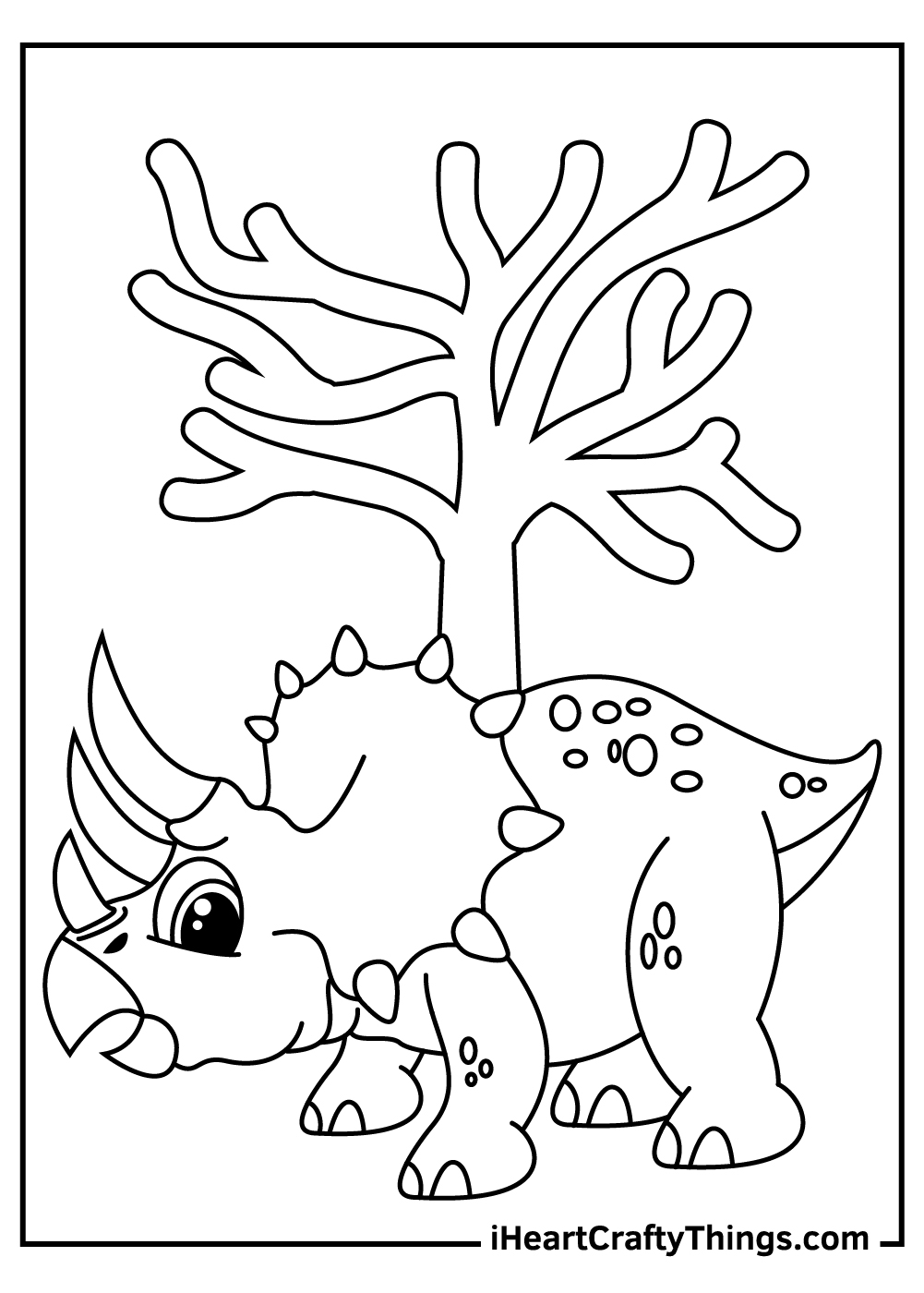 This triceratops is the happiest looking of the bunch! And for good reason: it gets a nice closeup with triceratops written boldly beneath it, so there's no mistaking who's the star of this particular coloring page.
The letters of triceratops are leaving the perfect opportunity to make the name bold and beautiful. Maybe each letter can be a separate color, or you could alternate between two contrasting colors. How will you make this printable stand out?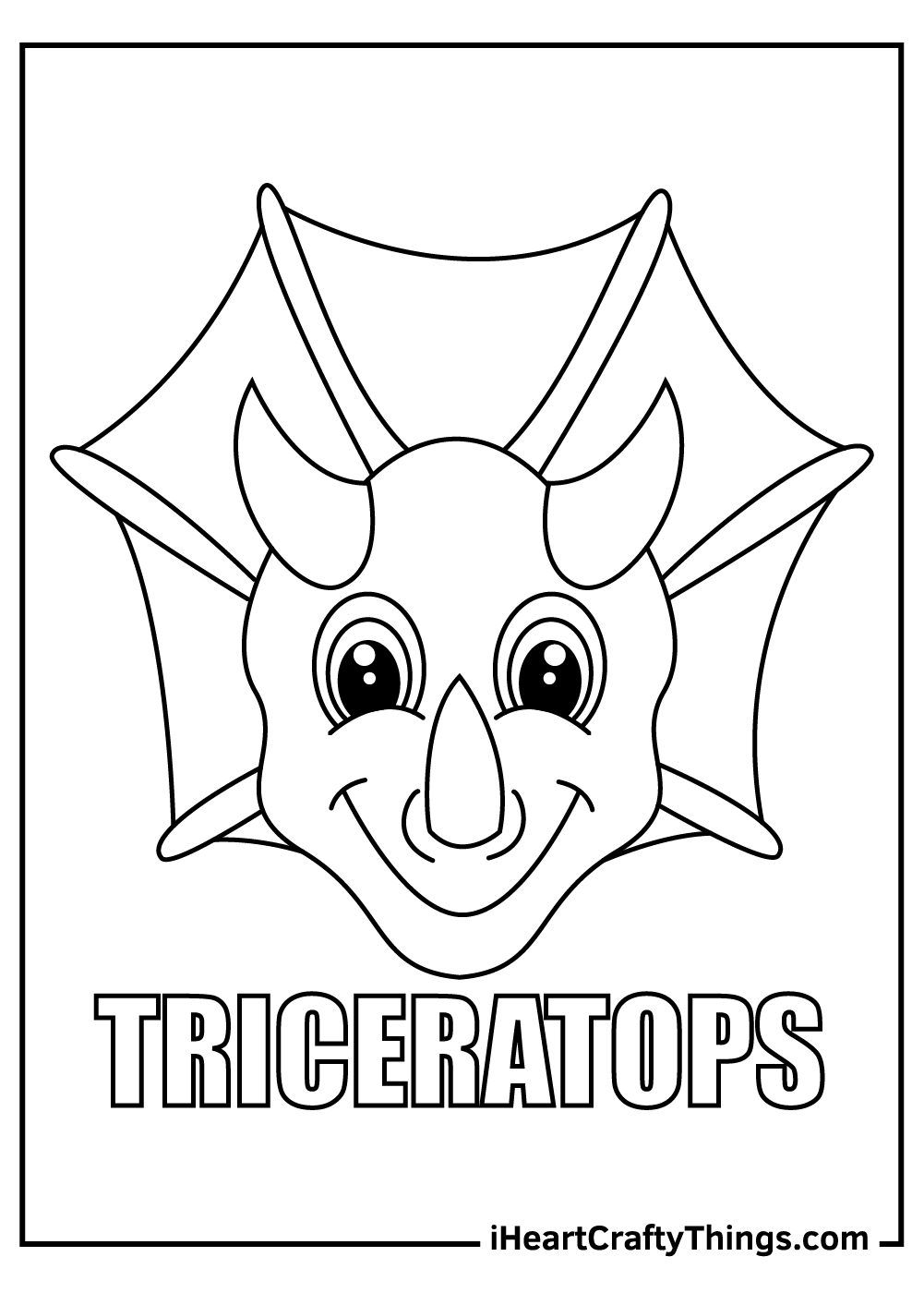 If one triceratops per coloring page isn't enough for you, we have you covered with this final printable which features a collection of some of the triceratops we've met in the previous printables!
This is a great chance to play around with contrasting colors to make each triceratops stand out from the next. They're surrounded by some exotic looking eggs, and those are also begging for some wild and wacky colors.
REMEMBER: You can get the COMPLETE set of these coloring pages >> HERE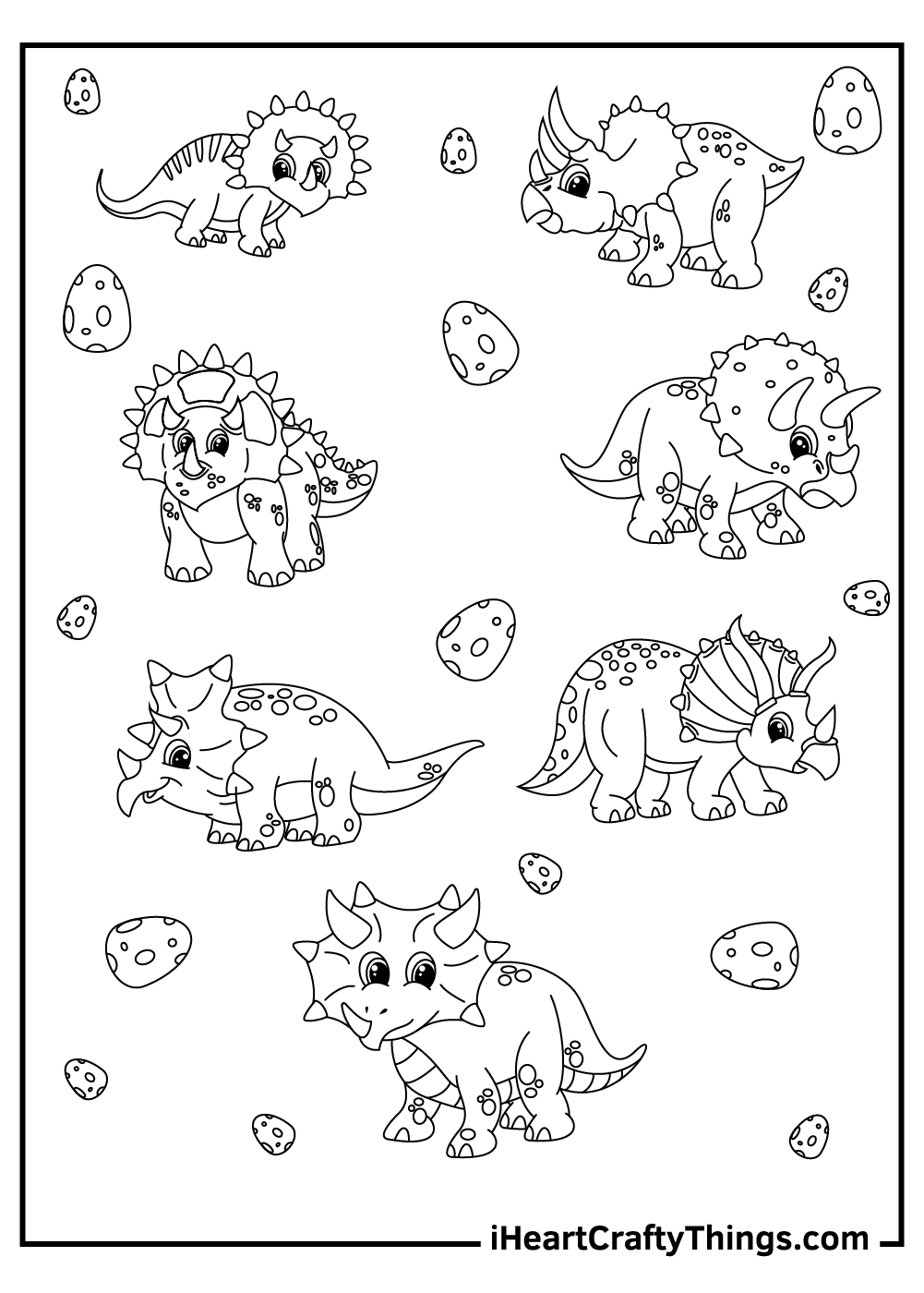 What a cute and friendly triceratops! It is smiling and eyeing at us, as if it wants to play with us. It has a big frill and three horns on its head, which are very useful for defense and communication.
This triceratops has a spotty body and a long tail, which help it balance and steer. You can color it with any colors you like, but remember to use different shades to make it look more realistic.
You can also add some details to the background, like trees, rocks, or other dinosaurs.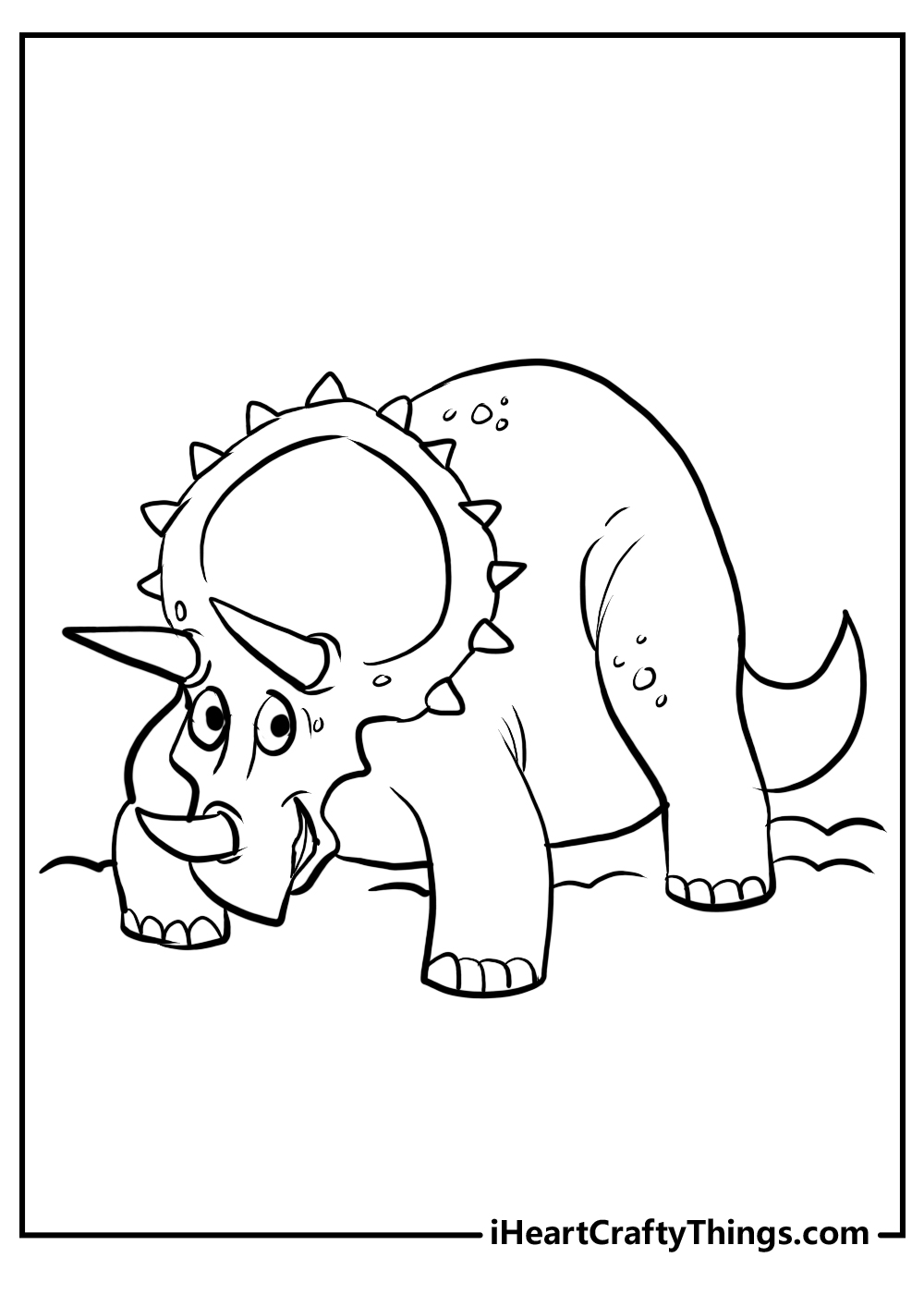 Triceratops Coloring Pages – Which will you choose?
Hopefully you've had a lot of fun going back in time with these free triceratops coloring page printables!
All of our coloring pages are 100% free to print and have fun with as many times as you like, so be sure to print out a few copies so that you can try out different color schemes, styles and mediums.
Also, don't forget to like and share our Facebook page so you can find plenty more fun coloring pages to print out and have fun with! Also we'd love to see your colorful artworks, so please share your completed triceratops coloring pages once you've finished with them to our page so we can enjoy your prehistoric interpretations!