On this page, you will find 15 all new Jurassic Park coloring pages that are completely free to print and download.
Jurassic Park is a world-famous science fiction movie that has captured the attention of kids and adults alike because of its adventure-filled storyline and the realistic portrayals of dinosaurs.
The movie made introduce dinosaurs to many kids, while to others, the movie made them appreciate the endangered species more. Whatever reason, it has gotten a lot of us into dinosaurs.
If your kids are fans of this movie franchise, then we have got you covered.
We have 15 new Jurassic Park coloring pages fit for kids of all ages to enjoy coloring! These printables are free to download. Print them and let kids have fun coloring these movie-related pages.
15 Brand New Jurassic Park Coloring Pages – Free to Print and Color
One of the many iconic parts of the film and probably the most famous dinosaur of the movie is the T-Rex or Tyrannosaurus rex.
The T-Rex is one of the largest land carnivores. They are known for their very short arms and large powerful jaws and teeth. This allows them to rip out more when they bite. They are also shown in the film as extremely smart.
In this Jurassic Park printable, you'll see this large carnivore doing its usual roar.
This coloring page has lots of small details to keep a child focused and engaged.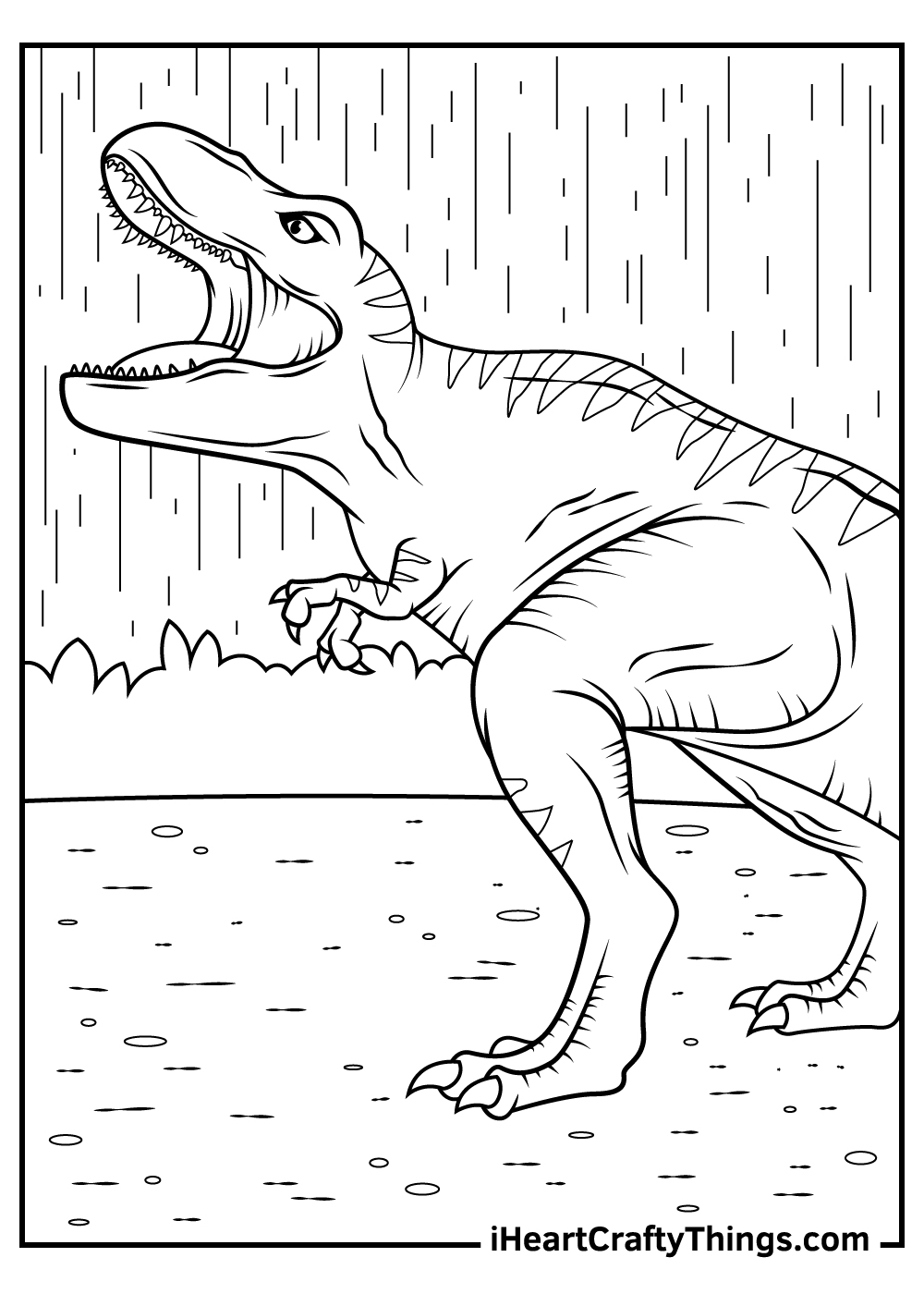 The famous Jurassic Park gate is shown here on this free coloring page. It has become a trademark of the series and became a popular icon in pop culture.
Although it's called Jurassic Park, many dinosaurs featured in the film are not from the Jurassic era.
Kids will love to color our Jurassic Park coloring pages like this image as it will transport them into the adventures they've seen in the movie.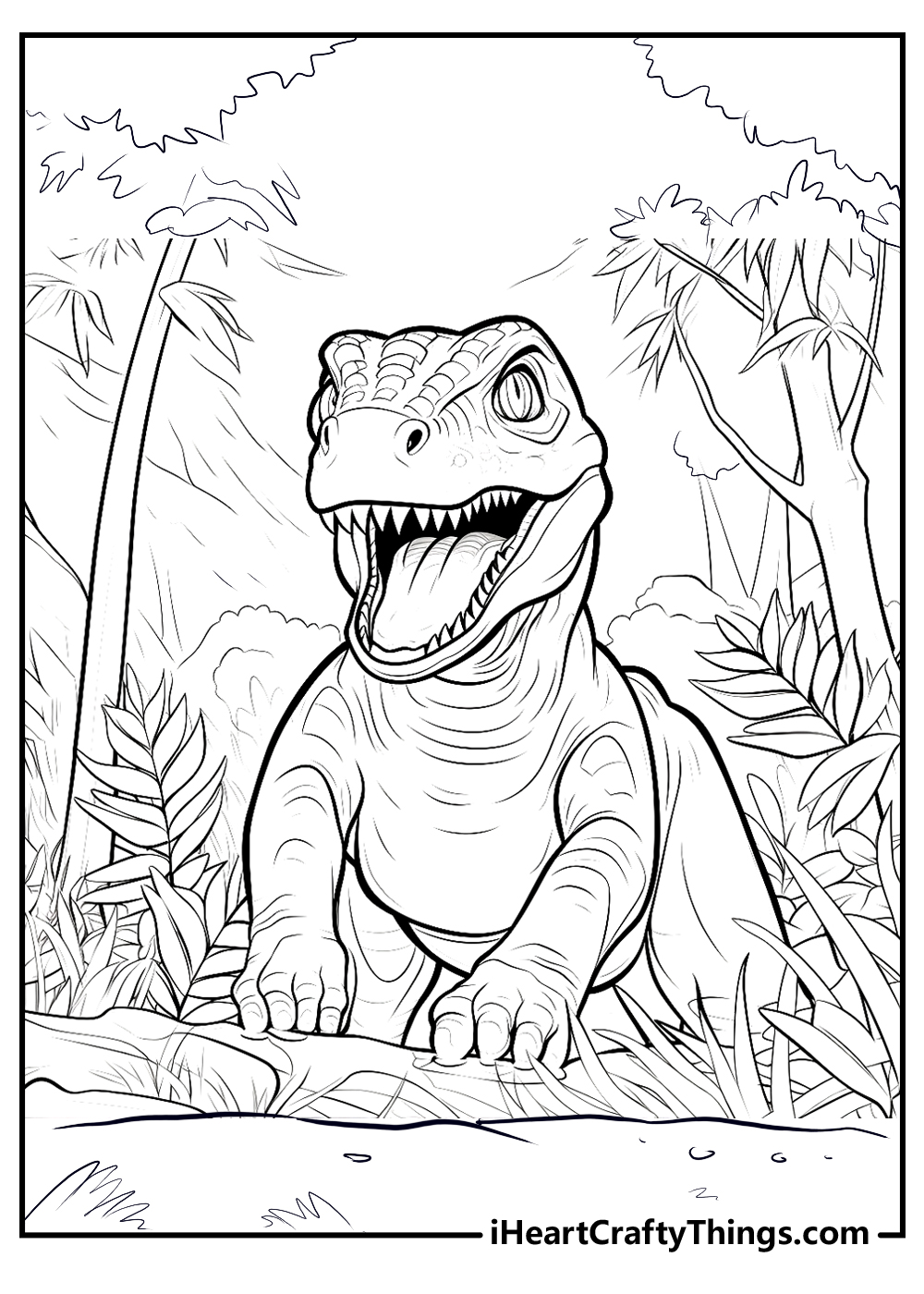 Again, we have the T-Rex, the king of the dinosaurs, standing on its four legs in the jungle. It has a large head with sharp teeth and is opening its jaws for a mighty ROAR.
Get creative with realistic textures like scales and spikes, or go wild with wacky neon colors to make a silly, cartoon Rex. Don't forget to color in the tongue – you could make it bright red or spotted pink.
Fill in the trees, bushes and ferns to build a prehistoric world around your Rex.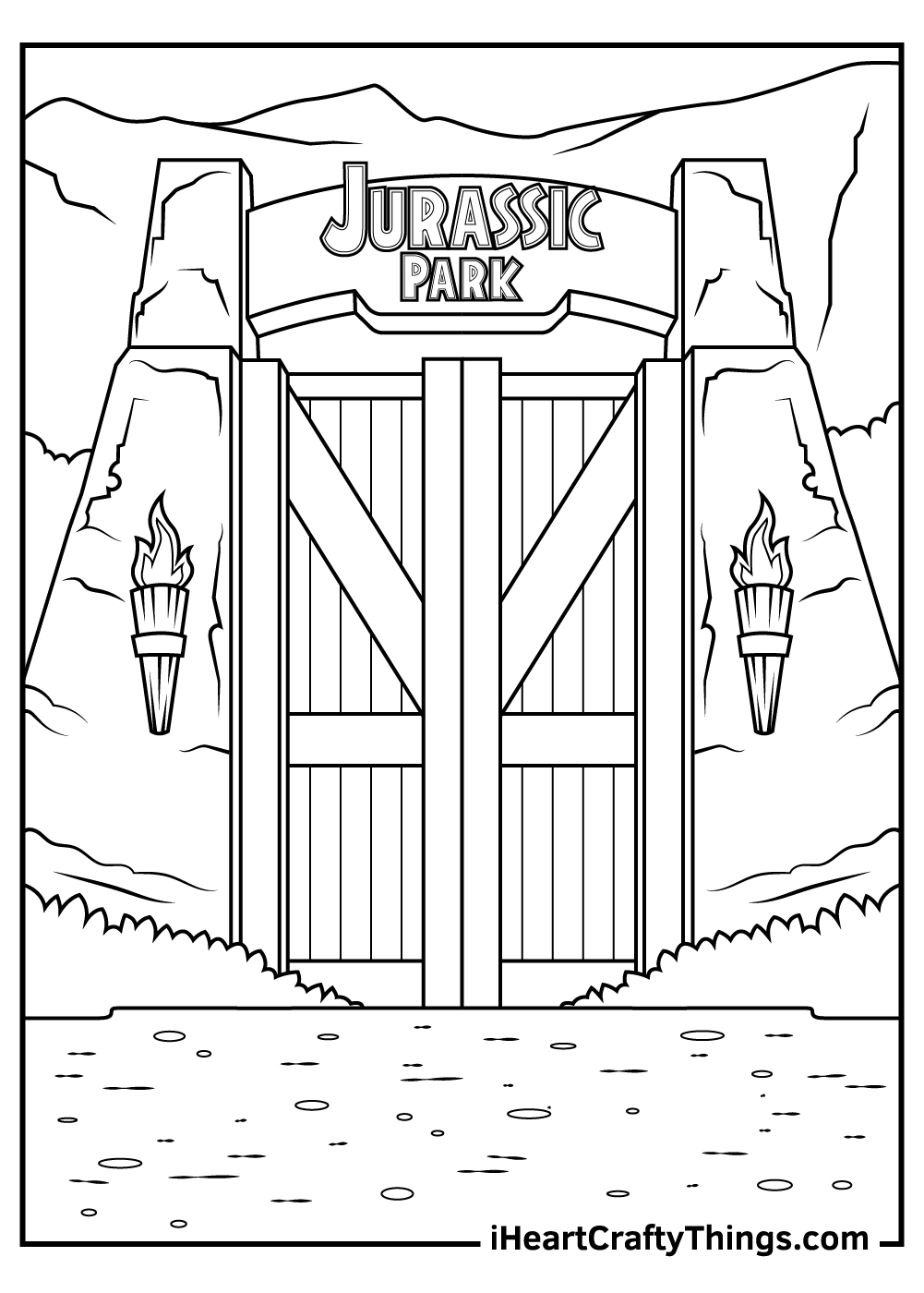 Here is another image of the T-Rex. Seen in this Jurassic Park coloring page for kids is the T-Rex in the forest, possibly looking for food.
The T-Rex, is one of the most formidable predators on Earth and measures up to 43 feet long and weighs up to 7.5 tons. Possibly due to its size, it can be pretty dominating and scary.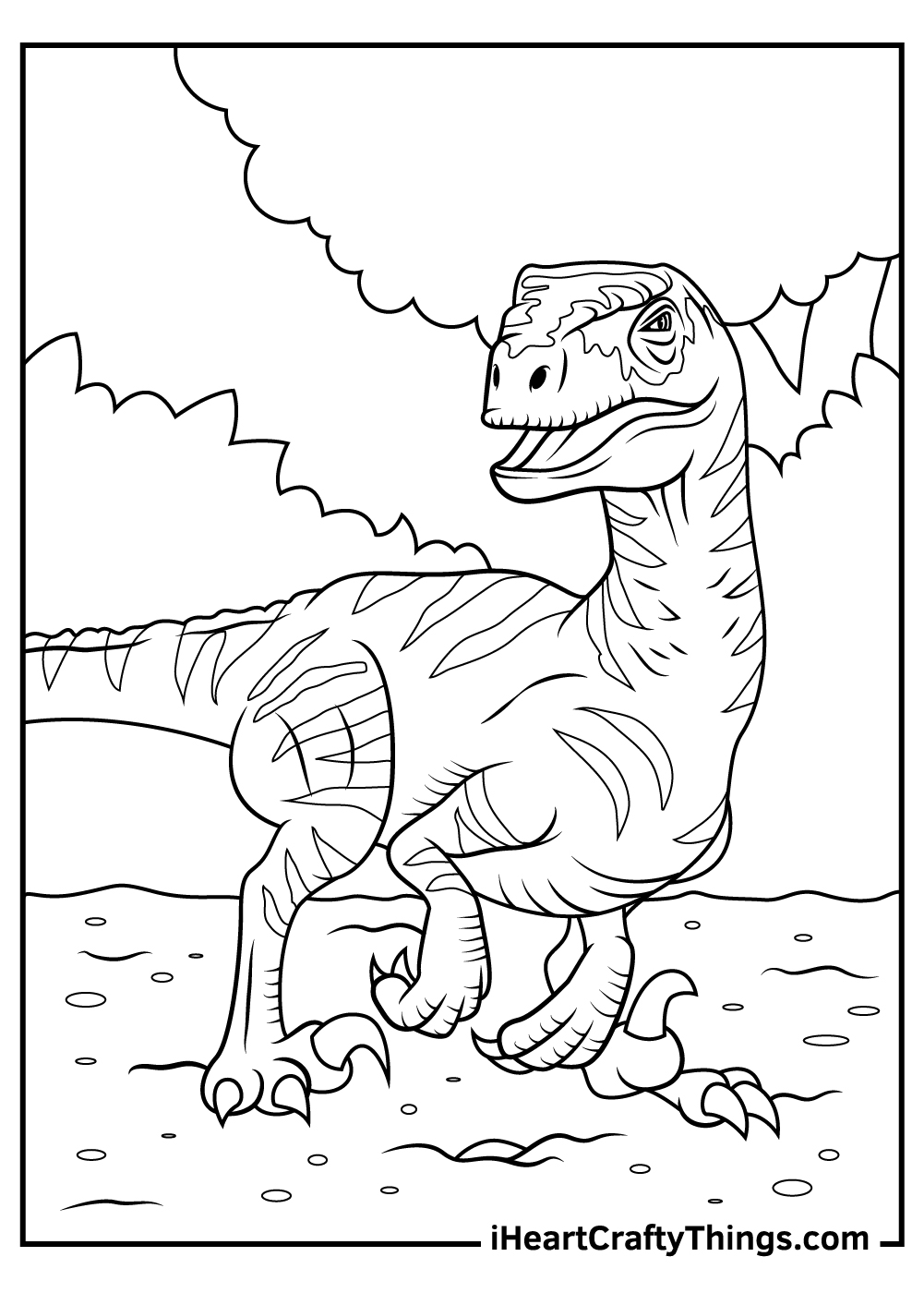 The Dilophosaurus is another dinosaur featured in Jurassic Park.
In this Jurassic Park coloring page, it is seen with an expanded neck frill and spits venom. This neck frill pops out when it's about to attack and the venom is spat out like a cobra.
As part of primitive predatory dinosaurs, Dilophosaurus have forward-facing eyes. It uses scent as its primary hunting technique.
This printable has lots of small details that might be more compatible for older kids to color.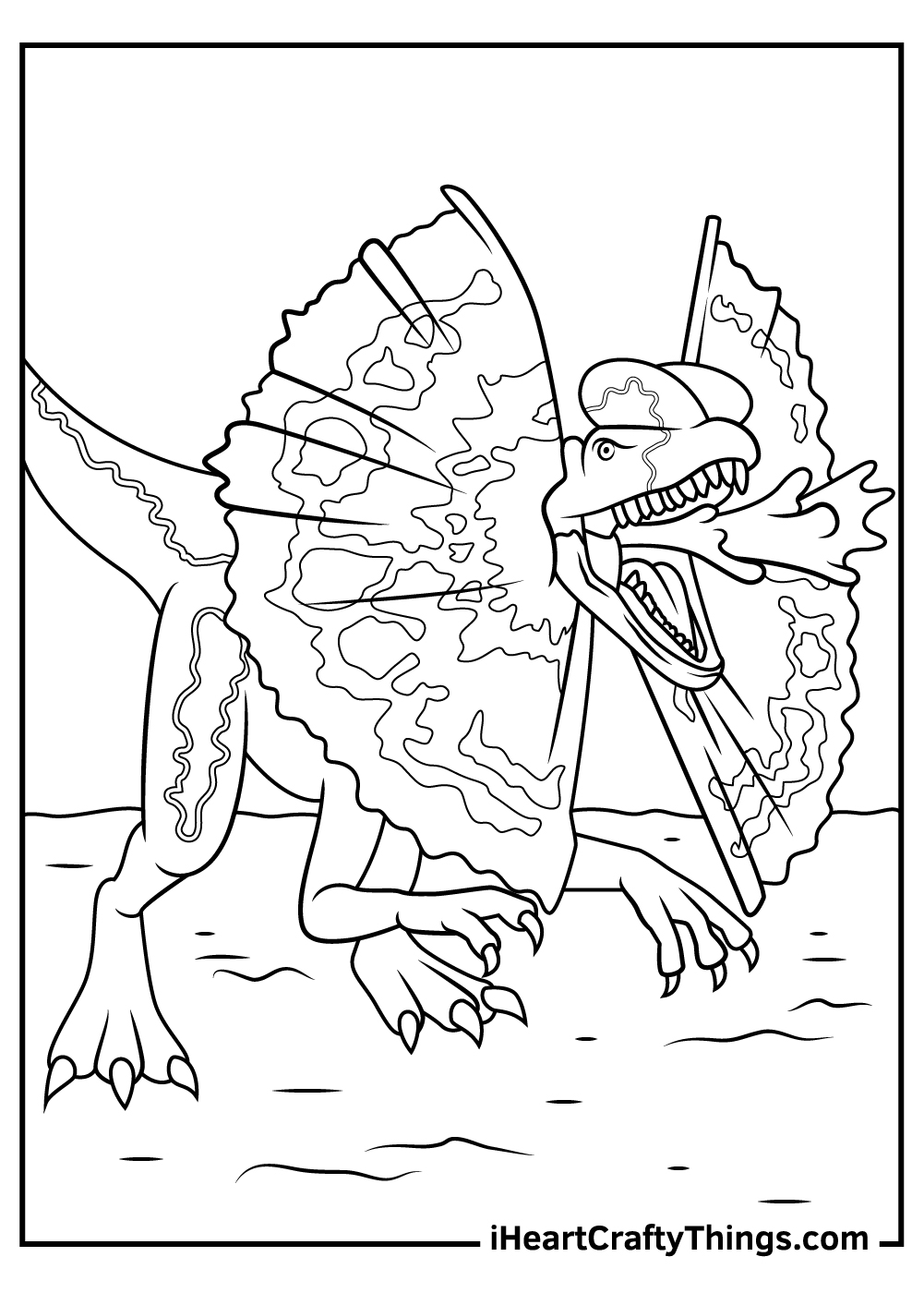 The image of the T-Rex in this Jurassic Park coloring page is ideal for beginners.
It shows the T-Rex in a large image with minimal details so kids who are new to coloring can enjoy and easily finish this one.
Our Jurassic Park coloring pages provide not only coloring activity but also learning. The pages can be a great source of trivia and learning for kids especially those who are not familiar with these species.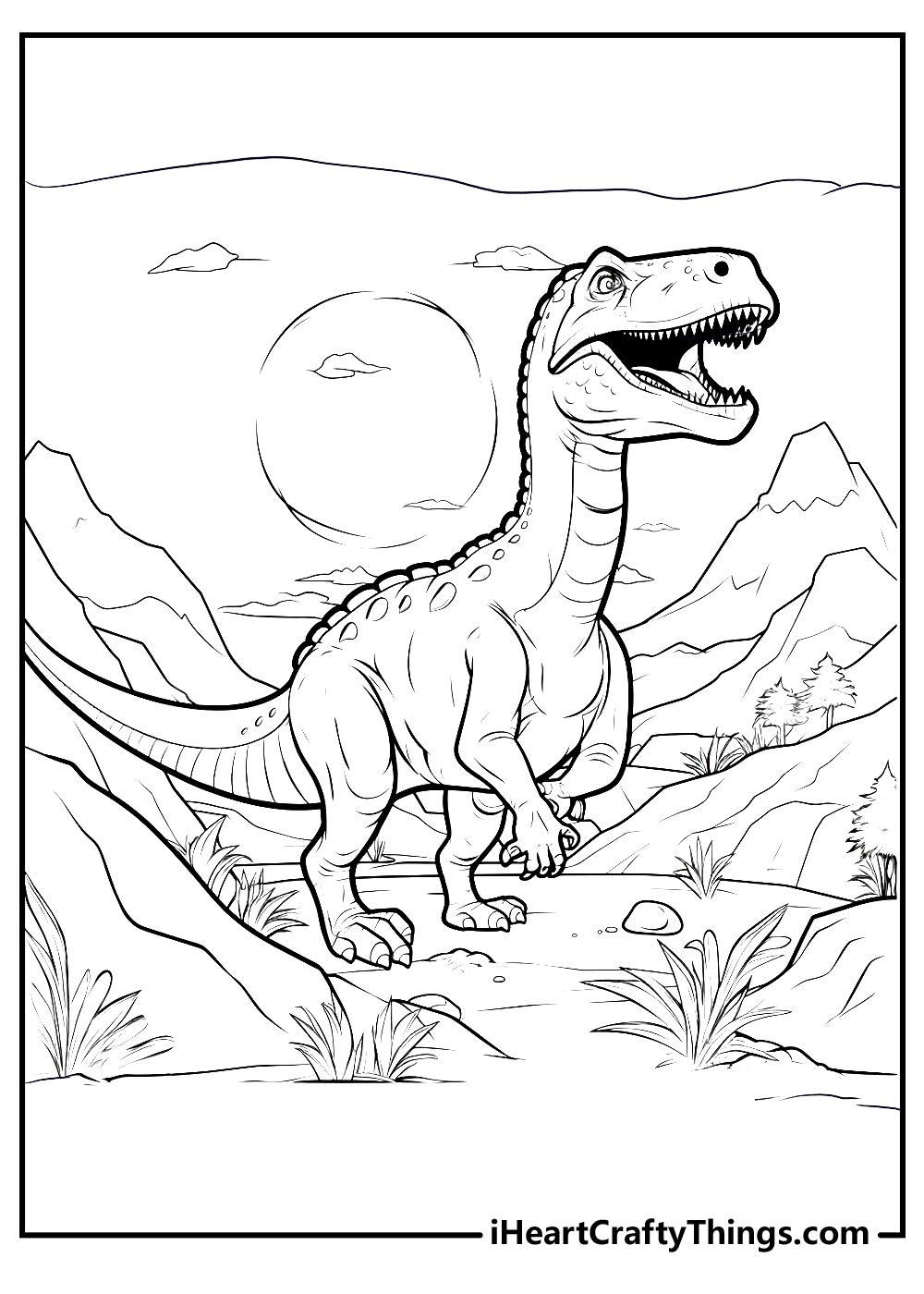 This T-Rex is ready for his close-up. It's flashing its great big grin for the camera as it strikes a funny pose. It balances on its powerful hind legs, with its tiny arms crossed in a mighty stance.
Far behind this dino, the moon is rising over the Jurassic landscape. What colors do you think best fit this scene? You can make it emerald green with fiery orange eyes, or go for a more muted, natural look.
The tropical jungle is yours to design in this Pre-historic world.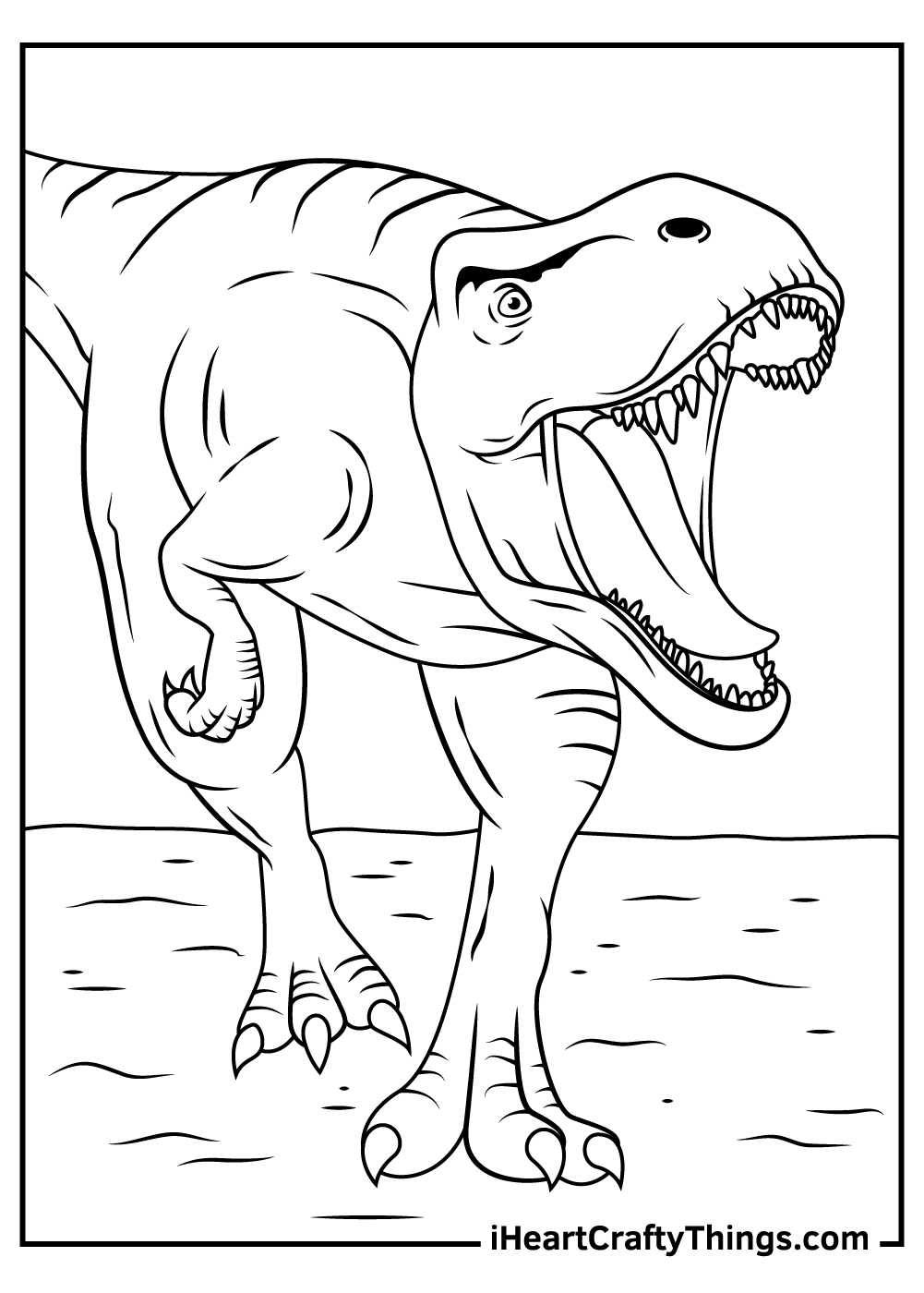 This next Jurassic Park coloring page is a hatching Velociraptor egg, an iconic moment in the film.
Its lizard-like eyes are peeping out of the shell.
Velociraptors are predators and extremely smart as portrayed in the movie. The Big One is the alpha-female of the Velociraptors and was the main antagonist of the film
Do you think different colors for this image will give it a unique look?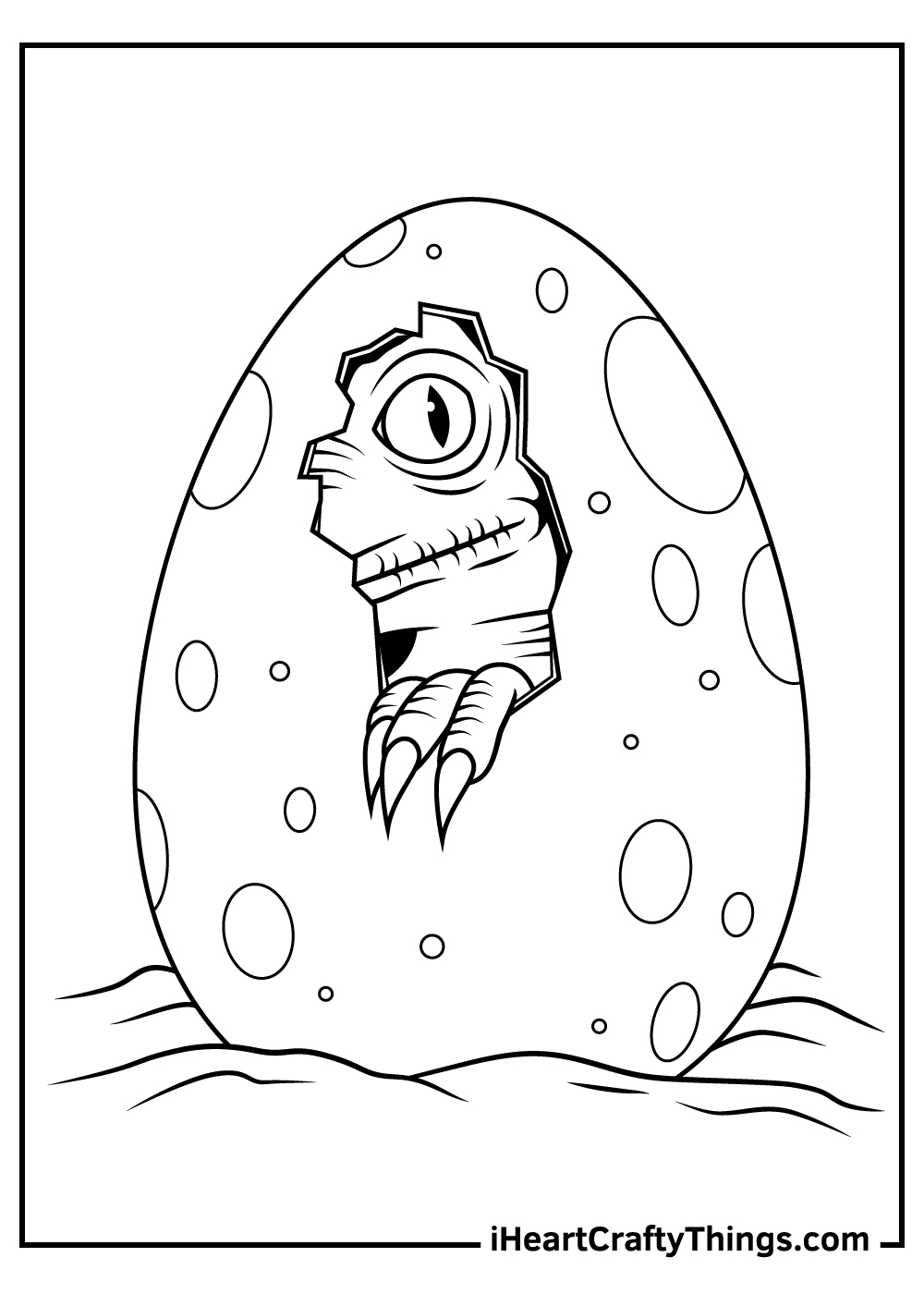 This iconic coloring page can be put up on a wall as a poster once filled with colors.
It featured the Jurassic Park gate with the daunting T-Rex standing before it, filled with many small details. This page will surely keep the kids occupied for some time.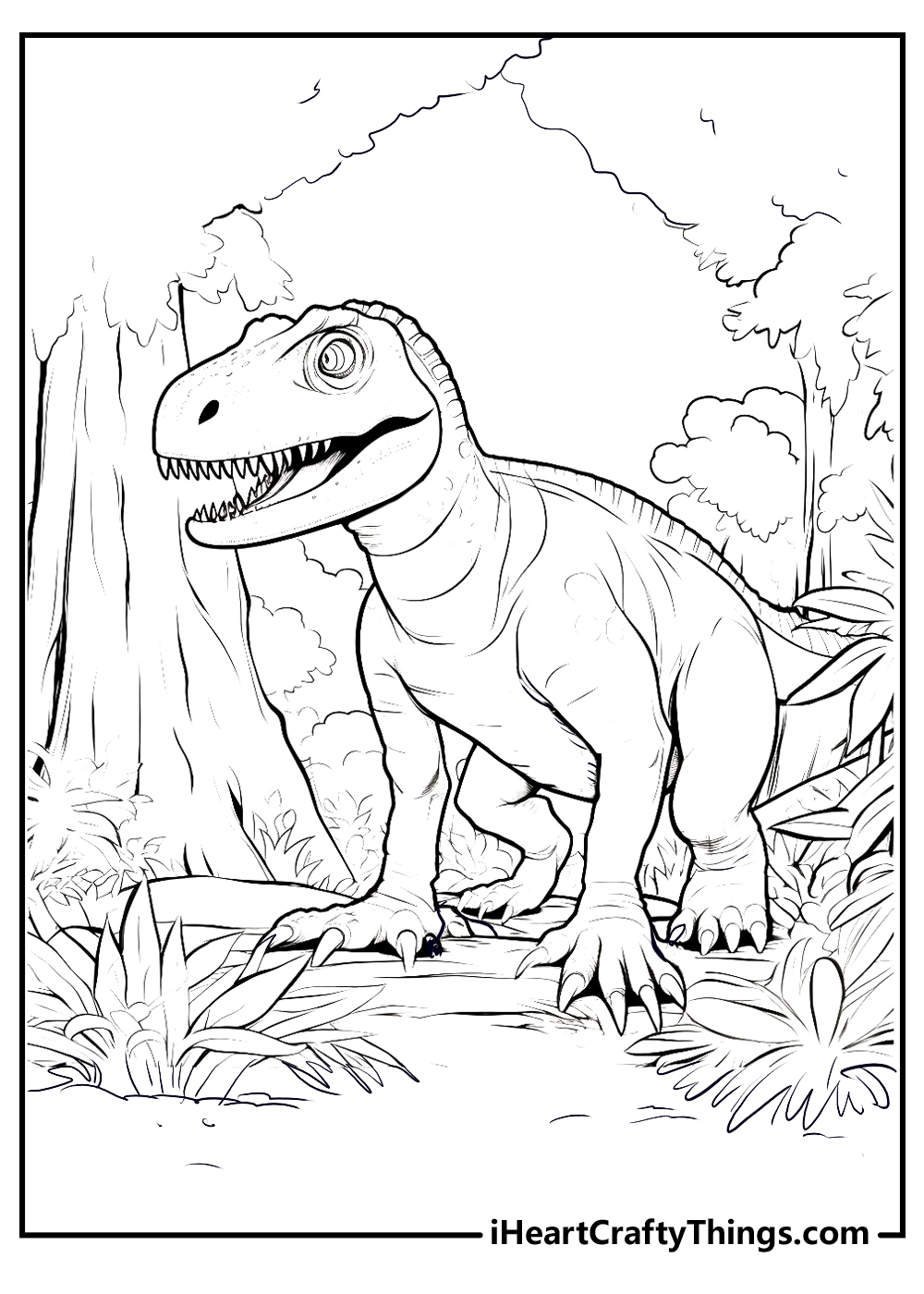 Towering on its muscular hind legs and arms, this mighty T.rex seems to be sneaking up on something, flashing its row of razor-sharp teeth. Its powerful jaws could crush even the thickest bones.
Behind the mighty T.rex, there are trees and plants like in the jungle. This gives you the opportunity to get creative and color the way you want.
Will you color its scales in camouflaging forest greens to blend into the jungle? Or fiery reds and oranges to capture its fiery personality?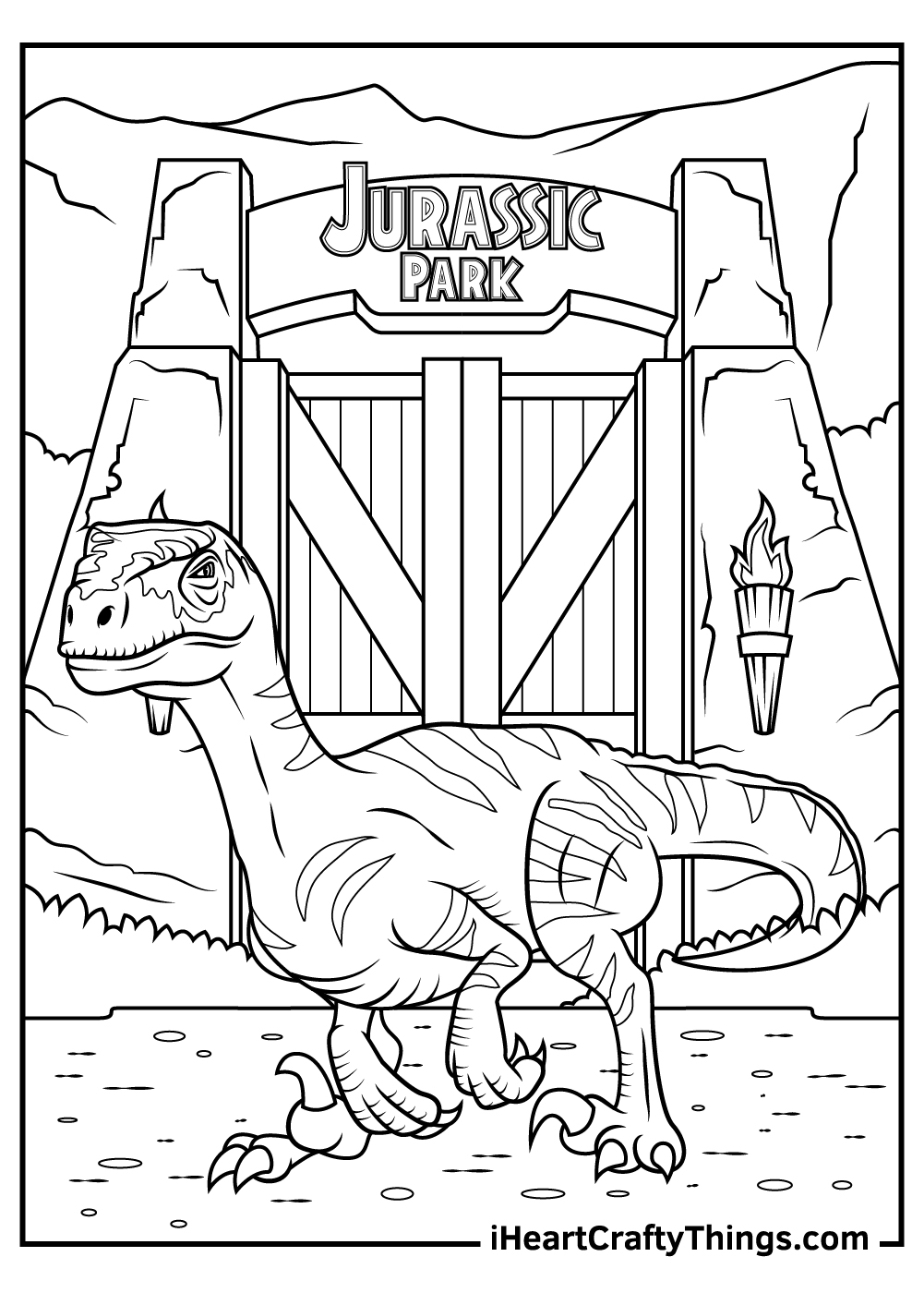 One of the movie's terrifying moments was the crashing car scene of the T-Rex. It has been so iconic that the T-Rex is mostly always related to this incident.
In this free Jurassic Park printable, the image is filled with basic line designs to help kids color it easier.
Do you think this scene was scary?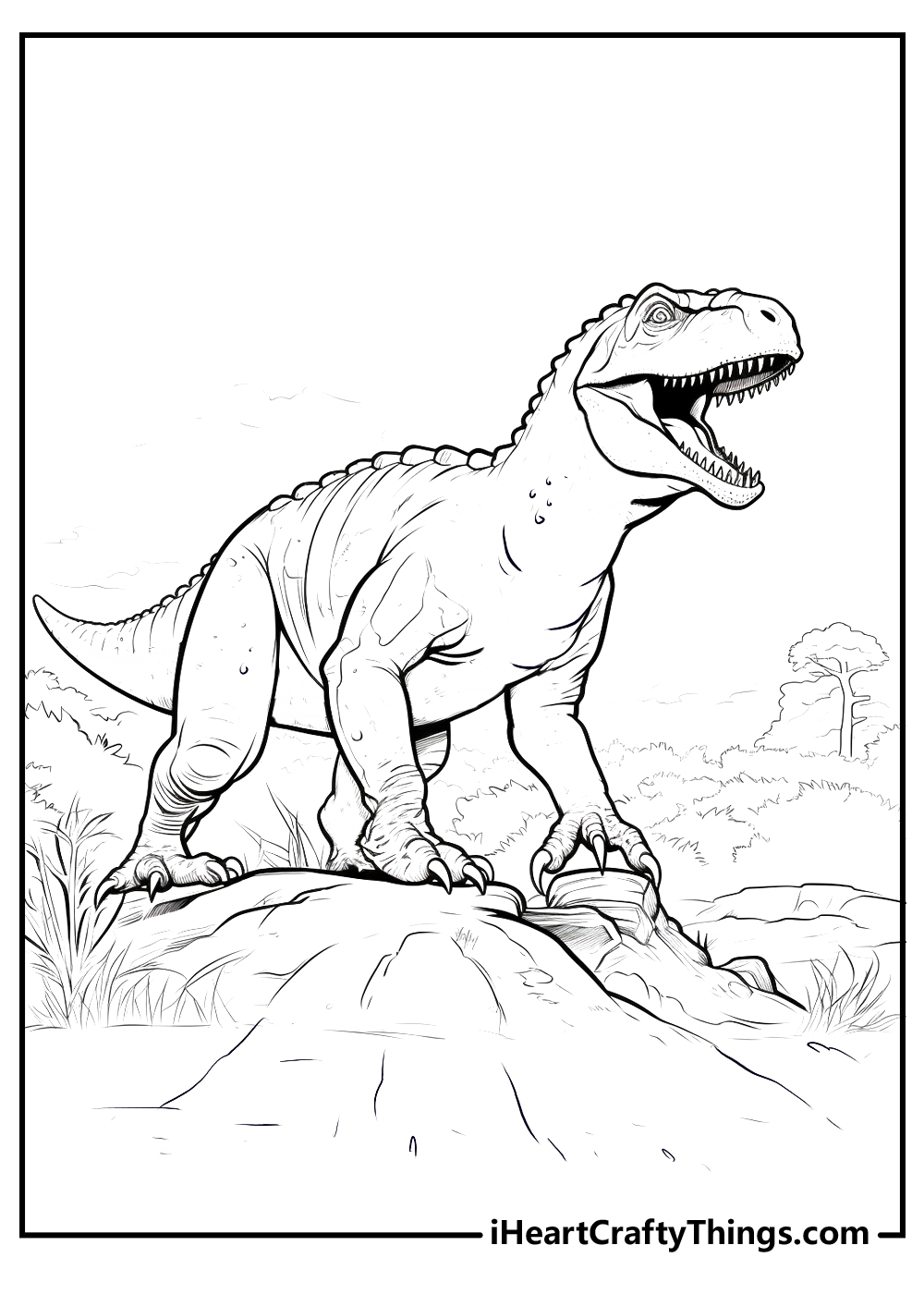 In this Jurassic Park coloring page, this The T. rex is roaring loud and proud. It is standing on a rocky outcropping with trees and foliage in the background.
The T. rex has its mouth open wide, showing its sharp teeth and powerful jaws. It has small arms and large legs that help it run fast and hunt its prey.
In the background, you can color in the plants and trees to make the T.rex's home. Maybe some pointy ferns, funky palm trees, or beautiful flowers that dinosaurs like to munch on.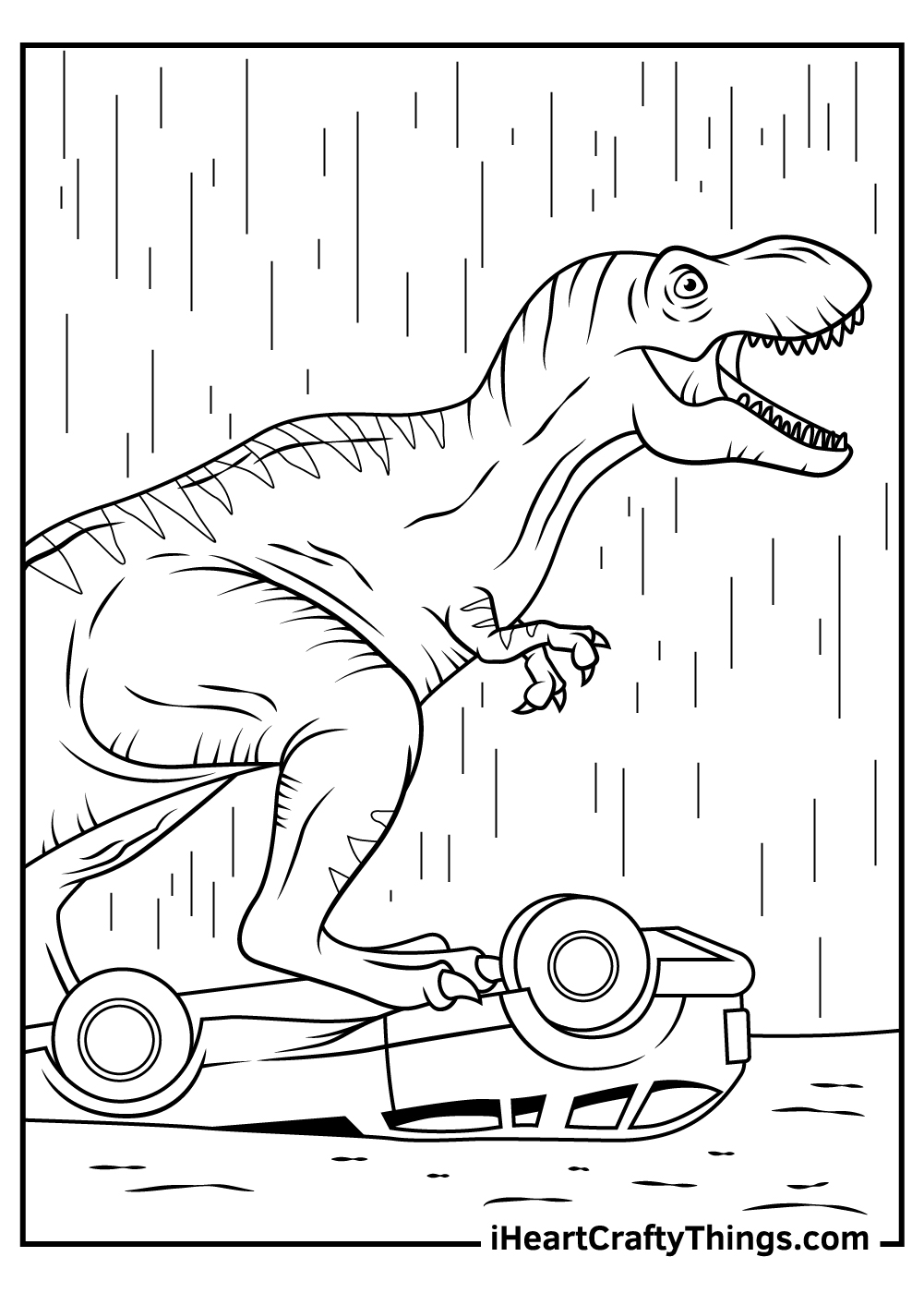 Possibly one of the famous scenes in the Jurassic Park movie was also the hatching of the Velociraptor's eggs. It signified a major story point for the movie.
Seen on this coloring page is a small Velociraptor just coming out of its eggshell. The egg has multiple dots and some cracked shell casings are on the floor.
Velociraptors, commonly shortened to "raptors", often hunt in packs. They are highly intelligent and are capable of setting traps and communicating with other pack members efficiently.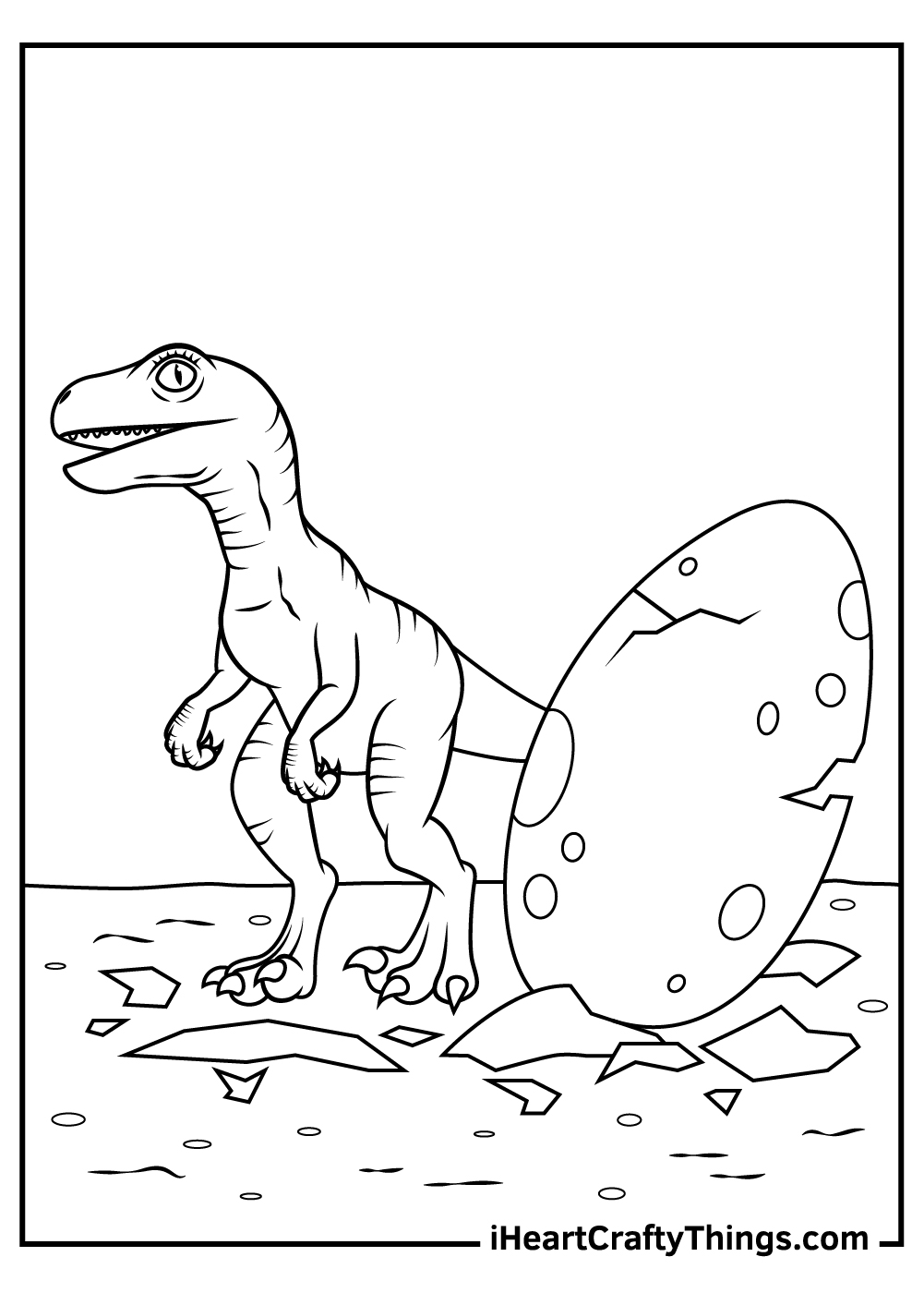 The iconic T-Rex and car scene is highlighted in this Jurassic Park coloring page.
In this particular scene, the T-Rex is scary but, in the movie, it's the one that kills the Big One, the leader of the velociraptors, allowing for the remaining characters to flee and leave the island.
With the close-up illustration of this page, it will be easier for kids to color this one.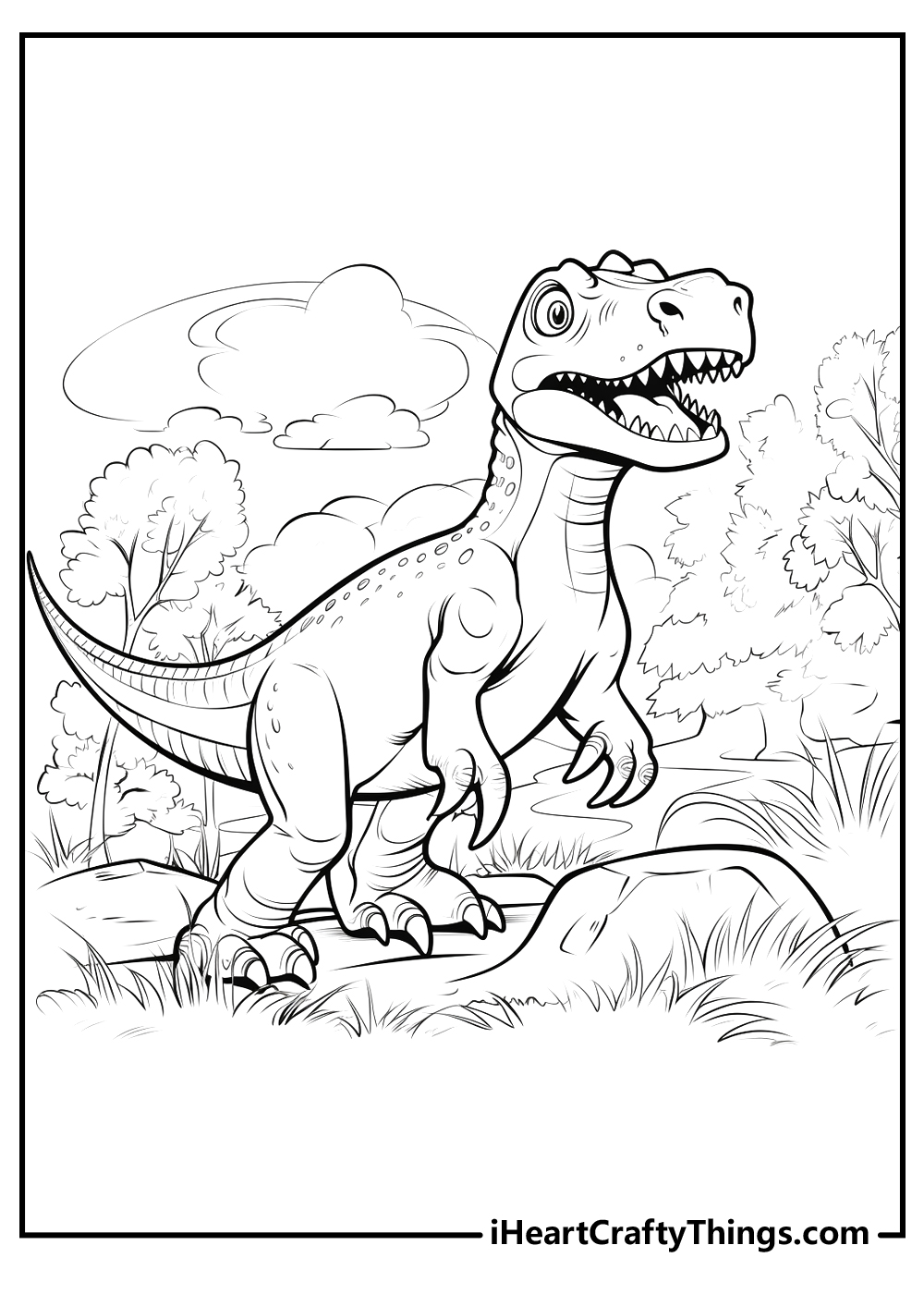 Meet this large T-Rex standing tall on his long legs with his long tail sticking straight out for balance. His big head has a mouthful of pointy teeth but don't worry, he only uses those chompers to munch on plants.
This T-Rex's tiny arms wiggle in the air and his back is covered in friendly spikes and bumps. Make him your own by coloring him in your favorite colors.
Add your own vision to make this T.rex and background scene as dramatic or creative as possible.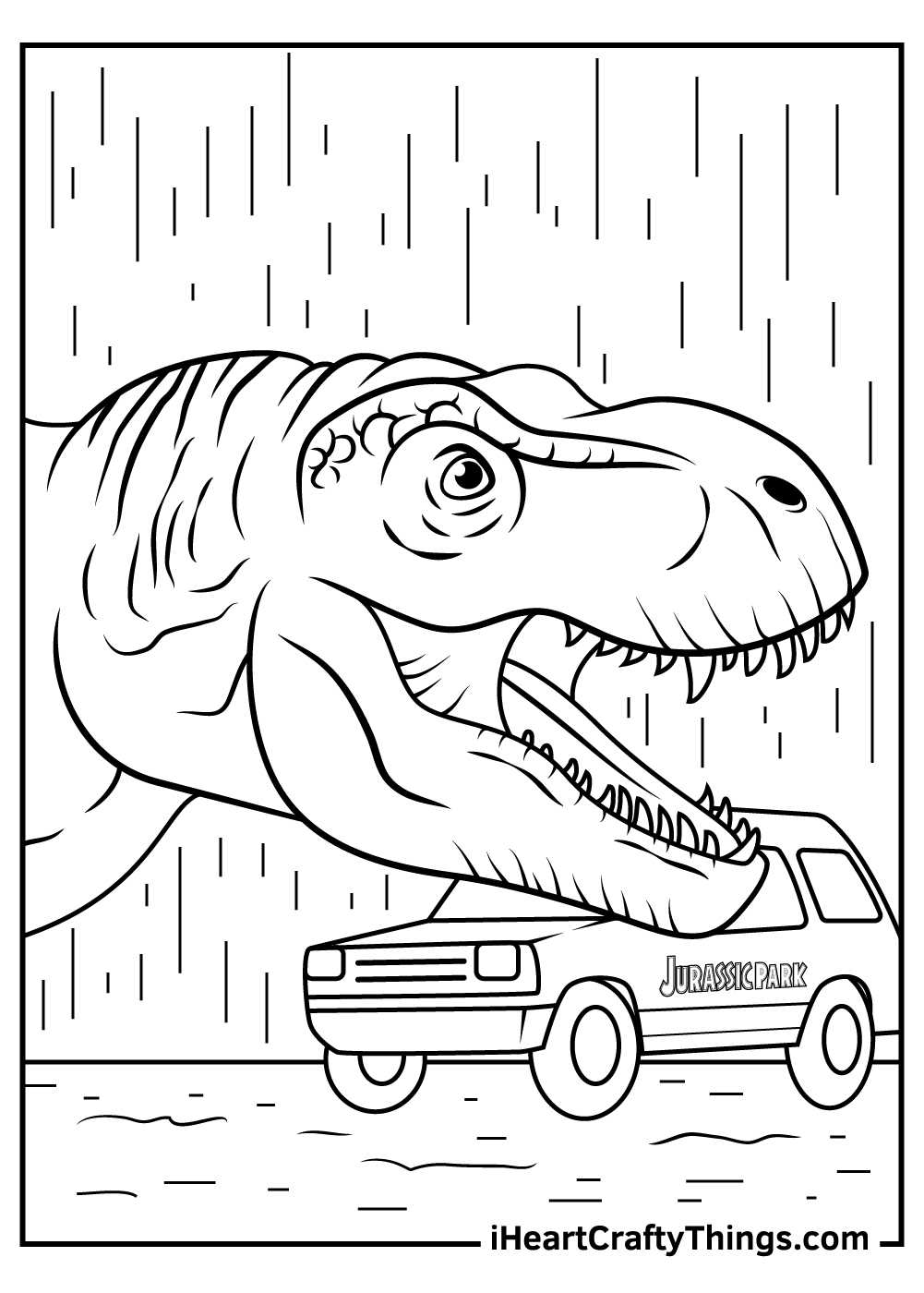 Jurassic Park Coloring Pages – Iconic Free Printables
A story centered around scientists visiting a safari amusement park of genetically-engineered dinosaurs, Jurassic Park with its action-packed storyline and cutting-edge CGI portrayals of dinosaurs, truly set the movie's iconic status in stone.
Everybody has practically heard of the film and its many dinosaurs.
With these Jurassic Park coloring pages, we hope kids get to relive their love for the movie or introduce it to them through these. The images range from simple illustrations to much more easy, detailed ones.
The coloring pages here are free for you to download. You can even share this link with friends and family looking for high-quality, iconic coloring pages of Jurassic Park.