On this page, you will find 15 all new Baby Dinosaur coloring pages that are completely free to print and download.
The age of the dinosaurs is one that holds a lot of fascination for many people. We learn new things about them all the time, and they are often depicted as fearsome creatures that ruled the planet.
In this collection of free baby dinosaur coloring pages, we will be taking a look at a much cuter side to these creatures.
Whether you color them all or choose some favorites, these 15 pages are free to enjoy and share!
When you're ready to show off your finished pages, you can share them on our Facebook and Pinterest pages.
15 Brand New Baby Dinosaur Coloring Pages – Free to Print and Color
Our first page in this collection of free baby dinosaur coloring pages for kids features a fun dinosaur trying to look all fancy!
This one seems to be based on a T-rex, and it is decidedly less terrifying than these dinos are usually depicted.
When coloring these dinosaurs, you could make them as colorful or realistic as you please, so have fun experimenting with your colors!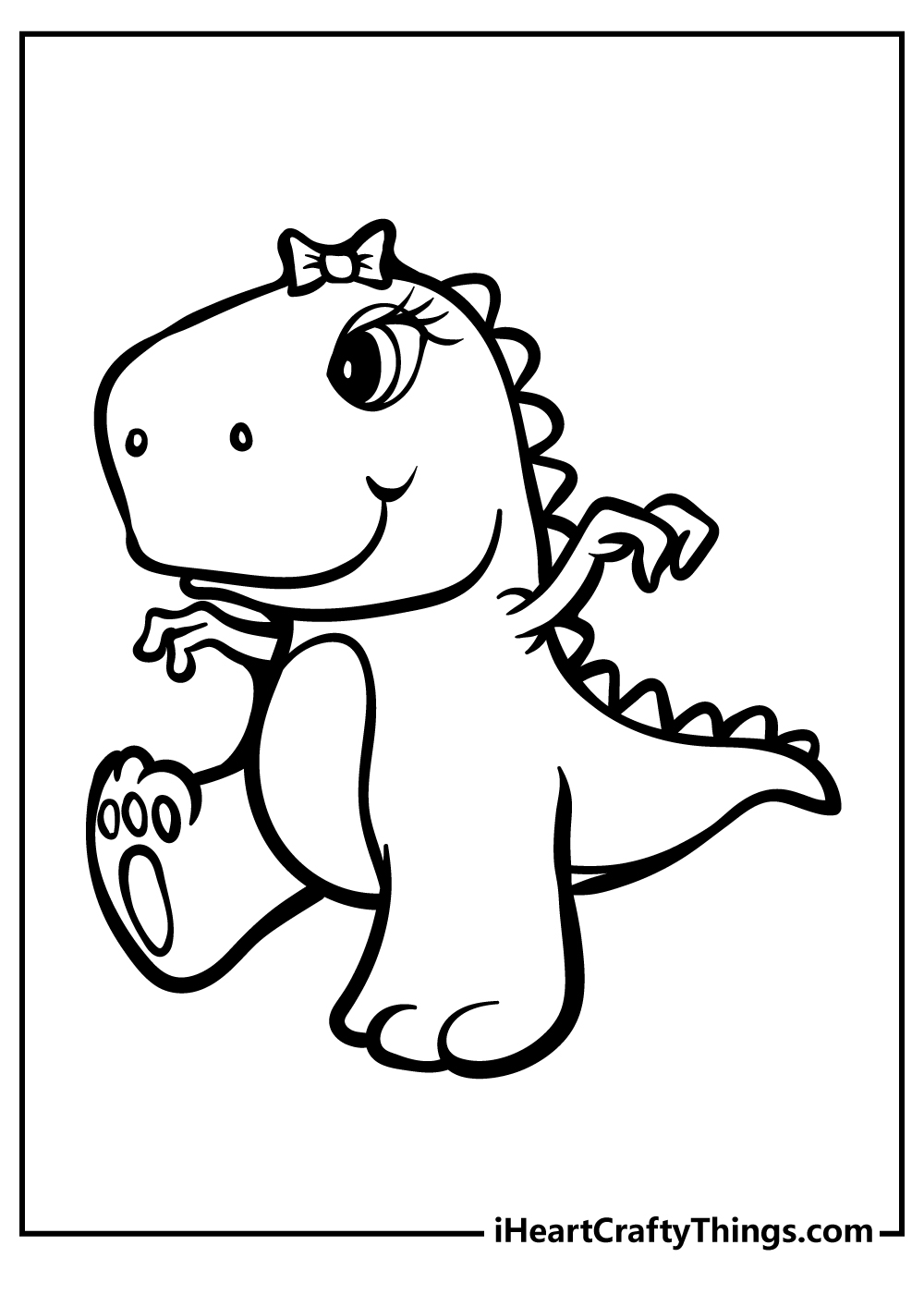 The second dinosaur we have for you is truly adorable, and it is ready for you to have some coloring fun!
There is such a sweet look to this particular dinosaur, and we would probably go for some milder colors portrayed with some mediums for this one.
Mediums such as colored pencils and watercolor paints would be great ones to use for this, but what mediums will you choose?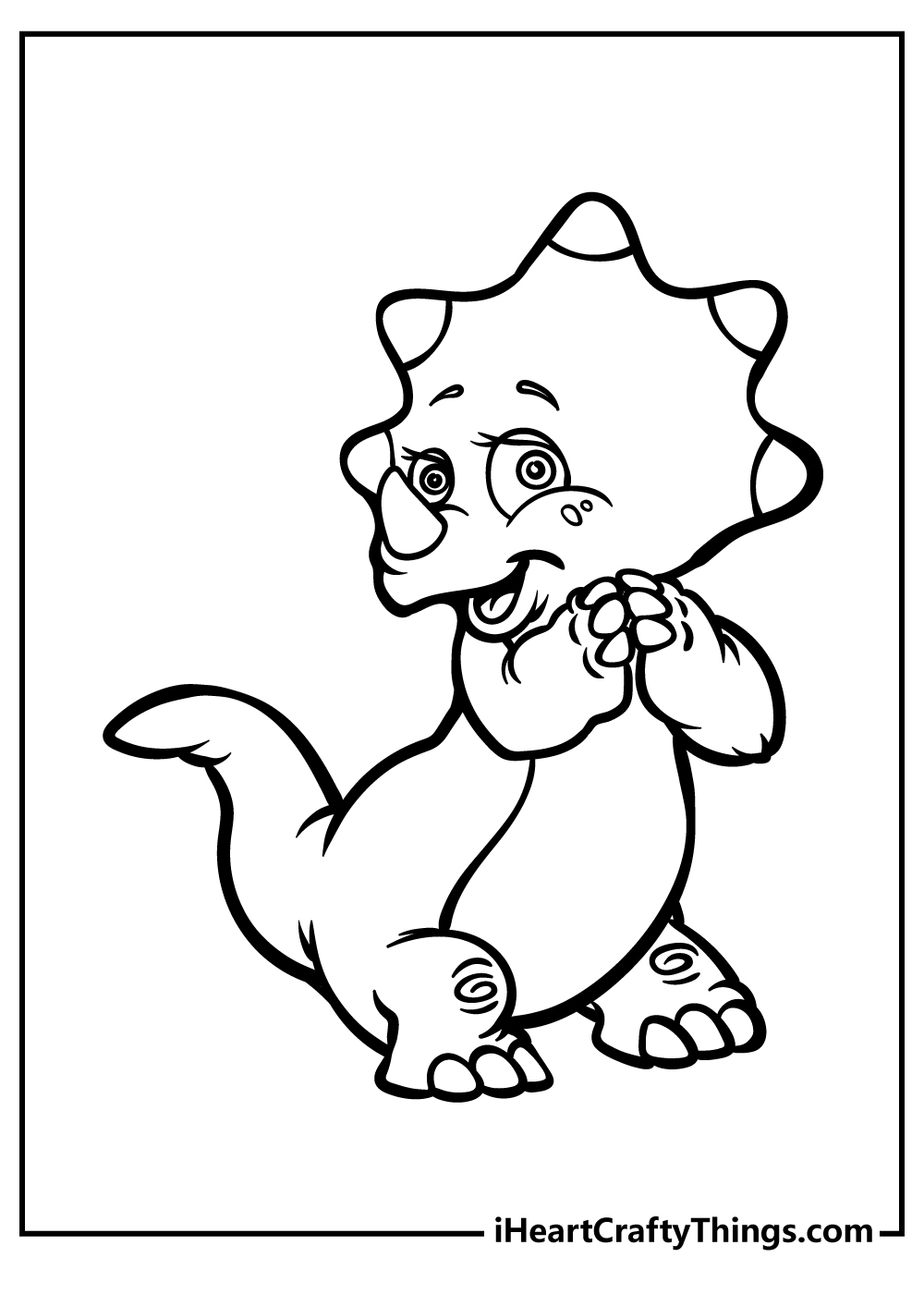 It's hard to look at this third dinosaur and now think it's incredibly cute!
This dino is cute but also has a fun attitude, and for that reason we would use some brighter, quirky colors when filling this one in.
That is the approach we would take, but we will be interested to see what you choose for this cute dinosaur.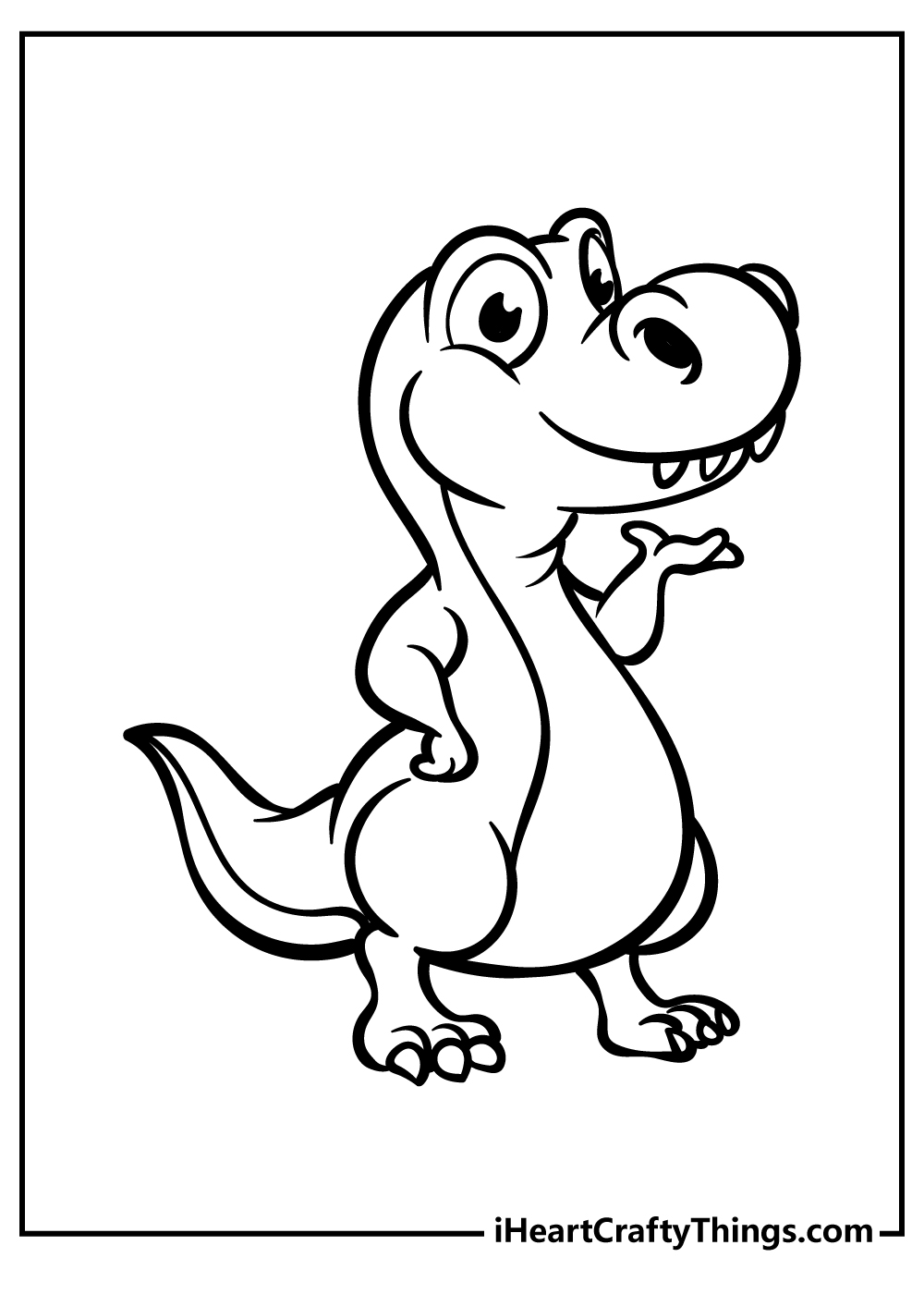 The diplodocus was a dinosaur that was notable not only for its mouthful of a name but also its long neck that it could use to reach leaves at the tops of trees.
It is also the star of this fourth page, and it is an adorable take on this well-known dinosaur.
It captures the distinctive look of this dino brilliantly while also giving it such a cute look. This one should be really fun to color!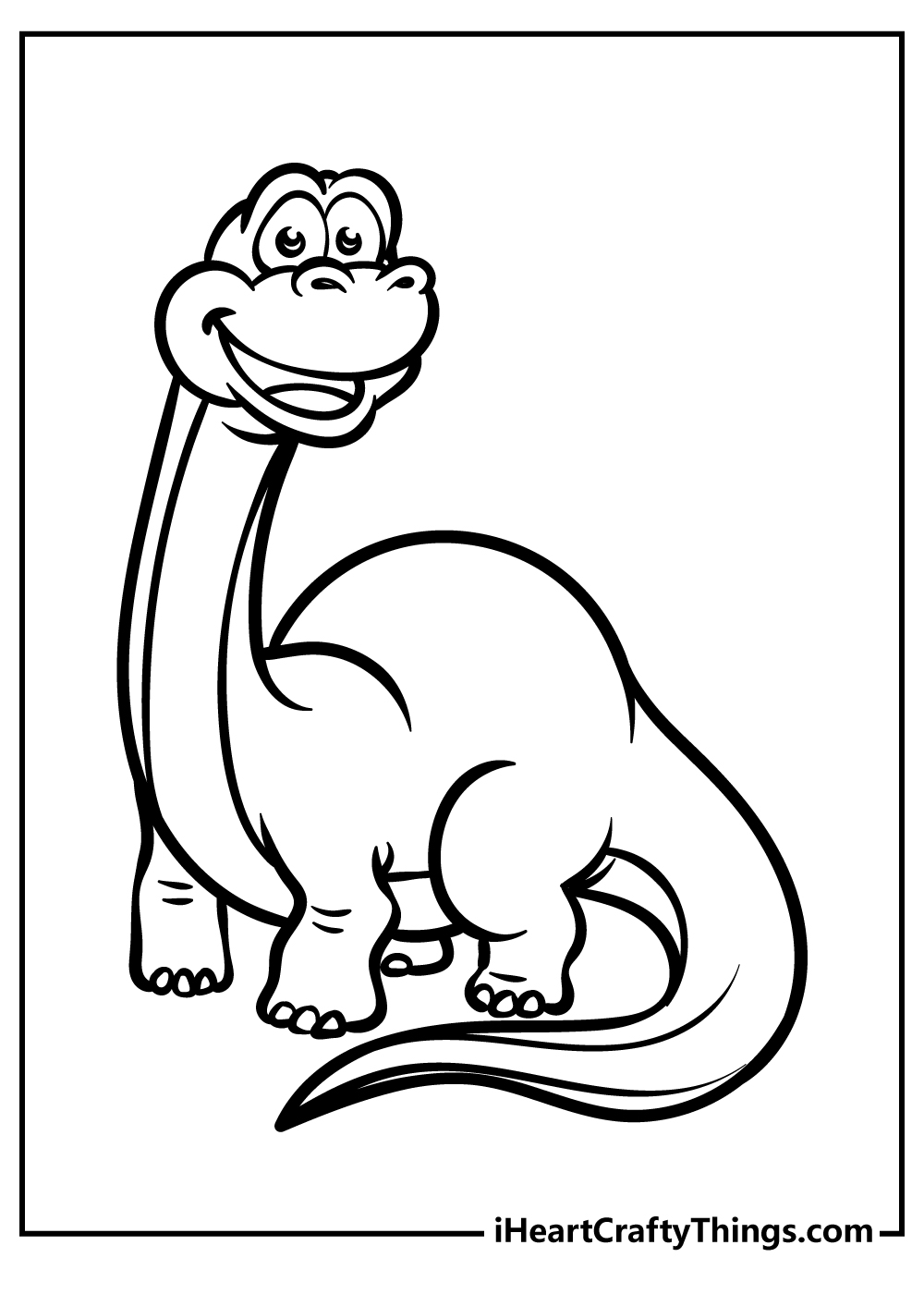 Our fifth baby dinosaur coloring sheet we have for you has another sweet dino for you to color. Much like the first one, this one even has a small bow on its head for extra cuteness.
We think it would look great if you used a nice bright color such as red or pink for the bow to create a colorful focal point for this image!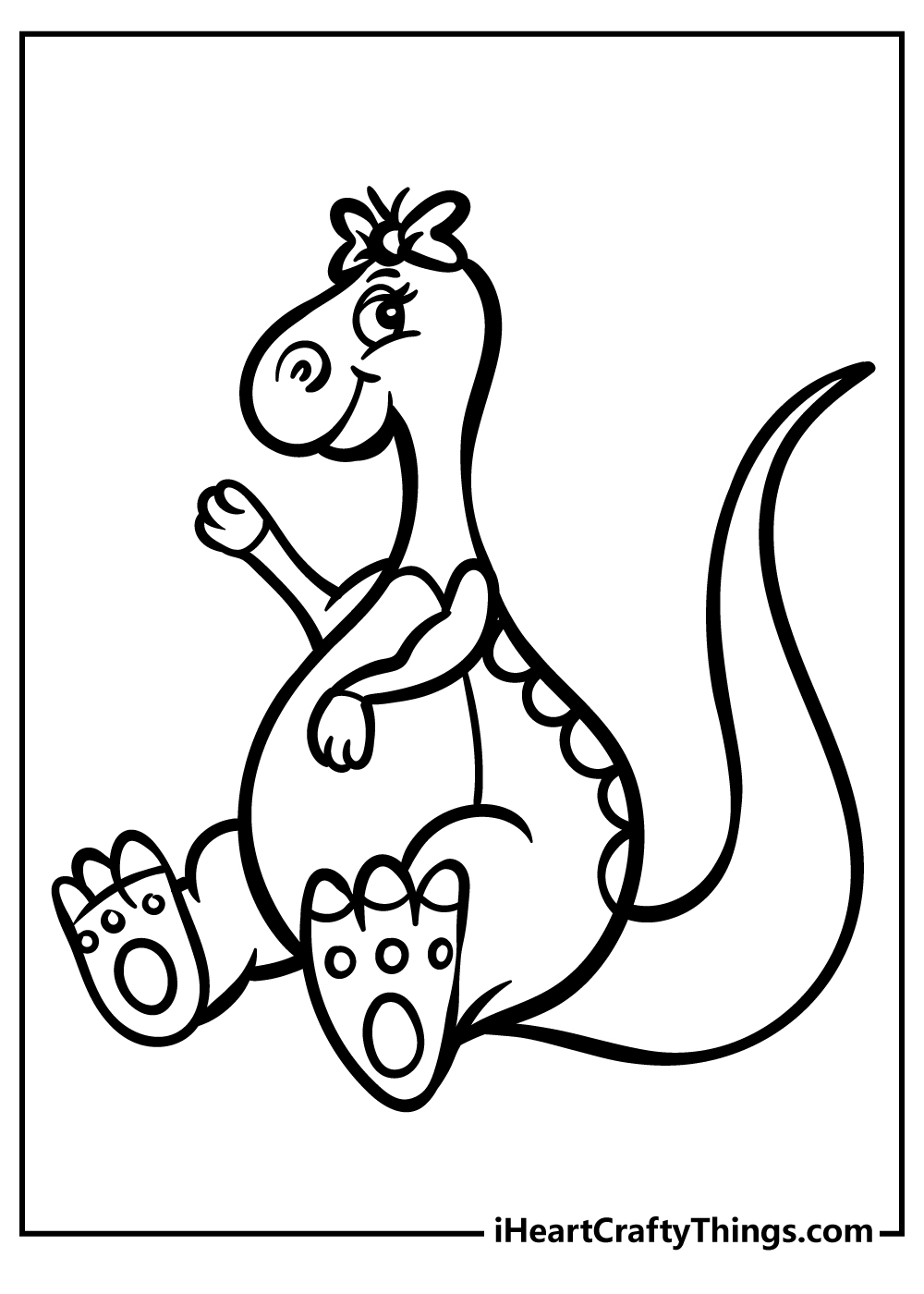 This next image is a really expressive one, and there are some amazing details to color in!
This particular dinosaur looks like it is listening intently to a great story, and we wonder what it is being told that would enchant it so much.
Maybe you could draw a speech bubble above the head to show what this dinosaur could be listening to!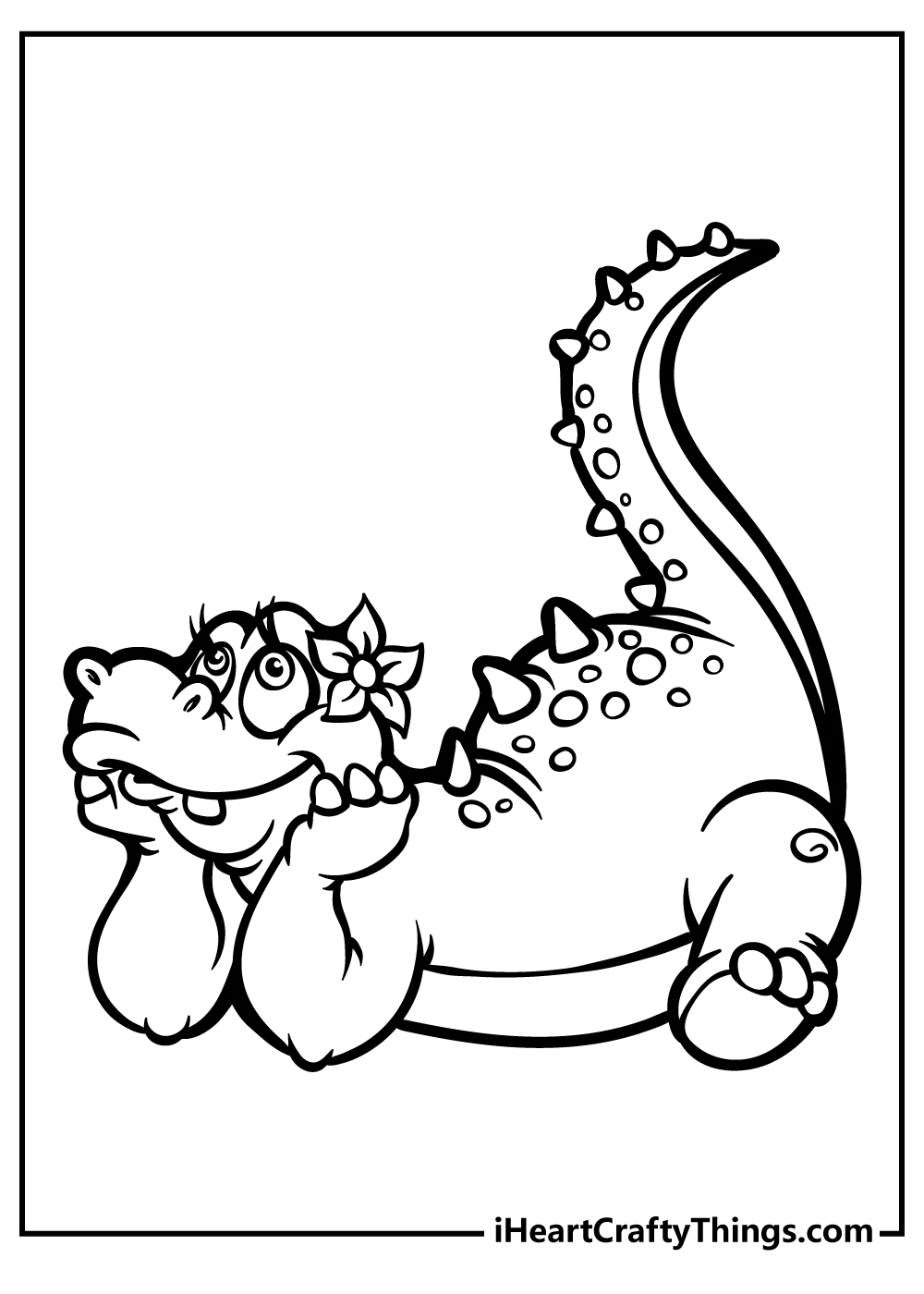 We've seen a few baby dinosaurs in this collection, but this one is possibly the smallest one of the lot!
Because of this, this one looks especially cute, and it will look even better once you've worked your creative magic on it.
What sorts of colors are you thinking for this one?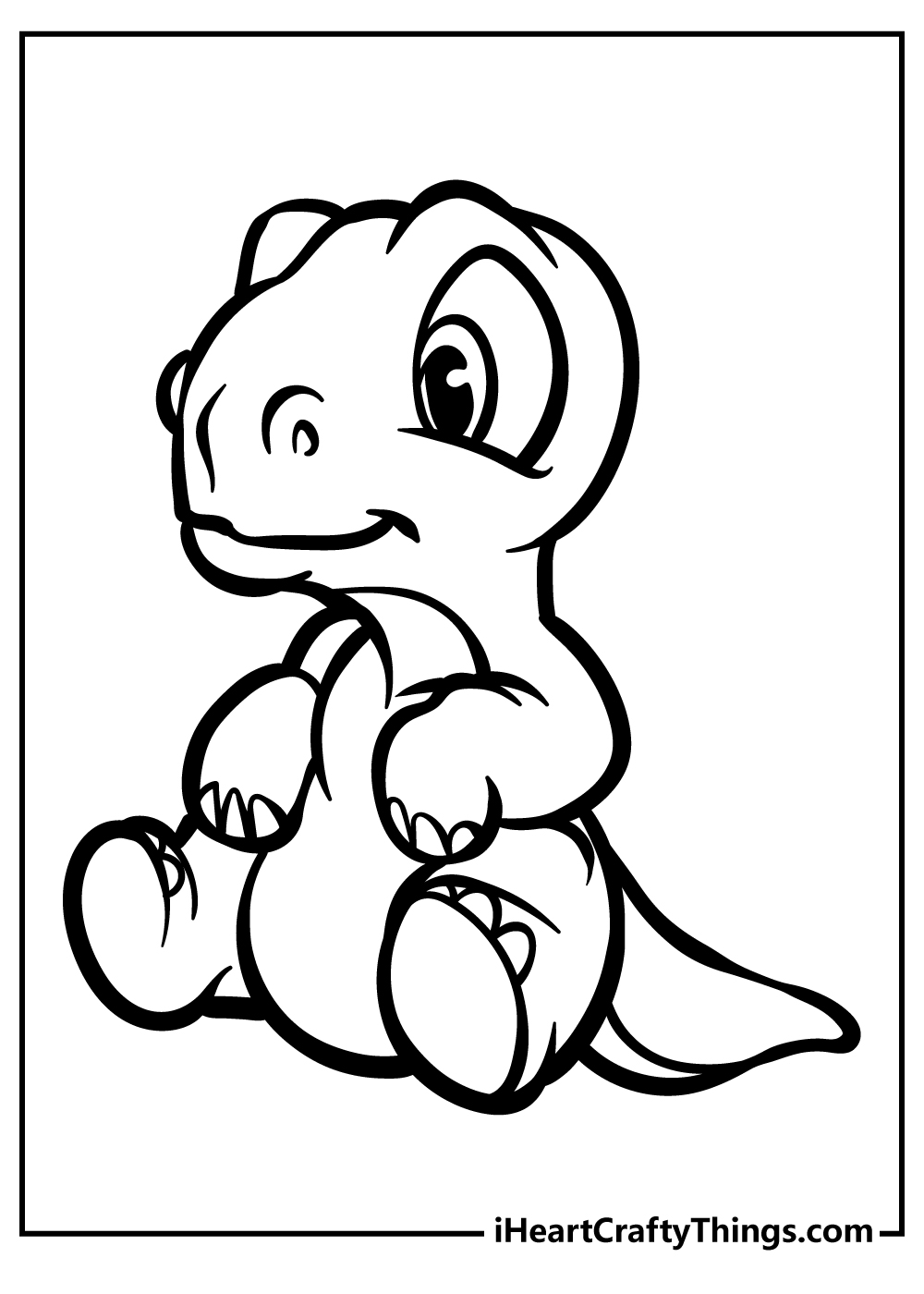 You can't take a look at the eighth dinosaur we have and say it's not simply adorable!
This cutie is in a pose that looks similar to the pose a puppy may be in when performing a trick, and it even has a little flower in its mouth.
On top of that, it also has lots of small details to color, so this one should keep you busy for a while!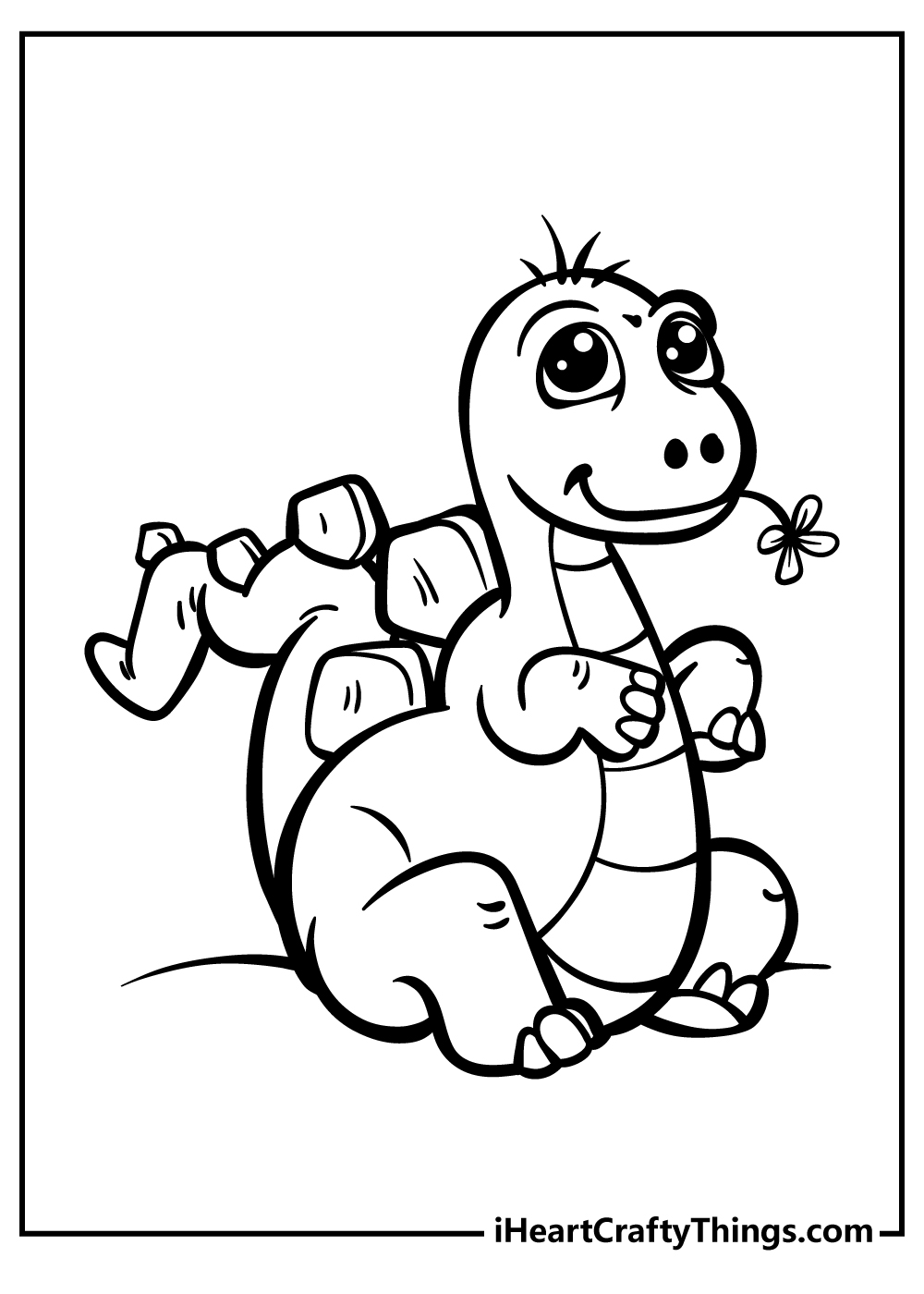 You're sure to have a cracking time coloring this next baby dinosaur coloring printable! This cute little dino is emerging from an egg, and it makes for a wonderful image to behold.
The patterns on the shell of the egg allow for some spots of color, and you could color them all the same color or maybe use different colors for each.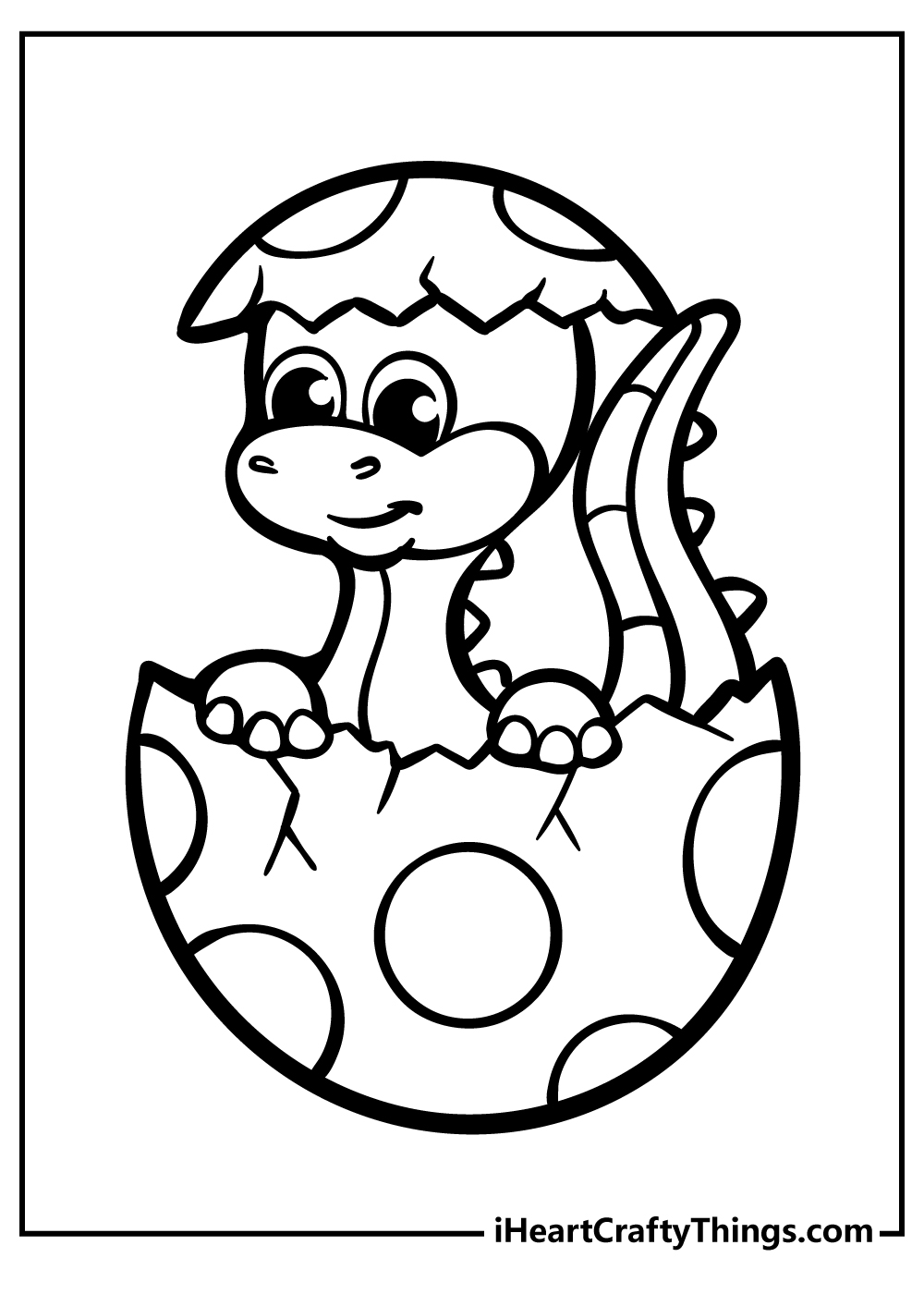 Another T-rex is here to meet you, and it's another one where it is way cuter than T-rexes are usually portrayed!
It's also another dinosaur that has some great marking details on it, and these once again allow for some great spots of color on the design.
What color scheme are you thinking of for this T-rex?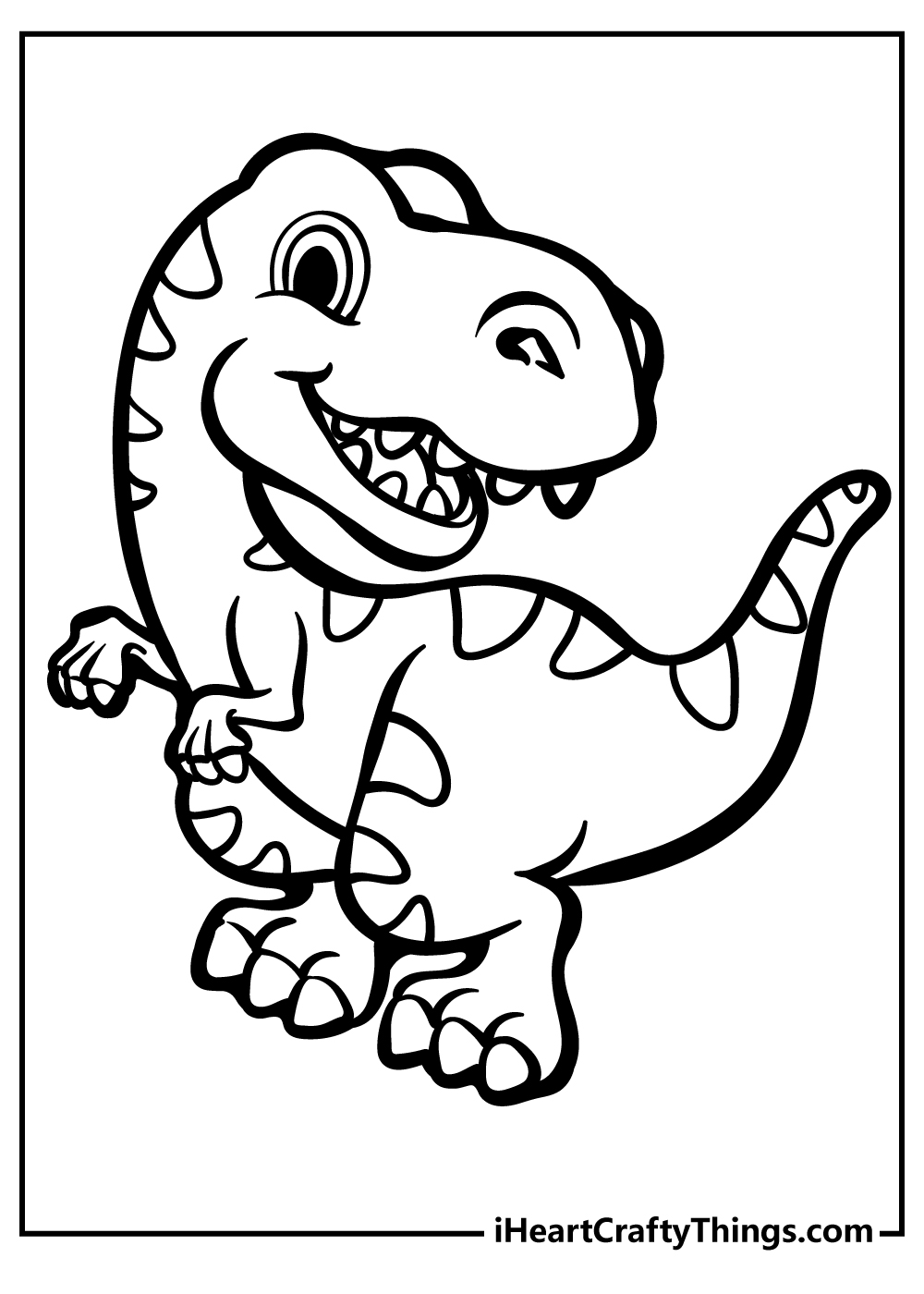 The triceratops is one of the most recognizable and iconic dinosaurs, and one is the star of this next page!
These dinos are usually depicted as gentle giants, so we would use some milder colors for this cute baby triceratops if we were coloring it.
It's up to you though, so what will you choose?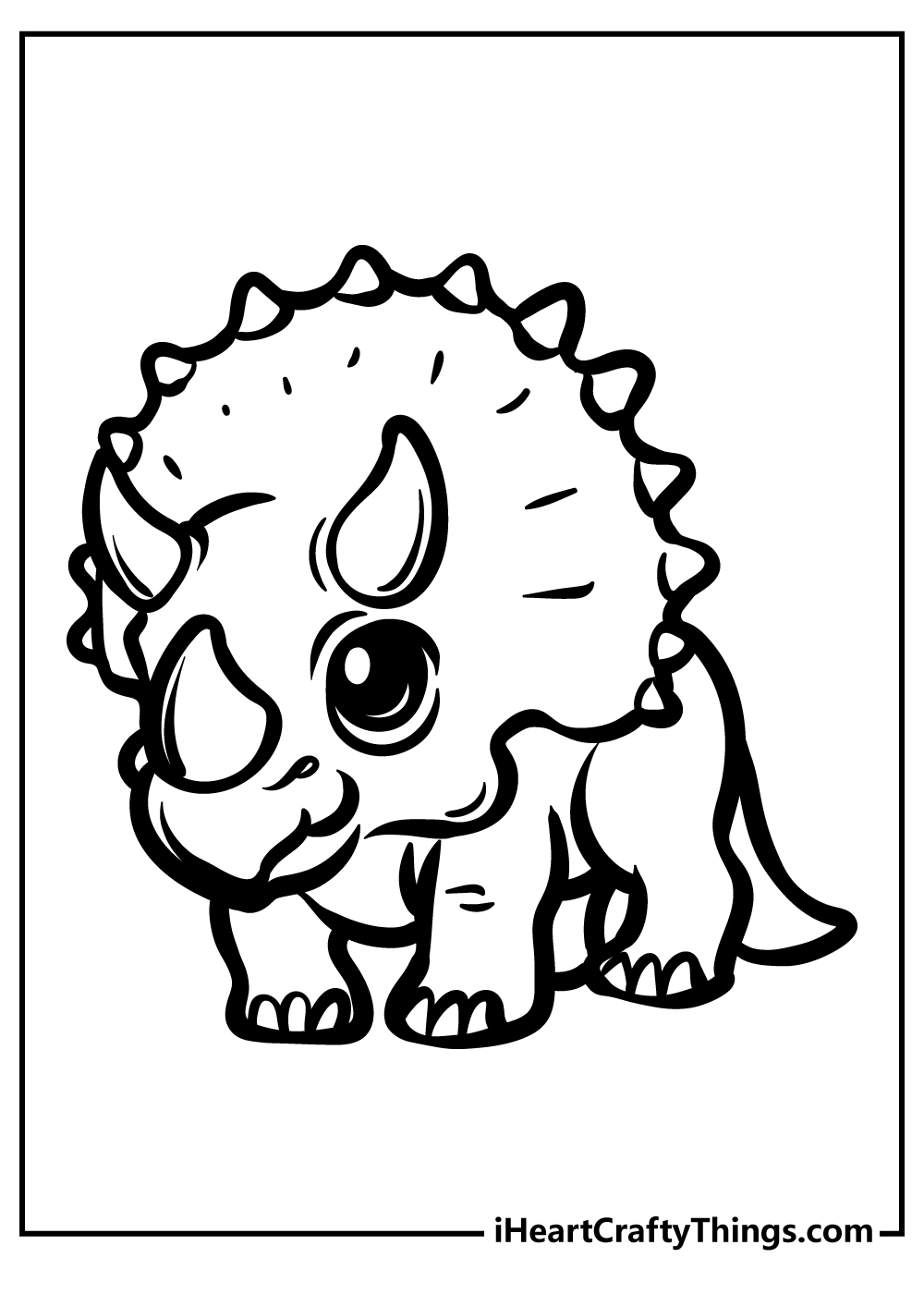 We're not done with the triceratops yet! Another adorable version of this dinosaur is featured on this page, and it is done in a really different style from the previous one.
This one has more markings on its body, so it presents more opportunities for some great colors. How do you think you will color this cute dinosaur?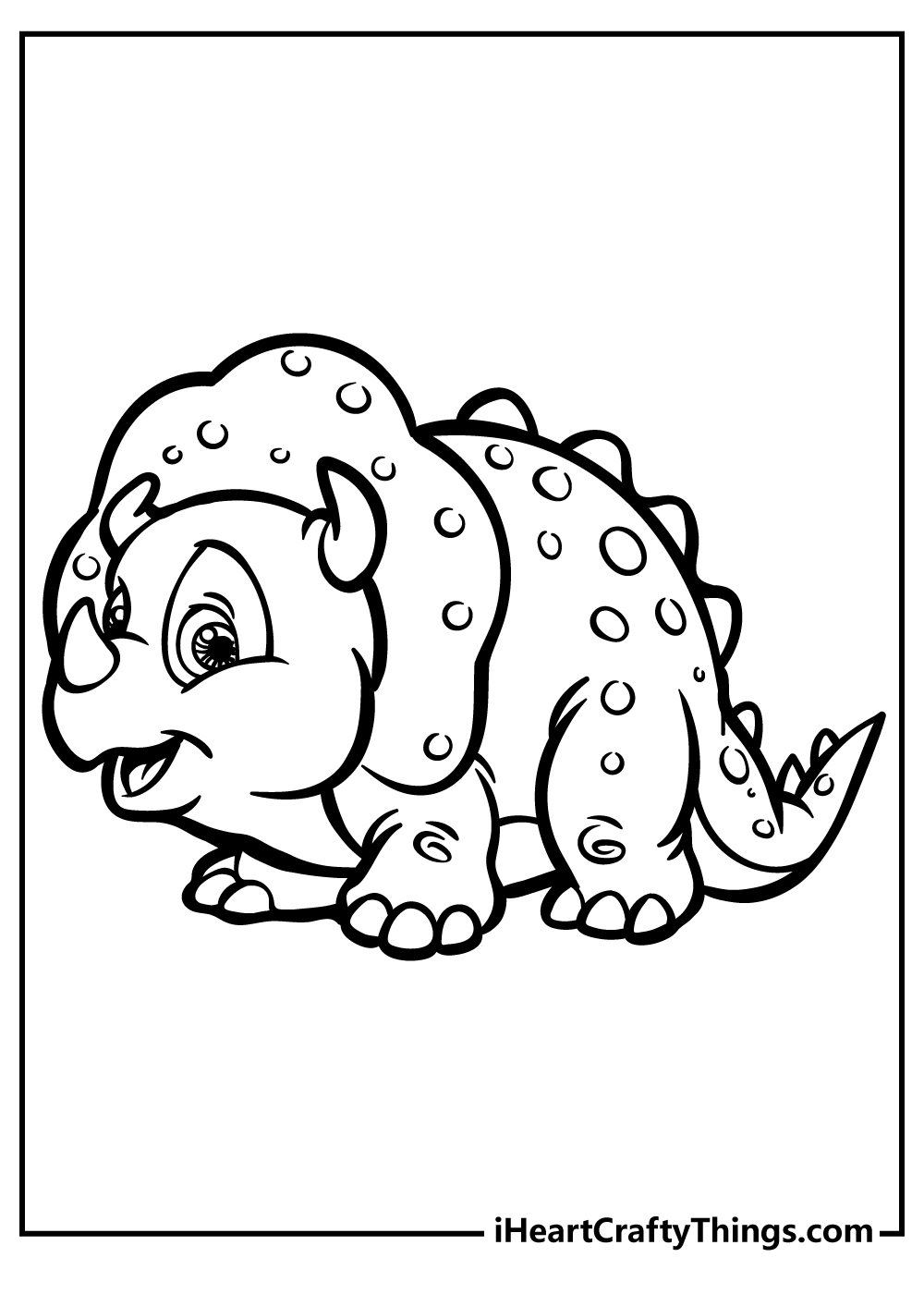 Another cute take on the tall diplodocus is here for some coloring with this thirteenth page in the collection.
It's such a wonderful portrayal of this famous tall dino, so we know you will make it look even better when you've used your favorite colors on it!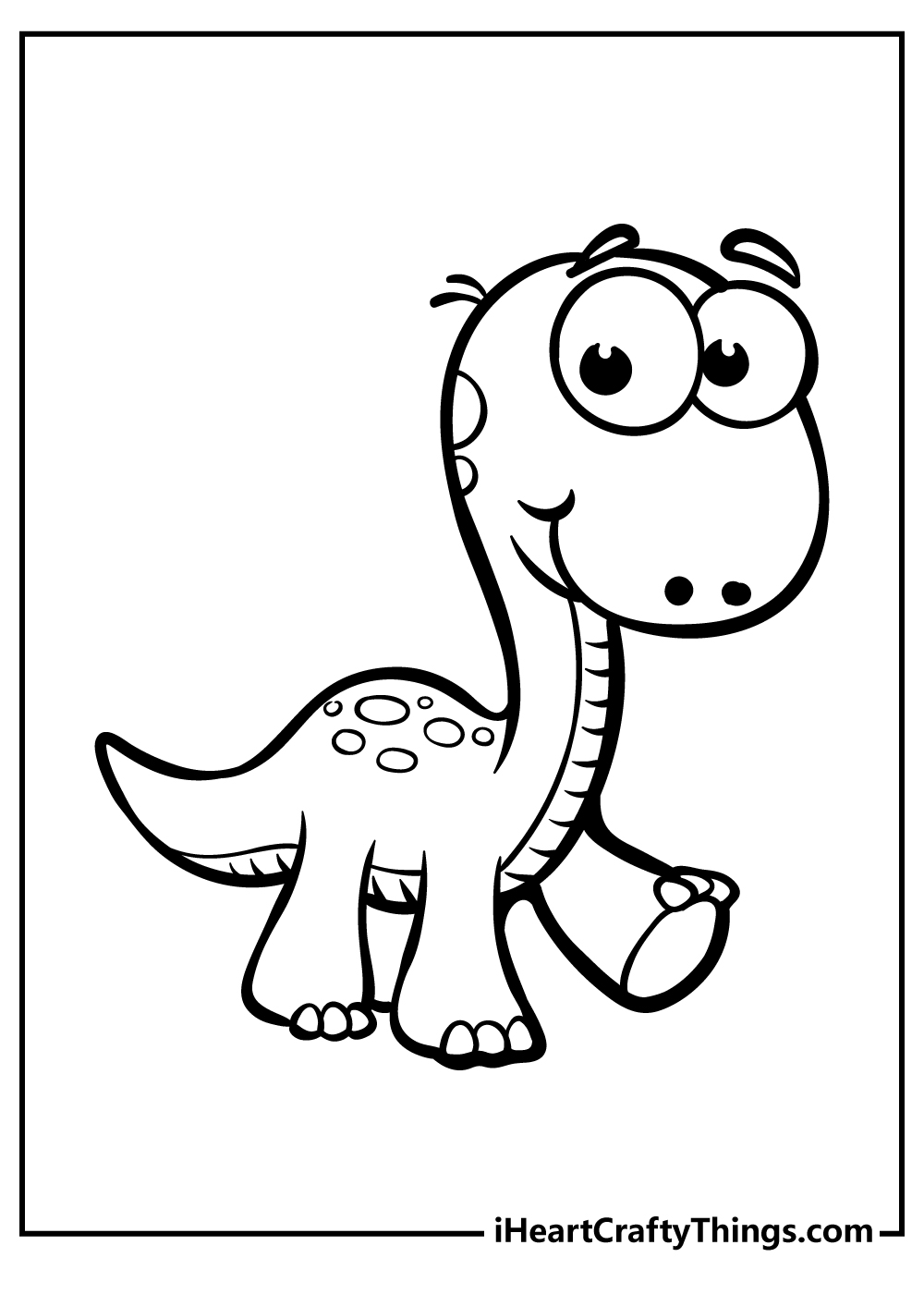 This next dinosaur is a bit more detailed than many of the other dinosaurs we've seen in this collection.
For that reason, we would use some slightly more muted, realistic colors if we were coloring this guy.
We also think it would be fun to draw a background for this page! If you were to do that then what setting would you choose?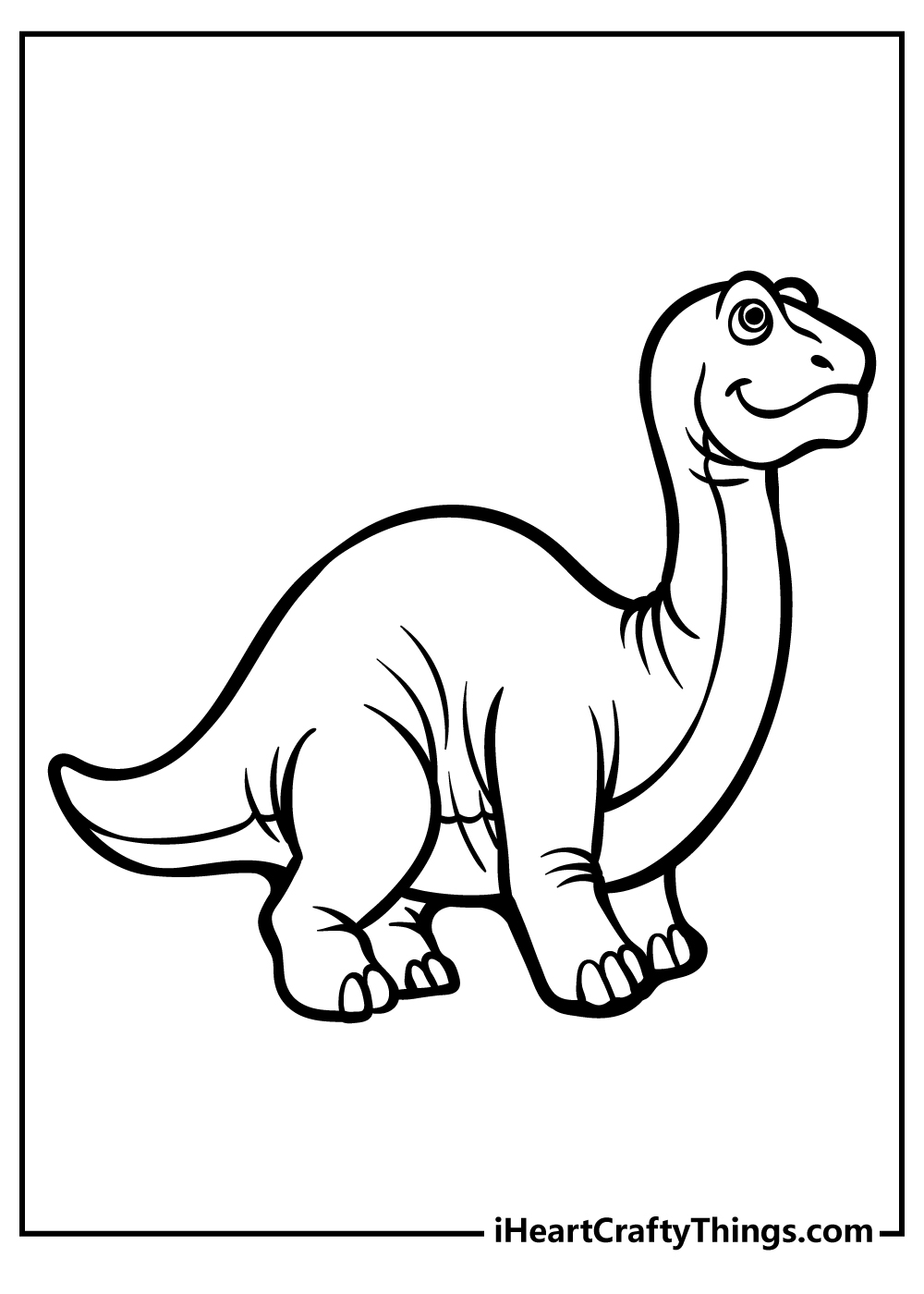 The final baby dinosaur coloring sheet we have for you is another absolutely adorable one!
This little one seems to be about to eat a tasty leaf, and there is such a nice, calm look to the expression on this one.
Which colors and mediums will you choose to close off the collection?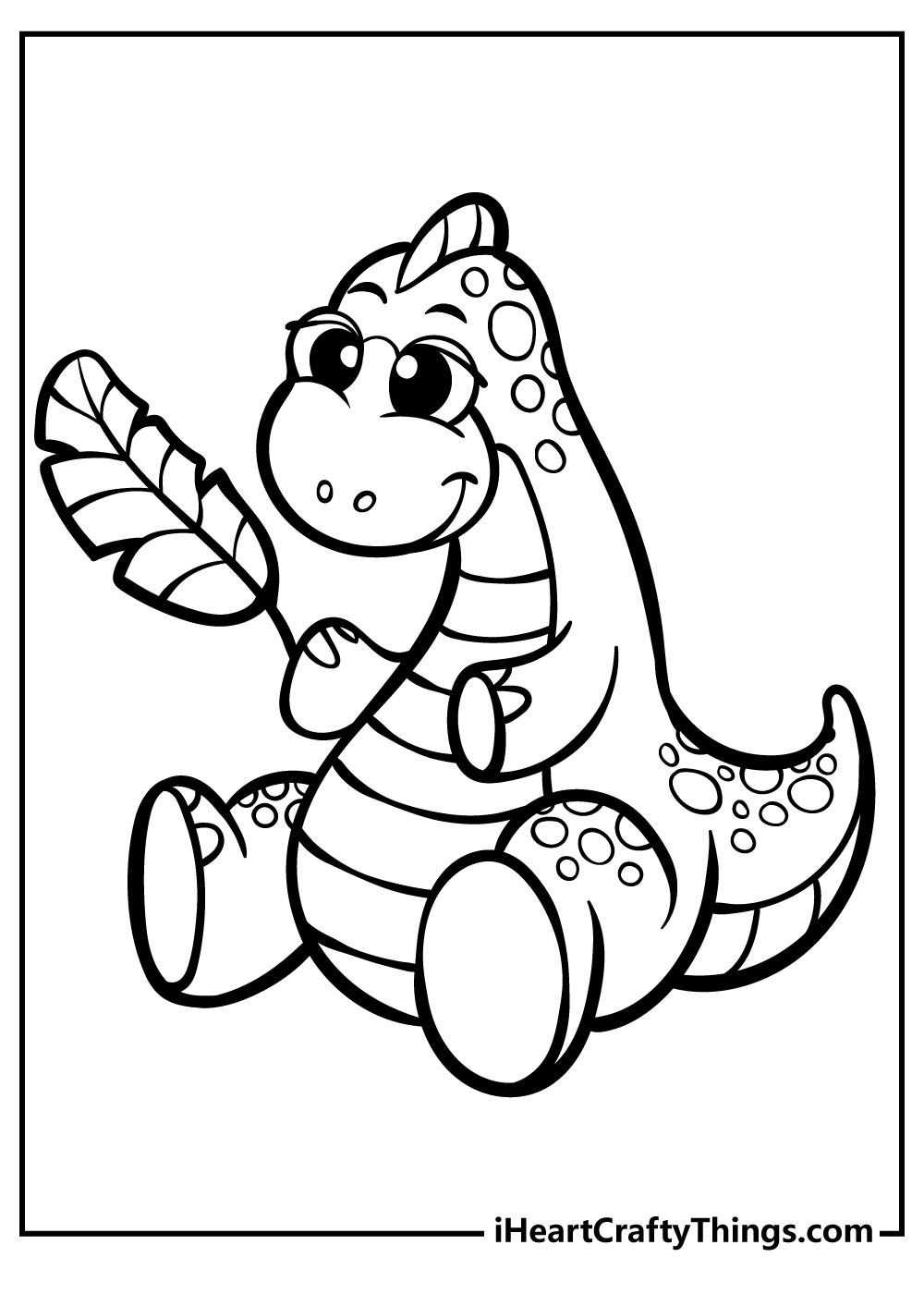 How To Make Your Artwork Even More Amazing!
These baby dinosaur coloring pages are already so great as they are, and some even have small extra details like plants along with the dinosaurs.
It can be fun to imagine what prehistoric landscapes might have looked like, and you can do that by adding some backgrounds to these pictures.
When many people think of pre-historic landscapes, they picture giant colorful trees and huge volcanoes.
These would be perfect for any of the backgrounds to these pictures, but you could also go with other ideas.
For example, the dinosaurs could be at a more specific setting such as a birthday party. It doesn't have to be realistic, so you can get creative with it!
Once you have added your background ideas, you can then use color to bring these backgrounds to life. Using an art medium that is different from the one that you used for the dinosaur can be a good way to make it stand out.
If you have lots of ideas for backgrounds, then you could make a different one for each coloring page. You could even explore some different themes and approaches to make each one stand out.
If you wanted to add some more little dinosaurs and other animals to make it even more vibrant, then that would look amazing as well. We've given you a few ideas, but now it's up to you!
Even the simplest additions can elevate an image greatly, so you can decide how involved you want any additions to be.
One thing is for sure, we will be interested to see what you decided to add to the backgrounds of your favorite pages!
Baby Dinosaur Coloring Pages – Which will you choose?
We really hope you enjoyed this colorful trip through time as you worked through this collection of free baby dinosaur coloring pages for kids!
Remember that you can keep the fun going in a few ways. One way is by sharing the collection with other dino fans you may know to enjoy as well!
The other is by sharing some of your favorite finished pages on our Facebook and Pinterest pages for us to see and enjoy! We can't wait to enjoy your adorable artworks.