Velociraptors are some of the most recognizable dinosaurs of them all, and there's no mistaking these small but fearsome dinosaurs.
It's always so much fun to see what different people think dinosaurs may have looked like, and you have the opportunity to show what you think with these free velociraptor coloring pages for kids!
Whether you think these dinosaurs would have been brightly and vividly colored or maybe that they would have had darker colors, these free velociraptor printables will let you go wild with your favorite colors and coloring tools to show what you think!
These velociraptor coloring sheets are perfect for hours of prehistoric coloring fun! Once you've completed your favorites, please be sure to share your colorful artworks to our Facebook page for us to see!
We always love to see your creative and fun interpretations and designs, and we're sure to see lots of interesting and vibrant dinos once you've finished with these free velociraptor coloring pages.
10 Brand New Velociraptor Coloring Pages – Free to Print and Color
This first velociraptor coloring page shows our first dinosaur having a day out in a prehistoric jungle.
He's got an interesting pattern on his body, so that will allow you to pick a color scheme and integrate different colorful variations to make him pop with color!
You can also get creative with the background of this velociraptor printable and show what you think this ancient landscape may have looked like.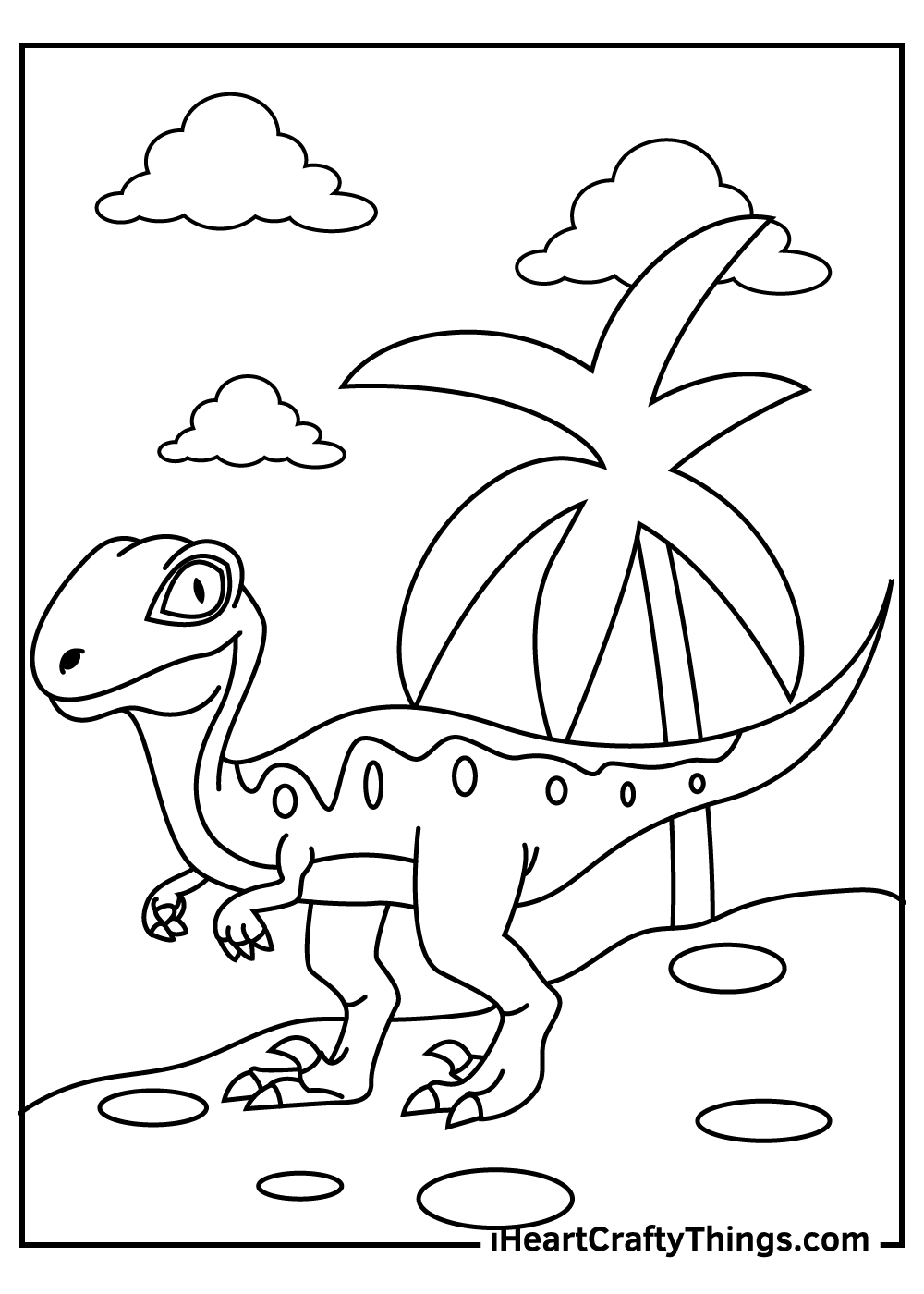 In the second velociraptor printable, we have a velociraptor surrounded by a cool dinosaur footprint background. I think that this velociraptor coloring page gives the perfect opportunity for a bright and vividly colored background!
If I was coloring in this page, I would use a bright red for the background with blues and greens for the footprints and the dinosaur, but how will you bring this velociraptor coloring sheet to life?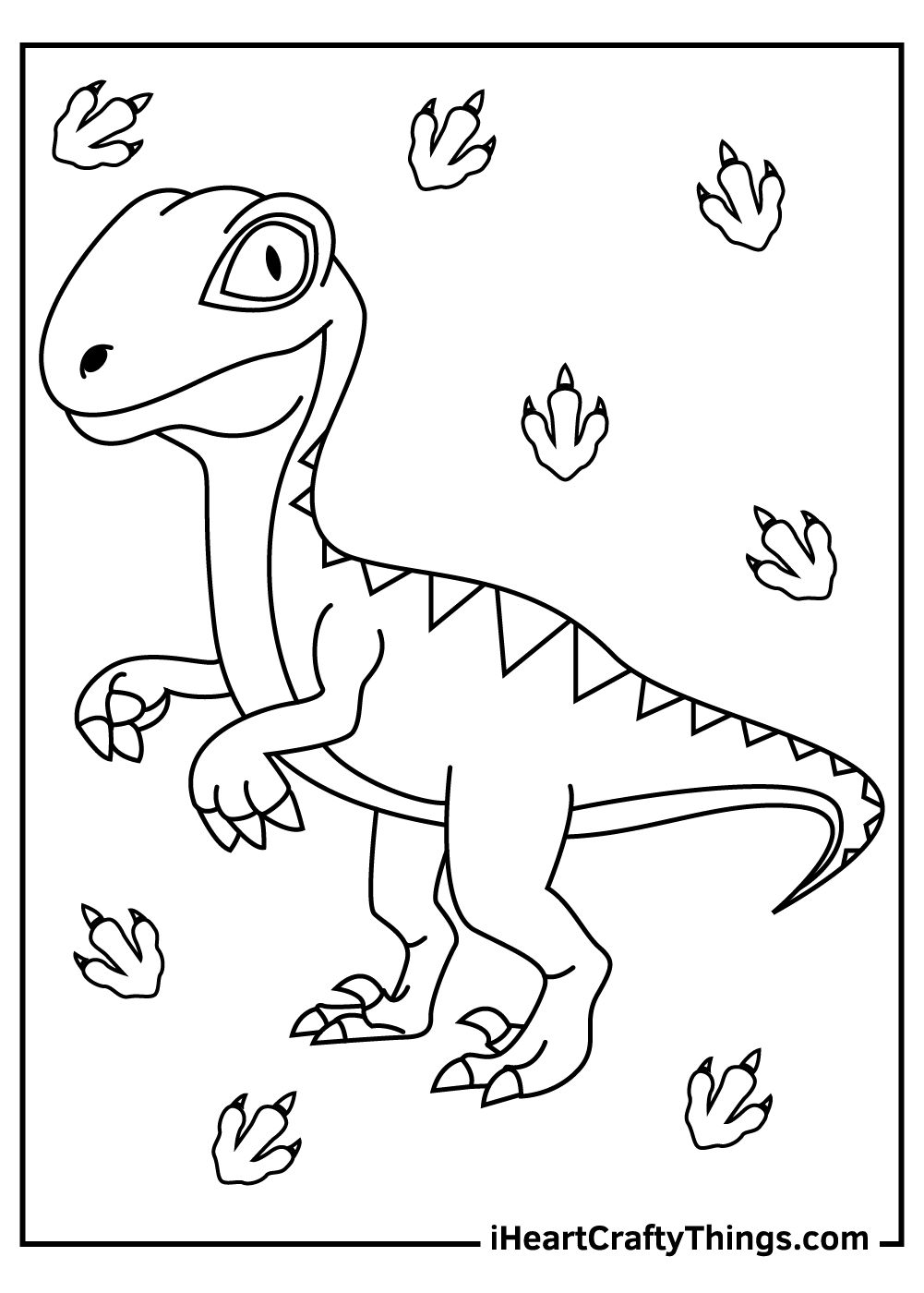 Two velociraptors are better than one is a saying you don't get to use in real life very often, but it certainly applies to this next free velociraptor coloring page! There are two velociraptors surrounded by some very exotic looking dino eggs for you to color in.
Will you make both velociraptors the same set of colors or will you go with something totally different for each one?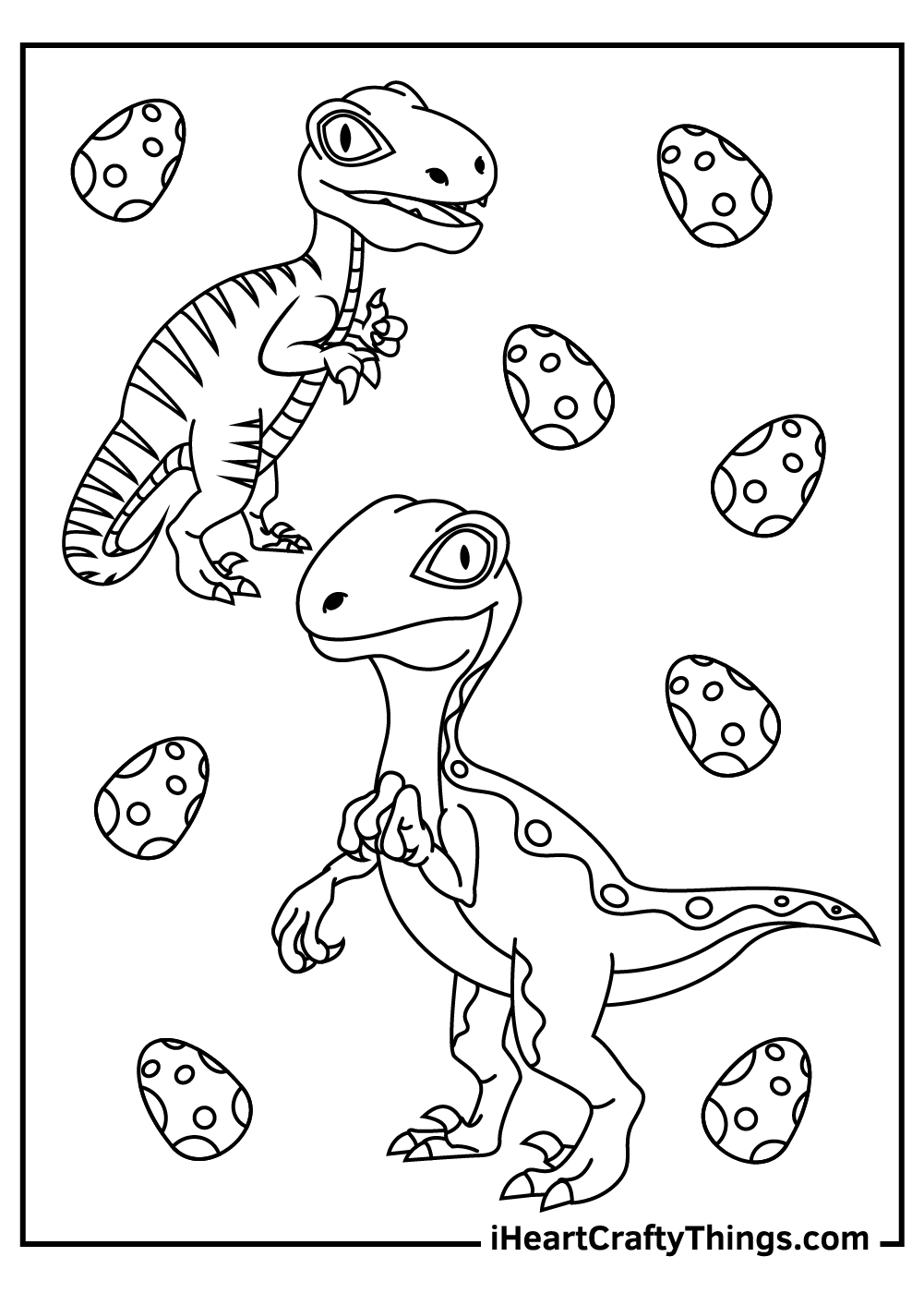 The background of the next velociraptor printable we have is again perfect for a bright and strikingly colored background.
For this one, I would use a rich blue with deep purple for the dots with brighter greens and reds for the dinosaur, but I can't wait to see what you choose for this velociraptor coloring page!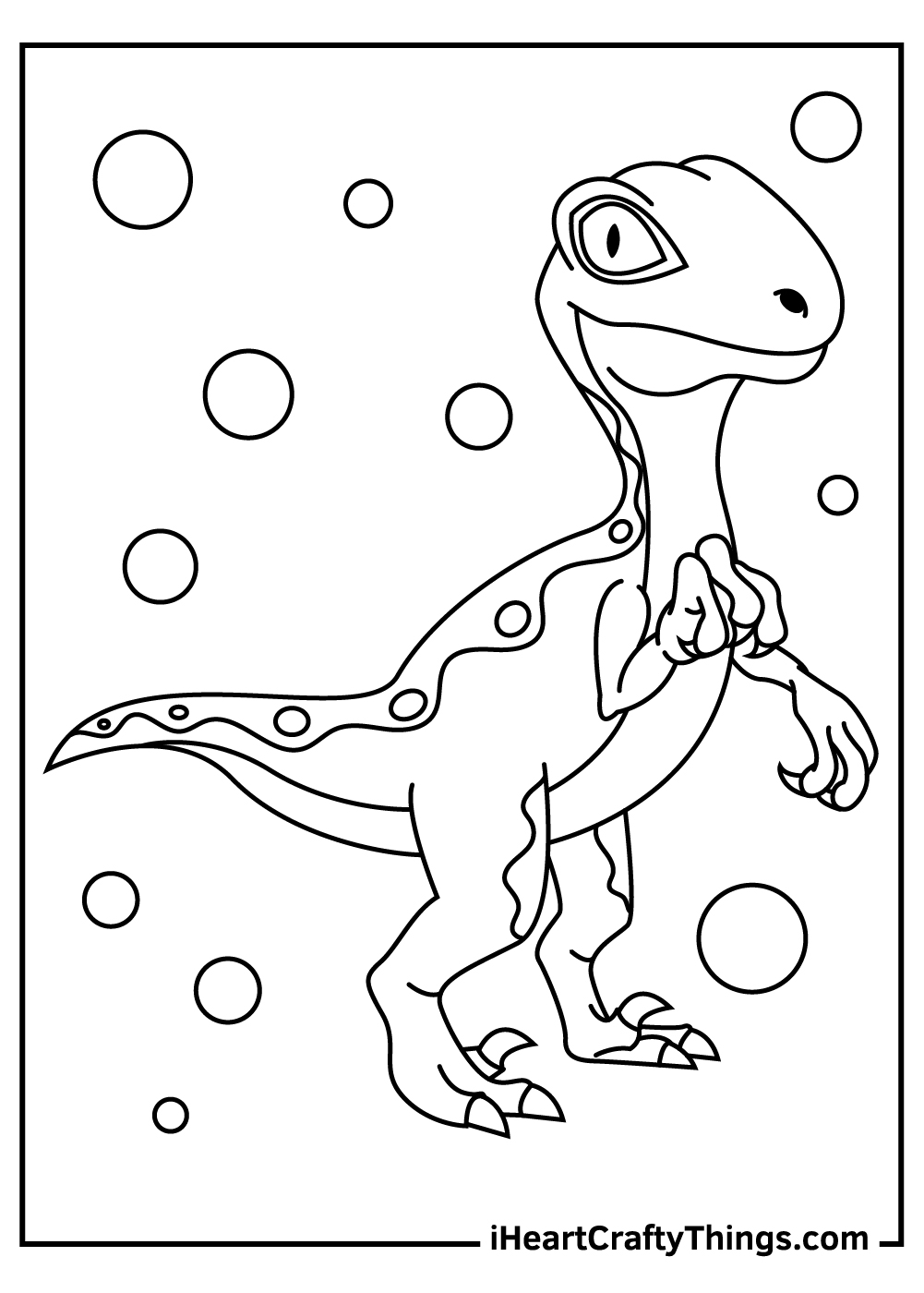 For this velociraptor printable we have a happy looking dinosaur. Maybe he just spotted something he can have for dinner?
I would use some bright reds and yellows as the main colors for this velociraptor coloring page to compliment the fact that he's looking so happy.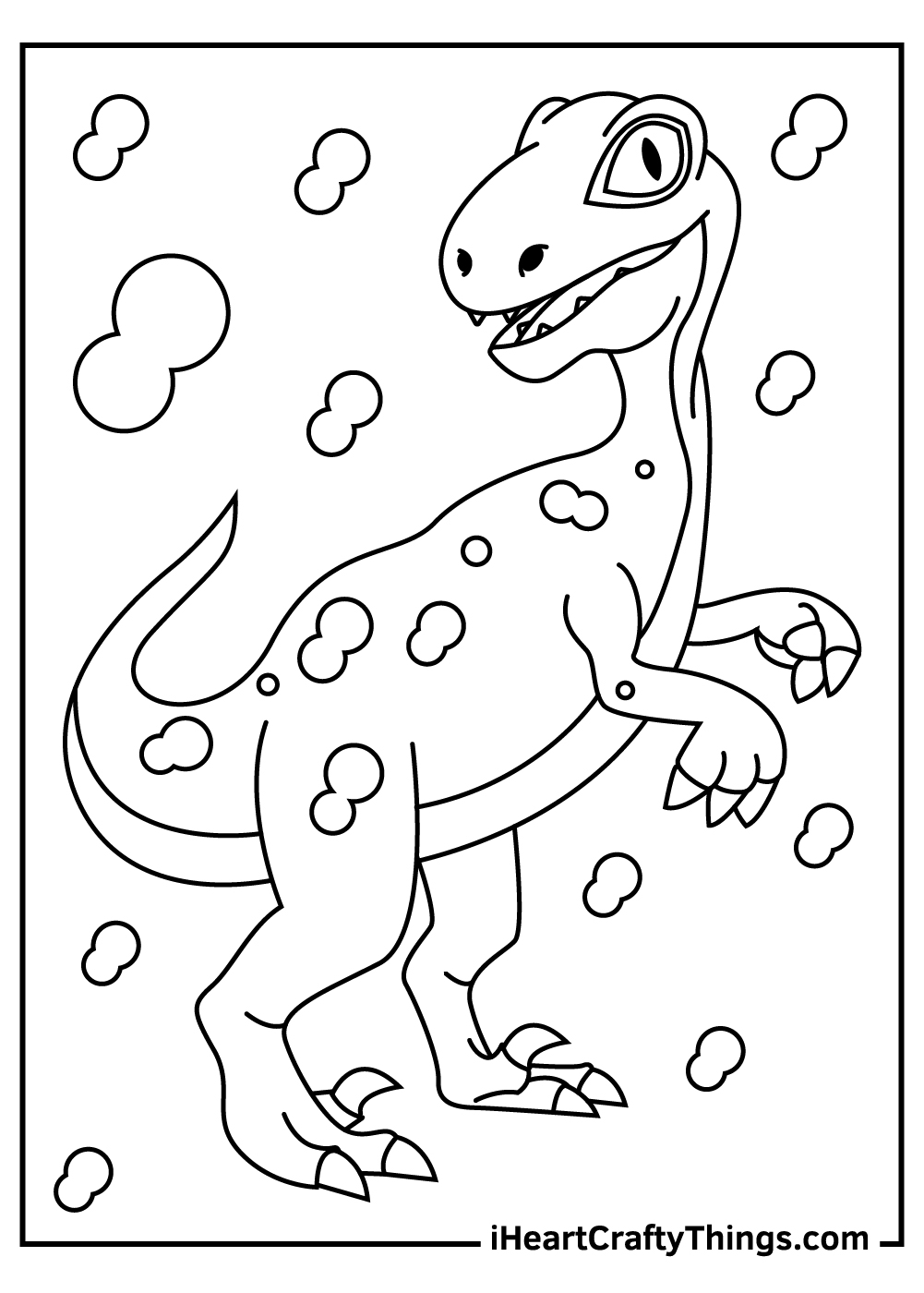 After some more stylistic backgrounds, we have a dinosaur running around in a more natural looking grass setting for this velociraptor coloring page for kids.
You could go for some greens for a really cool looking background, or you could show off what wild and crazy colors you think prehistoric vegetation and plants may have had for this velociraptor printable.
Who's to say there weren't blue, yellow and red kinds of grasses in this very different time? It's up to you, and we look forward to seeing your interesting ideas of what this ancient time may have looked like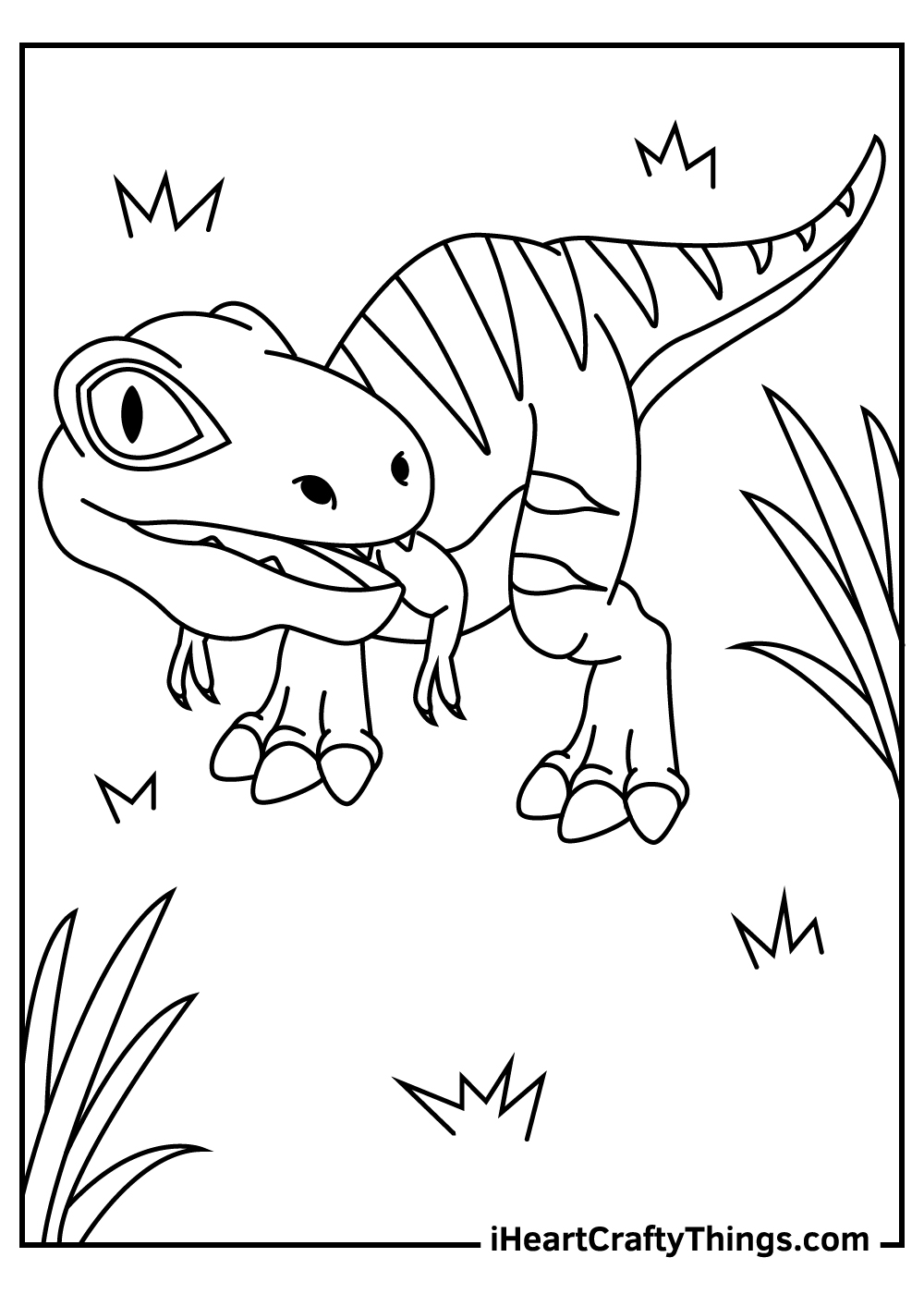 This dino is guarding her eggs in this next velociraptor coloring sheet. The eggs would look really good with some vibrant color variations to really make them stand out!
There's also room for a creatively colored background with the patterned rock behind this dino, so I bet this will be a very colorful velociraptor printable once you've finished with it!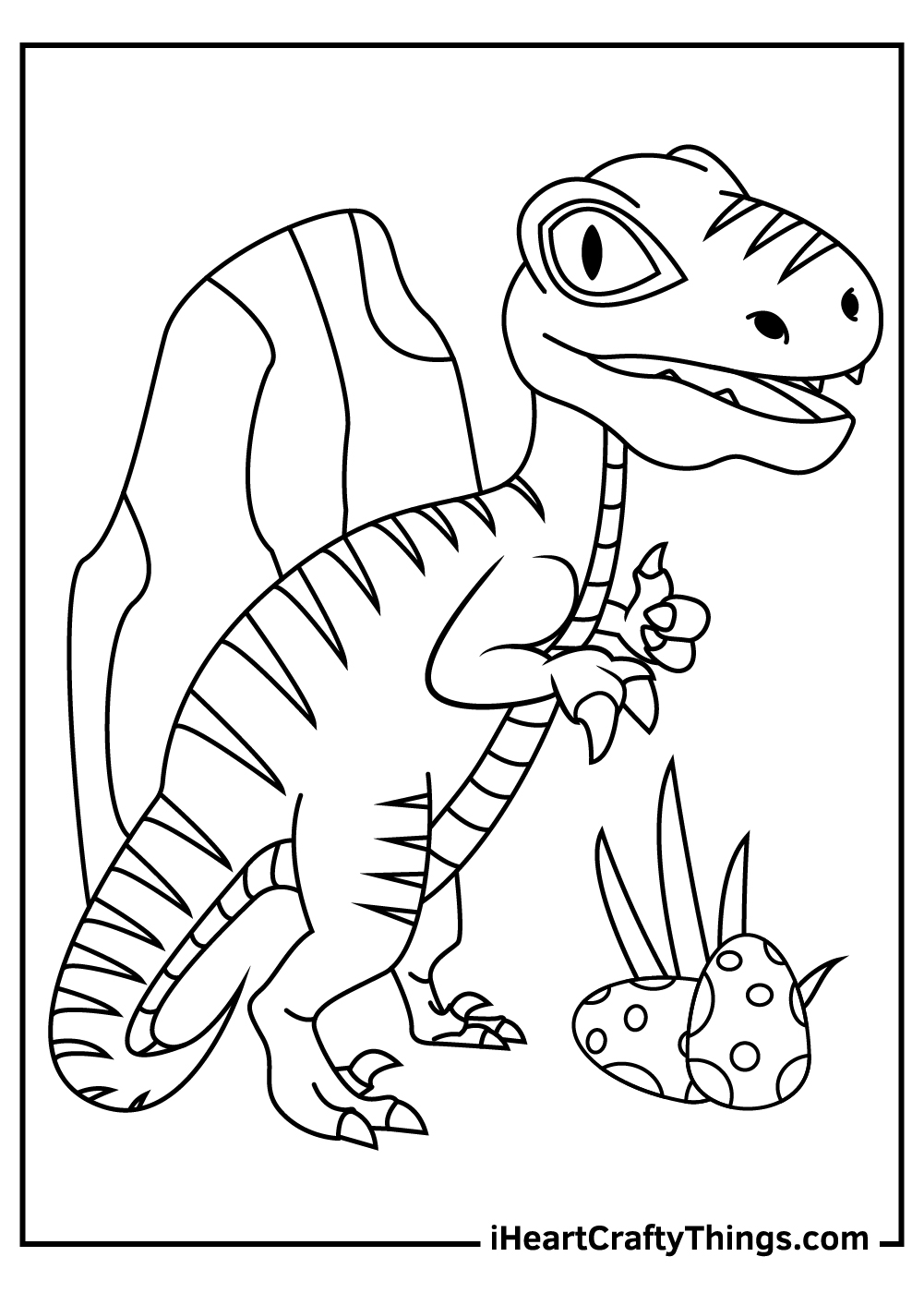 It's a day out for this dino in our next free velociraptor coloring page. The sky would look really nice with your favorite shade of blue, but you could also go with a beautiful orange to suggest dawn or dusk as well. How will you finish off this velociraptor printable?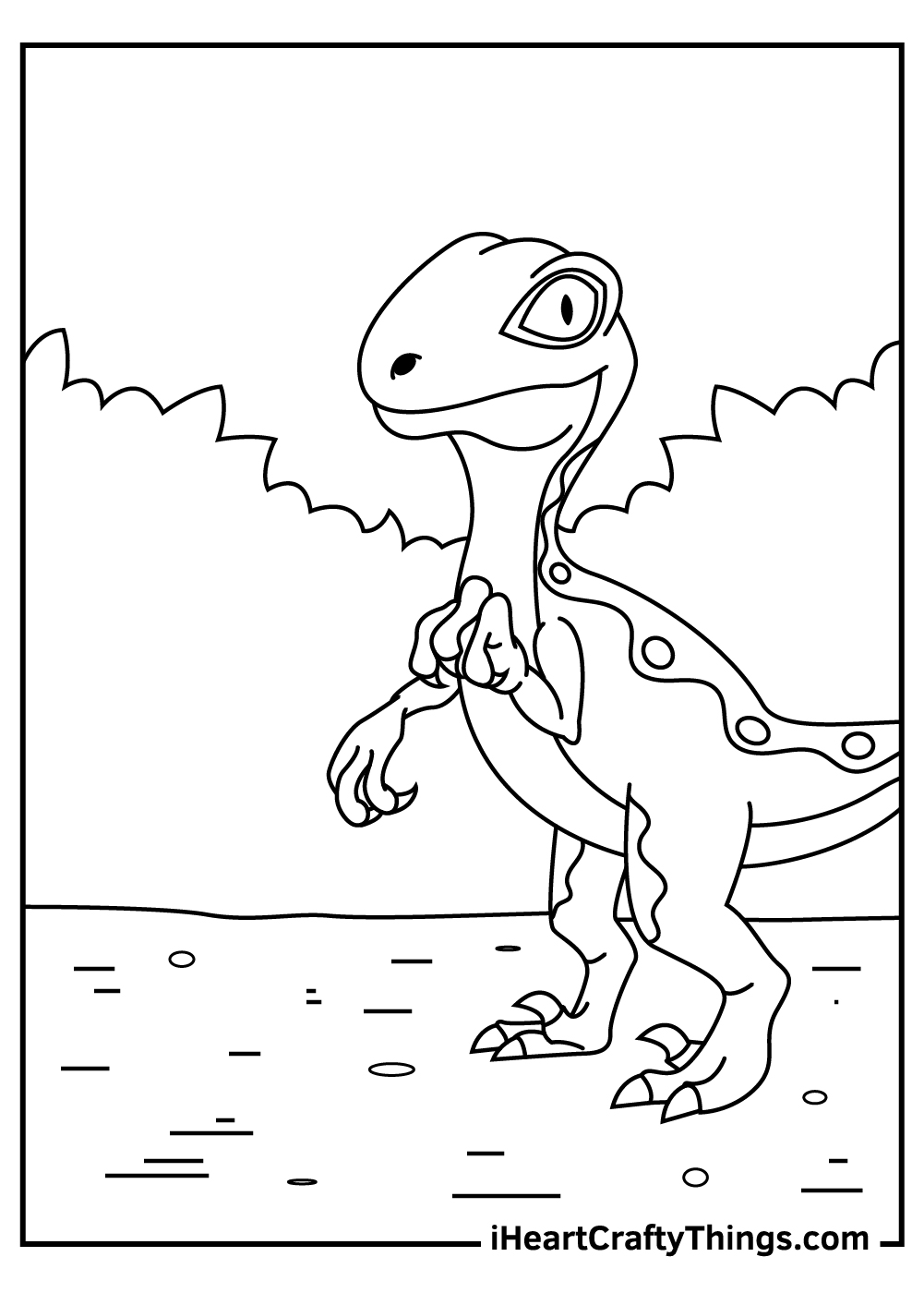 There's a volcano erupting in this more dramatic velociraptor coloring sheet. I think using your brightest reds and oranges for the lava erupting from the volcano would look really striking. Maybe you could use some acrylic paints in thick layers to make the lava really pop with color.
Contrasting this with crayons or colored pencils for the dinosaur itself would make for a very interesting image for this velociraptor printable, don't you think?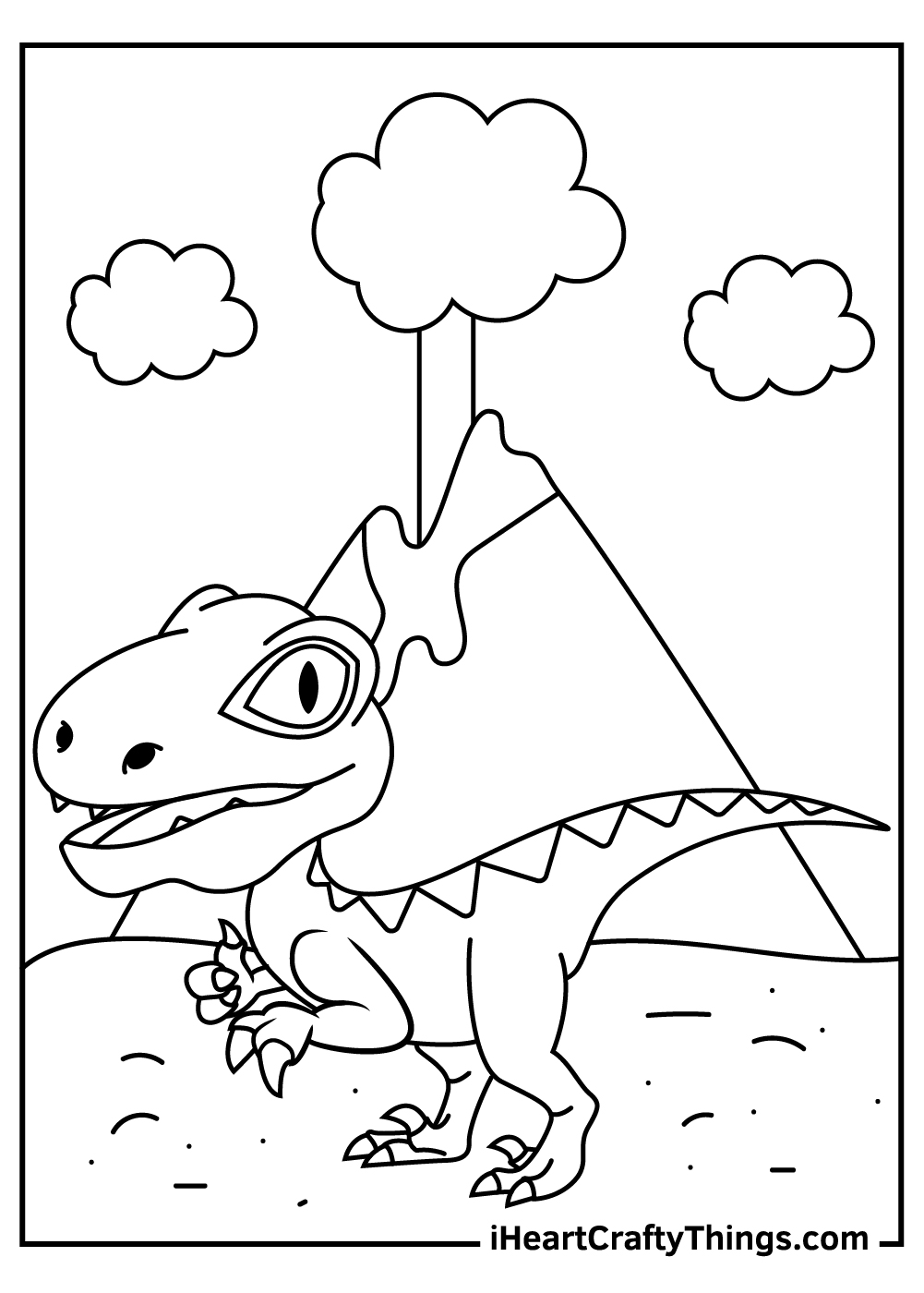 Our final image in our collection of free velociraptor coloring pages for kids shows a dino hanging out by a very strange looking prehistoric tree.
I bet the tree would look very cool with colors you wouldn't normally expect to see on a tree, and if you're feeling extra creative maybe you could draw some weird and colorful leaves onto the branches to really make this an interesting prehistoric image.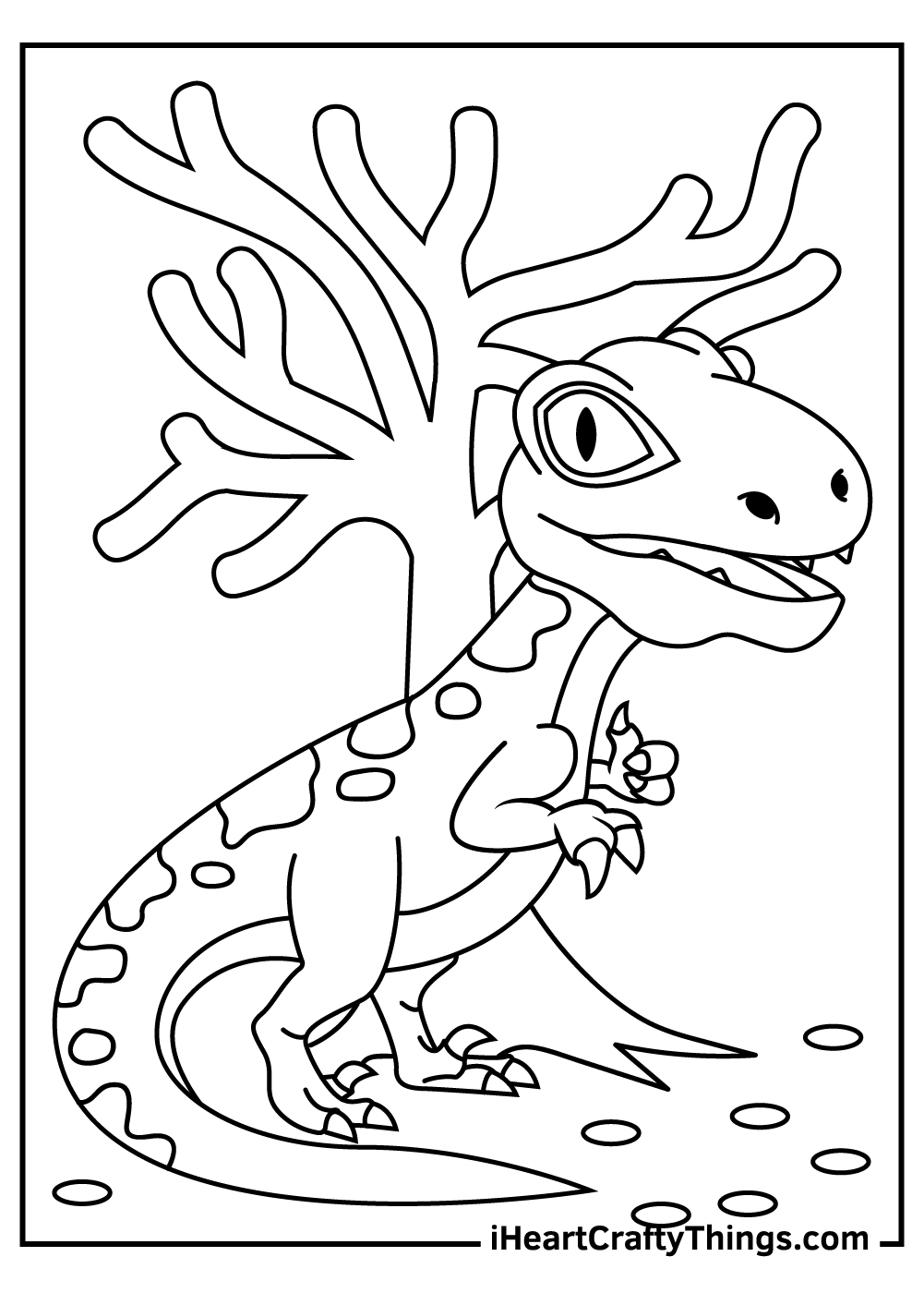 Velociraptor Coloring Pages – Which will you choose?
We hope you had a lot of fun coloring in this series of free velociraptor coloring pages! All of our printable art and coloring pages are completely free for you to print and color, so if you want to try out some different mediums and techniques, you could print out multiple copies of your favorites and have fun experimenting!
Using paints and brightly colored pens can really add a lot of interesting variety and texture to an image, so if you have some you can try incorporating them with your crayons and coloring pencils for a dynamic look.
Please be sure to like and share our Facebook page for even more awesome coloring pages and goodies! Also, once you've finished coloring your favorite velociraptor coloring sheets, please share your dino artworks to our Facebook page for us to see.
We always love to see how you bring these coloring pages to life!