One of the many reasons painters love to sketch and paint tigers is because of their amazing fur pattern.
If your little artist is a lover of these magnificent felines but not very good at sketching them, we got you covered. These free tiger coloring pages will be their new favorite activity if they enjoy coloring.
Looking for a way for your child to practice their shading abilities? These tiger coloring sheets can also be of help.
Because tigers frequently come in a range of hues, they can add some diversity to these printouts, especially if you print them all at once and give them more options to exercise their imagination.
With this in mind, if you're searching for a fun DIY activity for your children, here are a few fearsome tiger coloring sheets.
10 Brand New Tiger Coloring Pages – Free to Print and Color
Tigers are mostly orange and black, but the best thing about these tiger printables is that you can color these animals in any color imaginable.
This one has lots of details on the fur and around the contour, which means it can even become a rainbow tiger if your children want to.
If you ask us, some mint green and light-yellow detailing on this tiger will look stunning. This is a coloring sheet where children may let their imagination run wild.
It's a fun project for experienced artists to color, and it's a terrific way for a middle schooler to practice with colored pencils.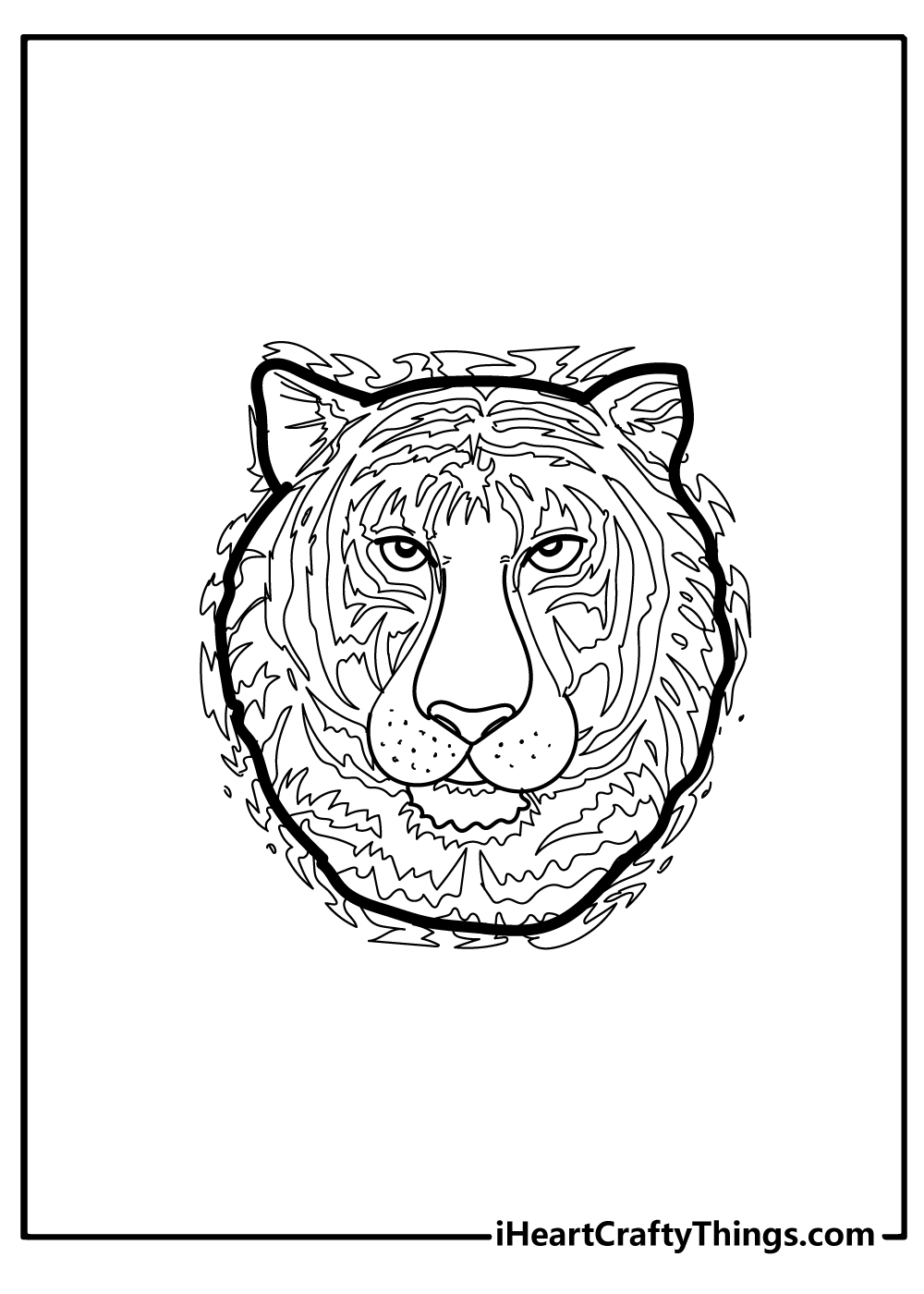 This one appears to be something out of a scientific textbook.
The tiger shown here is realistic and almost as if it were looking for prey, serving as an excellent reminder to remain a safe distance from these large creatures whenever feasible. Even so, you'll still be able to hear it roar.
The roar of a tiger may be heard up to two kilometers away! So, if you're searching for a realistic tiger printing that seems to almost come off the page, you've come to the right place.
Paint this tiger coloring page and get ready for an animal lesson with your child.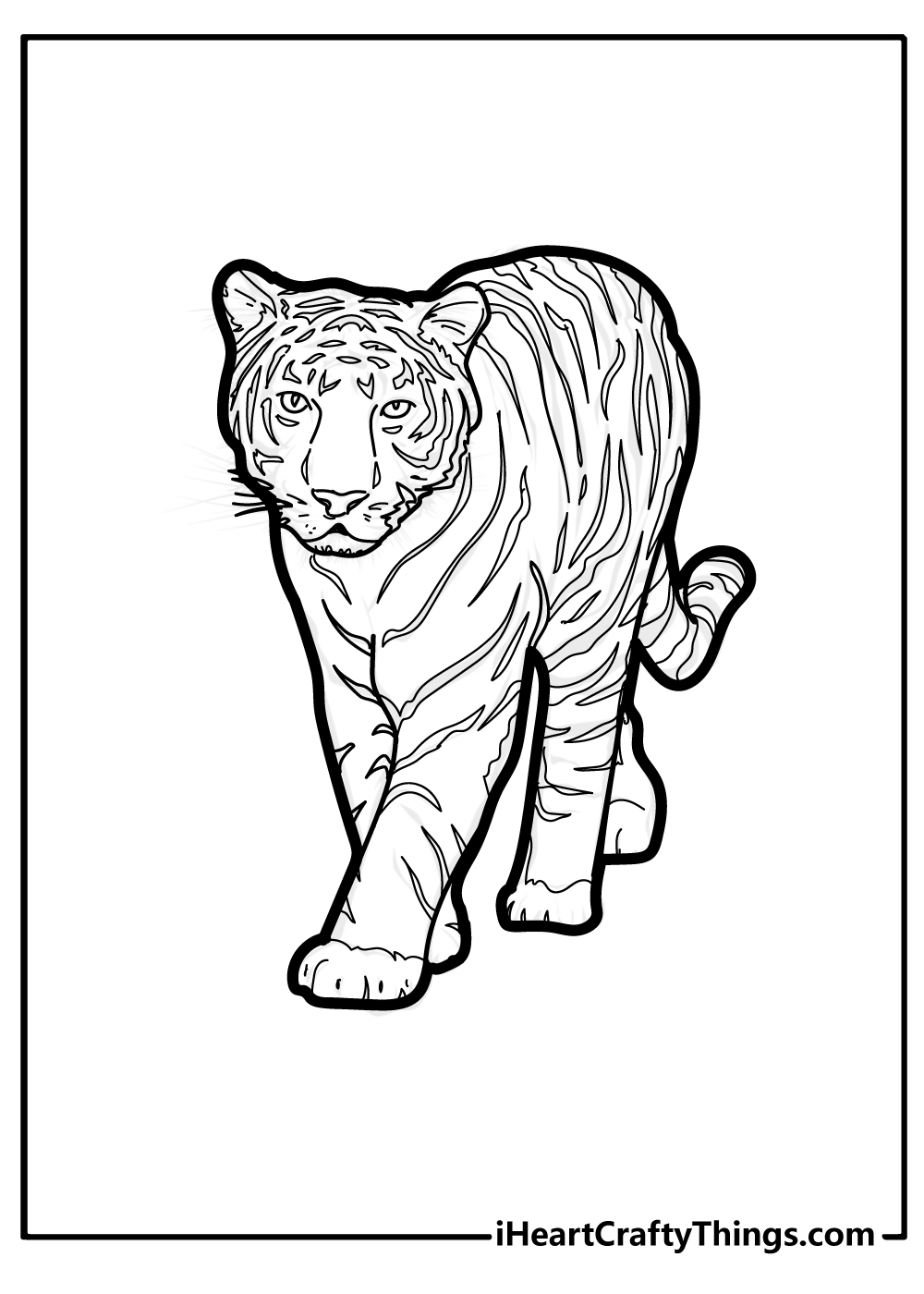 This version is a bit more terrifying but still fun to color. Sure, this guy is clenching his teeth and frowning, but that just adds to his appeal as a coloring subject.
If your child's school's mascot is a tiger, they can color this tiger using the mascot's shades and then give the drawing away as a gift to the sports team.
Encourage them to use a bright color for this tiger, such as neon orange or another hue that transforms this page into a striking work of art.
And, just for kicks, here's a reality as savage as this image: Tigers are the world's third-largest carnivorous land mammal and the world's largest cat species.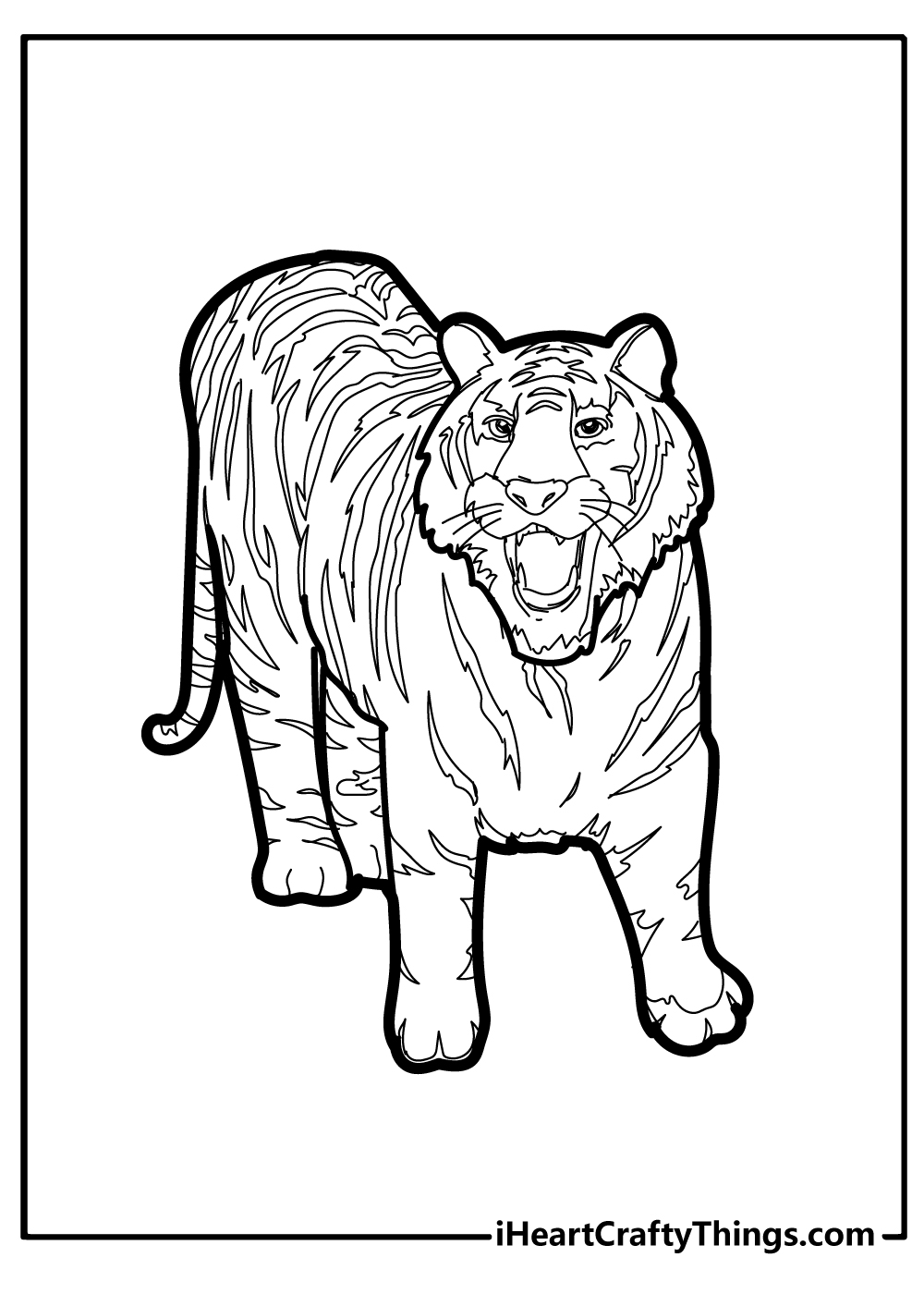 The tiger on this coloring sheet looks more realistic and can serve as a great means to teach children more about the difference between various feline species out there.
Although some baby tigers can end up looking like kittens when they are small, they will quickly grow up to weigh more than a grown adult.
Probably not the best pet to keep in the house, but wouldn't it be fun if we could? One interesting fact about tigers is that, compared to cats, they don't purr.
They roar and make some pretty frightening sounds, but when it comes to purring, their cat cousins do it better.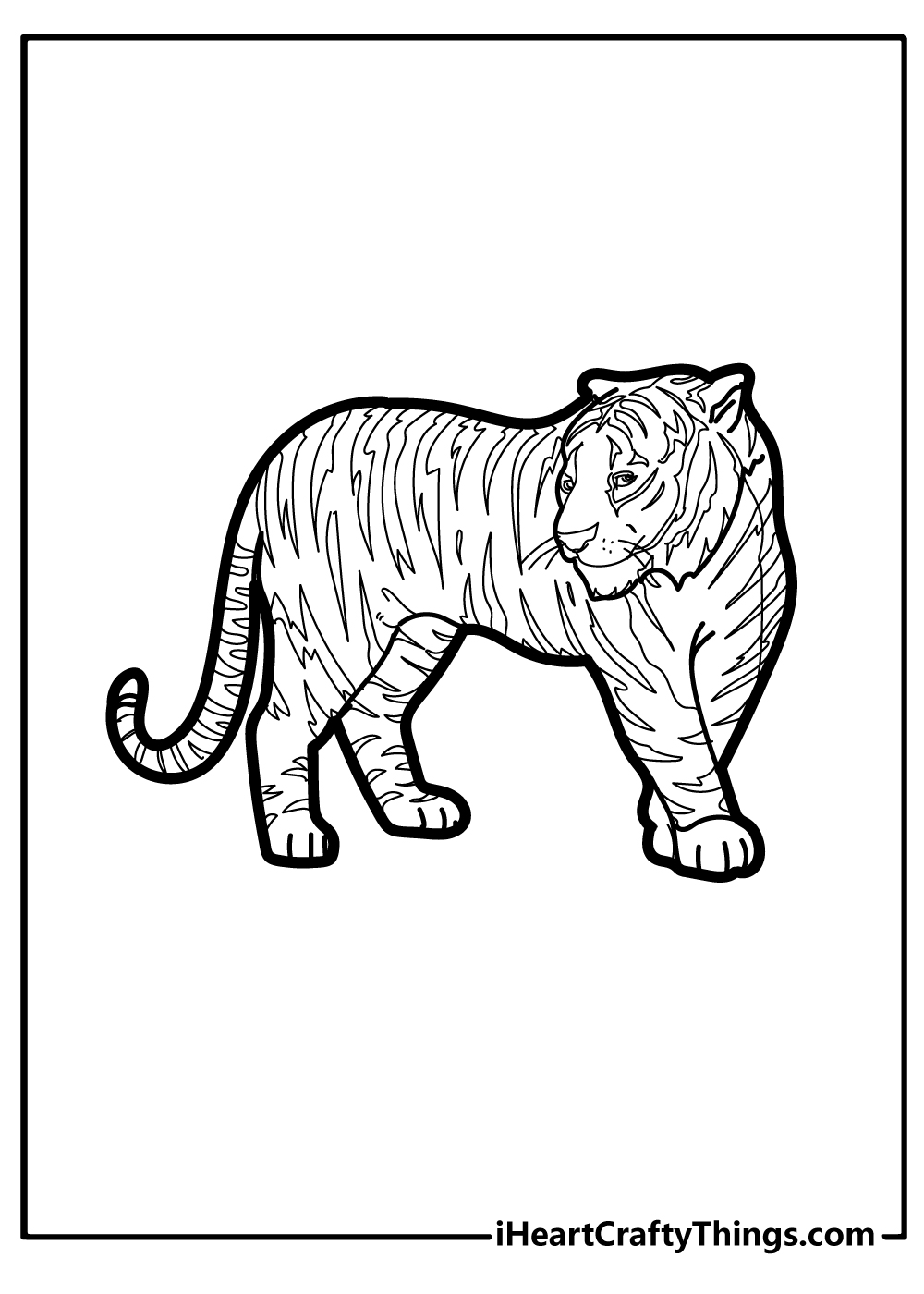 This adorable tiger also appears like it might be the main character in a children's TV show. He'll seem more lifelike if children make sure to give him some color and shades.
It would be fantastic to incorporate some grass or construct a background to create his story.
One fun exercise for the children would be to imagine this tiger has its own show. What would it be called? How would the tiger look? What would be in the background?
Teaching children to create their own stories will be a very useful skill when they need to get creative at school.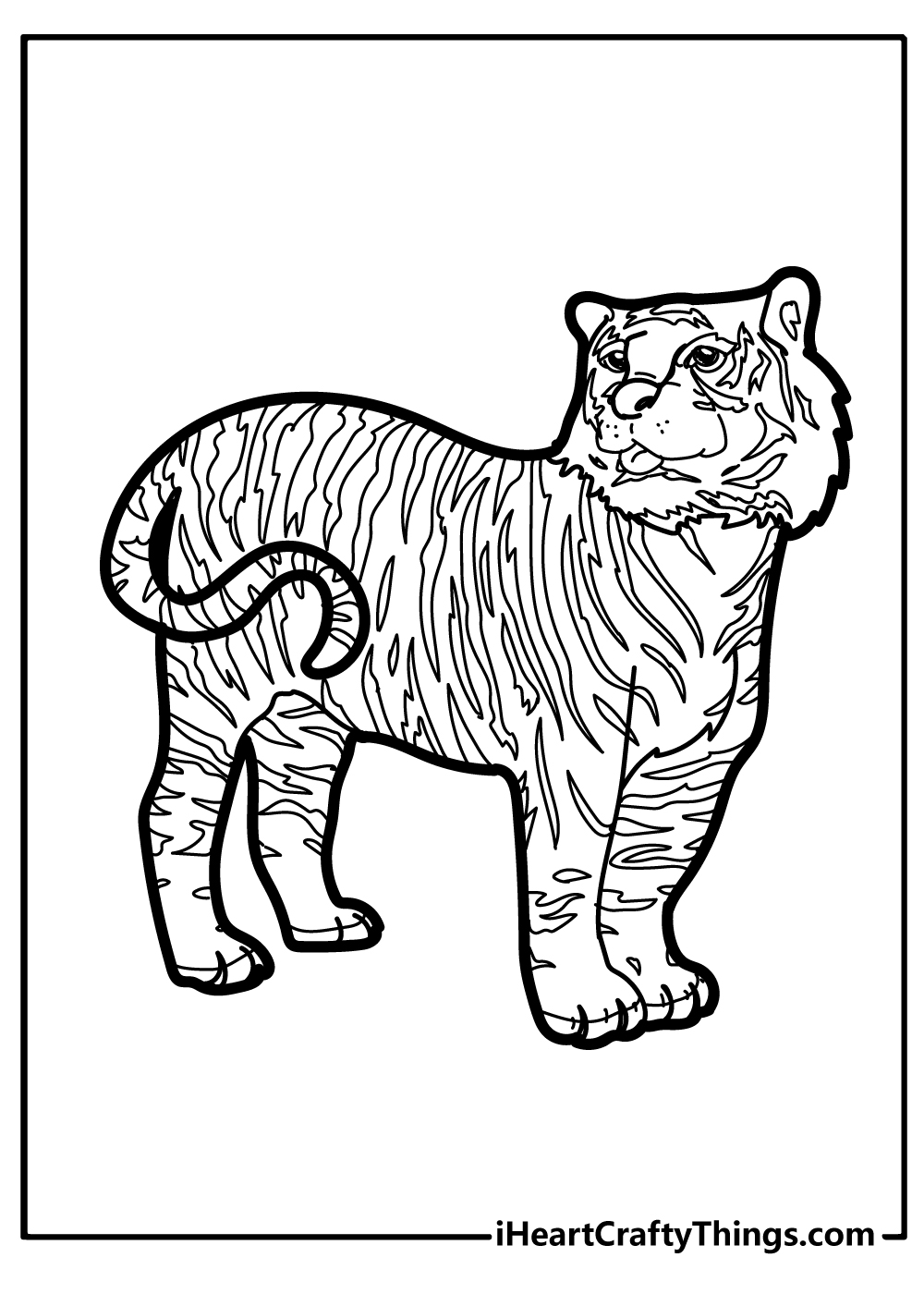 Are you looking for a simple tiger coloring page for toddlers? Well, there you have it. Adults who enjoy coloring may like this one as well because our printables are fun at any age!
This is another tiger coloring sheet with which kids can have fun and get creative. Maybe this tiger is silver or black or even brown with white!
Or children can just color the lines on the fur and make it a white tiger with colorful stripes. They can be as realistic or as creative as they want to.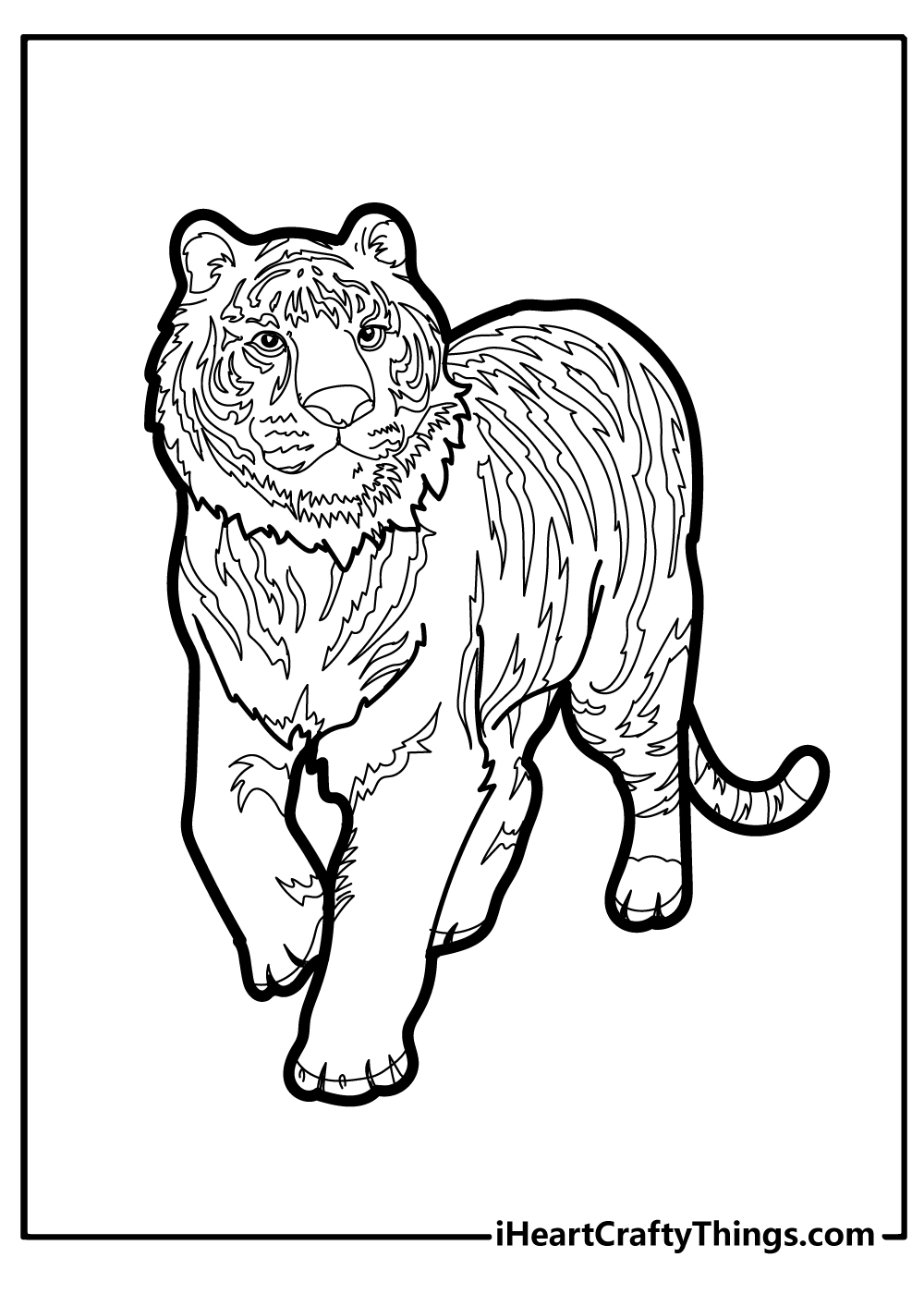 This is also the kind of tiger you'd see on a children's TV program. Our baby tiger was drawn to be more of a friend than a threat since it seems kind, playful, and absolutely adorable.
This is appropriate for children (and adults) of all ages, in our opinion.
Sadly, life in the jungle is not as fun as in cartoons, and about half of all tiger cubs born in a litter do not make it to adulthood.
Luckily, these tiger coloring pages are here to stay forever, so children can create their favorite tiger pet and keep it with them for many, many years.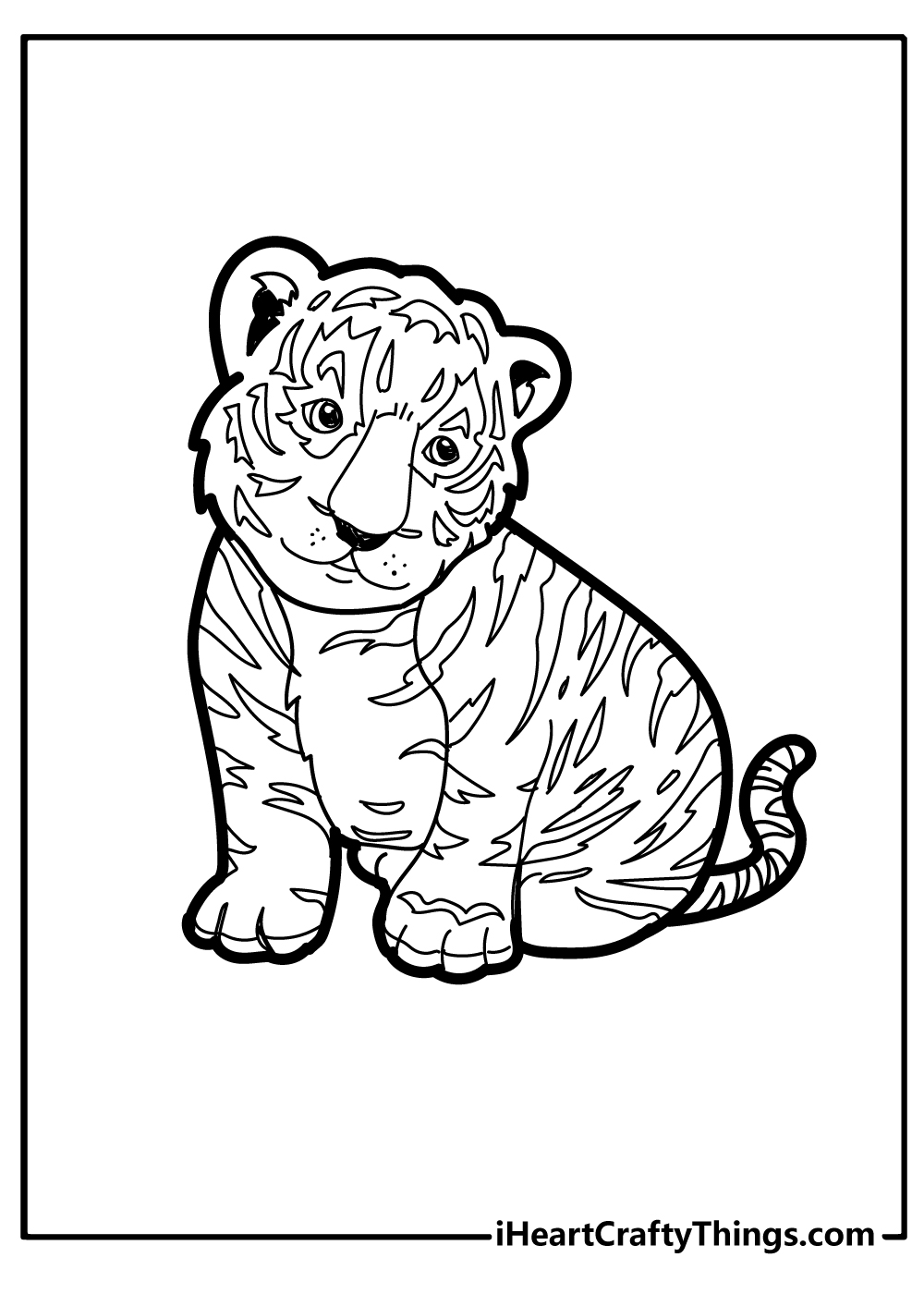 Aww! This cute little boy appears to be something you'd want to keep as a pet. However, leaving him on the coloring sheet where he belongs is far safer.
He looks a bit frowny and playful, but these little guys are very strong even when they are just cubs.
Although this is a realistic depiction, the colors can go any way your children want to. They can use yellows and oranges to color him in or light gold to bring him to life.
Challenge them to imagine how their dream pet tiger would look like!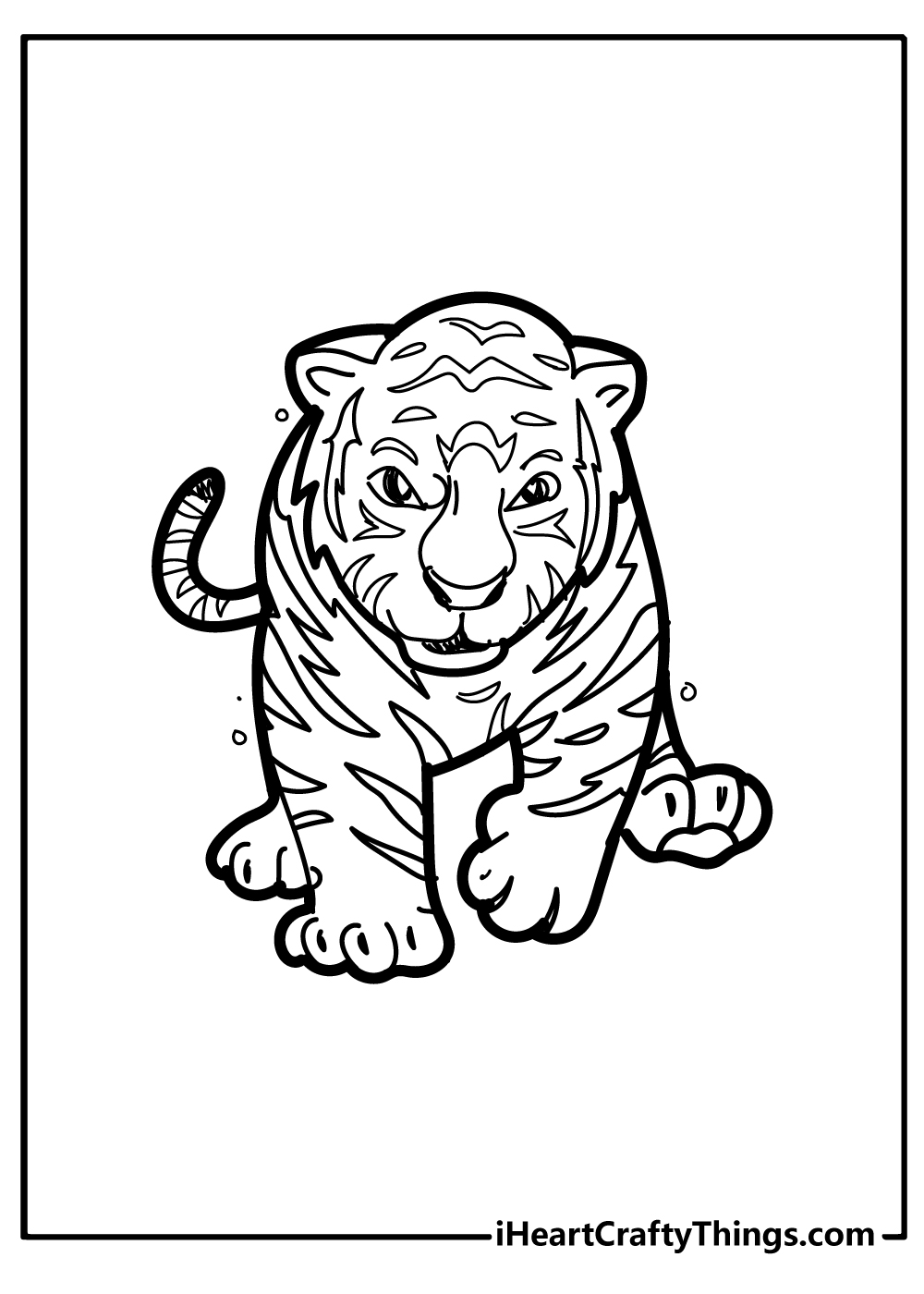 If your child is a fan of the Jungle Book, they will love this tiger coloring sheet. It features no one other than Shere Khan, the main antagonist of the movie.
His character is considered charming, but he is one of the most fearsome animals in the entire jungle, so don't get fooled by his enchanting words.
While Shere Khan is orange, who says little artists can't give him a complete makeover? Just print this coloring page for free, put on some music from the Jungle Book, and let the jungle party start!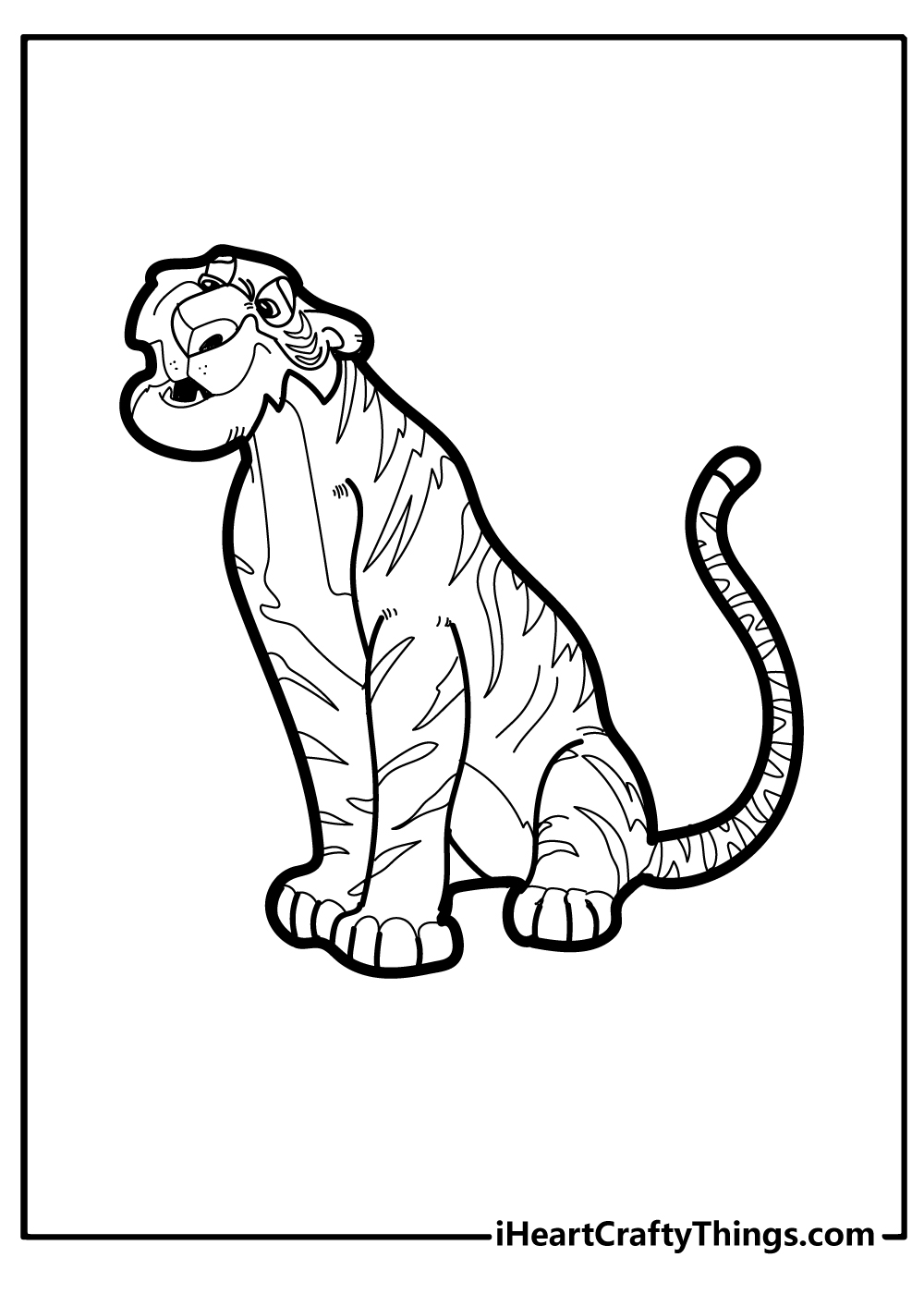 This is yet another cute, family-friendly tiger – can there ever be too many of these? Nope! It almost looks like a tiger from a cartoon, with its cute stripes and smile.
How about getting more creative with this tiger and painting it in a cute shade of blue or purple?
Even though tigers look a certain way and their fur is a specific orange color, it does not mean children need to follow the rules.
In fact, isn't it more fun when you let your imagination run wild? This tiger can be green with orange, or even red and yellow – the sky is the limit!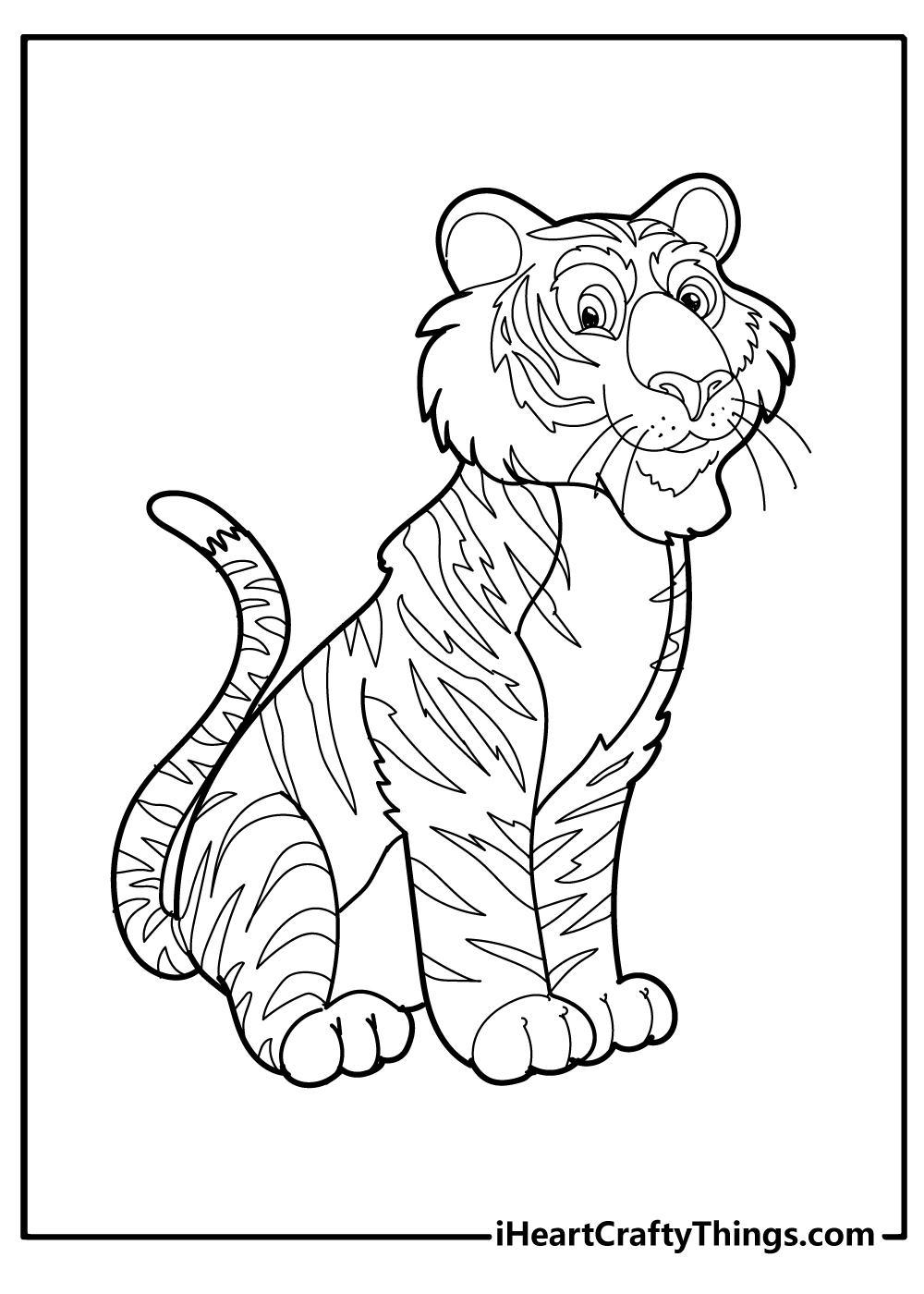 Add Some Color To These Fearsome Tigers With These Ideas To Try
We saw so many different kinds of tigers on these coloring pages. Some were fearsome and scary, while others were cute and friendly.
You can represent this variety in how you color these tiger coloring pages. For some of them, you may wish to stay with realistic colors, but for others you may want to go for something more stylistic.
No matter how you decide to color them, you can make the colors stand out with the art tools and mediums that you use. Many of these images have some fiddly details to color in.
We would recommend using some colored pens, pencils and very thin paintbrushes to fill these in. Coloring isn't the only type of expression you can display on these pages, however.
You could also have some fun drawing some additional elements to your favorite images from the collection. One of the best ways to do this is by drawing a background.
The background could be something realistic like a jungle setting, or you could go for something more imaginative. Adding other cartoon characters can also be a fun way to take these pictures even further.
There's really no limit to the ways that you can play around with these designs, even though they may seem simple. Adding text can also be fun, and one way to do this would be by writing a name.
It could be your name or maybe the name of a friend who loves tigers. These ideas are meant to give you a starting point that you can use to get inspired by.
Now you can take over, choose your favorite images and add your own ideas! We will be very interested to see what you choose to add to these pictures, so be sure to share them when they're done!