Jaguars are incredible creatures, with their distinctive look and powerful hunting skills they're a force to be reckoned with!
Unlike their cousins, leopards and cheetahs, these majestic big cats live in the jungles and wetlands of the Americas where they're the top of the food chain wherever they're found.
These free jaguar coloring pages will give you plenty of coloring fun with these amazing animals.
Jaguars have a distinctive yellow coloring with black spots, but you can get creative and try out your favorite colors to create some unique looking jaguars!
You could also experiment with different mediums to help show the different environments and terrains these jaguars might live in.
Once you've colored in your favorites of these free jaguar printables, please share your colorful artworks to our Facebook page for us to enjoy.
Here are my RECOMMENDED Art Supplies!
We can't wait to see your colorful jaguar depictions!
10 Brand New Jaguar Coloring Pages – Free to Print and Color
This first free jaguar coloring page for kids has a jaguar looking over his territory.
The background behind it makes me think of a sunset or sunrise setting, so maybe you could use some bright and vibrant yellows and oranges to give this jaguar printable a distinctive atmosphere.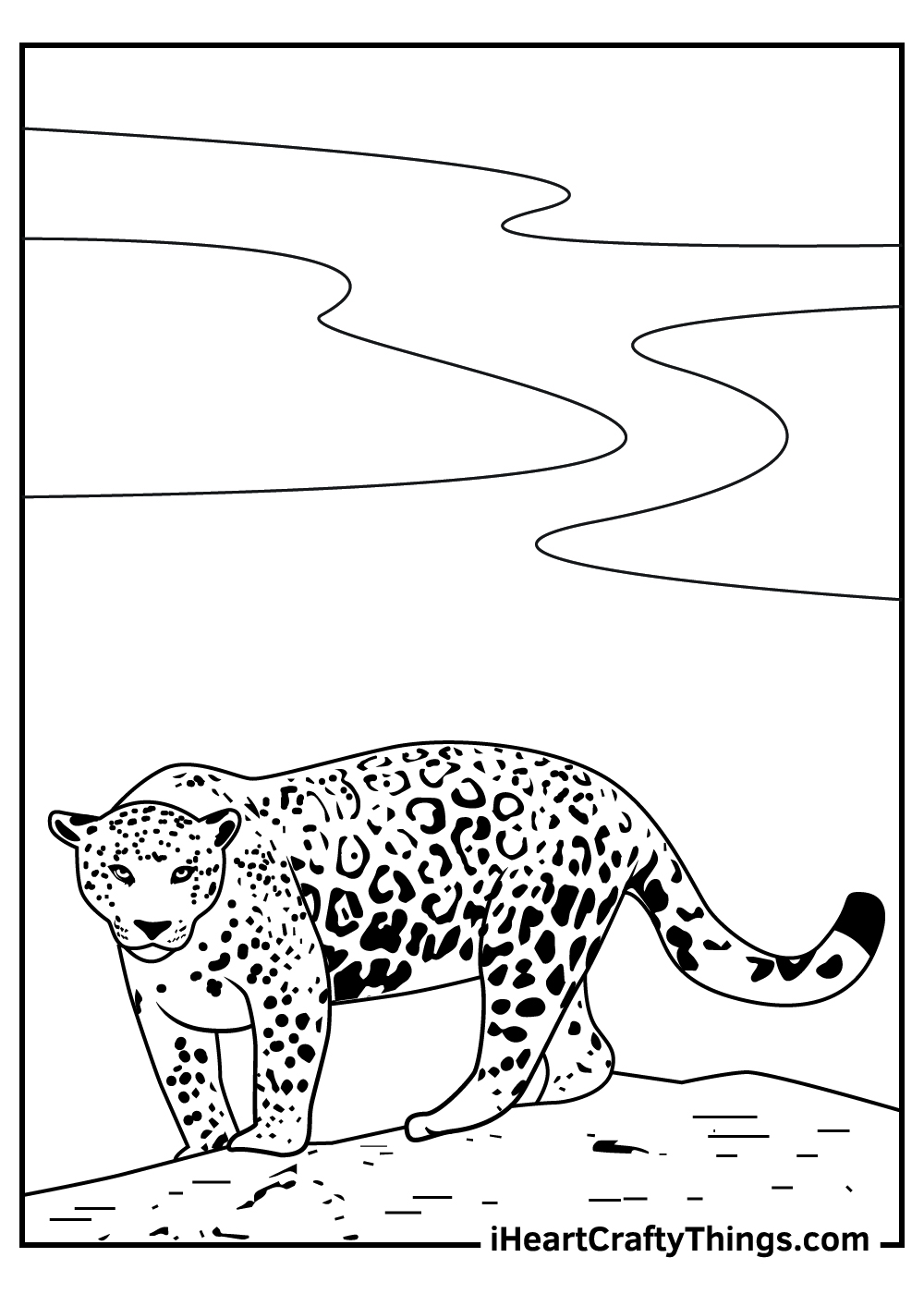 We have a closeup for this next jaguar coloring sheet.
The background of this image has a treeline taking up a good deal of space, so I think it would look really great to have a mix of your favorite shades of green to create the look of a dense jungle behind it.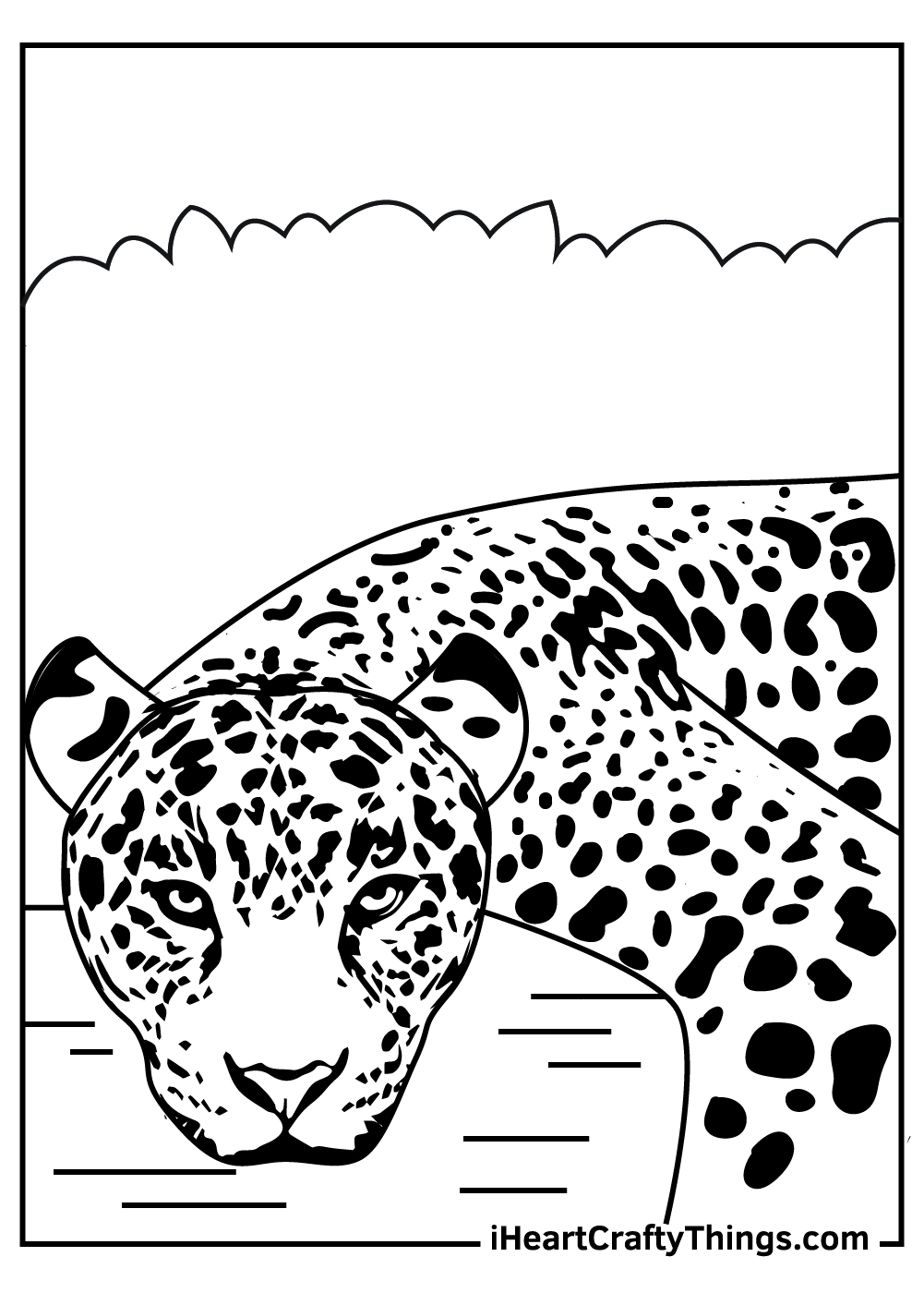 There's an intense look of concentration on the face of the jaguar in this jaguar coloring page.
The background is separated into segments for you to color, so maybe you could use colder colors like blue and green alternating in the segmented background to represent the concentration this jaguar is showing, perhaps as he stalks his next meal.
What colors will you use for this jaguar printable?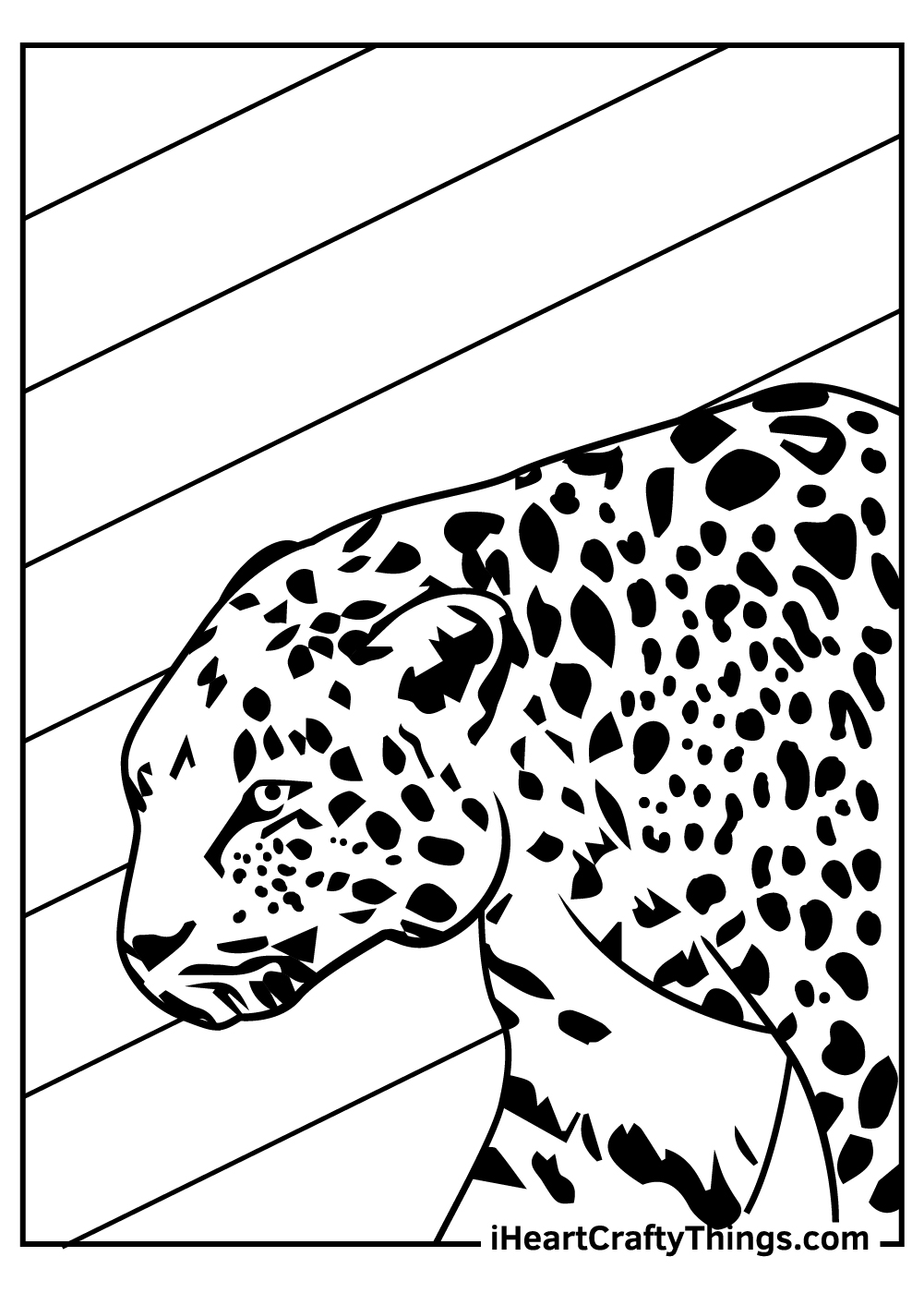 This next jaguar coloring printable shows one that's looking a lot more fierce than the previous one! I can only imagine the sound it must be making.
For this angrier jaguar, I would again suggest using colors to create a mood for this image, so this time you could use some warmer reds, yellows and oranges for the background to represent the angrier feel of this jaguar.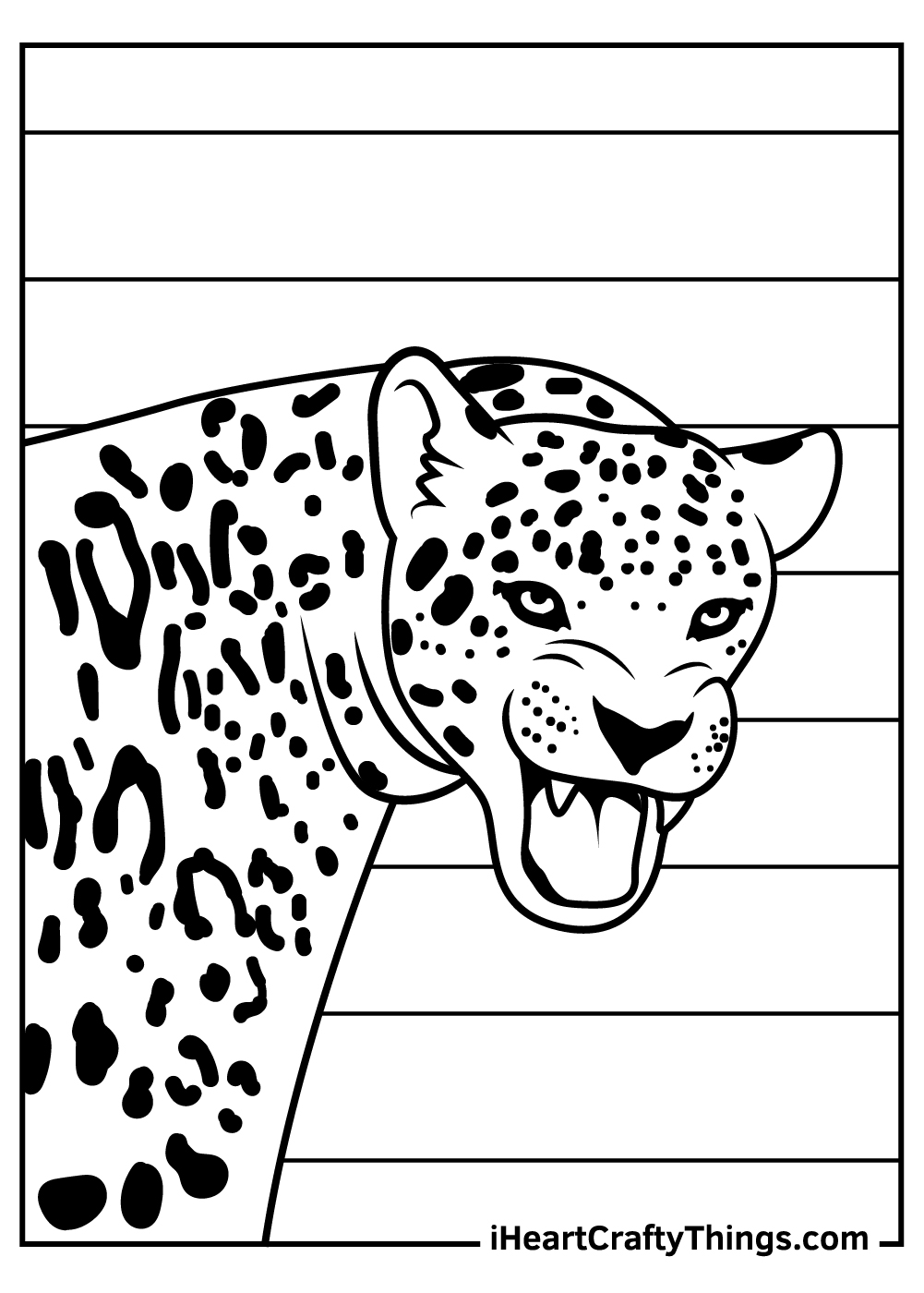 It's time to lay down and relax for this jaguar coloring sheet. This jaguar looks like it had a long day and needs to take it easy, so if I were coloring in this jaguar printable I would use a dark blue for the background of the image to make it look like a peaceful night time scene.
Will you go for this color or pick a different one to finish off this image?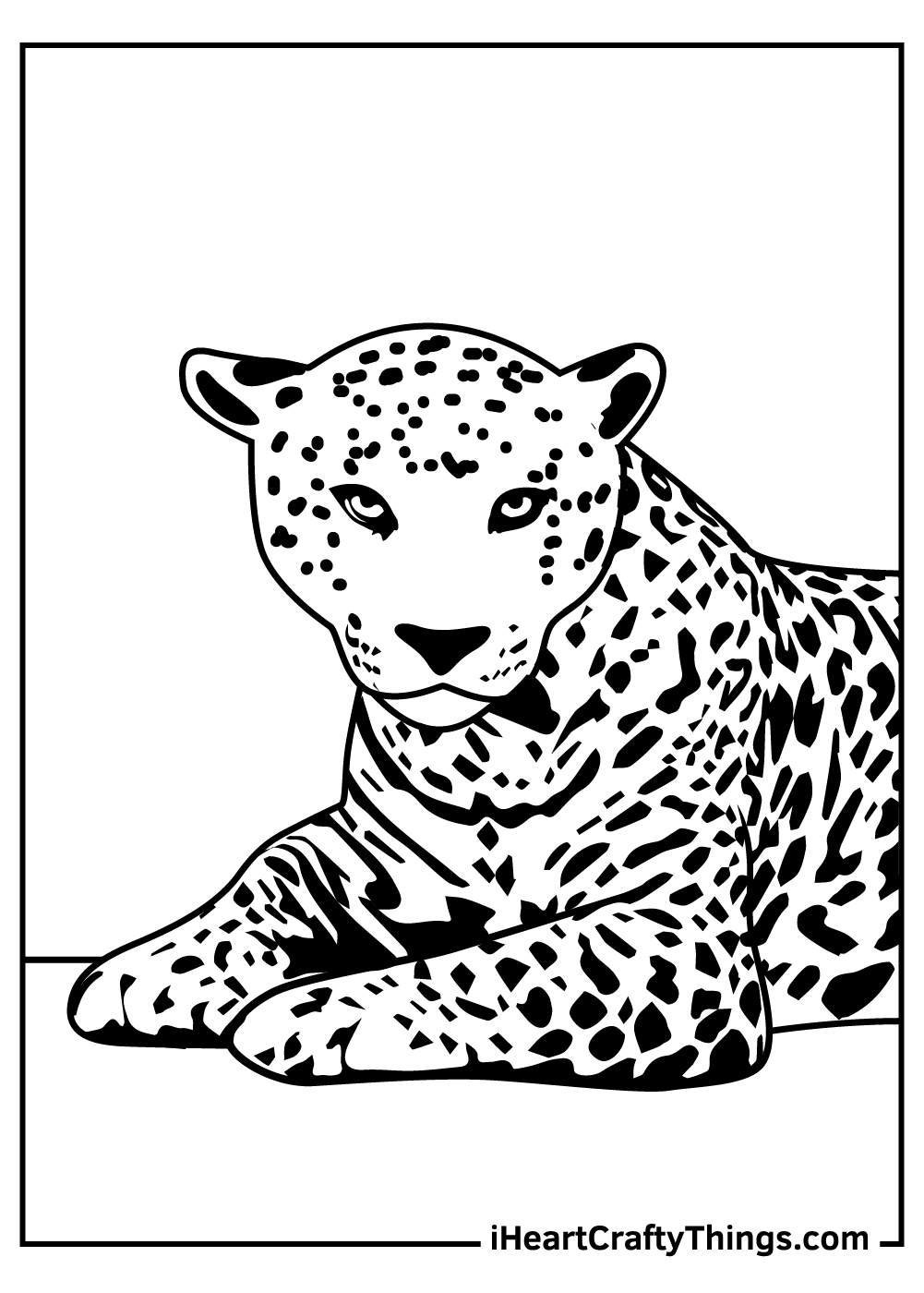 I mentioned before that jaguars typically have a yellow color with black spots, yet in rare cases they can also have an entirely black coat.
You could stick to these colors for these jaguar coloring sheets, but you could also create some more abstract pictures by using your favorite bright colors to create some gorgeous jaguar variations.
Maybe you could try out a unique color scheme for this free jaguar printable.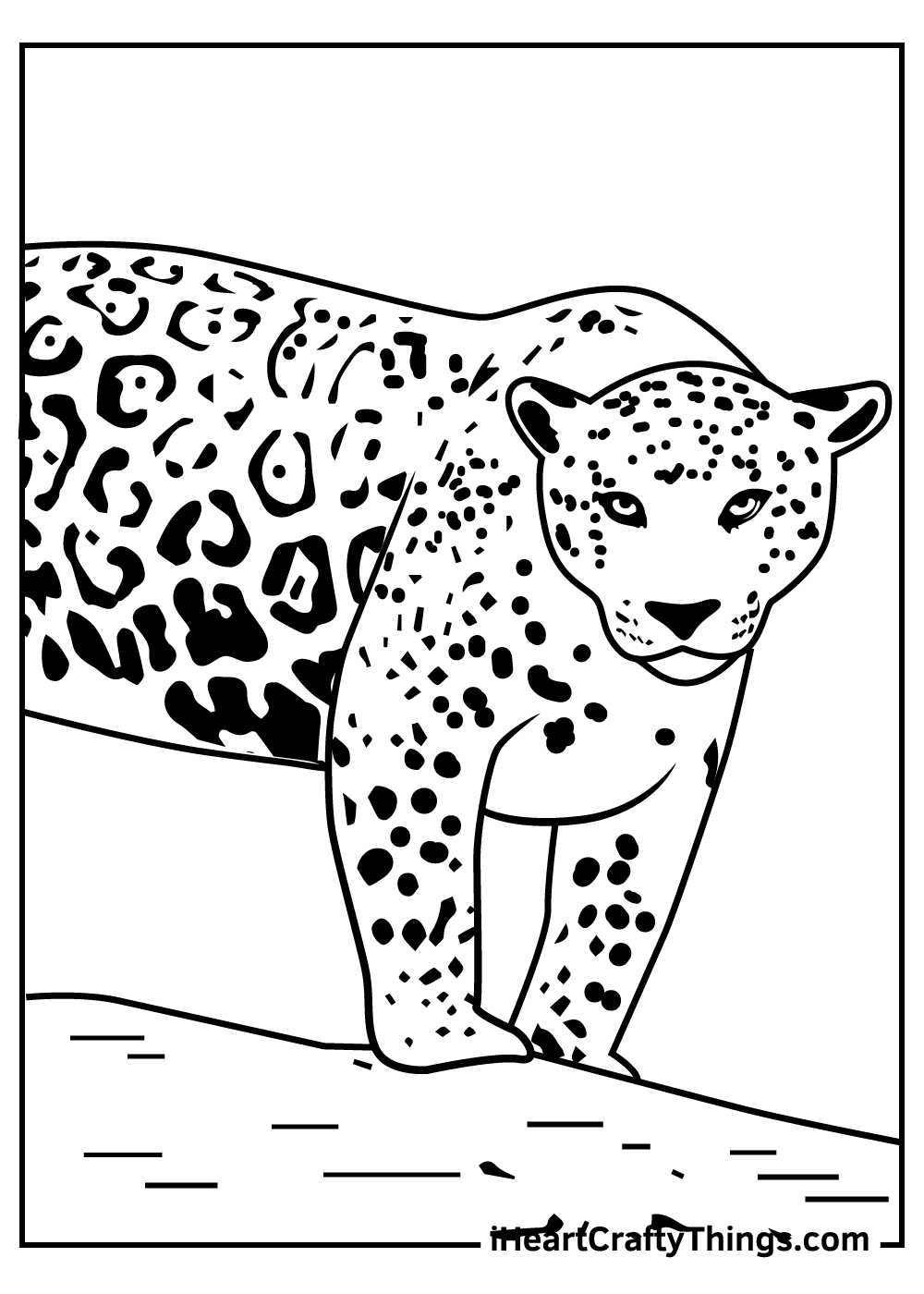 We have a more abstract image for this next jaguar coloring page.
There are lots of stars behind this happy looking jaguar, so I think that this image would look really good with some bright, happy colors. You could use a bright and cheerful yellow for the stars and maybe a bright red for the rest of the background.
How will you color in the star of this free jaguar coloring printable?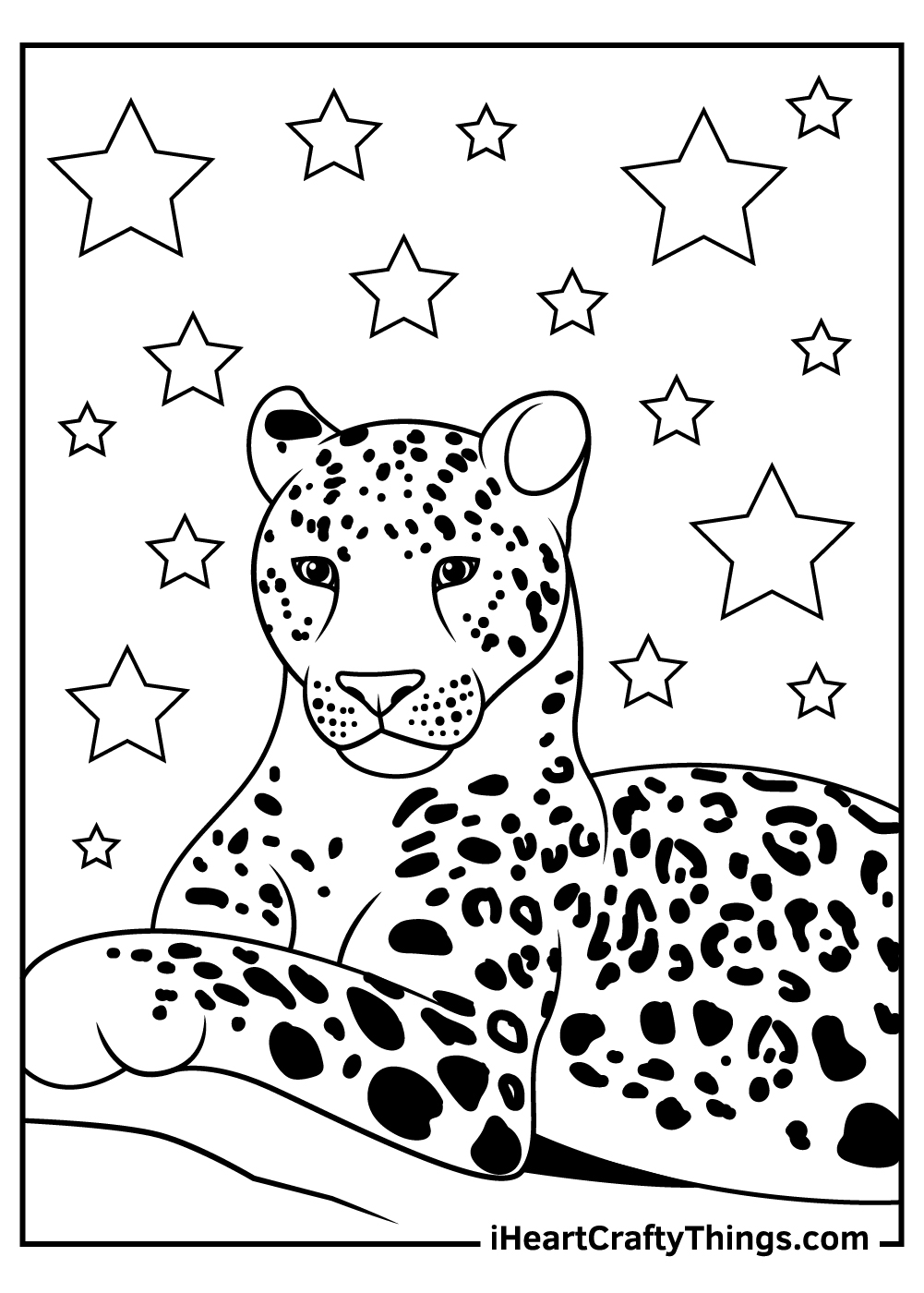 There's another angry looking fellow for this jaguar coloring page! He looks to be roaring and definitely doesn't look too pleased.
For this picture, it could be fun to try out a new medium, and I especially think that some watercolor paints could really finish off this image beautifully.
What will you use to color in this fearsome jaguar?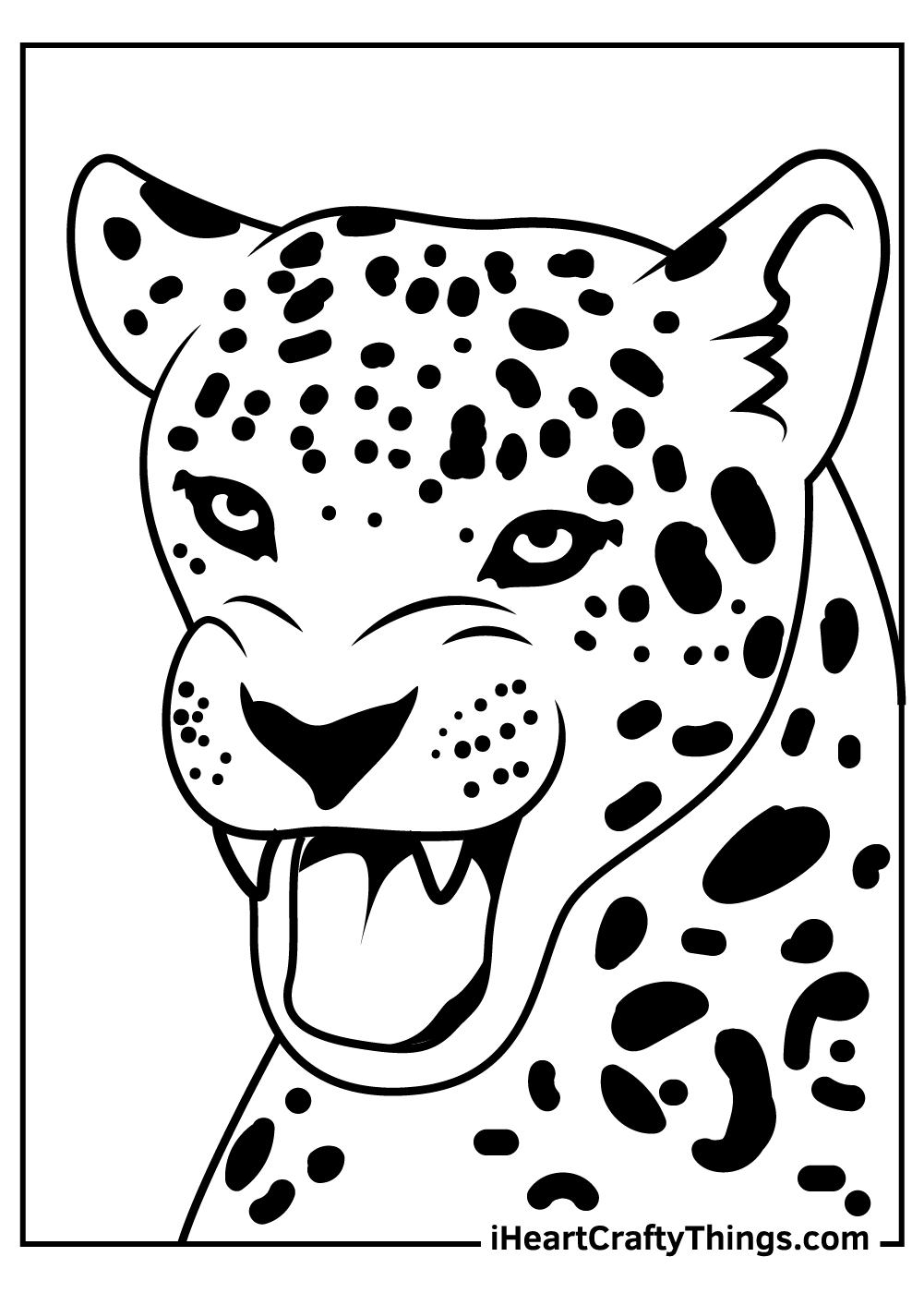 This next jaguar coloring sheet shows something I've never seen: a jaguar looking nervous and almost a bit embarrassed!
For this image, I would use a lighter green for the background to highlight that this jaguar is feeling a bit nervous or embarrassed about something. I wonder what happened to make him feel so surprised?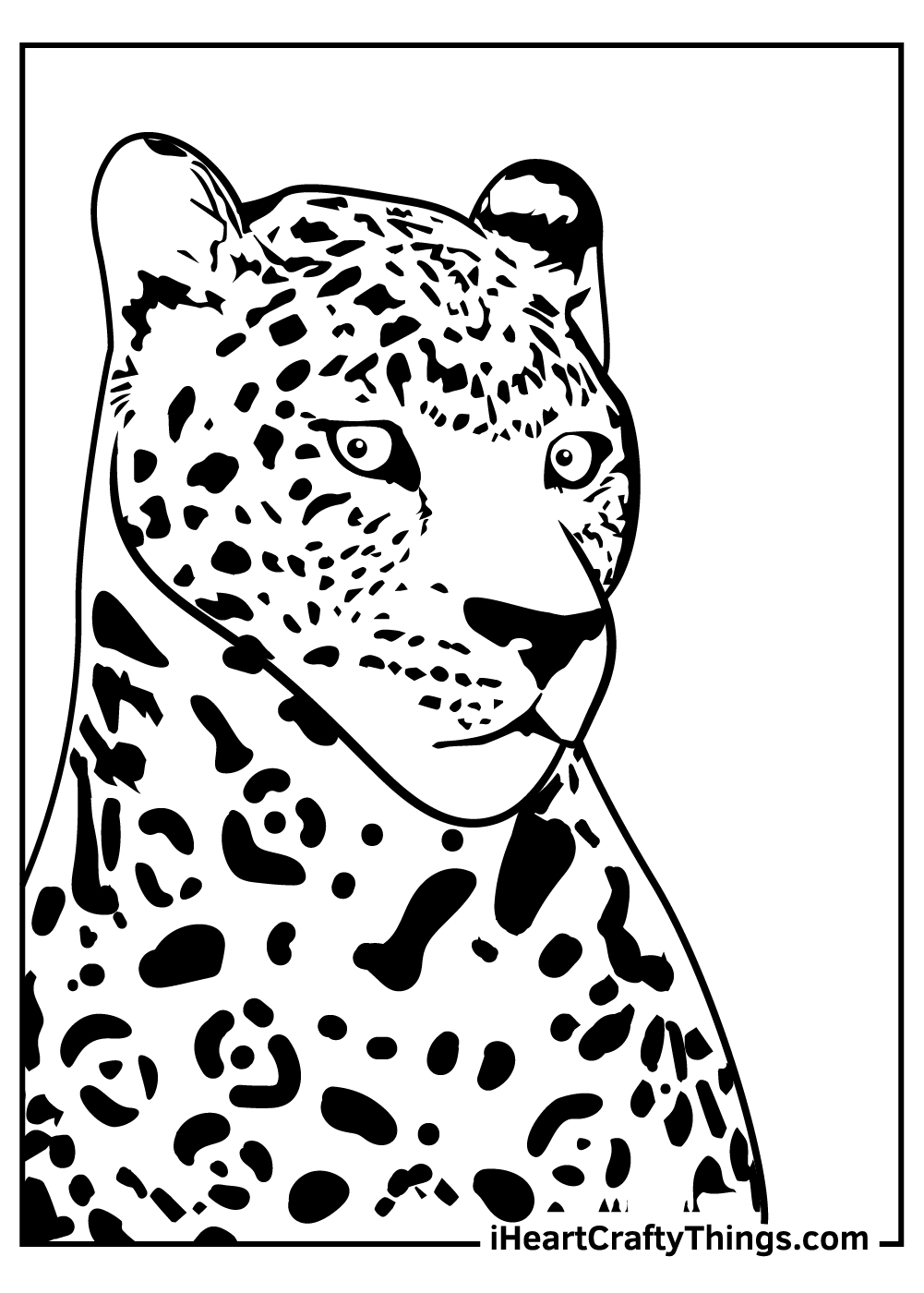 Our final free jaguar coloring page for kids shows a jaguar relaxing after a long day of coloring fun.
Just like the first jaguar printable we showed, the background of this image makes me think of a sunset setting, and to create a beautiful golden look for the background this is another one I would use some watercolor paints on.
That would really give it a softer look and give this jaguar coloring sheet a look of sunlight shining down on this relaxing jaguar.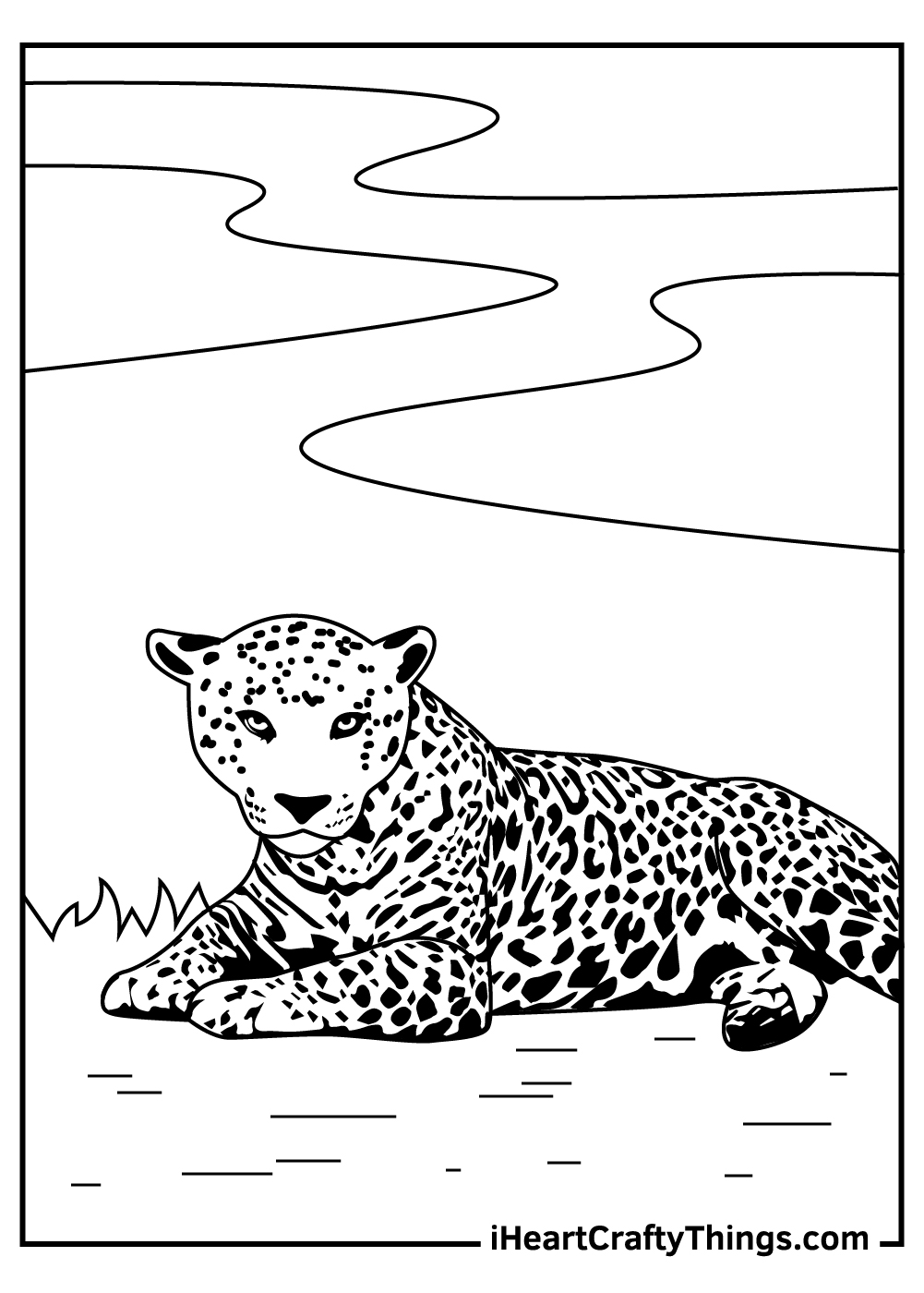 Jaguar Coloring Pages – Which will you choose?
We hope you had a really great time coloring in this series of free jaguar coloring pages for kids! Remember that all of our coloring pages and other printables are completely free for you to have a great time with, so you can print out as many copies as you'd like to experiment with color.
We think that these free jaguar coloring printables would lend themselves really well to different mediums like paints, colored pens and pencils, so we can't wait to see what you use!
Don't forget to like and share our Facebook page, as it's the best way to never miss out on any of our future free coloring pages and printables!
Also, we'd love it if you would share your favorite jaguar coloring sheets once you've colored them in to our Facebook page for us to marvel at!
We can't wait to see your colorful jaguar artworks.