On this page, you will find 19 all new Leopard coloring pages that are completely free to print and download.
Leopards are one of five species in the genus called Panthera, a member of the Felidae. One thing you should know about leopards is that they don't retreat when they get injured, instead they become more aggressive and vicious!
Leopards are, without a doubt, very fascinating creatures, which is what makes it one of our readers' favorite subjects to color.
Thus, we have created and compiled 10 free leopards coloring pages that you can download, print, and color for free!
A leopard's coat is predominantly muted yellow in color with uneven black spots all over its body. You can opt to color these leopards exactly how they originally look like or use a unique set of colors!
Feel free to mix and match colors to customize these leopard images! Why not try experimenting with different coloring materials as well?
Have fun transforming these colorless dogs and cats into colorful ones!
REMEMBER: You can get the COMPLETE set of these coloring pages >> HERE
Leopards Coloring Pages – Free to Print and Color
This leopards coloring page shows a leopard that seems so relaxed while it is lying on the ground. It is most likely a female leopard guarding her cubs right beside her.
This lovely cat is staring into the horizon, checking a scene, or perhaps it is looking right at you?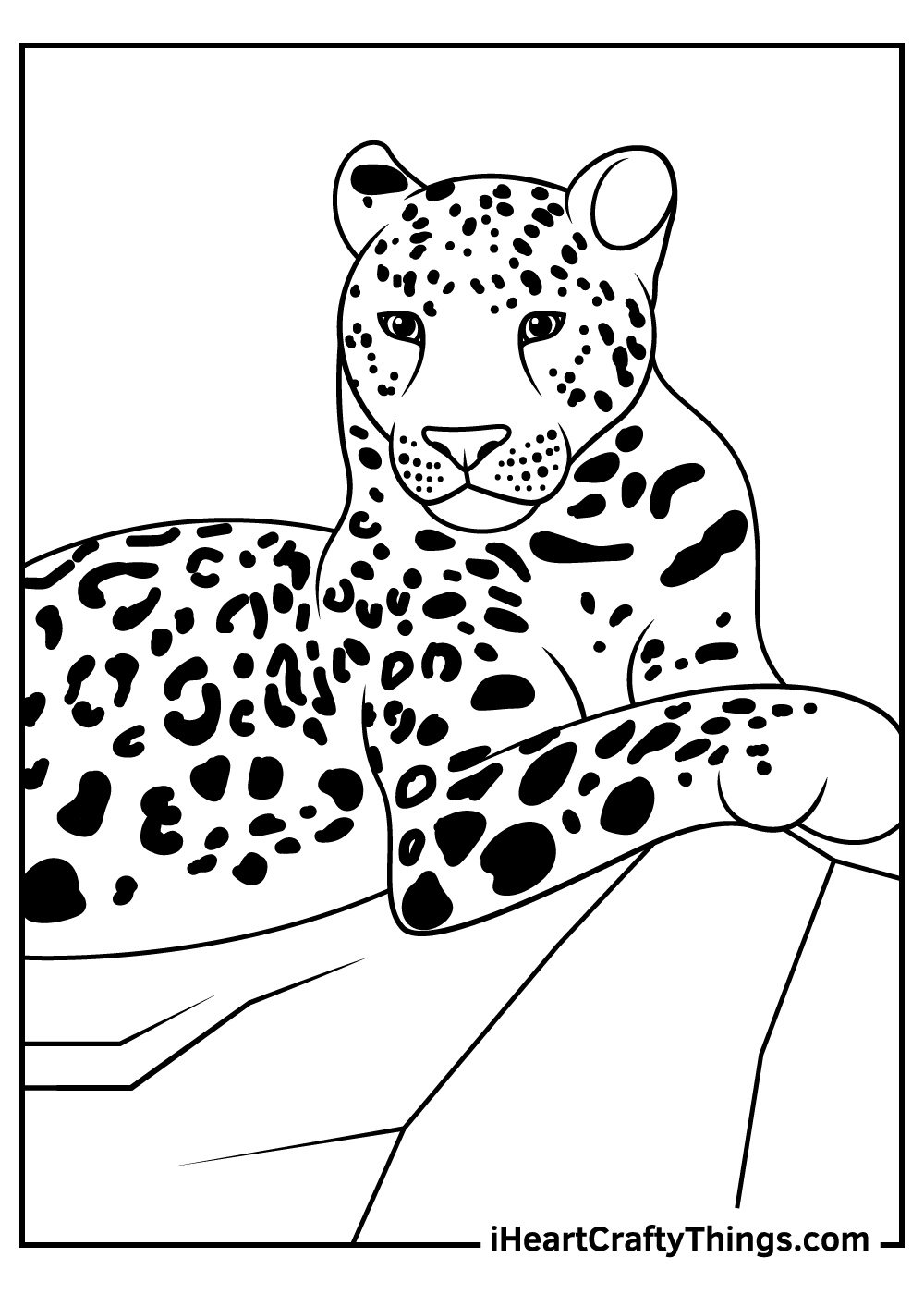 Meet this adorable and curious leopard cub. He is sitting in the grass, looking up at you with his big, playful eyes.
His spotted fur glows golden in the sunshine. He looks like he wants to pounce and play.
Color this cute cub with your favorite crayons or markers. Try different shades to capture his soft fur and bright eyes. Add some details like grass, trees, or flowers in the background as well.
You can make it look realistic or get creative with fun patterns and designs.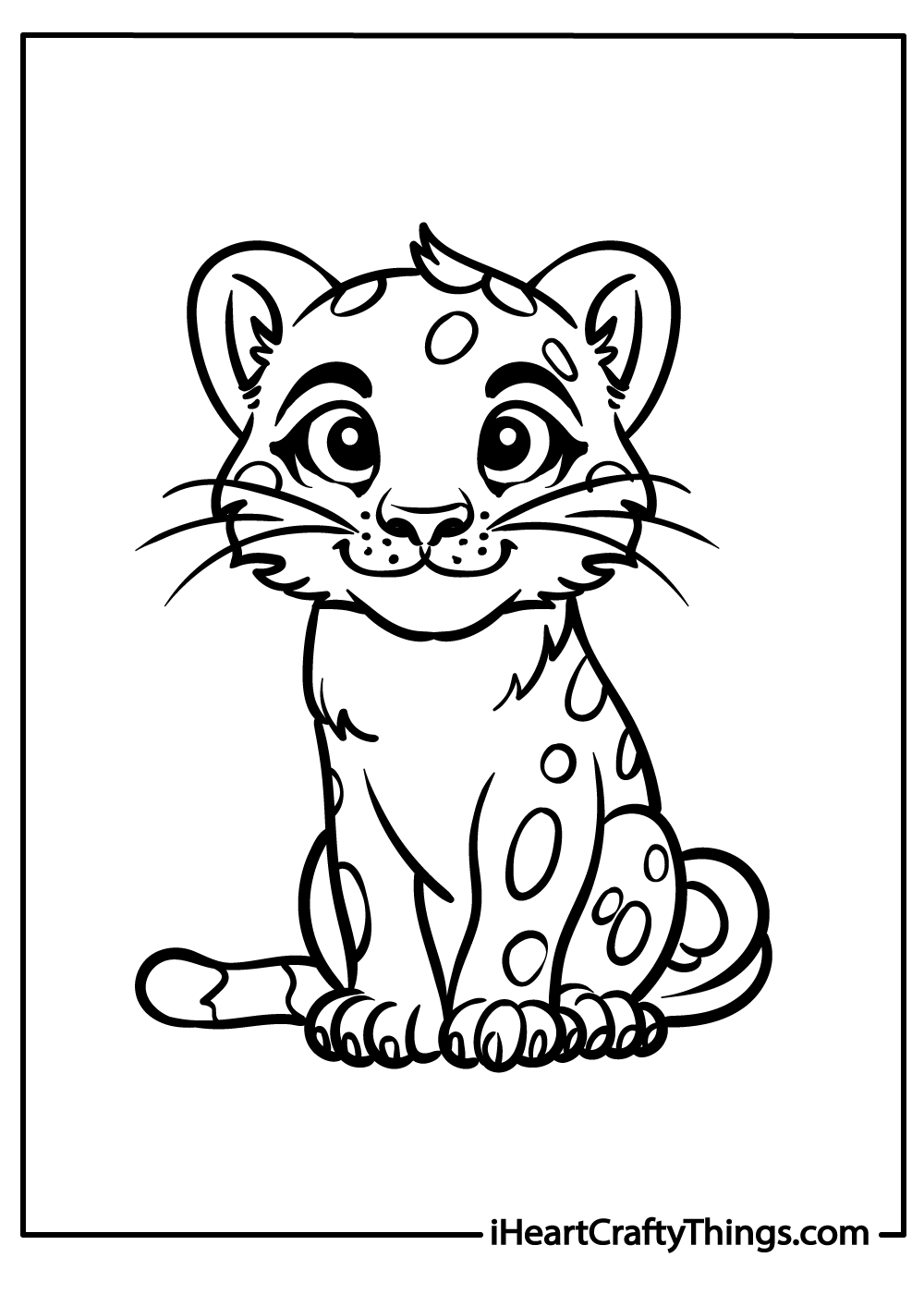 The leopard on this leopards coloring page looks like iis on the move. He or she might be moving to a new den or looking to pounce on a certain prey he or she has recently spotted.
What background are you imagining here? We can't wait to see which colors you will use!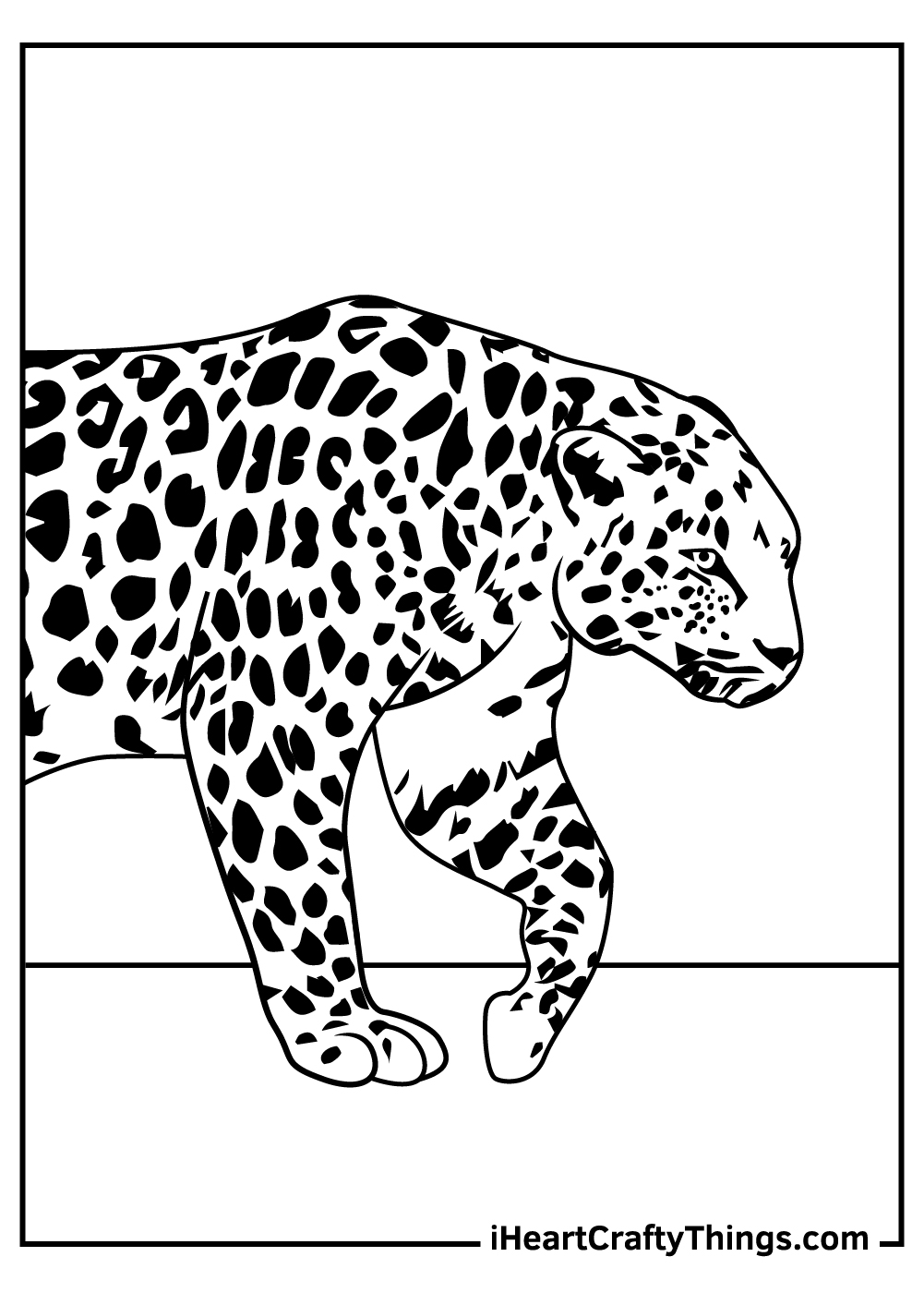 Something has startled or caught the attention of the leopard in this leopards coloring page. It might be an approaching enemy or a potential prey wandering nearby.
The diagonal lines on this coloring page may be depicting some fast-action drama that will unfold anytime soon.
The colors that you will choose for this particular leopard coloring page will make all that drama stand out!
REMEMBER: You can get the COMPLETE set of these coloring pages >> HERE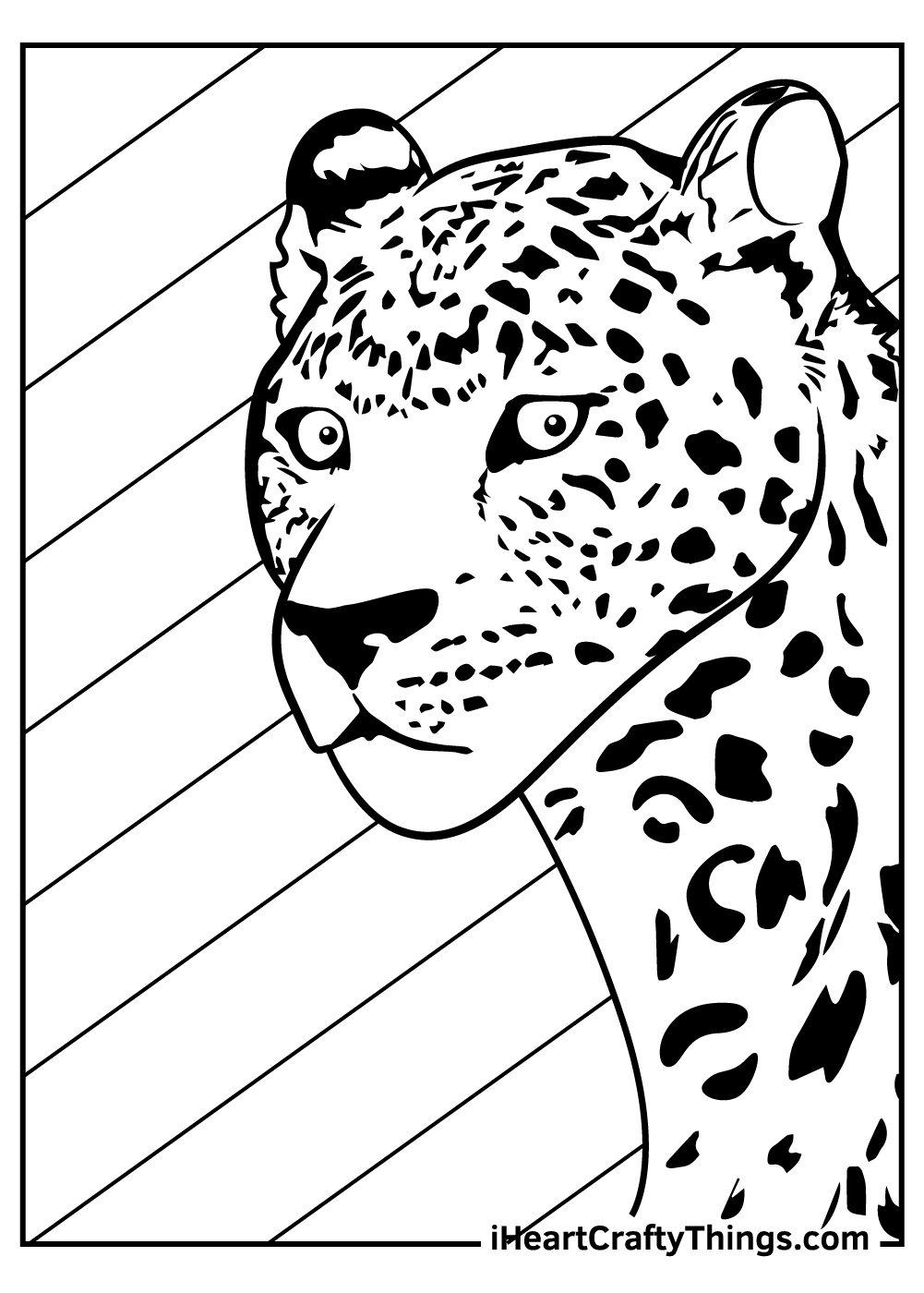 This little leopard is having a nice cat rest sitting on the floor. He looks so peaceful and relaxed. But he also seems a little sleepy as he waits for his mama to come back.
Color this calm leopard with relaxing hues to capture the serene scene. Try light browns and tans for his fur and draw tiny green leaves around him.
Add other calming colors to the background like blues for the sky. Use long, gentle strokes with your crayons or colored pencils to complete the tranquil picture.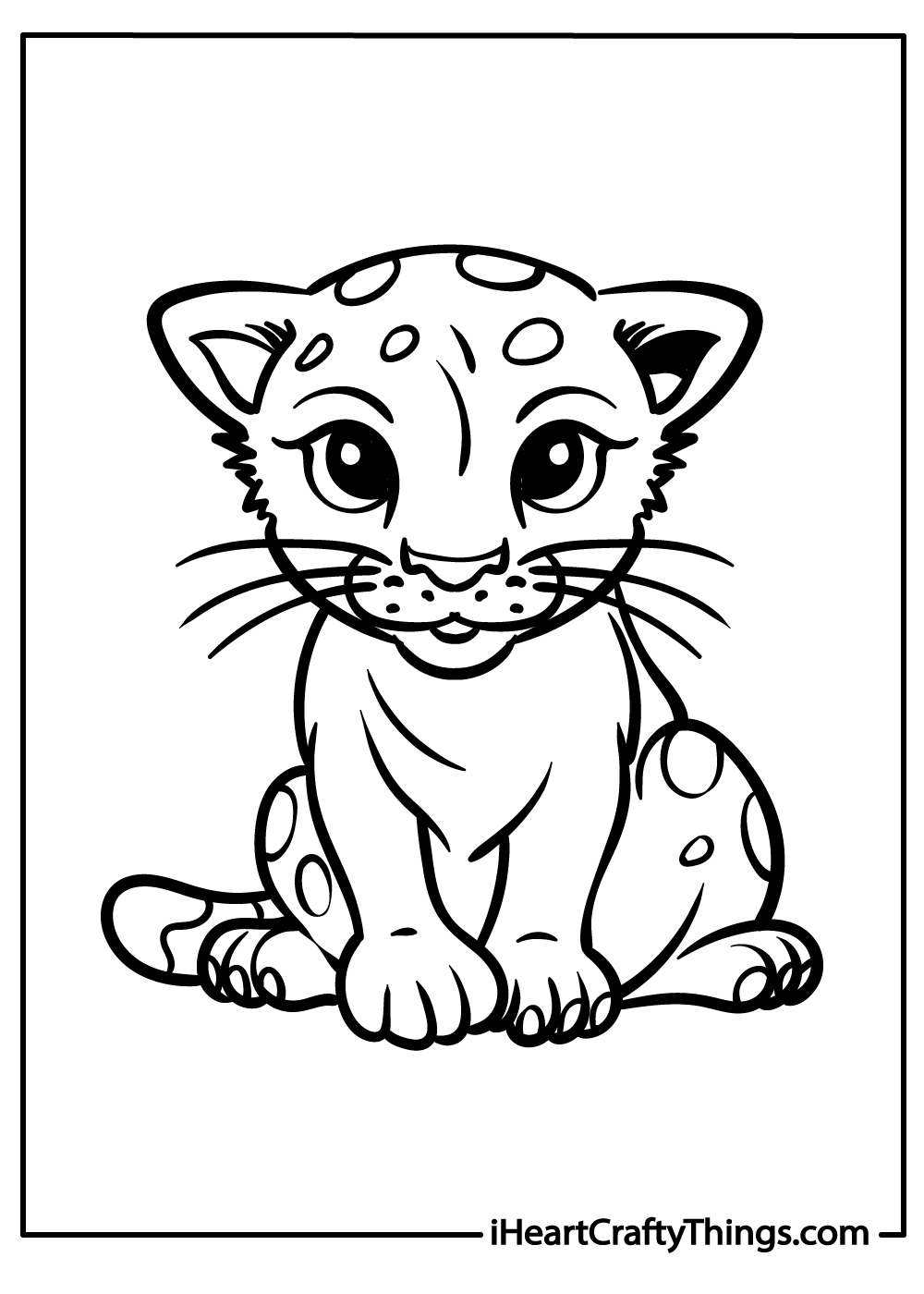 The leopard in this leopards coloring page seems serious and does not want to mess around! With its muscular build and fierce eyes, no one would surely dare to mess with this terrifying leopard!
Did you know that in the wild, leopards may live up to 10 to 12 years? The oldest known leopard is said to have reached 17 years of age.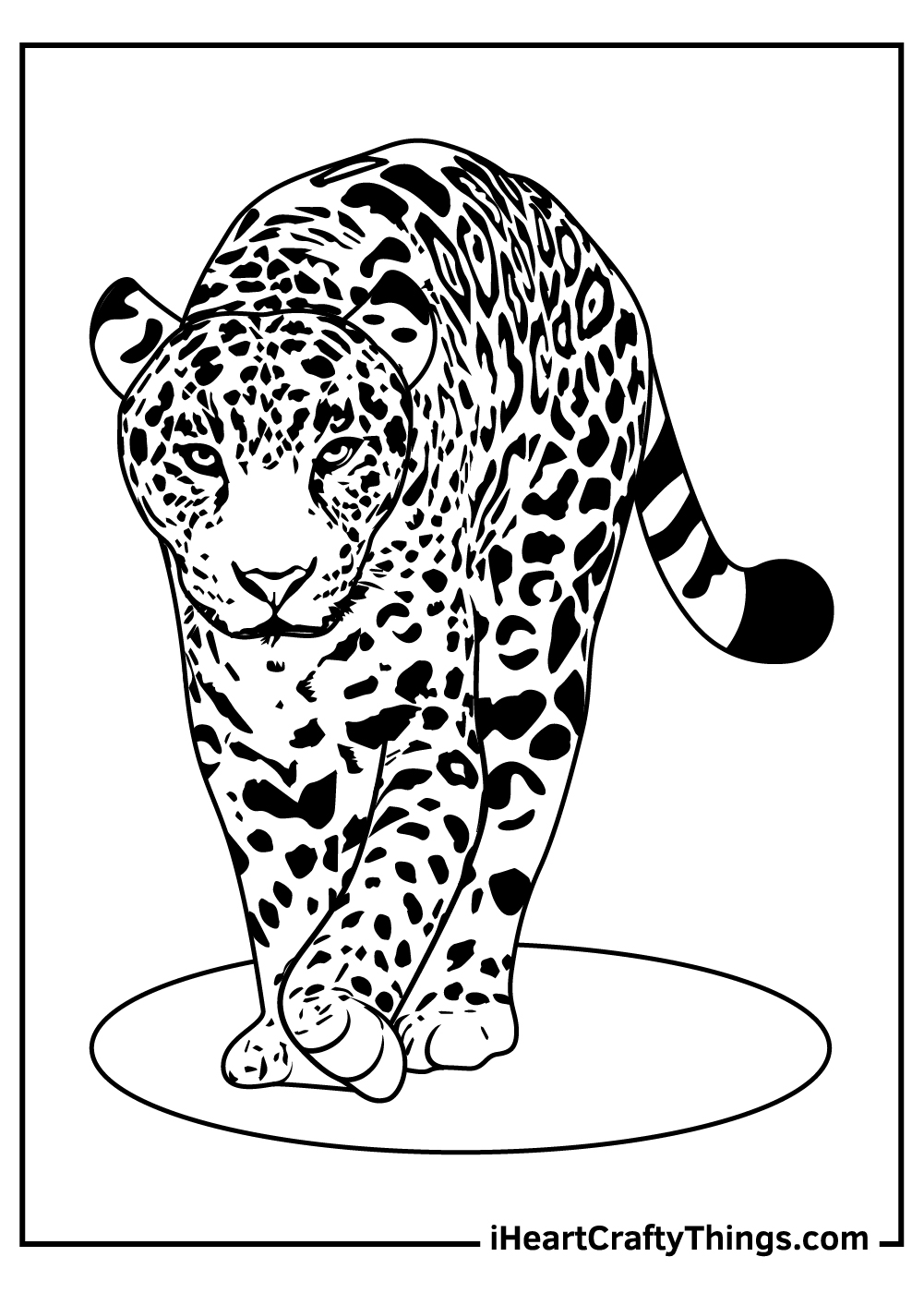 In this leopards coloring page, there's a leopard that looks focused. She might be a female guarding her cubs right behind her, or a predator might be lurking right in front of her.
Either way, this leopard knows what it wants and it will surely get it.
Did you know that leopard cubs do not get to be born with their distinctive spots called rosettes? Cubs only get those rosettes when they mature.
REMEMBER: You can get the COMPLETE set of these coloring pages >> HERE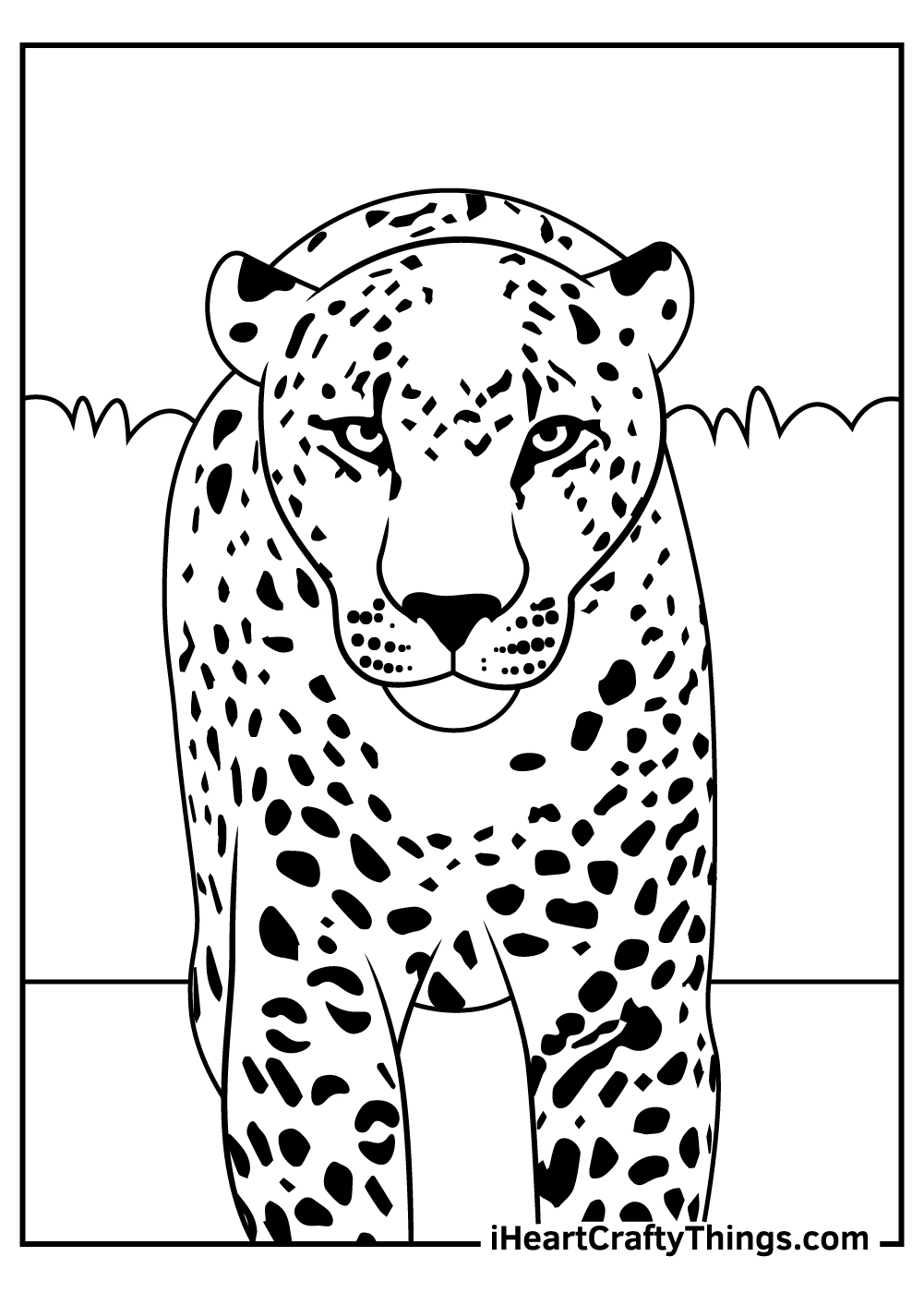 Look at this cute baby leopard. He's sitting on his hind legs, looking up at you with huge, playful eyes. His tiny ears perk up while his little pink nose sniffs your way.
He has the cutest round face and tiny whiskers. His fur is covered in tiny black spots, just like his mama.
The best colors to use here are warm, happy colors to bring this sweet cub to life. Try shades of orange, yellow and brown for his fur. Add black spots all over his coat.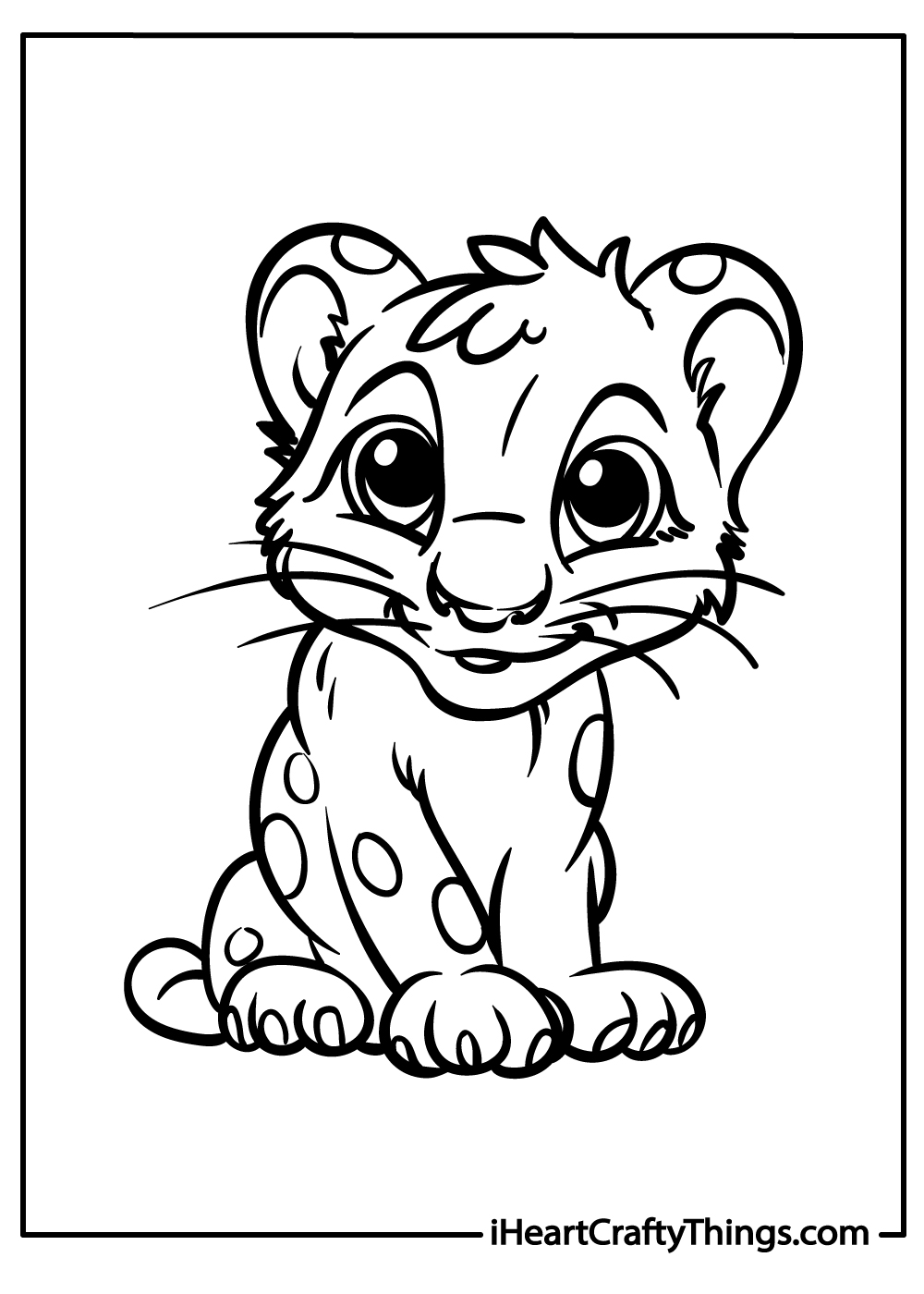 This leopard, as seen in this leopards coloring page, looks totally calm and composed.
It seems to be looking at a herd of gazelles in the distance but it is not interested because it recently had a sumptuous meal and is still full.
Leopards aren't fussy eaters and can dine on antelopes, some primates, birds, or foxes.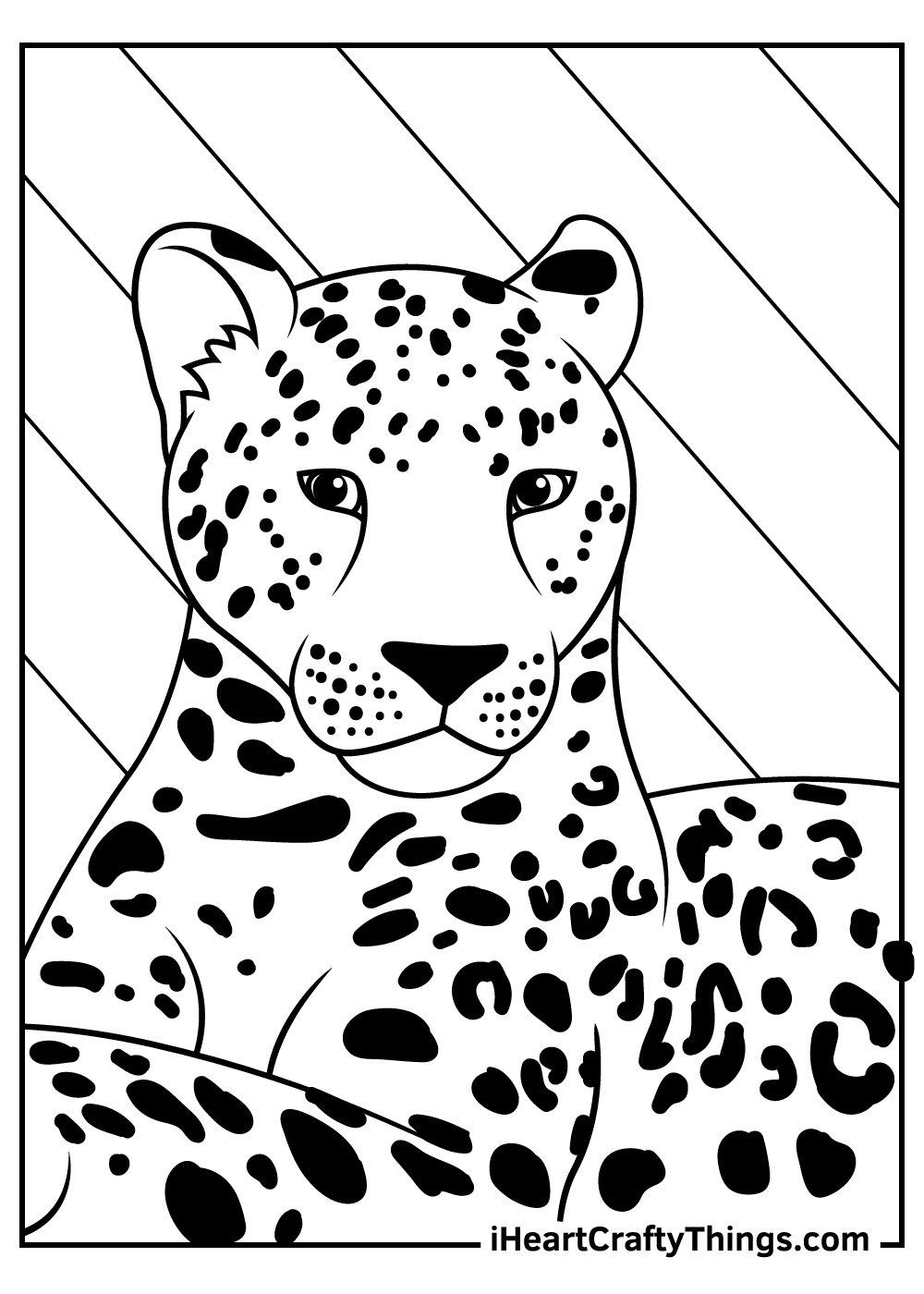 In this leopards coloring page, an adult leopard seems to be walking perpendicular to a prey or maybe a competitor he or she is gauging.
Will you use normal leopard colors here? Why not consider using a different hue or tint for this leopard? Remember, there are no limits to your imagination.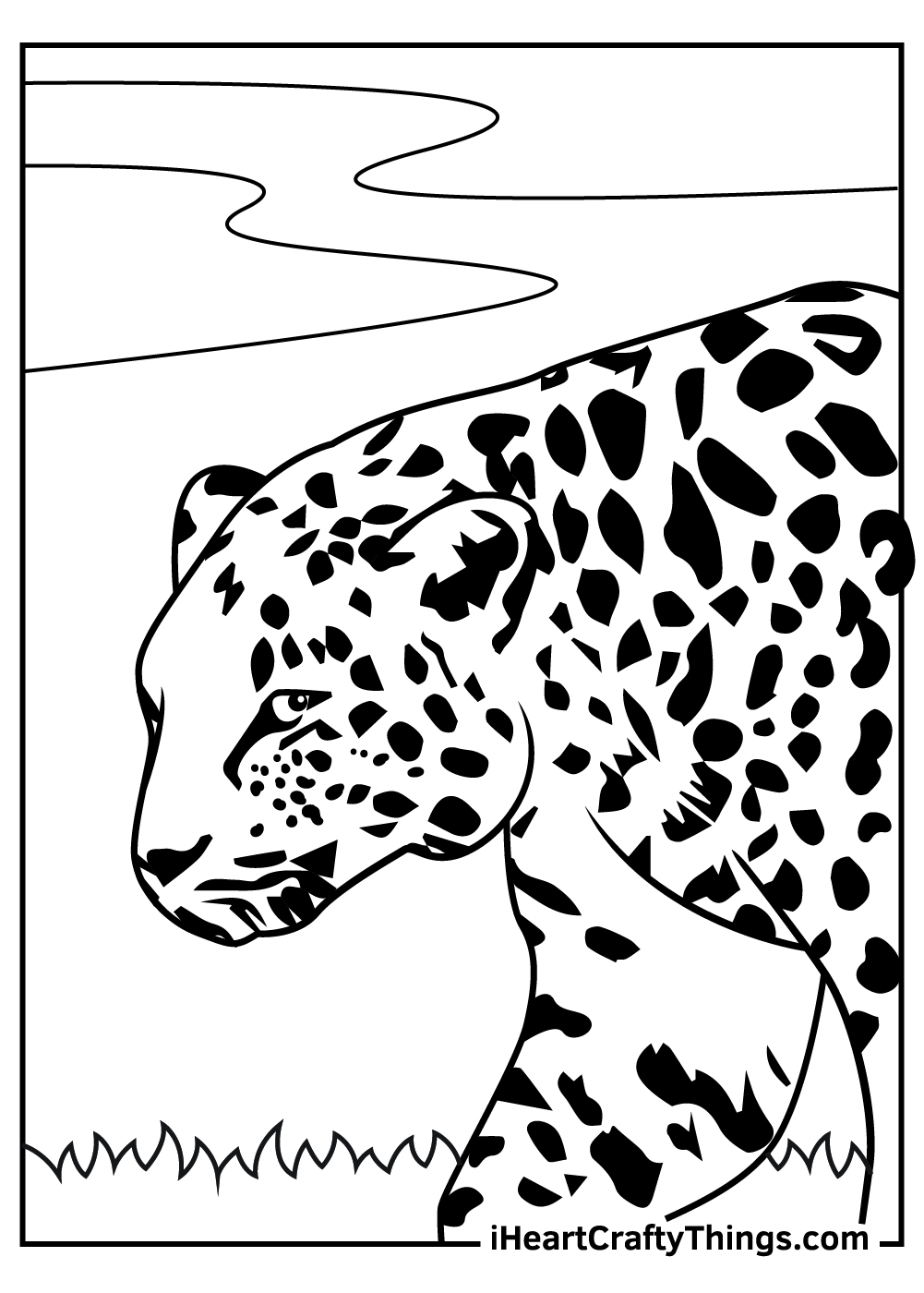 The rosette is a distinctive marking found in leopards, as shown in this leopards coloring page. However, rosettes are also found in other cat species such as cheetah, jaguar, snow leopard, liger, tigon, ocelot, and Bengal cat.
Will you use the typical leopard colors in this coloring sheet, or will you use a unique set of colors?
REMEMBER: You can get the COMPLETE set of these coloring pages >> HERE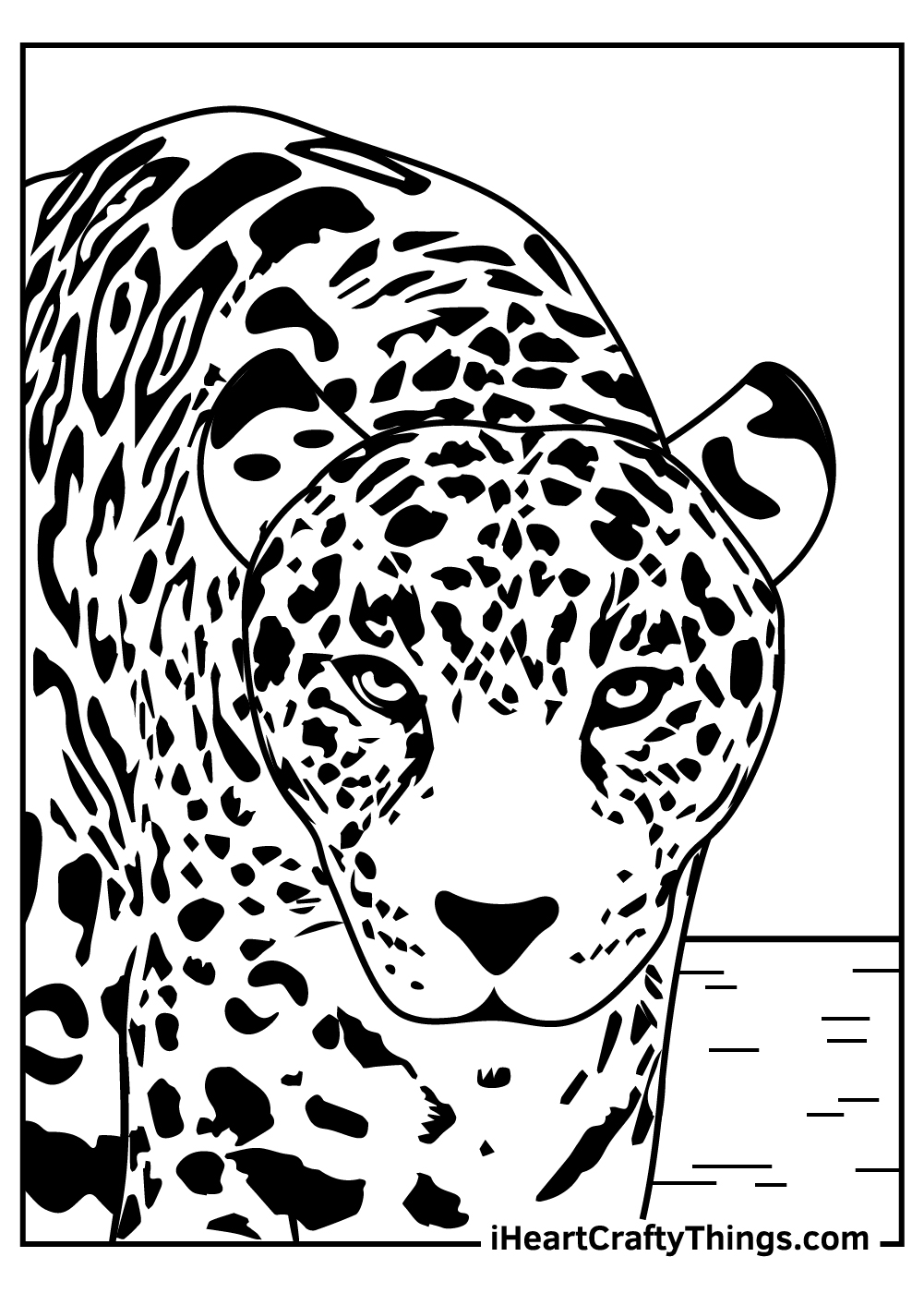 Leopard cubs love to explore and play. This little cub in this leopards coloring page wants to investigate everything around him.
See how he's smiling brightly and his head is tilted to the side in a playful manner. But this little cub still has a lot to learn about how to survive in the wild.
Use short strokes with brown and black markers to fill in the cub's fuzzy fur. Gently blend colored pencils like tans and yellows to add dimension.
Also, shade the edges with darker brown and softly smudge for depth.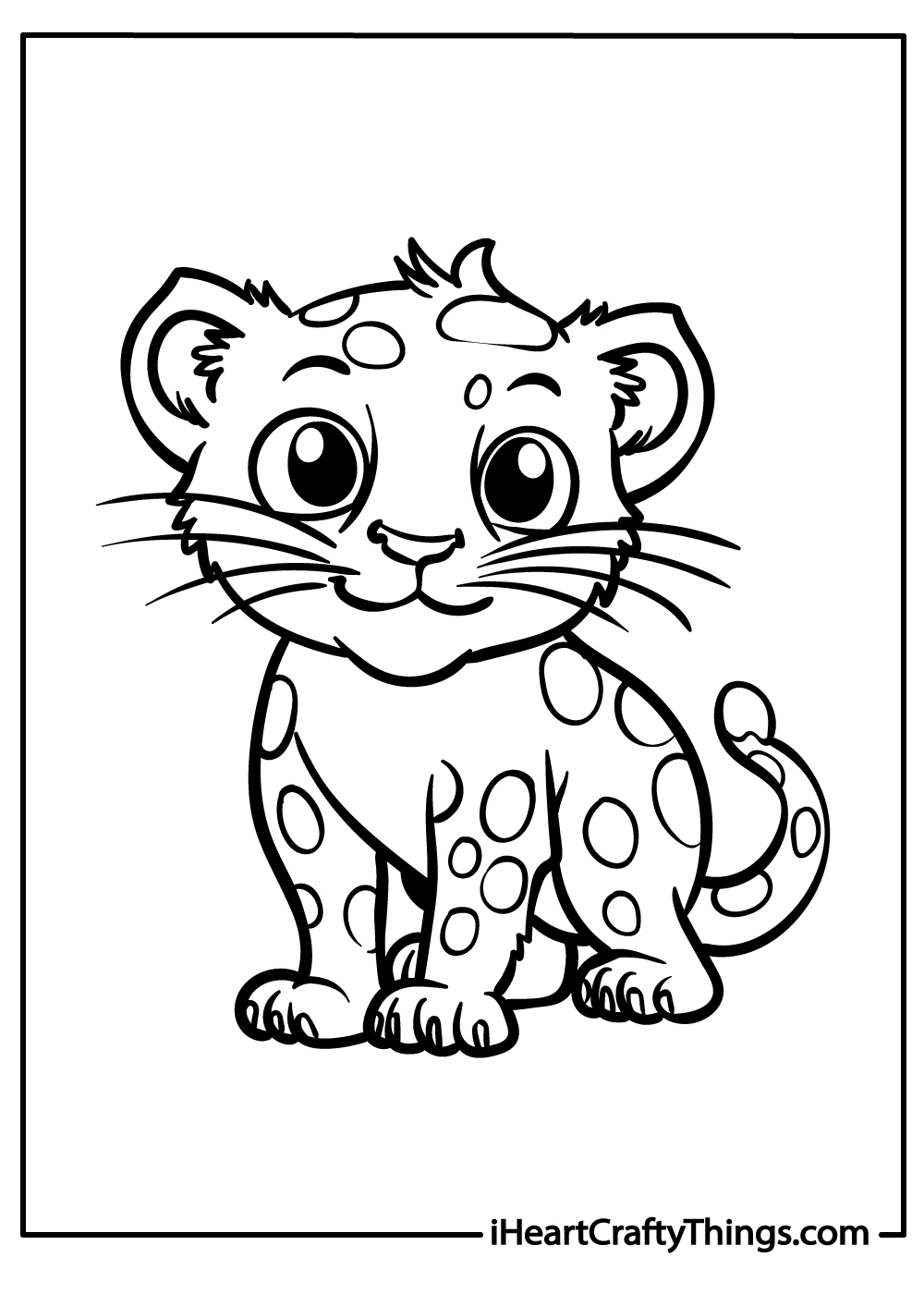 With its eyes wide open, the adult leopard in this leopards coloring page seems to have found a "jackpot" prey lurking near a depleted body of water.
Its last meal was nearly 20 days ago because it failed to catch the antelope a few days ago.
Hopefully, this leopard will be able to catch its prey this time so it can finally have a satisfying, delicious meal!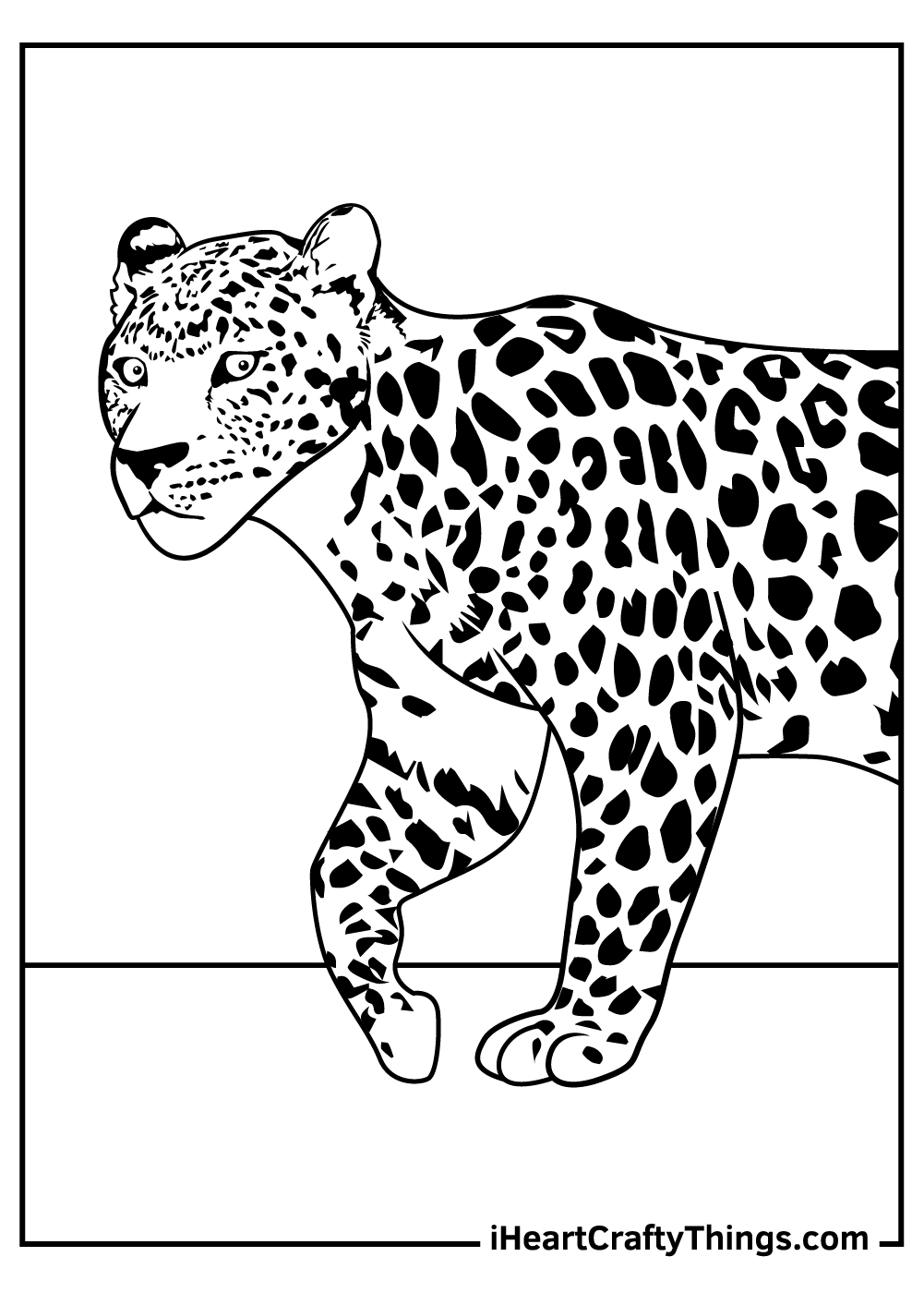 This leopards coloring page perfectly captures the face of a leopard. It looks savage with its fierce eyes and bold features. Leopards are truly beautiful creatures!
The leopard's face is surrounded with glimmering stars all over the background, adding an extra dramatic effect to the artwork. What colors will you add to this printable?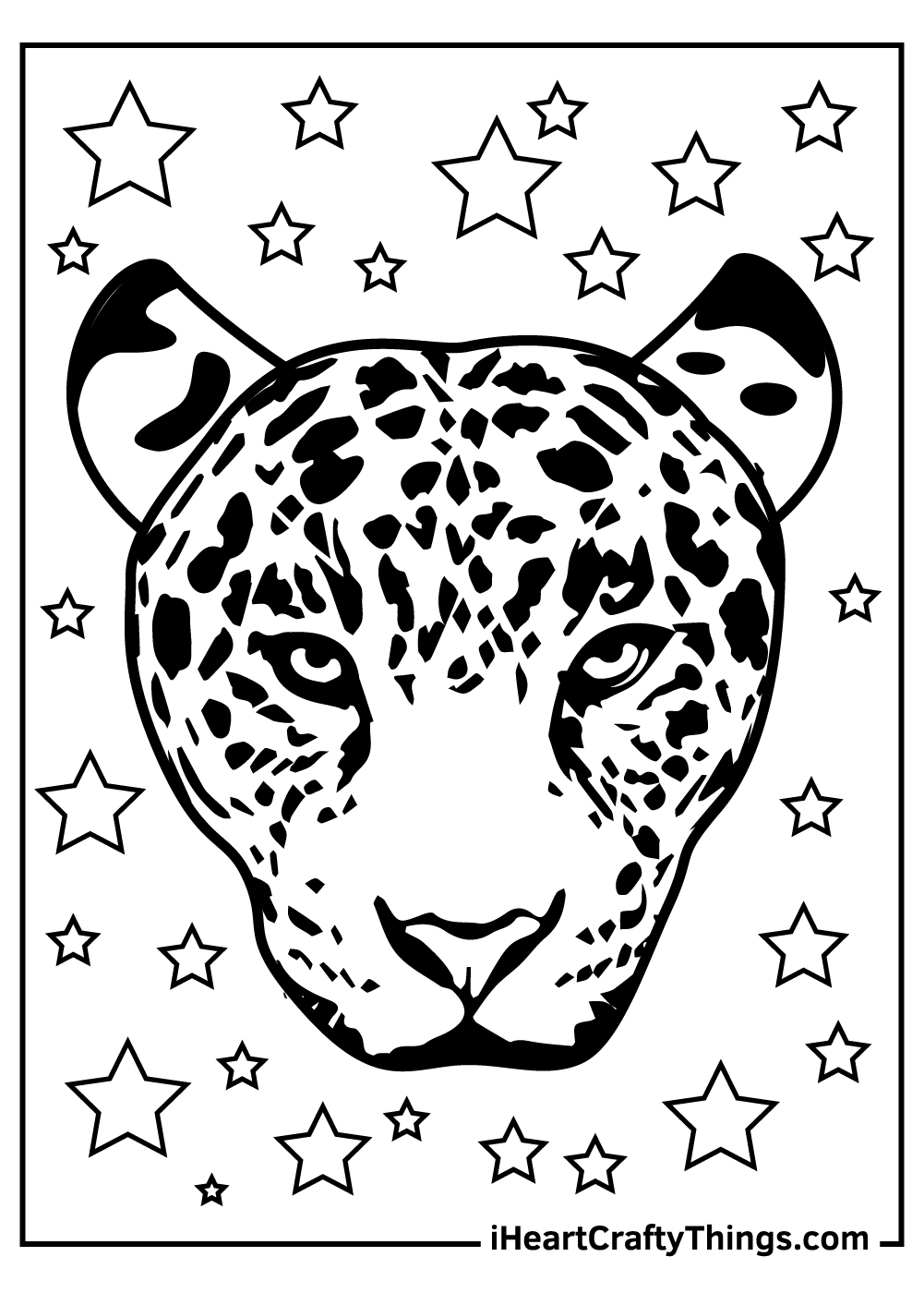 This fierce leopard is ready to leap into action. Look at his muscular build, fully prepared to run down prey at a moment's notice.
His piercing gaze is focused, abs tense, as his long, elegant tail swishes back and forth.
What colors will you use in this leopards coloring page? Try vivid shades to color this big cat to capture his intensity. Rich oranges, yellows browns will make his fur shine.
Make those spots pop with deep charcoal grays and black.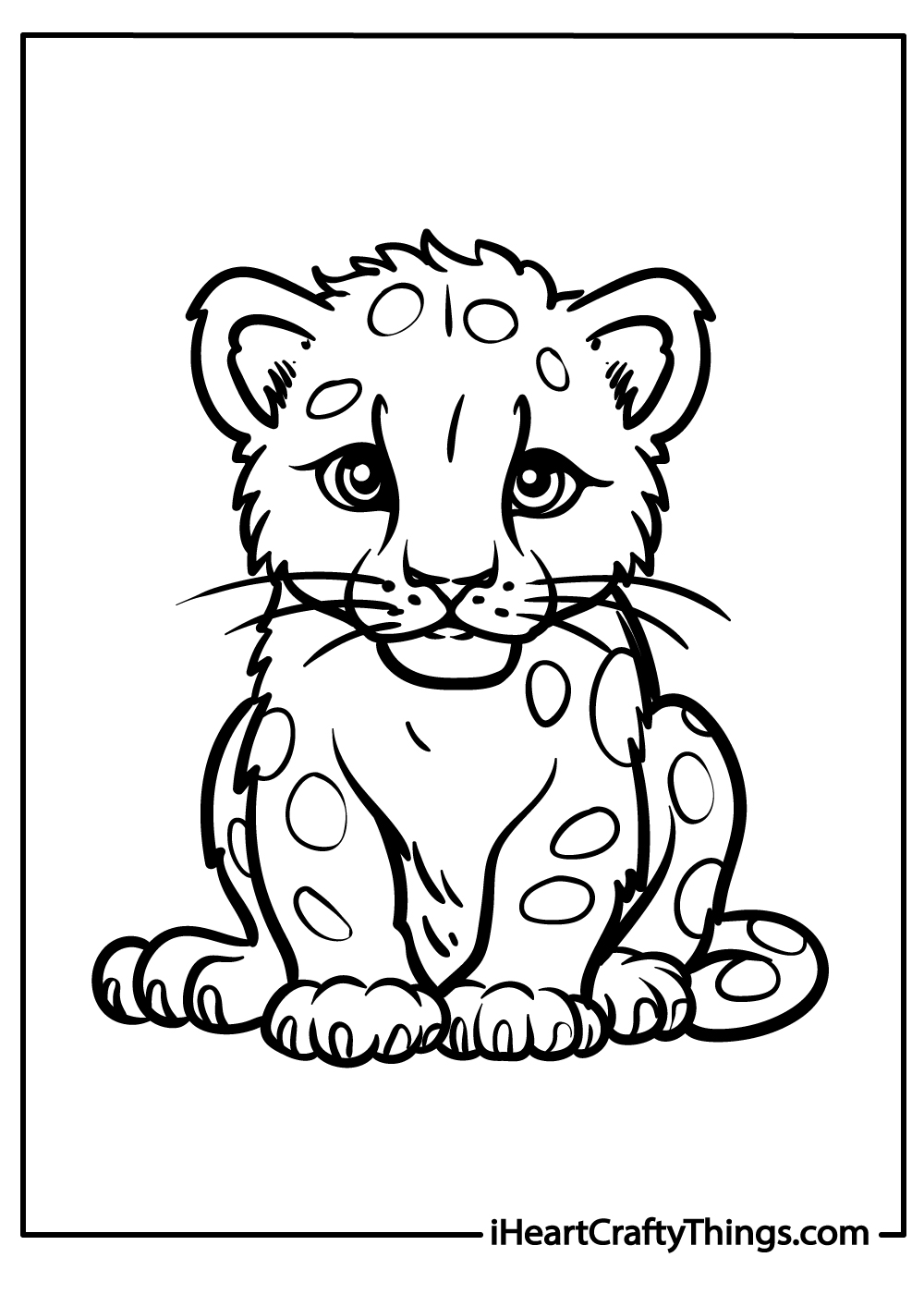 Leopards Coloring Pages
We hope you enjoy these leopards coloring pages. It consists of simple and intricate illustrations of adorable pet dogs and cats.
Coloring these leopards coloring sheets is the perfect activity for kids of all ages who are fascinated with leopards or love animals in general.
Remember, all of our crafts and coloring printables are 100% free for you to download, print, and color. We are always updating our catalog and uploading new content to our catalog.
So, don't forget to keep re-visiting our website to continuously enjoy all-new coloring pages.
Once you've finished coloring your leopards coloring printables, you must be very proud of yourself for completing a masterpiece—as you should be!
Make sure to show off your work of art and share it on our Facebook page. We're sure it looks amazing!
We can't wait to see all of your colorful leopard artworks!
REMEMBER: You can get the COMPLETE set of these coloring pages >> HERE