I love making crafts with old CD's! I feel like the circle base of a CD is similar to a paper plate and the ideas and creative crafts you can come up with are endless.
This recycled CD bear craft is simple and fun for kids to make and makes a great craft after seeing some bears at your local zoo. We recently visited the zoo and watching the Grizzly Bears wrestle around together in the water was a highlight of our trip.
Look for some fun book recommendations to go along with this craft at the end of this post.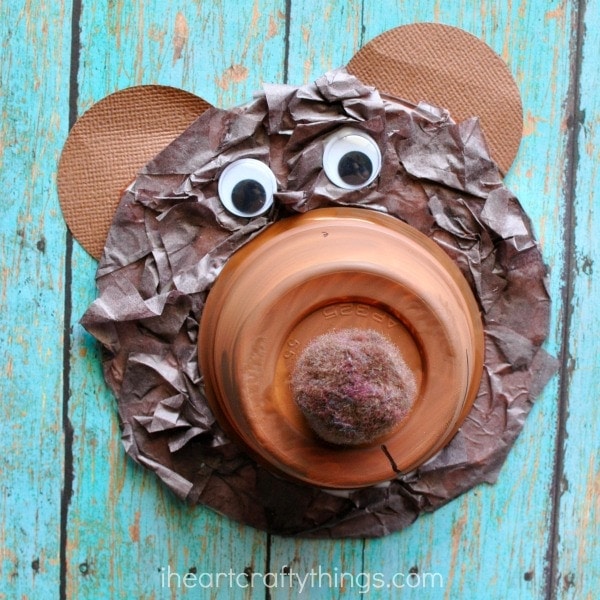 This post contains affiliate links to the products mentioned. Read our disclosure policy for more information.
How to Make a Recycled CD Bear Craft

Supplies Needed for this Easy Bear Craft
– old CD
– brown tissue paper
– empty and washed plastic fruit cup (we used an Applesauce cup)
– brown acrylic paint
– paintbrush
– brown cardstock paper
– googly eyes
– brown pom
– black marker
– scissors
– glue
Directions for this Recycled CD Bear Craft
1. Start by painting the outside of your plastic fruit cup with your brown paint. Let it dry completely. It may need two coats to cover it completely.
2. Add glue all over your CD and cover it with crinkled brown tissue paper squares.
3. When your paint is dry, add glue all along the top rim of the fruit cup and then glue it down onto your CD for the bear muzzle.
4. Cut brown ears out of your cardstock paper and glue them onto the back of the CD. Glue your googly eyes and brown pom onto your bear. Finish your recycled CD bear craft by using your black marker to draw a mouth on your bear.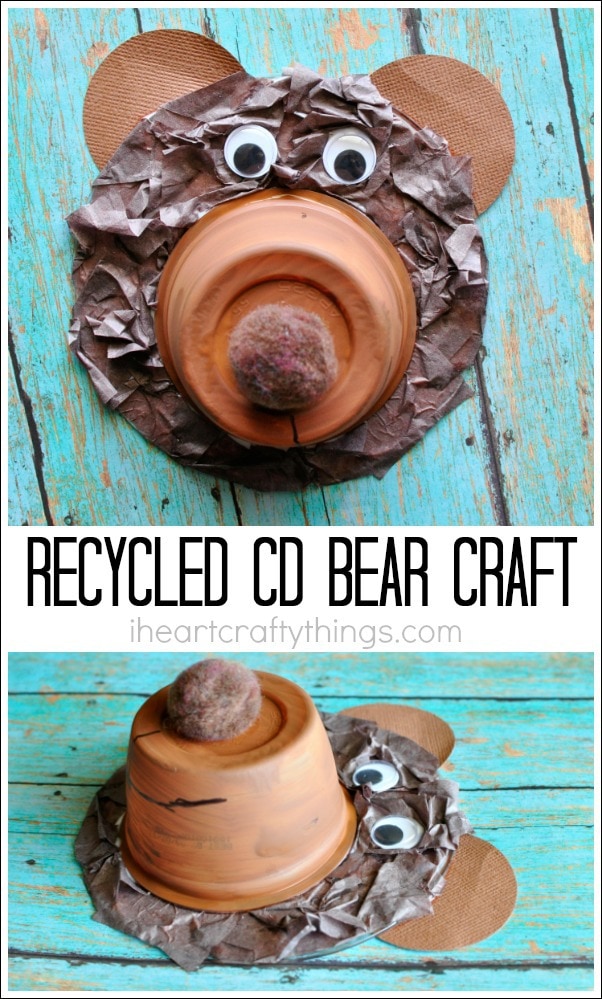 Looking for some fun books to go along with this craft? Try one of these:
– Brown Bear, Brown Bear, What Do You See? by Bill Martin Jr.
– We're Going on a Bear Hunt by Michael Rosen
– Bear Wants More by Karma Wilson
– Goldilocks and Just the One Bear by Leigh Hodgkinson