The animated films from Disney have covered many different settings, stories and characters, and yet the movie Mulan still manages to stand out.
This movie takes inspiration from Chinese legends, and it brings a unique spin to the classic tale.
Our collection of free Mulan coloring pages for kids is here to help you meet your favorite colorful characters from the films!
There are 15 awesome pages here, and they're all free to enjoy as you like! You can share the collection with others or print out as many copies as you like, so let's begin this colorful journey.
15 Brand New Mulan Coloring Pages – Free to Print and Color
This first Mulan coloring sheet features our main character herself: Mulan!
She is looking very graceful and elegant here, and she is dressed in some traditional clothing with an umbrella, so there are many different details and elements that you can color.
Will you go with a favorite look from the movies or create a new look for Mulan?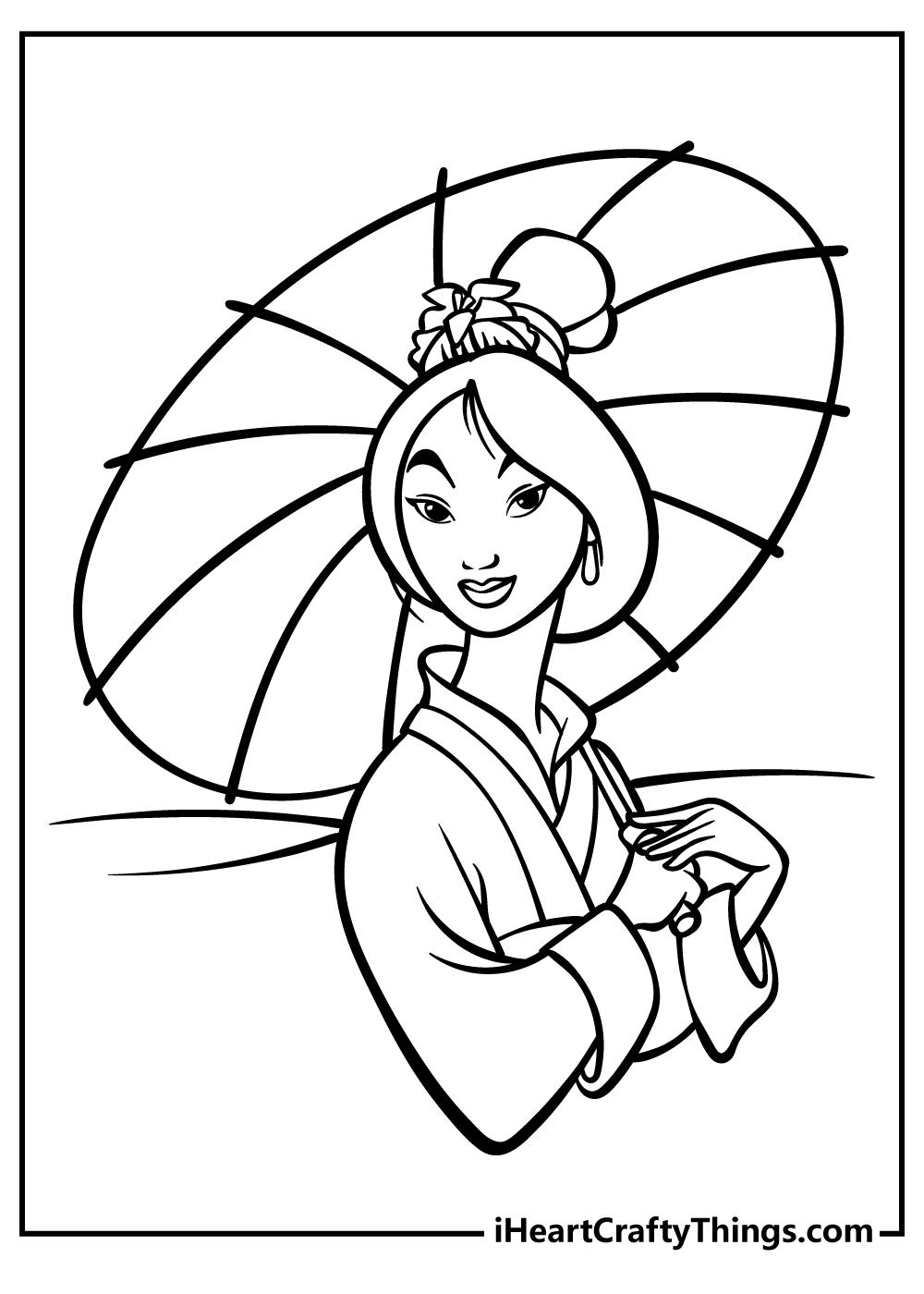 Our second page features more of an action shot for Mulan! In this one, she seems to be in the middle of training, as she is performing a graceful move with her sword.
She is likely moving at great speed here, so we would use a flurry of colors in the background in order to create a look of movement behind her.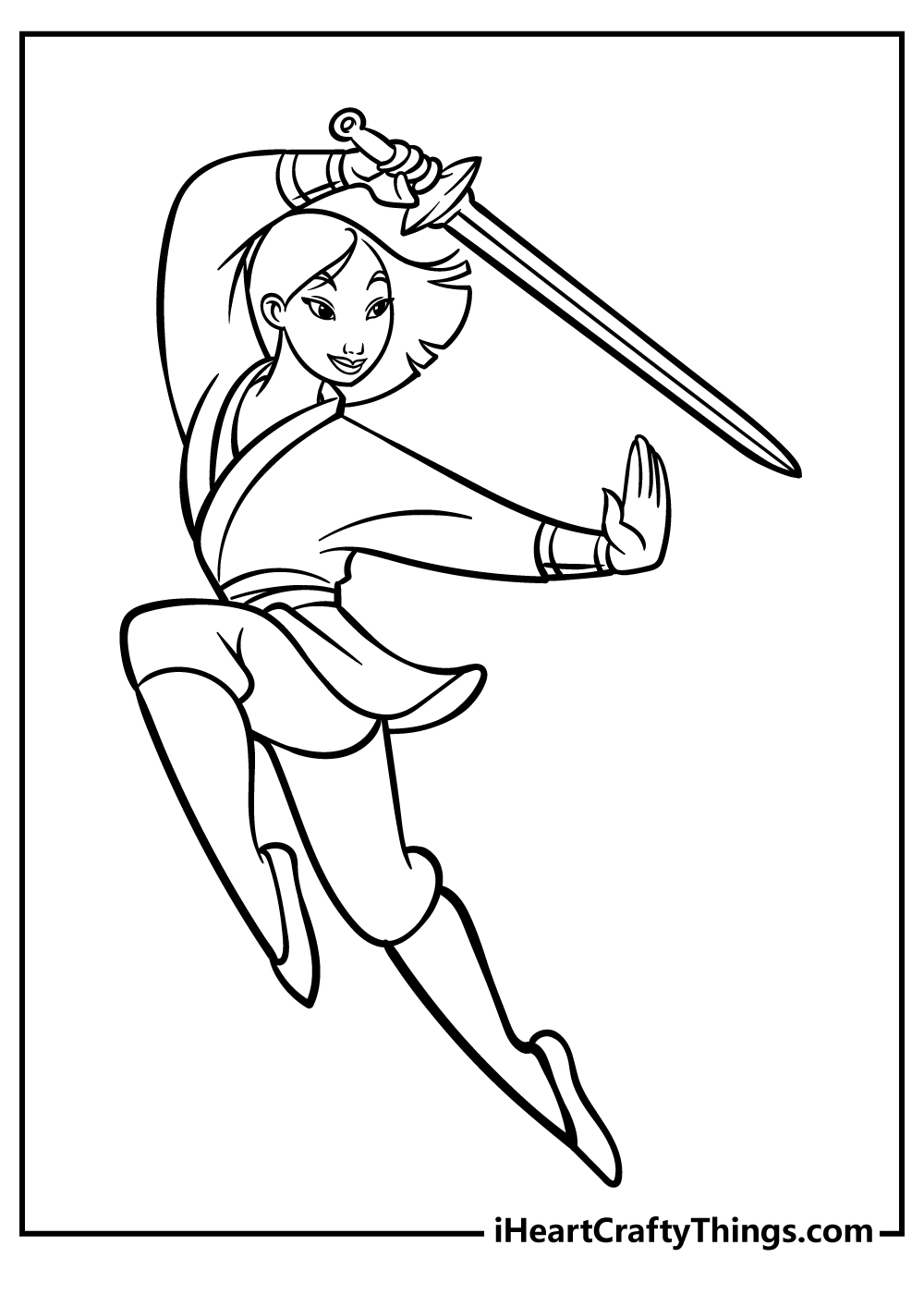 Now we will be coloring a new character in addition to our hero Mulan, and this time it is the warrior Li Shang.
He is a brave character that plays a large role in the story, and he also grows to love Mulan.
This is shown in this lovely picture as they share an embrace, and now it's up to you to finish it off with your colors!
Mushu the dragon is a popular character from the films, as he has some of the funniest lines. Here, he is being held by Mulan, and judging from their expressions he has just made one of his jokes!
He is colored with red and yellows, so you have the opportunity to create a bright spot of color when you color him in.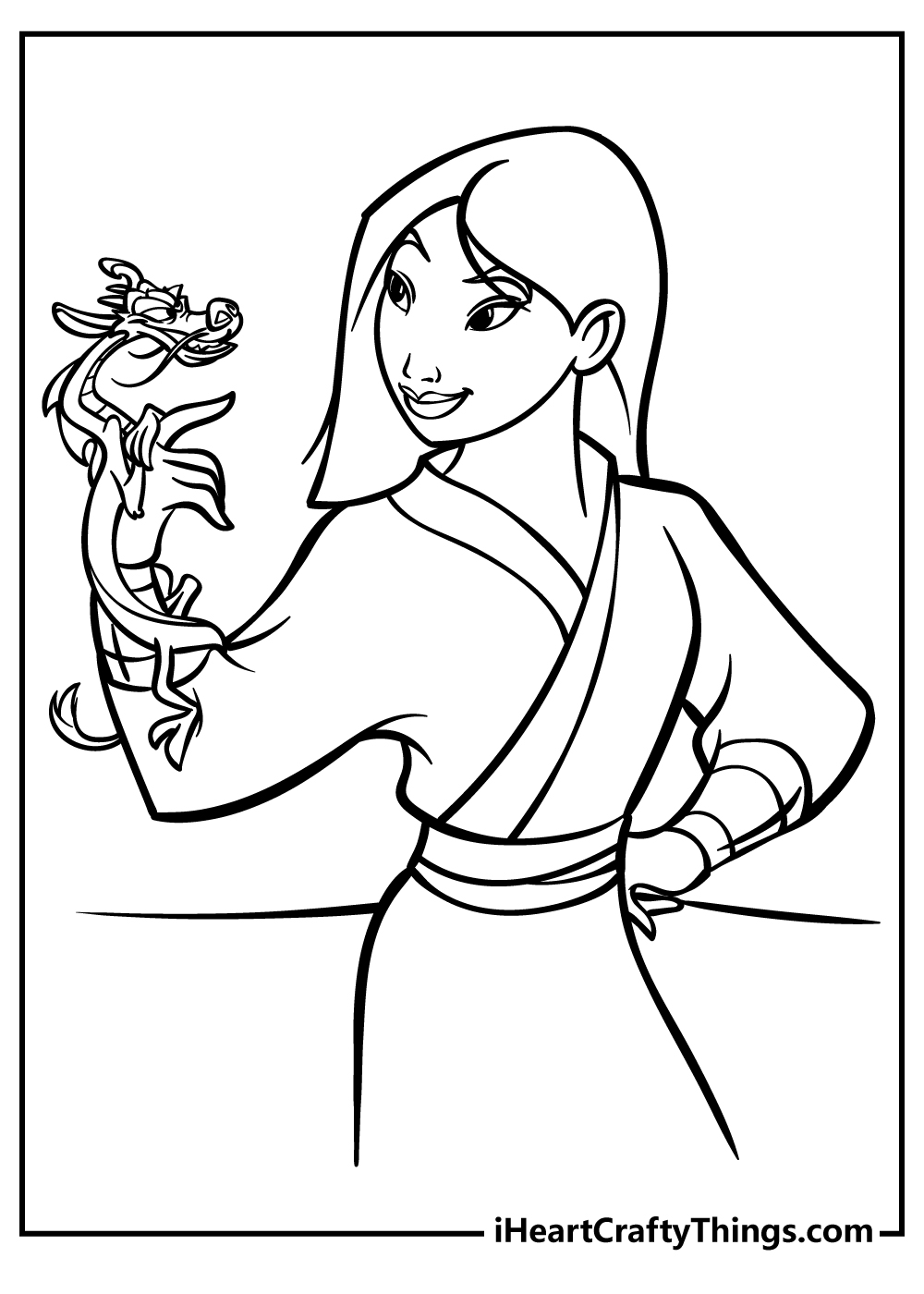 Mulan's father Zhou is another important character from the story, and he is featured with her in this next page in this collection of free Mulan coloring pages for kids.
Here he seems to be giving her some wisdom as they admire the leaves on a tree, so we would use softer colors and mediums for this one if we were coloring it.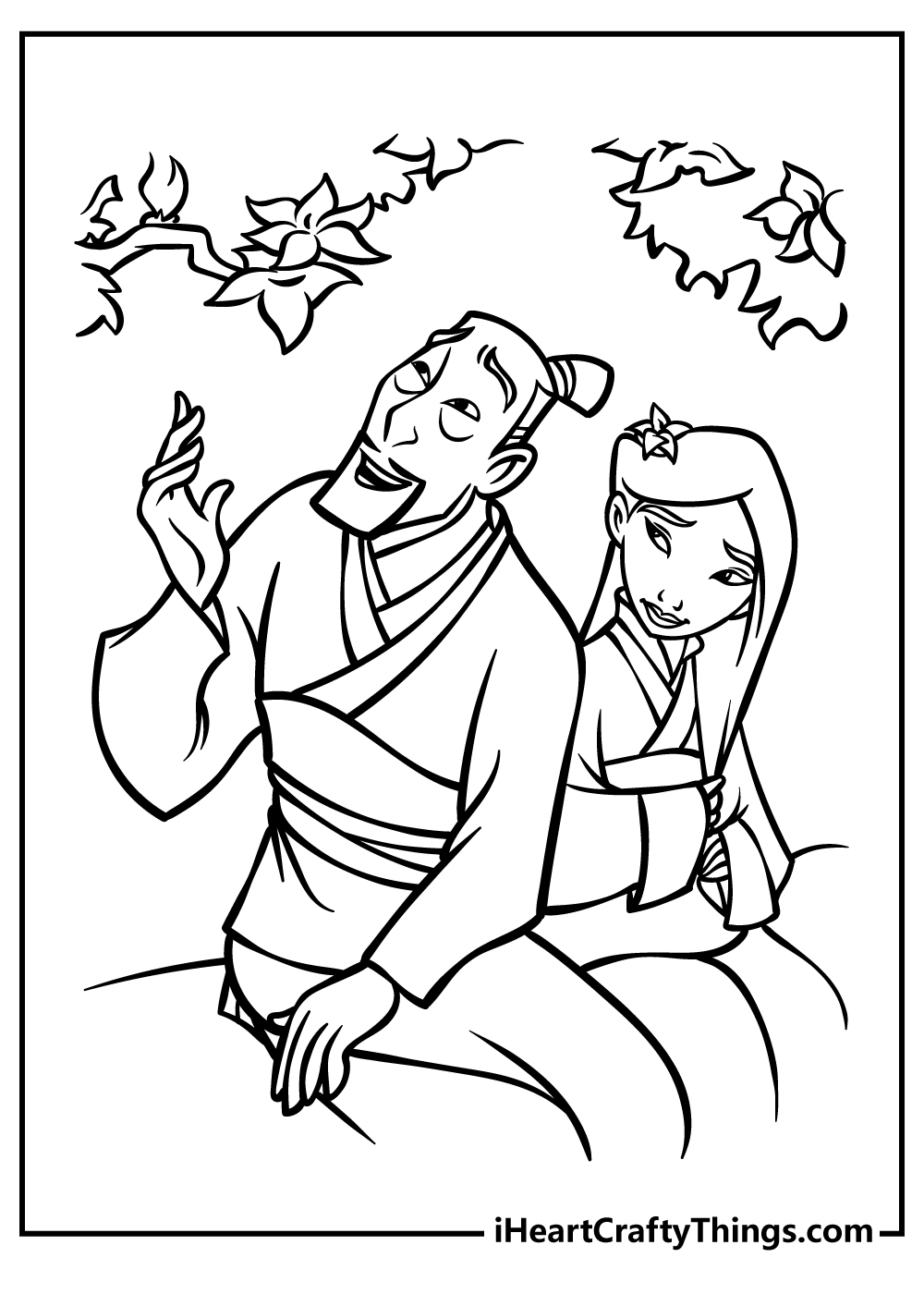 Mushu is back with a close-up here, and he is posed with his cricket buddy!
This page would look nice and bright if you go with his usual colors, and they would be counteracted nicely with the more muted purples that Cri-kee is seen in.
Will you go with their usual colors or give them botha unique color scheme?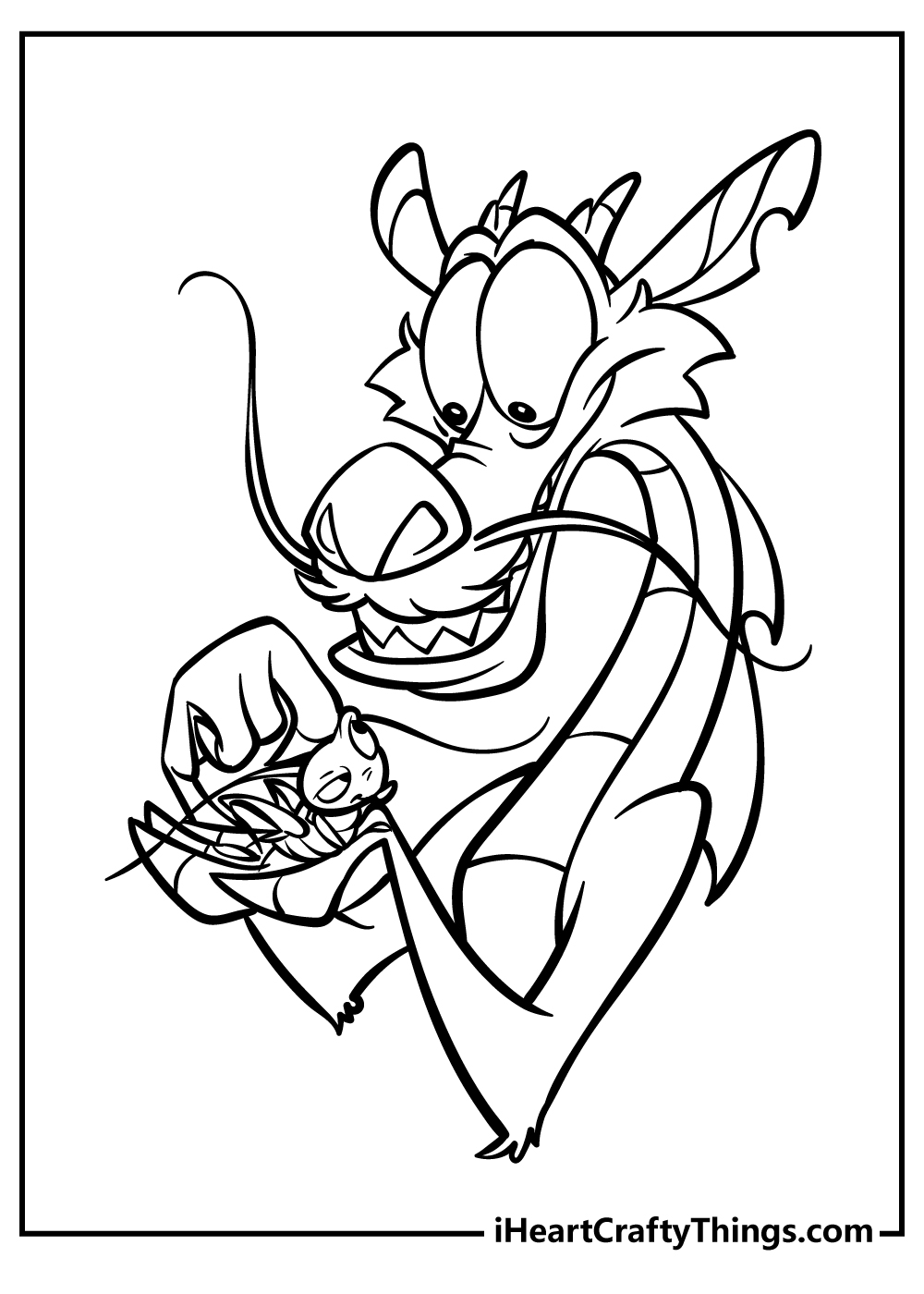 Mulan is looking very joyful here as she runs at full speed. Is there a scene from the film that this reminds you of?
If there is, you could use that scene as inspiration and draw a background to match the scene. That is one idea of what you could do, but what other ideas do you have?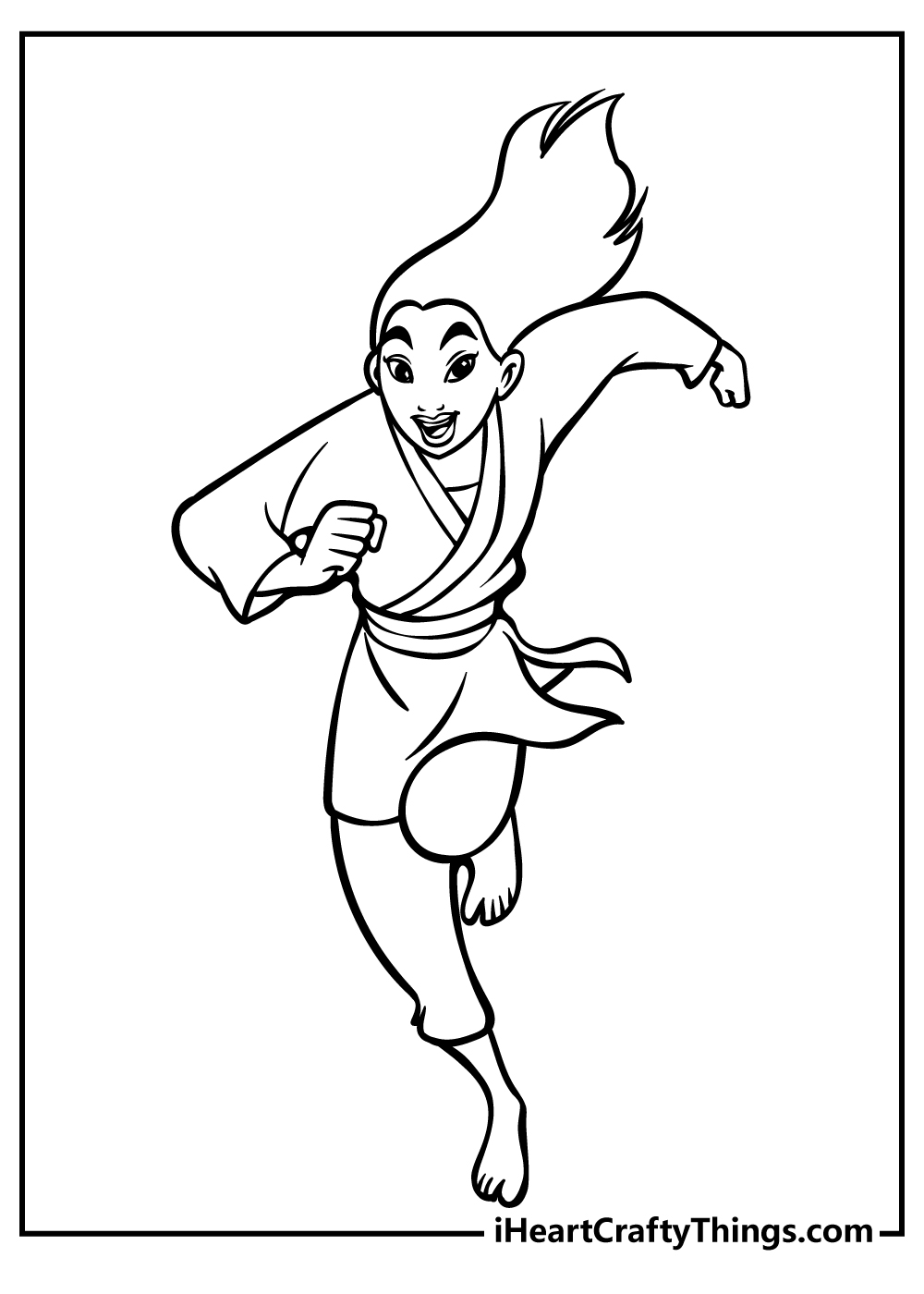 The focus is back on Mushu for this next image. We get a great look at all of the details he has here, so that provides many opportunities for some coloring fun.
Don't forget that you can mix different art mediums and techniques to bring out the details of this image. How will you bring this image of Mushu to life?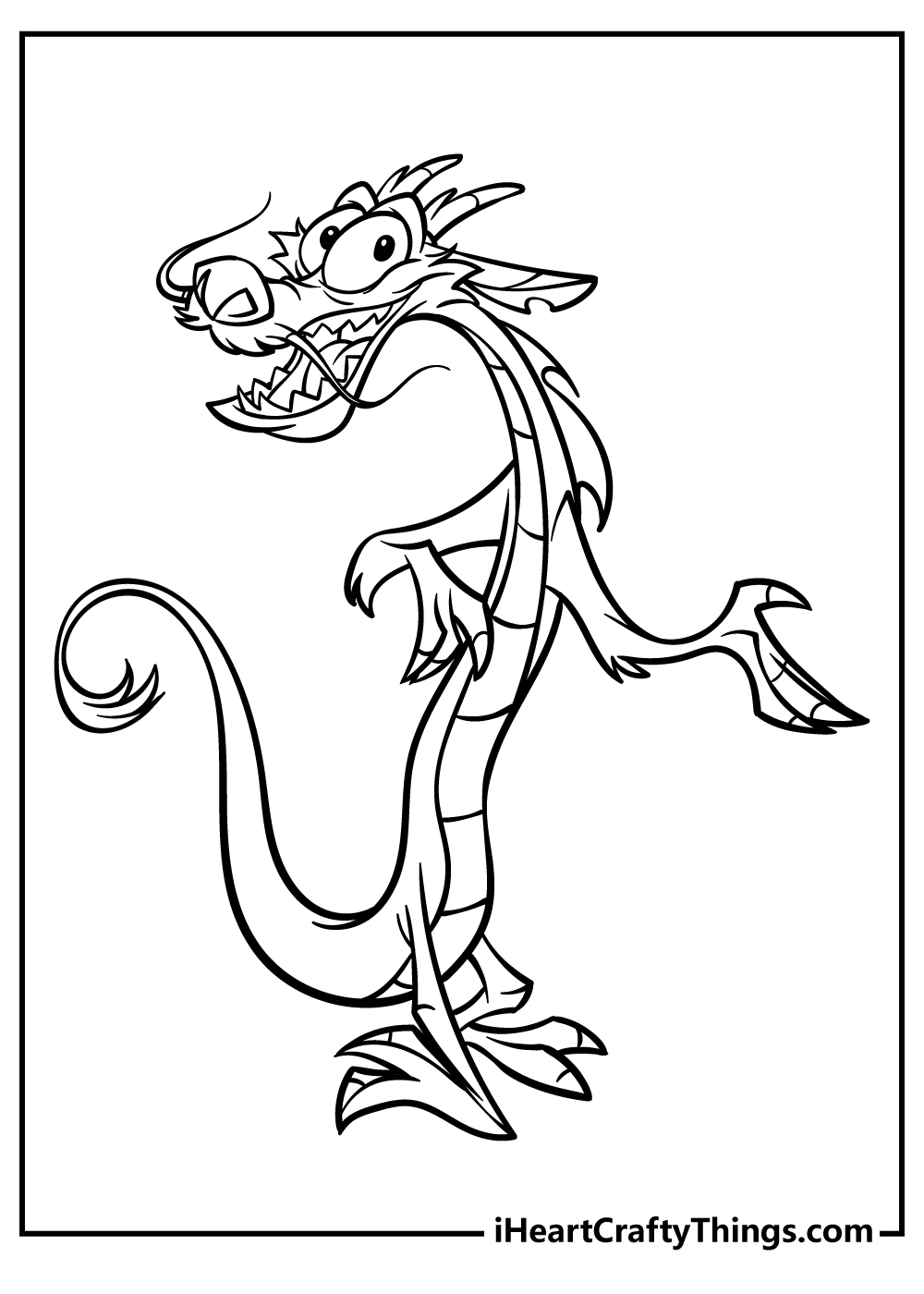 Mulan is a very smart and creative character, and that is shown in this next image.
She is using a paintbrush here, and this could be a great opportunity to use some paint mediums and brushes of your own.
Some watercolor paints would be an especially great choice, as these create a softer look to the image that gives off a calm feeling.
There are many paint types you can use, so will you go for one?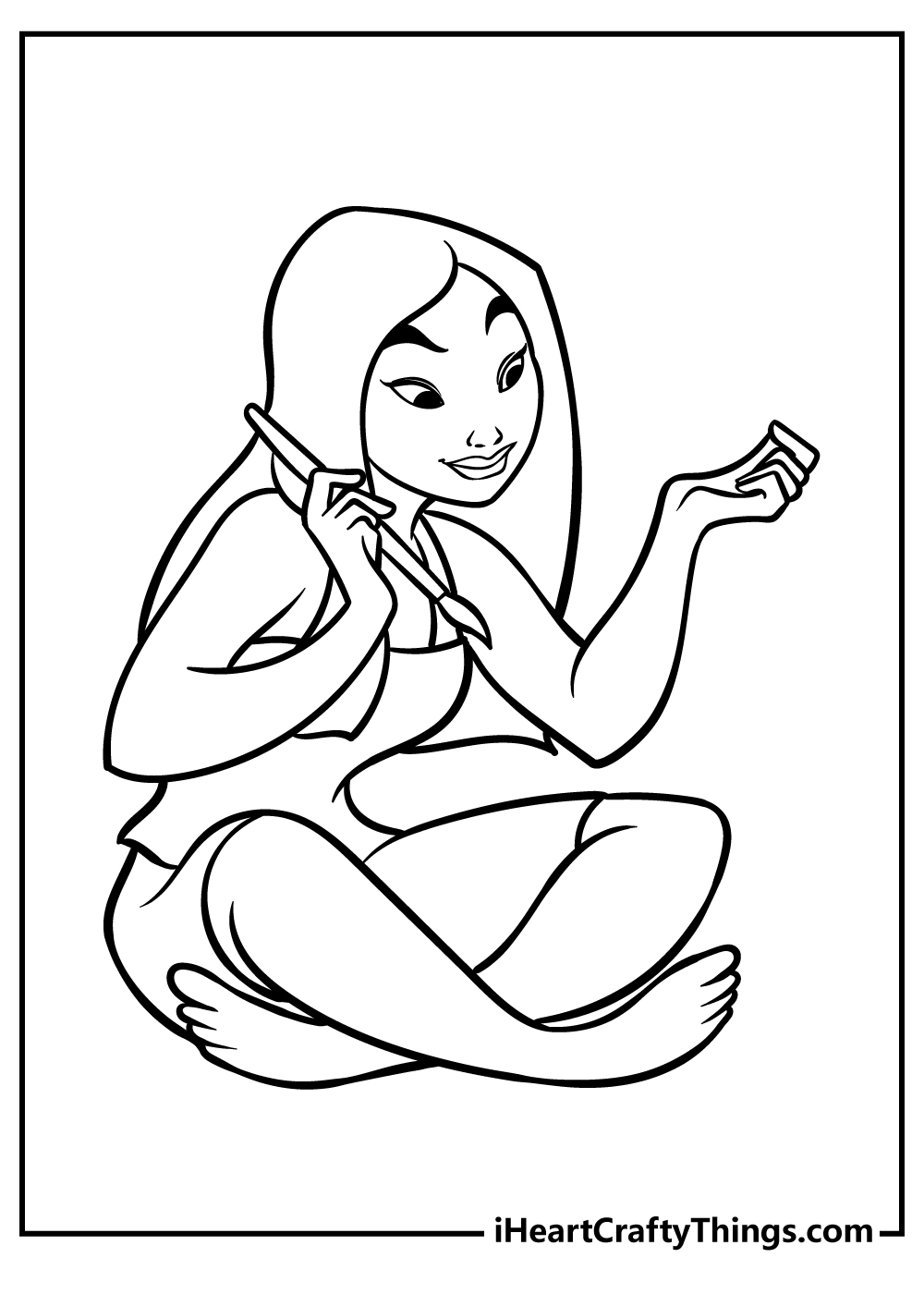 This next Mulan coloring printable is a really fun scene. Mulan is behind a traditional fan, and her cricket friend is perched on it as well.
These fans will often be beautifully decorated, and this one has some empty space for you to add your own decorative elements to. What kind of design would you create for the fan?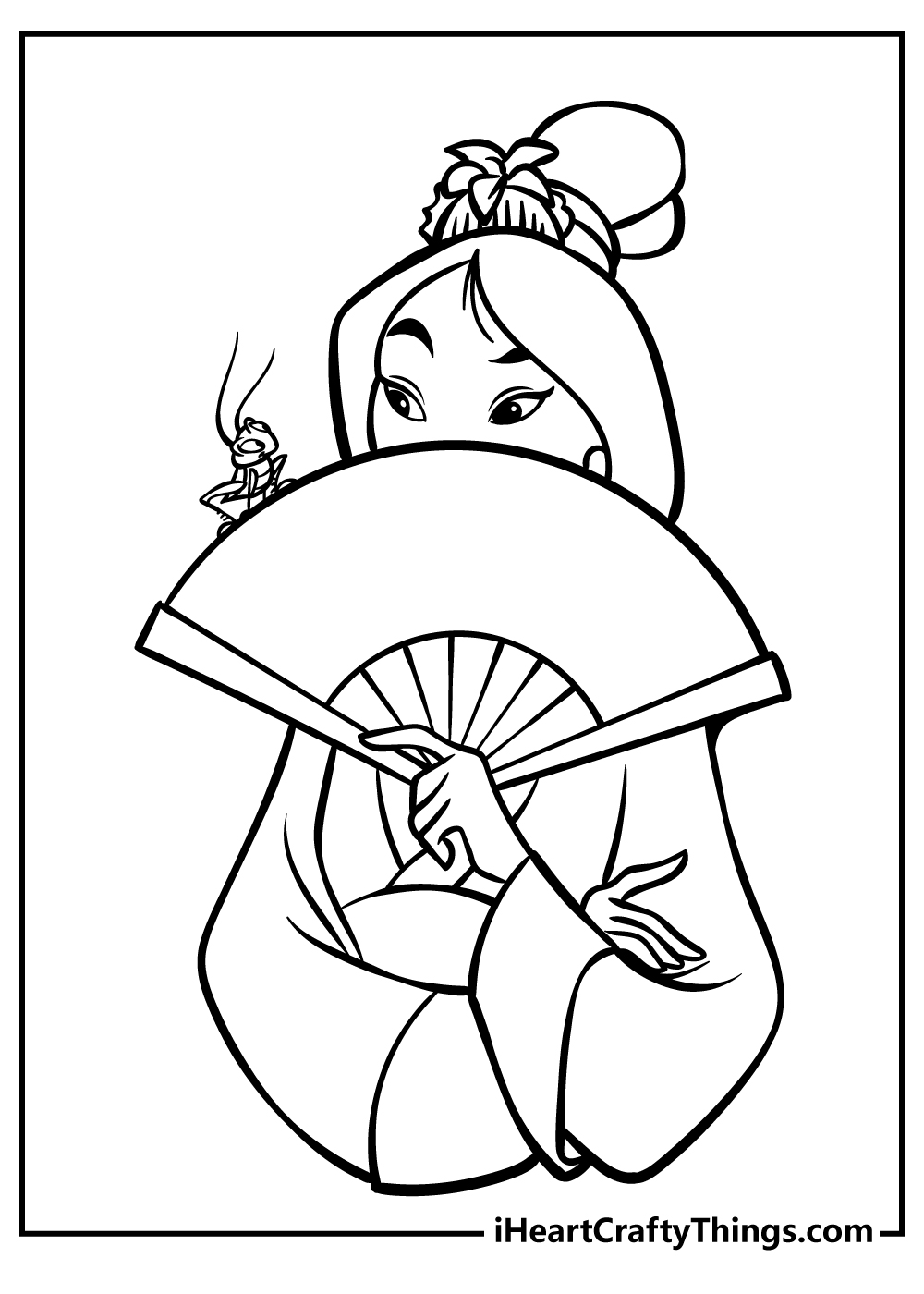 Grandmother Fa is up next for you to color, and this is a really fun pose that captures her vibrant personality brilliantly.
She is holding a lantern, so one idea would be to color the lantern with bright colors and mediums to make it look as if it is shining out.
If you went with this idea, you could also keep the rest of the image darker and more muted.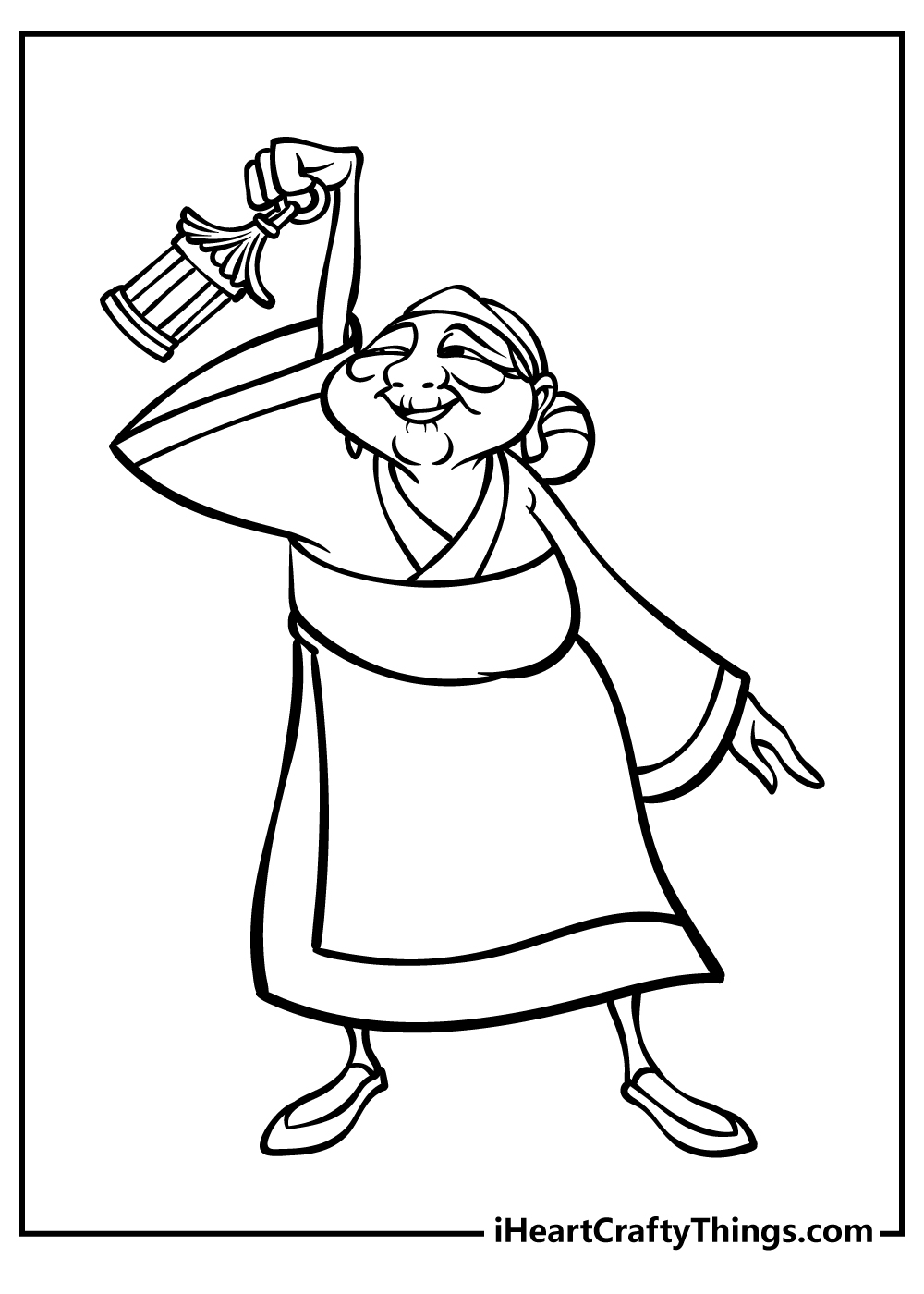 We have another image of Li Shang for you, and this time we get a good look at him in his warrior outfit.
With so many small details, it can be hard to color sometimes, so you can use mediums like colored pencils or pens in order to give you more control over your colors.
Thin-tipped paintbrushes would work too!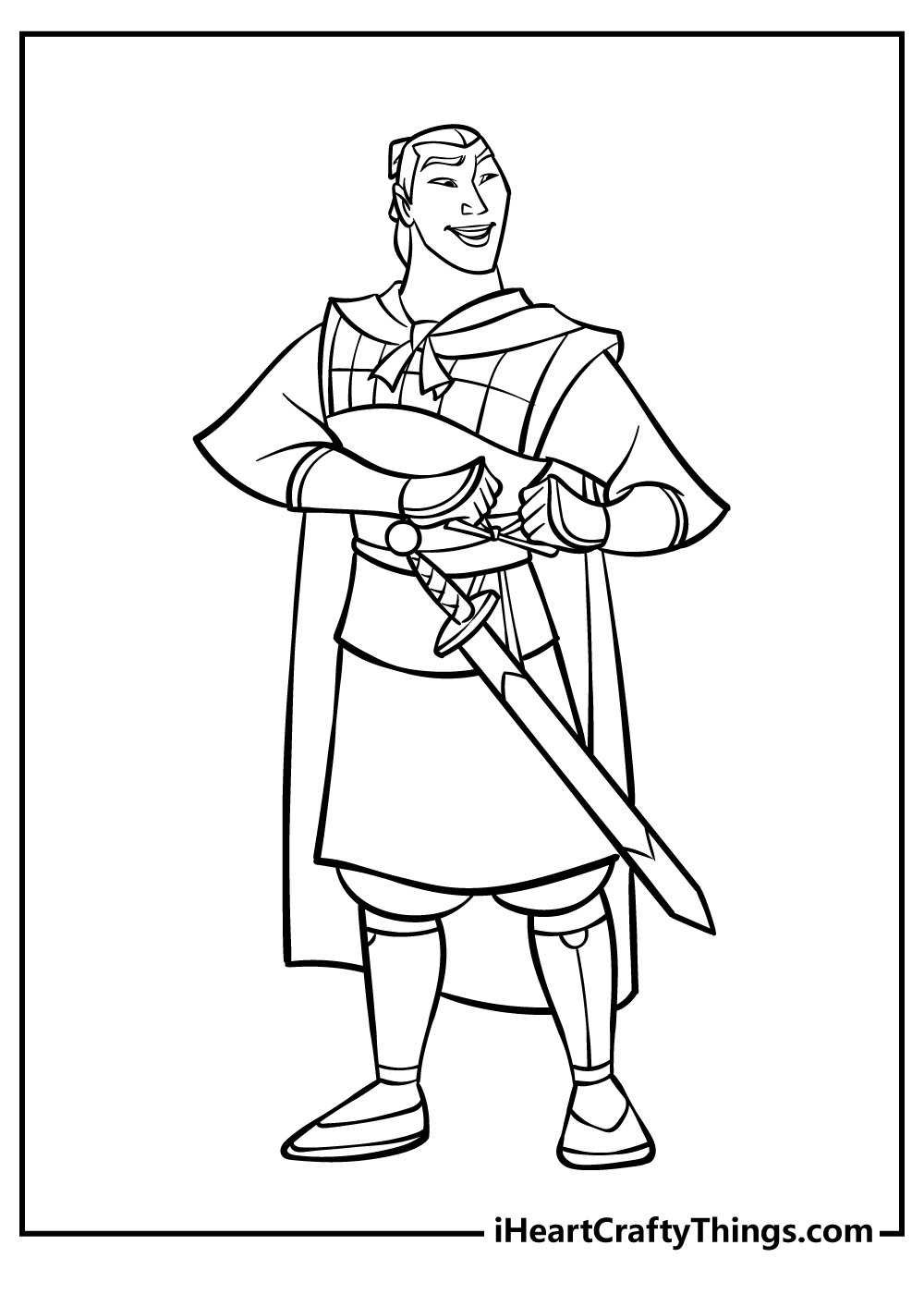 Mushu is taking his job as the wielder of this gong very seriously!
When coloring this one, if you stick to the film's color scheme then you will have the bright red of Mushu contrasting with the gold of the gong.
That would make for a really bold and striking image to behold!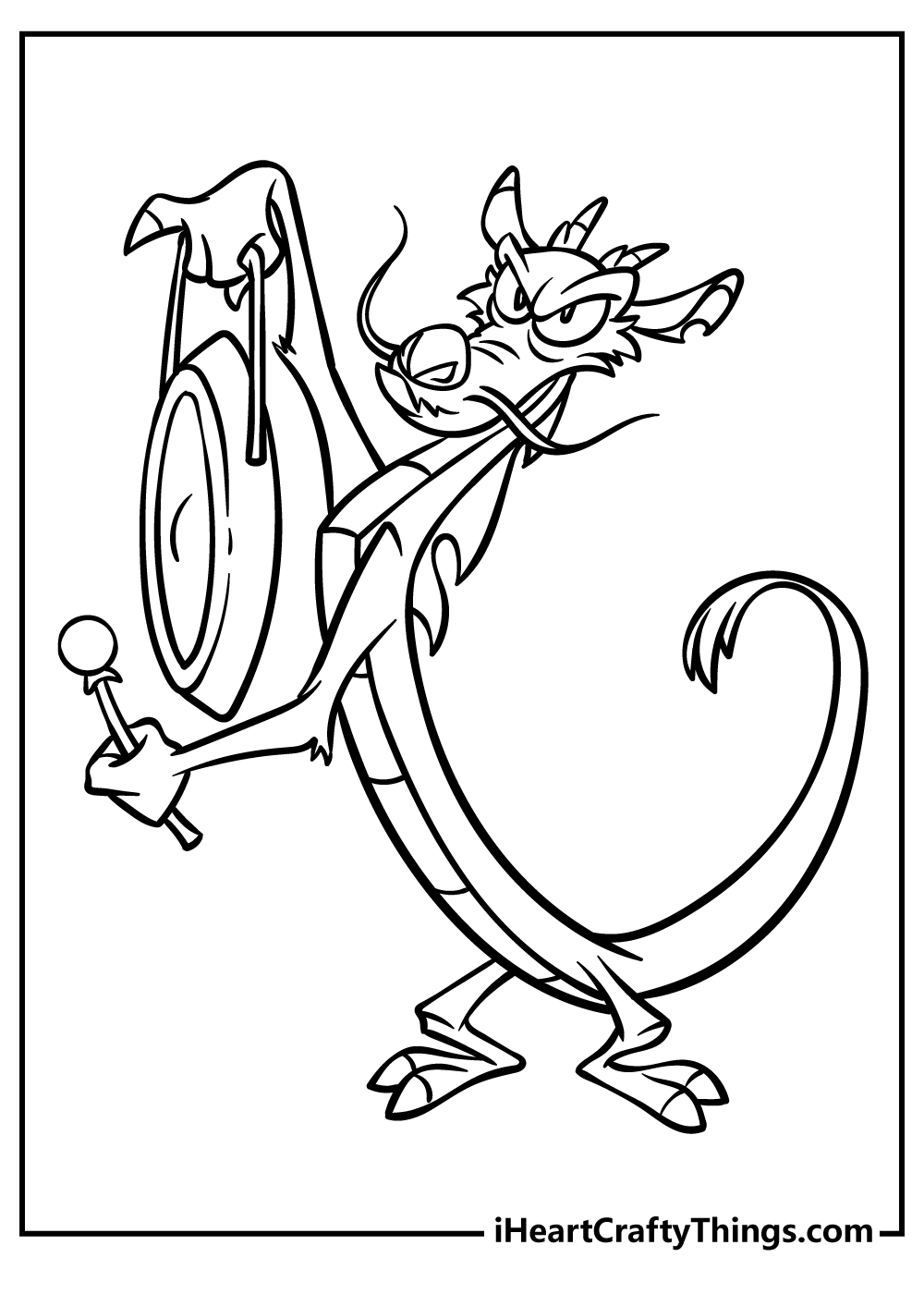 Mulan is on the run again in this one, and it's another image that looks like it is showing her while she is training.
She is looking down in this one, and it could be a fun challenge to draw a character, maybe Mushu od Cri-kee, running beside her! What other fin ideas do you have?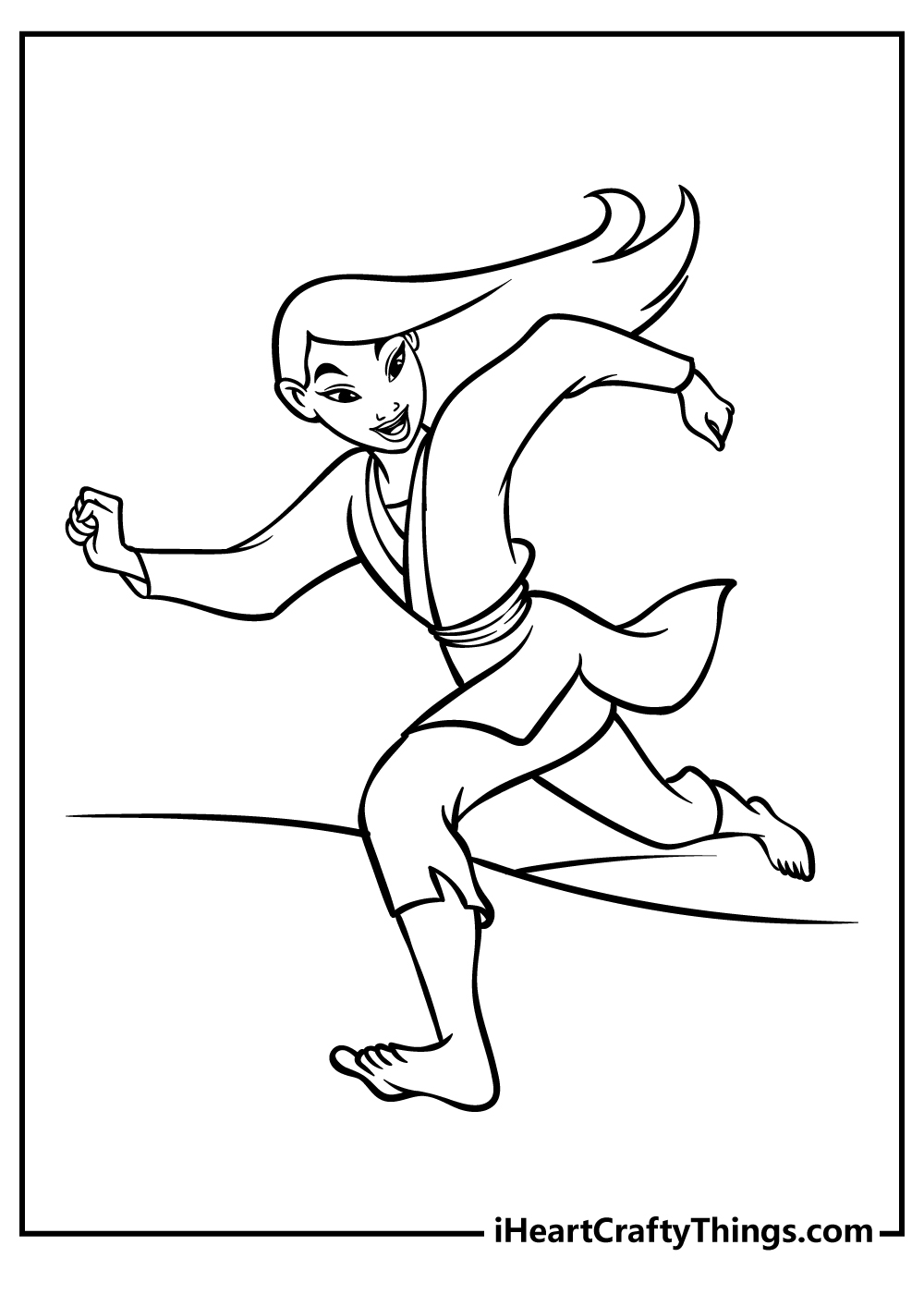 We're ending this collection of Mulan coloring sheets with a peaceful image of our hero.
This would be another great image that you could add a background to, and you could use a place that you find relaxing to place her in.
What are some calming scenes or locations that you can think of for this final Mulan pose?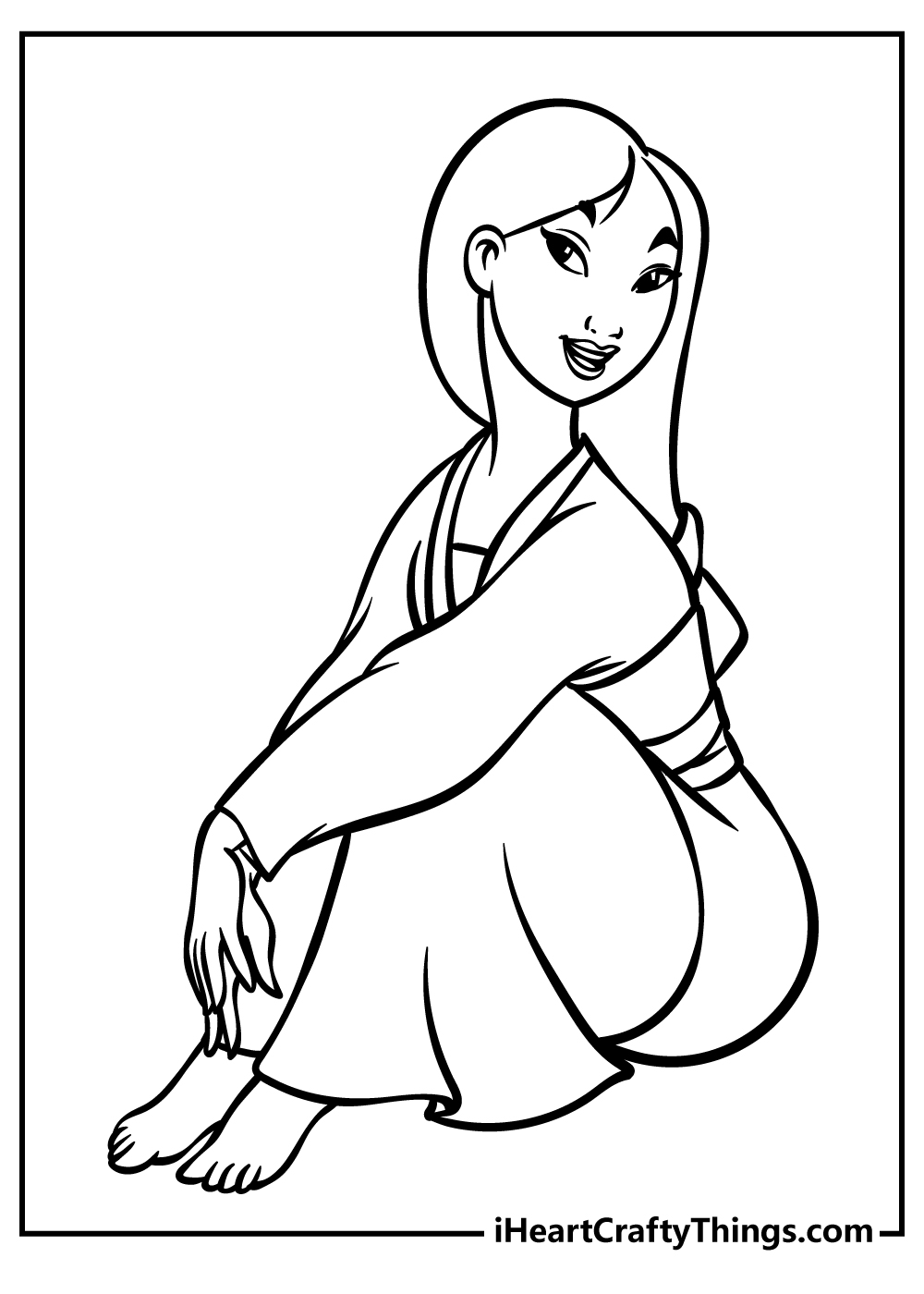 Mulan Coloring Pages – Which will you choose?
We hope you enjoyed this trip back to ancient China with this collection of free Mulan coloring pages for kids!
We wanted to include a wide range of different characters, moods and scenarios for you to work your creative magic on, and we hope that this was provided for you.
When you have finished your favorite pages, remember to share them with others as well!
You can also share some of your finished pages on our Facebook and Pinterest pages for us to see.