On this page, you will find 15 all new Koala coloring pages that are completely free to print and download.
Native to Australia, koalas are extremely cute and mischievous animals that basically live in trees. They are most commonly known for their distinct features, including a round-shaped head, huge fuzzy ears, and big black nose. Their fur varies in color from light gray to brown.
Koalas' popularity and charm has created a huge demand for koalas coloring pages. And because your wish is our command, we have finally created and compiled fun Koalas coloring sheets for you to enjoy with friends and family.
With these free koalas coloring printables, you can color your favorite koala image. Once you've chosen which image you would like to color, why not try experimenting with different coloring materials like watercolor, brush pens, and oil pastels?
Feel free to let your imagination run wild and use your creativity!
REMEMBER: You can get the COMPLETE set of these coloring pages >> HERE
15 Free Koalas Coloring Pages — Brand New Printable Sheets
Koalas are naturally skilled at climbing trees. They even spend nearly most—if not all—of their time hanging out in the trees. They can eat and sleep up in the trees without falling down. How impressive is that?
This coloring page shows a koala sitting down on a branch of a tree. It looks curiously straight ahead, looking adorable with its huge, wide open eyes. It's probably looking at you!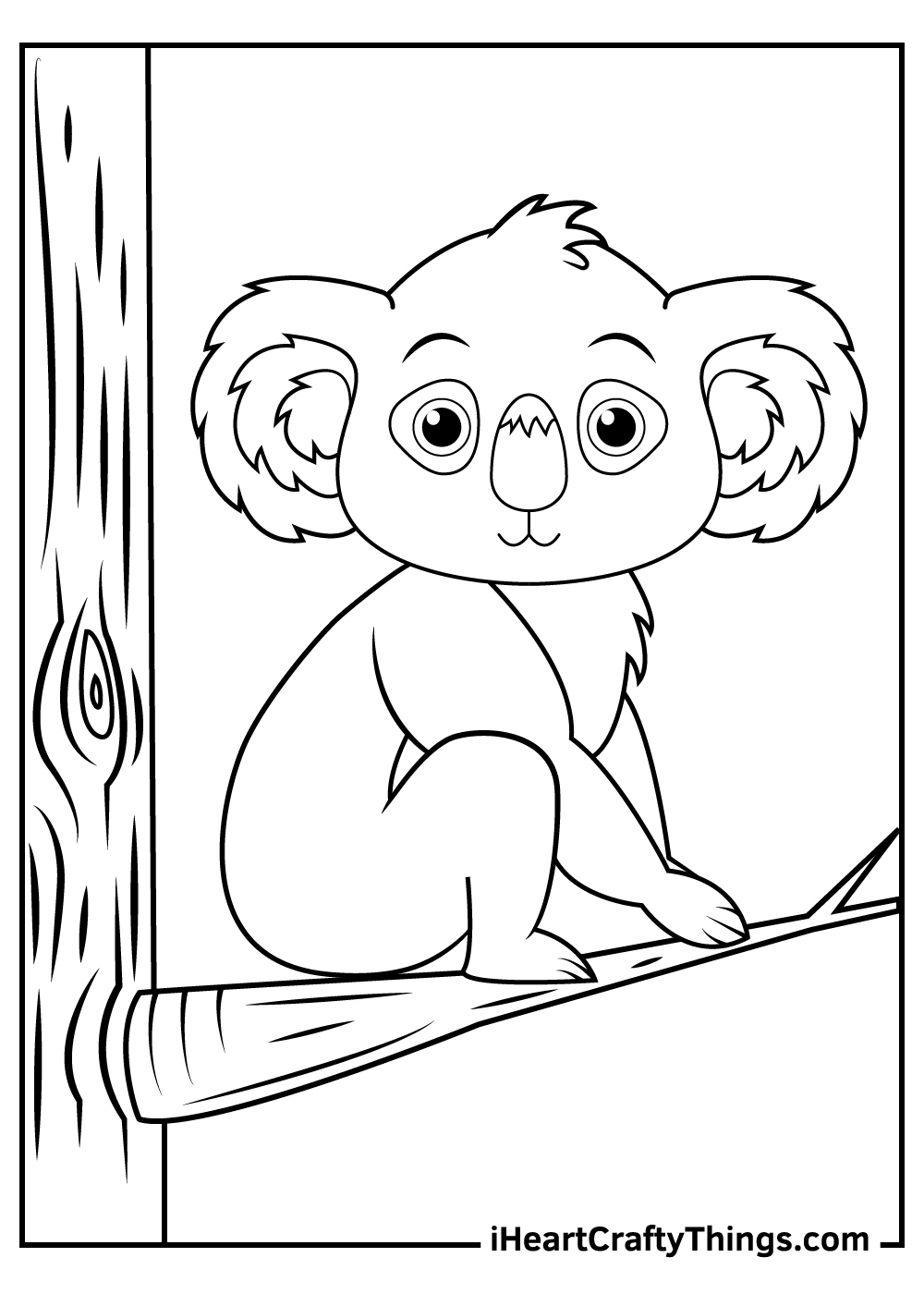 This adorable koala is smiling happily while sitting comfortably on a tree branch. Koalas love resting in eucalyptus trees and munching on the leaves all day.
They use their sharp claws to grip onto branches tightly. Their fur is thick and fluffy to keep them warm in the trees.
His big round ears help it hear noises far away. Its large black nose can sniff out the best eucalyptus leaves to eat.
Make sure to draw fun swirls and textures to show how soft and fuzzy it is in this koala coloring page.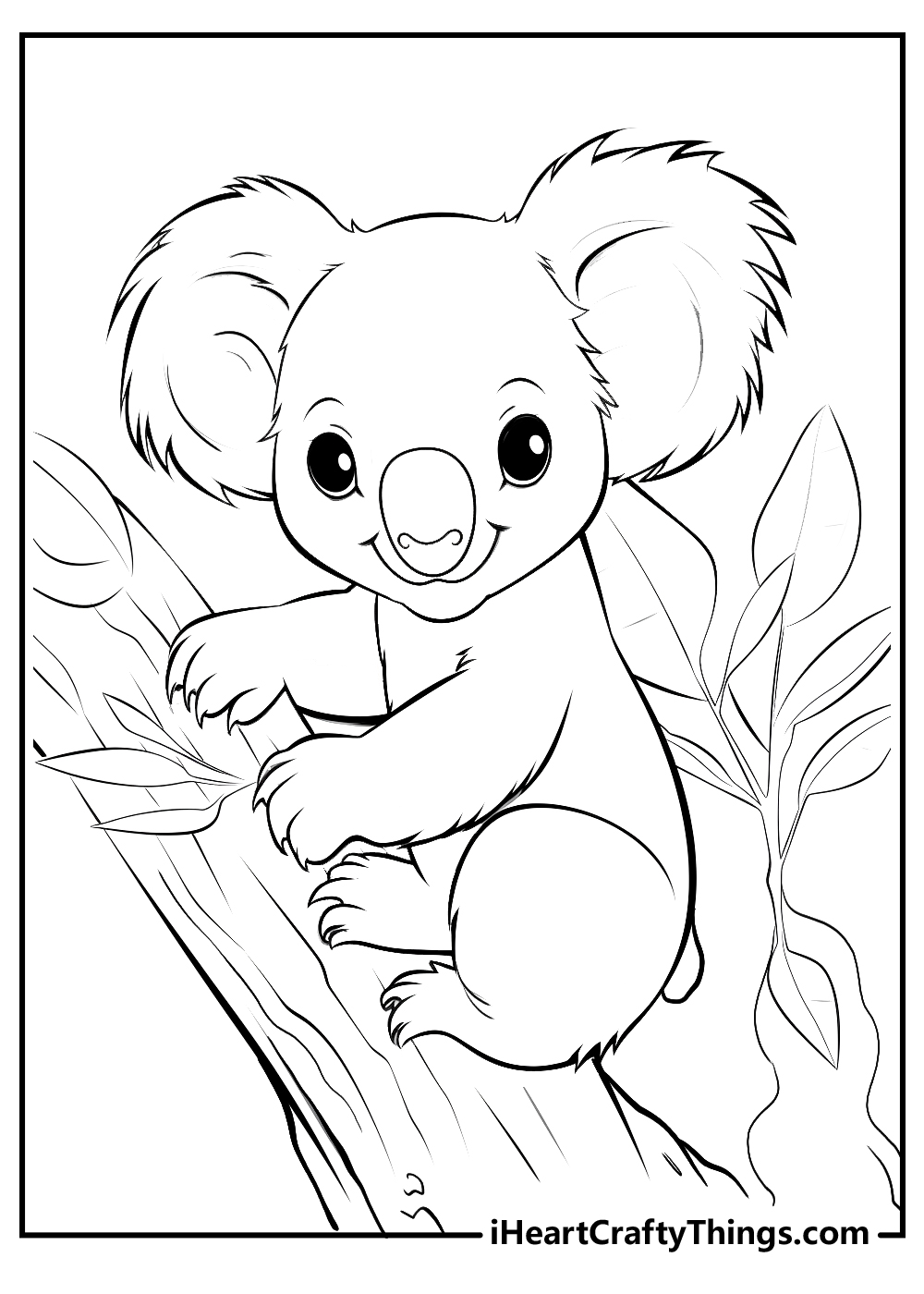 Imagine having the ability to climb up a tree like a koala and being able to reach all the fruits you want to eat. That must be so fun! In this coloring page, the koala is holding on to a branch of a tree.
It looks comfortable in its spot, possibly preparing to take a nap. Look at those huge eyes and furry ears—so adorable!
REMEMBER: You can get the COMPLETE set of these coloring pages >> HERE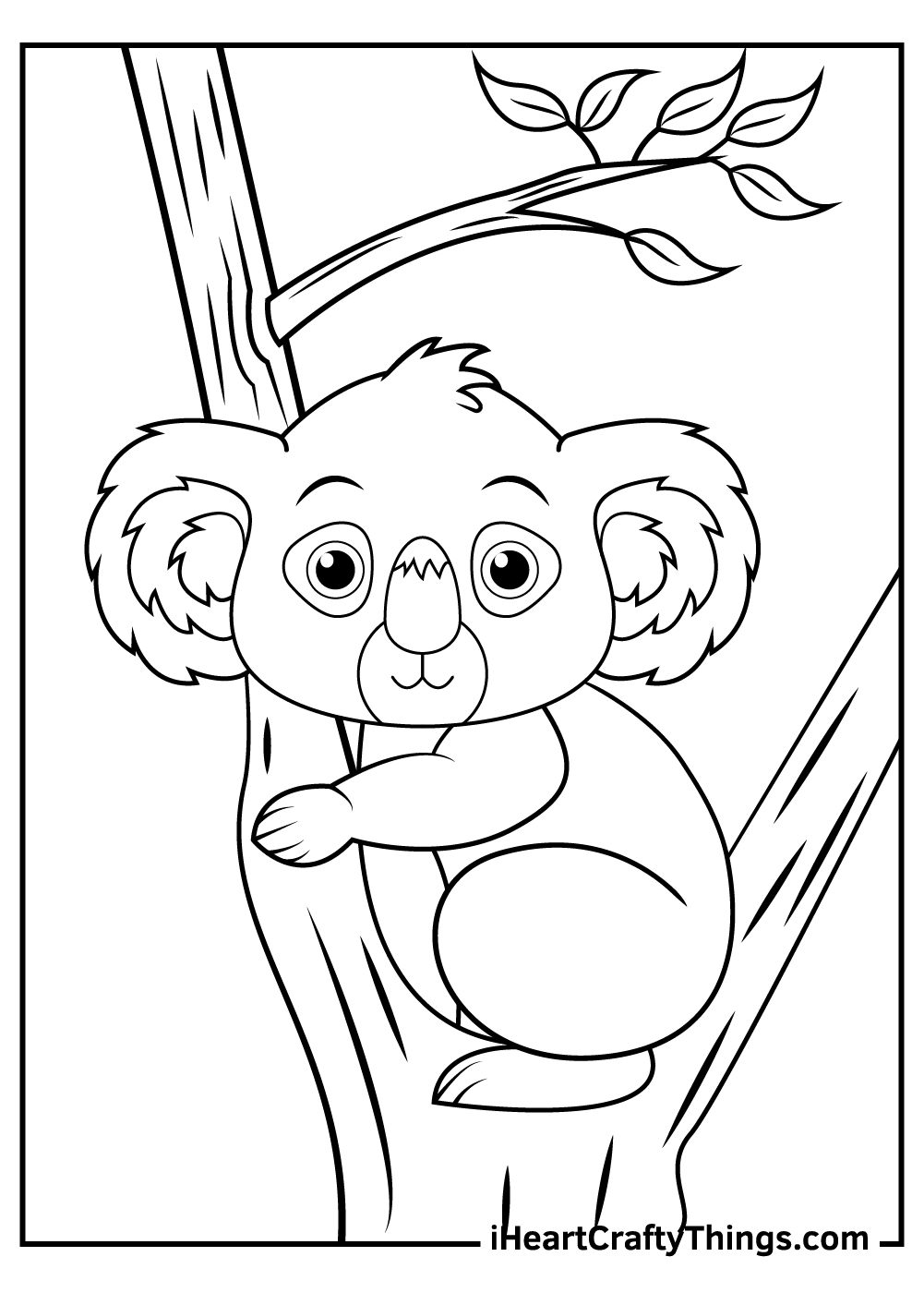 This coloring printable shows an adorable koala in its natural habitat. It is sitting on a chunk of wood in the lush forest.
The koala looks gentle with its calm, gleaming eyes. It's probably looking for a tree to climb up to and sleep, since the one it was sitting on was sadly cut down.
This koala doesn't look too happy about its home being destroyed. Hopefully, there will be more trees planted in the future to give this lovable koala a home.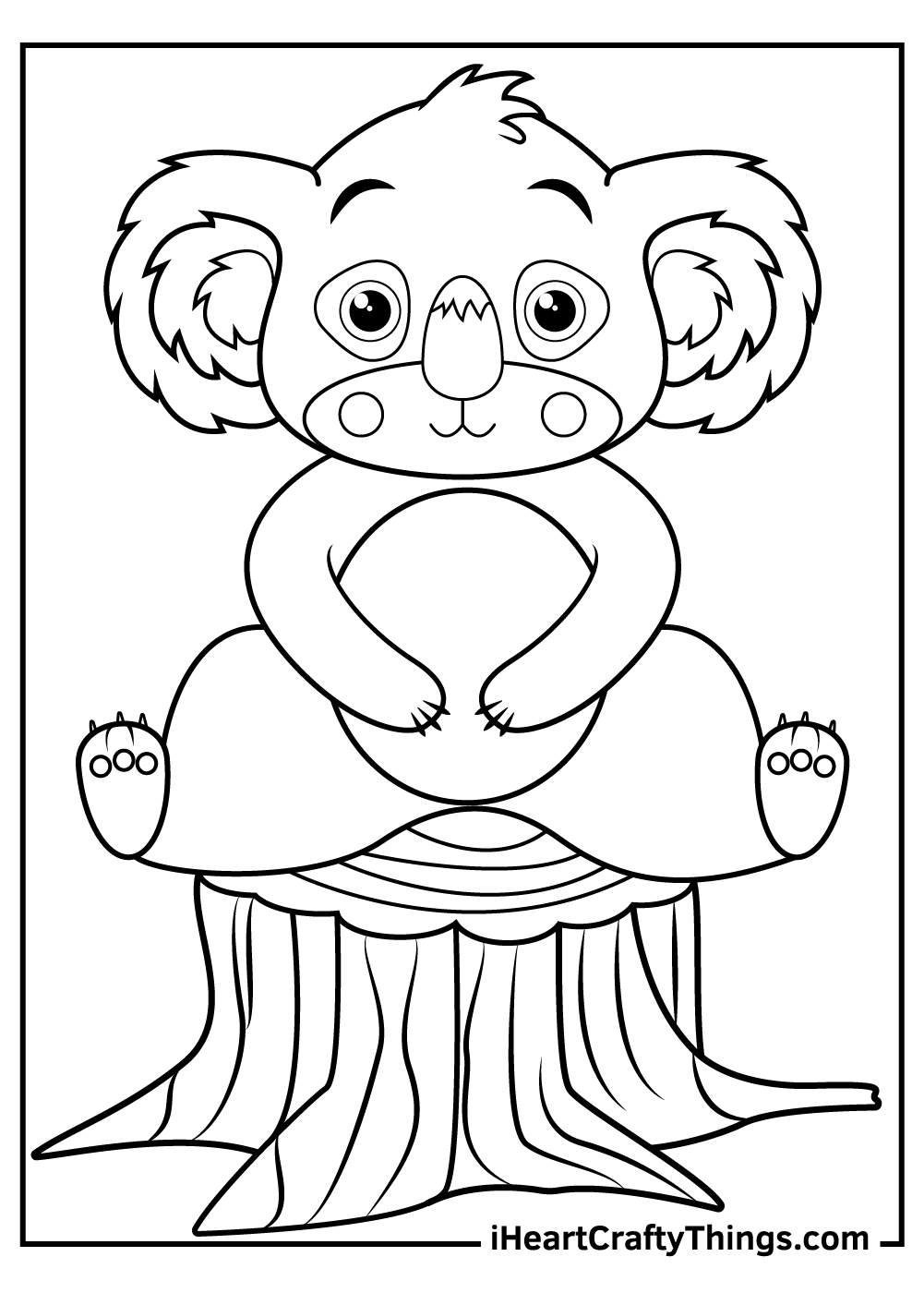 This coloring page shows a delighted koala taking in the serene view from his tree perch. Koalas love relaxing on branches, nestled in the leaves of eucalyptus trees.
Their fluffy gray and white fur keeps them cozy and warm.
Use soft grays, whites and tans when coloring the koala's fur to make it look extra fluffy. Add some brown and gray wood texture to the branch where he sits.
In the background, draw a bright blue sky peeking through a canopy of green eucalyptus leaves all around.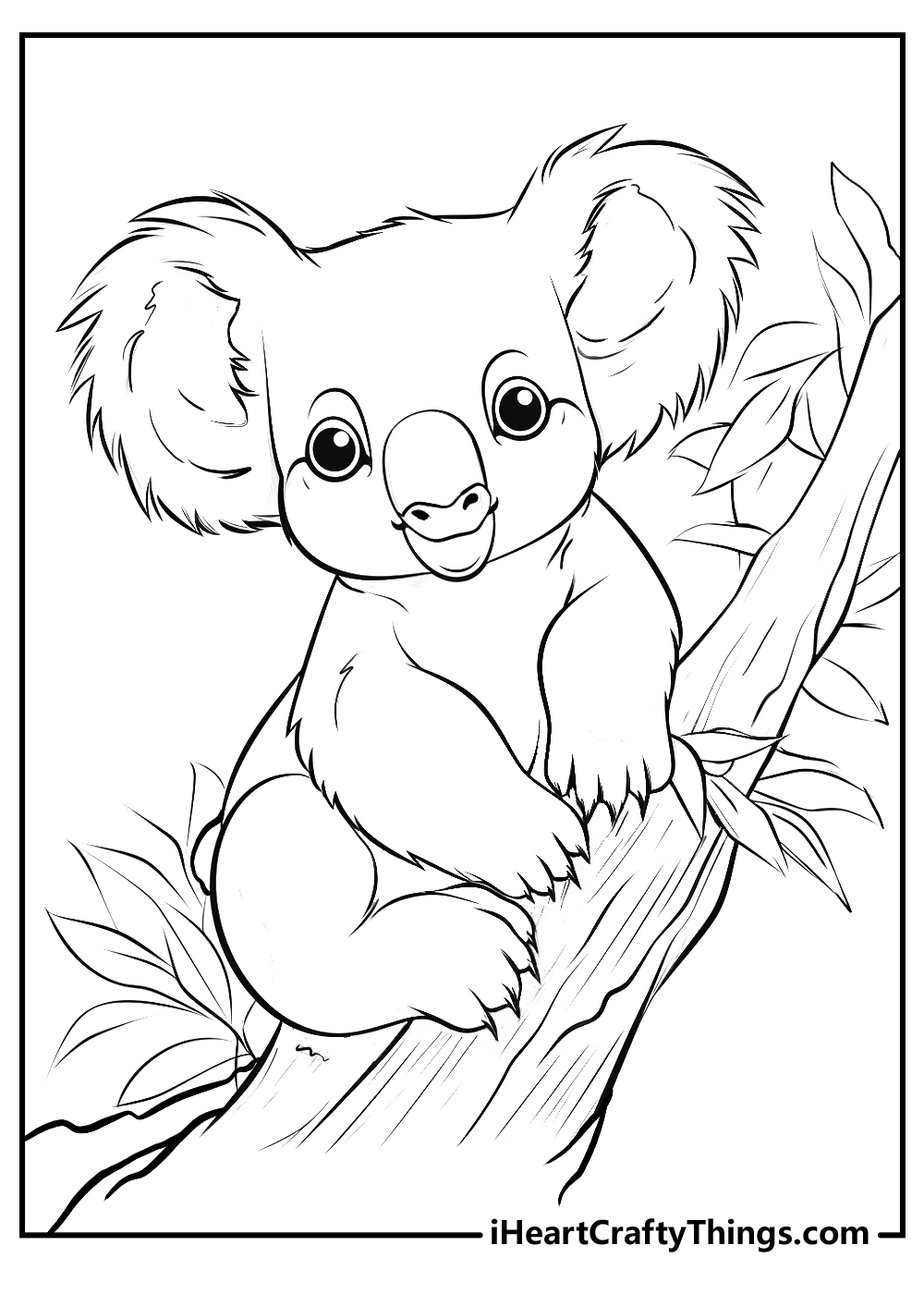 The koala in this coloring printable looks mischievous! What could it possibly be up to?
It has probably eaten too many eucalyptus leaves and it doesn't want to share with other koalas. With that fluffy body, it's no surprise that this koala eats a lot!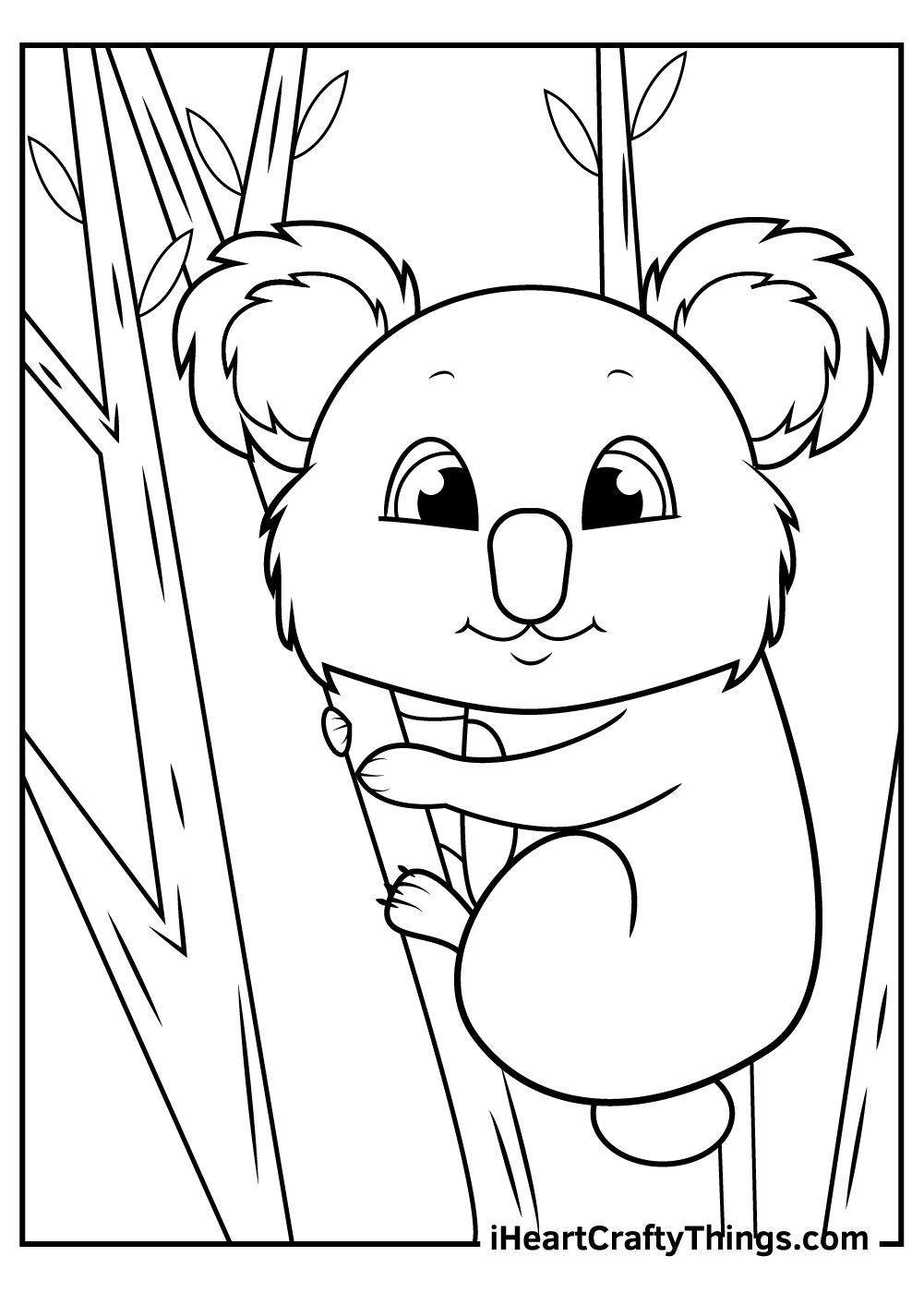 This calm koala is clinging to the trunk of a tall tree. The adorable animals use their sharp claws to grip onto branches tightly so they don't fall.
They also have rough pads on their paws to help grasp the bark.
And the thick fur on their bottoms acts like a cushion when they sit in trees for hours. They usually feel safe and cozy high up in the branches.
Use light grays and whites for the main fur color. Add cream for the chest, belly, and inner ears.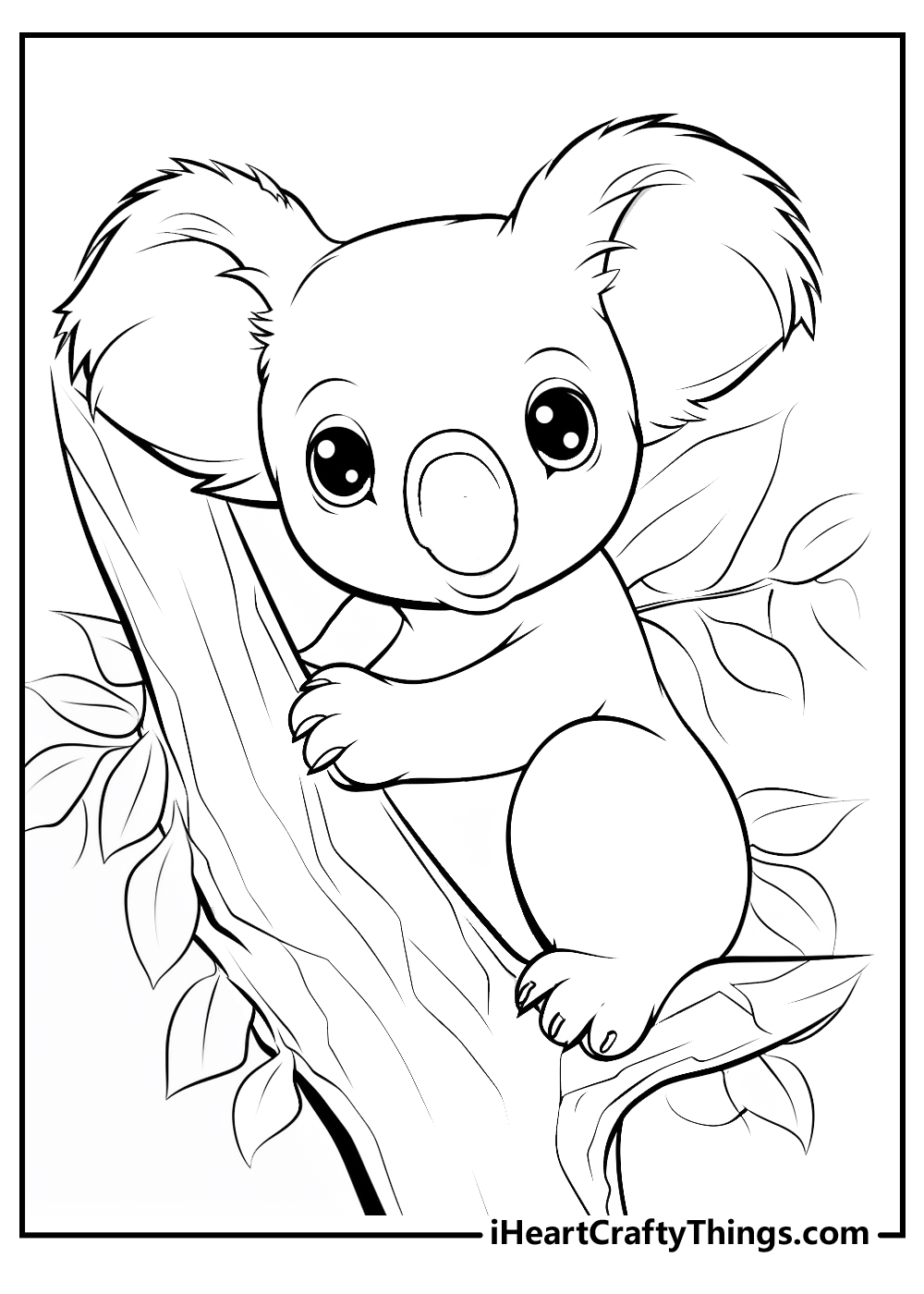 Did you know koalas can sleep while dangling on a tree for hours without falling down? This coloring page shows a koala laying on top of the branch of a tree.
It looks so adorable with its huge glimmering eyes and mischievous smile. It must be fun being able to sleep deeply while hanging on a tree, isn't it?
REMEMBER: You can get the COMPLETE set of these coloring pages >> HERE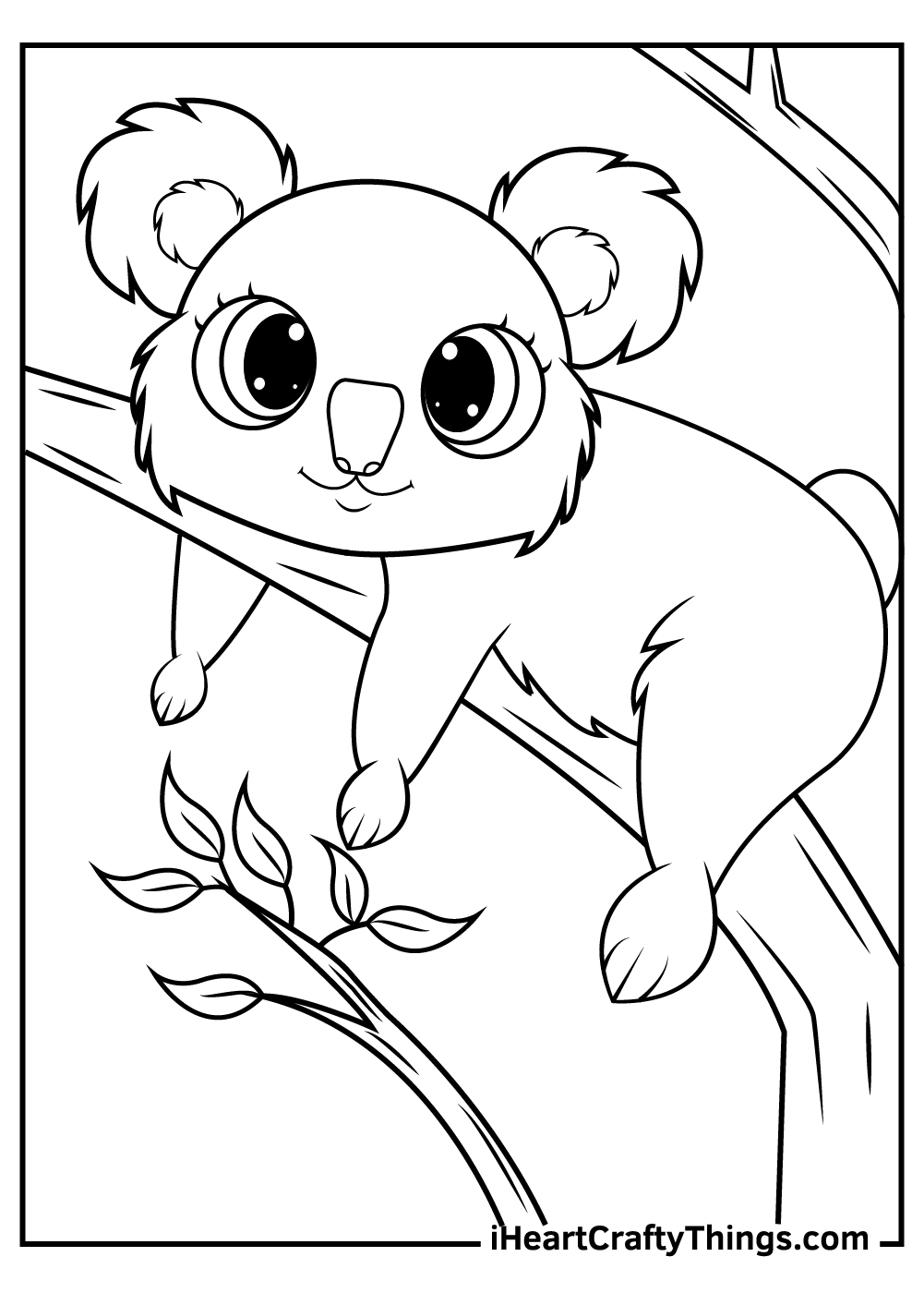 The koala in this coloring sheet is in a good mood! It is sitting down with a huge grin and wide open eyes. Surrounded by tall bamboo trees, we think the koala is in the middle of a bushy forest.
Which colors are you going to use to create a lush forest environment for the setting?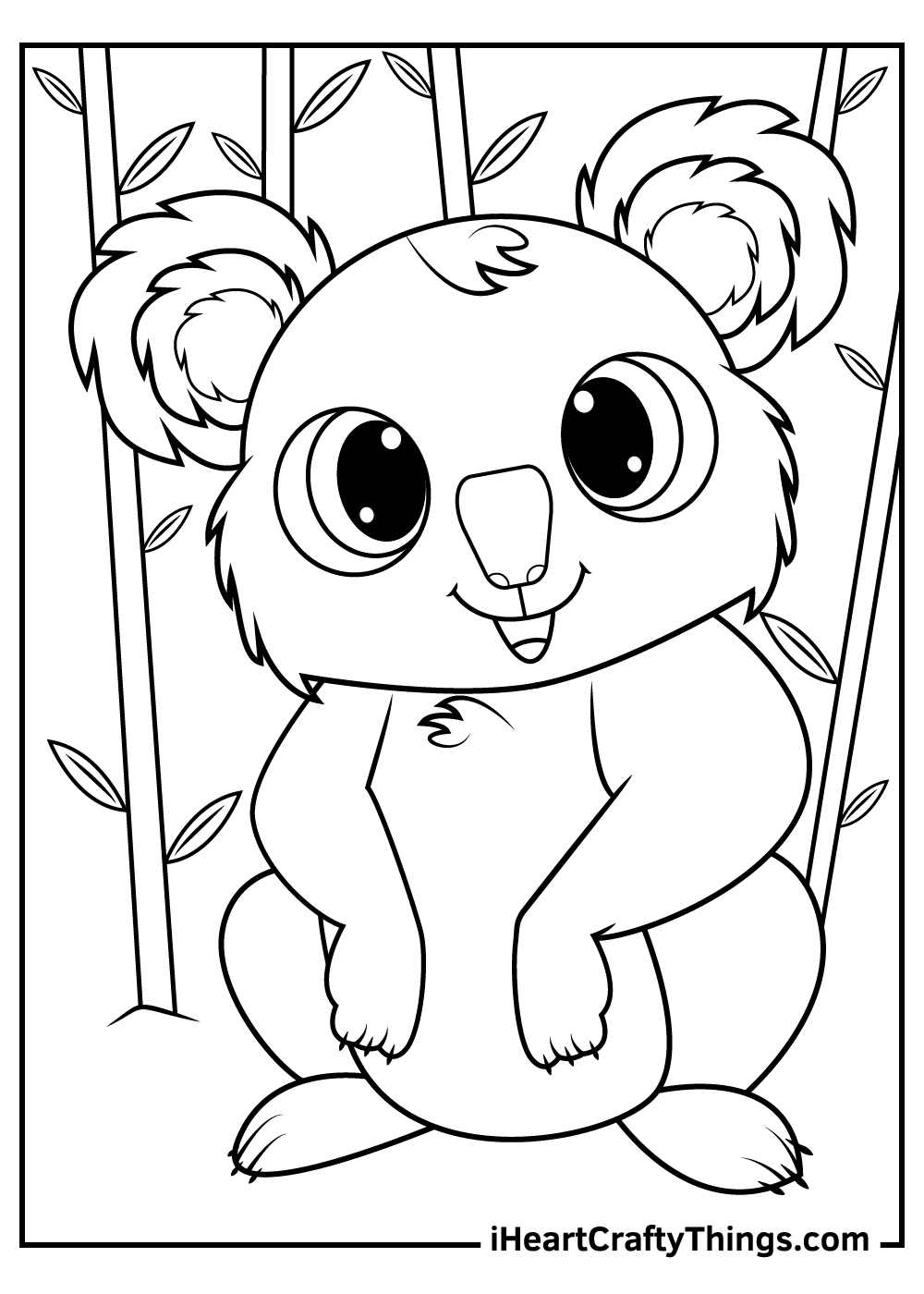 This curious koala is playing with a branch on a tree. He loves climbing and exploring all parts of the trees. He uses his strong arms and legs to move easily up, down, and around branches.
For this playful koala, color his fluffy fur using grays, blacks, and whites. Add texture with zig-zags and dots to show how soft it is.
Make the tree lively by coloring the leaves green and the trunk brown.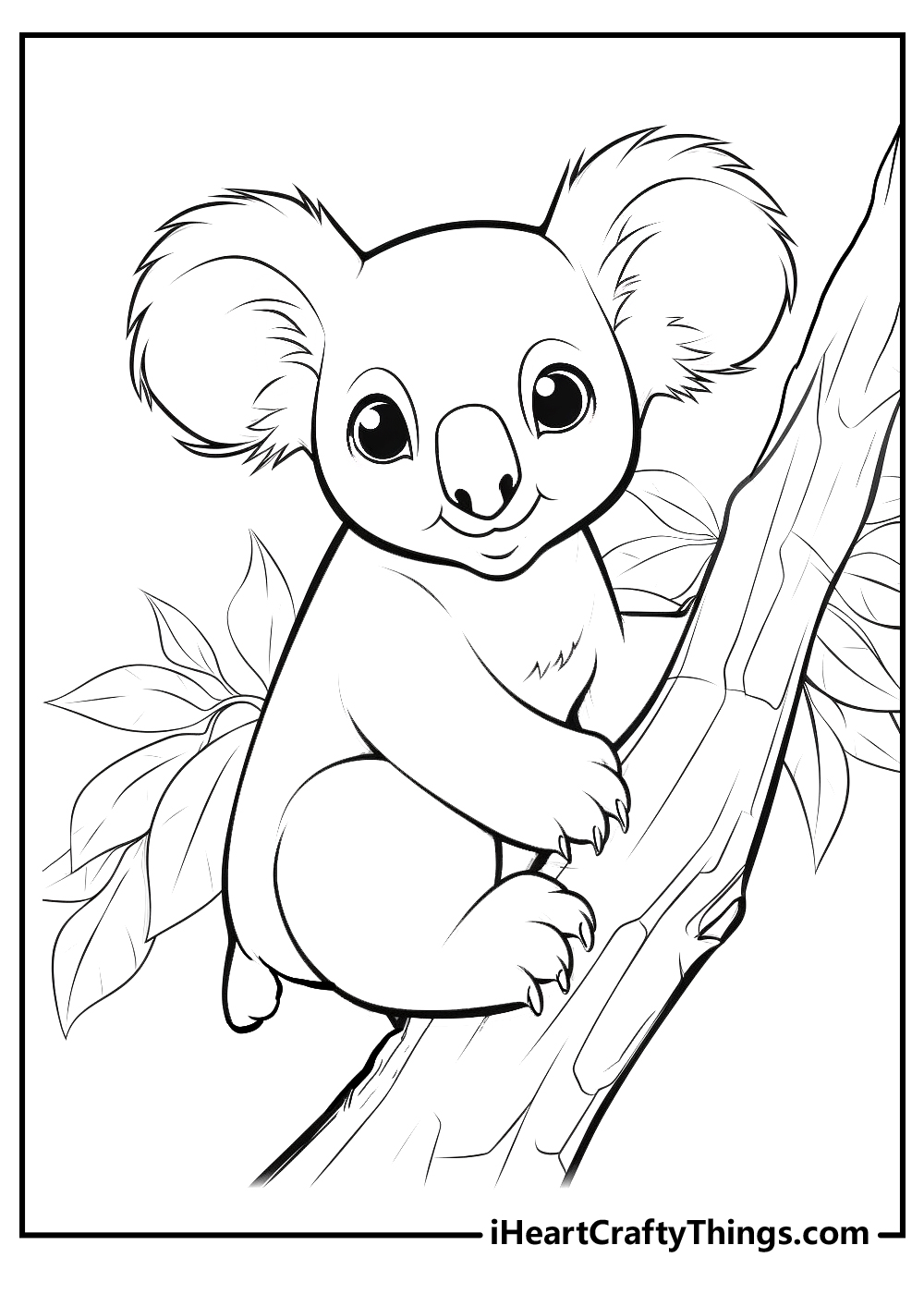 The image in this coloring page perfectly captures the endearing bond between a mother koala and her child.
Similar to a kangaroo, a baby koala is also known as a joey. In this coloring sheet, the joey is tightly holding onto its parent as they climb up the tree together. So sweet!
Here's a random fun fact—did you know that koalas have pouches in their bodies where they keep their offspring?
REMEMBER: You can get the COMPLETE set of these coloring pages >> HERE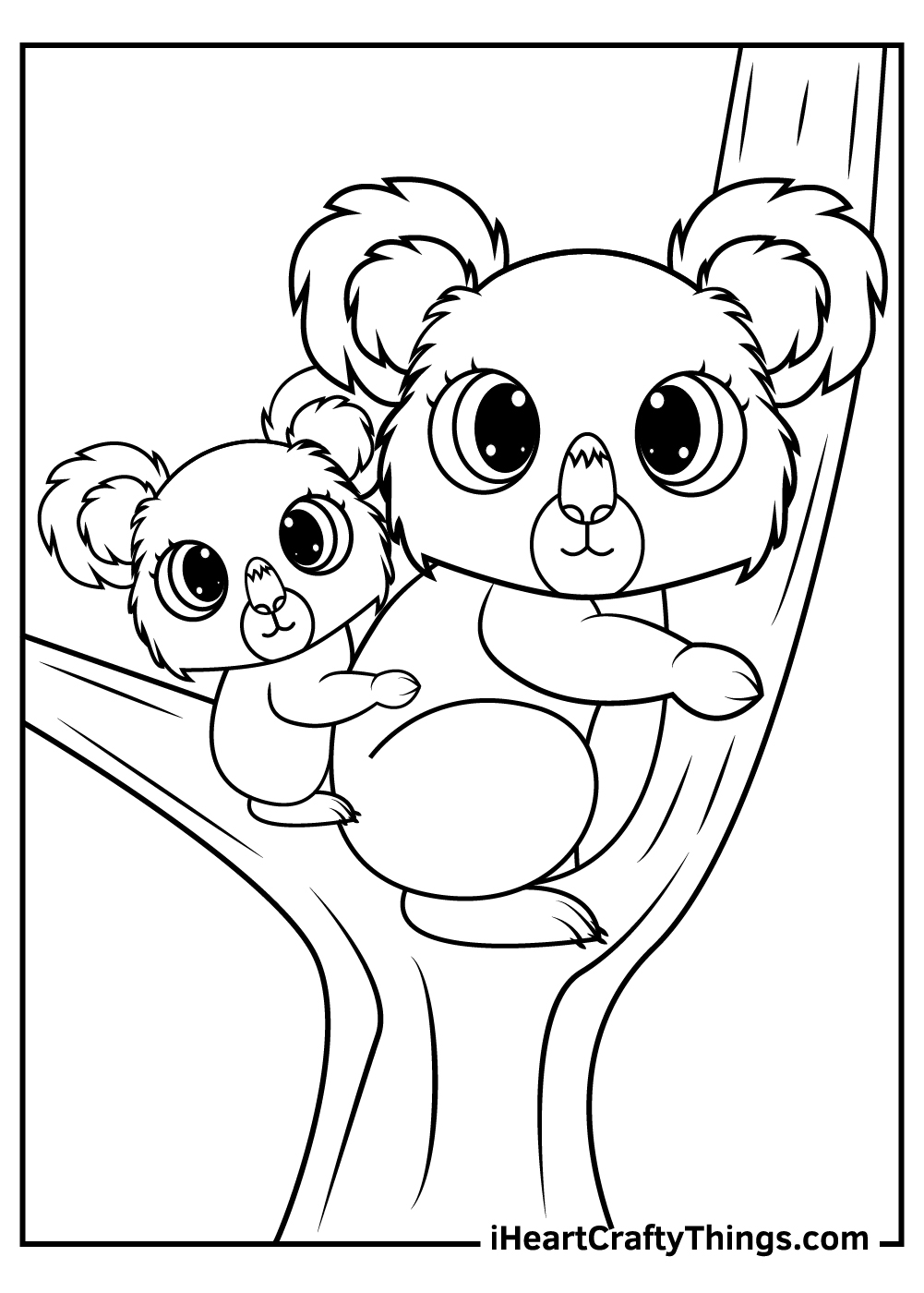 It's nighttime, that means it's time to sleep! We all know koalas love sleeping. As a matter of fact, they usually sleep for more than 20 hours a day. In this coloring page, the koala is getting ready for a good night's sleep.
It is sitting on the clouds as the stars glimmer in the night sky. The koala is even wearing a hat for a more comfortable slumber—so adorable!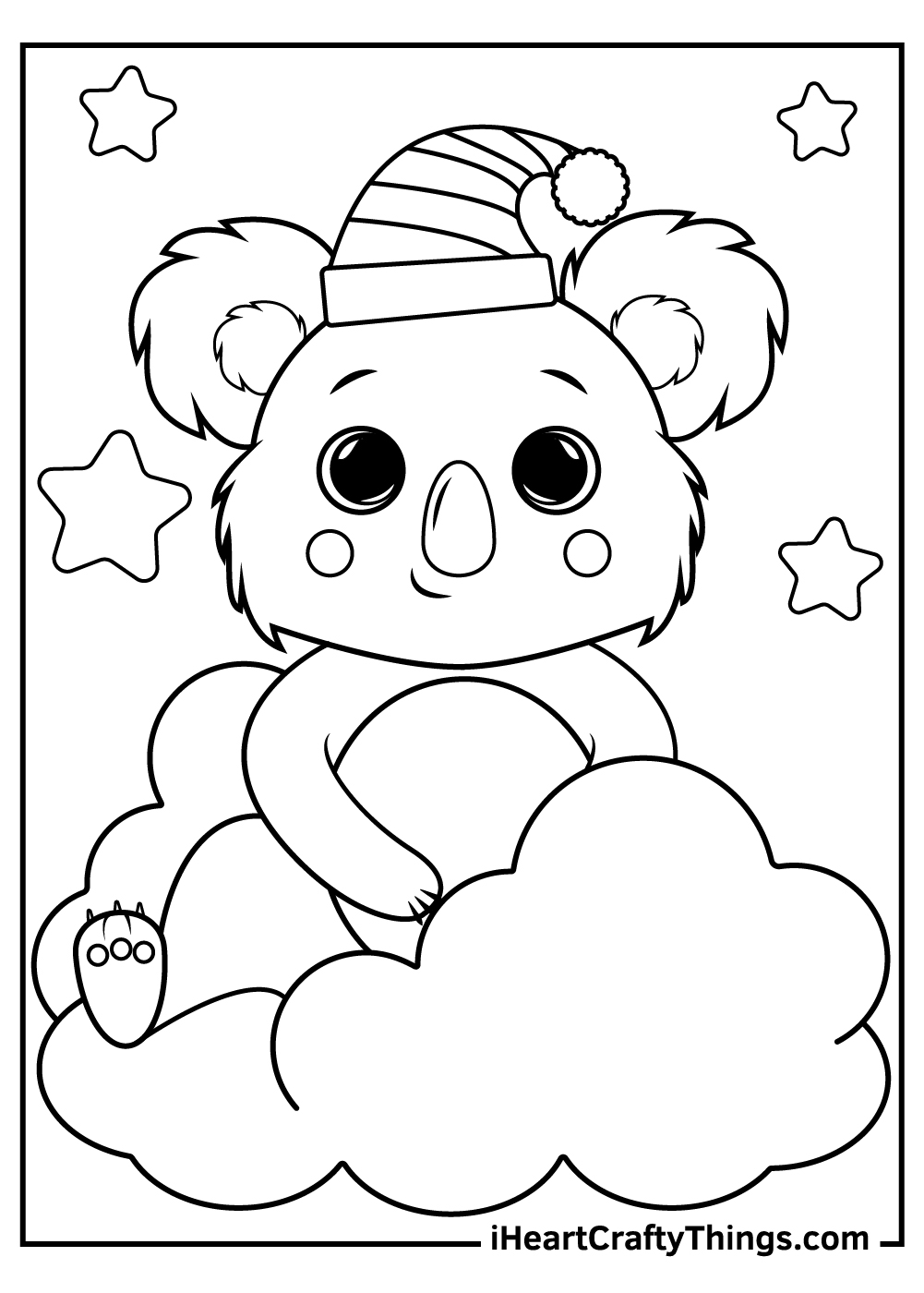 This koala is taking a nap on a tree branch. It looks very peaceful and comfortable as it rests its head on its paw.
Koalas sleep up to 20 hours every day to conserve energy since leaves don't provide much nutrition.
Tree branches keep them cool and help them feel hidden and safe while sleeping. Use light grays, whites and blacks to color the koala's thick, fuzzy fur.
Make the tree trunk brown and the leaves green to complete the cozy napping place.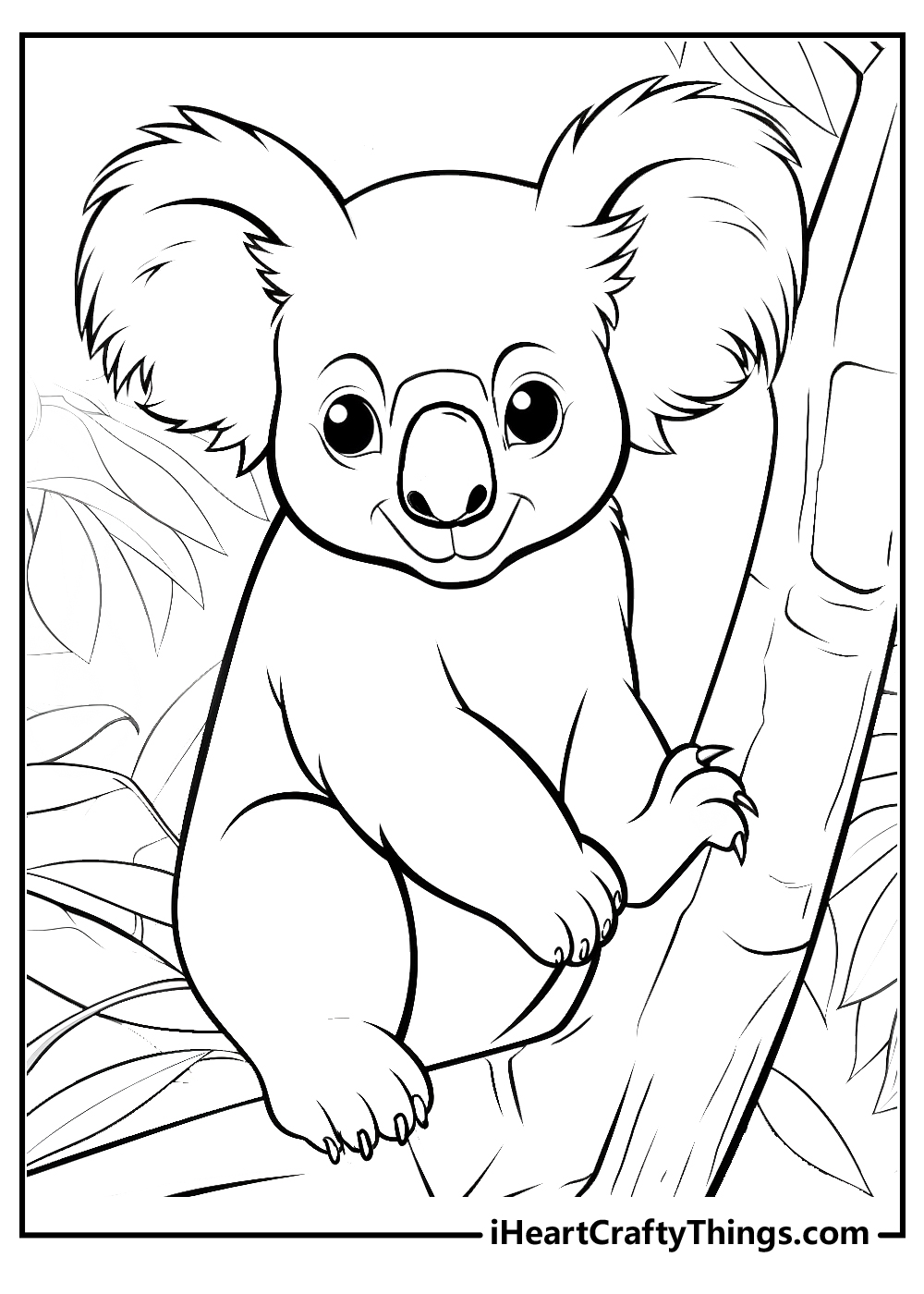 Koalas are always climbing up the trees. Who knows they could climb so high that they can reach the moon and the stars?
In this coloring sheet, the koala is dangling from the crescent moon, looking ready for a long, deep slumber. It looks extremely cute with its wide open eyes and slight grin!
REMEMBER: You can get the COMPLETE set of these coloring pages >> HERE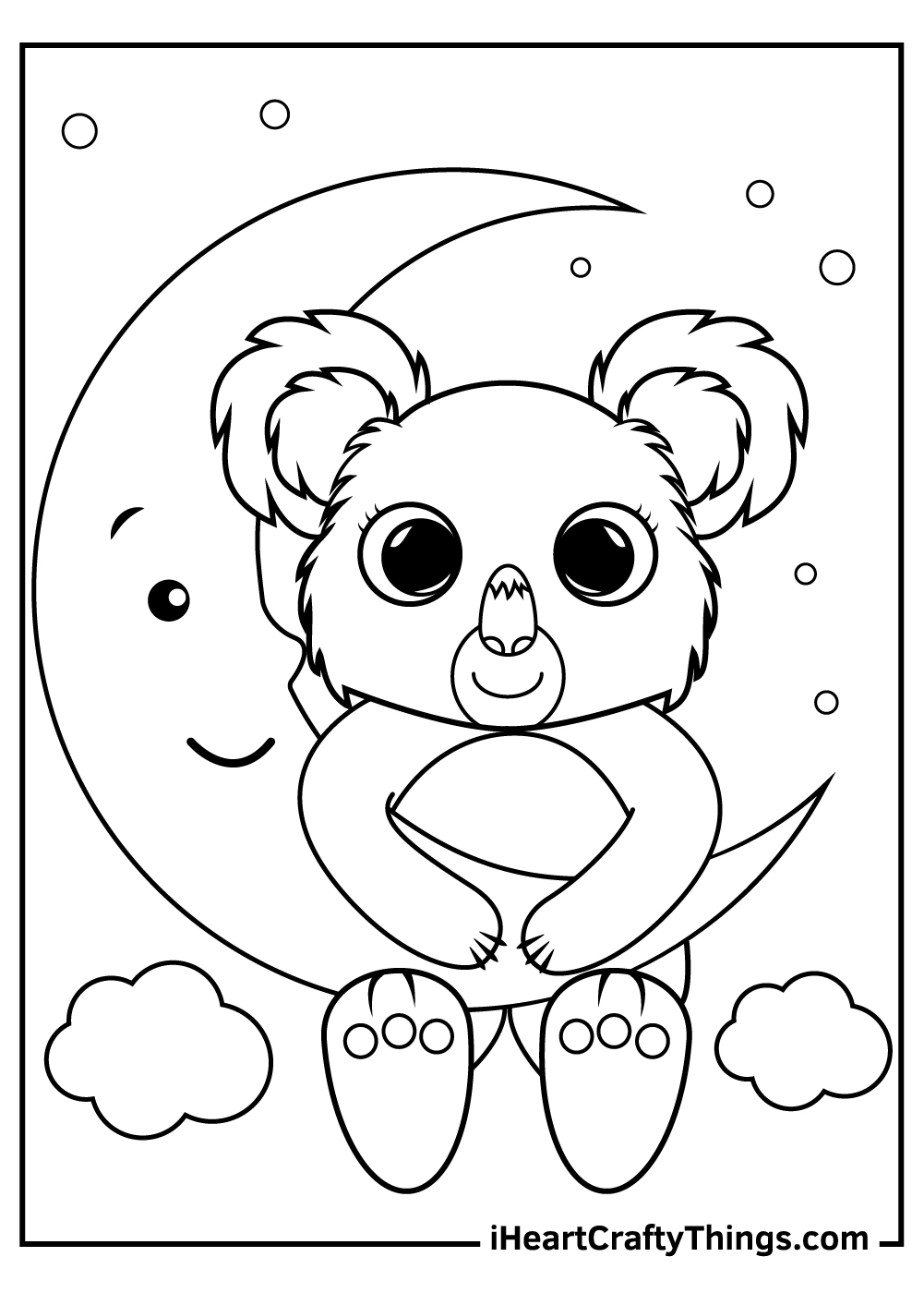 The koala in this coloring sheet looks like it is having a good day! It is smiling widely with its big eyes gleaming—so charming! There's bushes in the background with lots of flowers blooming. It looks like the koala is having fun wandering around the rainforest!
This image looks like the perfect work of art, especially for those who love koalas or animals in general. Why not give this to someone you know who does? We're sure they'll love it!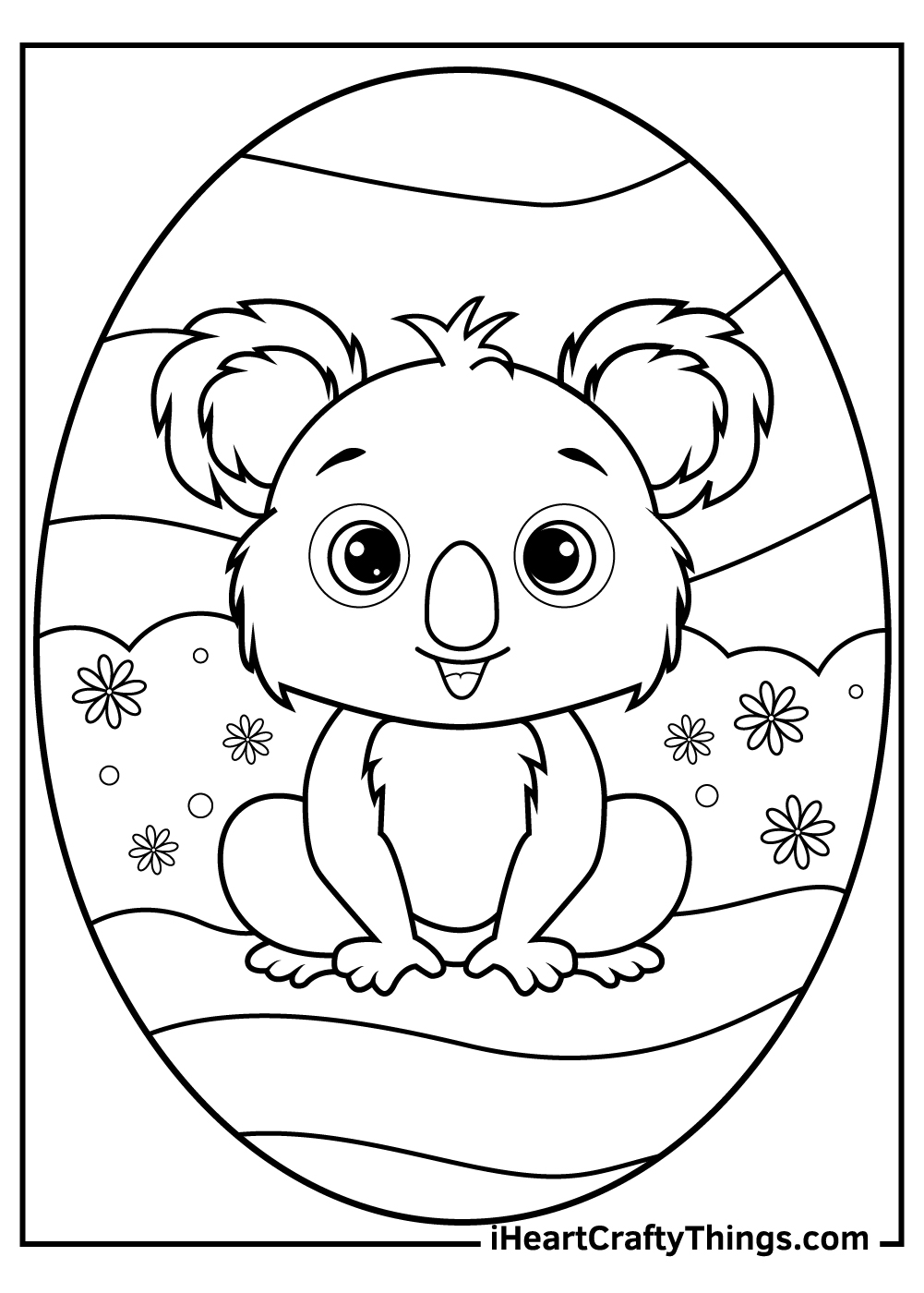 Koalas Coloring Pages — Which image will you color?
We hope you have fun coloring these koalas coloring pages. We rarely see koalas in real life. But with these coloring sheets, you can see a koala up close and appreciate its features. You can even color them however you want!
We are always updating our website and uploading new content. So don't forget to keep re-visiting our website to see all-new printable sheets for your coloring activity needs. Remember, all of our crafts and coloring pages are 100% free for you to print, color, and enjoy.
Once you've finished filling in the colors for these koalas coloring sheets, make sure to show off your amazing work of art by sharing it on our Facebook page. We're sure they are amazing!
We are excited to see how you brought these koalas coloring printables to life!
REMEMBER: You can get the COMPLETE set of these coloring pages >> HERE