On this page, you will find 20 all new Monsters Inc coloring pages that are completely free to print and download.
There are so many animated films to enjoy from recent years, and a huge portion of these classic animated movies came from the minds at Disney and Pixar.
Monsters Inc. is one of these classic films, and it has since spawned a sequel, video games and other adaptations.
It is a hugely popular series worldwide, and this collection of free Monsters Inc. coloring pages for kids is here to capture these awesome characters!
All 20 pages of this collection are free to choose, print, color, enjoy and share with others, so let's get started and have some fun!
20 Brand New Monsters Inc. Coloring Pages – Free to Print and Color
This first Monsters Inc. coloring page we have for you features our two main characters: Mike and Sully.
As you probably know, Mike is the one-eyed little monster while Sully is the large furry guy. Mike is a bright green usually, while Sully has some bright blue fur with purple spots.
Will you go with their classic colors or create a new look for them?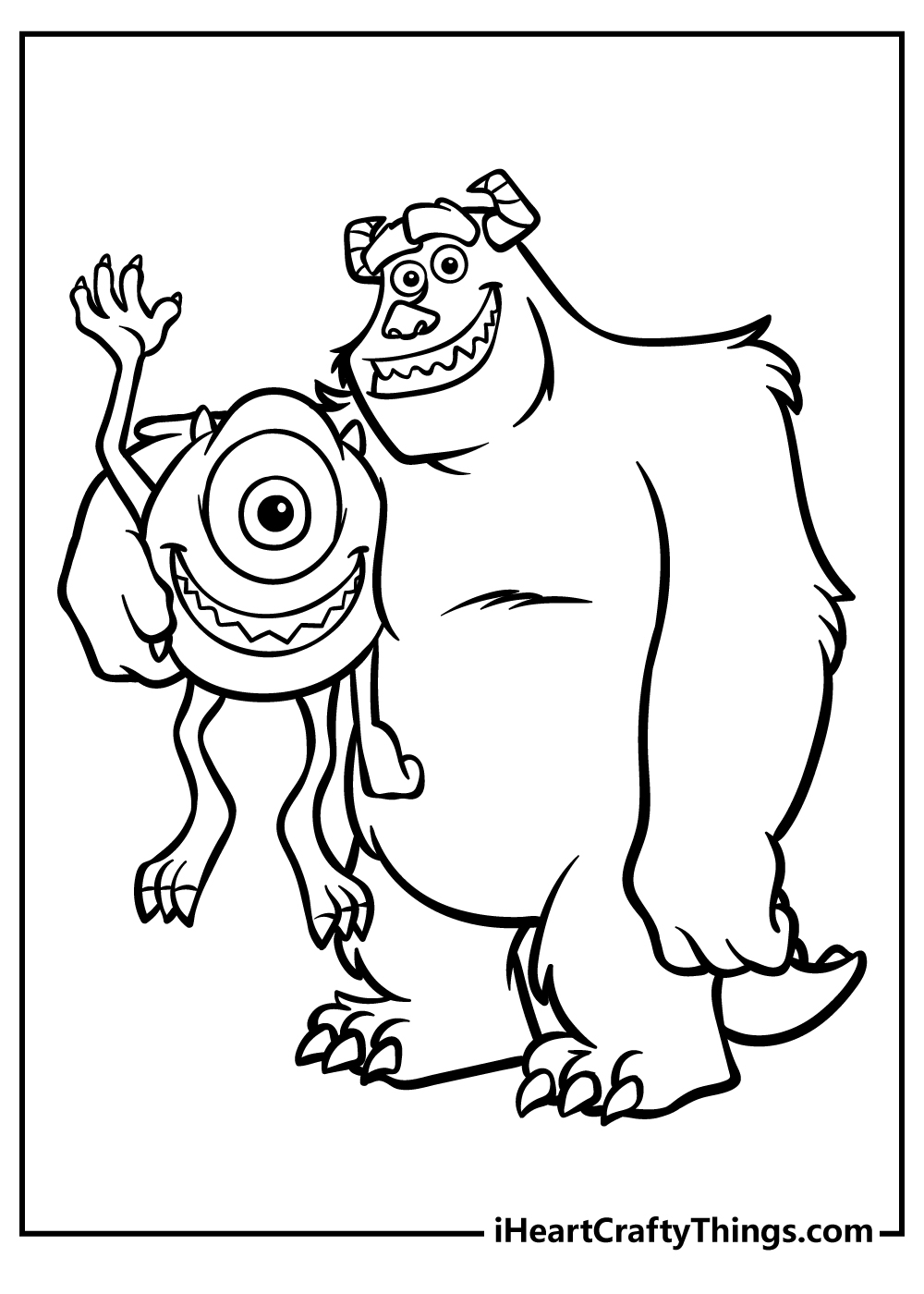 Sully is spreading his big furry blue arms wide open for a great big bear hug! What's your favorite thing about Sully? He's such a kind, caring, and loving friend.
Let's think about how we can be a good friend like Sully! What are some ways you show your friends that you care? Maybe you share your favorite toys or make them a card.
Use the brightest shades of blue that you can find to match his warm, friendly personality. The shades you choose will really make him come to life on the page!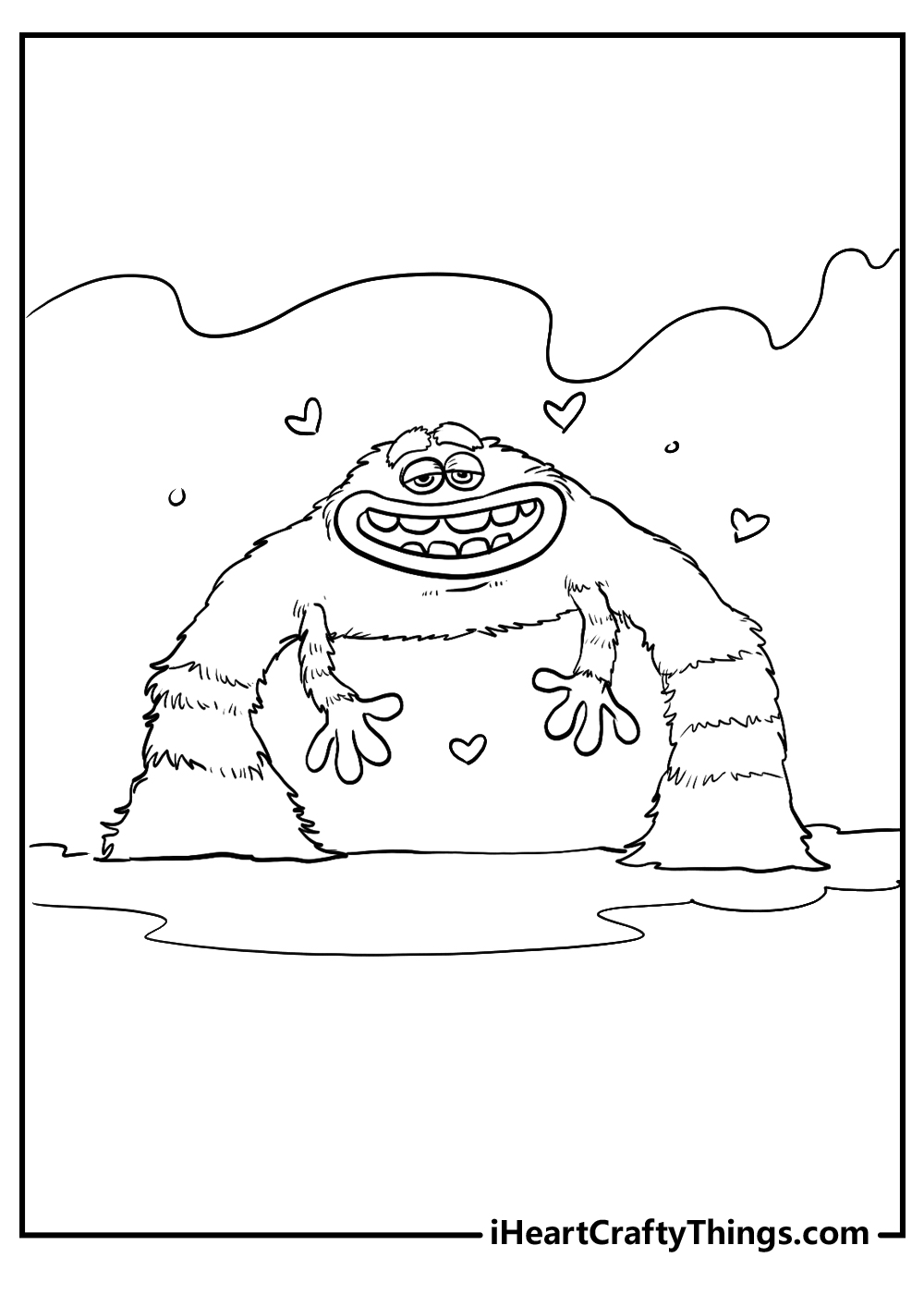 Mike and Sully are best friends, but that's not to say that they always get along!
This second page seems to capture a moment of tension between the two friends, but Mike definitely seems to be the more annoyed of the two.
What do you think Sully may have done or said to make Mike so annoyed?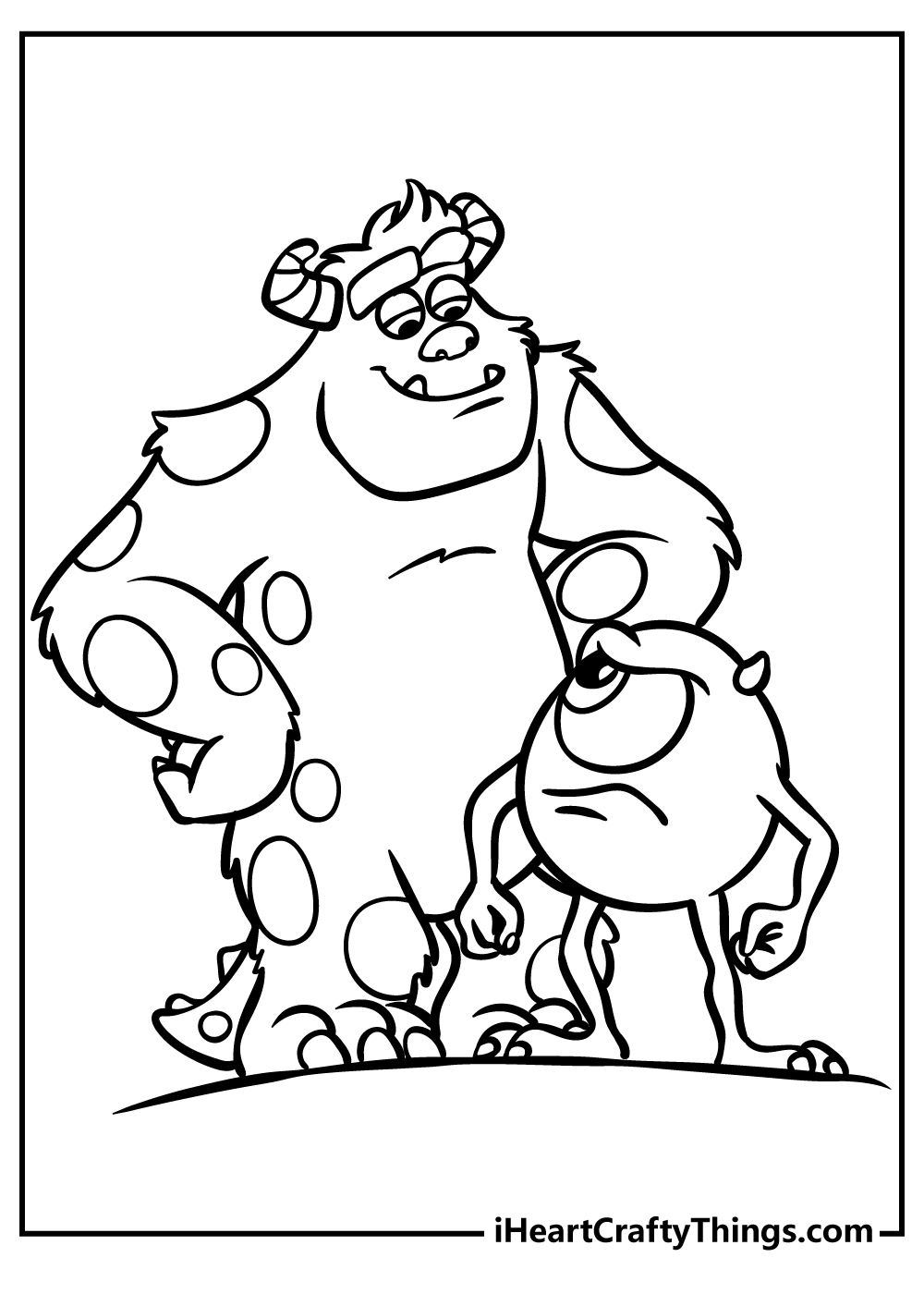 We've met our two heroes in the first two pages, but now we will meet our villain. Randall is a conniving, lizard-like monster that always tries to thwart Mike and Sully.
He is usually colored with a darker purple, so you can go for that kind of color scheme if you wish him to look screen-accurate.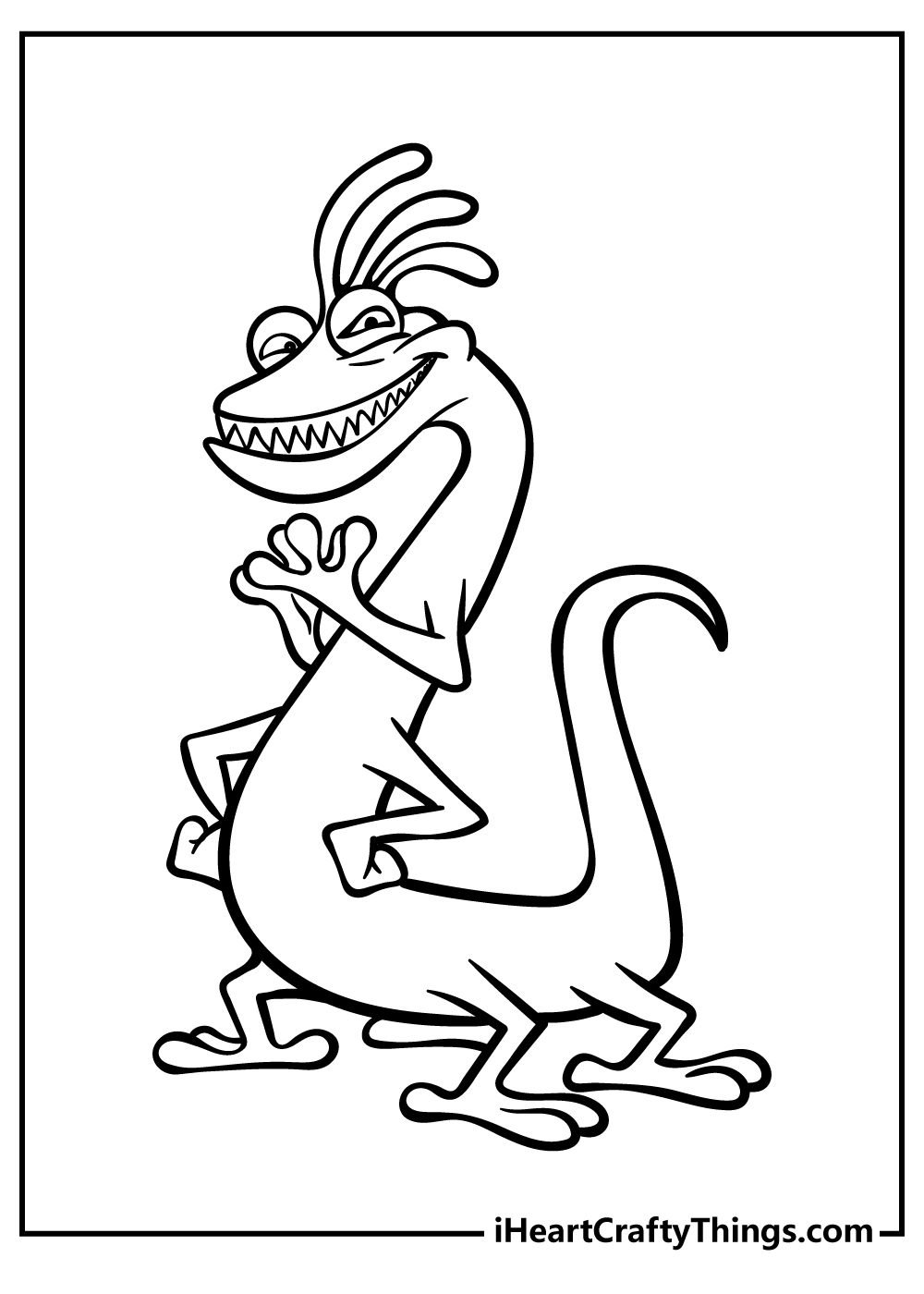 Let's add some color to cheer up this nervous, anxious monster. Fungus works at Monsters, Inc helping monitor all the scarers – that's a pretty stressful job!
Notice his funny shirt that says "OK" on it. What crazy, wacky colors should we use to decorate Fungus' shirt and skin? The sillier and brighter the colors, the better!
Fungus would love it if you used neon rainbow colors, glitter, anything to make him smile! How can your color choice make his outfit pop?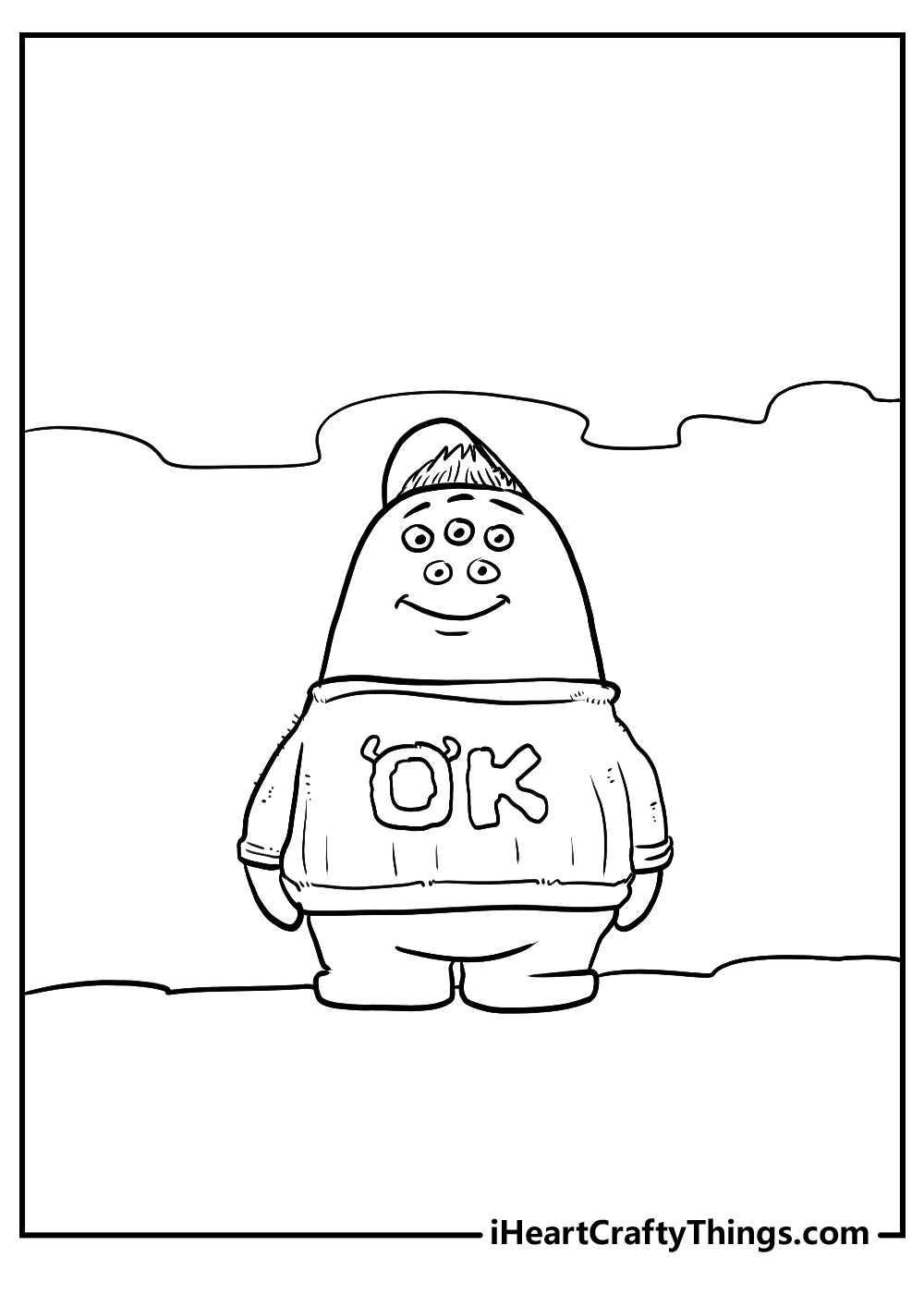 Sully is one of the top monsters in Monsters Inc., and here he is looking very professional as he wears a tie.
He may be a terrifying monster when he wants to be, but he can also be very kind and friendly, and that side of him is captured here.
Once you have chosen your colors for Sully and his tie, what art mediums will you use to complete your color choices?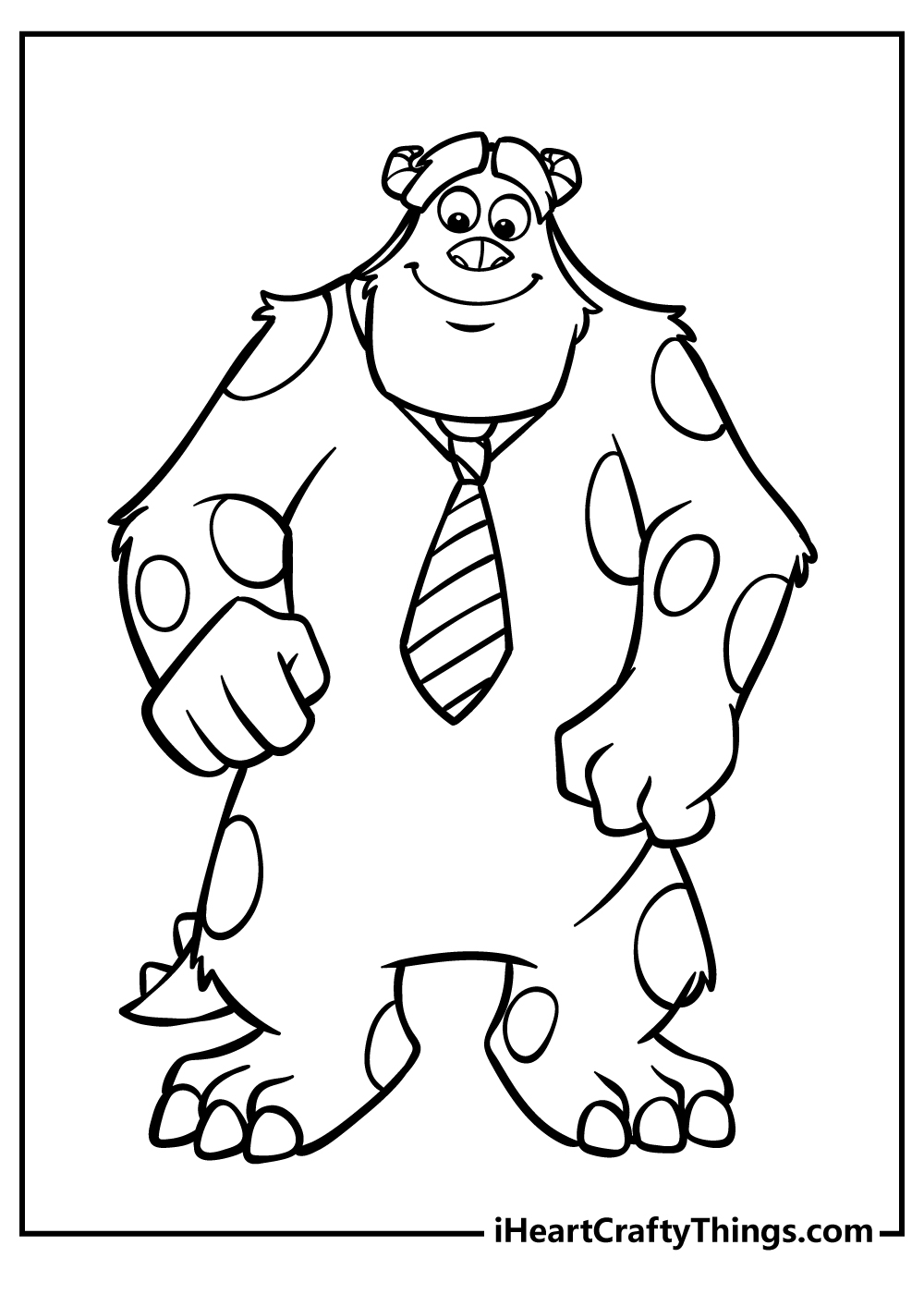 This fifth page in our collection of free Monsters Inc. coloring pages for kids captures Sully's character brilliantly! He has a mischievous expression here, and he looks like he is up to something.
This would be a fun image to draw a background for, as that would help to show what kind of adventure he could be on. What kind of background would you choose if you were to add one?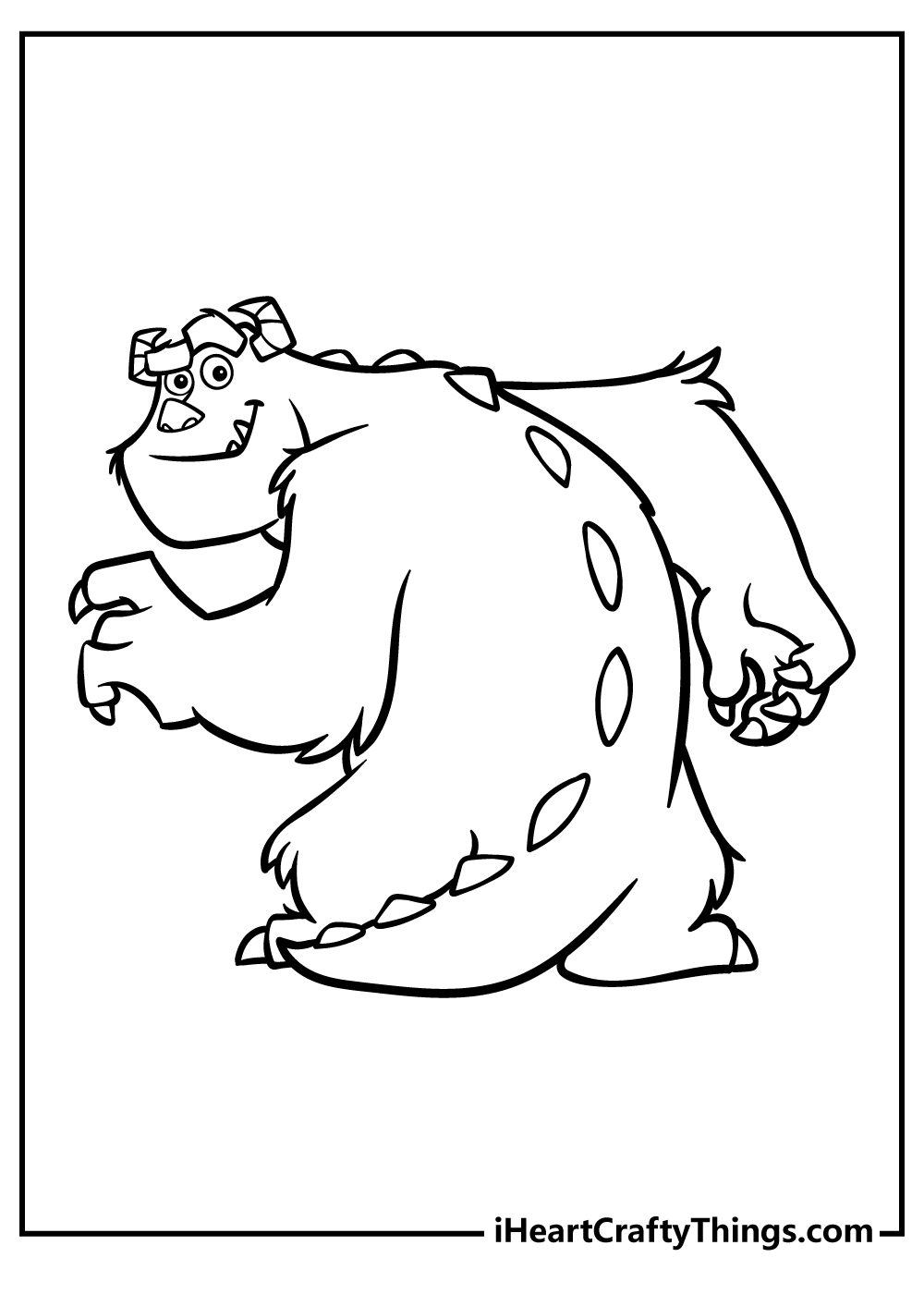 Wow, check out this Monster Inc character with tentacle arms – he looks just like an octopus! Let's use our most creative, colorful imagination to decorate him.
His unique octopus-like arms would look awesome painted in rainbow, vibrant shades.
As you color, try counting all of his arms – octopuses are excellent at camouflage so we could help him blend in with some wild colors!
He may have arms, but only 2 eyes – be sure to make them pop brightly on the page. What are the craziest color combinations you can think of?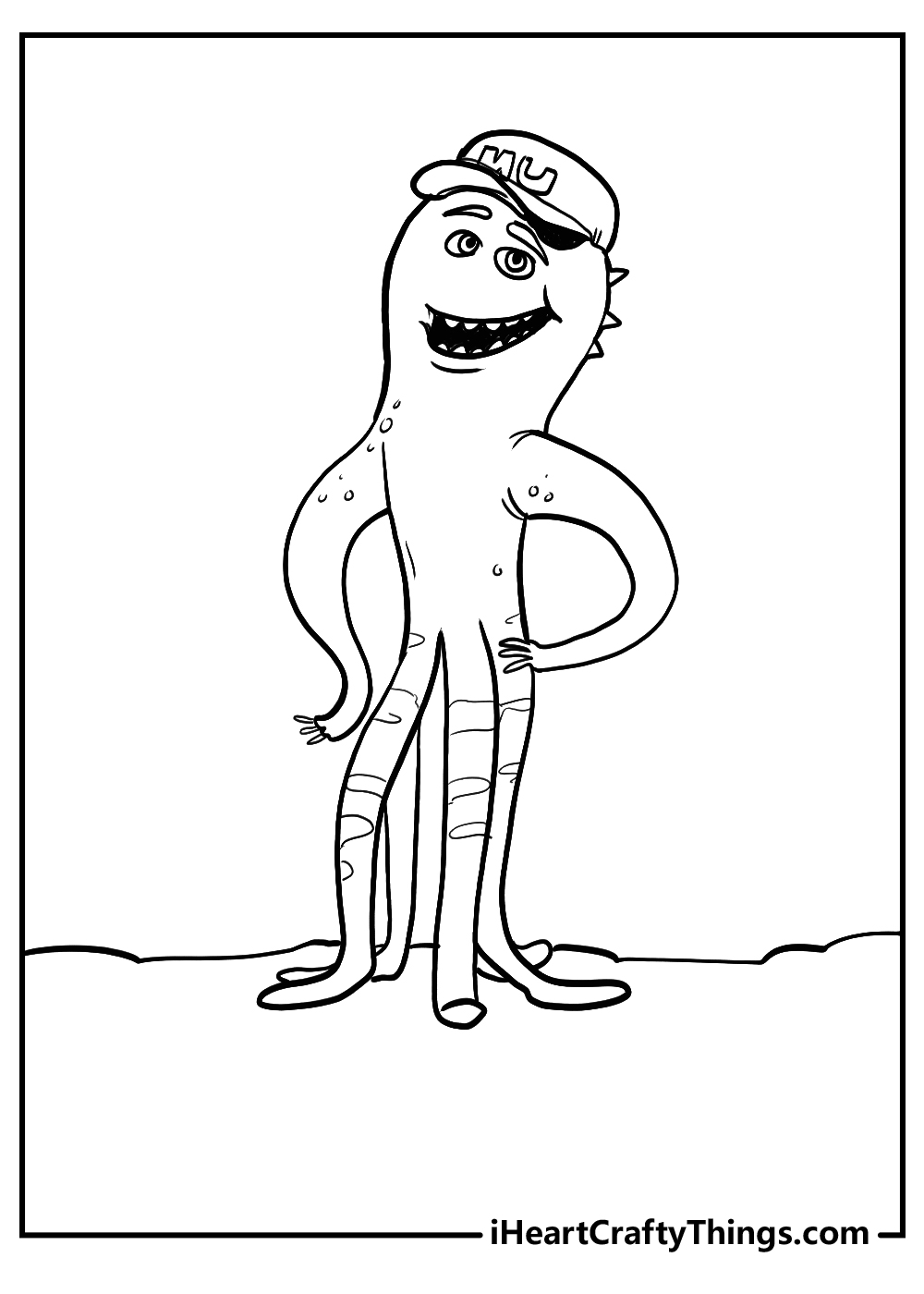 We've seen a few monsters so far in this collection, and now we have our first human character!
Boo is a small human girl that Sully befriends, and as shown in this image she has to wear a special monster costume to fit in.
There are lots of cool small details to color in here, and you can use the movie to help you if you want to make the colors accurate!
This next image shows Boo out of her monster costume, and it's a really cute picture of this character!
Her outfit has been left blank, so you could draw some fun patterns or pictures onto it or use some bright colors to make her clothing pop with color.
How do you think you will color this portrayal of Boo?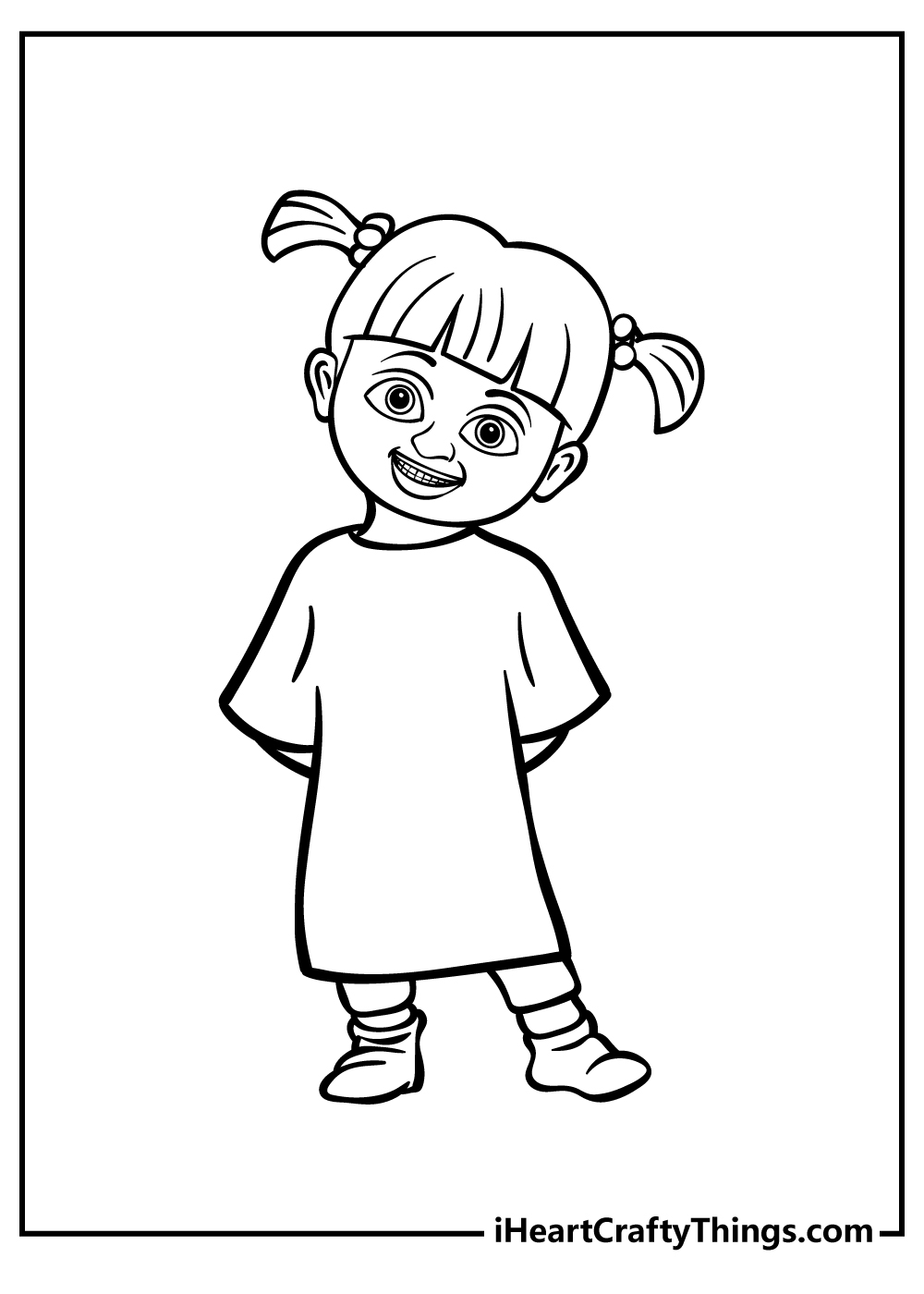 This silly Monster Inc monster is big, old, and wearing glasses! What are some signs that make someone look old instead of young? Gray and white colors will help show his age and wrinkly skin.
Why might he need glasses? Maybe they help him read better! Glasses help people see clearly. As you color his outfit, choose the most fun, vibrant colors to decorate him from head to toe.
We can show respect for our elders by lending a hand – what acts of kindness have you done for someone older?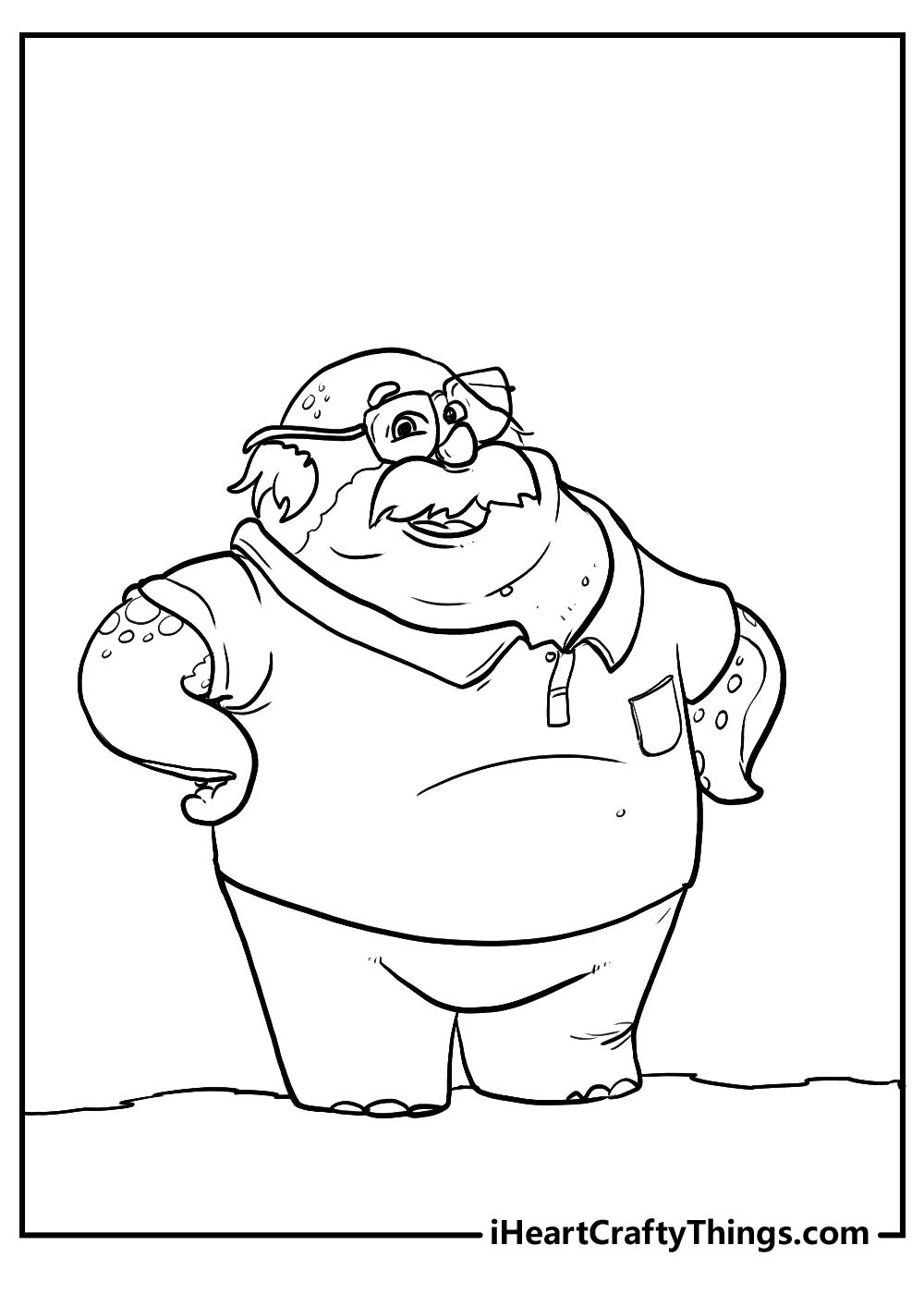 It's time to color Randall again, and in this one he is looking really mean and vicious! He seems to be pouncing on something or someone here, and you can only wonder what it could be.
Maybe you could draw a small monster design of your own beneath him to show what he could be pouncing on.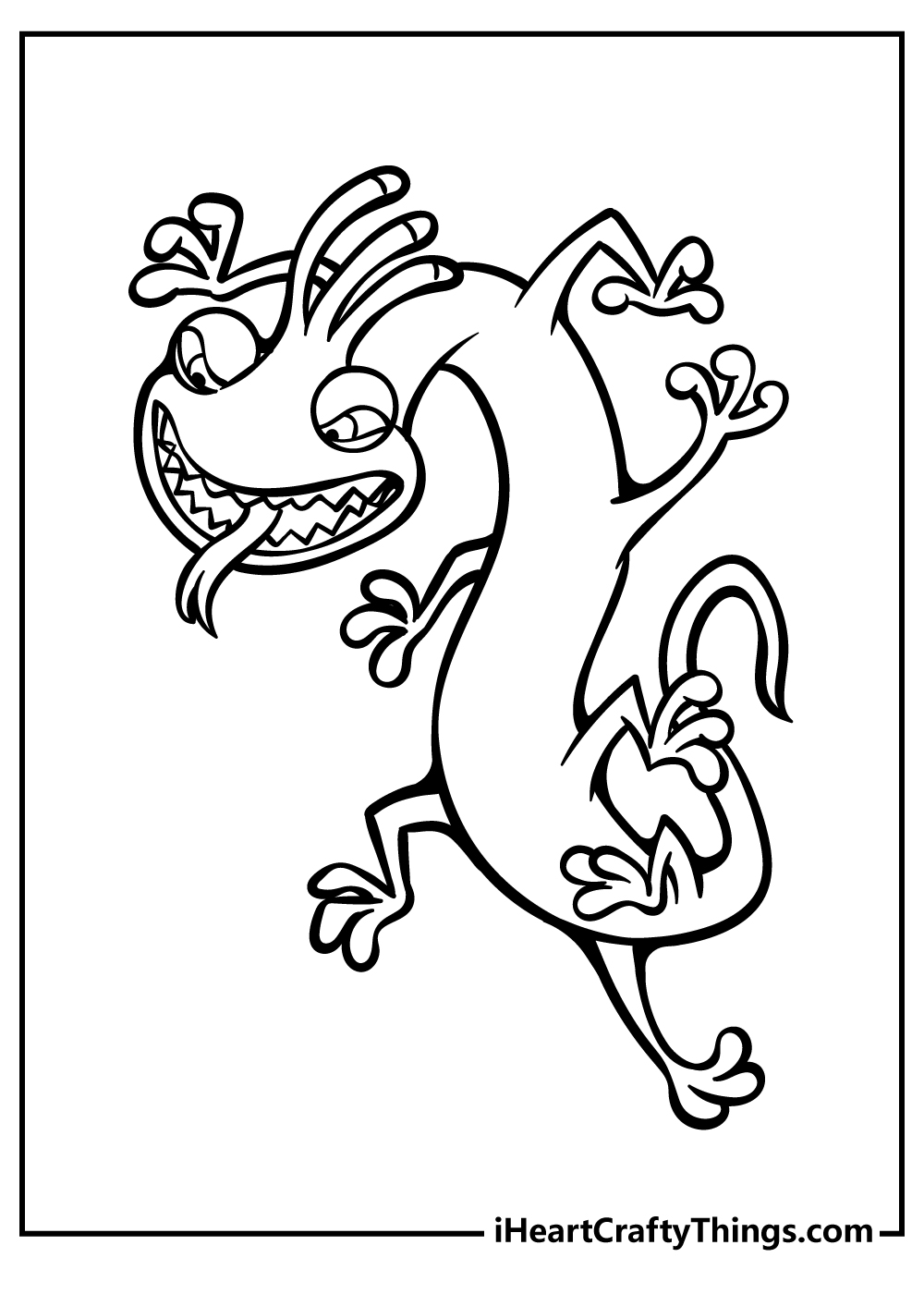 Jeff Fungus is a more minor character from the films, but he has a really cool and unique design!
In the films, he usually is colored with a deep red with a blue hat, and that would make for a really interesting page to look at.
We would use some colored pens or markers for this one, but what will you pick?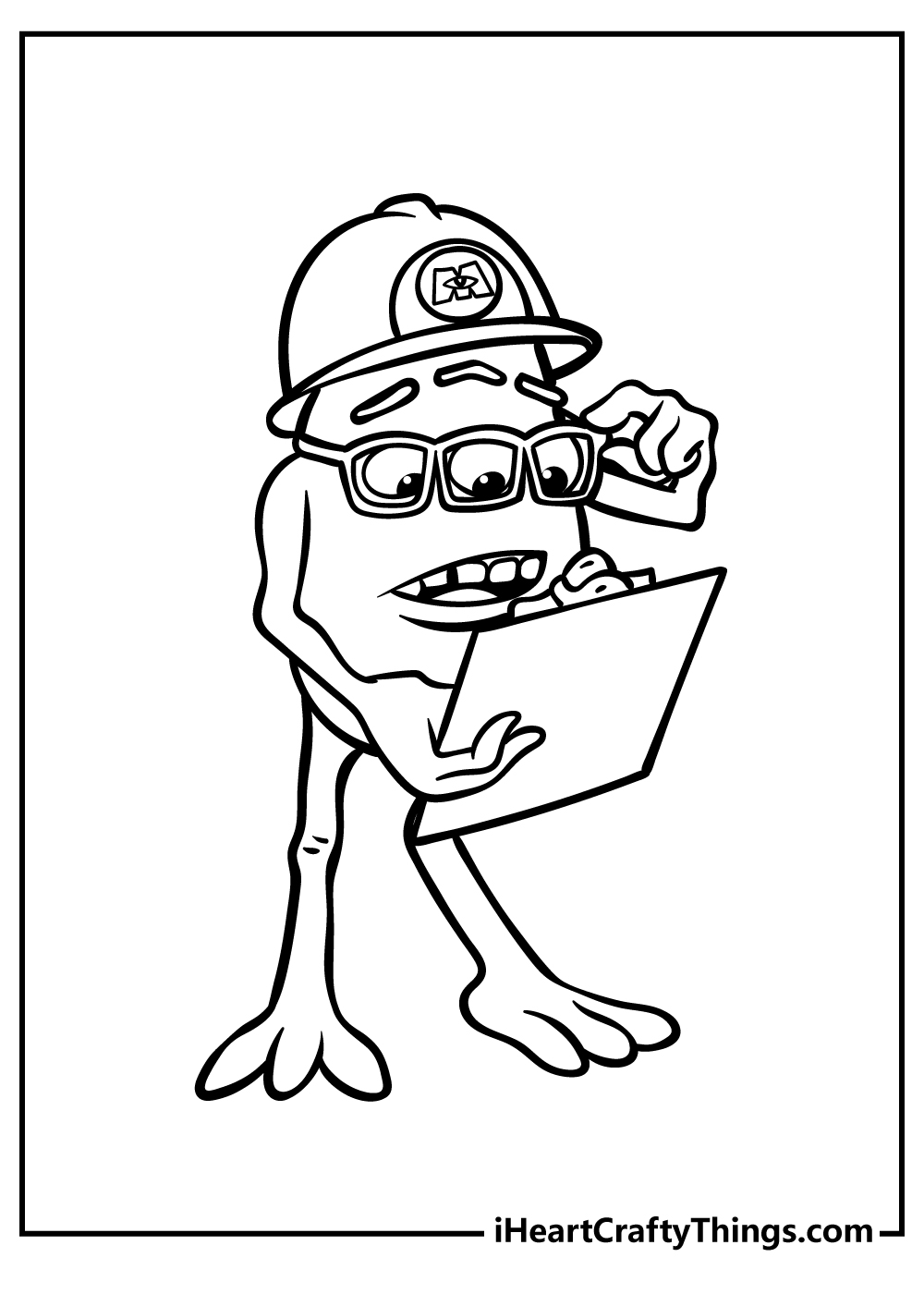 In this Monsters Inc. coloring printable, we see Mike Wazowski living out his true passion: stand-up comedy!
Later in the first film, the monsters focus on comedy to harvest laughs from humans, so he finally has a chance to try out his best jokes and gags.
If you have a favorite joke, maybe you could write it in a speech bubble above his head!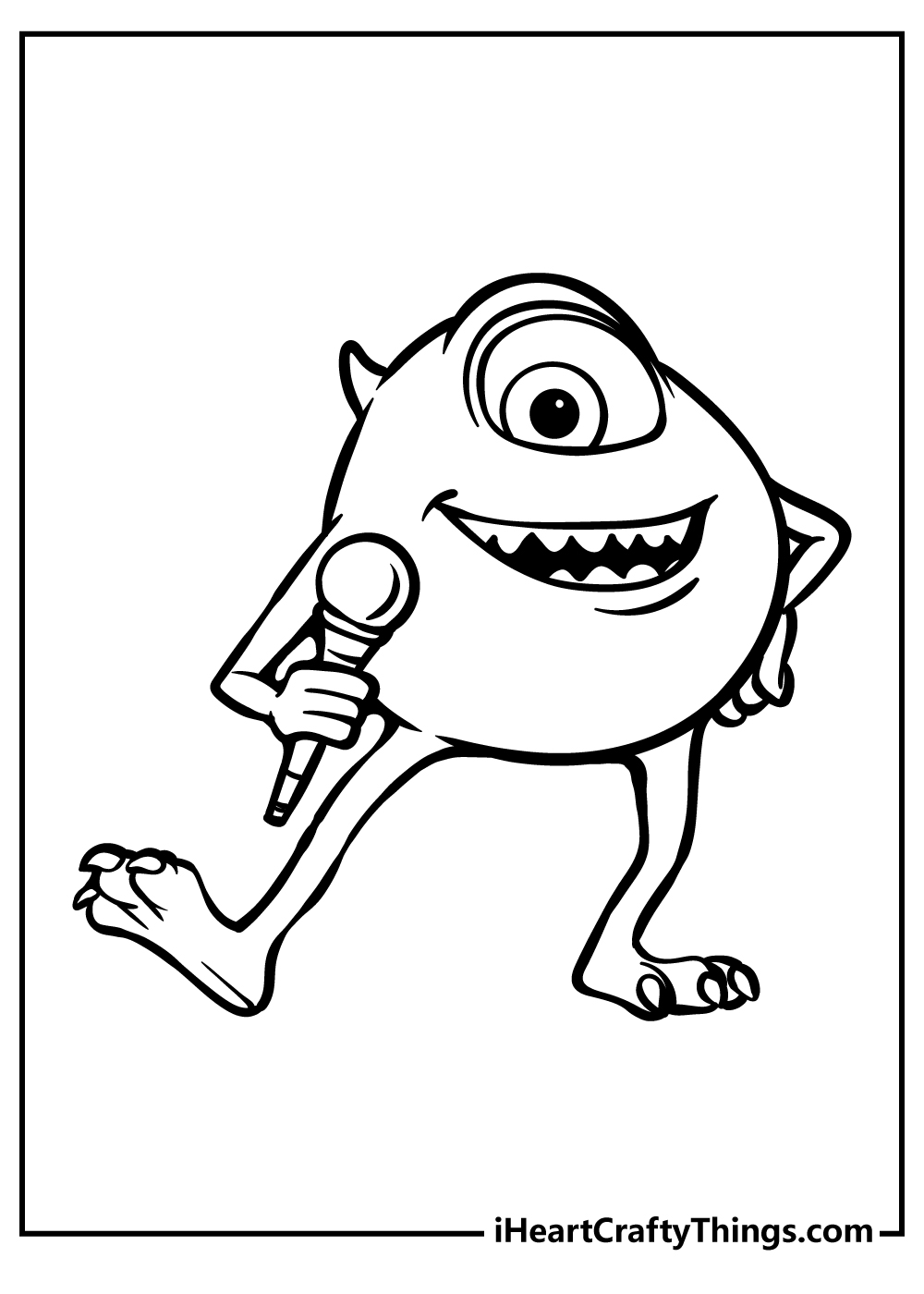 Randall is striking such a happy, cheerful pose – hooray! Let's celebrate by using the most joyful, fun colors we can think of.
Randall has quite a colorful pattern on his skin already – try mixing together your brightest shades as you color him in.
You could give him a fun background too like a rainbow, flowers, or something silly! What are some times when you felt as happy and cheerful as Randall?
Think of a few of your favorite things as you color that make you smile just like Randall is here!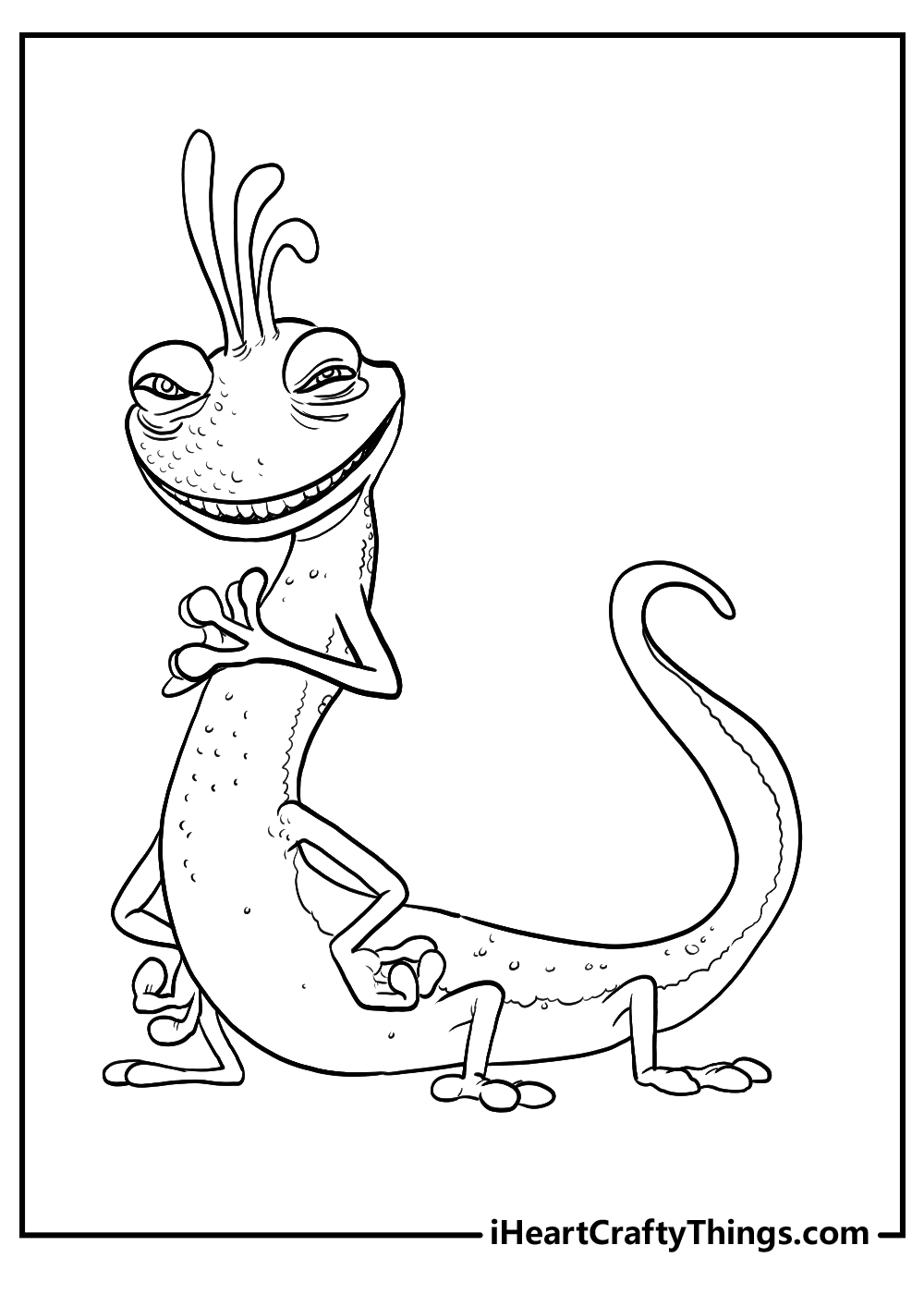 This next portrayal of Mike is a bit more cartoony and simple, but it manages to really capture his personality.
We think that this cartoony portrayal would be well suited to some more bright and vibrant colors. If you have some acrylic paints, these can be great for bright colors that pop.
What other fun mediums will you use to color this picture of Mike?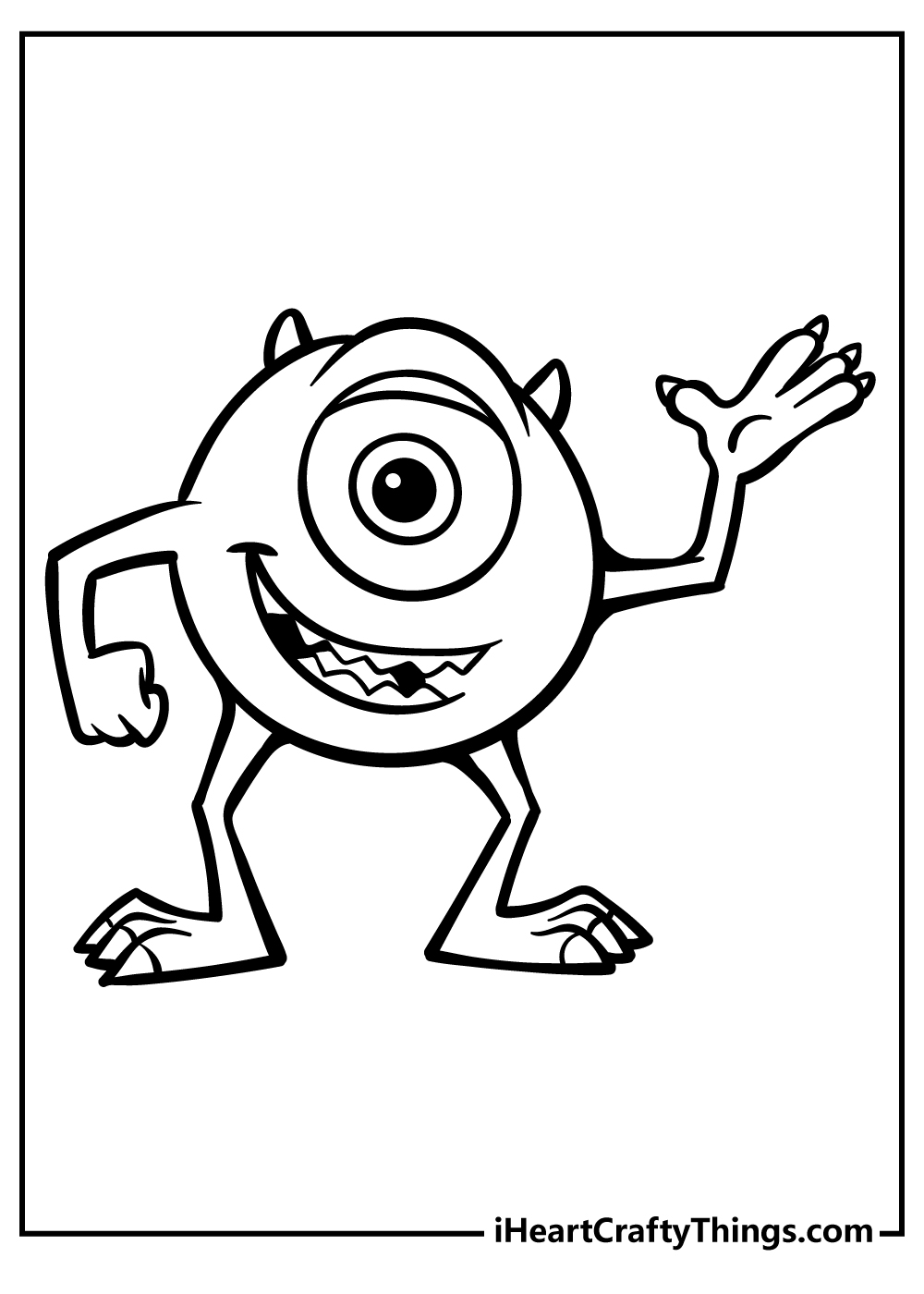 Boo is back for more in this adorable picture. She is drawn in a rather detailed style here, so there are plenty of small parts and details you can have fun coloring.
When coloring these smaller details, you can use mediums such as colored pens, pencils or thin-tipped brushes to make coloring these areas much easier.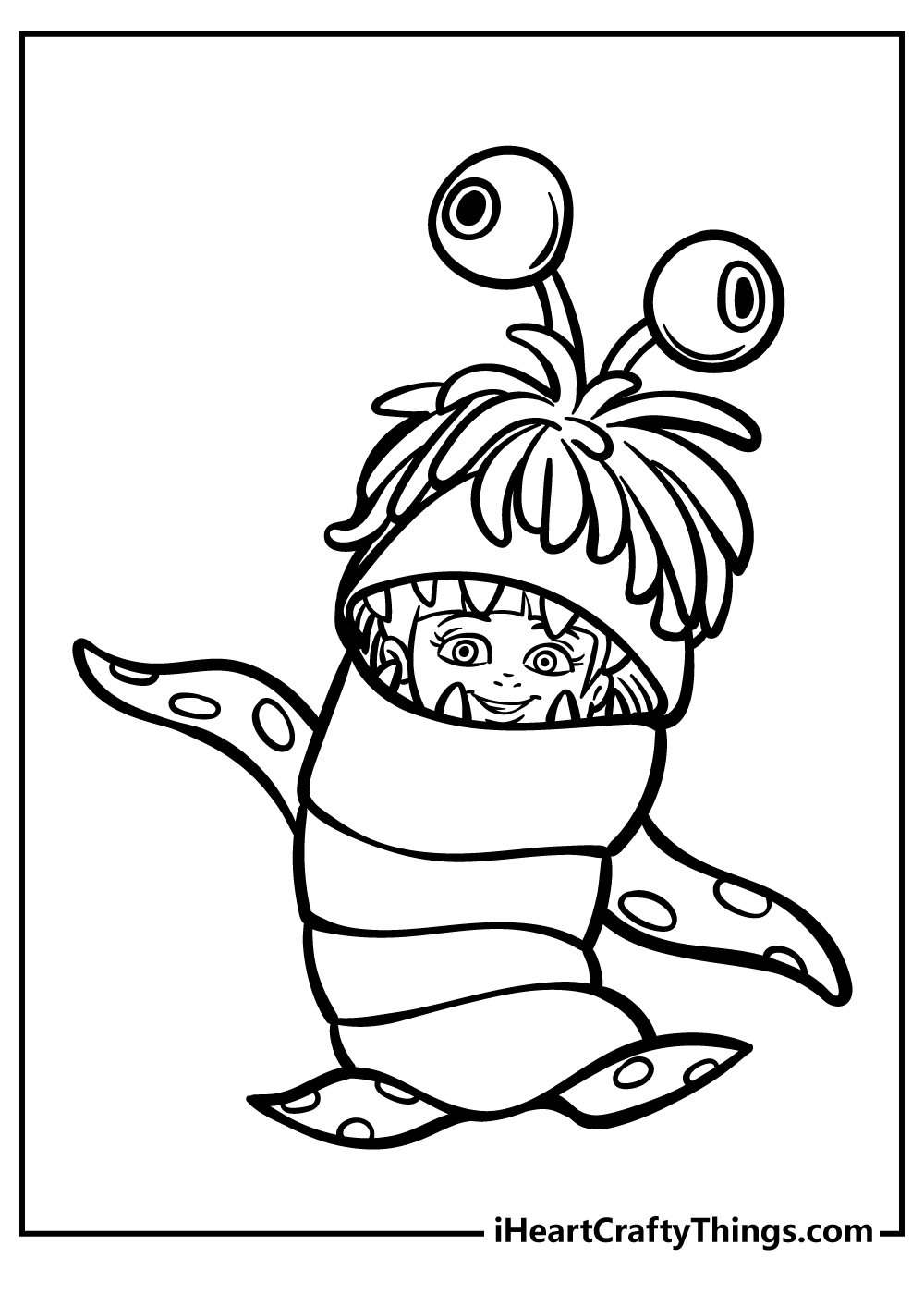 This fun picture of Mike again captures his personality brilliantly.
It's another one where it looks like he could be in the middle of a funny joke, and we think that some bright, explosive colors would be perfect for the background here.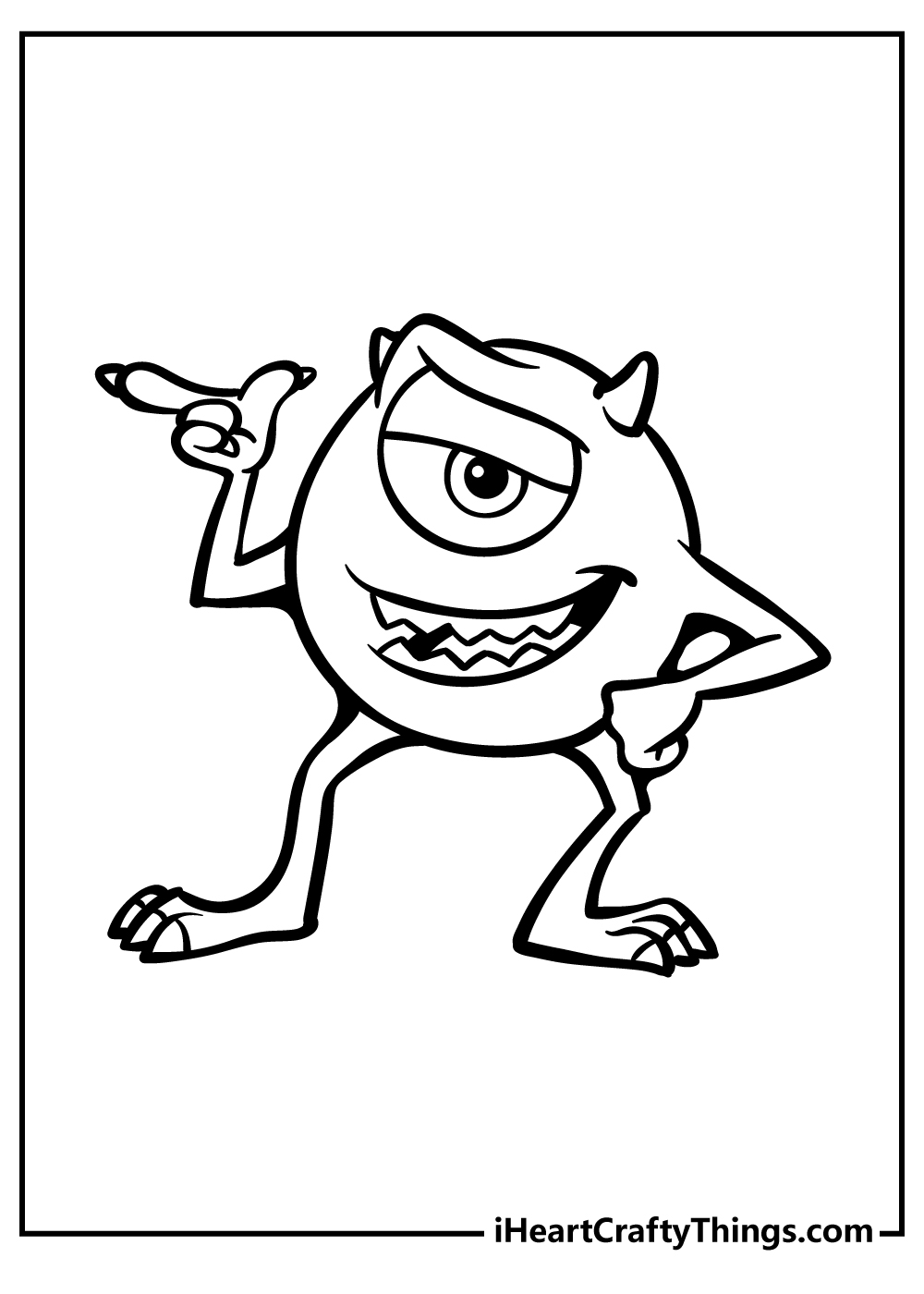 Mike is going for a run in this amusing picture. He's on the go, and we're wondering where he could be heading to.
This one would be a great image to add a background to, as this would show where he is on the move.
What kind of setting can you think of that he could be running through?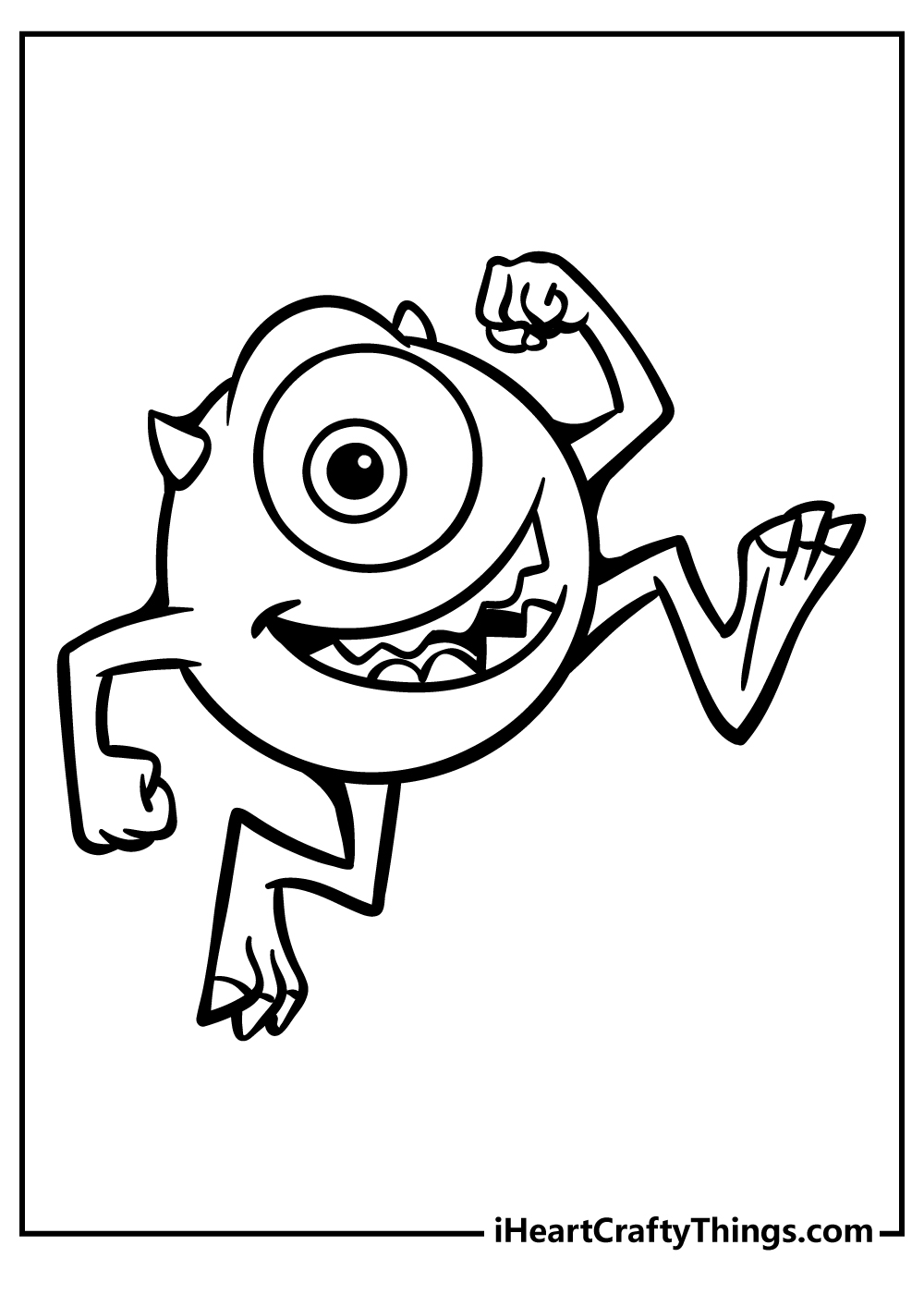 For the final Monsters Inc. coloring sheet that we have for you, we have Mike and Sully reunited once more as they go through a door.
There are tons of great details to color here, and there is also room for you to get creative with some extra details.
You could design a look for the portion of the room that we can see, and that would be a great way to personalize this drawing even more!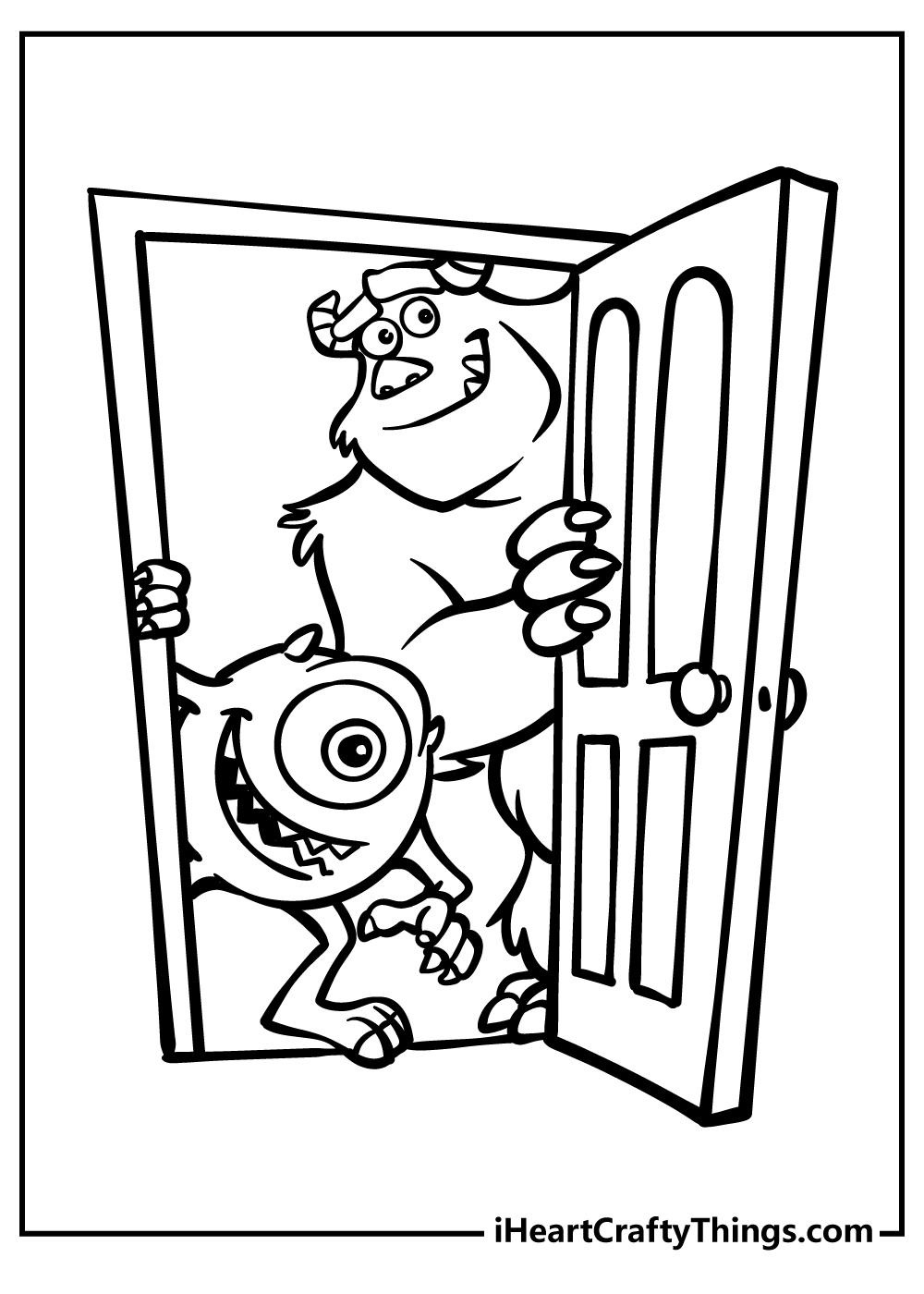 Monsters Inc. Coloring Pages – Which will you choose?
Hopefully you had a great time hanging out with your favorite monster pals with this collection of free Monsters Inc. coloring pages for kids!
We tried to include many different characters, styles and situations so that you can really get creative with it.
When you're ready to show off some of your finished pages, remember to share some of your favorites on our Facebook and Pinterest pages. We would love to see how they turned out!