On this page, you will find 25 all new Toy Story coloring pages that are completely free to print and download.
It would be difficult to find a film series more beloved than Toy Story! This series has spanned 4 films and countless spinoffs in other forms of media, and fans young and old treasure these characters.
This collection of free Toy Story coloring pages for kids is here to celebrate these classic characters!
With so many varied characters, you're sure to get to use all of your favorite colors and art mediums while working on them.
We would love to see how some of these pages turn out, so please share some of your finished creations on our Facebook and Pinterest pages!
25 Brand New Toy Story Coloring Pages – Free to Print and Color
This Toy Story coloring sheet features good old Mr. Potatohead!
This character is known for his sarcastic nature and short temper, but while he can sometimes be a bit of a jerk he always comes through for his friends.
He is made up of lots of different parts that can be moved around, so creativity is the name of the game here!
You could feel free to use any colors that you think would suit Mr. Potatohead. How do you think you will color this unusual and beloved character?
We're sure to see all kinds of creative interpretations!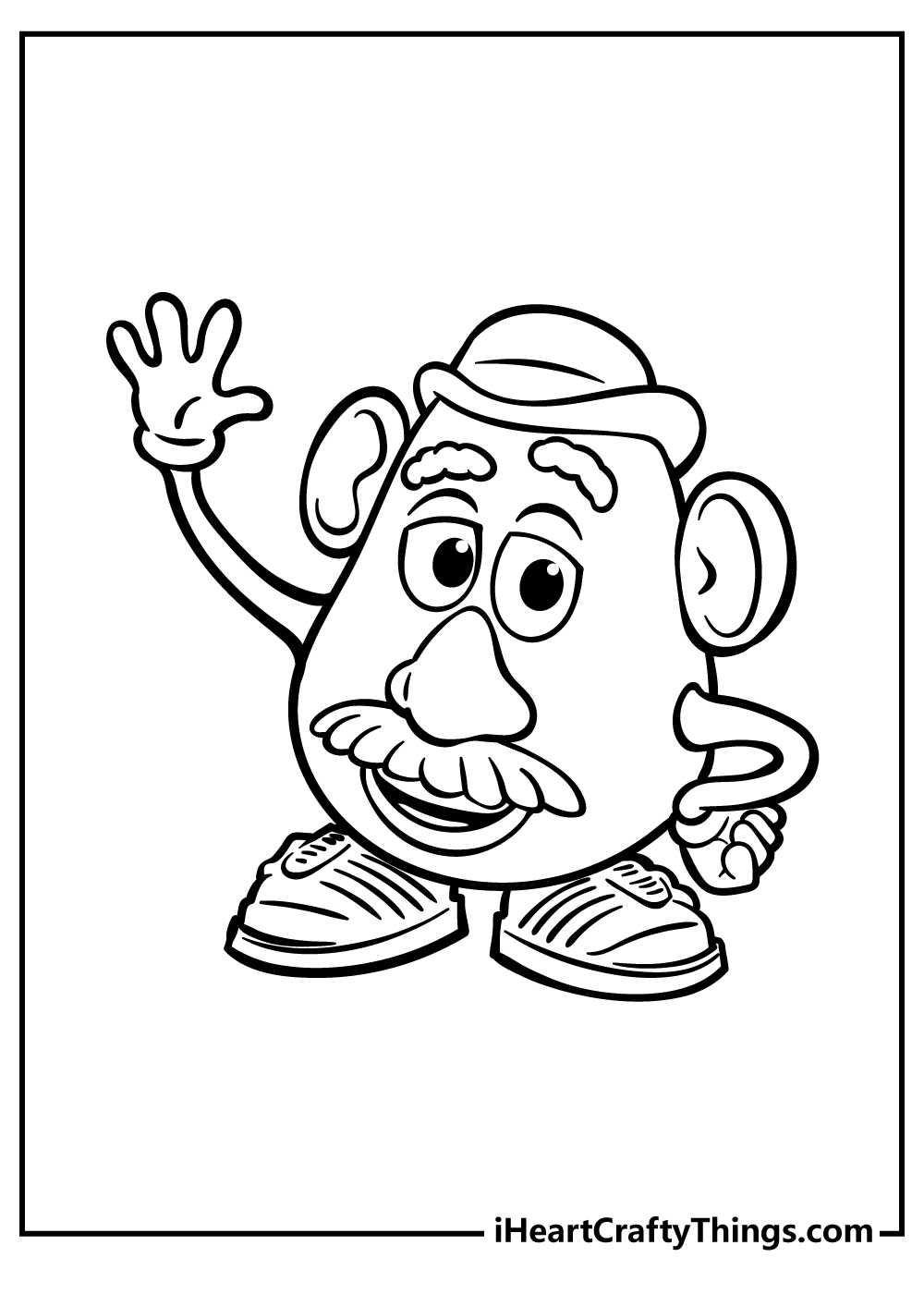 Rex may be a dinosaur that is trying to be scary, but he is just too good-natured to ever achieve it!
He is a character that is fiercely loyal to his fellow toys, and he is also always very kind. I addition to these traits, he also is colored with a really striking set of green shades.
He has spots that are colored with darker greens, so you could use more precise mediums such as colored pens for some of these smaller details. Will you stick to his usual green colors for this page?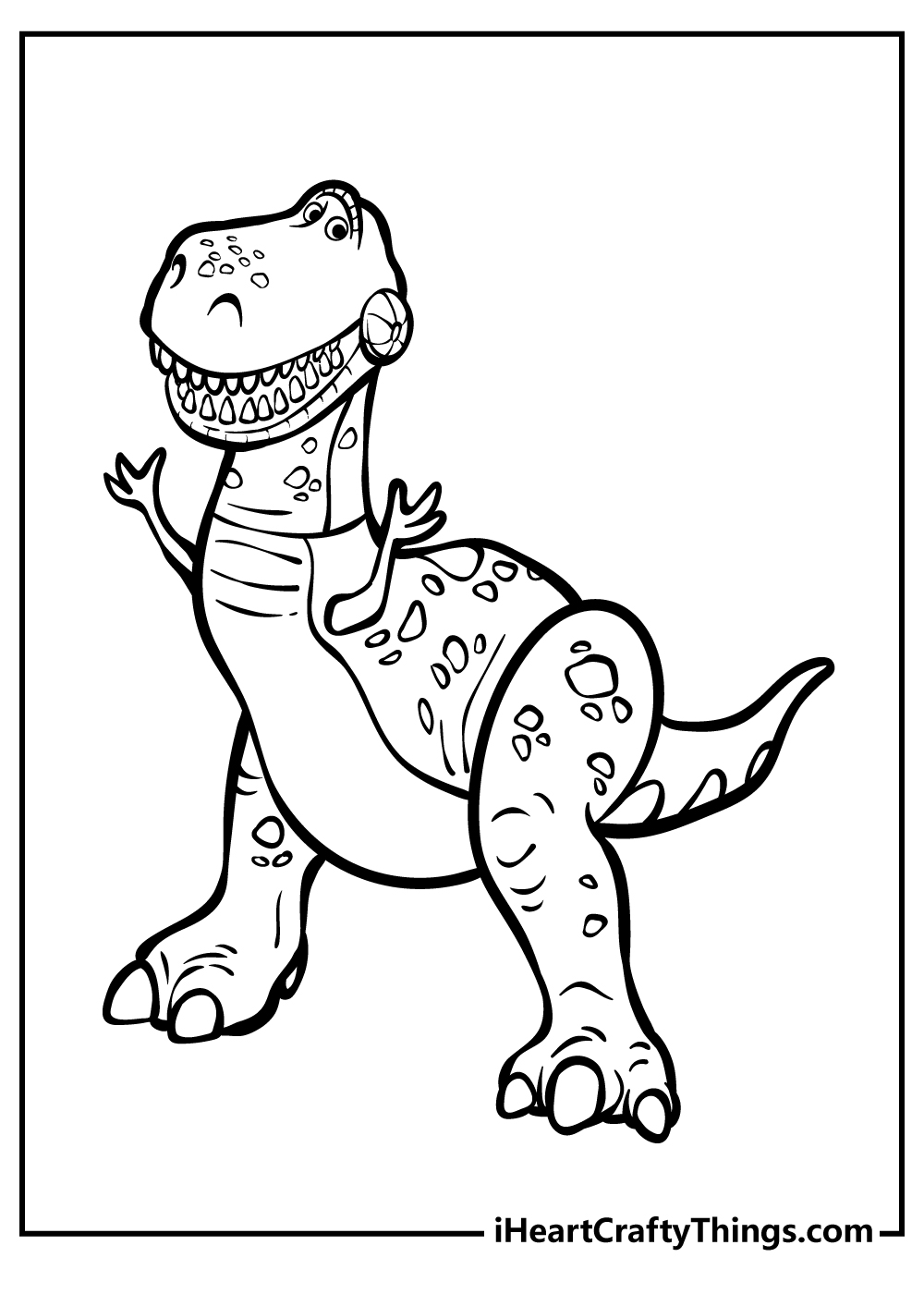 The first character we will feature in this collection of free Toy Story coloring pages for kids is Lotso the bear!
This character first appears friendly and charming, but he soon reveals himself to be more sinister than he first appeared.
This character is brightly colored with pinks and purples, and if you stick with those colors it should make for a really striking page to behold!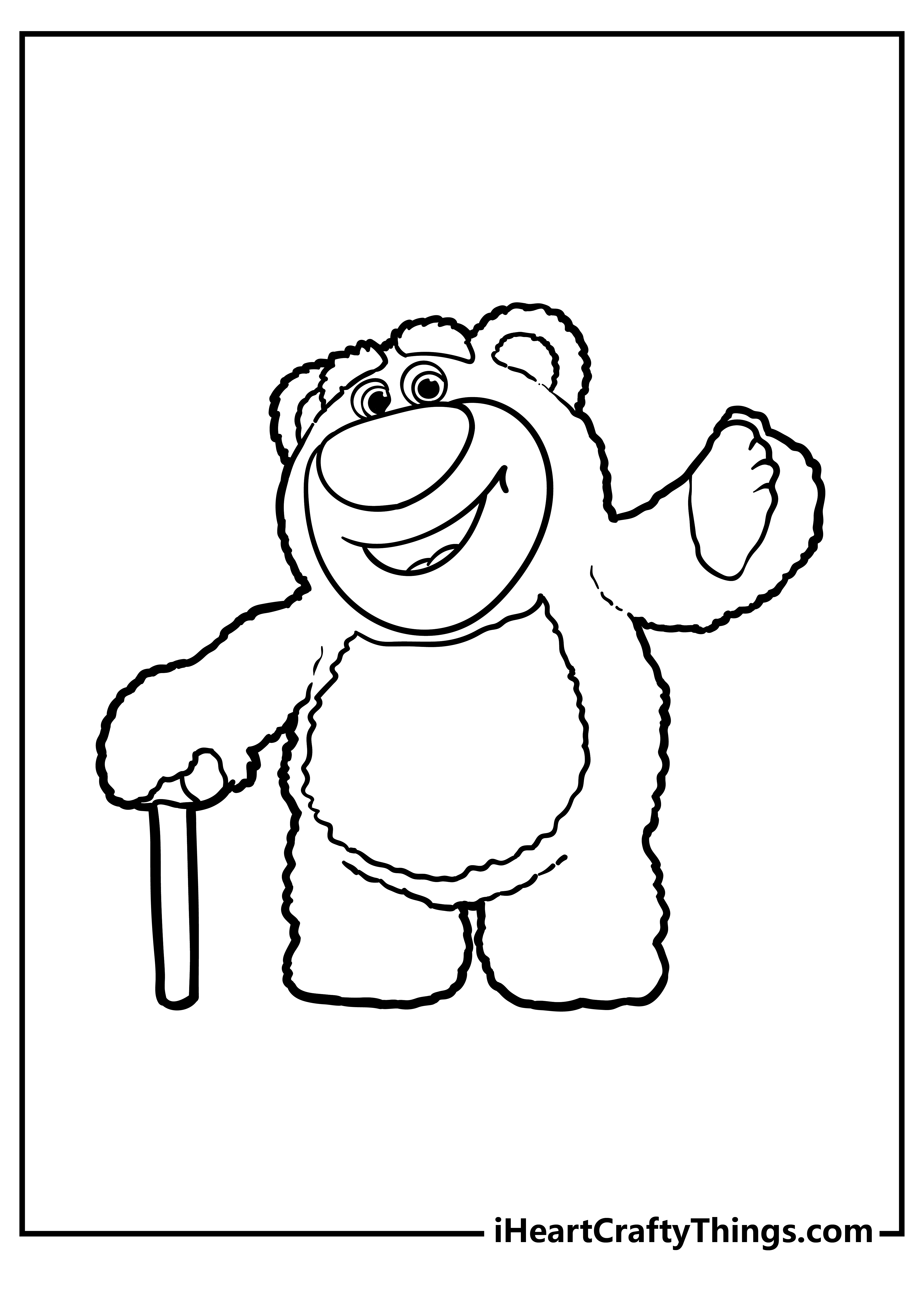 Lenny is a character that has a small role in the Toy Story universe, but he still makes an impression!
This small pair of walking binoculars is colored with blue and orange in the films, and he serves an important role in many adventures the toys take on.
Will you color him with his usual colors, or will you use some unique colors for the lovable Lenny?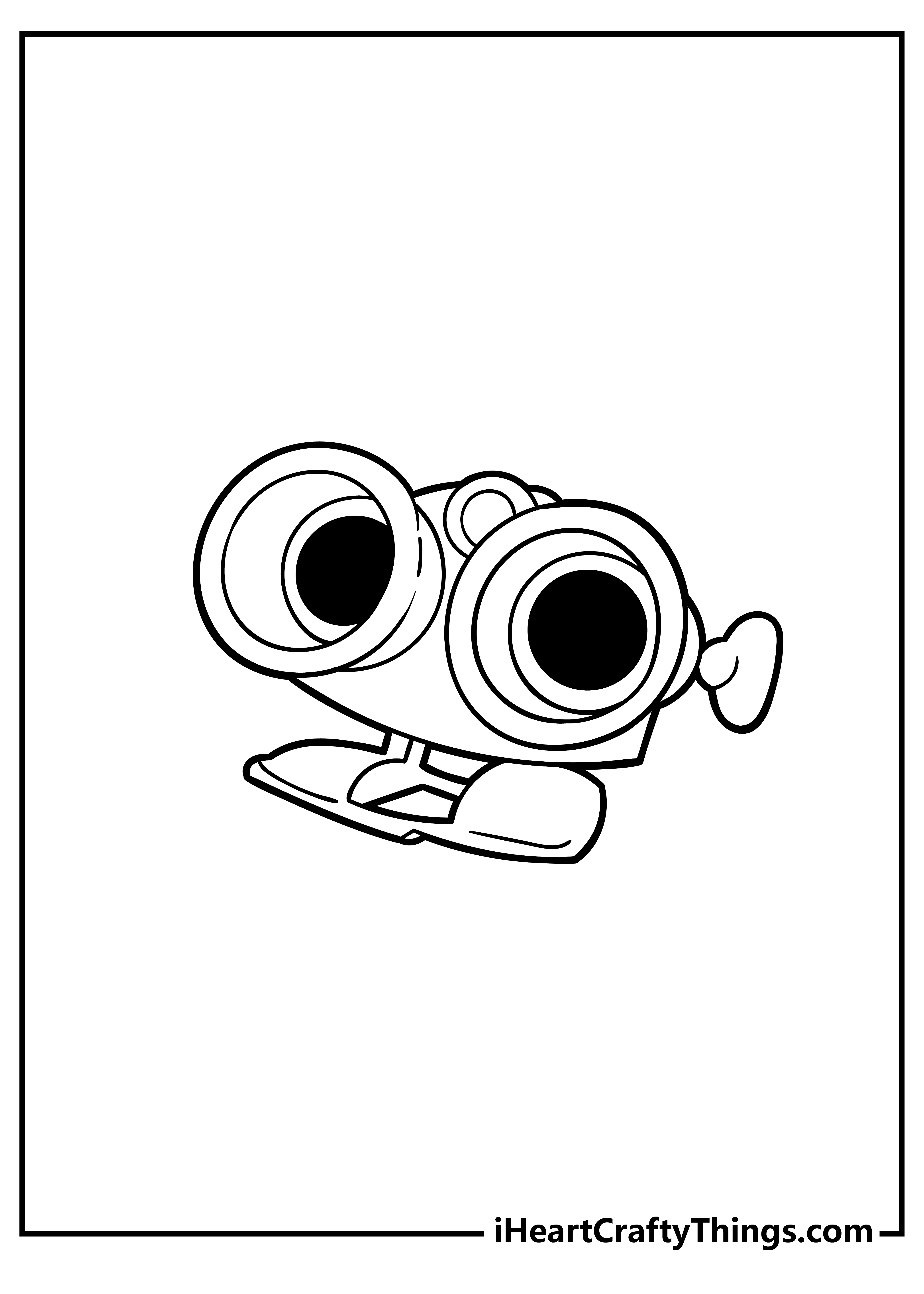 Our next guest comes in peace, as it is one of the adorable aliens seen throughout the films!
These little guys really stand out with their green skin and blue suits, so if you choose to make them look as they do in the movies then you will have a striking image.
We would use some colored markers or pens for this guy to really make his colors pop.
These aliens are rarely seen alone, so you could draw some of his comrades beside him for an extra fun touch! They all look identical, so you could replicate the design on this very page.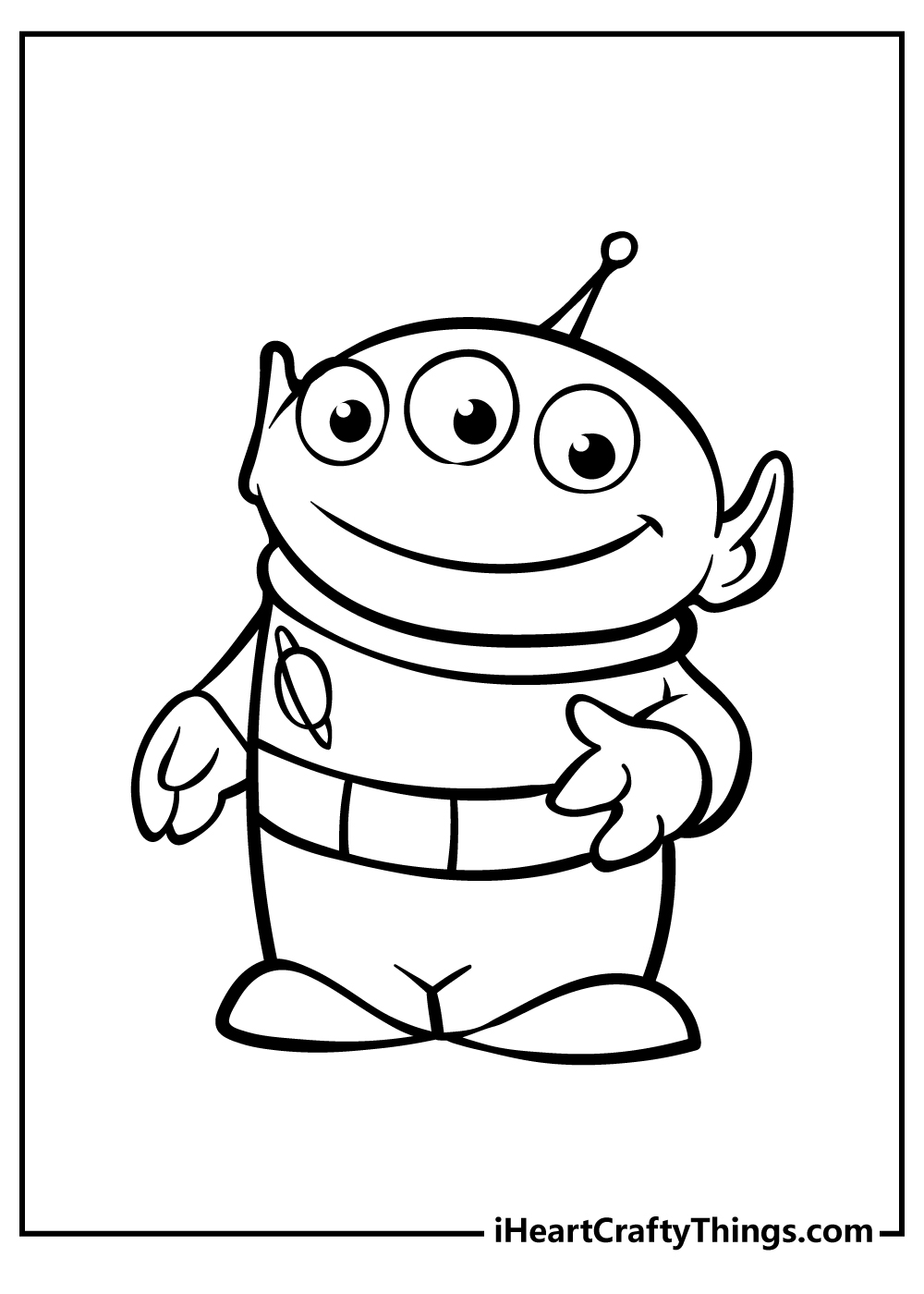 The next page of our collection of free Toy Story coloring pages for kids brings the return of Mr. Potatohead.
We have mentioned before that he is a really sarcastic, wise-mouthed character, and this page captures that brilliantly.
When you have chosen how you would like to color him in here, you can then decide what to do with the background.
If you have a favorite Mr. Potatohead scene, maybe you could use it as inspiration and draw it behind him! Which scene would you use if you were to do this?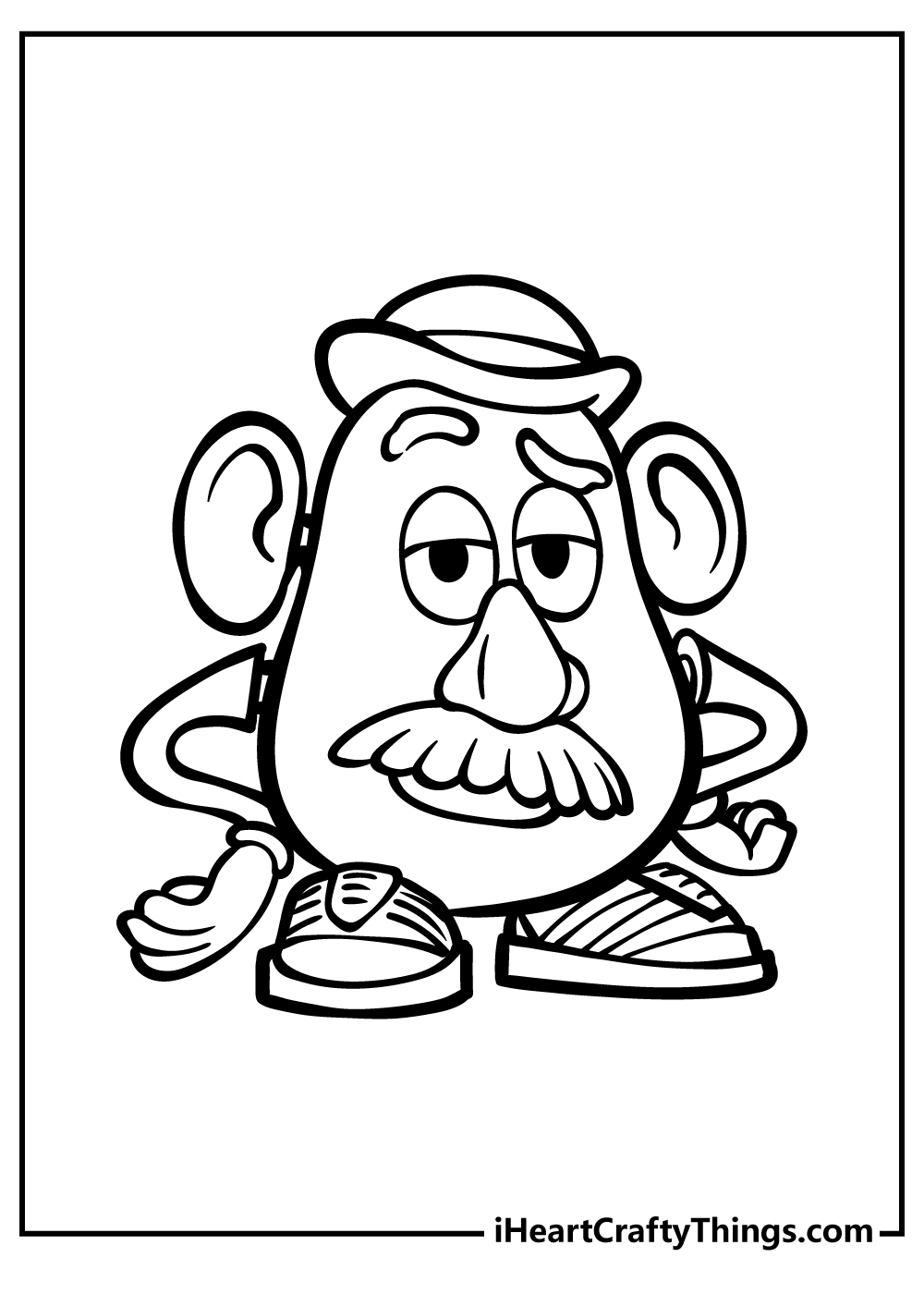 Poor Rex the dinosaur would love to be seen as a fearsome monster, but he's just too lovable to take so seriously! He is one of the most popular characters in the series, and it's easy to see why.
He is also a great character to color thanks to his bright green color scheme. This is one that should really catch the eye if you color him with his usual colors!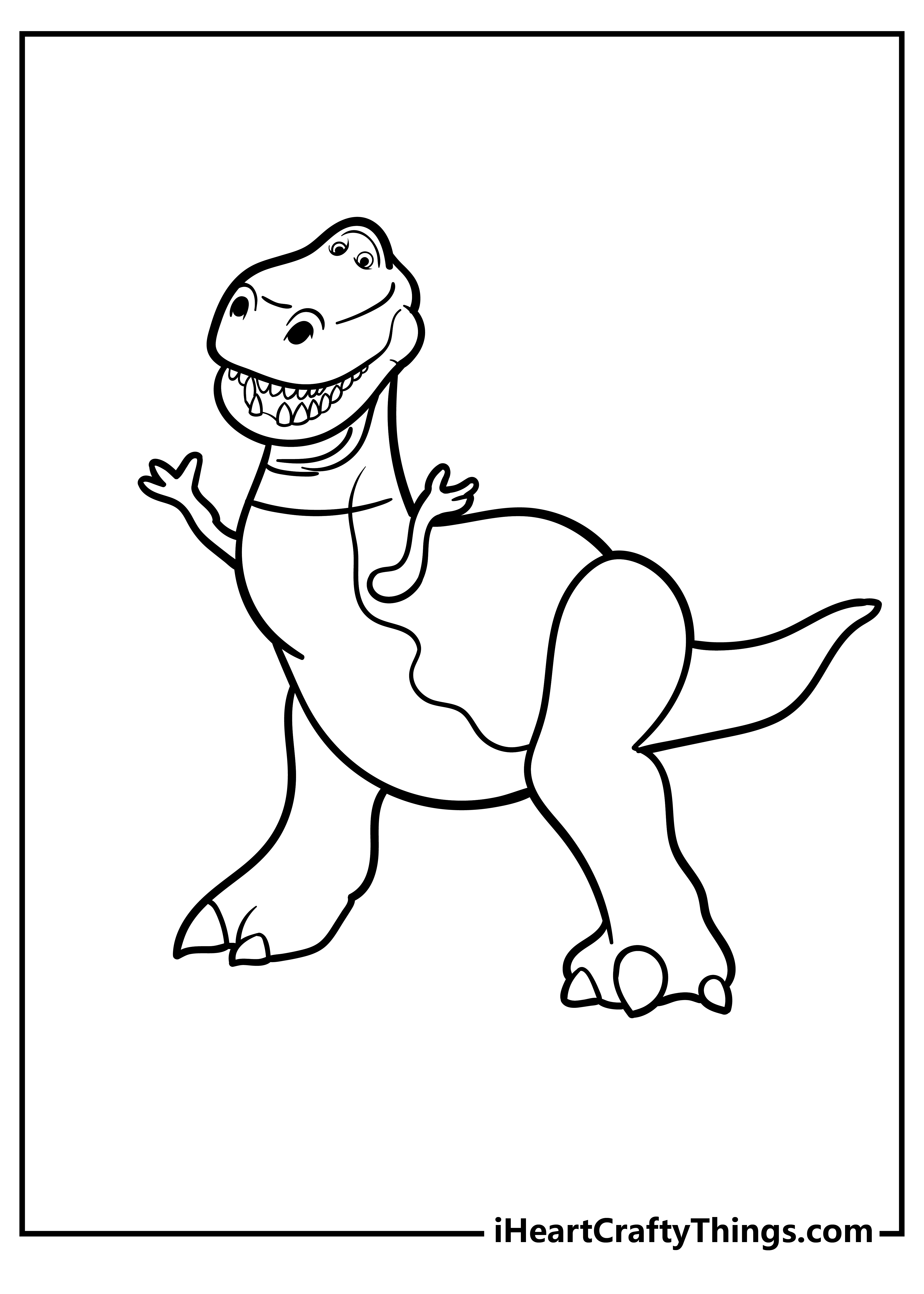 The Prospector, also known as Stinky Pete, is another character that seems warm and lovable when we first see him, but later turns out to be a bit of a bad egg.
Despite this, he is still a fun character to color in thanks to his many small design details!
We're sure you will have a blast coloring this lovable villain.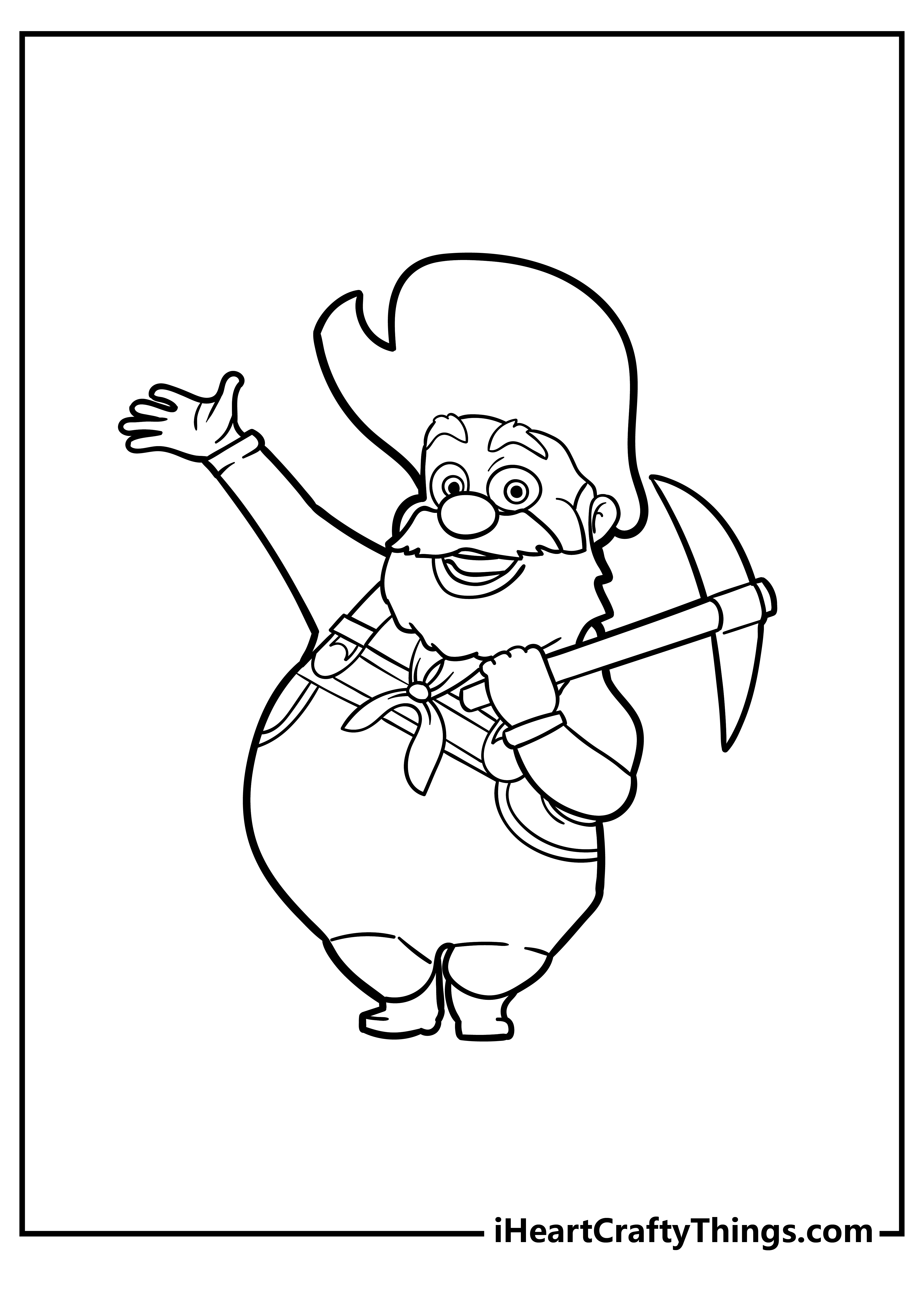 Everyone loves Slinky Dog! He is one of the wisest characters in the toy group, and he looks really cool as well.
The two sides of his body are joined by a long spring, and this is depicted here. This spring can be a bit tricky to color in, but if you're patient with it then you will have a really cool-looking element for the image.
Other than the silver spring, he has colors like brown and tan yellow for most of his color scheme, so you can use those if you want him to look screen accurate.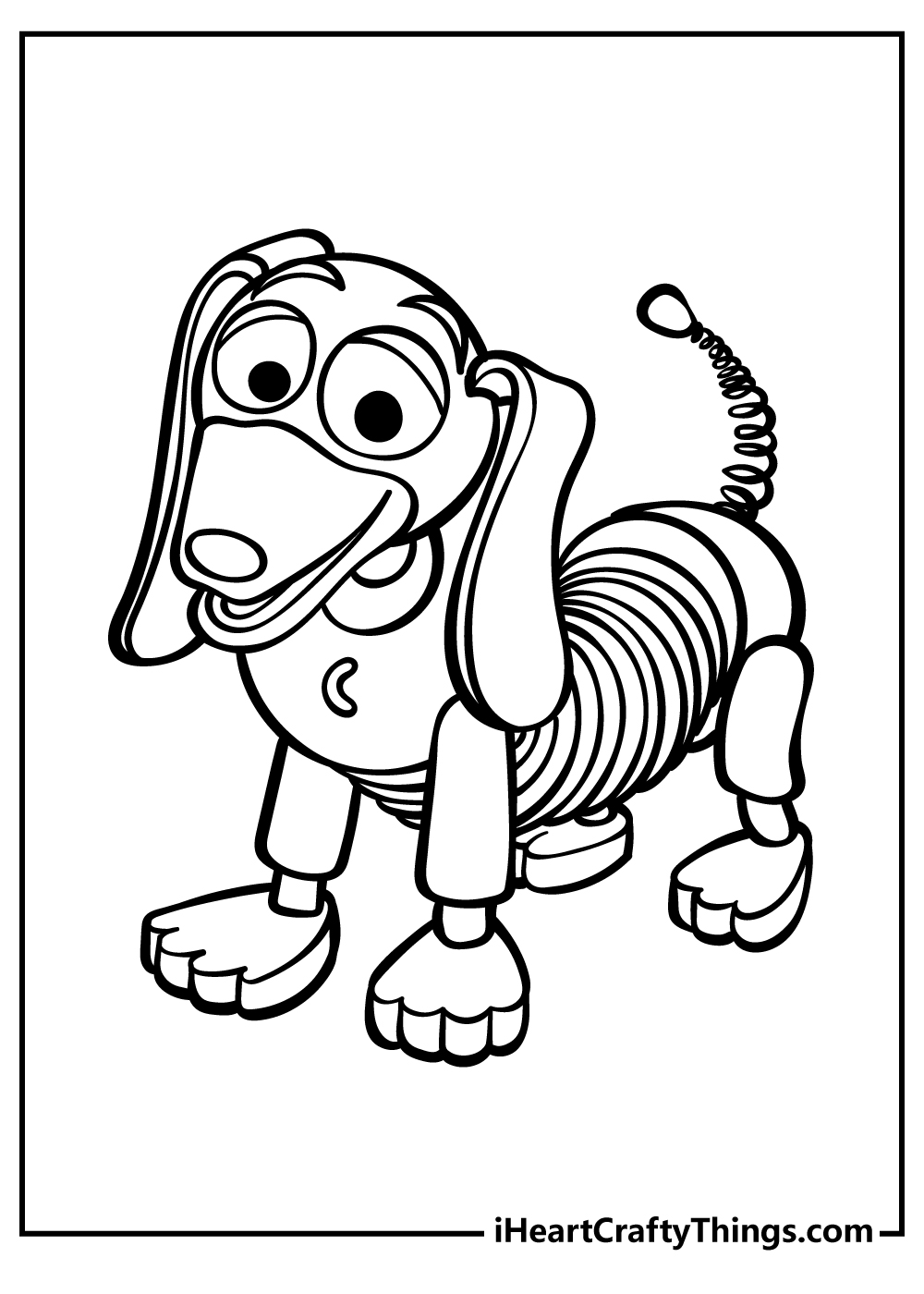 Jessie the yodeling cowgirl is up next, and she is looking a bit unhappy here!
She is normally a very vibrant and upbeat character, so something pretty annoying must have happened to have her looking like this. Do you have an idea for a situation that could cause a reaction like this?
If you do, then you could draw a little scene around her to show what is happening. That would be a really fun way to personalize this page even more!
We're sure you can come up with all sorts of wacky situations that Jessie could find herself in. We can't wait to see what you come up with!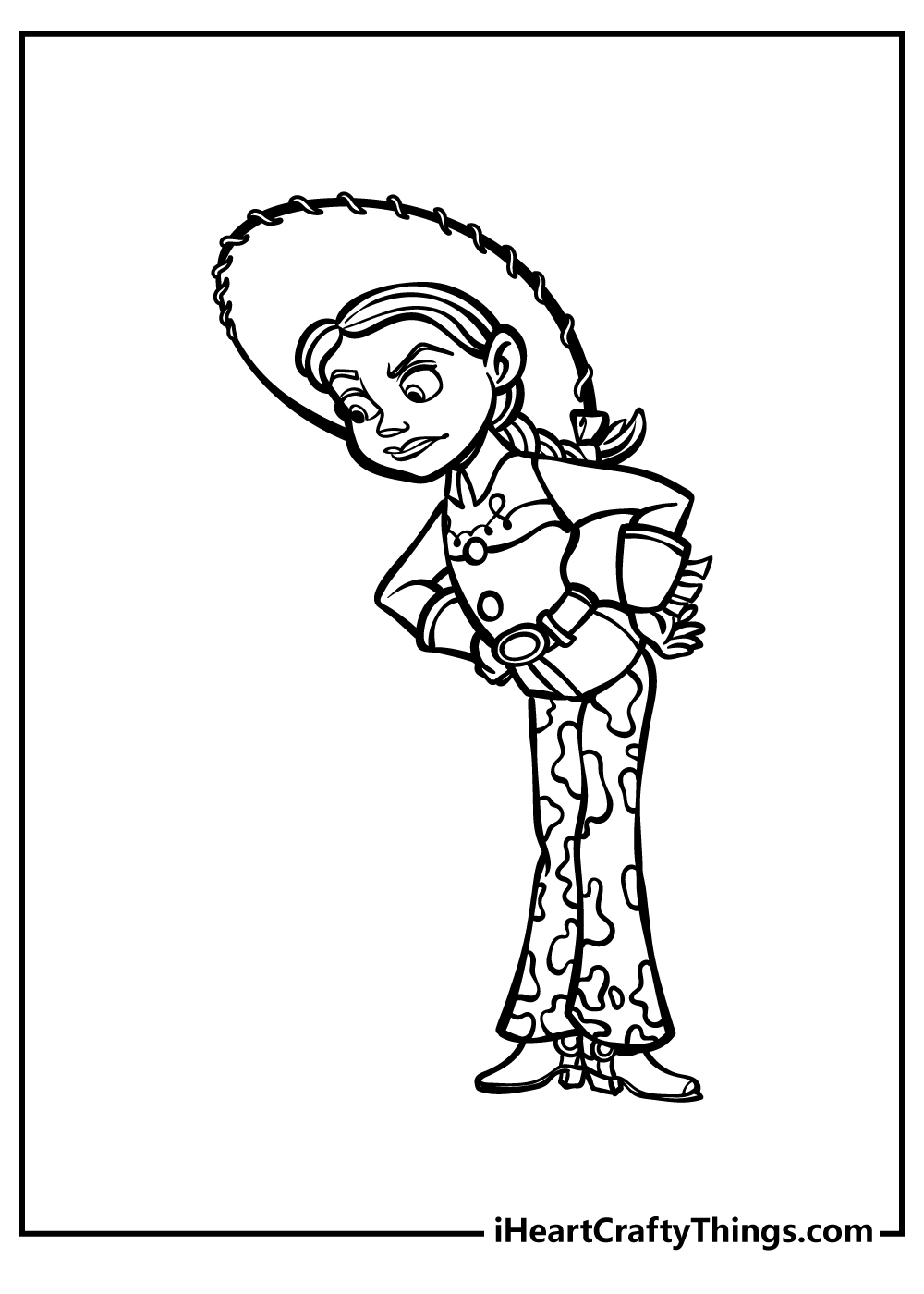 Mr Potatohead is such a classic character, and he is the star of this Toy Story coloring sheet. Based on a popular real-life toy, he is also known for his sassy, sarcastic sense of humor.
He can be a bit of a jerk sometimes, but he is also loyal to his friends. He has a color scheme he is known for in the films, but don't be afraid to get creative with the colors you choose!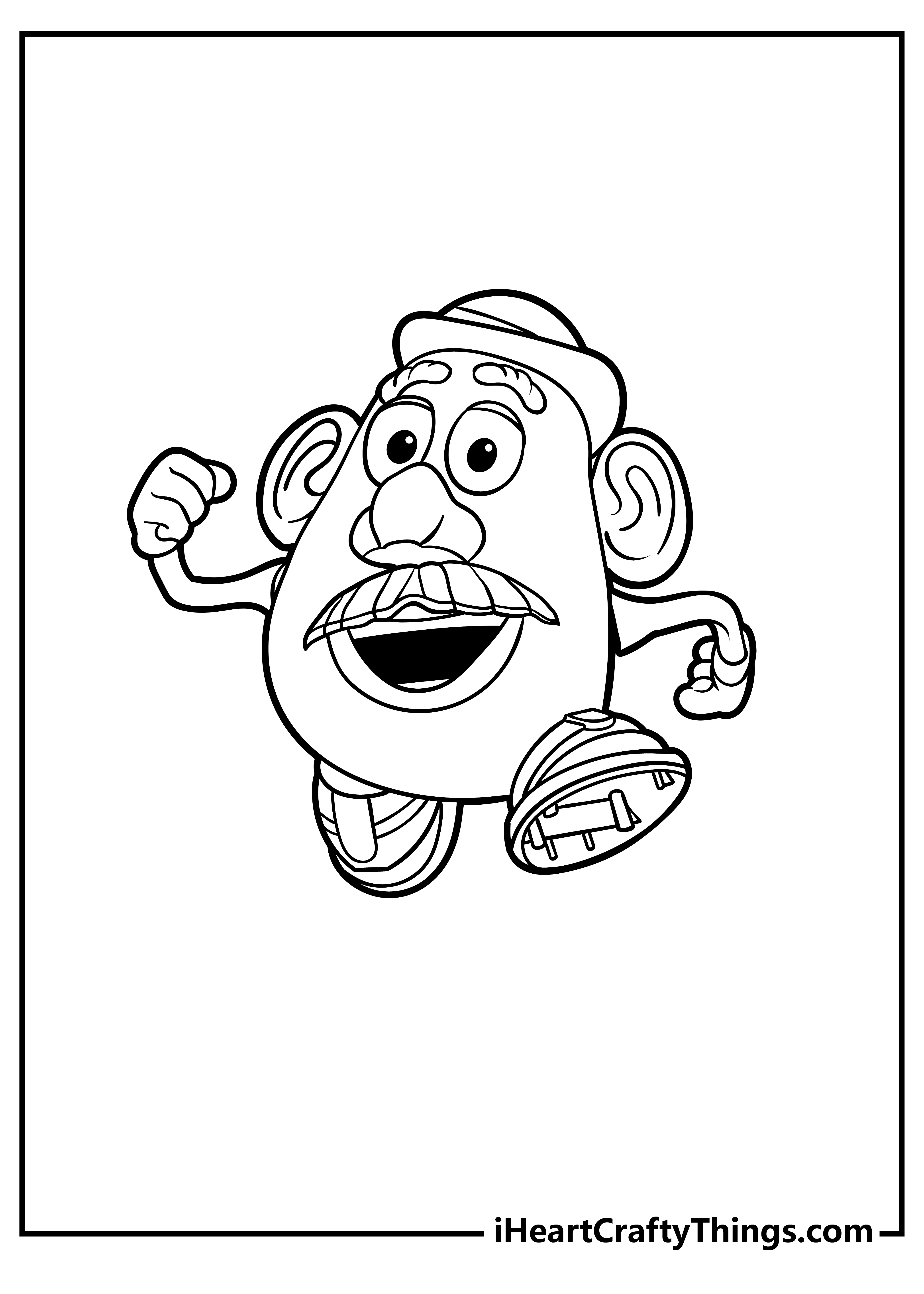 It's about time that we get introduced to one of the main characters from the movies, Sheriff Woody himself! He has starred in all the main Toy Story films, and he is a truly beloved character.
He also has so many great colors incorporated into his design. This can make him a  bit of a challenge to color, so you could use the films to guide you if you want him to look accurate!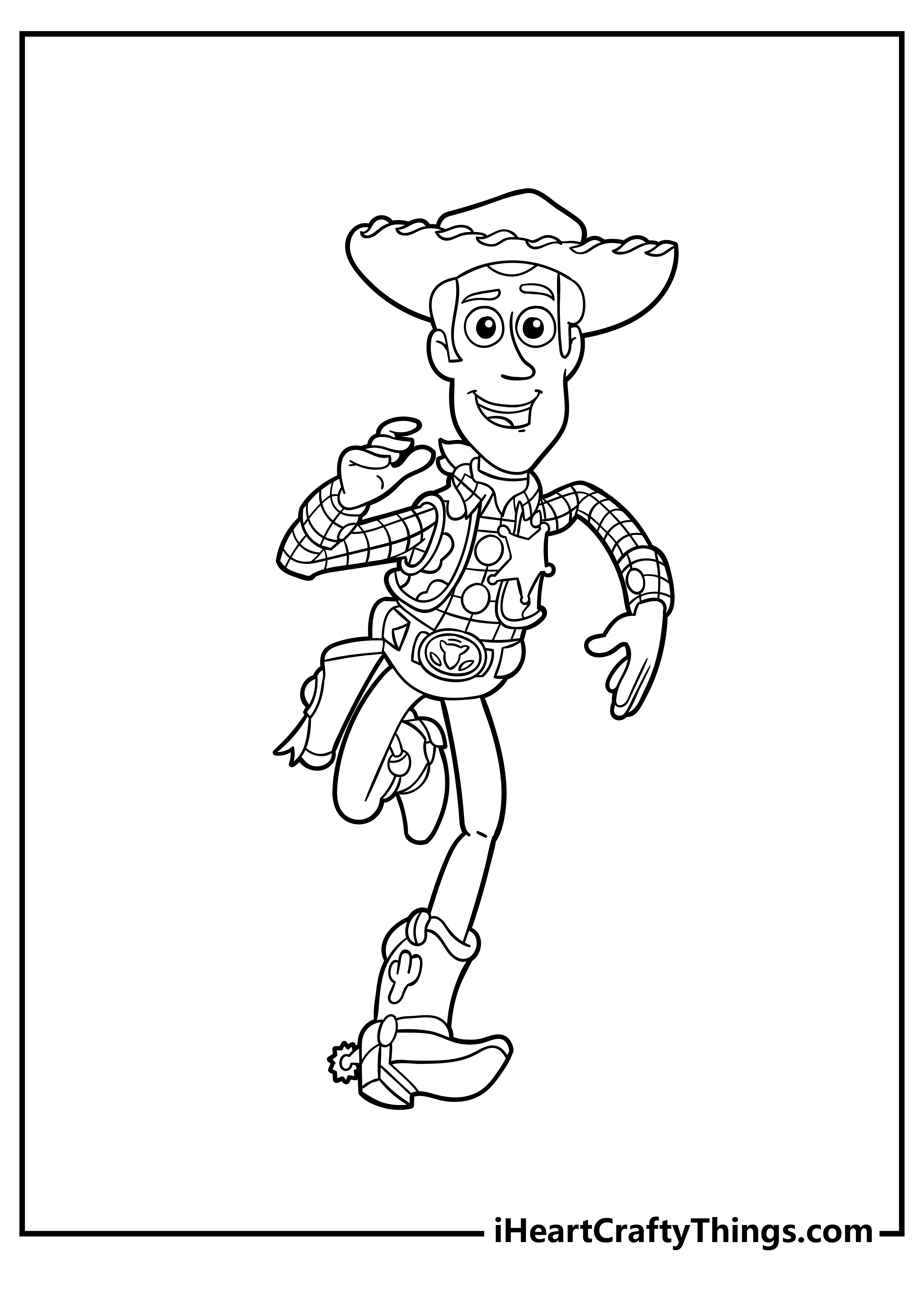 It's time to go to infinity and beyond as we take on Buzz Lightyear for this Toy Story coloring printable!
Buzz is one of the main characters of the series, and he is a highly recognizable character from the show. His color scheme is mostly white with colors like greens and purple used for some sections.
There are also colors like yellow and red mixed in, so you could look up a picture of Buzz online to use to help you if you want to get the colors just right.
Will you draw a cool background for Buzz?
Woody the cowboy is such a great character, and he is the next one we have for you to color! The colors on Woody's outfit are quite detailed.
He has a yellow shirt with red grids on it, so you may want to use a colored pen or pencil if you want to depict those details.
Then, he has blue pants and a brown set of boots. If you color the lasso that he is swinging, you may want to use those colored pens and pencils again, as it is a very narrow object!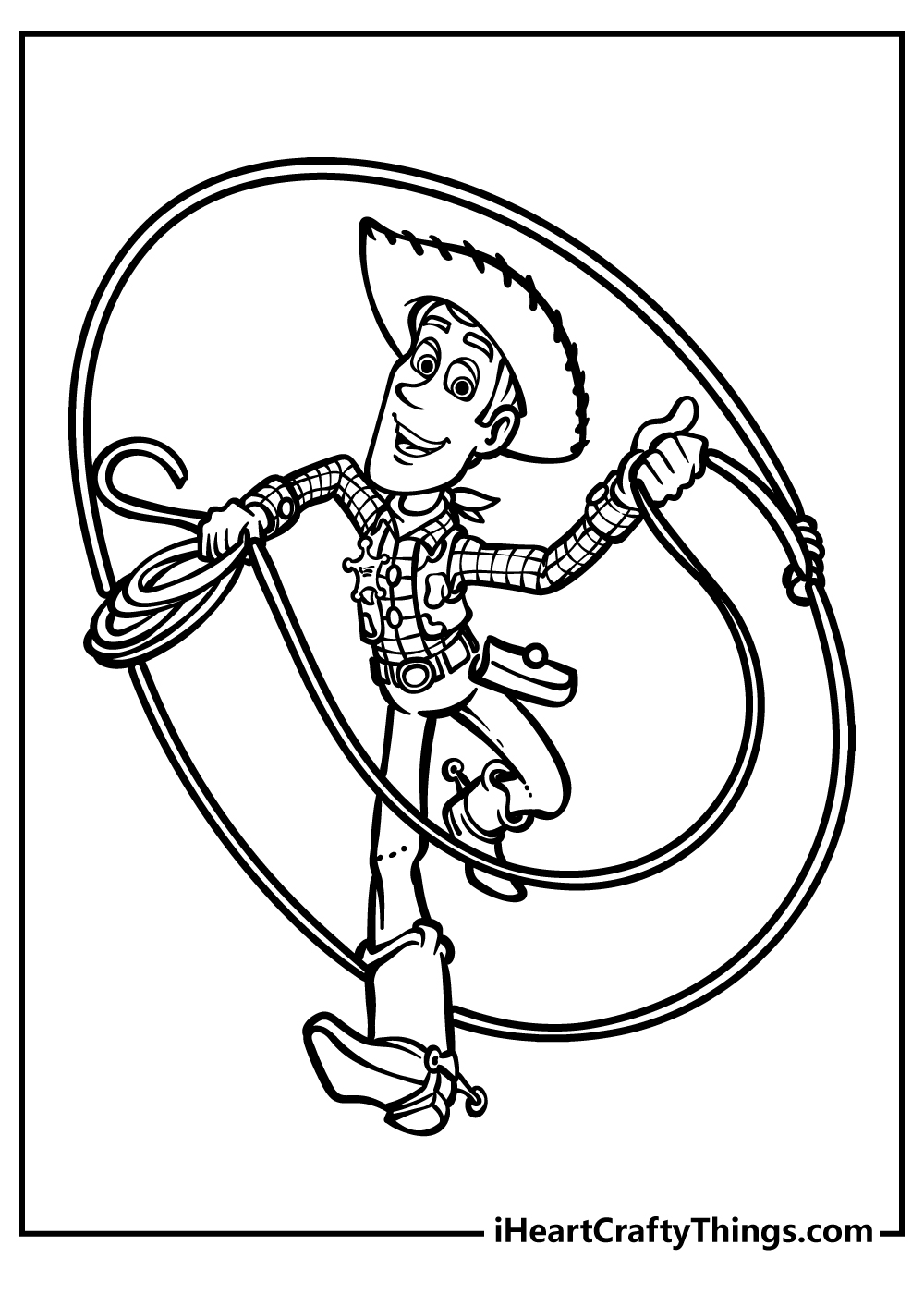 We had the hero of the films on the previous page, and now we have one of the villains. The evil Emperor Zurg is a toy that was created to be the arch-nemesis of Buzz Lightyear.
He has a really awesome design made up of some darker color shades, so this one should look great when you're done!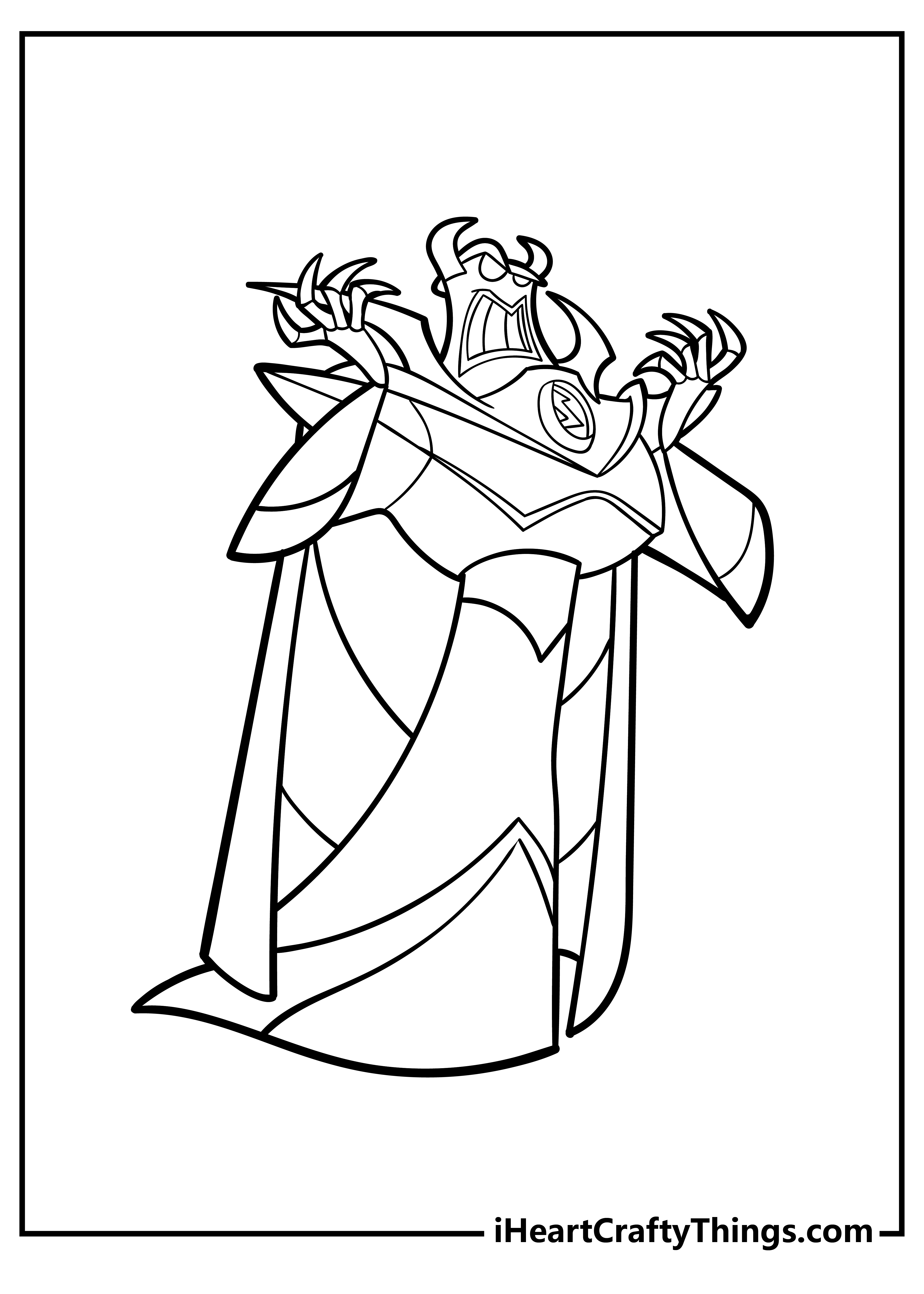 Even the most capable heroes need a faithful steed, and Bullseye the horse is the best steed a cowboy could ask for!
This horse is a loyal companion to Woody and friends, and he is willing to brave any perils to help them.
Will you use his usual muted brown color scheme when coloring him here?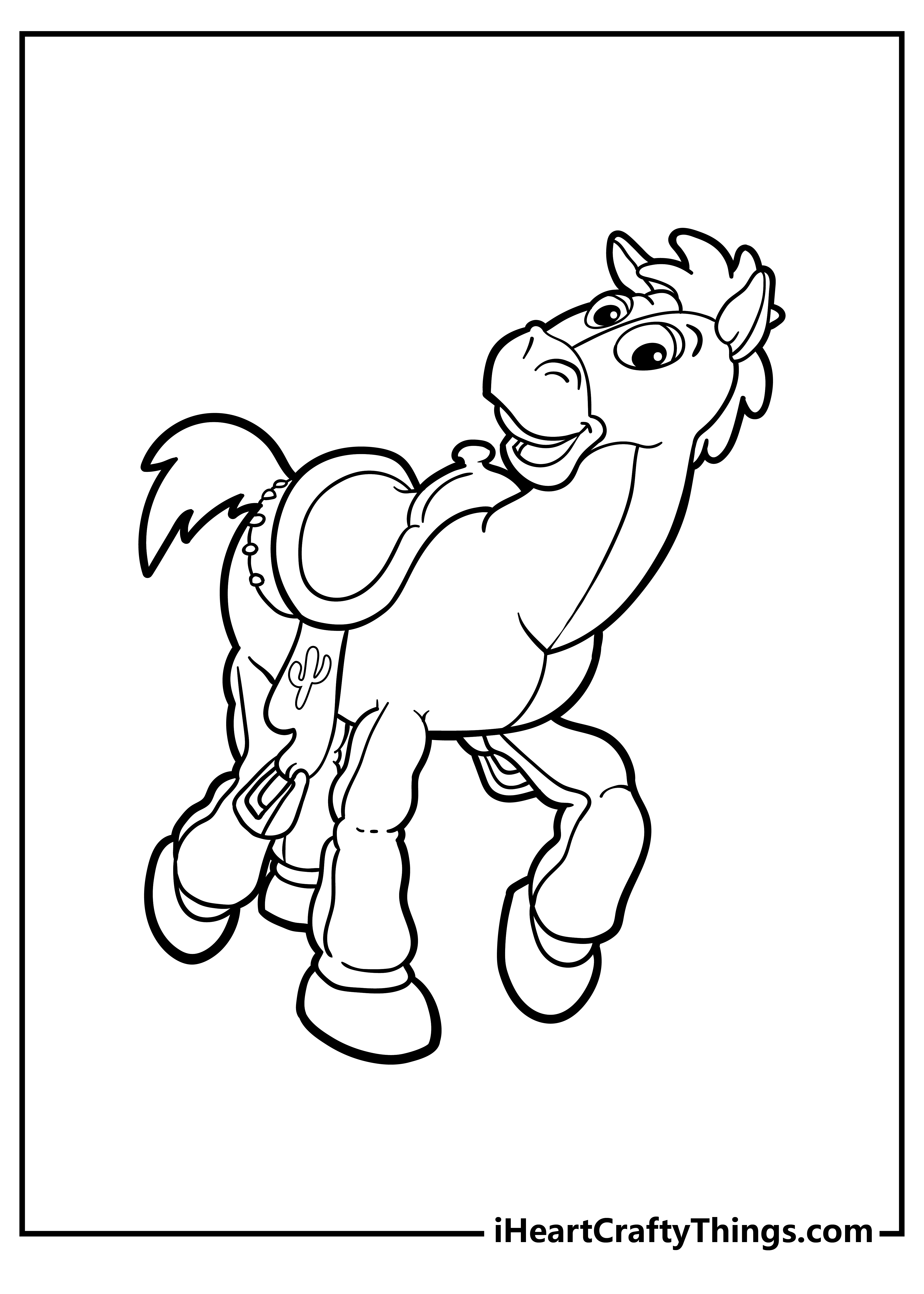 Bo Peep is a classic doll styled after a farm girl, and she serves as a love interest for Woody in some of the films.
Her design is simple and elegant, as the main colors for her outfit are white and pink. For this softer look, we would use some watercolor paints.
Not only are they fun to work with, but they can help to make colors look soft and subtle.
Will you use some watercolor paints, or do you have something else in mind for Bo Peep?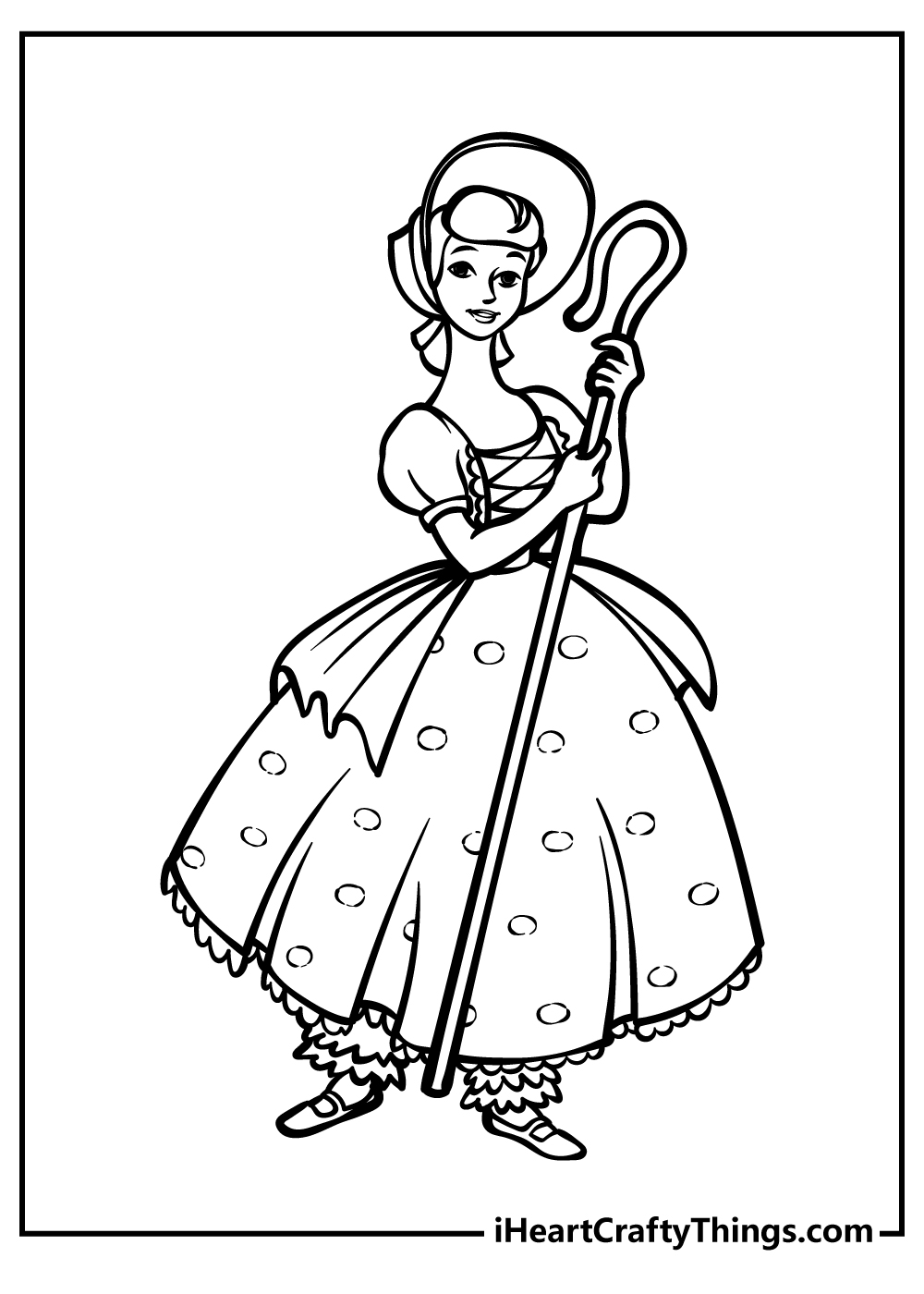 This Toy Story coloring page features a return of the cowgirl Jessie! She is looking very happy here, and the way she is sitting makes it look like she could be sitting at a campfire.
If you agree with that, you could draw a campfire setting in front of her. That is one background setting you could depict, but it is not the only one!
This is a chance for you to really use your imagination as you pick a fun setting to draw around Jessie.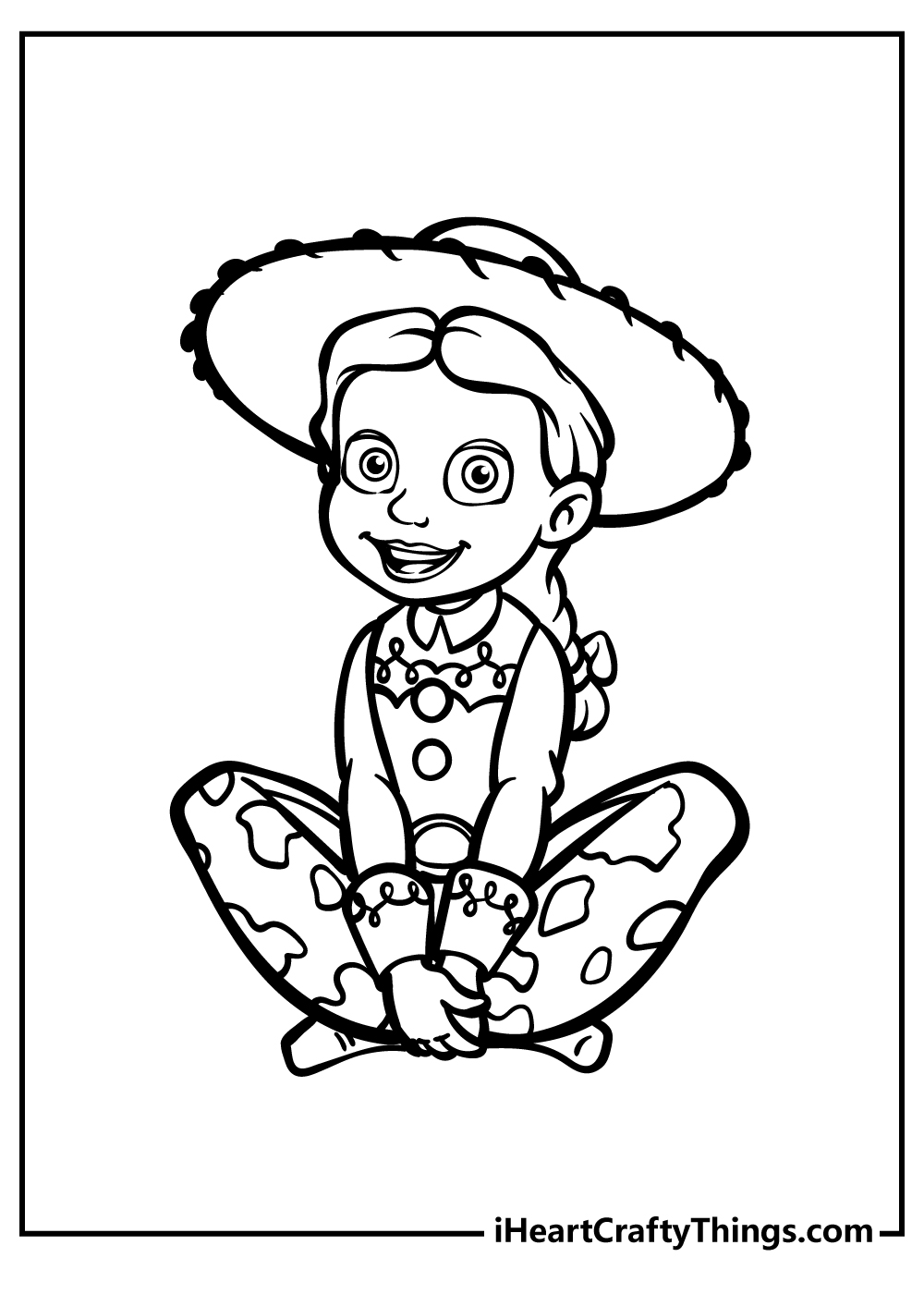 The vibrant cowgirl Jessie is here for some coloring fun in this next Toy Story coloring printable! She is known for her loud and colorful personality, and she is also really brave and capable.
Her design is bright and detailed like Woody's, so this should be a really fun one to work on!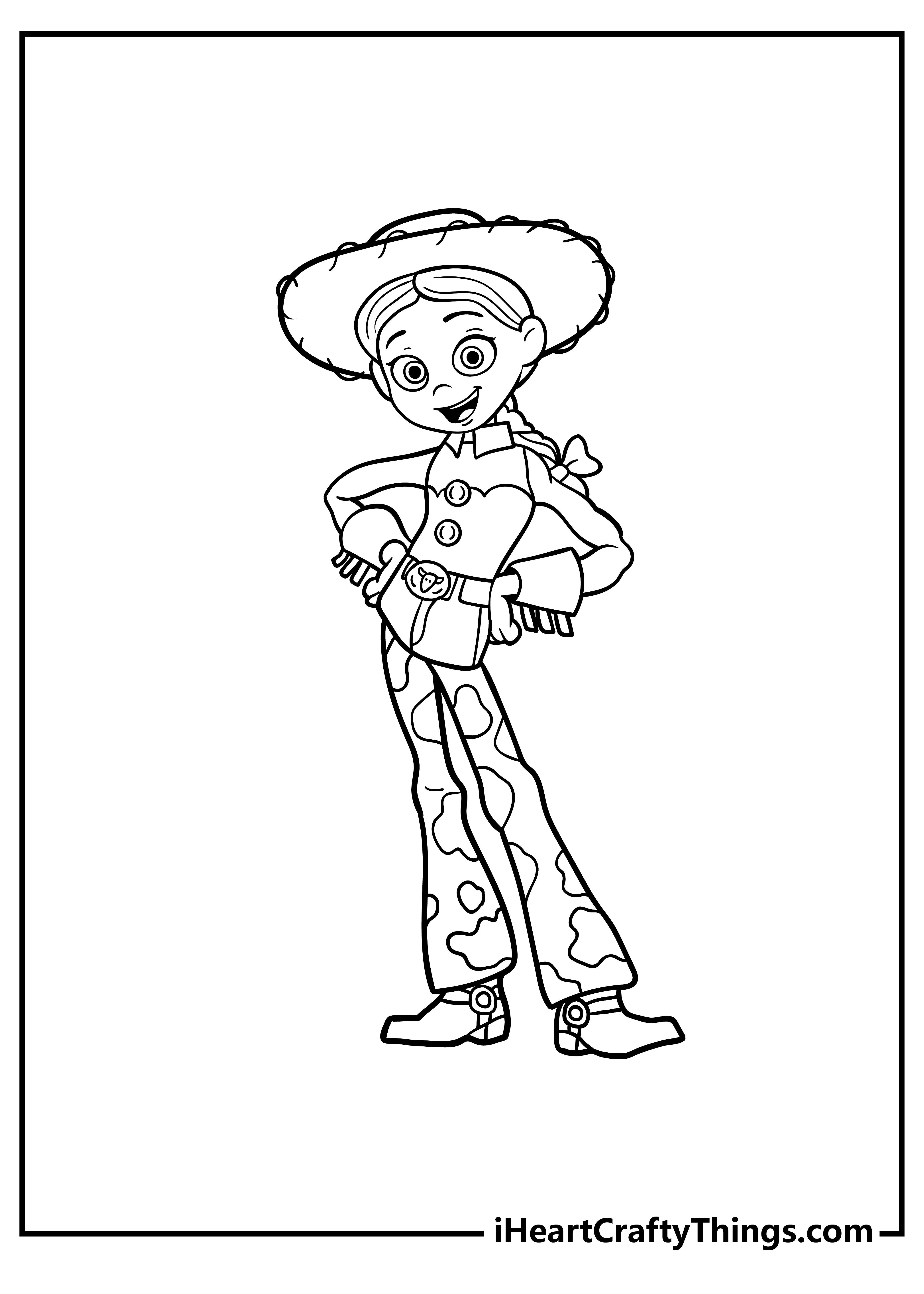 This collection wouldn't be complete without our second leading man, Buzz Lightyear!
He initially begins as a rival to Woody, but they soon become best friends that brave many adventures together.
He has a color scheme of mainly white and green, with some brighter colors for smaller details.
We would recommend some colored pens or pencils to make coloring these smaller details much easier!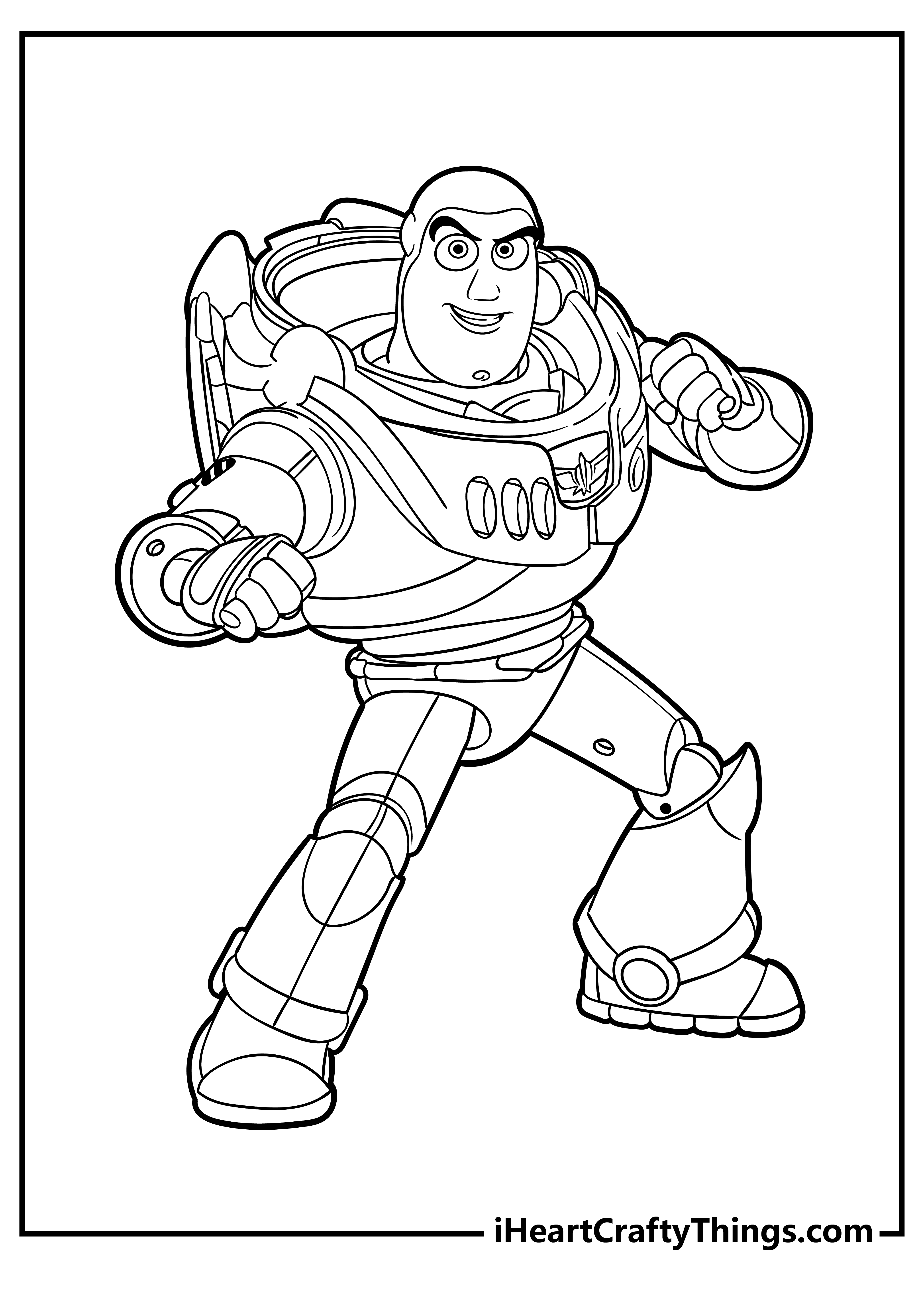 Hamm the piggy bank is another classic Toy Story character that has played a role in all the films.
He is also known to be rather sarcastic and smart-mouthed, and he also does anything to help his friends.
He is usually colored with a simple pink color scheme, so maybe you could draw a background to add some variety!
The small toy aliens like the one in this image are a source of many laughs in the films. They also have a great design with some greens and blues that create a really pleasing color scheme.
There are usually several on the scene, so maybe you could draw some more aliens beside him!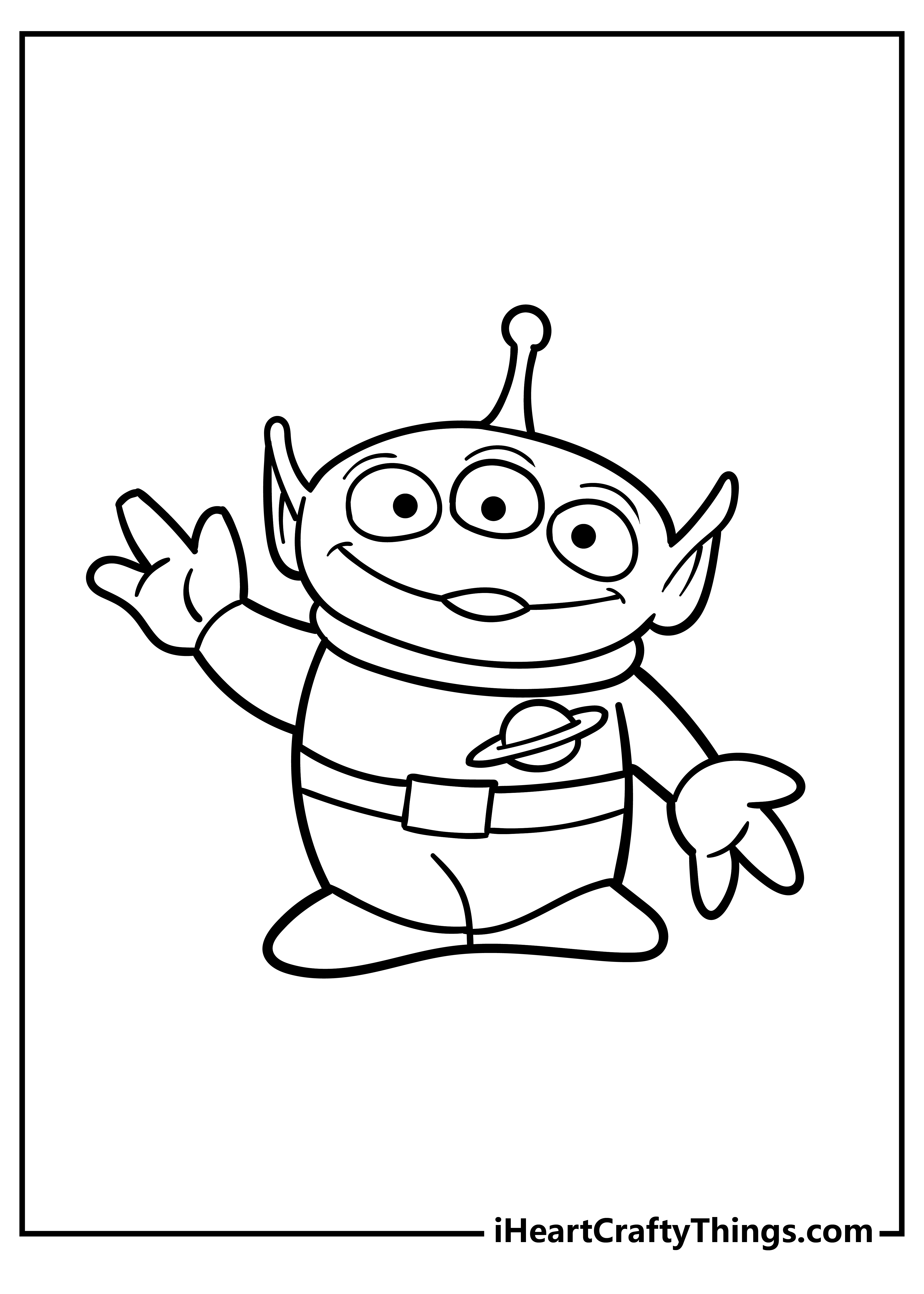 We've had Mr. Potatohead in this collection already, but now it's time for Mrs. Potatohead! She appears in the second film, and she became a character that many grew to love.
She has a similar color scheme to Mr. Potatohead with a few variations, so these two pages would go really well together!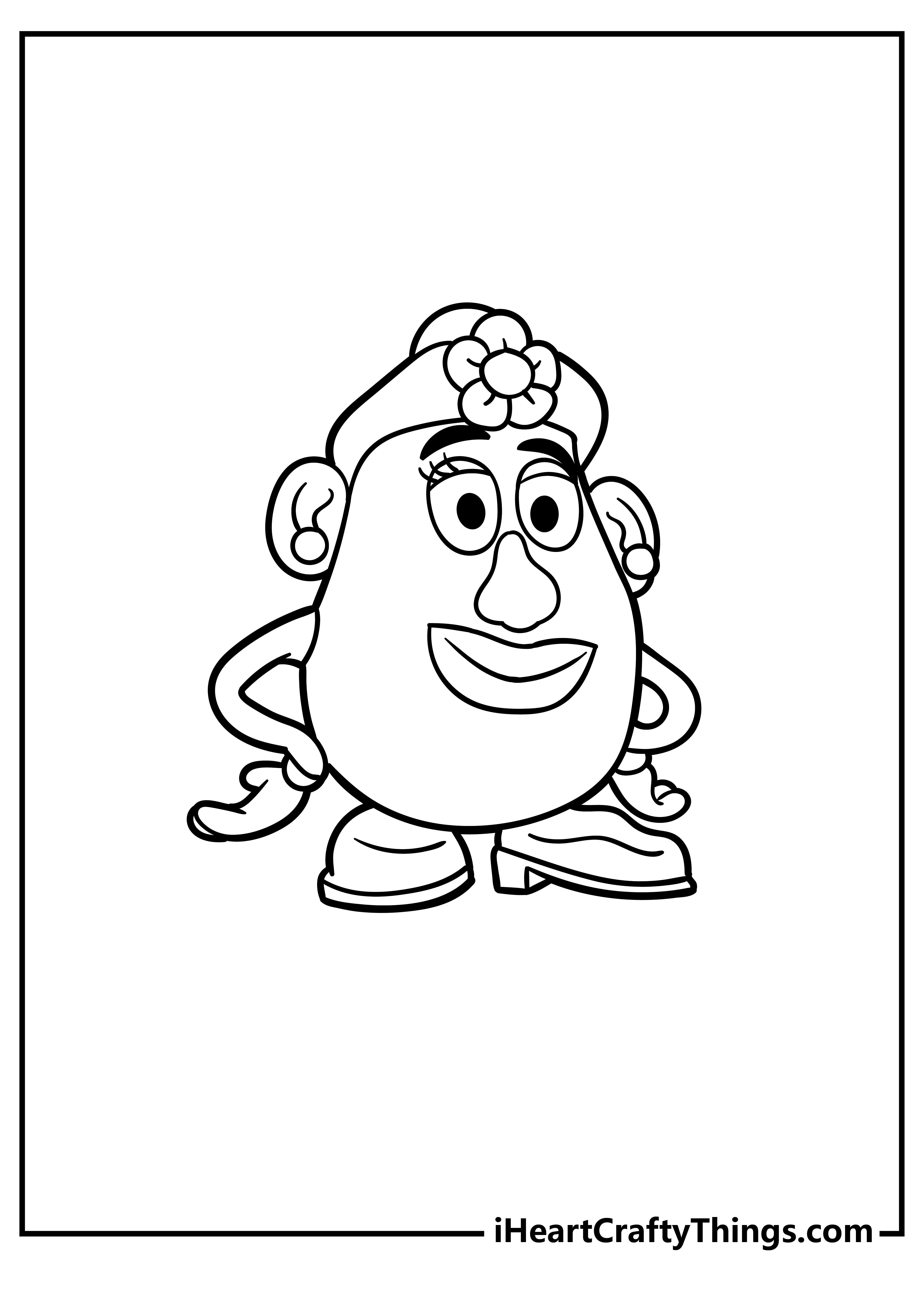 Forky is one of the newer characters to the series, but he is still really popular! Despite his intentionally simple design, there are still some great color details worked into his design.
You could maybe use some actual arts and crafts to stick onto this picture to give it some more depth!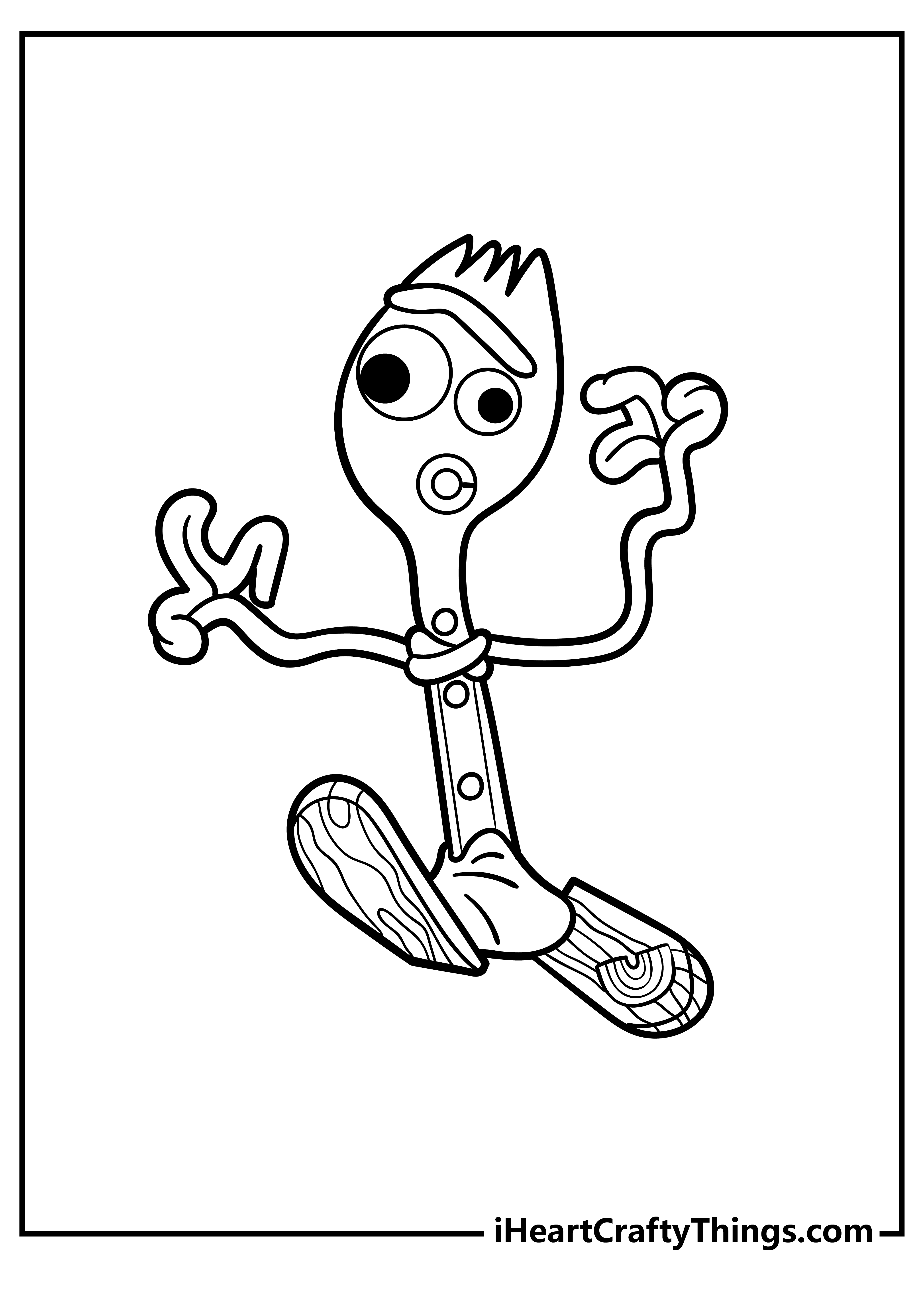 We will close off this collection of Toy Story coloring sheets with another classic character. Slinky Dog has appeared in all the films, and he is one of Woody's best friends.
When you have colored him in, this could be another great one to add some background details to!
How will you close off this collection with your color creativity?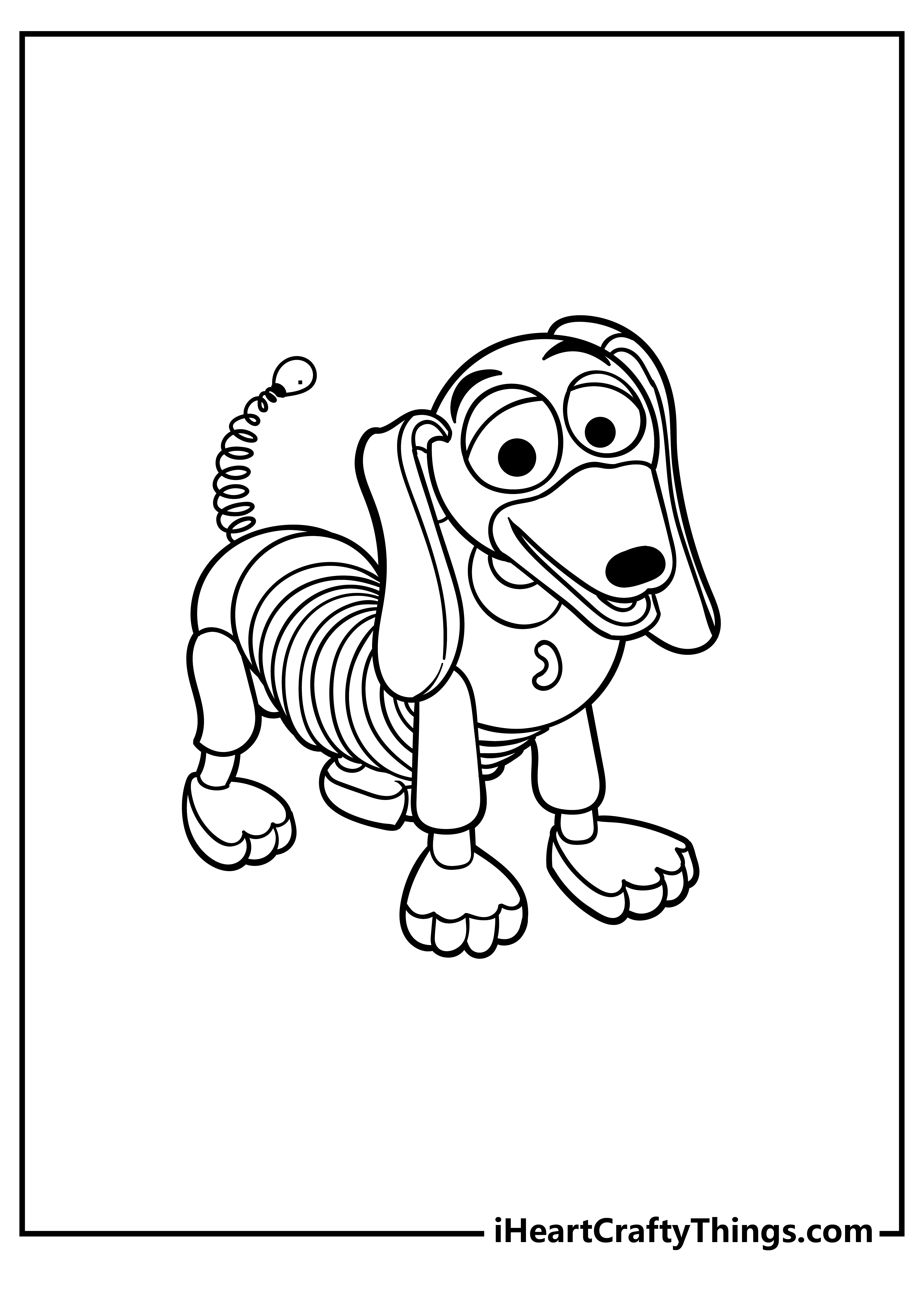 Toy Story Coloring Pages – Which will you choose?
We hope you had a great time reliving some of your favorite moments of the series while working on this collection of free Toy Story coloring pages for kids!
There were so many classic characters to color, and it would be even more fun to share them with other Toy Story fans to enjoy.
We would also love to enjoy some of your artwork, so please share some of your finished pages on our Facebook and Pinterest pages for us to see!