The Cars films present a really unique concept, and show us what a society that is made up of living vehicles may look like!
At the heart of the film is Lightning McQueen, a superstar racer that learns some important lessons throughout the films.
This collection of free Lightning McQueen coloring pages for kids aims to celebrate this classic character with some coloring fun!
All of these pages are free to not only enjoy coloring yourself, but you can also share them with others to enjoy as well.
We also hope you will share some of your colored pages on our Facebook and Pinterest pages for us to see!
15 Brand New Lightning McQueen Coloring Pages – Free to Print and Color
This first Lightning McQueen coloring sheet that we have for you shows him in a relaxed state that nevertheless captures his personality brilliantly!
Lightning McQueen is typically colored with bright reds and yellows, and even if you stick to this color scheme you can still vary it by using different shades, art mediums and details.
Will you stick to his classic bright colors for this first page of the collection?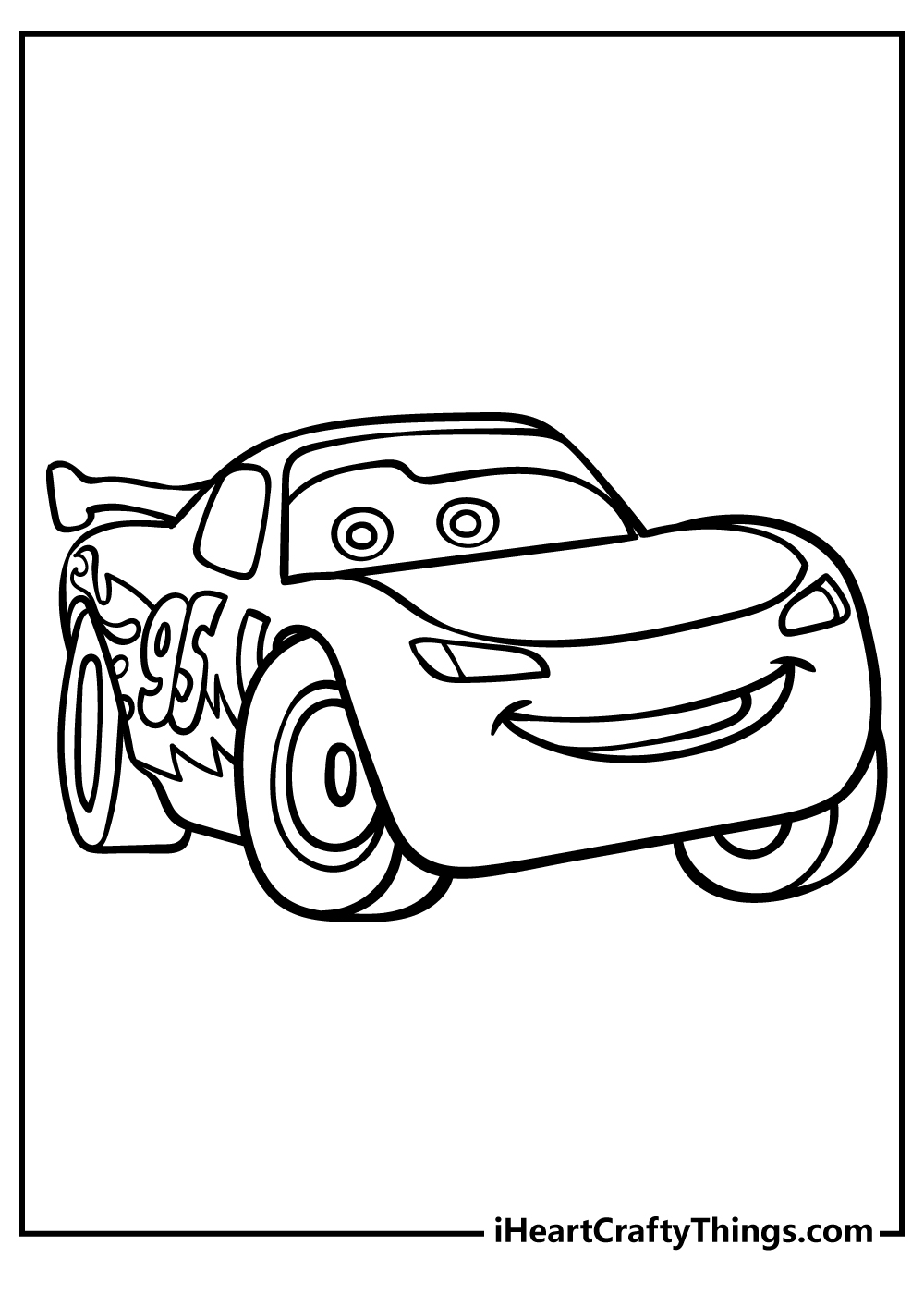 We have another great view of Lightning McQueen for this second page.
It's another one that really captures his personality as he's in a relaxed state, and for that reason we would keep the background colors looking a bit lighter.
You could do this by using mediums such as watercolors or colored pencils for less intense colors!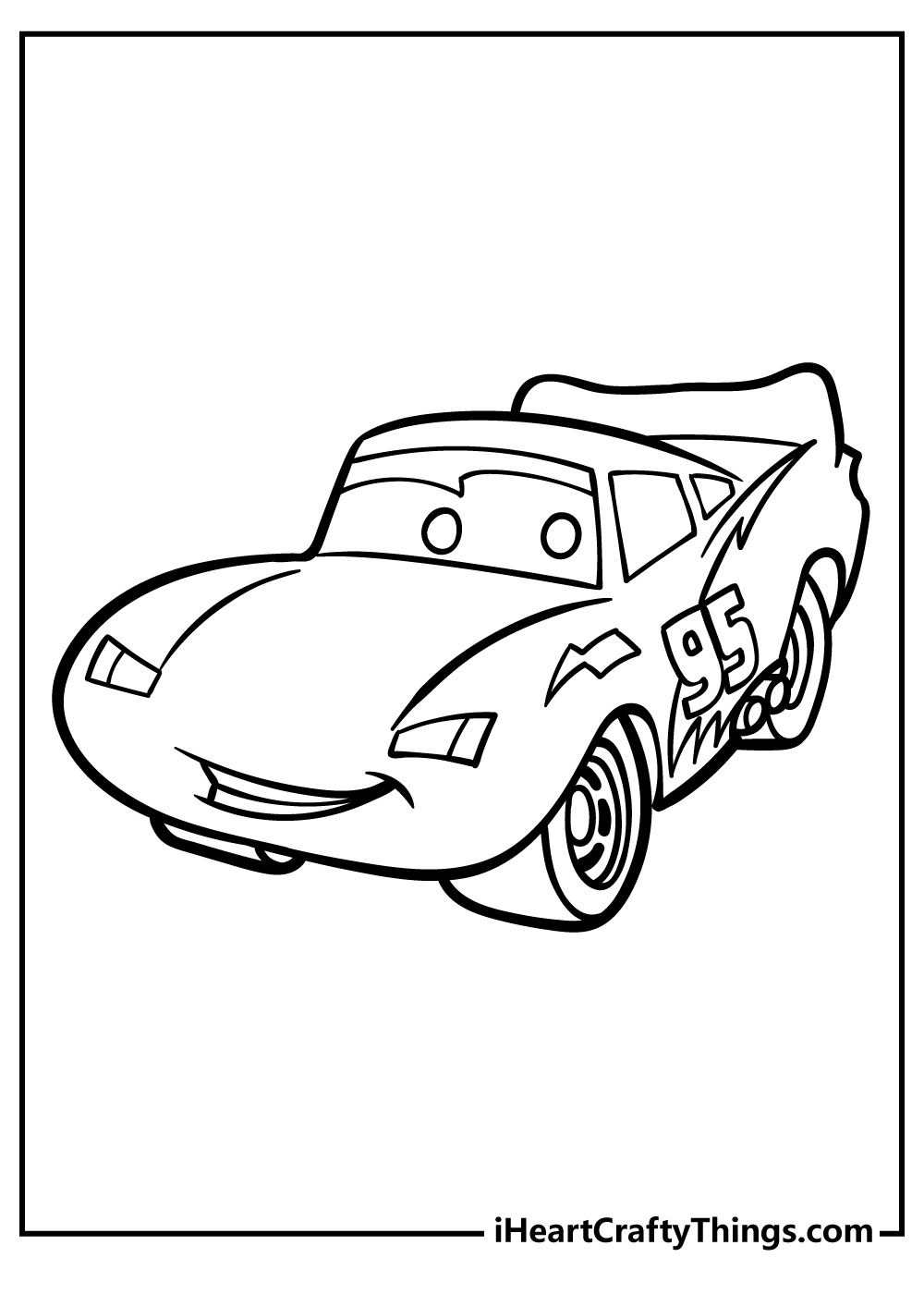 Lightning McQueen is looking fierce and competitive in this next image! In the previous pictures, he was in a relaxed state, but here he looks as if he could be in the middle of a race.
To show this, you could use details as simple as some smoke coming from his tires to show that he's traveling at high speeds. What other details can you think of?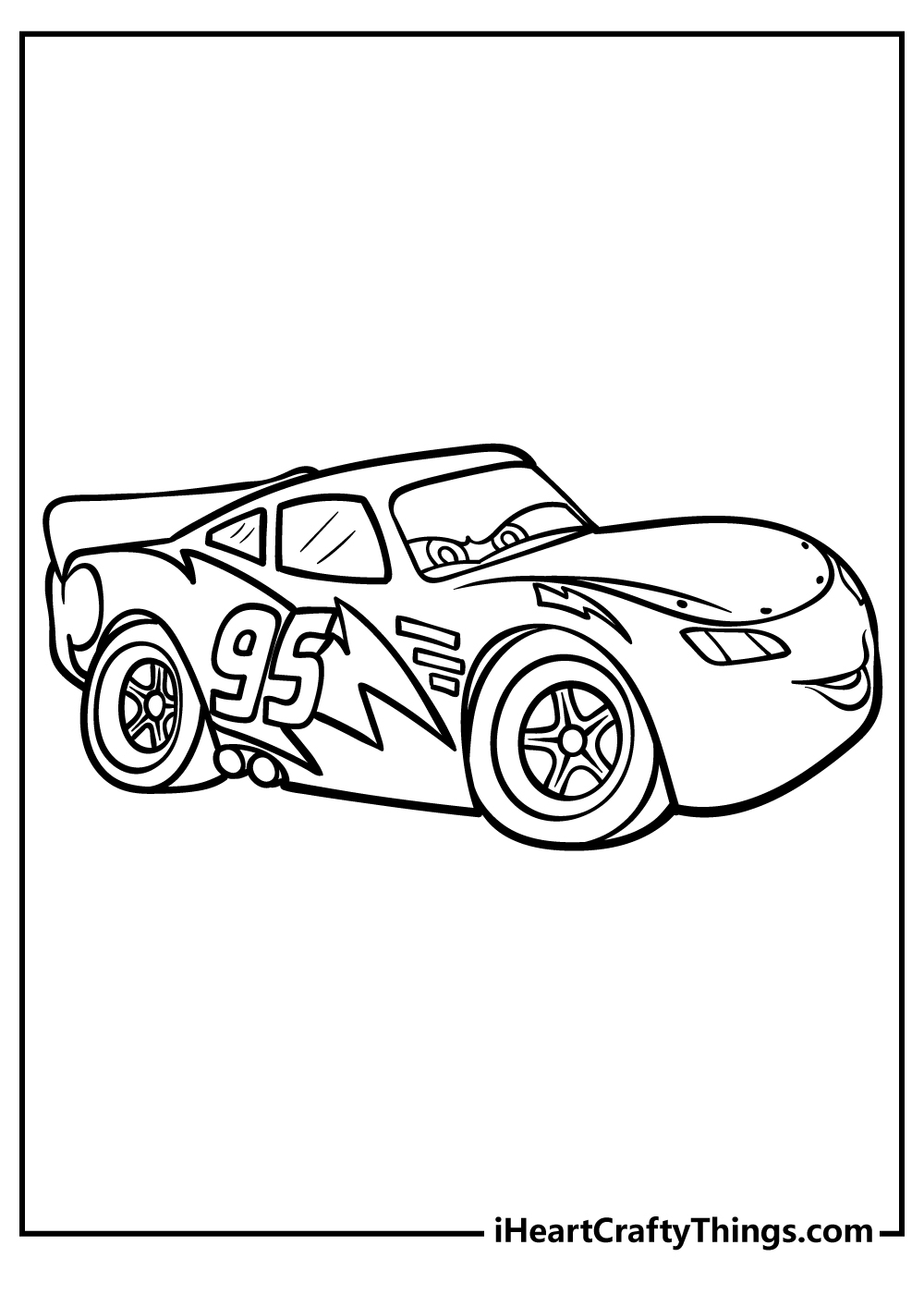 This view of Lightning McQueen is really interesting, as we are seeing him face to face! For this one, it could be fun to create a background setting, as then you could show where he could be driving.
You could use a race track scene or maybe a nice countryside for a few ideas! Where do you think he could be cruising?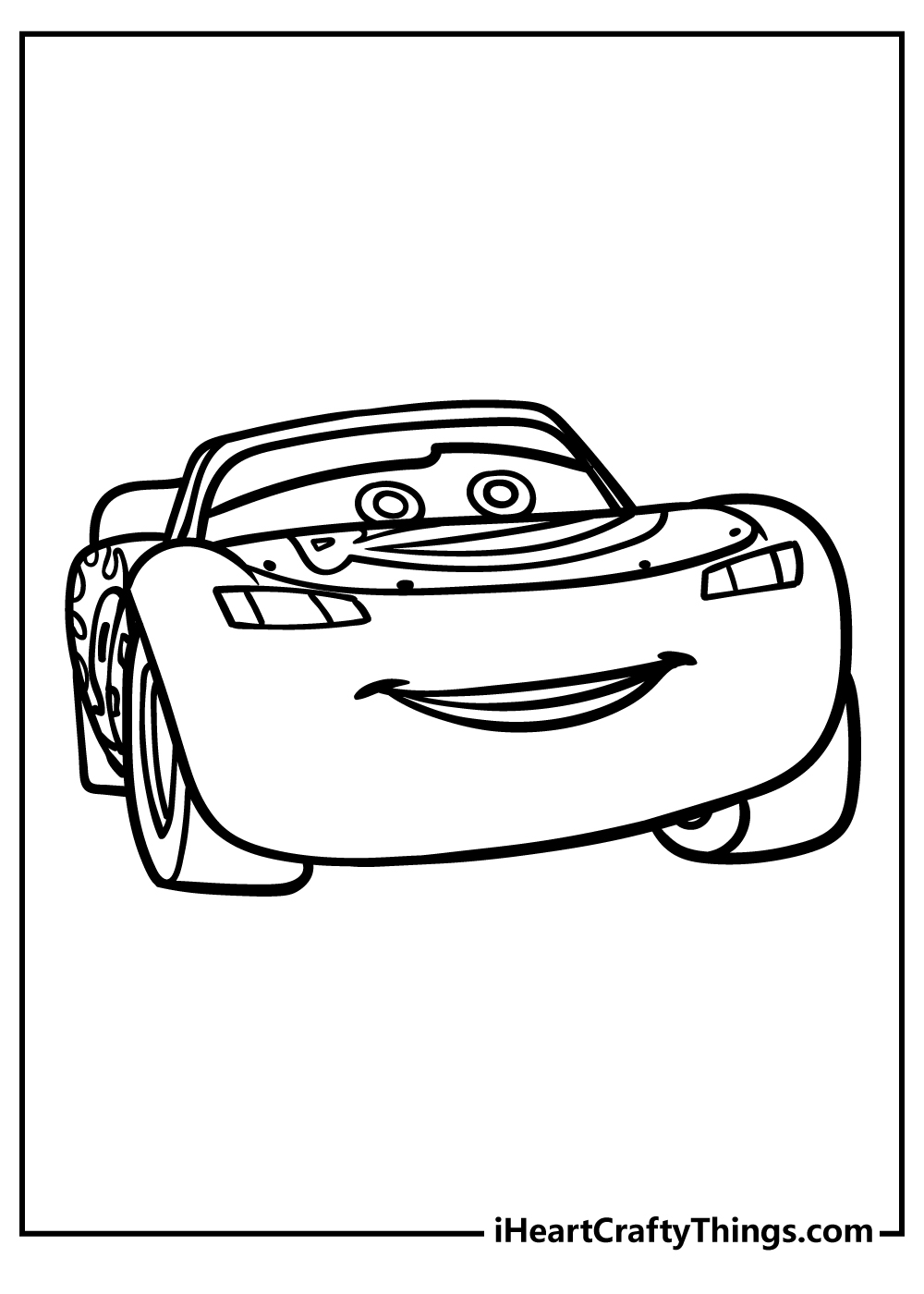 In this fifth page of our collection of free Lightning McQueen coloring pages for kids, our hero is again looking very happy and confident!
He is known for being an optimistic yet occasionally arrogant character, and this image captures these sides of him brilliantly.
How will you capture this happy image of Lightning McQueen with your colors?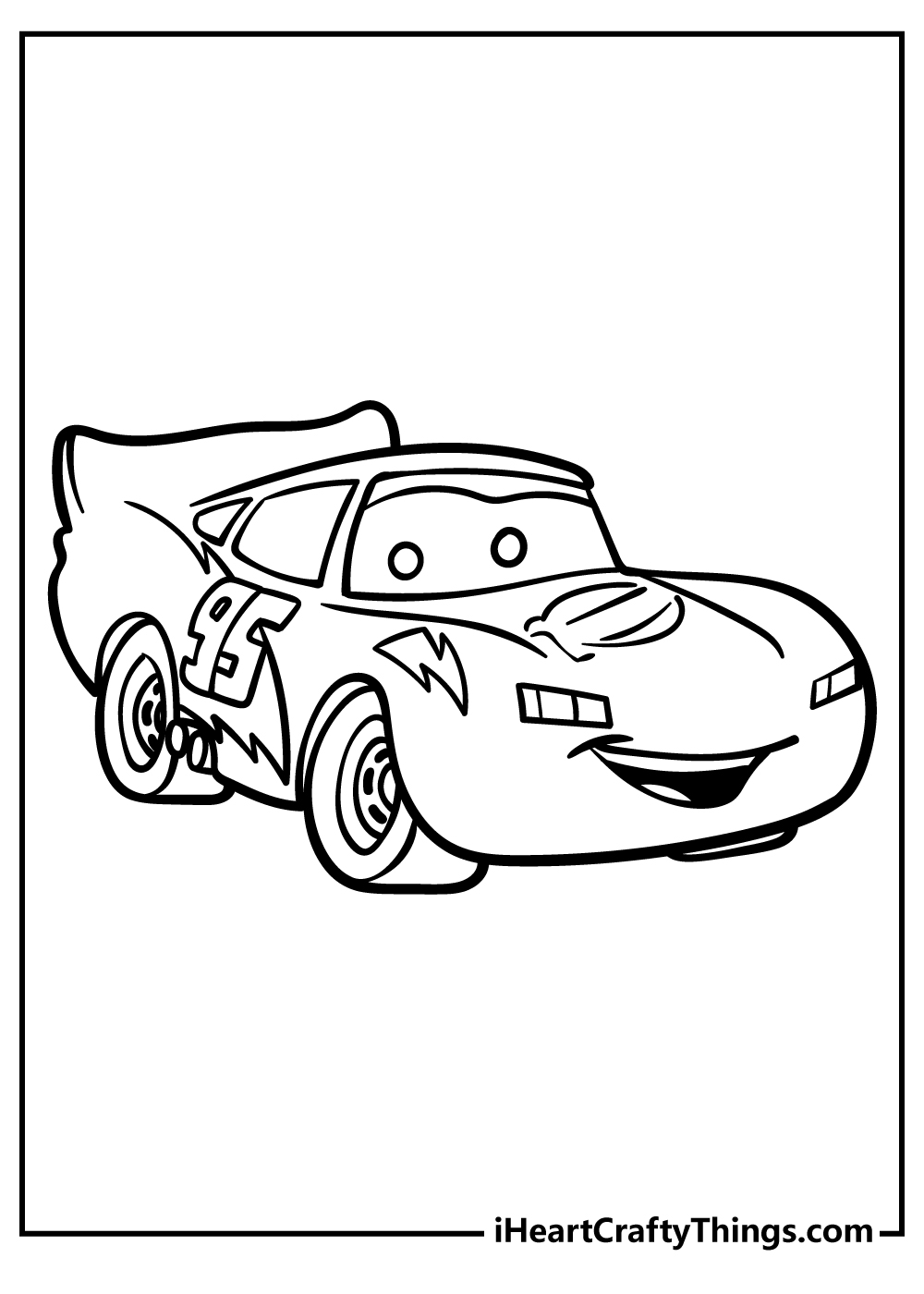 We get a great look at some of the smaller details on this character in this next one! Smaller details on any picture always make it look better, but they can be trickier to color than larger portions.
When coloring these smaller parts, be sure to use art mediums that will make it easier. Some examples would include colored pencils or pens, but what other art tools come to mind?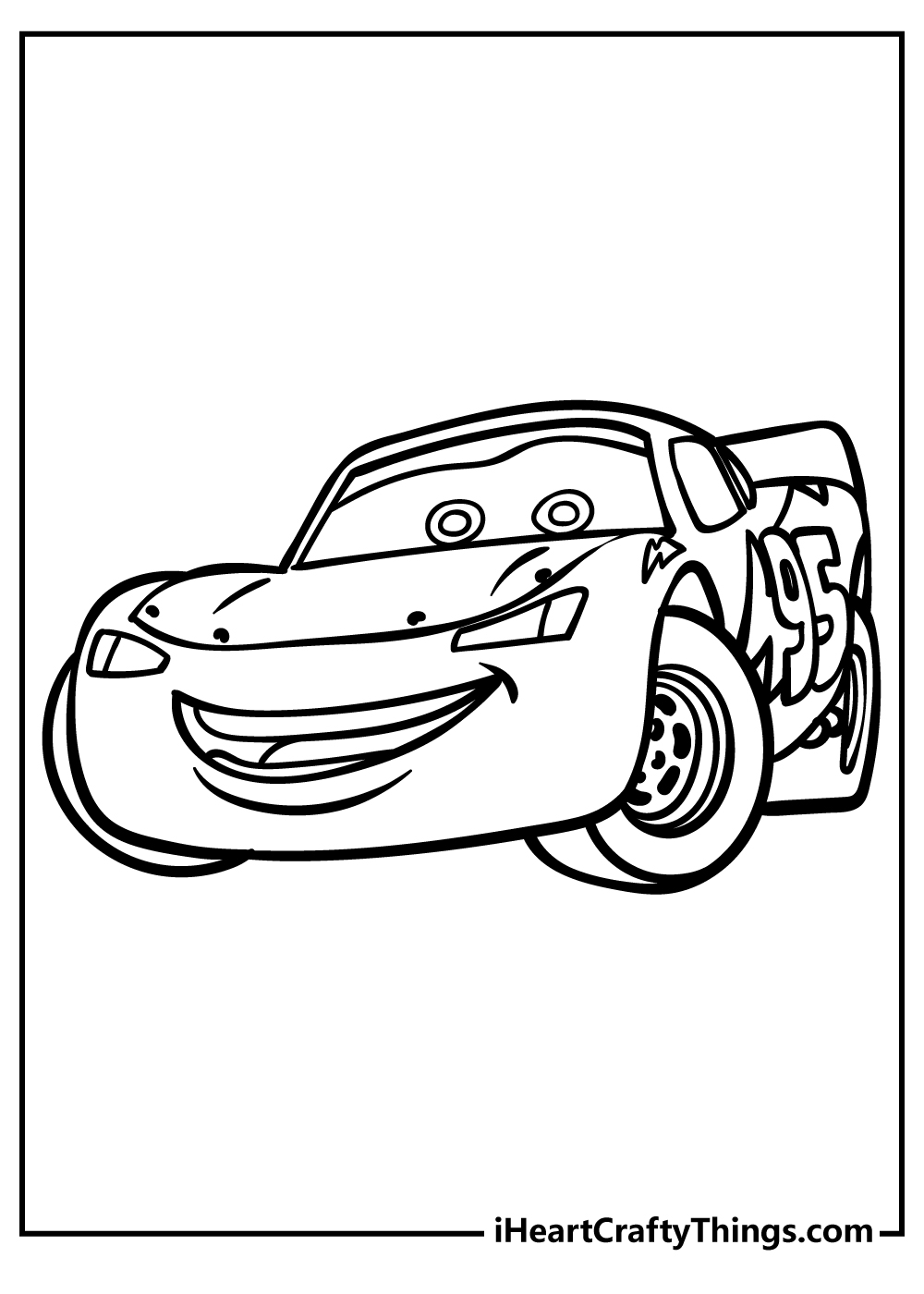 Lightning is looking very competitive in this next image again. That would again make it seem like he may be in an intense race, and that opens up so many possibilities.
We think that drawing a race track with some competing cars in the background would be awesome for this one, but what will you create?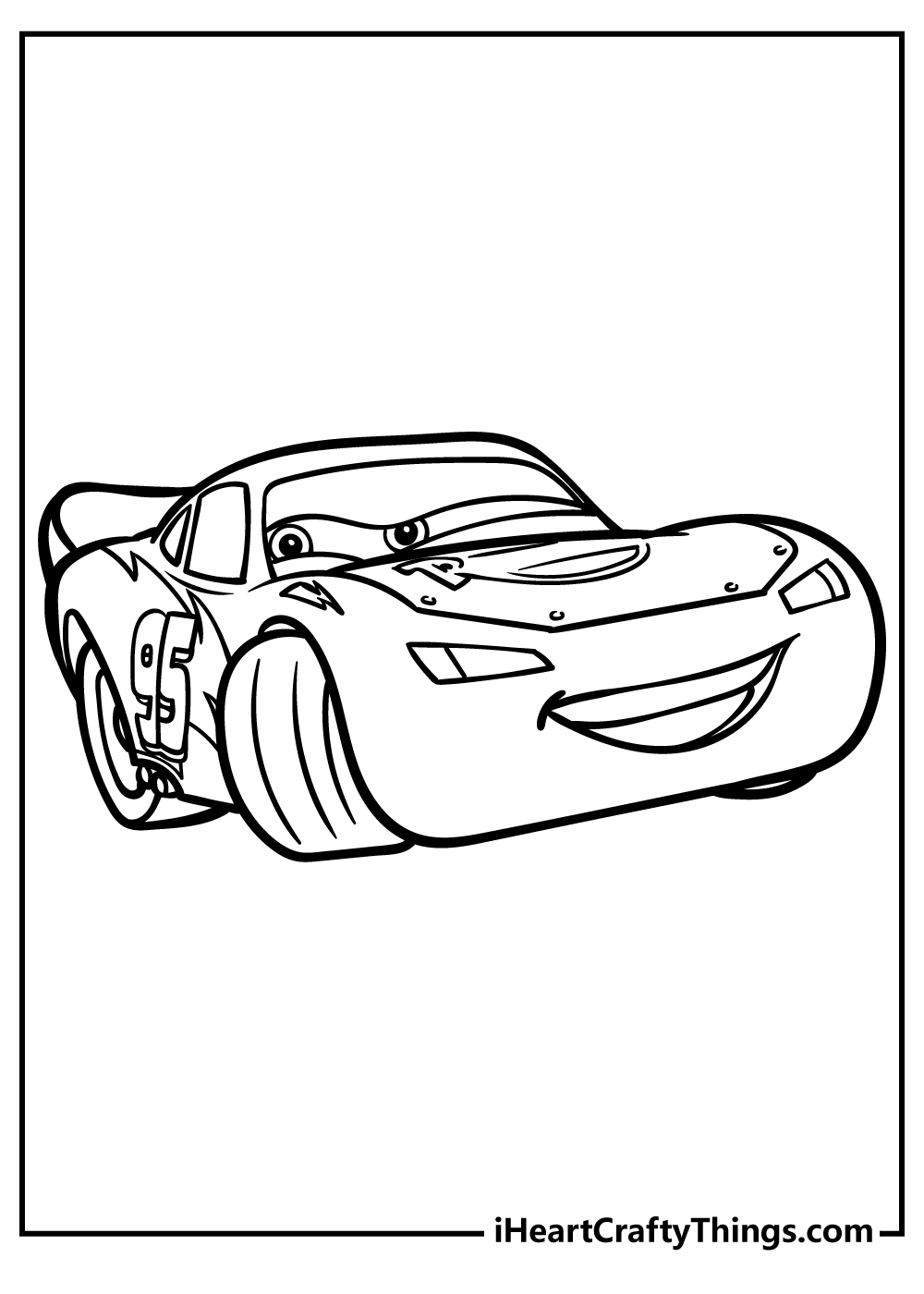 While the previous image was a bit more intense, we're bringing things down a few notches for a more relaxed image once more.
As we mentioned previously, using lighter colors can help to emphasize that relaxed mood. So, even if you stick with reds and yellows you can keep them a bit lighter to fit the mood.
That's not to say you can't use some bright colors instead, so what will you go for?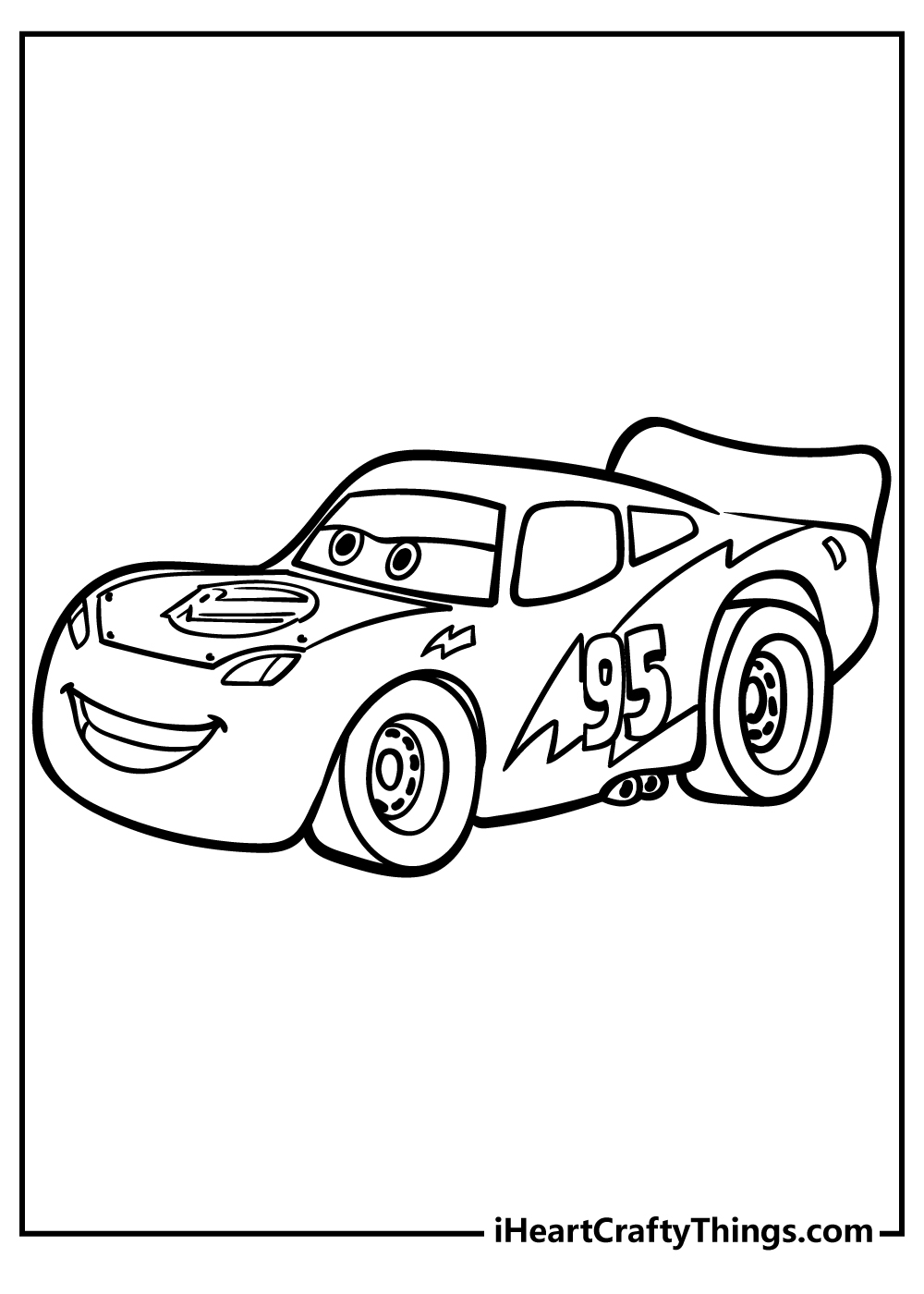 In this next image, Lightning is coming off of a ramp, possibly after having some maintenance done.
He is looking to the side, so maybe you could print this drawing on a large piece of paper and draw one of his friends over to the side!
Which Cars character would you add to the image if you were to do that?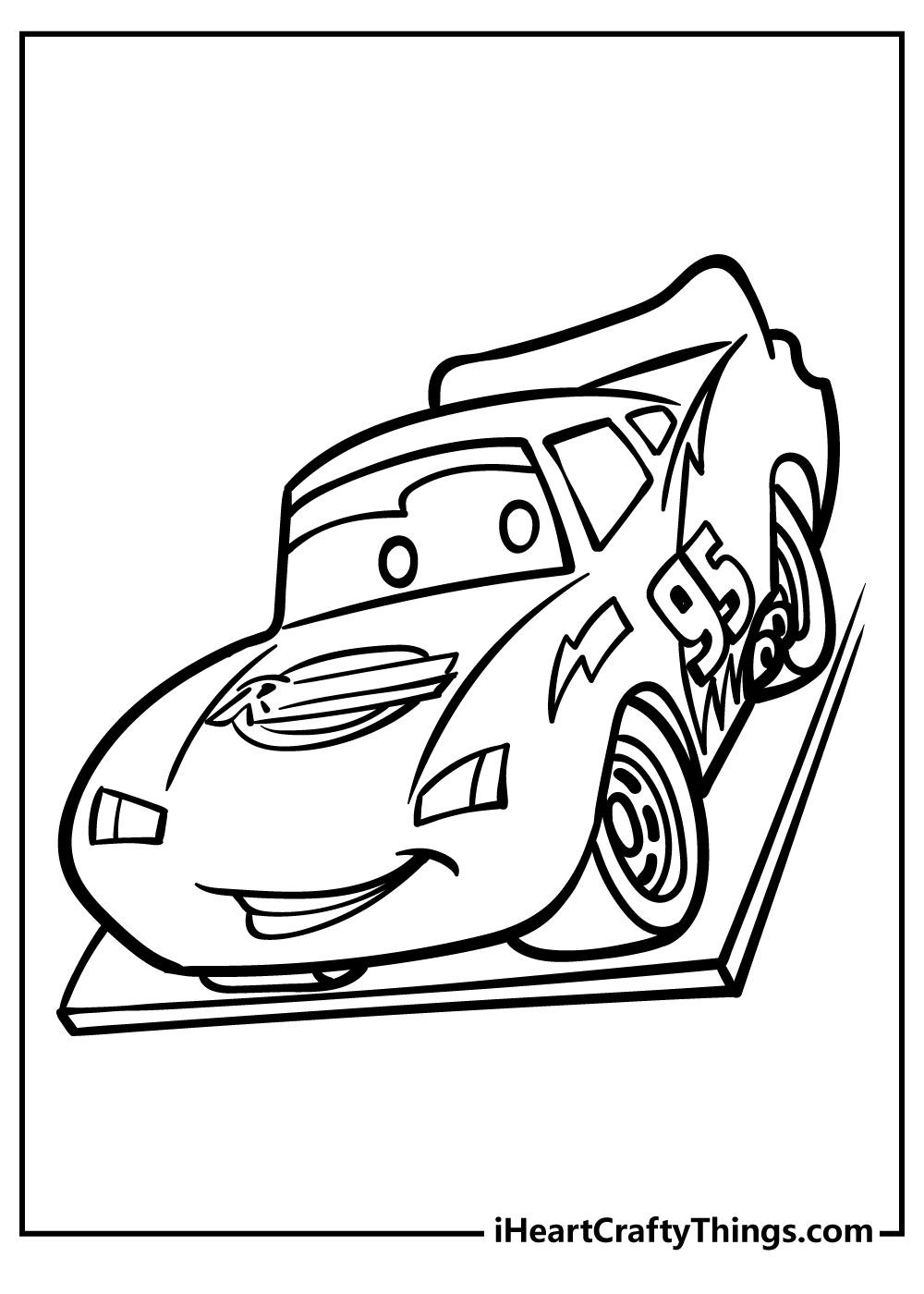 Our next page shows off a lot of the detailing on the side of Lightning McQueen, and it presents so many cool details that you can have fun coloring in.
We would use some colored pens or markers for this one, not only because they would make coloring the details easier but also because they will be nice and bright!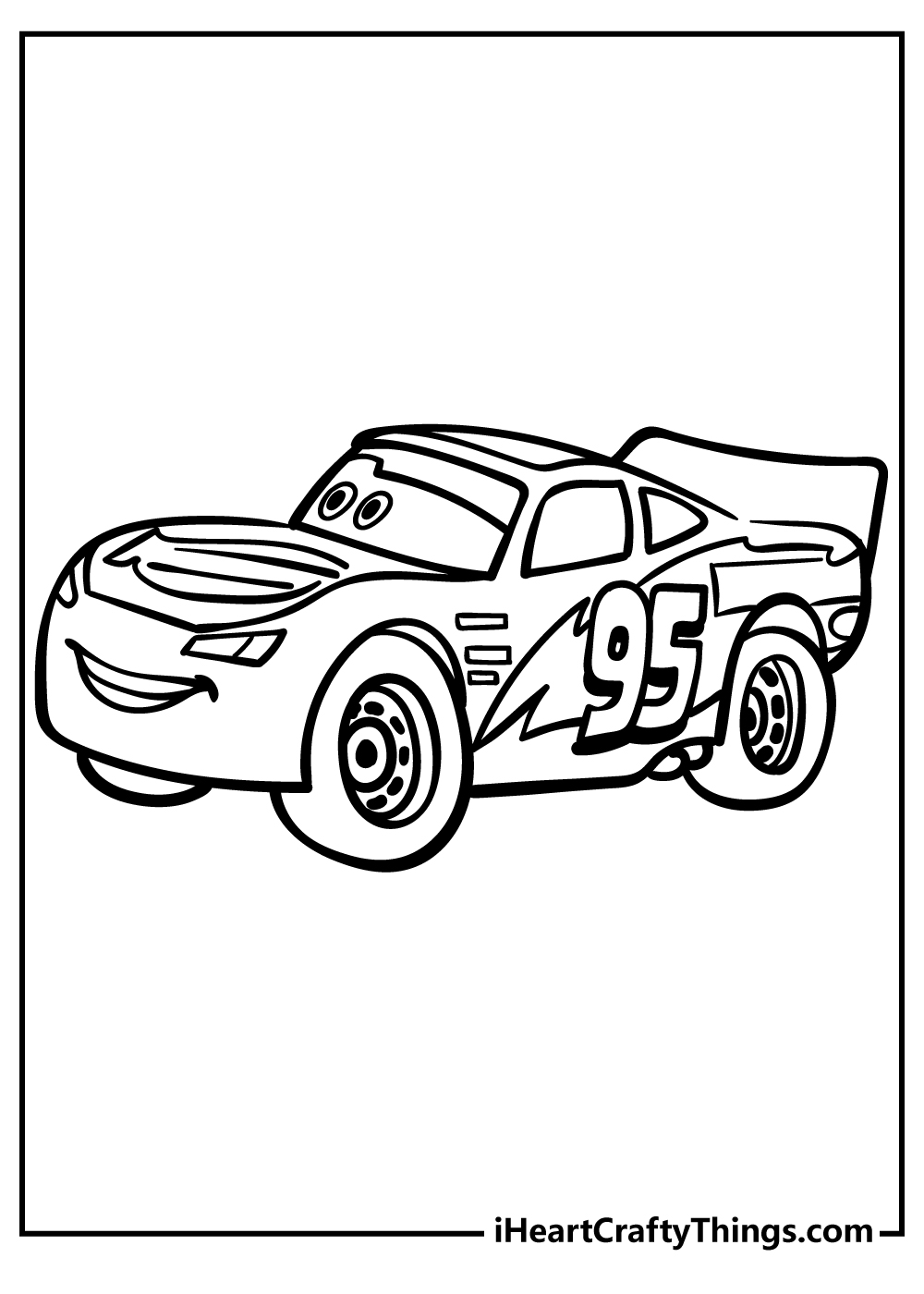 This is a really cool and unique angle for Lightning McQueen. We're seeing him from below here, and we get a good look at his facial features.
This would also be another great one to add some cool background details to. We would make half the background a road and the other half the sky for this one, but what ideas do you have?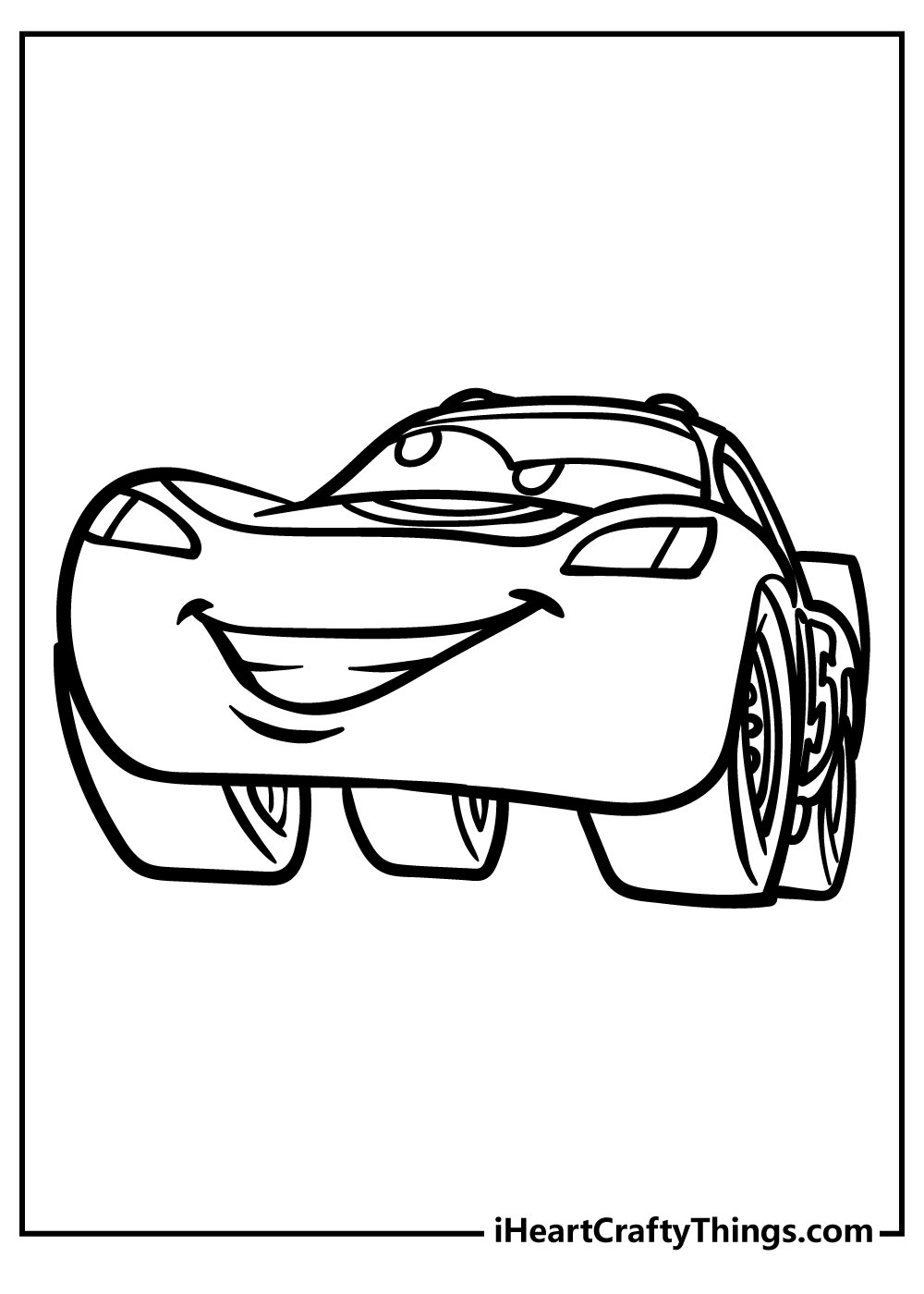 Lighting is once again looking happy and confident in this next picture!
You also get to color smaller elements such as his eyes, lights and hood here, and there are some cool color details you could add to make these look even better.
What will you use to add colors to this happy Lightning McQueen?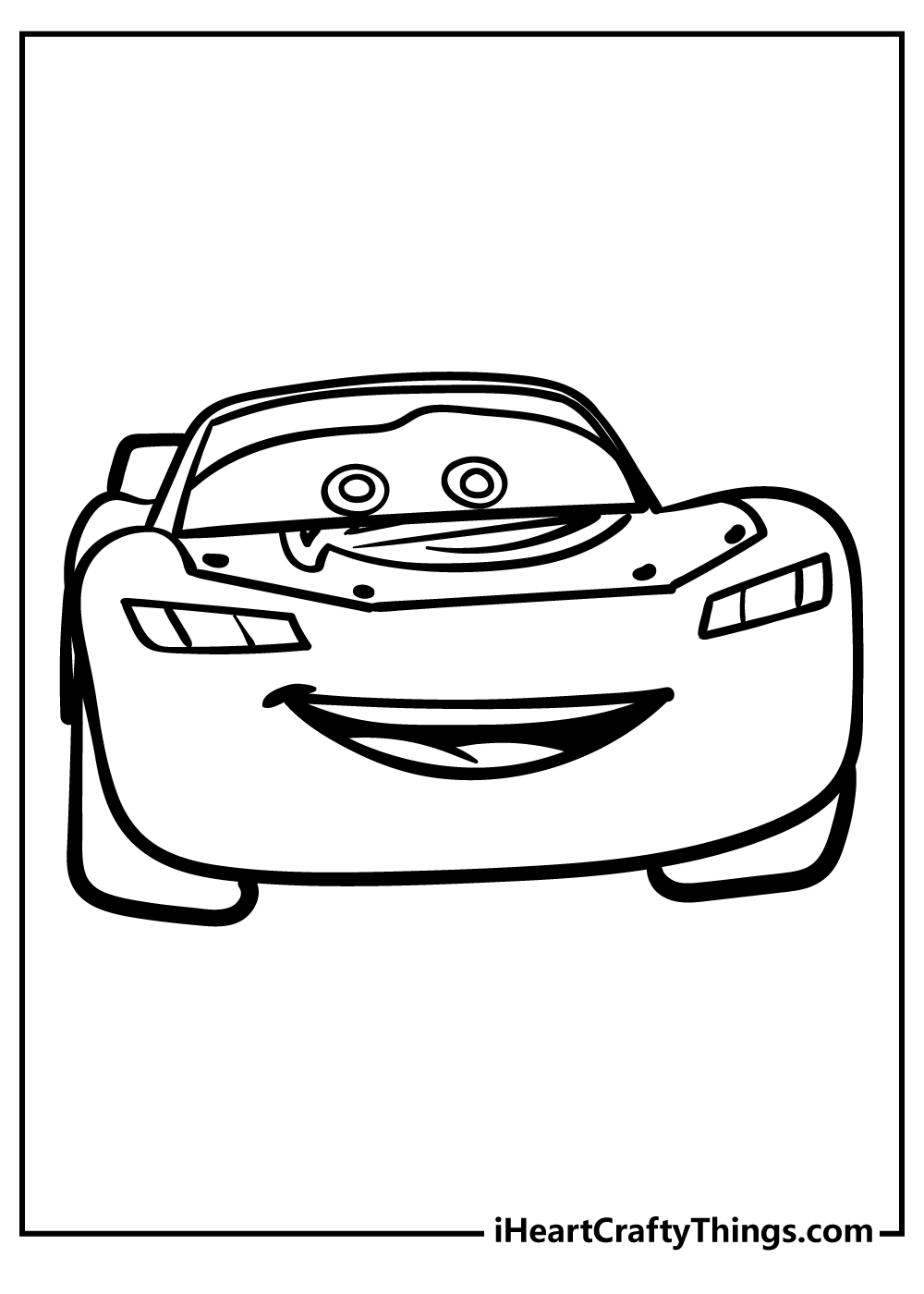 This thirteenth page represents a not so pleasant moment for Lightning McQueen! He has burst a tire while racing, and he is looking understandably distressed about this.
This is a really dramatic scene, and we would highlight the drama by using some intense colors that bring attention to the source of distress.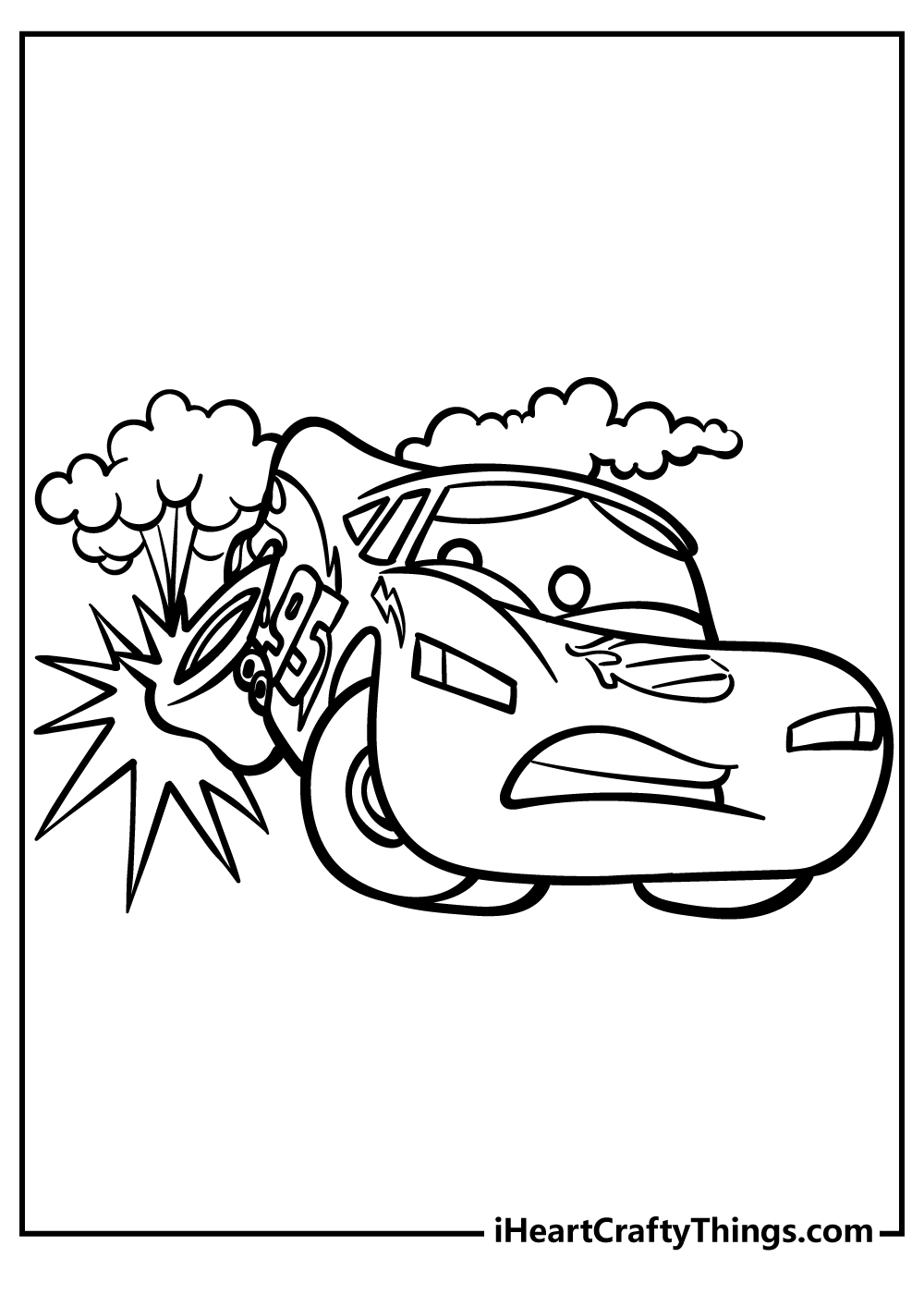 There is an interesting detail on this next portrayal, as the phrase 'fabulous McQueen' is written on the side.
When coloring these letters, you could go for the same color for all of them or maybe change them up a bit!
How do you think you will color the words? We would definitely recommend some more colored pens for those fiddly letters!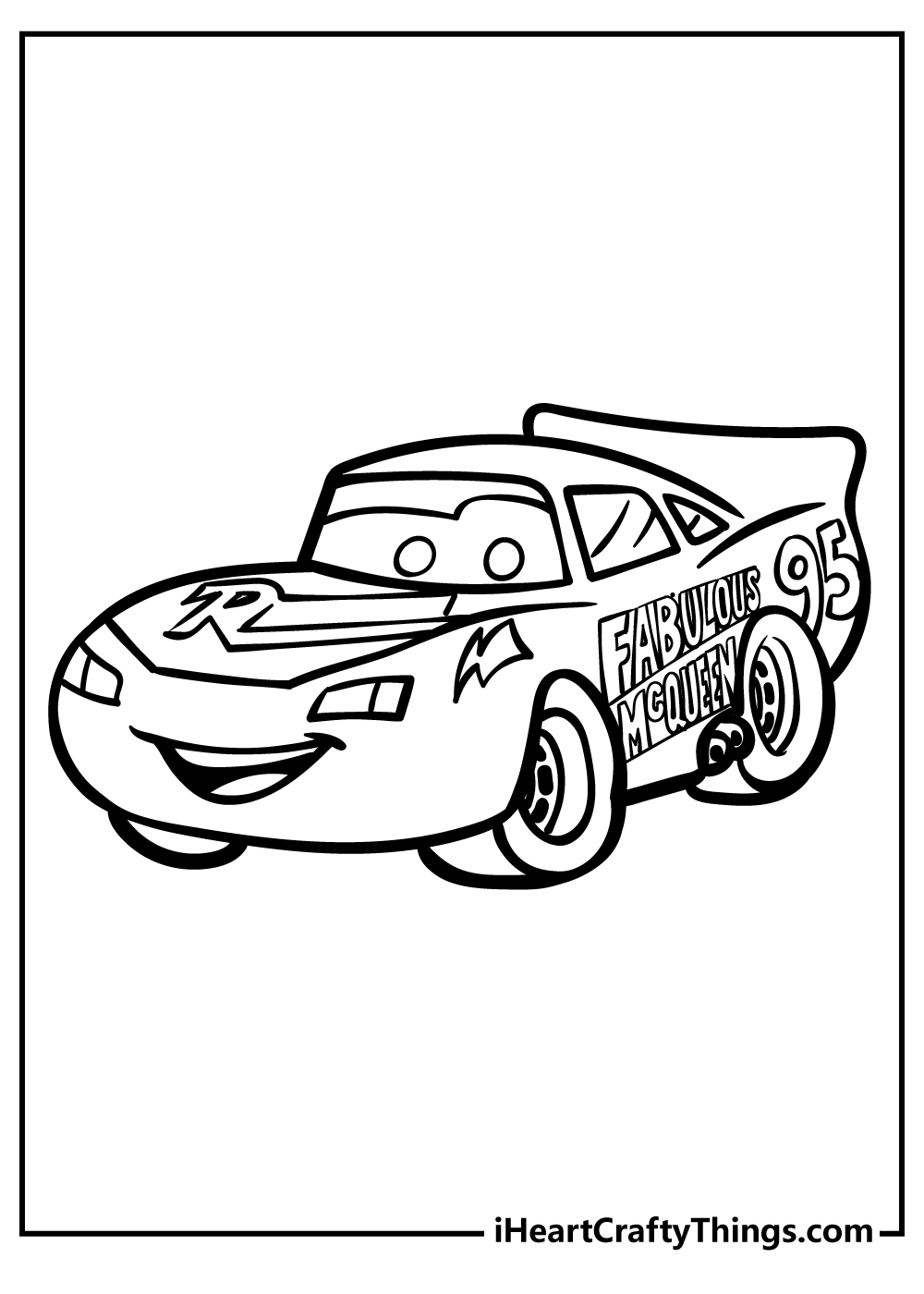 Our final Lightning McQueen coloring sheet features even more awesome details for you to have fun coloring in.
This last page is a great chance for you to use any colors, mediums, techniques or ideas you have yet to use in your collection.
This is your chance to really show off what you can do, so we hope you have fun with it!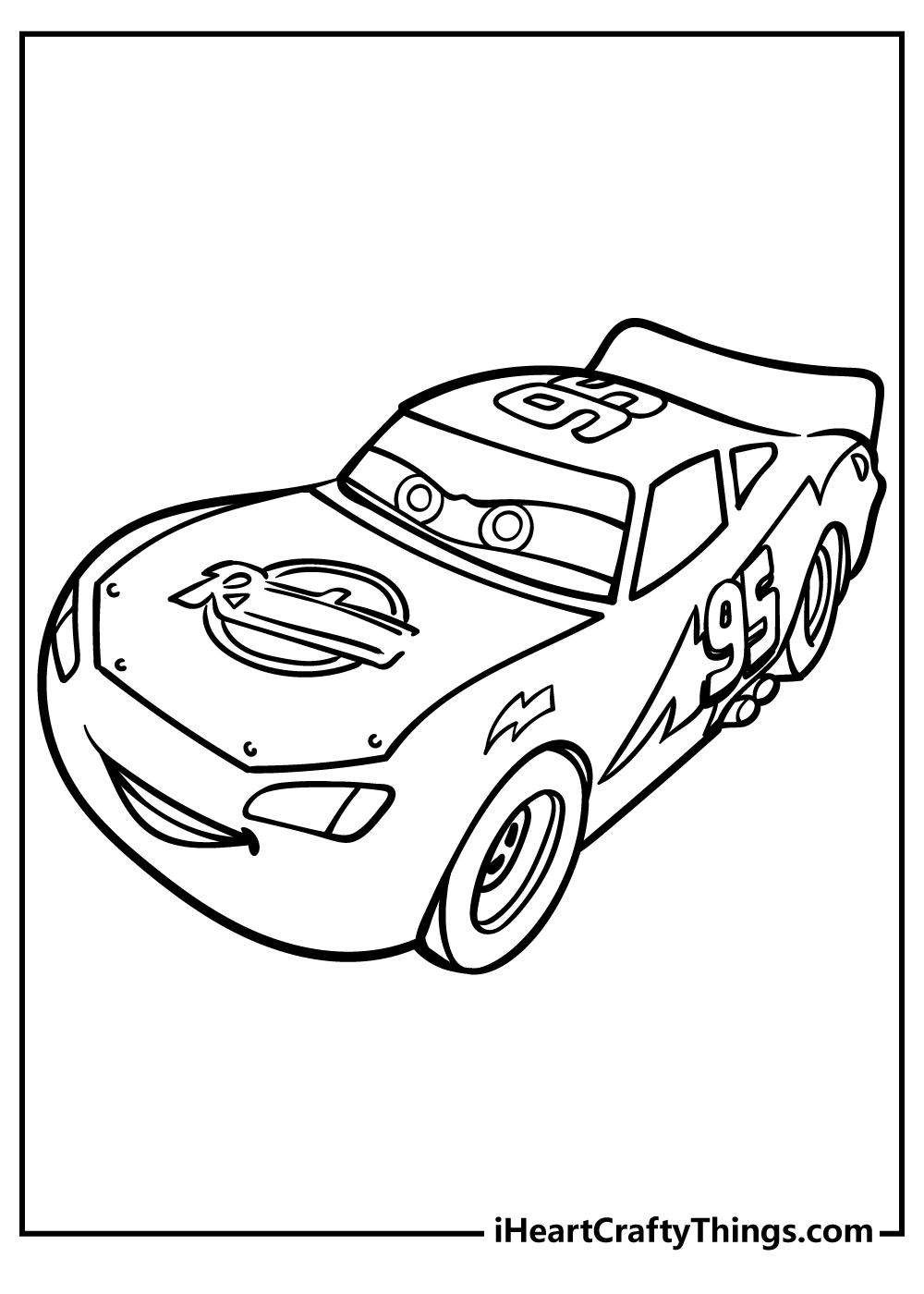 Lightning McQueen Coloring Pages – Which will you choose?
This is such a classic and beloved character, and we hope you had a great time meeting him in this collection of free Lightning McQueen coloring pages for kids!
Remember to really let yourself get creative as you finished them off, and share them with other Cars fans you know too!
Speaking of sharing, please also share some of your finished pages on our Facebook and Pinterest pages for us to see!