When Finding Nemo came out in 2003, it didn't take long for it to become a classic Pixar film! To this day, the movie is beloved by fans young and old.
It has spawned multiple adaptations, video games and even a sequel, Finding Dory. This collection of free Finding Nemo coloring pages for kids highlights your favorite characters from both films.
You're sure to find your favorites here, and you can print, color and enjoy any pages you like! The collection is free to print and enjoy, and you can share it with your friends and family as well.
So let's relive some classic Finding Nemo moments as we begin this charming collection we have prepared for you!
15 Brand New Finding Nemo Coloring Pages – Free to Print and Color
The first Finding Nemo film focuses mainly on the epic journey Marlin and Dory take to find Marlin's son, Nemo. For this first Finding Nemo coloring sheet, you can color these two main characters.
Marlin has an orange, black and white color scheme, whereas Dory has a blue, yellow and black color scheme. You can use these as well if you want them to look accurate to the film.
You could also use your own color choices if you prefer, it's totally up to you!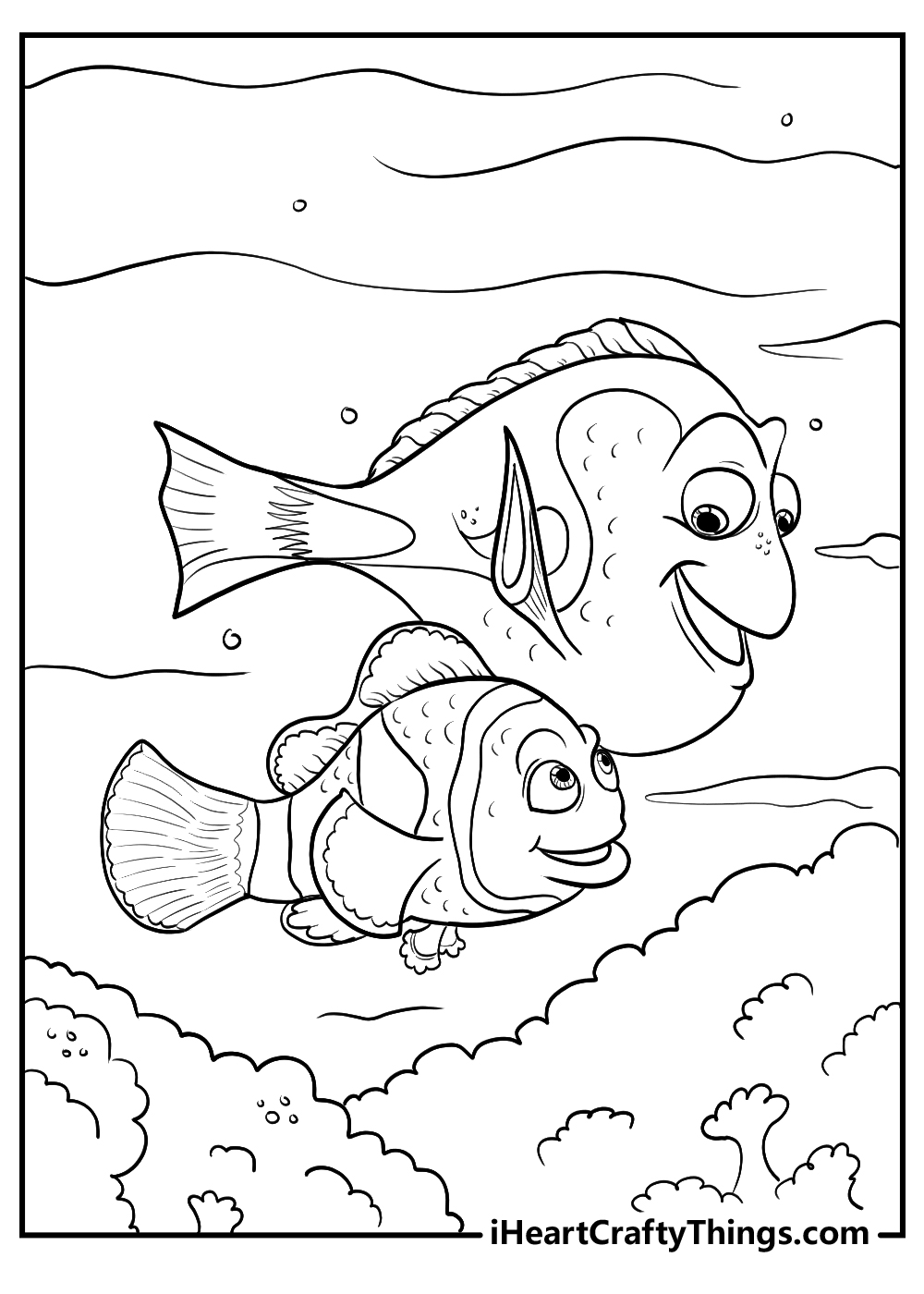 Deb is a really memorable character from the films. Her most defining characteristic is that she believes that her reflection is her twin sister, named Flo.
Deb is mostly blue with white stripes, so that is a starting point you can use if you want to make her screen accurate. If you wanted to take it even further, you could draw Flo into the picture!
You would need to make essentially a mirror image of the picture, as this will make it look as though her reflection is showing in the glass. Will you go for this extra detail?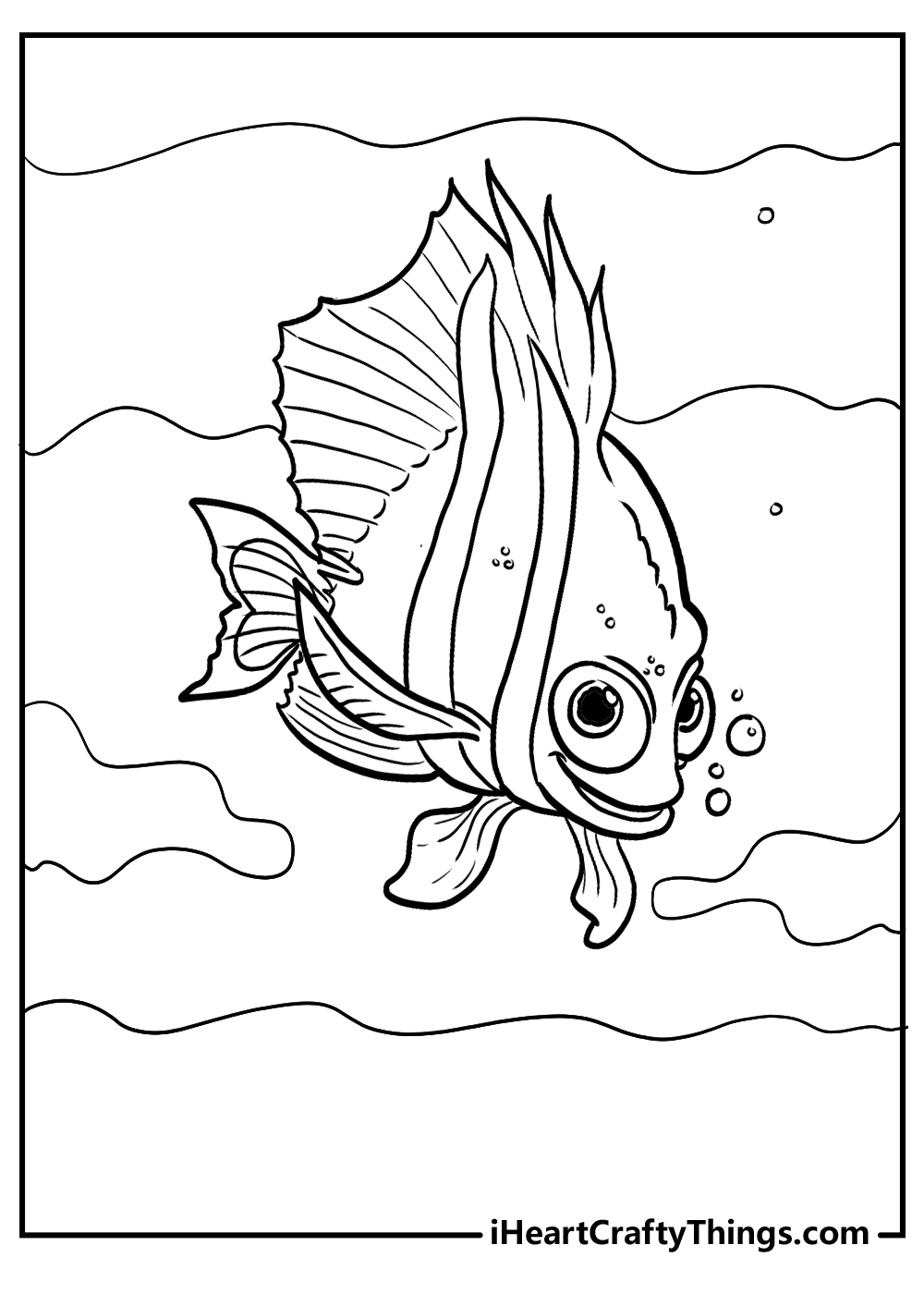 Hammerhead sharks are some of the most unique animals in the ocean. This next character is Anchor, a hammerhead shark that Marlin and Dory encounter in their adventure.
Anchor has a fairly muted brown and beige color scheme, so it won't be hard to make him screen-accurate if you would like to do so.
If I were coloring this page, I would possibly go for some watercolor paint, or maybe some colored pencils. These mediums are lighter, and they would suit his more muted color scheme.
What will you choose?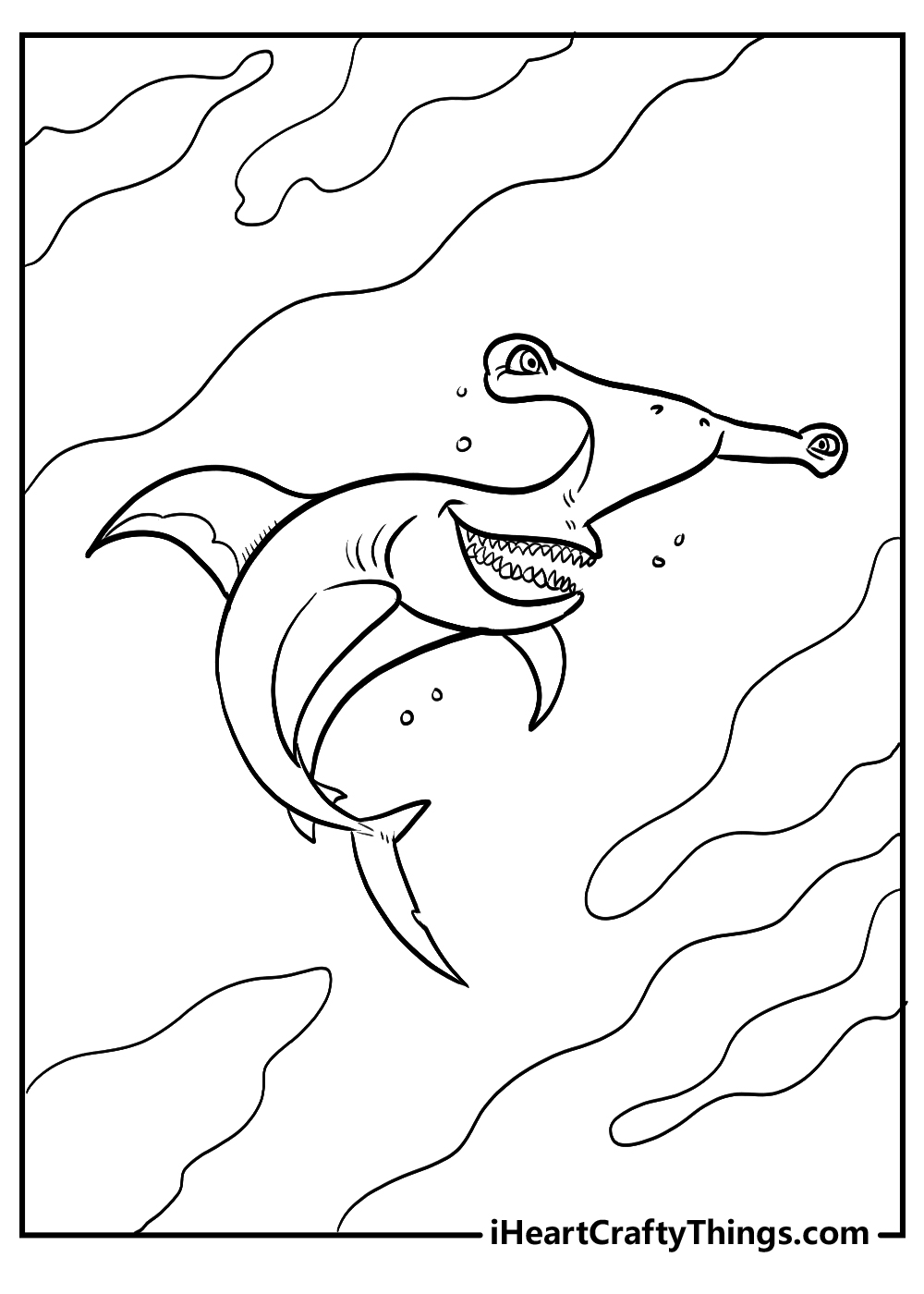 At the beginning of Finding Nemo, we see Nemo and the rest of his school friends on an excursion led by our next character, Mr Ray.
Mr Ray is a friendly and wise character, and color-wise he is another easy character for this page.
He has a simple black-and-white color scheme, so that should be simple enough.
If you want to add some more color, you could use the background to make the colors more diverse. The blue of the ocean would contrast wonderfully with Mr Ray.
You could also draw some more fish or plants, as that would allow you to add some more colors as well.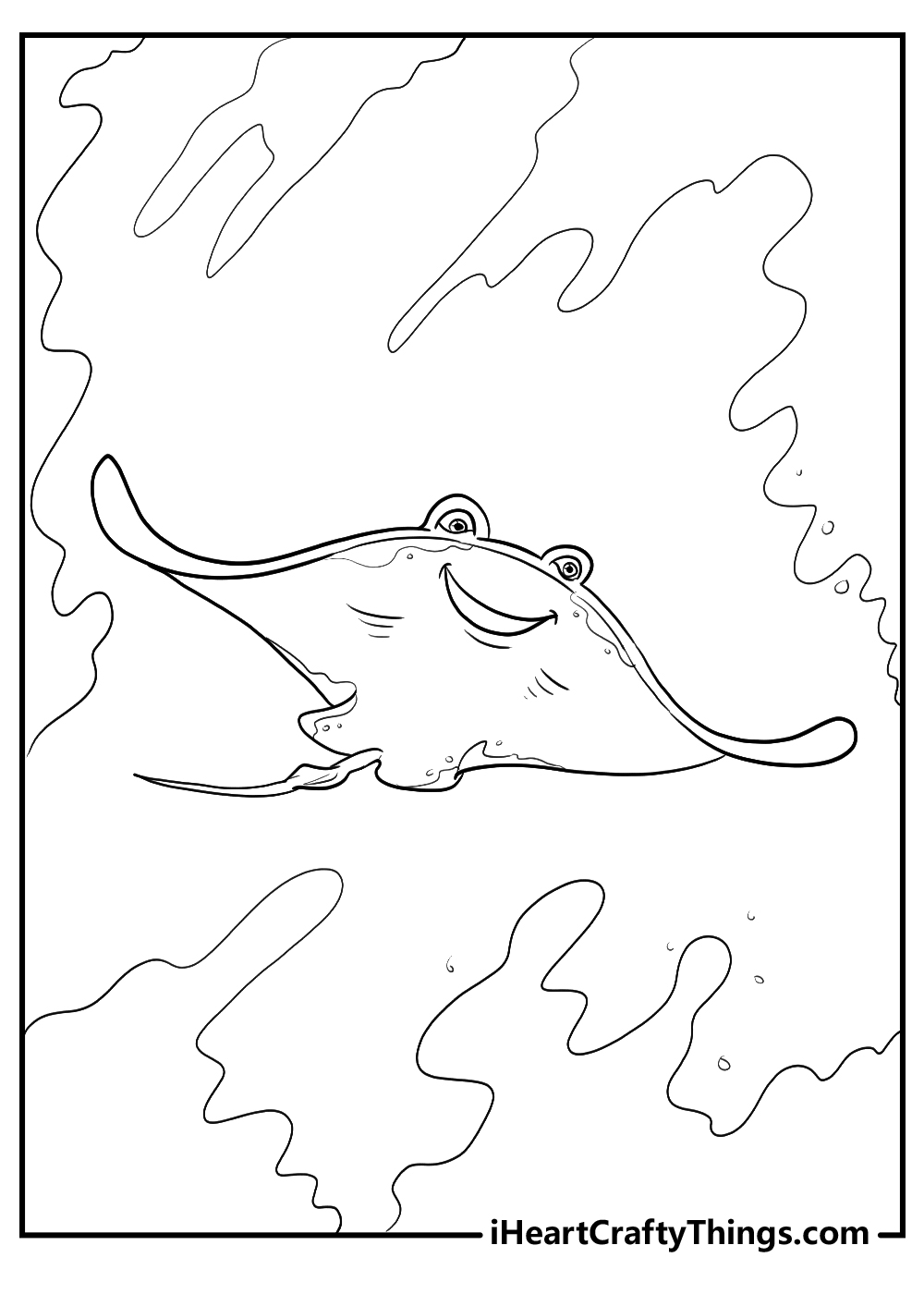 The next character in this collection of free Finding Nemo coloring printables is Sheldon the seahorse.
Sheldon has a very unfortunate allergy, as he is allergic to water, or H2O intolerant as he puts it.
He still makes the most of things despite this affliction, and he is a fan-favorite character. His color scheme is made up of some simple shades of brown, with his belly being the lightest shade.
Of course, you can use other colors if you prefer, as you are in charge of this coloring page. Which approach will you choose?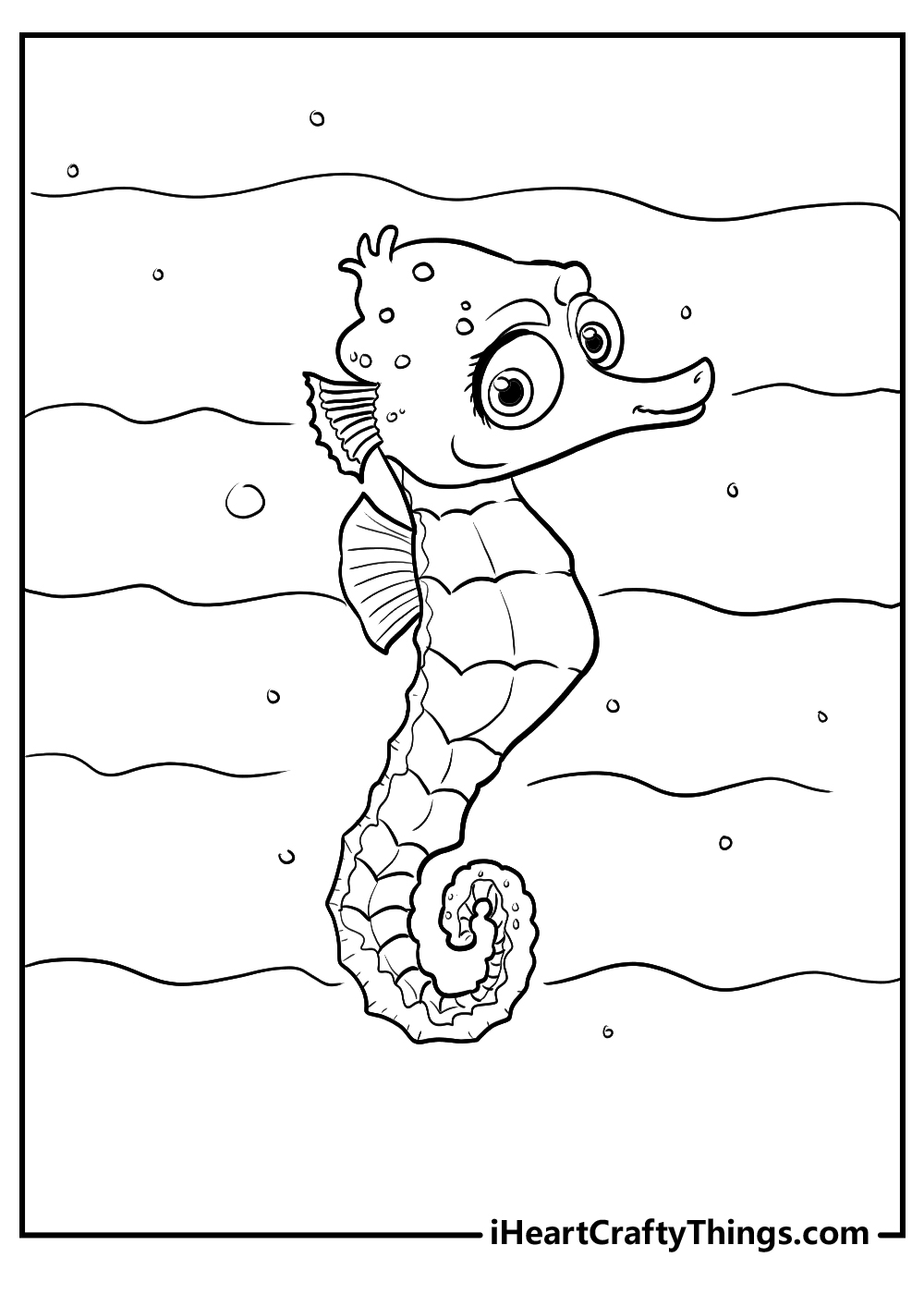 I don't know about you, but Nigel is one of my favorite characters in the films. He is a pelican who helps out his fish friends on their travels, and he is a very helpful character.
He's another character that has a simple color scheme. His feathers range from white to brown and black, whereas his beak is a bright orange.
We also get a look at the background of this scene, as he is perched on a rock in the ocean. You can color that as well, but you can also draw some additional background details to color.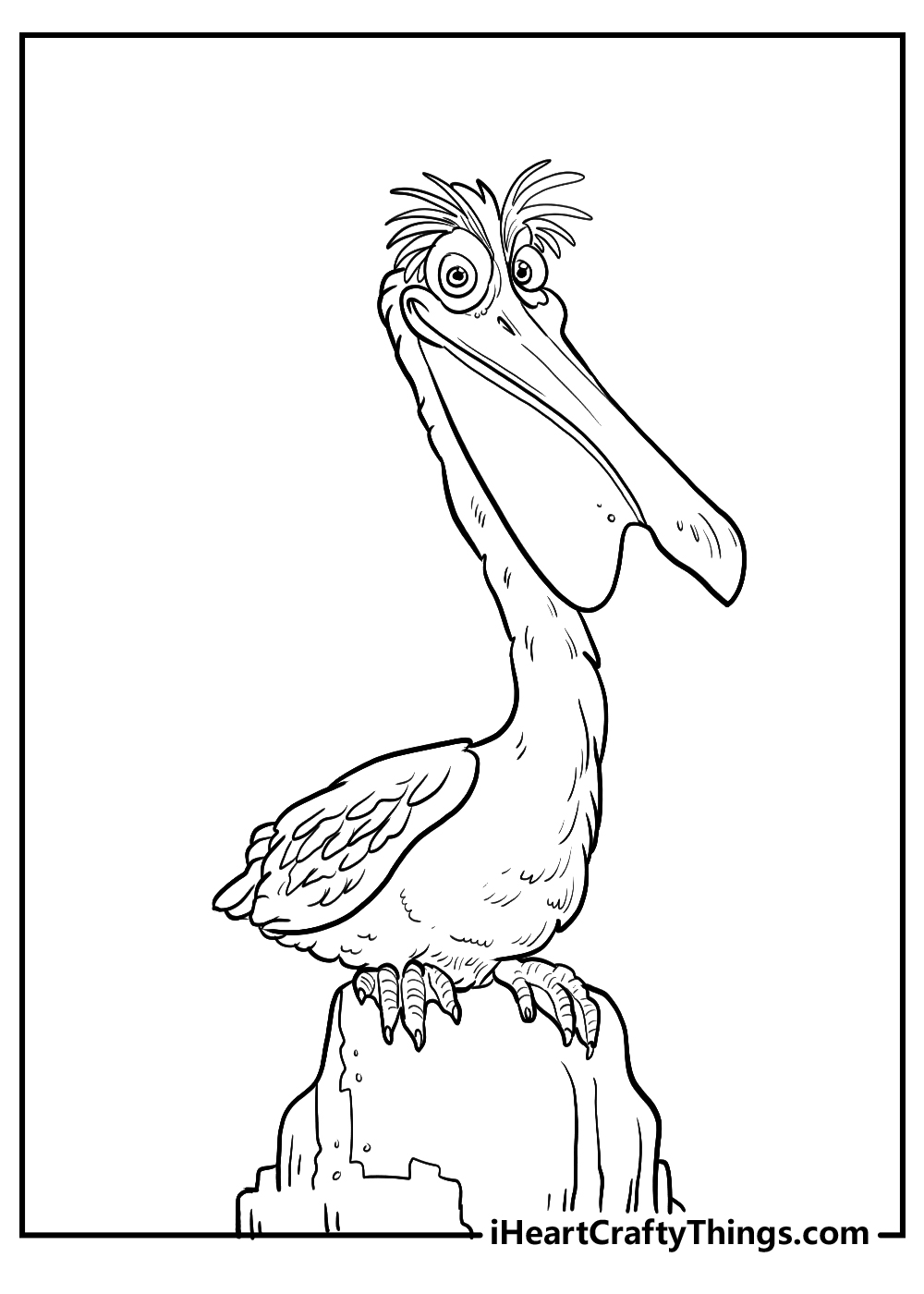 Next up is the starfish, Peach. As her name implies, she has a mostly pink color scheme, and you can use that for a lovely bright color scheme for this page.
Because we see the underside of the character, we can see the suction cups she uses to stick to the glass. You could color these details in some unique ways!
Instead of just using regular coloring tools, why not stick some beads over these details to add a 3D look to the picture?
What other kinds of crafts and art tools could you use to make this picture stand out?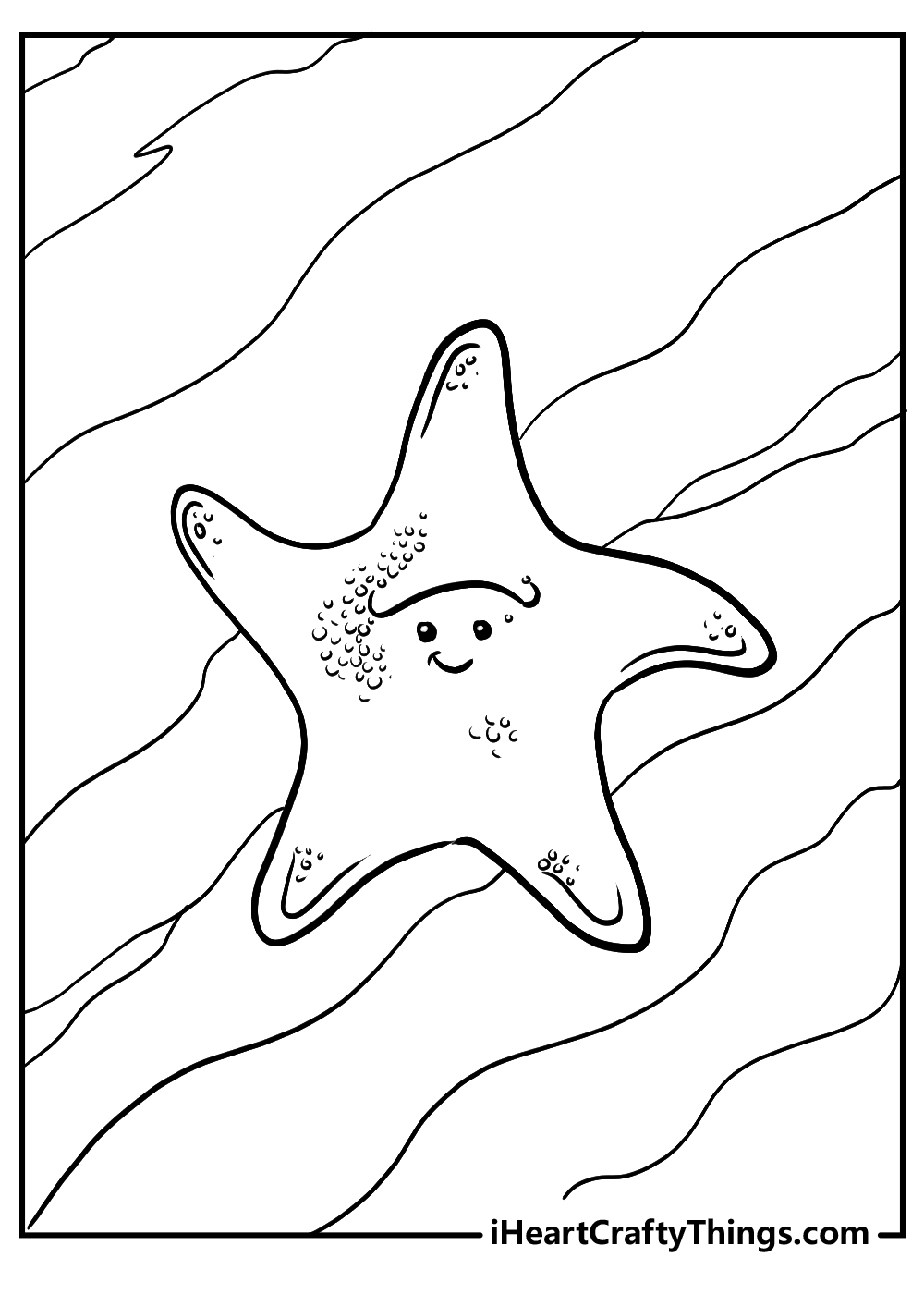 Gill has to be one of the coolest characters in the films. He is the mastermind behind the escape the fish wish to embark on to escape the fish tank in the dentist's office.
Color-wise, Gill has a simple color scheme of white and black with a hint of yellow, and the yellow should be pretty light as a highlight.
One way you could show this would be to color the rest of Gill the way you like, and then use some light watercolor for the yellow highlights over the rest of the colors.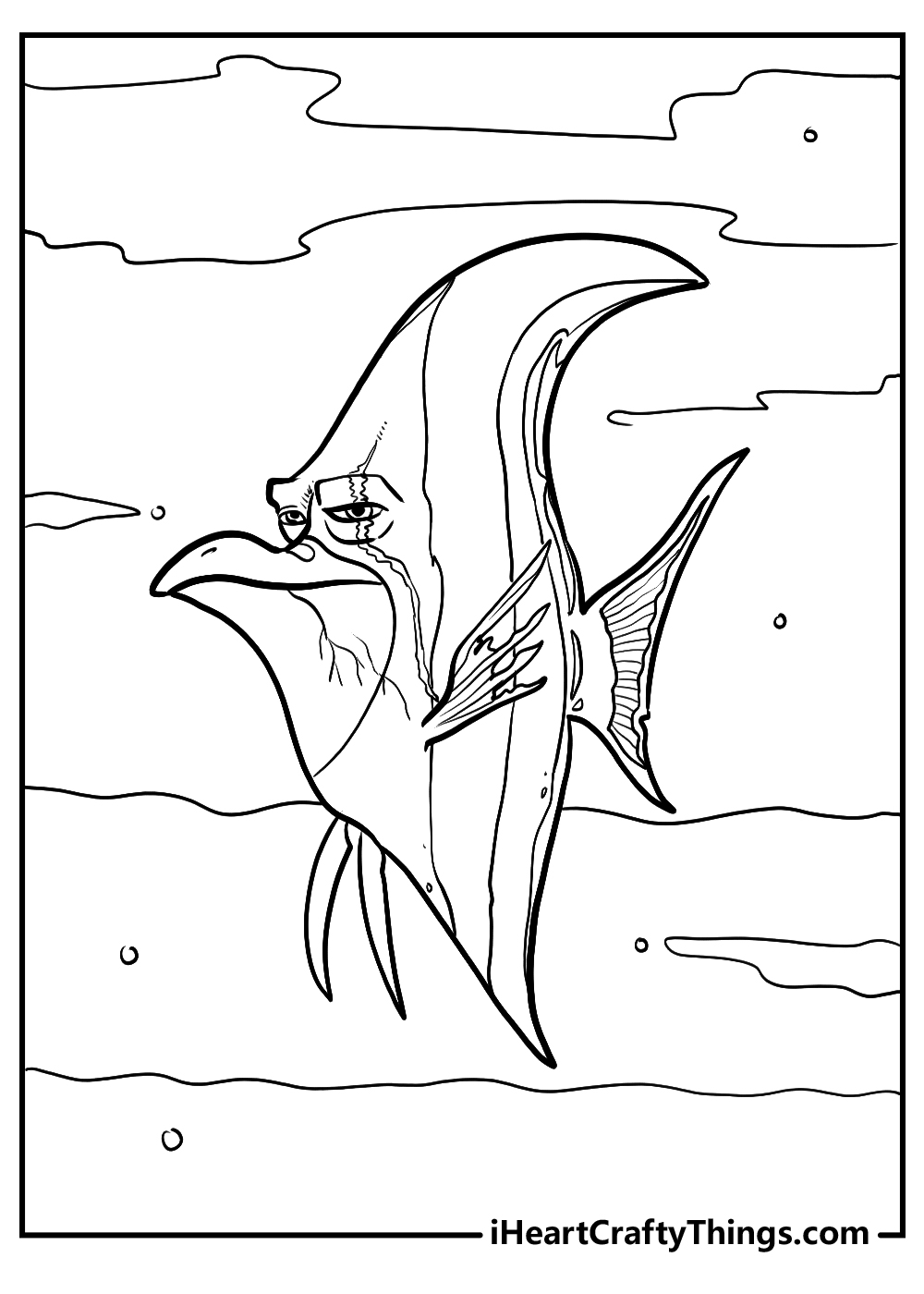 Bloat the pufferfish is another fan-favorite character, and he is a part of the dentist fish crew. His color scheme is a fairly yellowish brown, so you can use that to make him screen-accurate.
He can inflate to a large ball when in distress, but this page shows him in his regular state. You could also add to the picture in some interesting ways if you wanted to.
One way to do this would be to draw a background. You could also draw some more of your favorite Finding Nemo characters into the scene.
What are some other things you could add?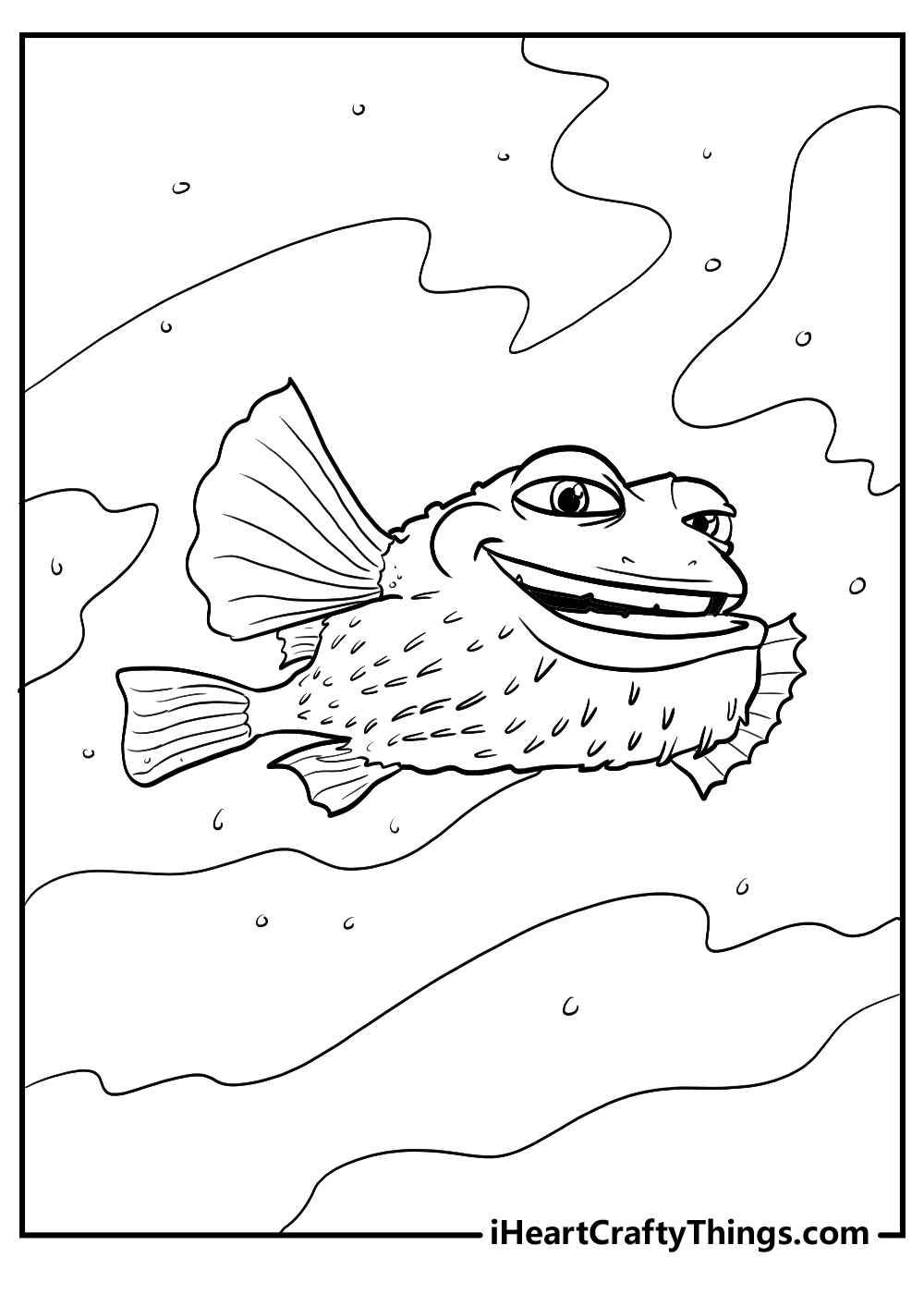 Sharks are a bit intimidating in real life, and that is initially true of the character on this next Finding Nemo coloring printable. This is Bruce, the great white shark.
Despite his scary look, he is normally pretty friendly, as he has pledged to not harm any other fish.
However, his peaceful ways can be interrupted when he starts thinking with his stomach!
There is a bit of a background setting here, but you could make it look even better with some additional details and elements, so feel free to get creative with it!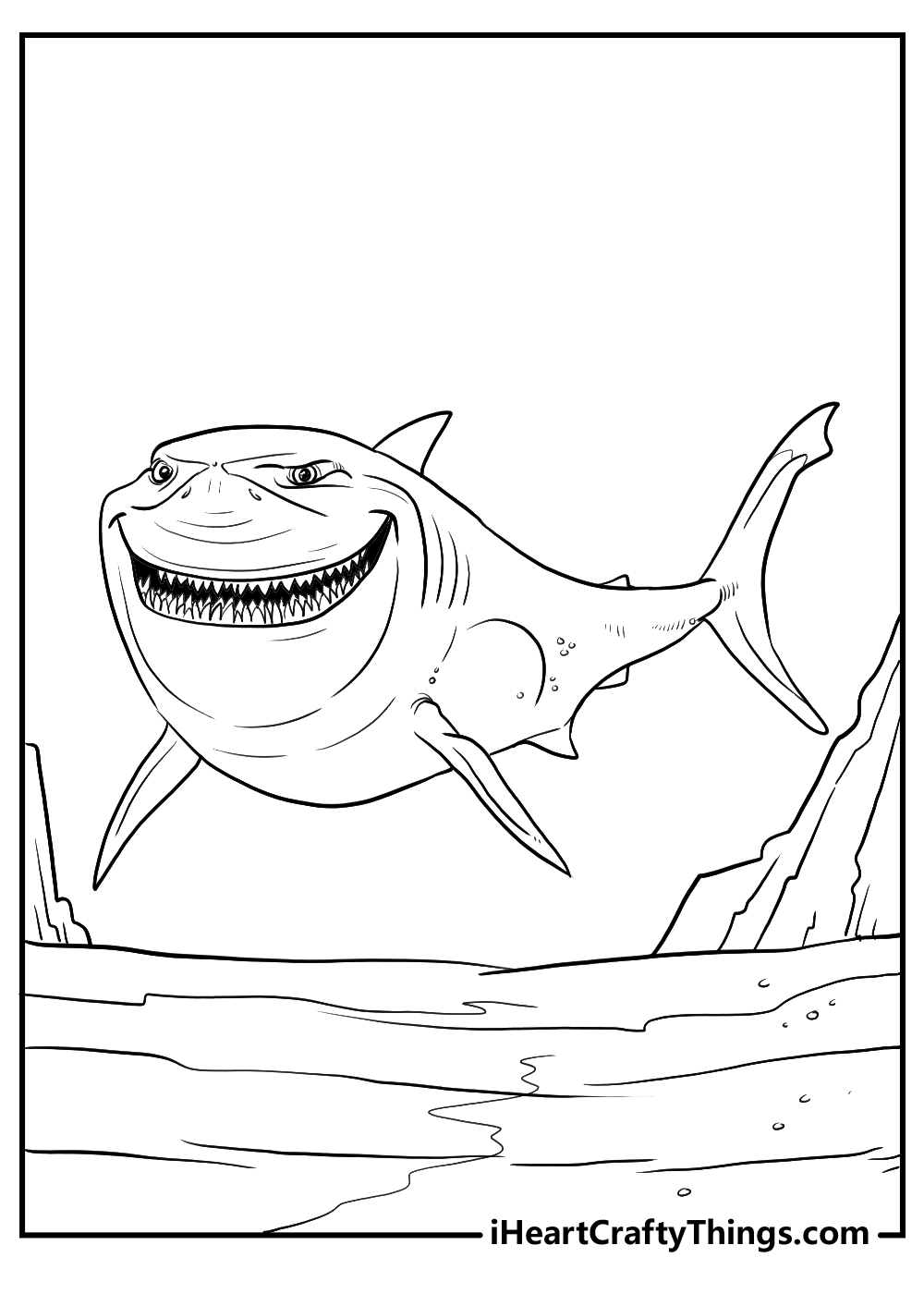 Crush is a sea turtle who is very relaxed and likes to have fun. He takes life at his own pace and doesn't believe in getting all stressed out by anything.
He is also the star of this next page! His shell is mostly shades of brown, whereas his skin is colored with a light green color.
These are what you can use to make him look as he does in the films. It's up to you, so will you make him screen-accurate or will you go for a unique color scheme?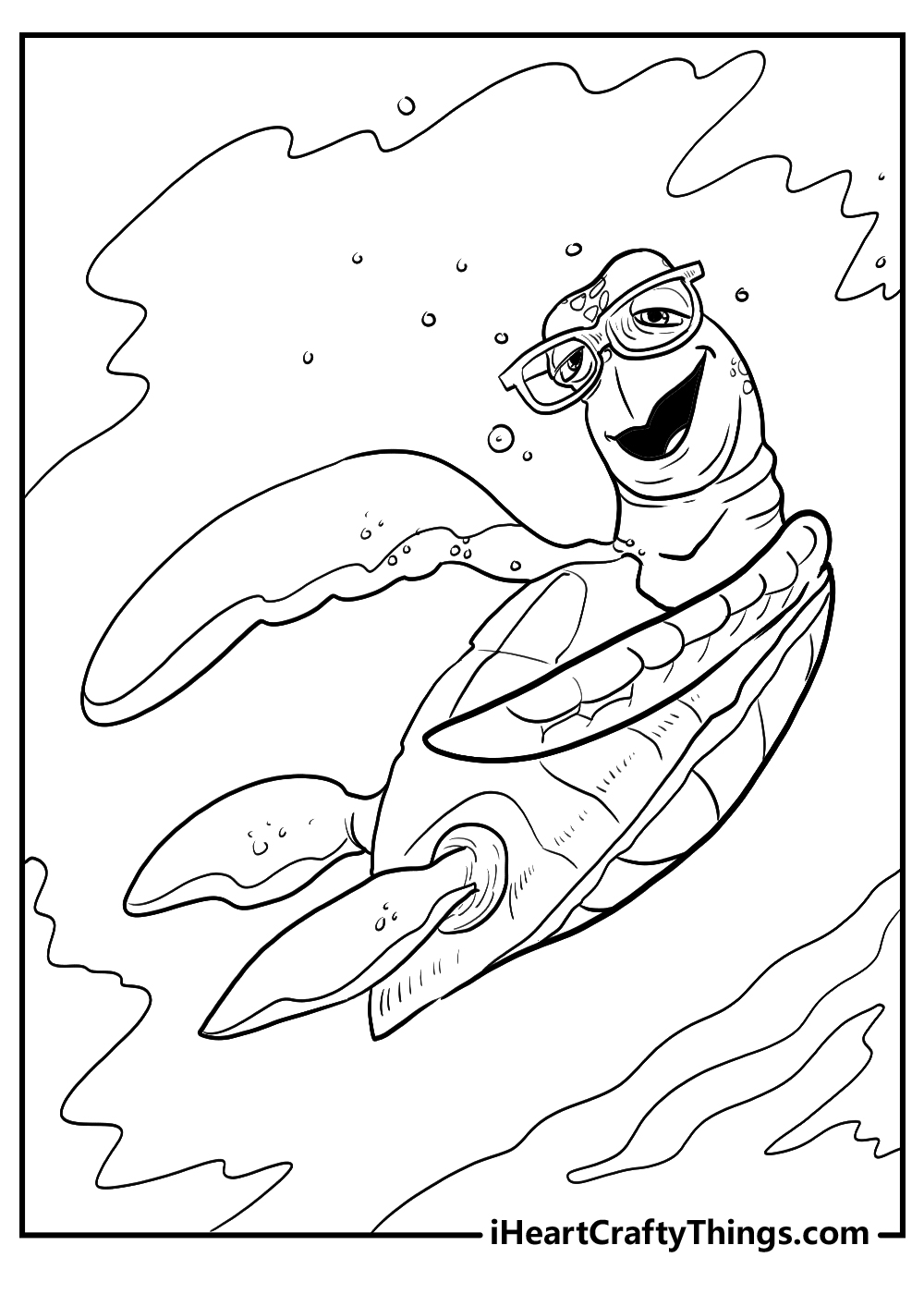 Pearl is an adorable baby octopus character that appeared in the Finding Dory film. Her color scheme is very simple, as she is mostly pink.
Even though she has a simple color scheme, you could still make it interesting by using different tones of pink. You could also use some different crafts to make the colors really look cool.
For instance, you could use some glitter or glitter glue to add some sparkle to Pearl. What other crafts could you use for her? We would love to see what you choose!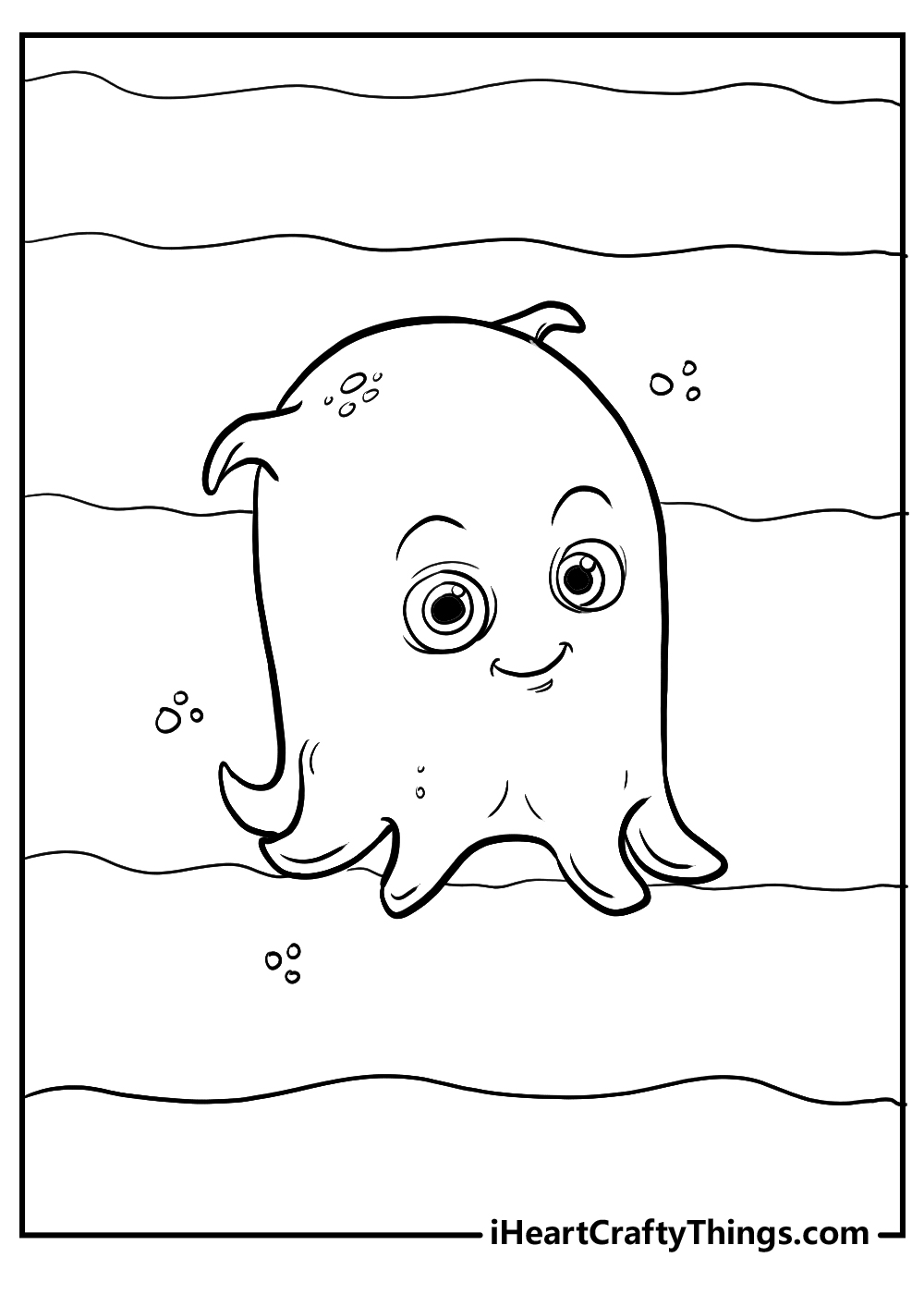 Dory is a major character in both Finding Nemo and Finding Dory, and she is the star of this next page as well!
The focus is on her, and you can have fun bringing this iconic character to life with color.
As mentioned on a previous page, her color scheme is mostly blue with black, white and yellow highlights.
If you need some help putting the colors in the right places, you can use the film or look up pictures online.
These can help you to make sure the colors match her film counterpart!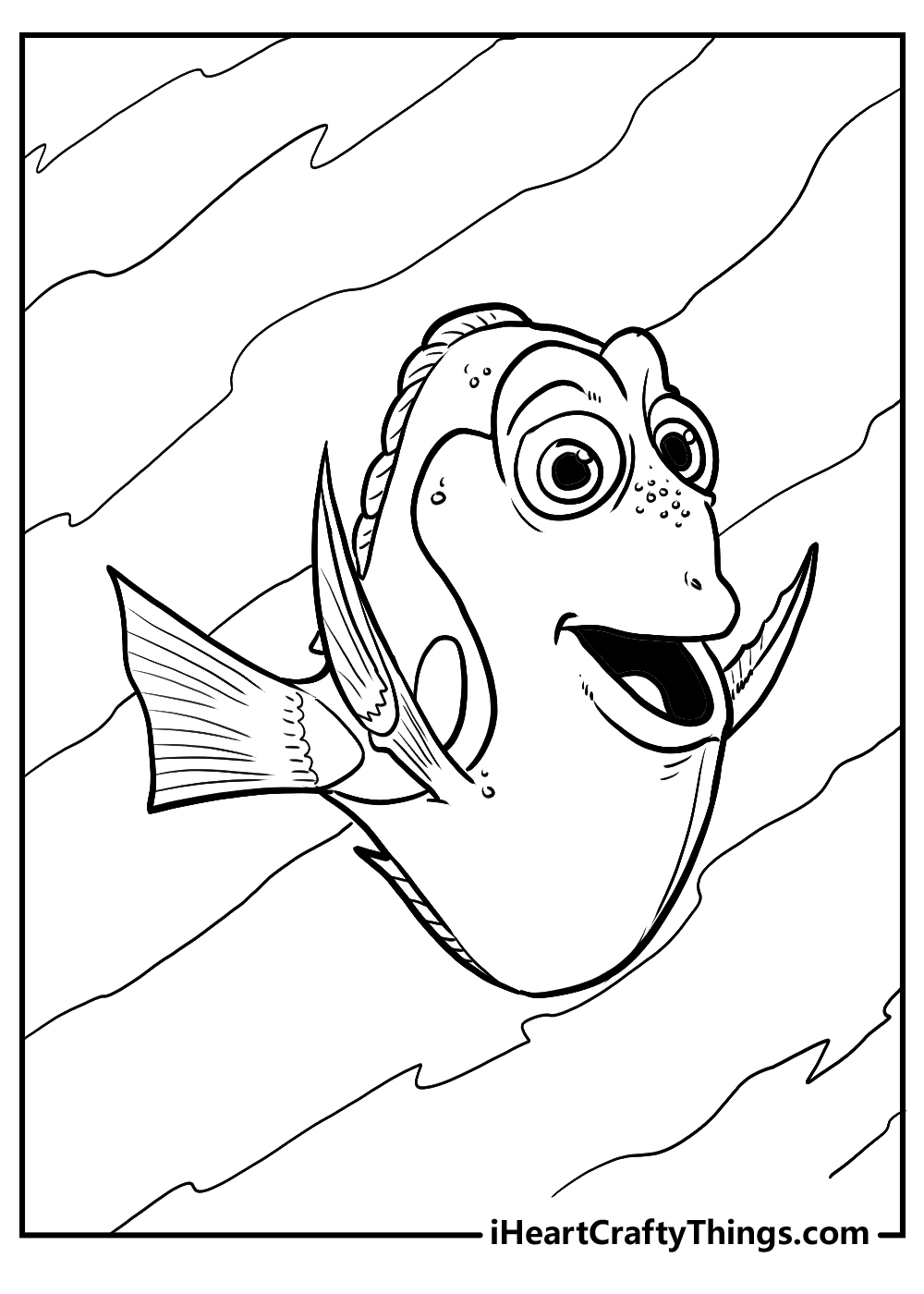 Squirt the sea turtle has to be one of the cutest characters in the films! He is the son of Crush, who we saw earlier in the guide.
Squirt has a similar color scheme to his father. His shell is colored with shades of brown, whereas his skin is a light green color with a few other colors mixed in.
You could color this page as well as the previous one with Crush to create a matching pair! That would make for a great pairing, so do you think you will color both?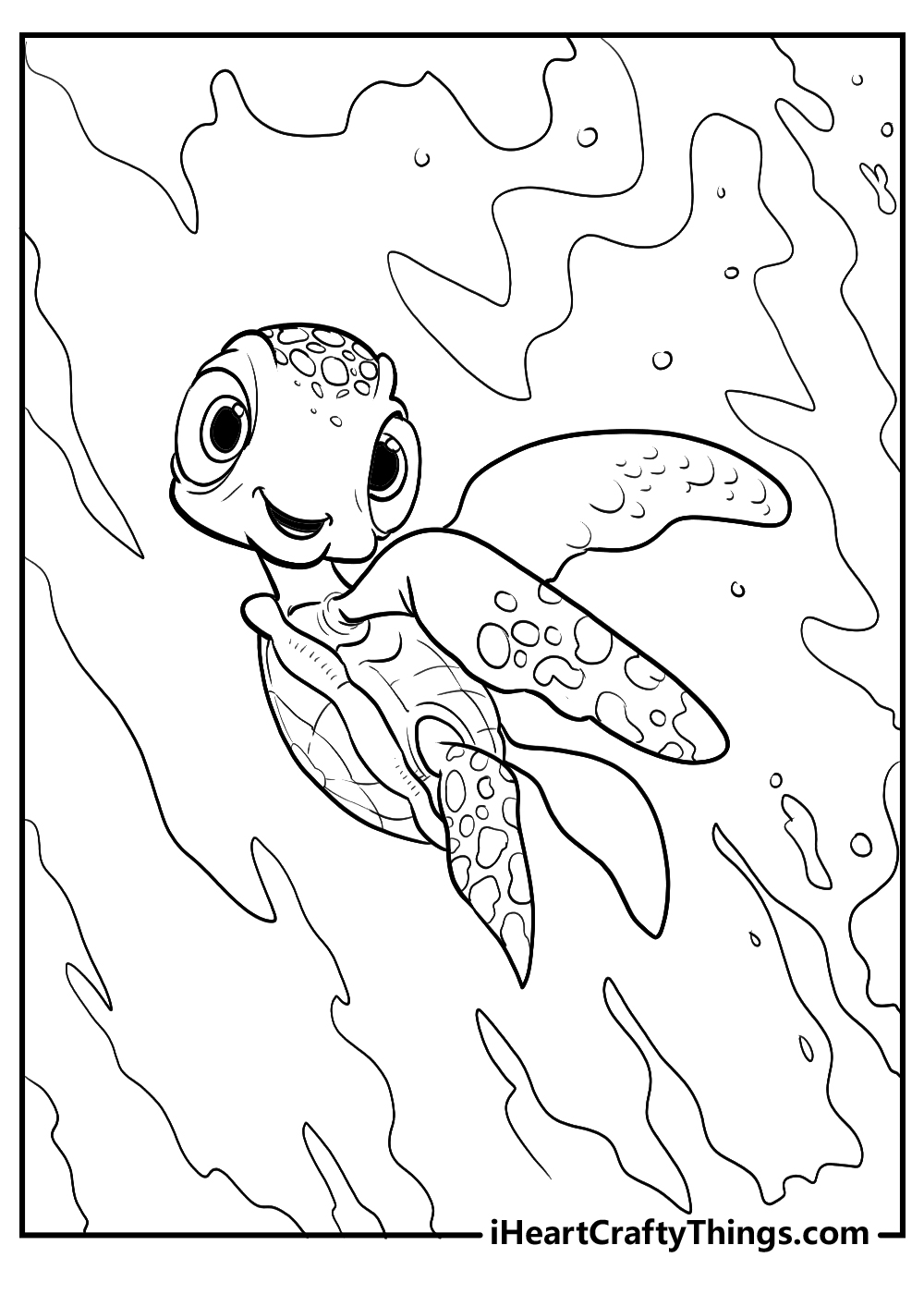 We close off this collection of free Finding Nemo coloring pages with the character who gives the first film its name. This is Nemo, the young clownfish that starts off the adventure in the first film.
Now the focus is on him, and you can create a beautifully colorful page. He is mostly orange with some black and white stripes as well.
I would use some bright art mediums such as colored pens or markers for this page.
Do you think you will too, or do you have other mediums in mind?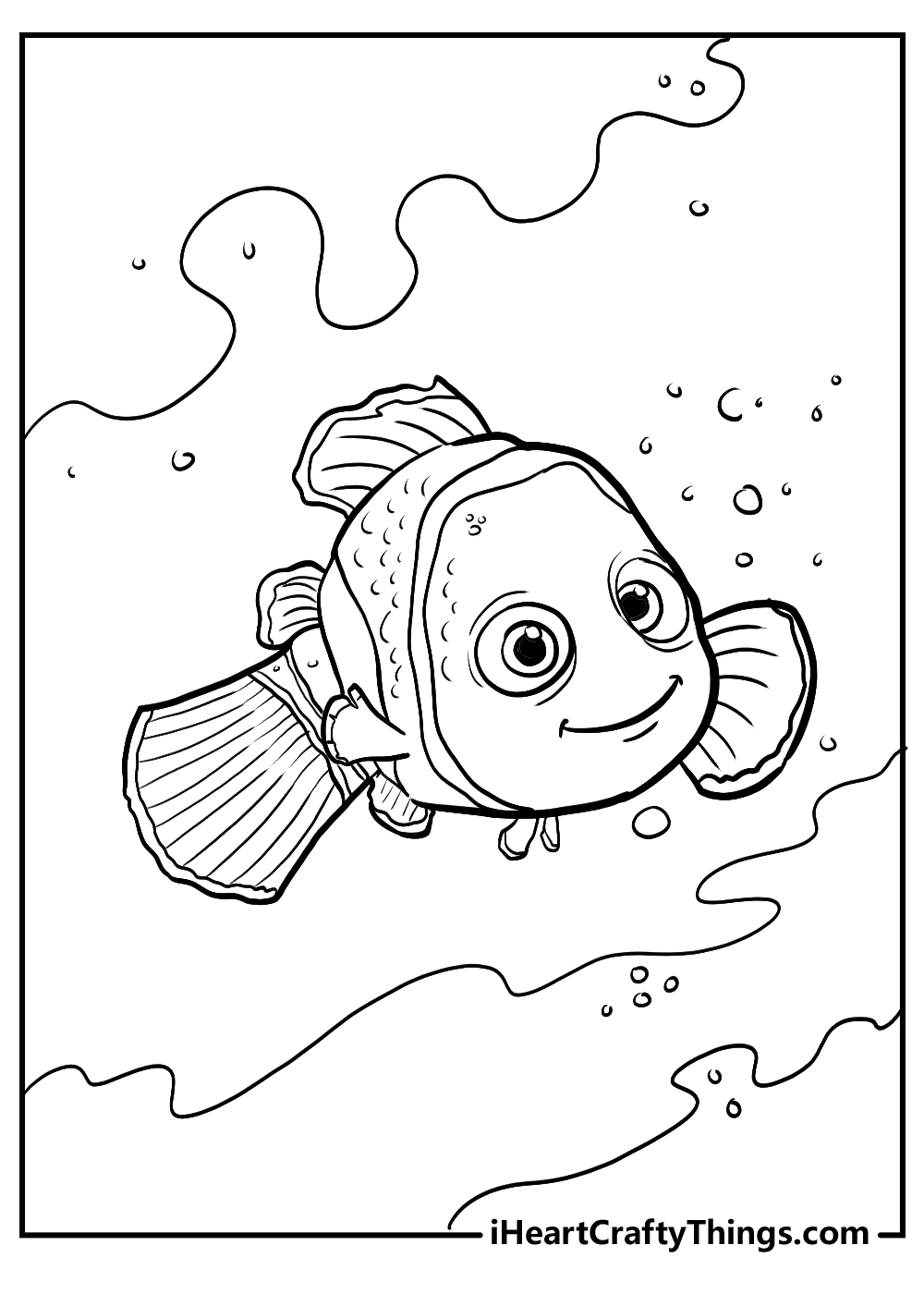 Finding Nemo Coloring Pages – Which will you choose?
The Finding Nemo films are beloved for a reason, as they feature so many fun and unique characters.
We wanted to show off some of these characters in this collection of Finding Nemo coloring printables.
Hopefully, you found all of your favorite characters in this collection and had a ton of fun coloring them! Remember that it's free to print, color and enjoy these pages as many times as you like.
Sharing your finished pages on our Facebook and Pinterest pages is a great way to show off how amazing they look when they are done. We can't wait to see your finished pages!