Buzz Lightyear is a character that was first introduced to us in the first Toy Story movie in 1995.
He has since appeared in sequels, video games and his own series, and people love this toy space ranger!
This collection of free Buzz Lightyear cartoon coloring pages is here to provide you with plenty of coloring fun with this famous space ranger.
These 15 pages are not only free to enjoy, but they are also fun to share with your friends to enjoy as well!
So get ready to enjoy some out-of-this-world coloring fun as we begin the collection!
15 Brand New Buzz Lightyear Cartoon Coloring Pages – Free to Print and Color
You can just imagine Buzz saying his famous catch-phrase of "To infinity and beyond" in this first Buzz Lightyear cartoon coloring sheet!
Even as a toy, Buzz is often imagining what it would be like to be a real space ranger, and this can take a bit of imagination.
Now, you can show off some of your imagination by coloring this page and maybe adding some background elements to show where Buzz imagines he may be.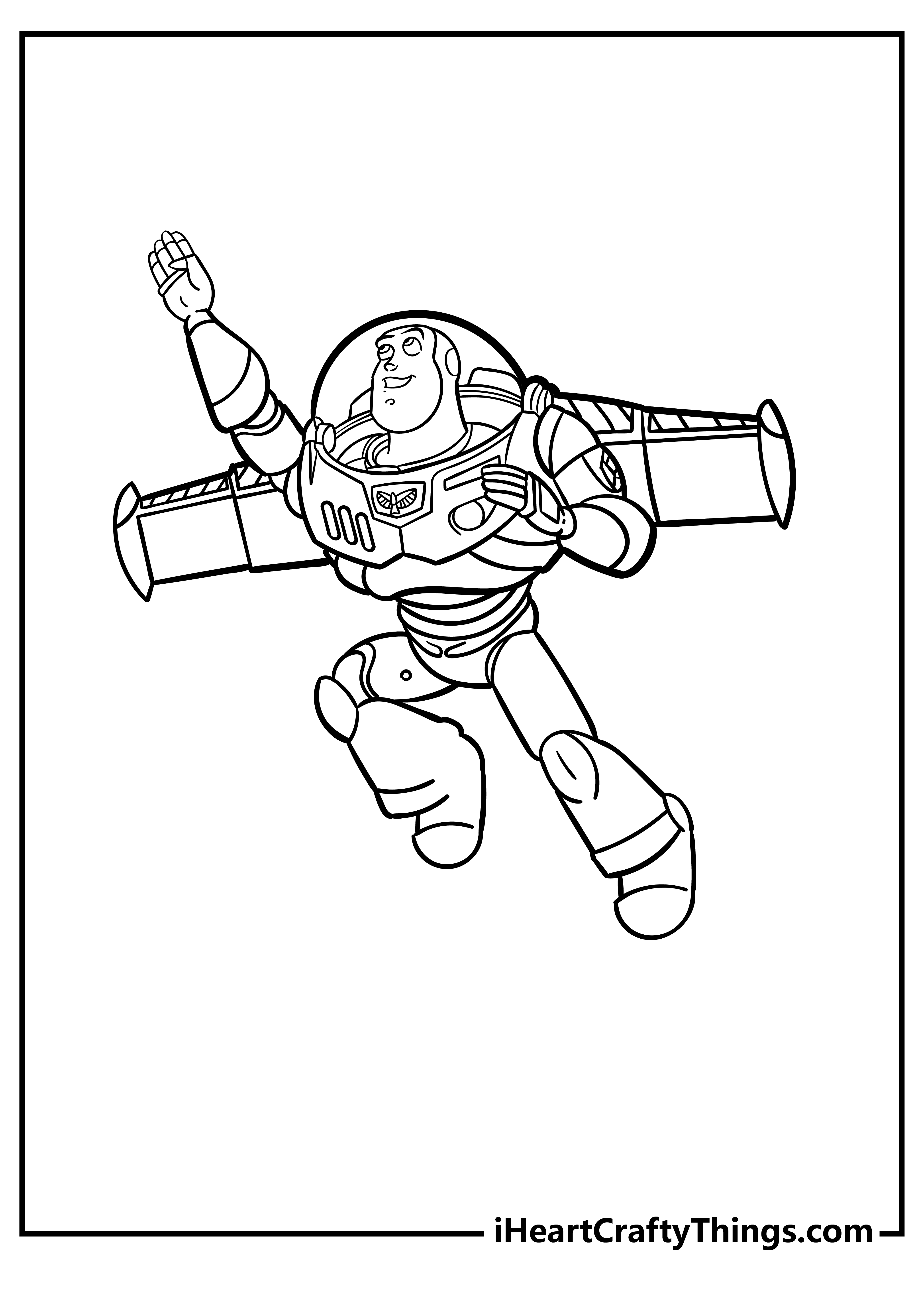 Buzz is blasting off again in this next picture, but this time he is drawn in a more cartoony style.
Because of this, we would probably go for some brighter, more intense colors for this version to fit the style it is drawn in.
Do you think you will go for that approach, or will you go with a different color scheme?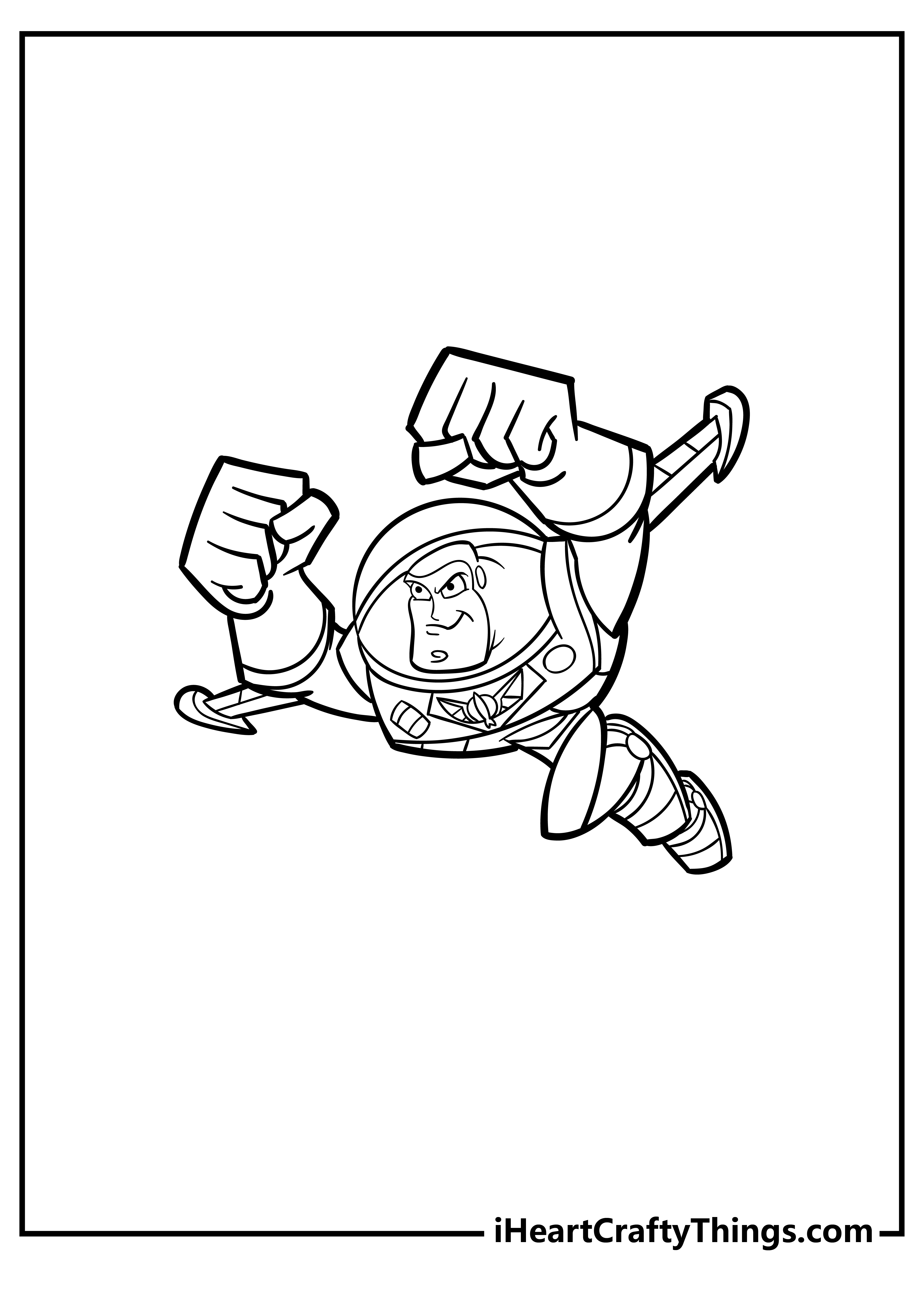 This next page features Buzz looking very cool and confident! He is drawn in a cartoon style again, but this time we get a better look at all of the details on his spacesuit.
When coloring this version, you can use his appearance in the movies and series to make him look accurate, but you could also create your own look for Buzz.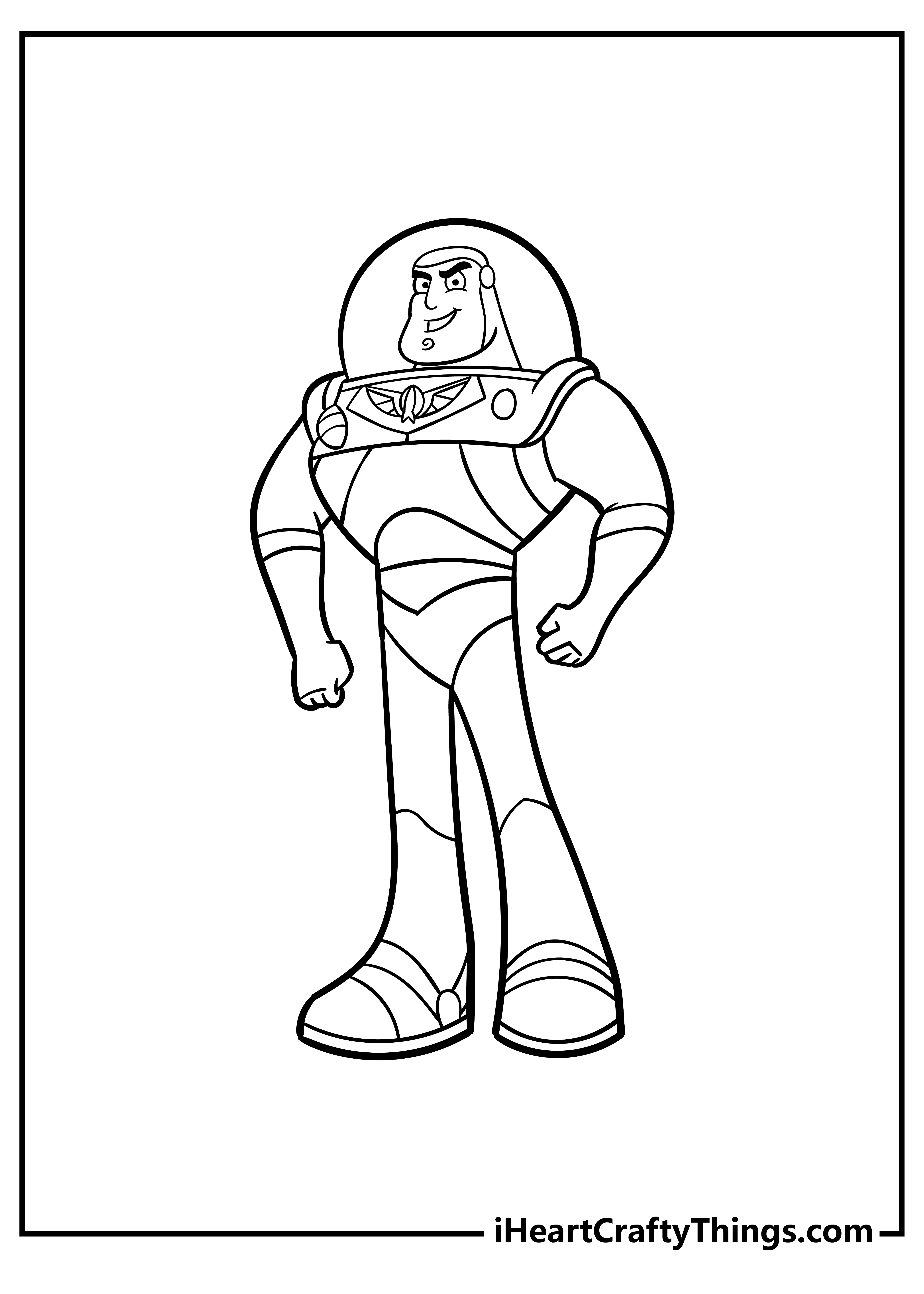 Buzz is a very confident character, and that is shown off perfectly in this next Buzz Lightyear cartoon coloring page.
He is striking a cool pose here, and his facial expression really gives off that confident feeling we know from Buzz. Which colors do you think will best suit him here?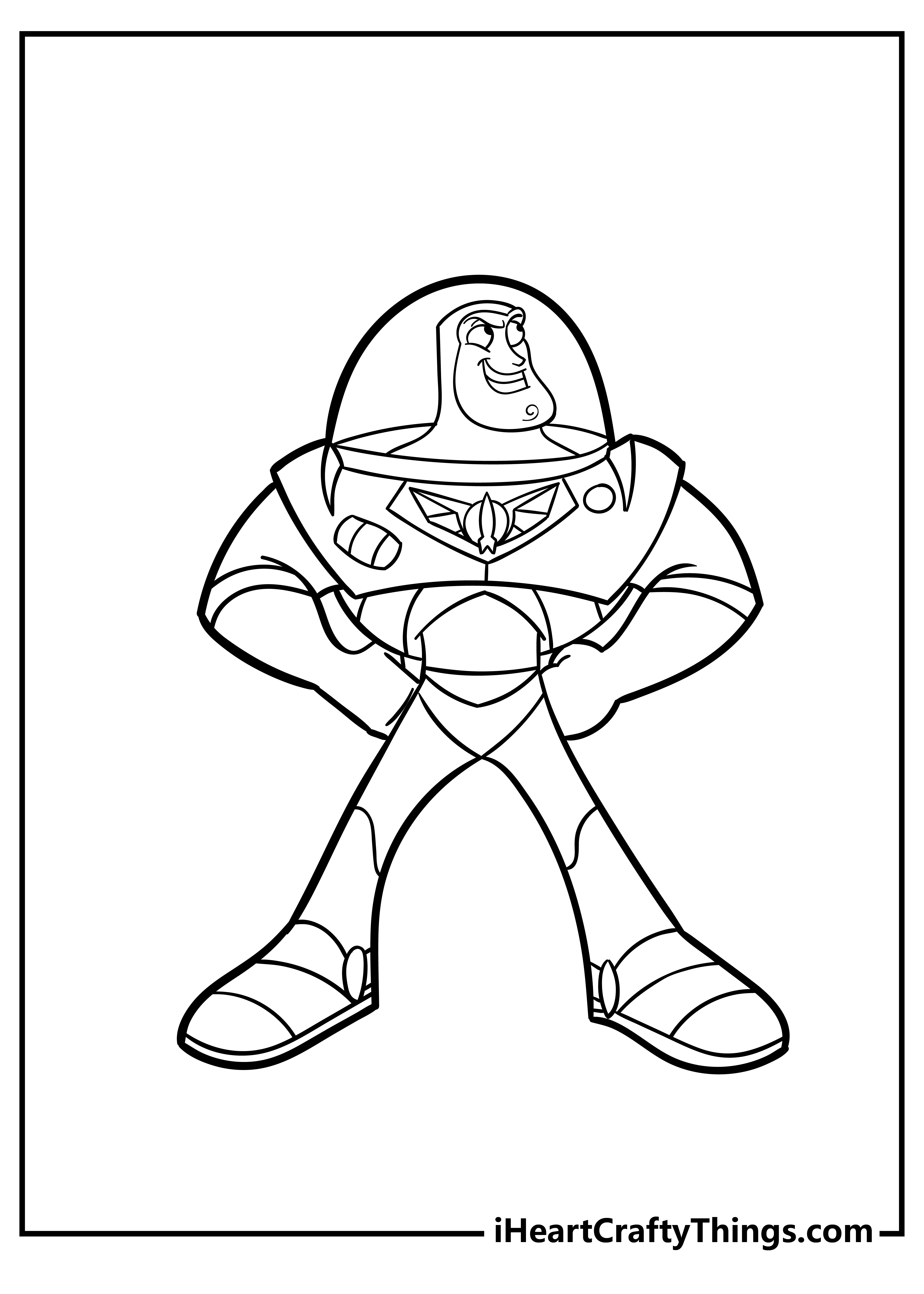 Next, we have a portrayal of Buzz where he looks much calmer than he has in the previous ones.
He definitely seems to be enjoying a quiet moment here, and for that reason we would probably use some lighter colors and art mediums when coloring this one in.
That's what we would do, but what do you think?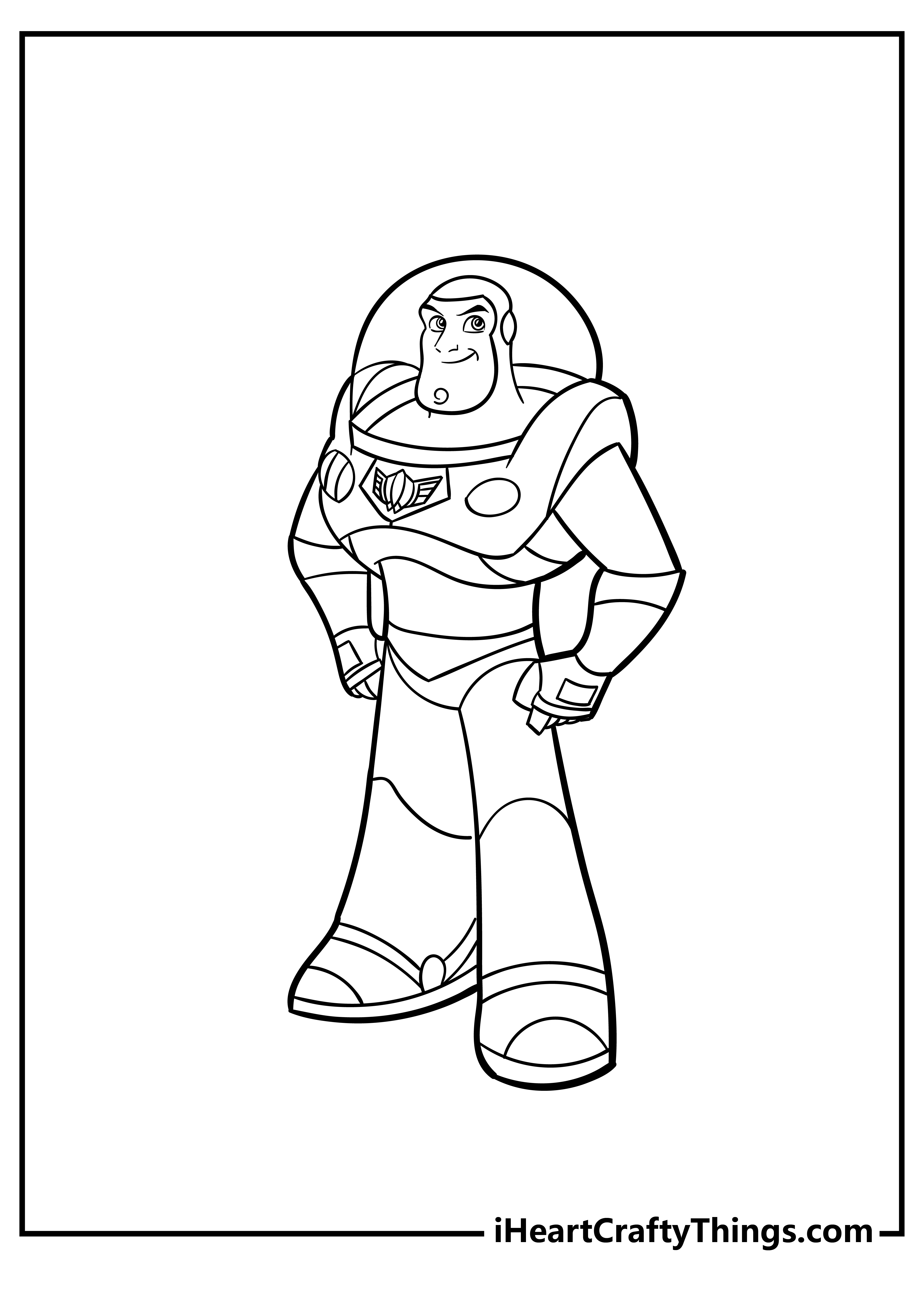 One of the coolest features of Buzz's spacesuit is that he can extend some wings that he can use to soar through the air.
This feature is shown off in this next page in our collection of free Buzz Lightyear cartoon coloring pages for kids.
The wings being extended also gives you some great smaller details to color in, so this should definitely be a fun one to color!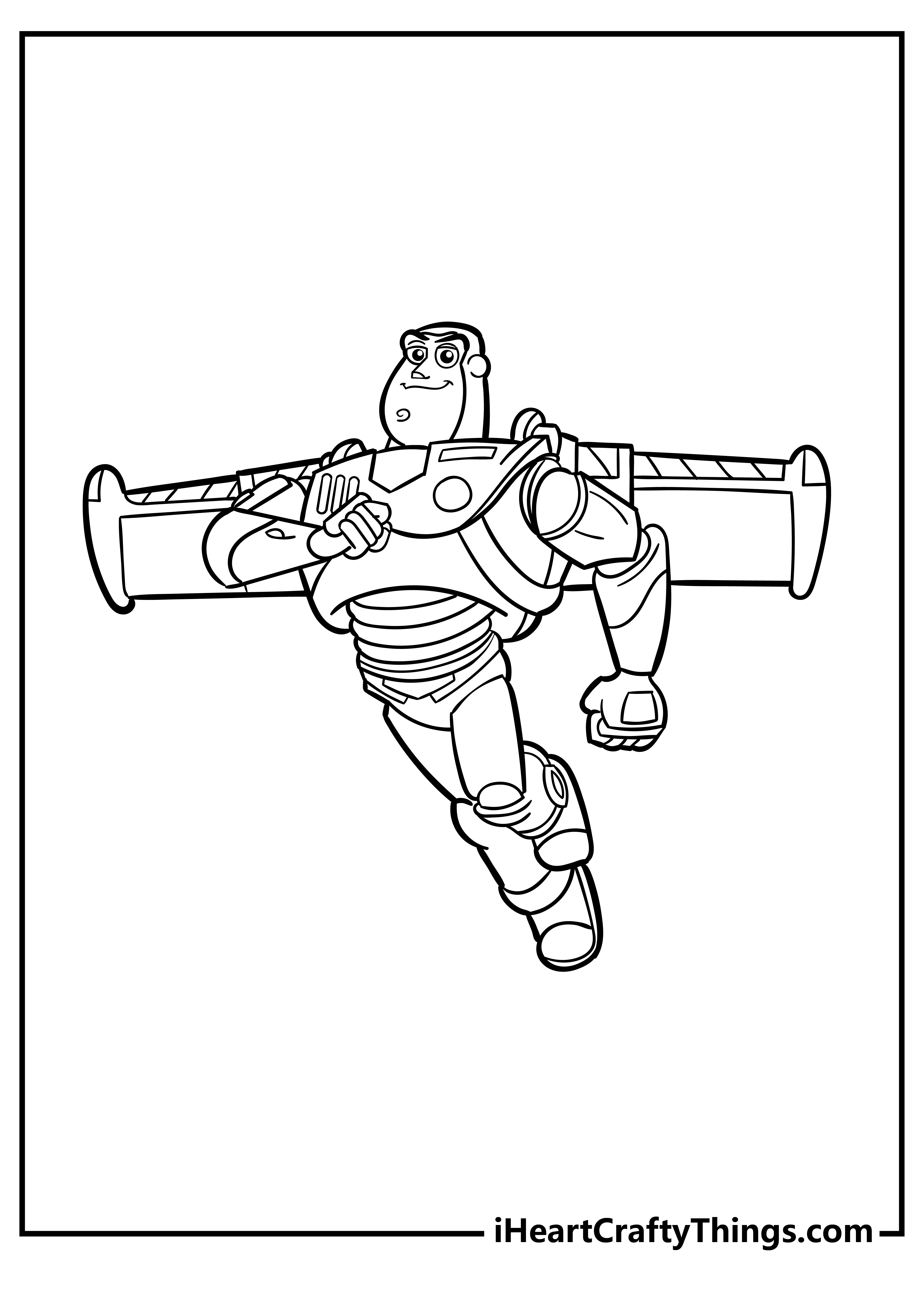 Buzz finds himself in many adventures, and he seems to be in the middle of one here!
He looks as if he is facing off against an enemy here, and there are many ways you could portray who you think he is up against.
Will you add some background details to build an adventure around him?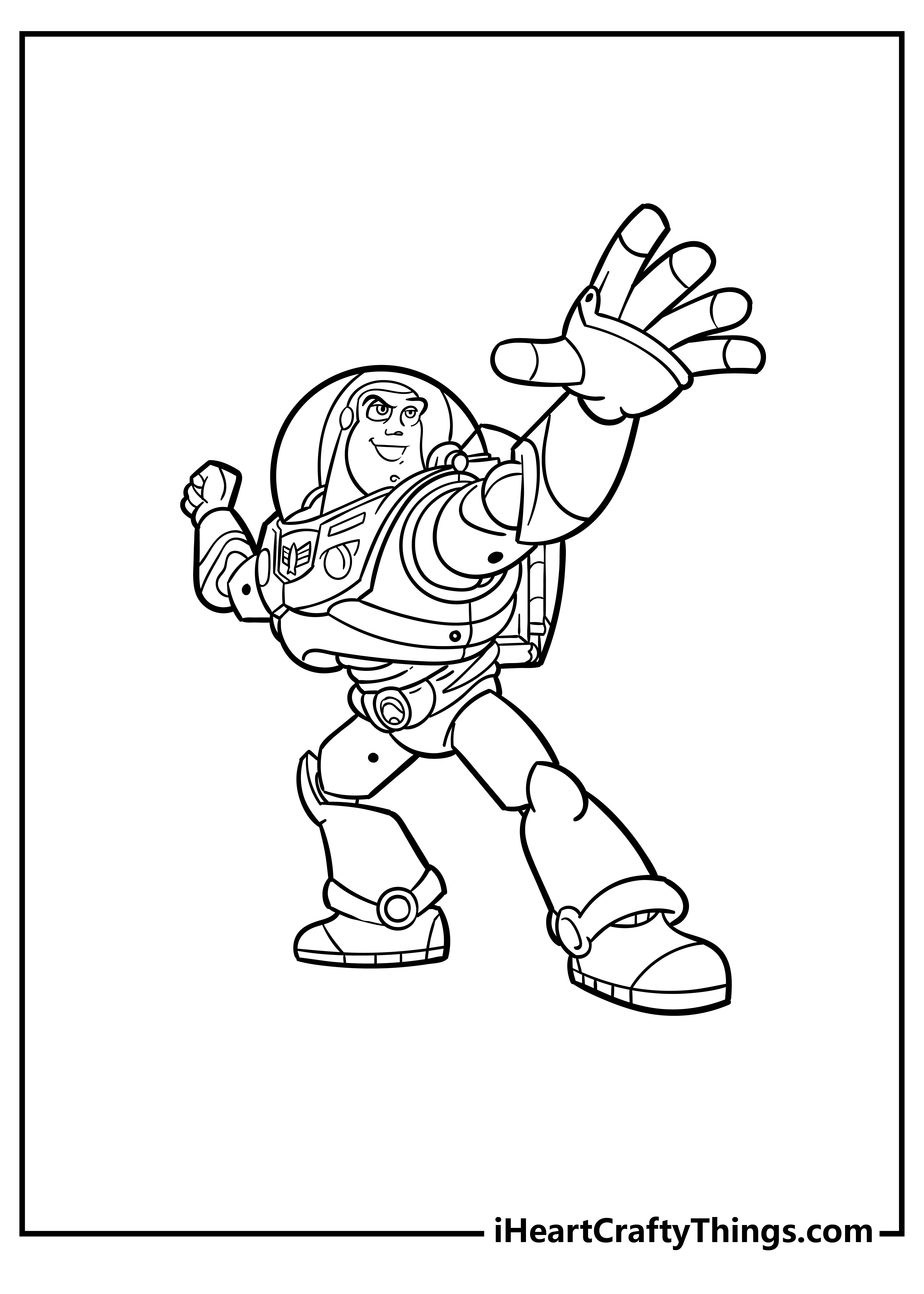 It's time to take flight once again for this next page! Buzz is soaring through space again, and he seems to be loving every minute of it.
You could draw some lines coming from behind him or maybe add a cool background as a few ways to portray him flying through the sky.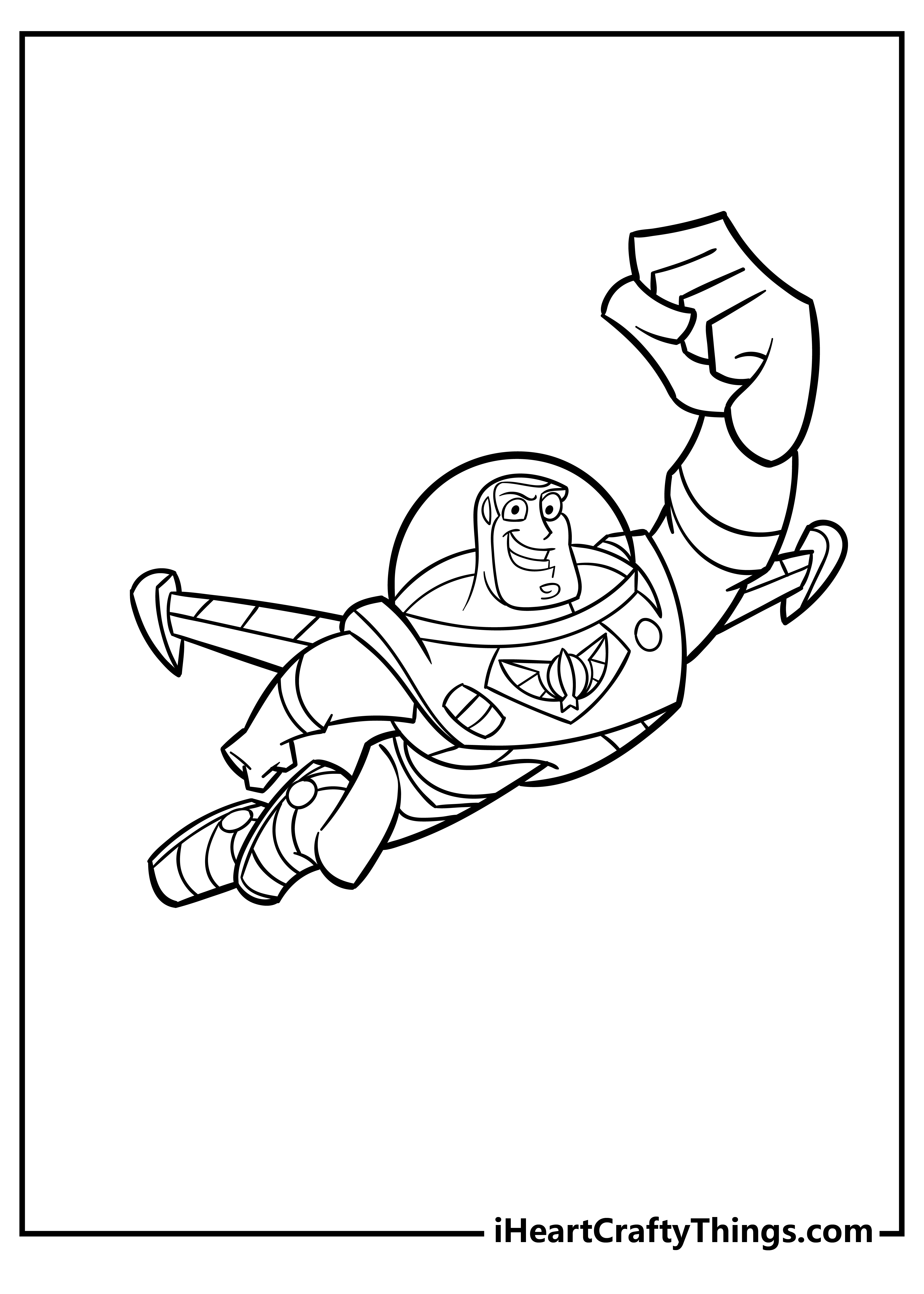 This awesome page features Buzz giving a salute, and it makes for a really cool pose.
For this one, we think it could be interesting to draw a background that includes various other space ranger members that you can design yourself!
That would be a great way to show off your creativity, and there are many other things to try as well.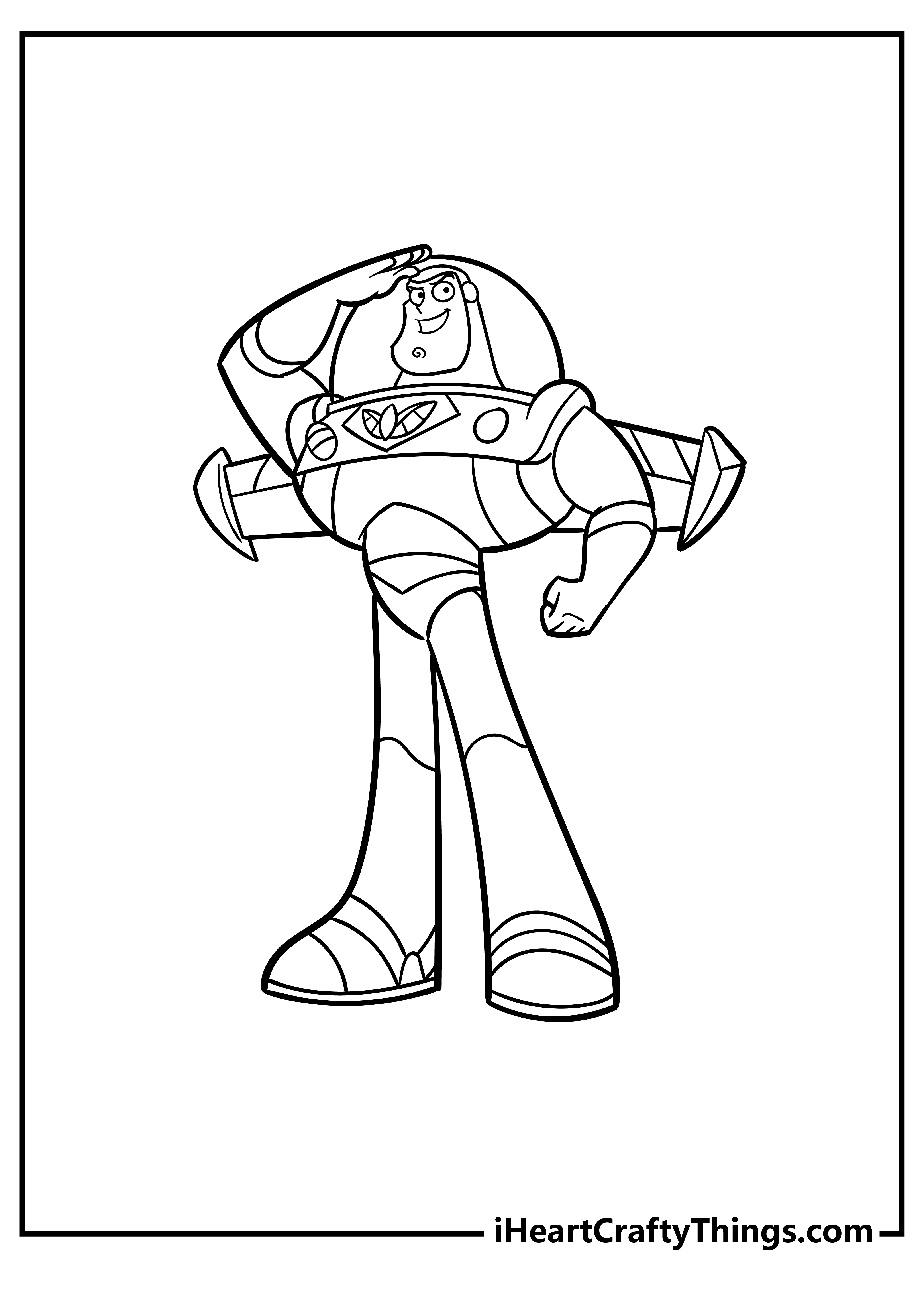 Even the most skilled space rangers need some tools to help them out, and in this Buzz Lightyear cartoon coloring printable he is using a really cool-looking laser gun.
This gun has some smaller details on it, so you have lots of options for how you can customize it. How do you think you will finish off the design of this gun?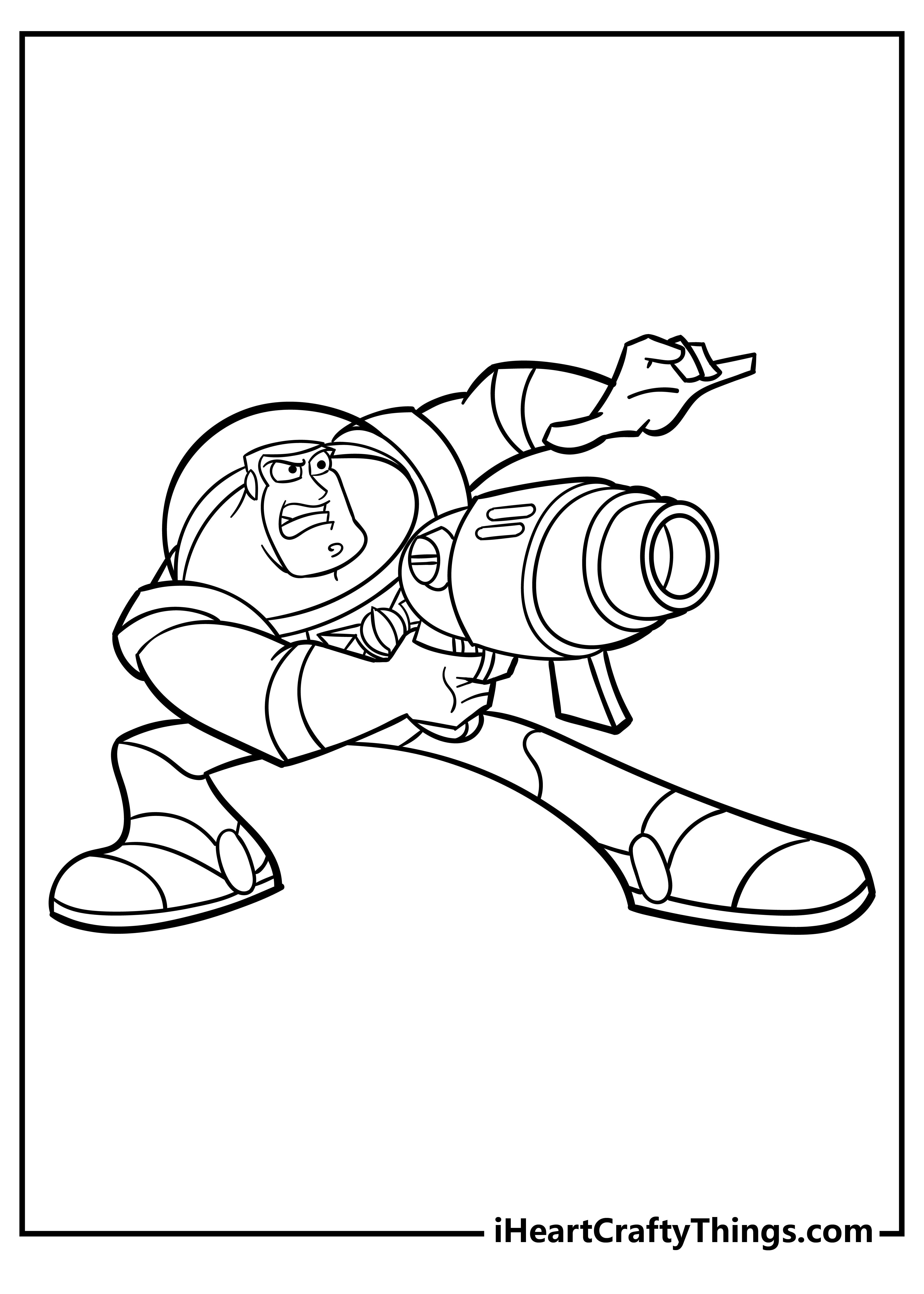 This next page shows Buzz looking to the stars, and now you can add some great colors! There are plenty of details here, but you could add even more details to color if you wanted to.
If you were to add some extra details, what kinds of details would you add?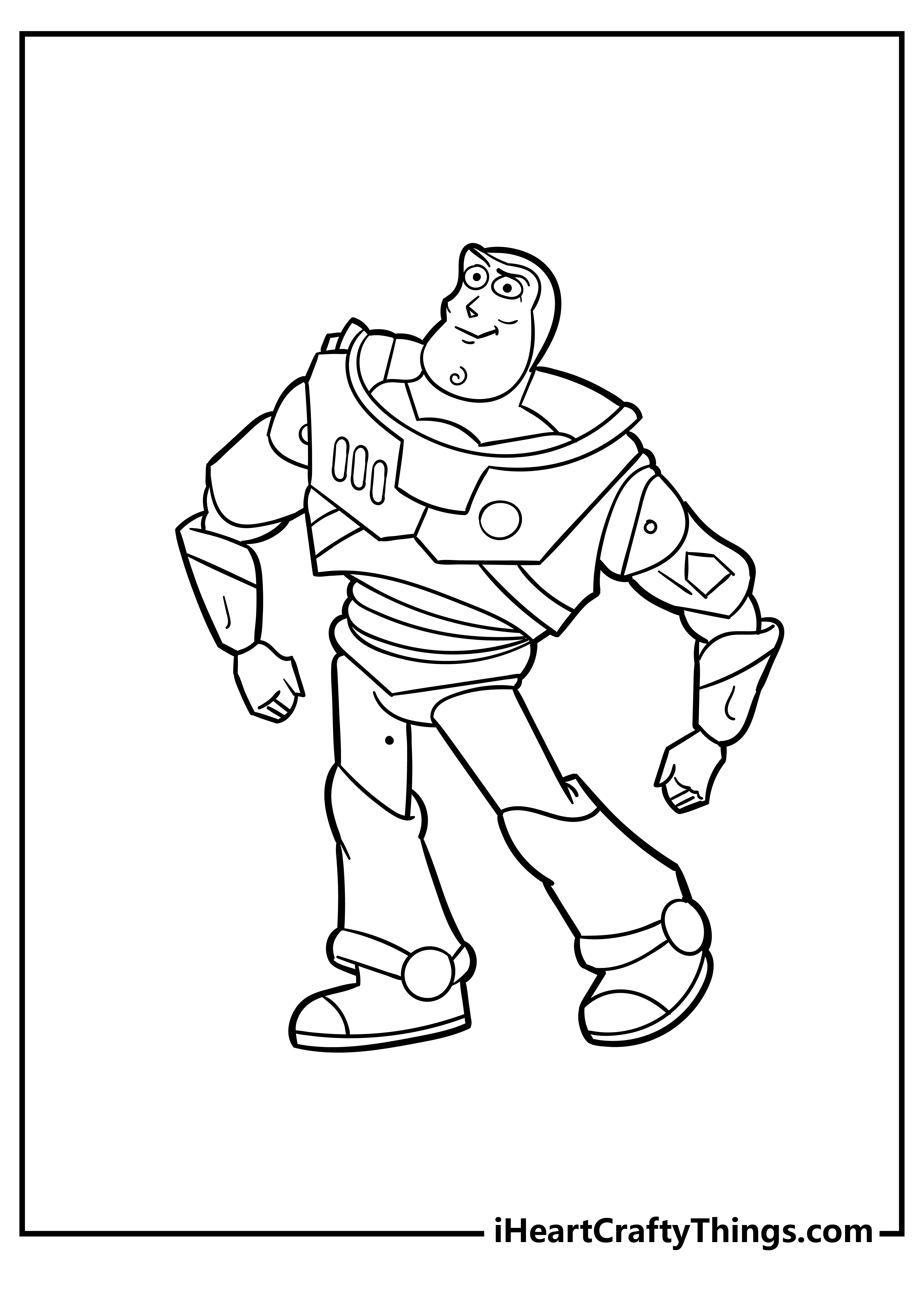 We have another simple yet cool pose for Buzz here that again captures his character really well.
Don't forget that when coloring any of these pages you can go with the usual colors that Buzz has or you can create a brand new look for him. Whichever approach you go for is entirely up to you!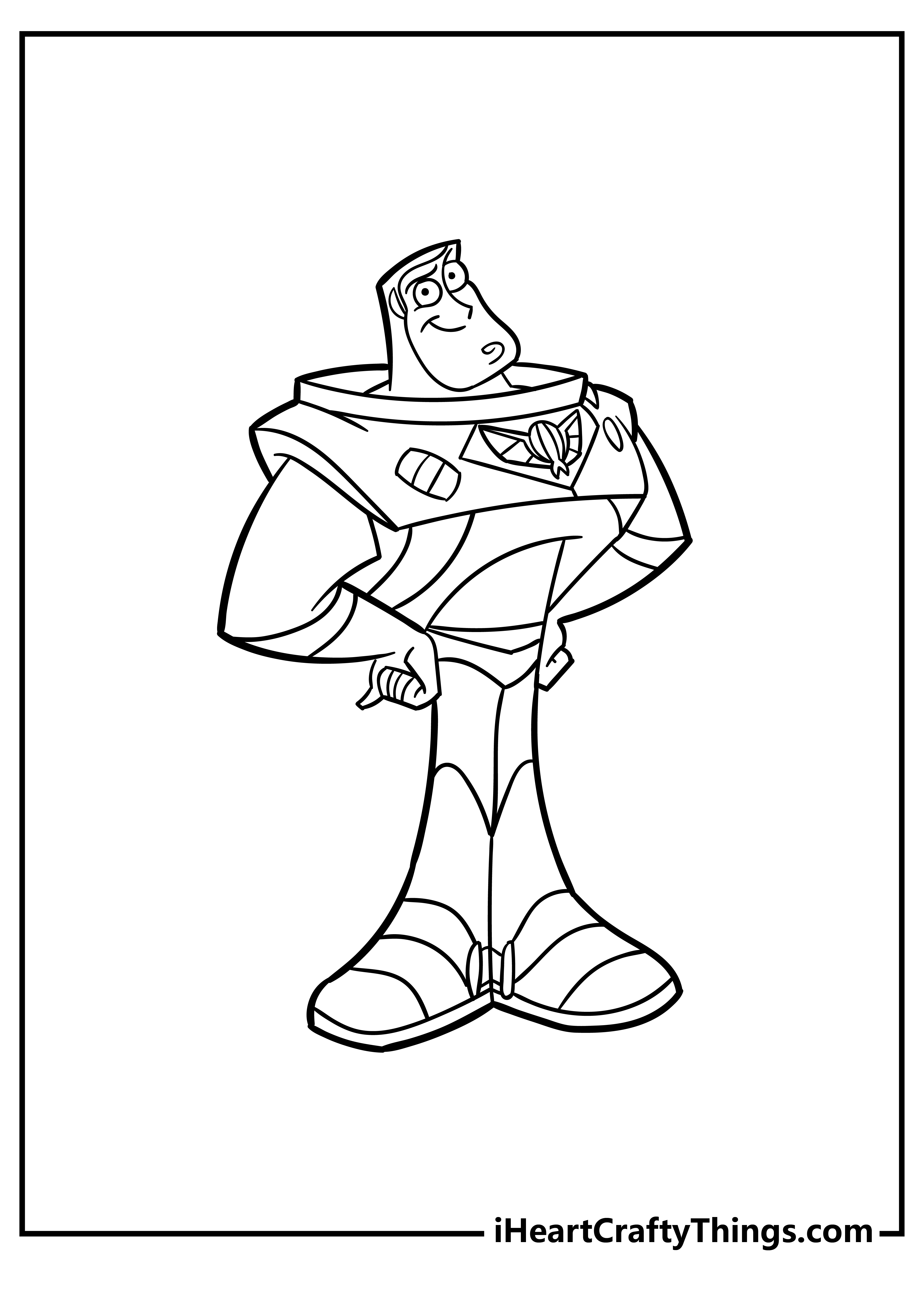 We have another cool and confident portrayal for you to color with this next Buzz Lightyear cartoon coloring page.
There is a lot of empty space left in the background here, so you have plenty of room to experiment and add some extra background details of your own.
What kind of setting would you place Buzz into?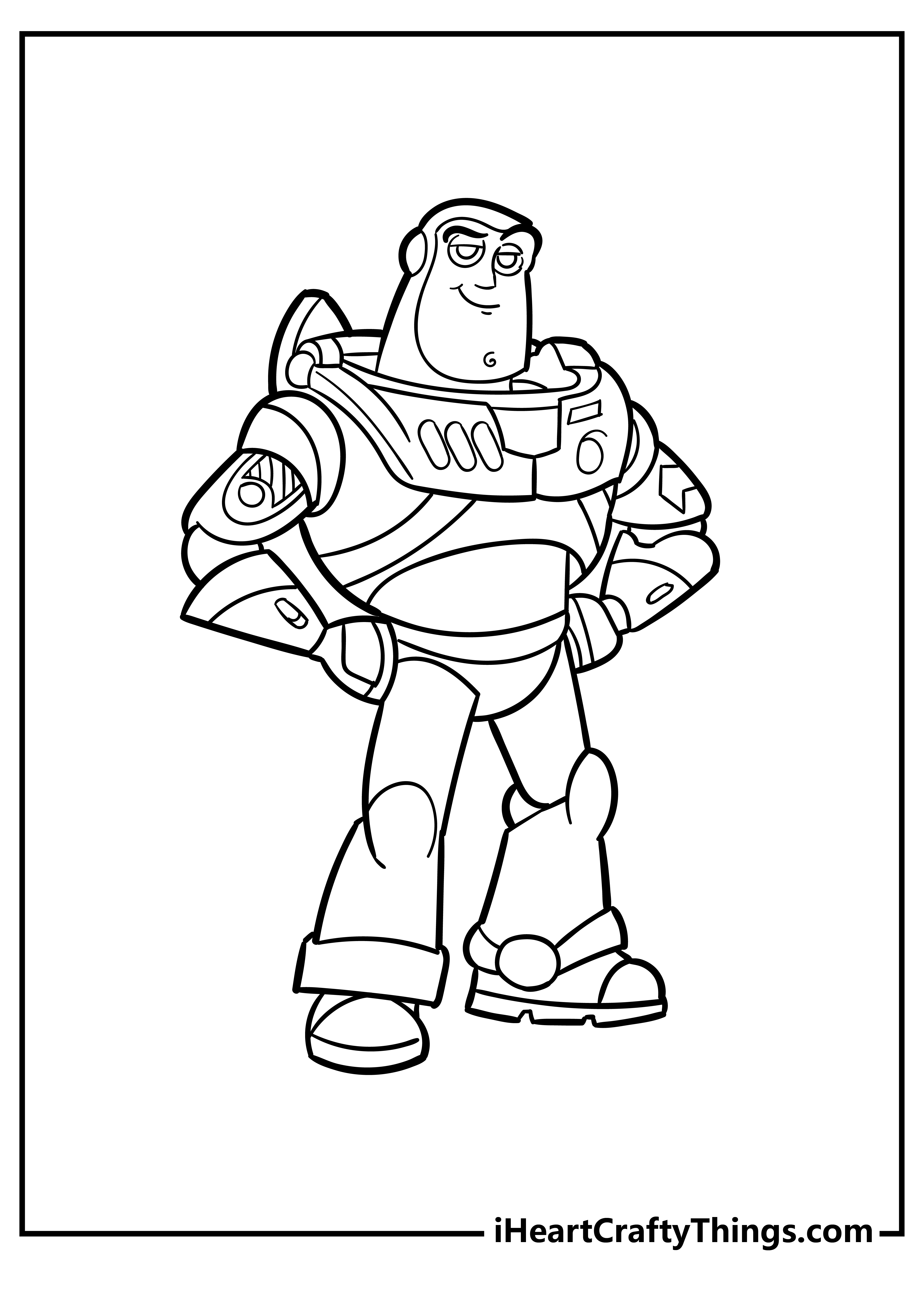 Sometimes Buzz will encounter some unfriendly aliens and other creatures, and in these cases the only option is to use his fighting skills.
This seems to be the case in this image, as Buzz is ready to use his skills to get out of the situation. Perhaps you could draw some alien baddies around him in order to create a cool scene!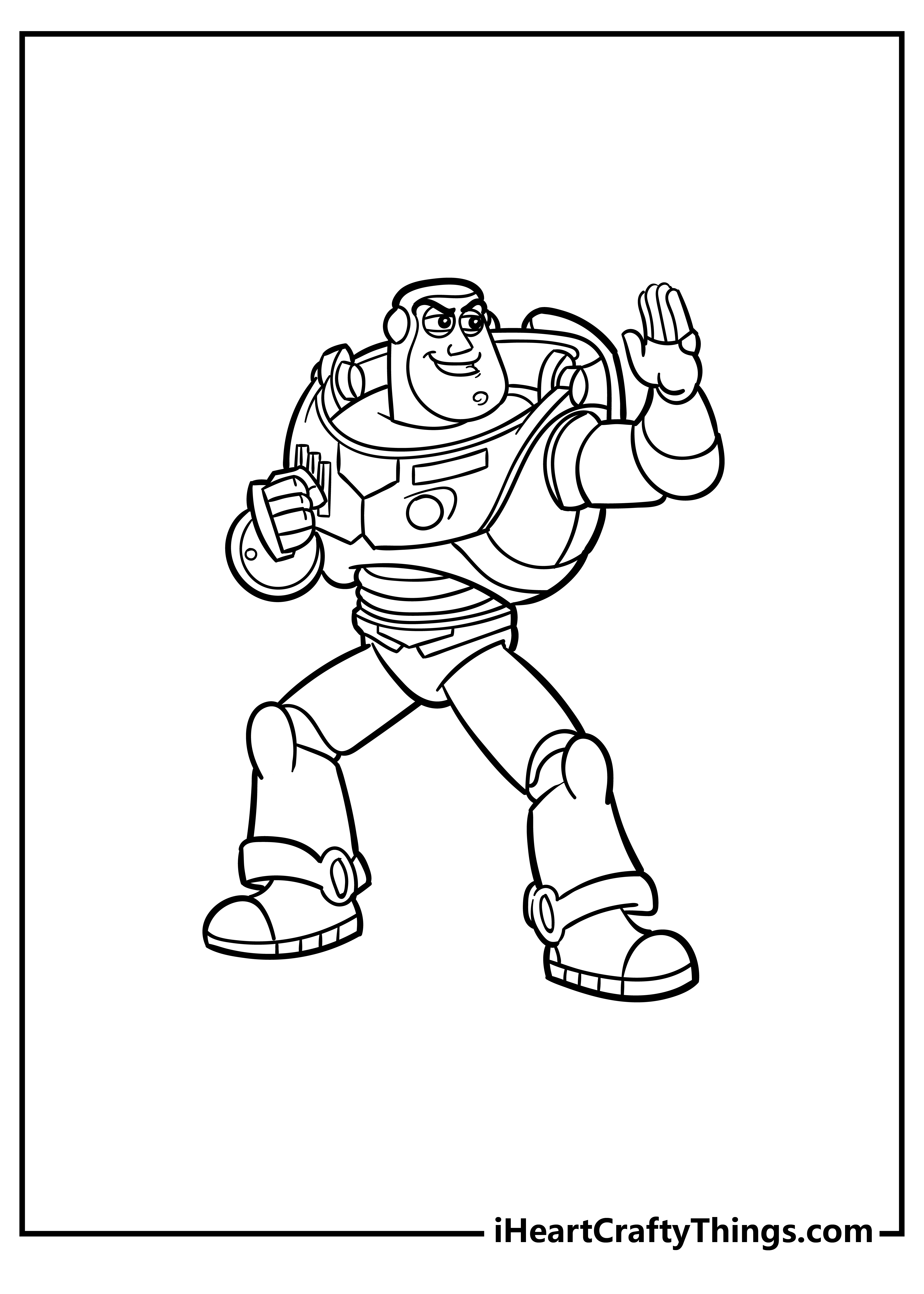 This final Buzz Lightyear cartoon coloring sheet that we have prepared for you has a nice close-up on our hero.
This image allows you to color in some of the smaller details of his suit, but coloring smaller elements can get tricky.
You can use mediums such as colored pens and pencils in order to make coloring these elements much easier, as they give you a lot of precision.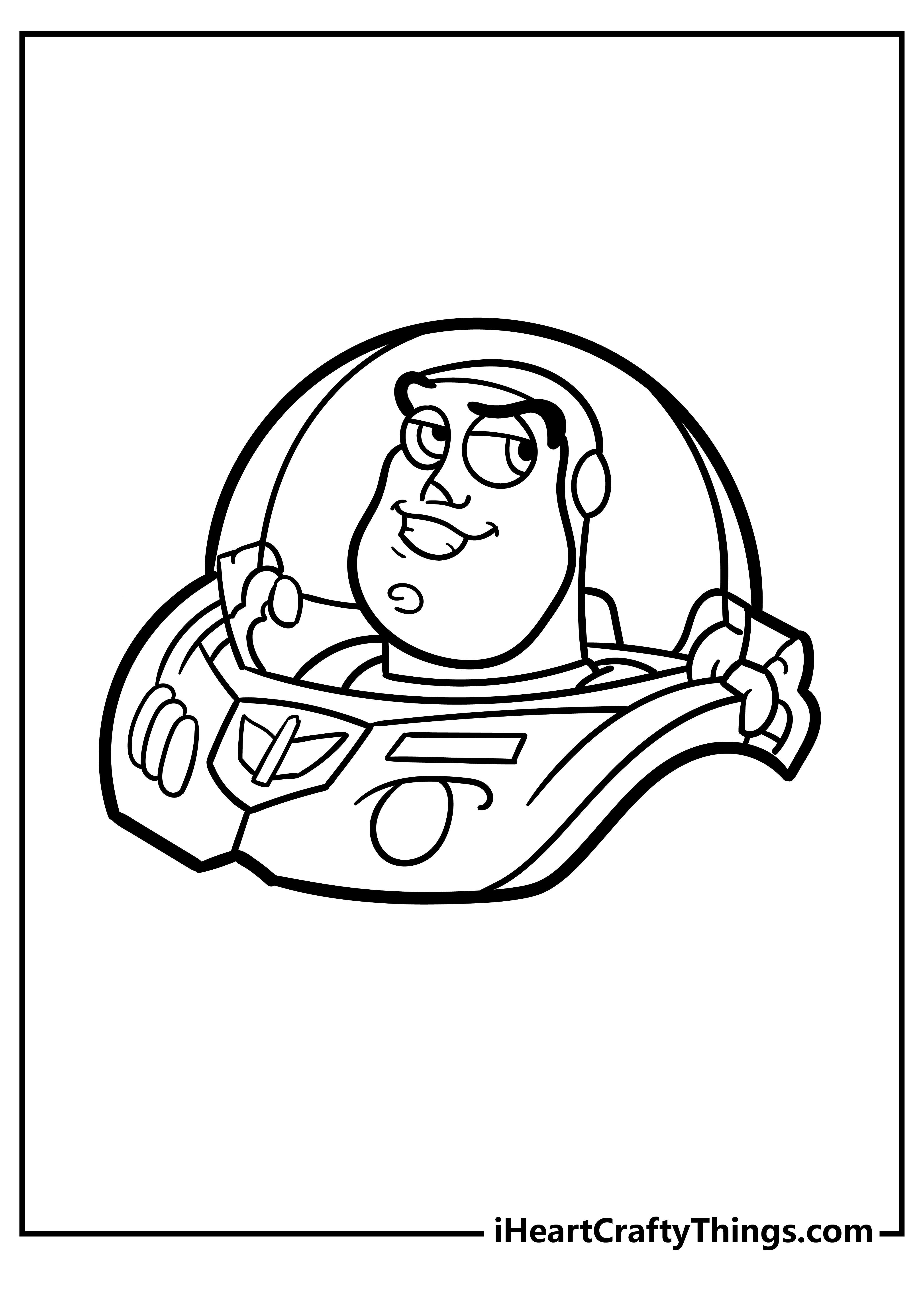 Buzz Lightyear Cartoon Coloring Pages – Which will you choose?
We hope you enjoyed this intergalactic coloring journey with this collection of free Buzz Lightyear cartoon coloring pages for kids!
We had so many awesome poses for you to color here, and we can't wait to see which colors, mediums and techniques you used.
Remember to also check out our website for many more coloring page collections to enjoy! We also have many other free goodies to enjoy.
We would also love to see some of your artworks, so please feel free to share some of your finished pages on our Facebook and Pinterest pages.