The Sesame Street series is full of so many bright and colorful characters that have managed to teach and entertain people around the world.
With so many weird and wonderful characters, this is the perfect series to feature in this collection of free Sesame Street coloring pages for kids!
Throughout these 15 free pages, we have some great portrayals of some of the most iconic Sesame Street characters for you to have fun coloring.
You can also share the collection with others in order to compare how you went about bringing these characters to life! We're ready to begin this collection, and we hope you are too.
15 Brand New Sesame Street Coloring Pages – Free to Print and Color
What better way to start off this series of Sesame Street coloring sheets with the character who is arguably the most well-known of them all: Elmo!
Elmo is a character that so many people love, and it's easy to see why.
He has a simple yet striking color scheme of red with an orange nose, so you will have a wonderfully bright image if you go with his normal color scheme.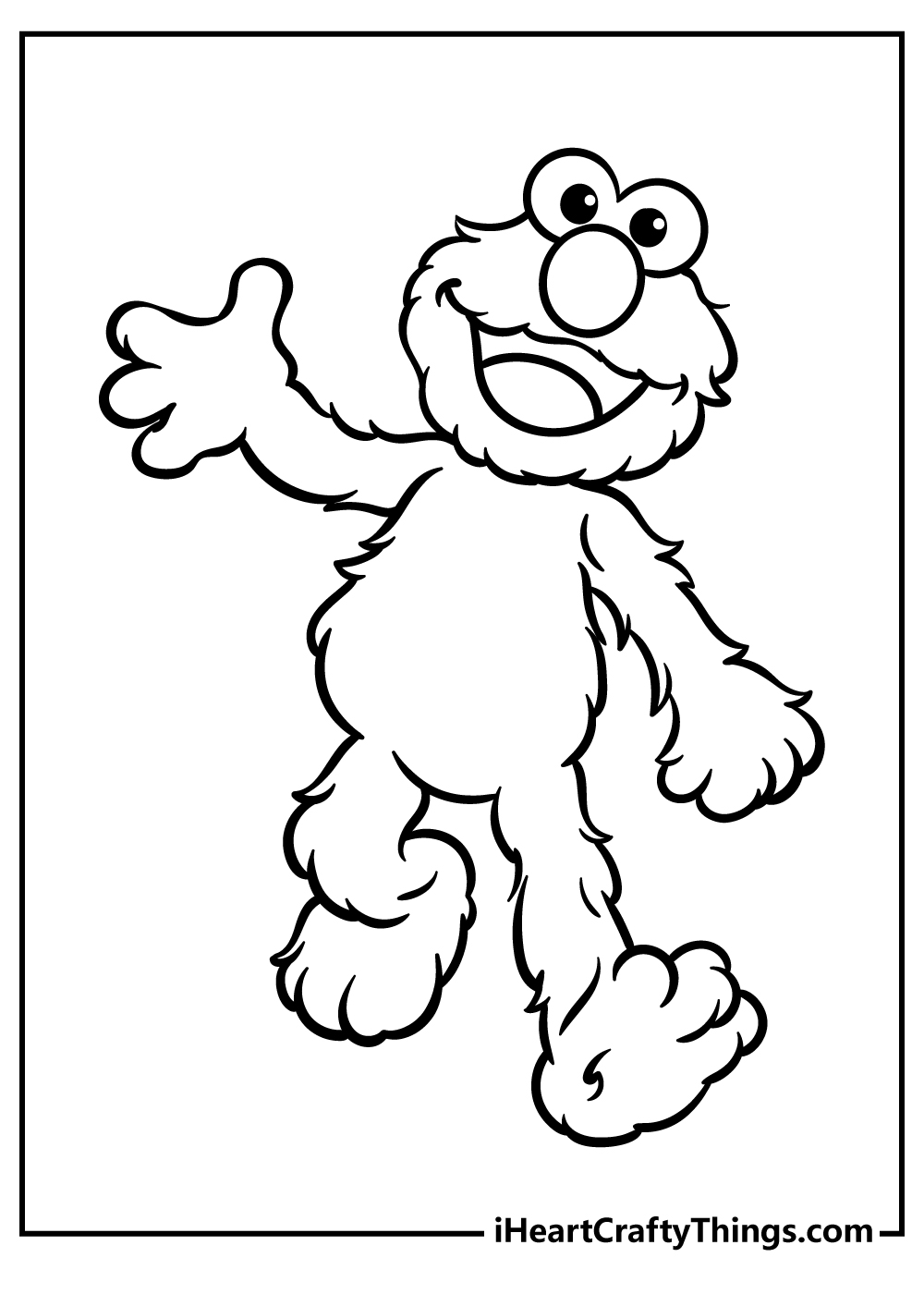 Best friends Bert and Ernie are two really popular characters, and here we have Bert for you to color.
This character is known to be a bit grouchy most of the time, but here he seems rather happy as he says hello to a cute bird! How will you color this happy portrayal of this famous character?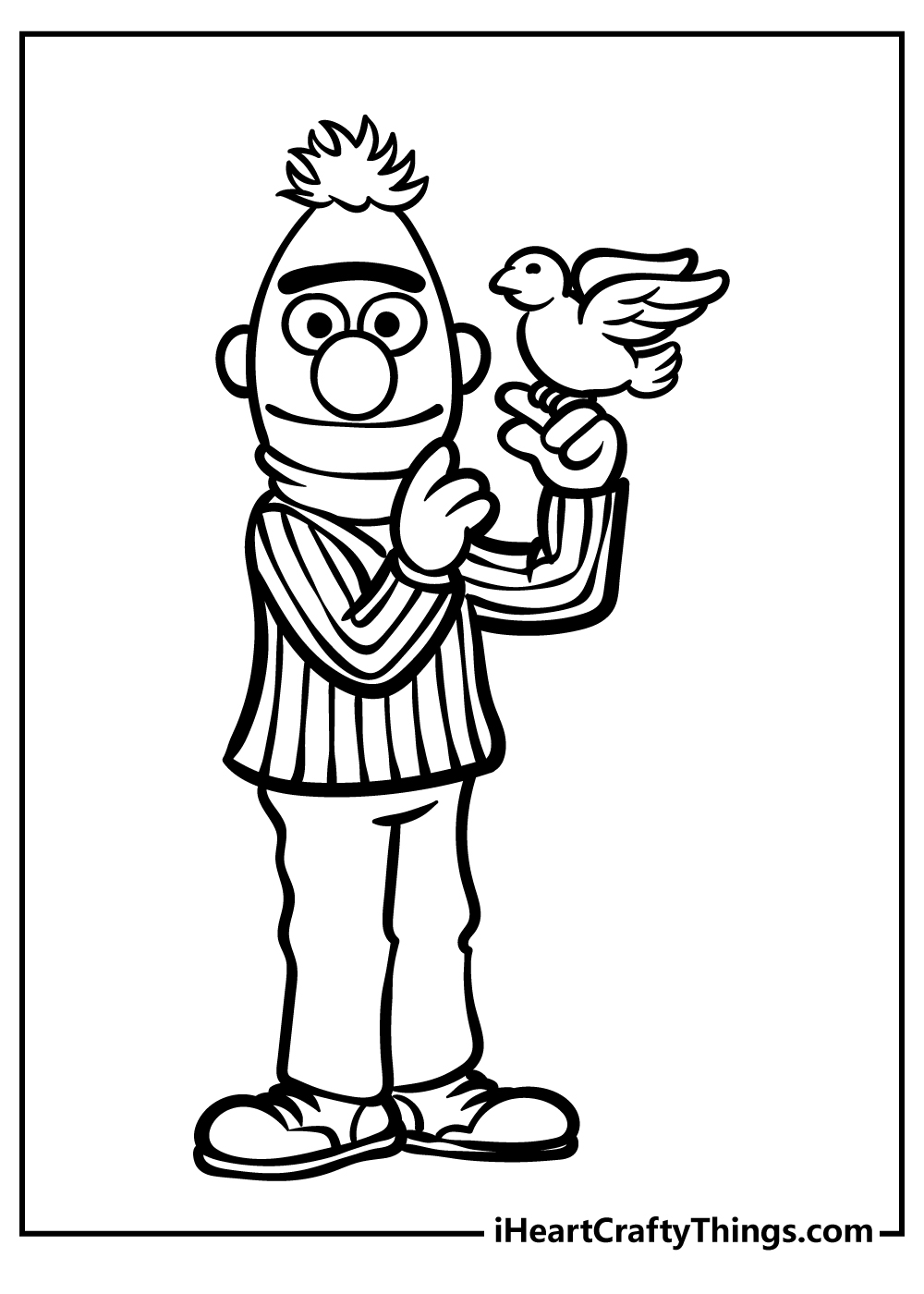 From one grouchy character to another, we now have Oscar the Grouch for you to color!
Unlike Bert who looked happy in the previous one, Oscar is living up to his name in this one as he looks rather unhappy and grouchy.
He is generally colored with a dark green with his silver trash can, so will you use these usual colors for this portrayal?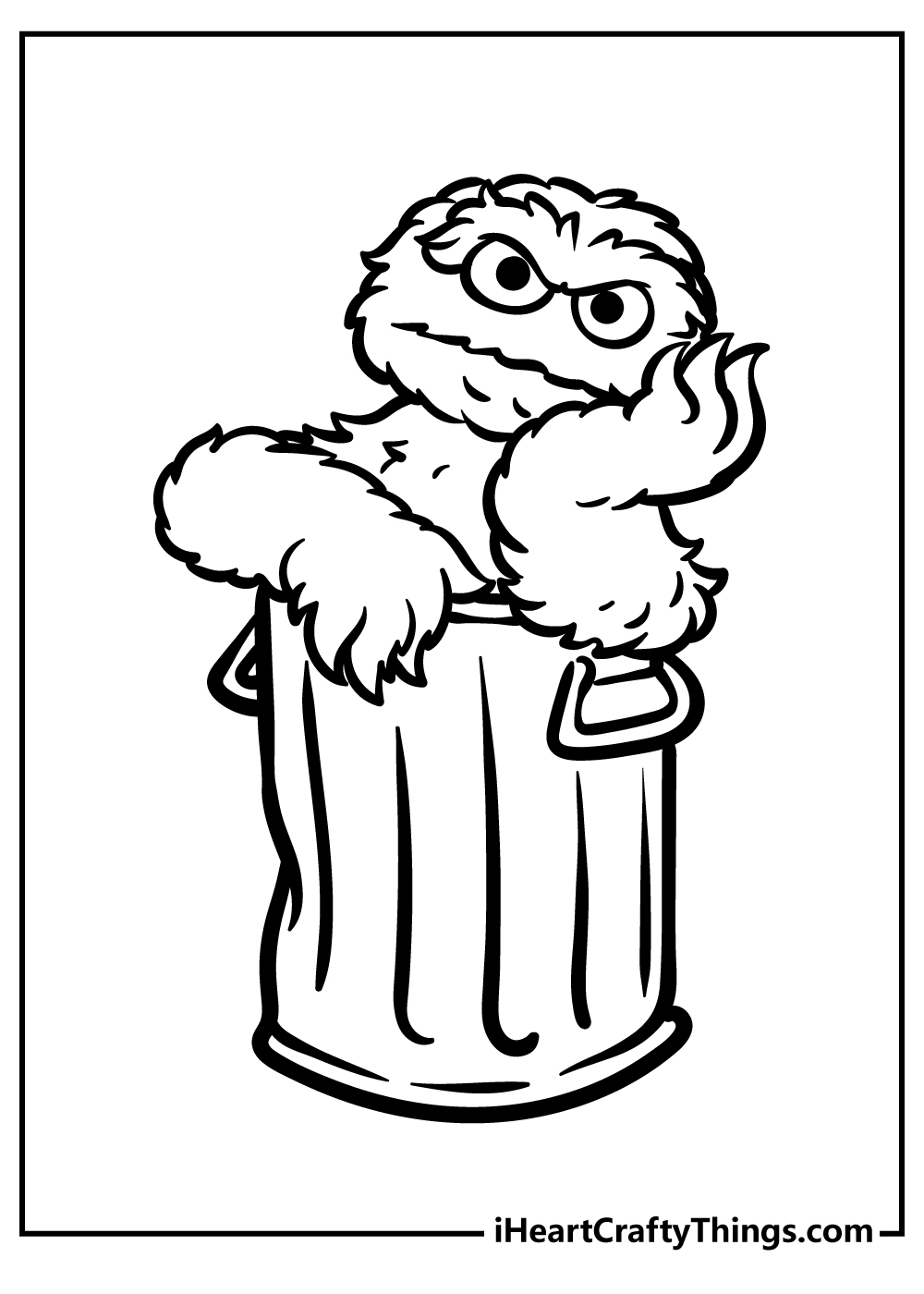 Elmo is back for more fun, and it looks like it's party time! He seems to be at his birthday party here, and he is trying to guess what may be in the present.
Even if you color him with his normal color scheme, you can bring some variety to the image by coloring the details of the presents however you wish.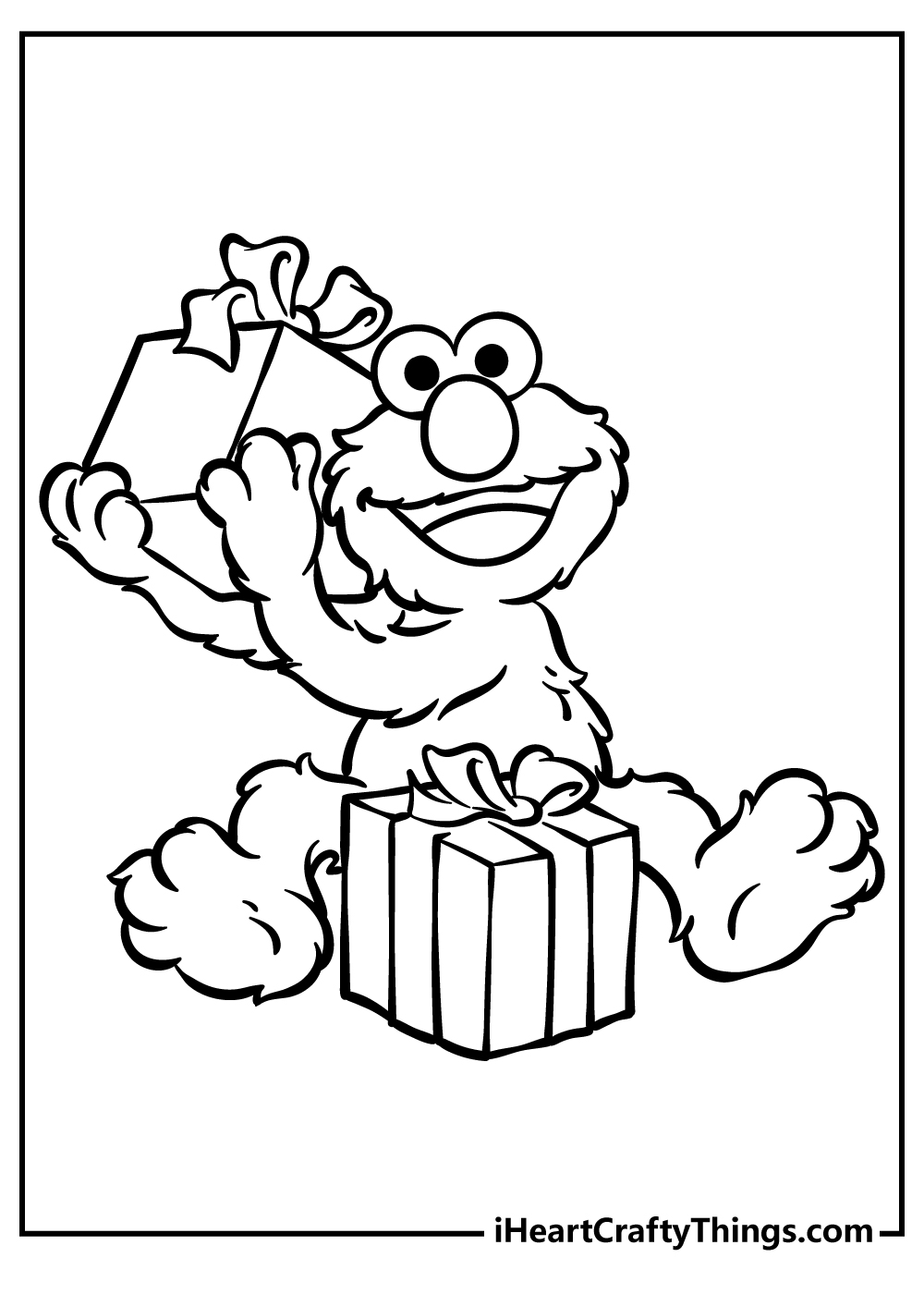 Cookie Monster is another beloved character, and he's up next in this fifth page of our collection of free Sesame Street coloring pages for kids!
He loves cookies more than anything, and he has plenty to munch on here.
He is generally colored with a dark blue, and you can also have some fun coloring details such as the cookie jar and the cookies themselves.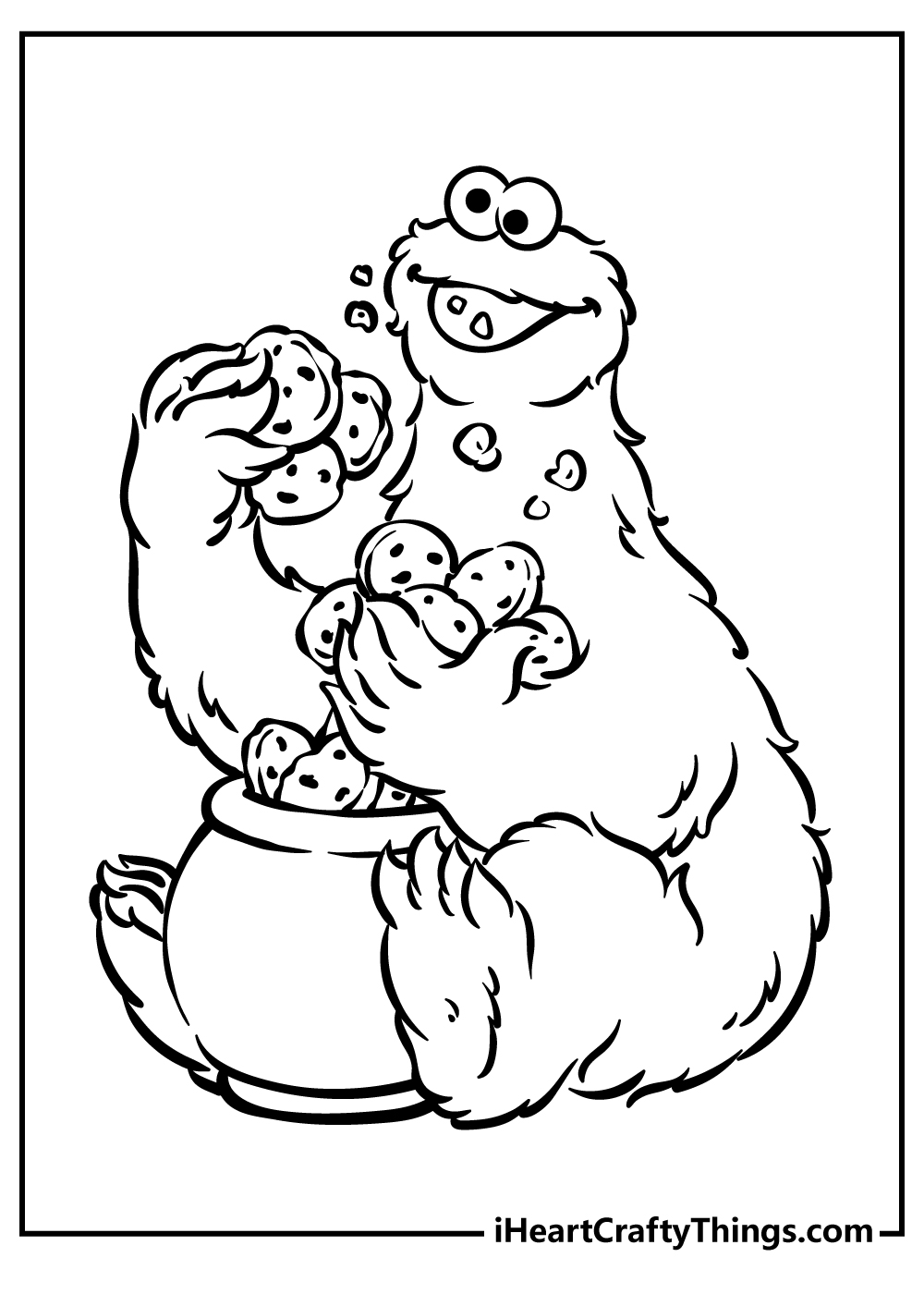 This is a really sweet image, as Elmo is saying hello to a new fishy friend!
The bowl he is holding lets you use colors such as blue and orange to contrast against the bright red of Elmos's fur, and that's just one way that you could go about it.
How will you color this charming Elmo scene?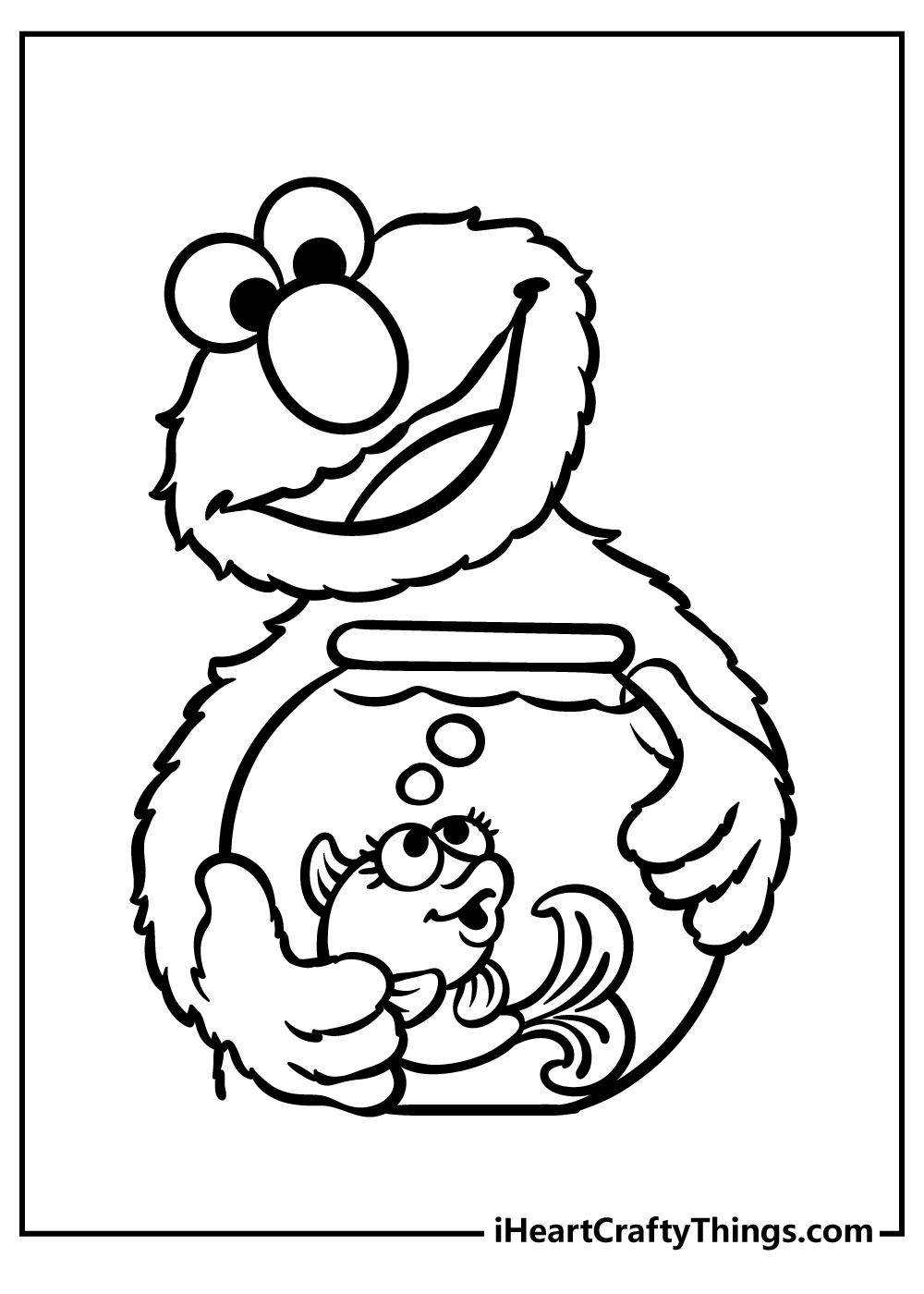 The focus is purely on Elmo for this next image. He is giving a friendly wave and is looking very happy, so we think that some equally bright and happy colors would be perfect here.
Will you draw or color some background details to finish this one off? What kind of scene would you like to create?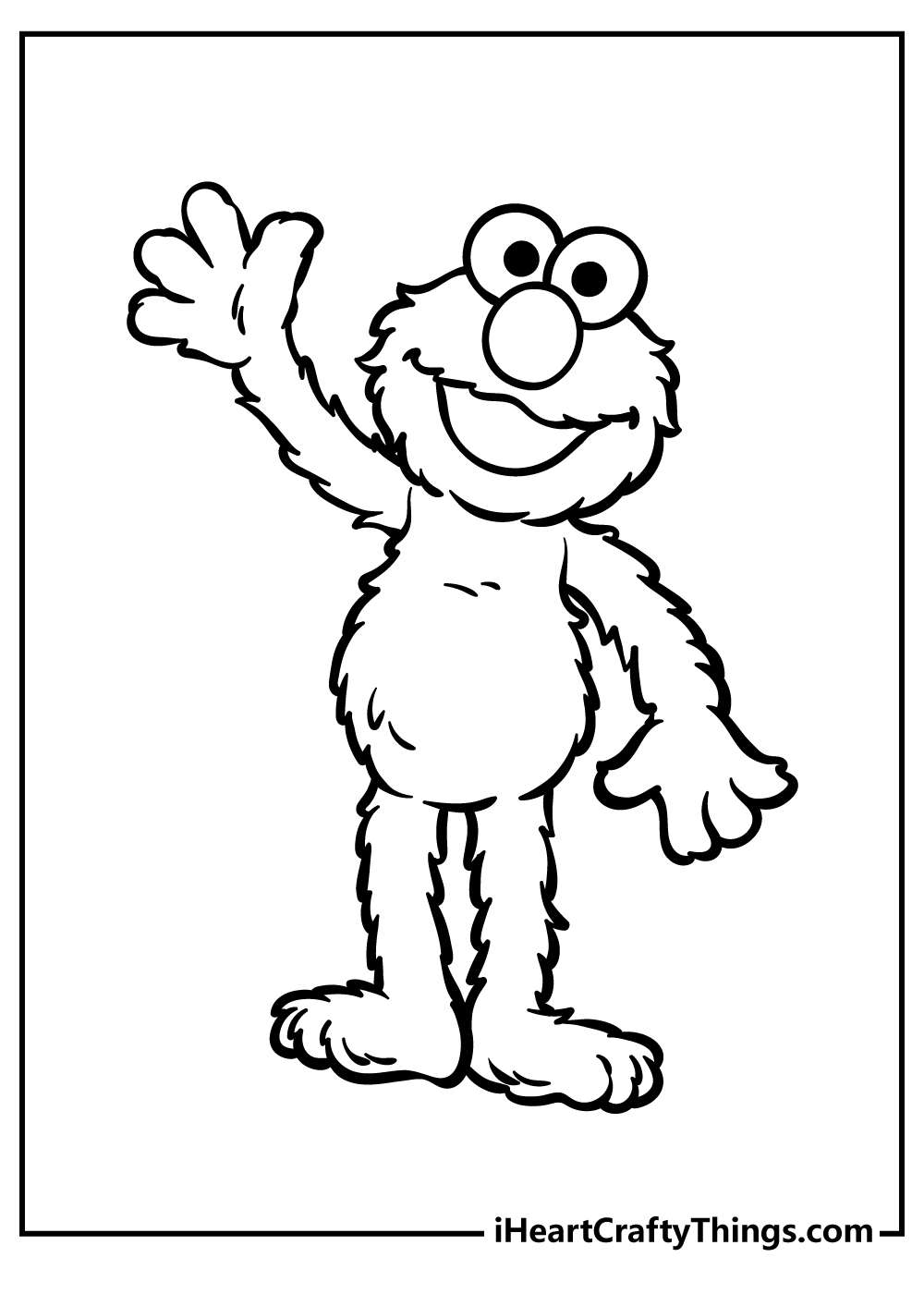 Lovable furry old Grover is up next for you to color on this next page!
Grover is another character that is usually colored with a dark blue, but he has smaller details such as a pink nose and red lips to add some variety.
Do you think you will go with his usual color scheme, or will you create a brand new color look for old Grover?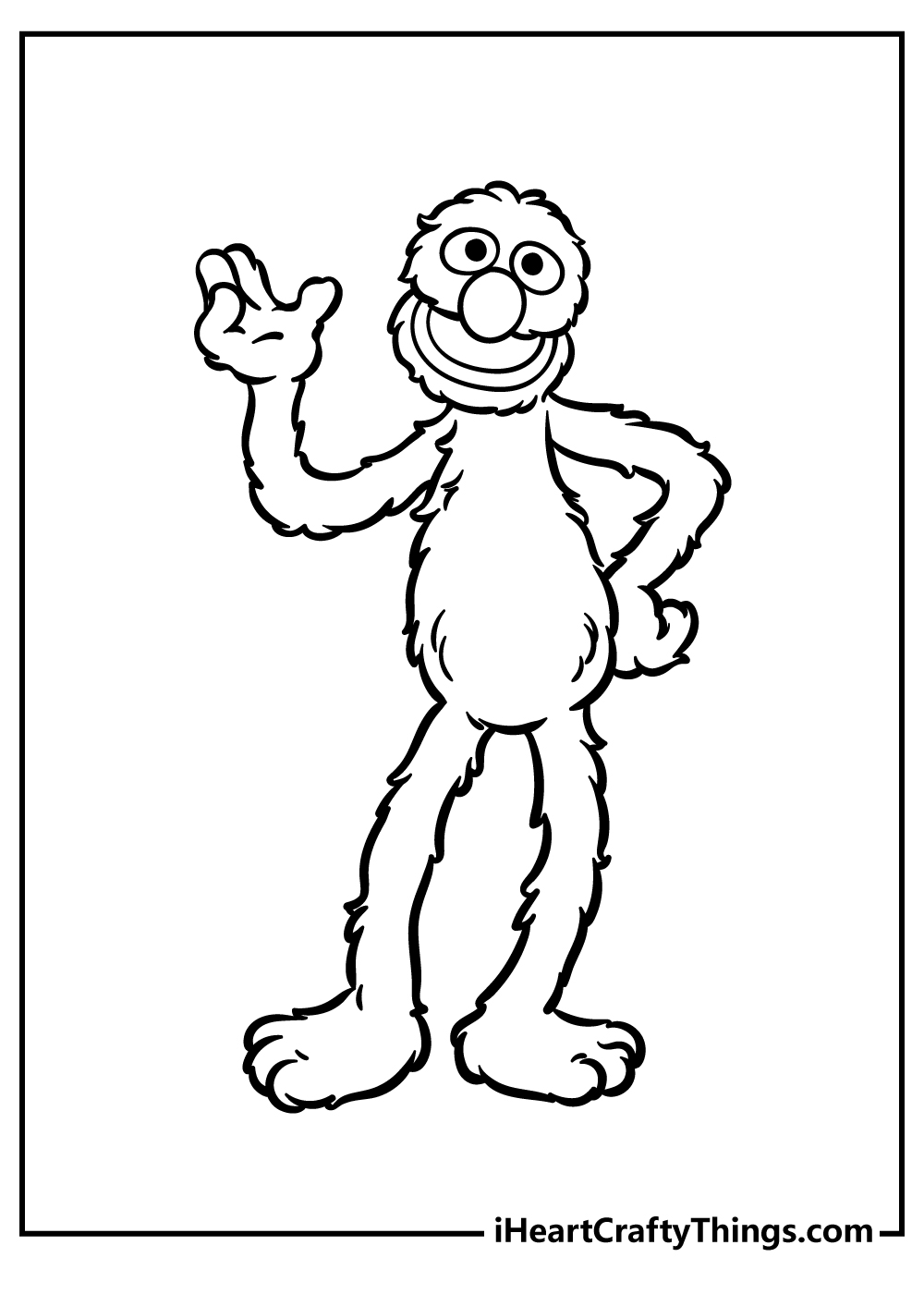 It's time to say hello to Big Bird in this next picture!
This giant yellow bird looks as if he is about to decorate a Christmas tree, and it could be fun to draw some details of the tree or maybe some extra Christmas decorations.
What other festive touches can you think of?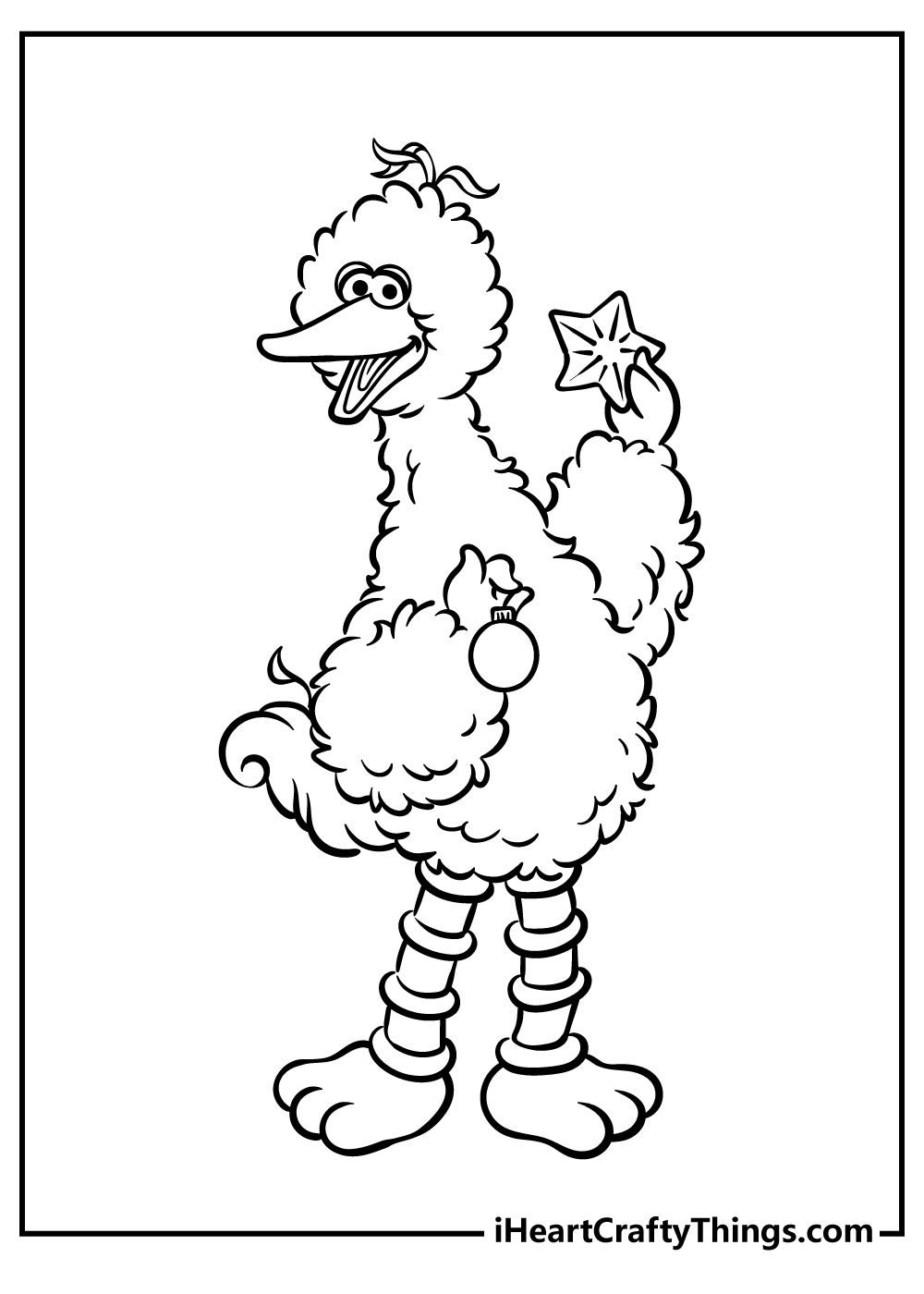 Both Bert and Ernie are reunited in this Sesame Street coloring printable! The two best friends look happy to be hanging out, and there are plenty of small details to take time coloring.
Some of these details are rather small and fiddly, but you could use mediums such as colored pens or pencils to make it easier on yourself.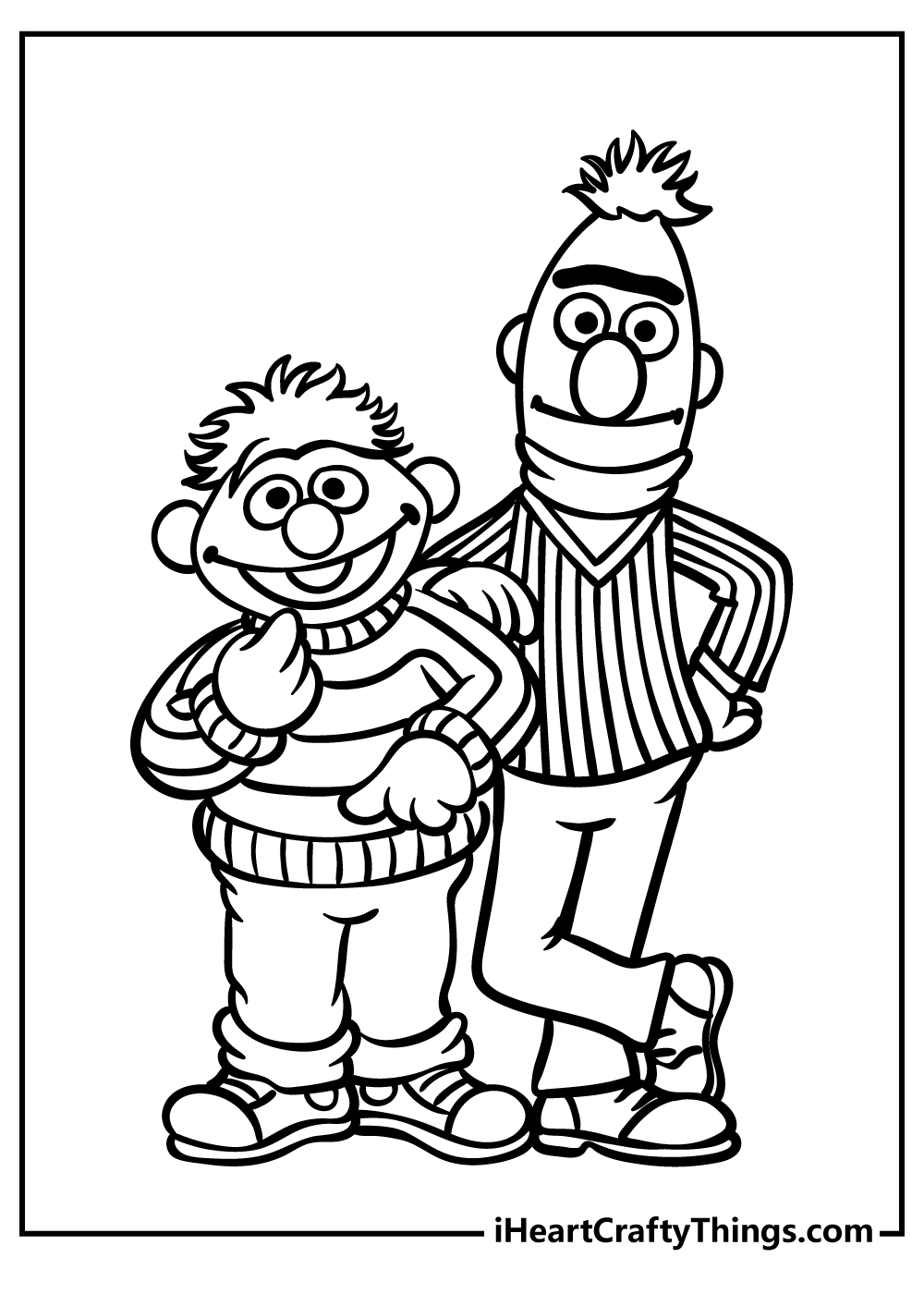 If you count all the pages in this collection so far, you will see that Count von Count is the eleventh Sesame Street star we have for you to color!
Unlike many other Sesame Street characters, this character has darker shades of purples and blues for his color scheme, and if you go for those then he will look rather unique.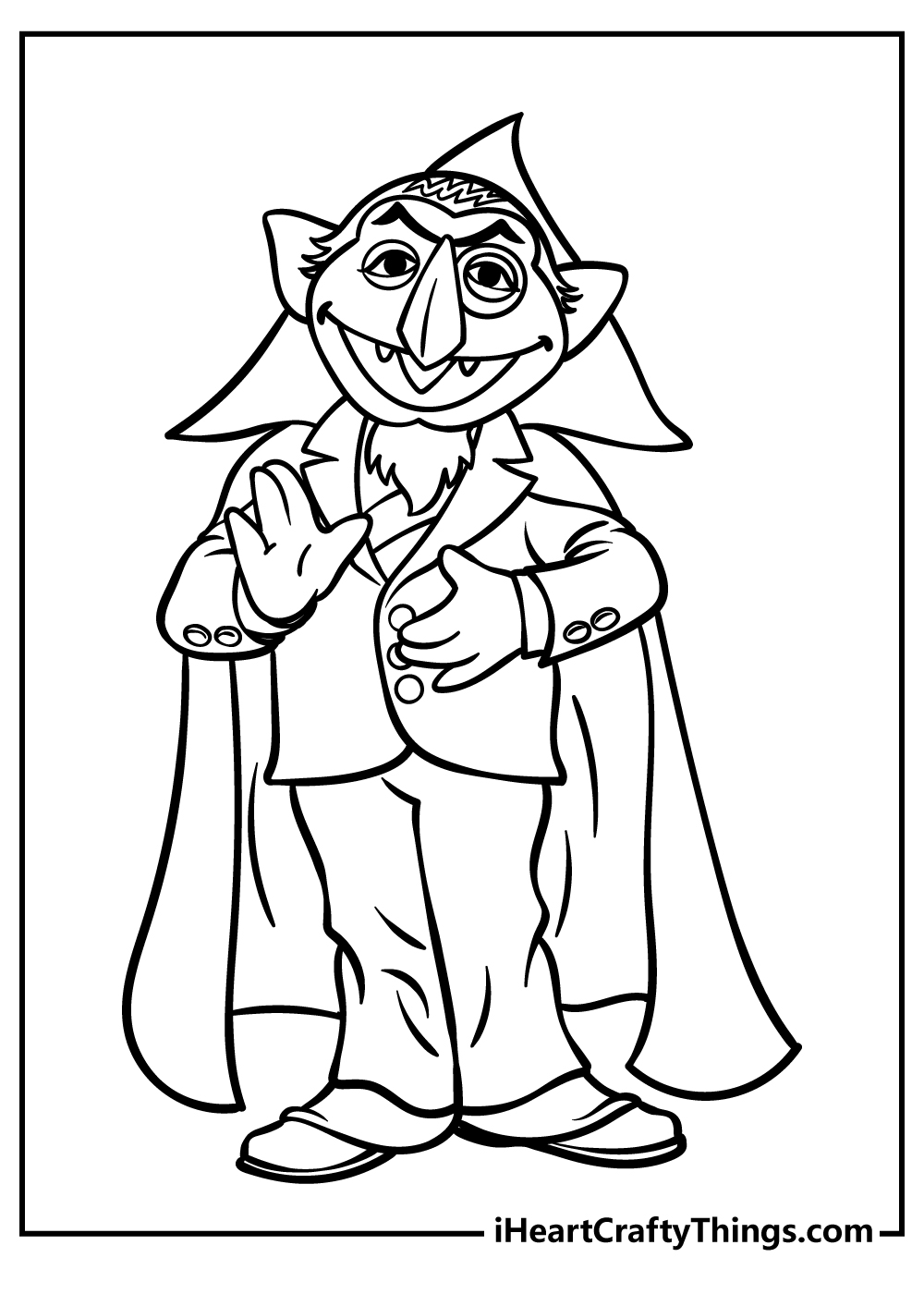 We have a delighted Elmo up next for you to color, and it's another one where he looks really happy!
This is another one that will look great with some bright colors that pop, and it would look even better if you draw in a background scene for him to be a part of.
What kind of scene do you imagine Elmo may be a part of here?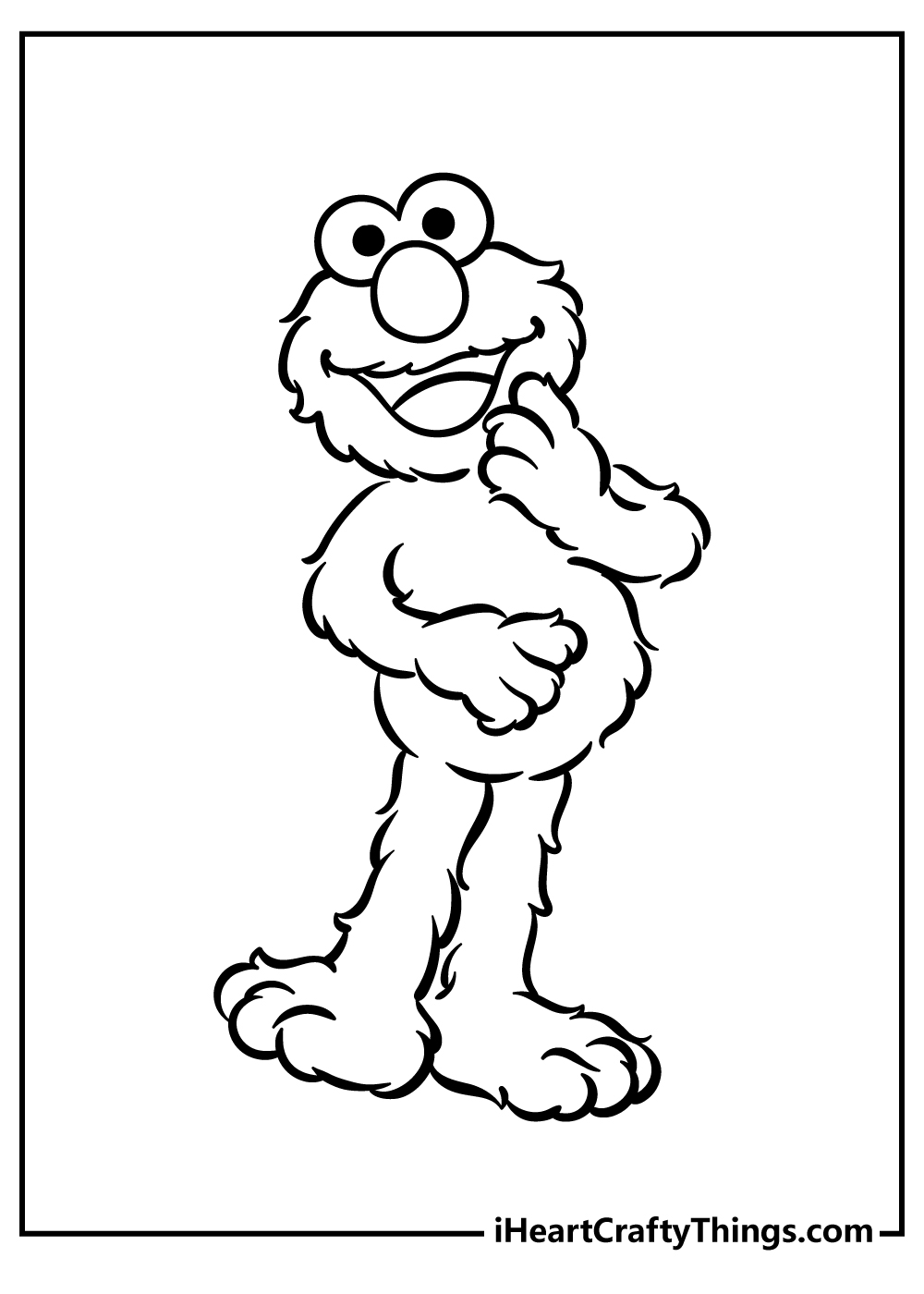 It's time to go for a stroll with Bert in this fun image! He seems to be very happy while going on a walk here, and there are so many possibilities for where he could be walking.
You could get really imaginative with this one and draw where you think he could be taking a walk in order to make this one even more fun!
This time, the focus is on Bert's buddy Ernie, and he is looking very cheerful and happy here! There are some great details to color in here, and you could work a lot of colors into this design.
Will you stick to how his clothing normally looks or will you give Ernie a color makeover?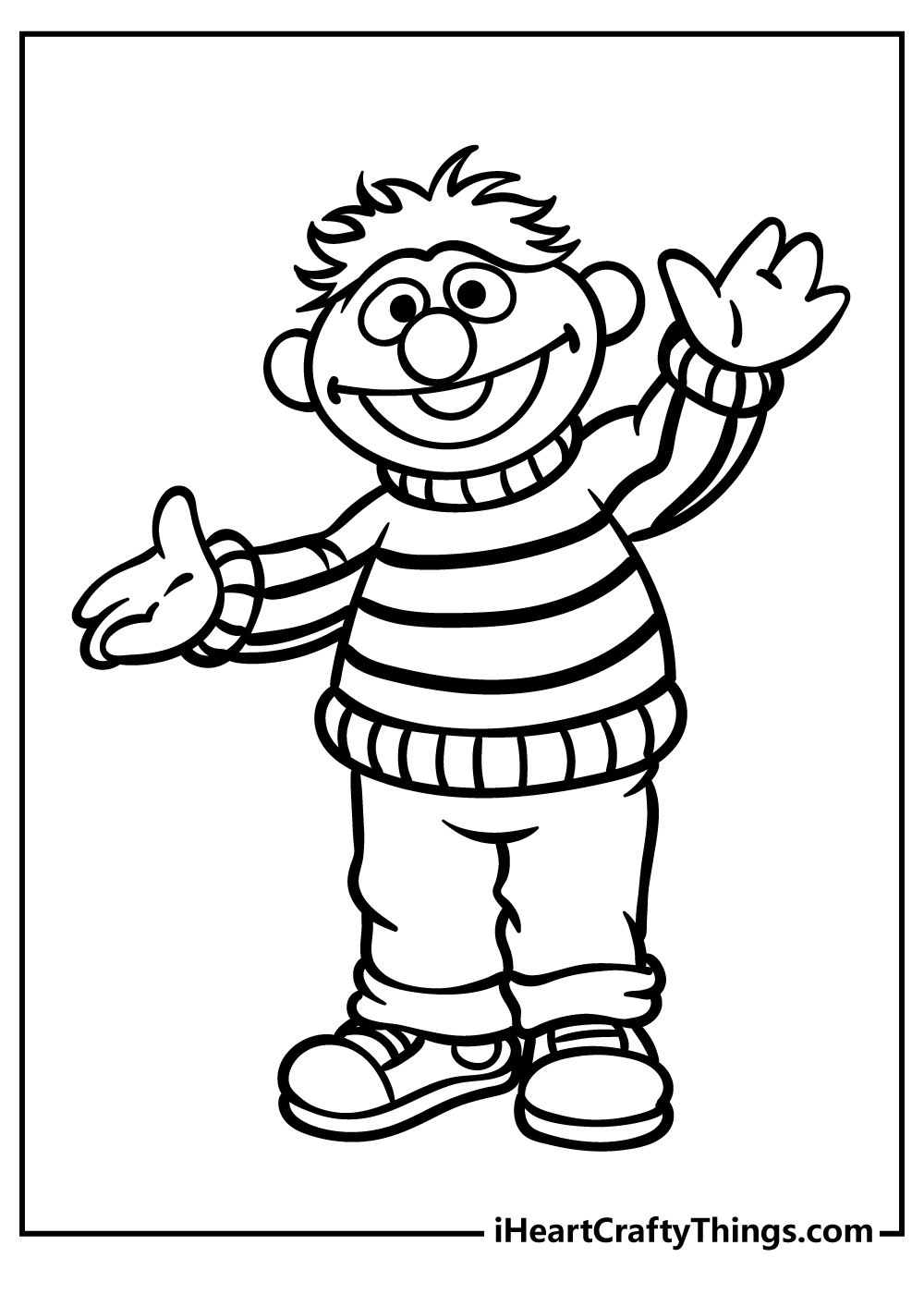 We began this series of Sesame Street coloring sheets with Elmo, and it seems right that we finish it with him too!
He is holding up some blocks that spell his name, and we think it would look great if you used a different set of colors for each one.
We hope you have fun unleashing your color creativity on this final picture!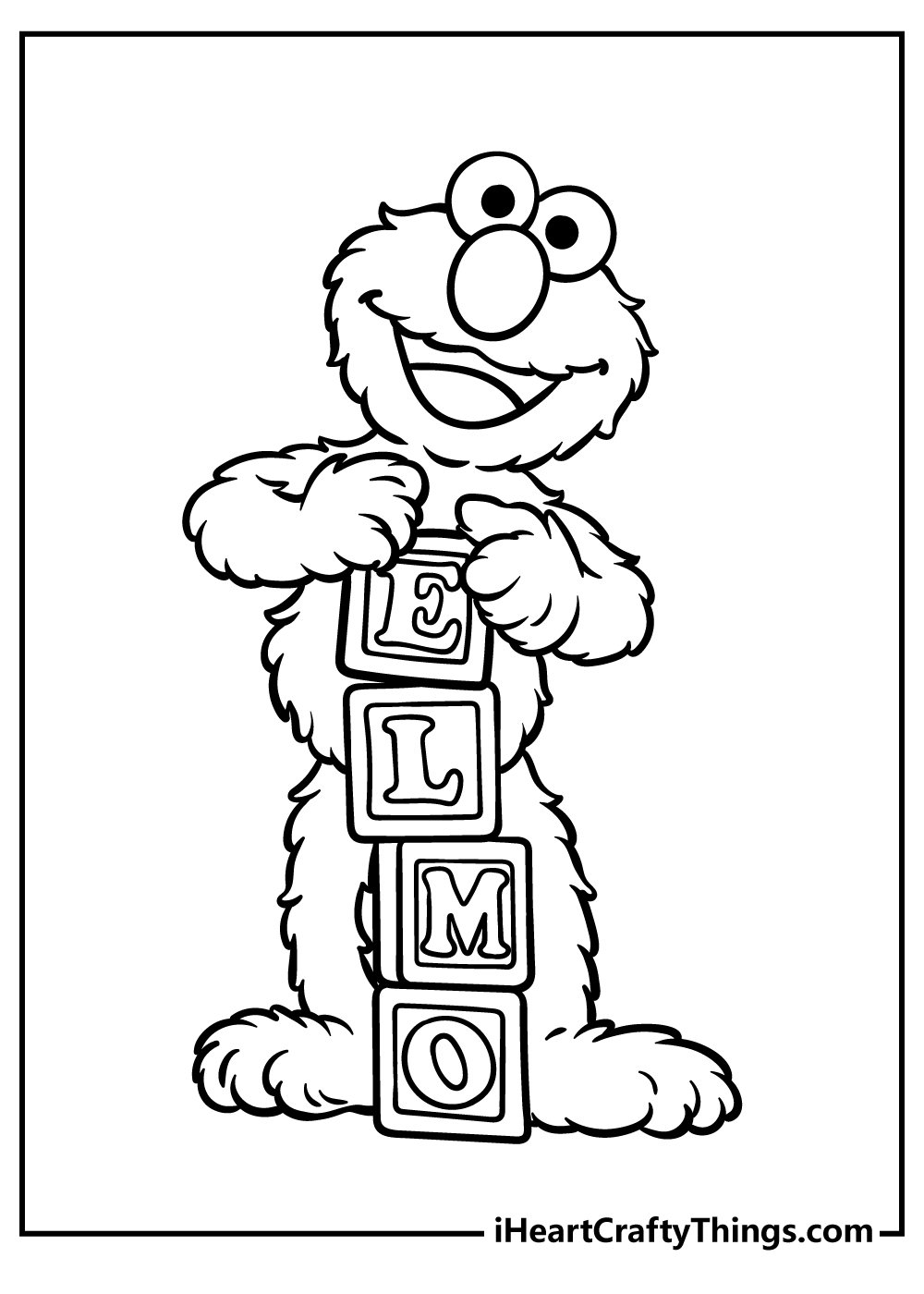 Sesame Street Coloring Pages – Which will you choose?
Hopefully you had lots of fun meeting some of your favorite puppet pals with this collection of free Sesame Street coloring pages for kids!
There were so many incredible characters here, and you can really play around with all your favorite colors even if you stick to how they look in the series.
When you have finished some of these pages, please share some of your favorites on our Facebook and Pinterest pages for us to see!