With their bulky bodies, short legs, and big jaws, hippos are one of the most exciting animals on the planet. Children love these massive mammals because of their distinctive features and funny appearance.
So why not take your children on an adventure into the fascinating world of animals with these cute hippo coloring pages?
Download and print these coloring sheets for free to teach your children about hippos and encourage their creativity.
10 Brand New Hippo Coloring Pages – Free to Print and Color
Hippos or hippopotamuses are the third-largest land mammal. They live on the African continent in areas with lots of water because they need it to cool their massive bodies.
The beautiful mammal featured on our first hippo printable is pictured from one side so that you can see it in all its glory. The hippo is on land here, but we're sure he's just getting ready to take another bath in the river.
You can color it in classic grey hues or be bold and choose a different color combination for this lovely hippo.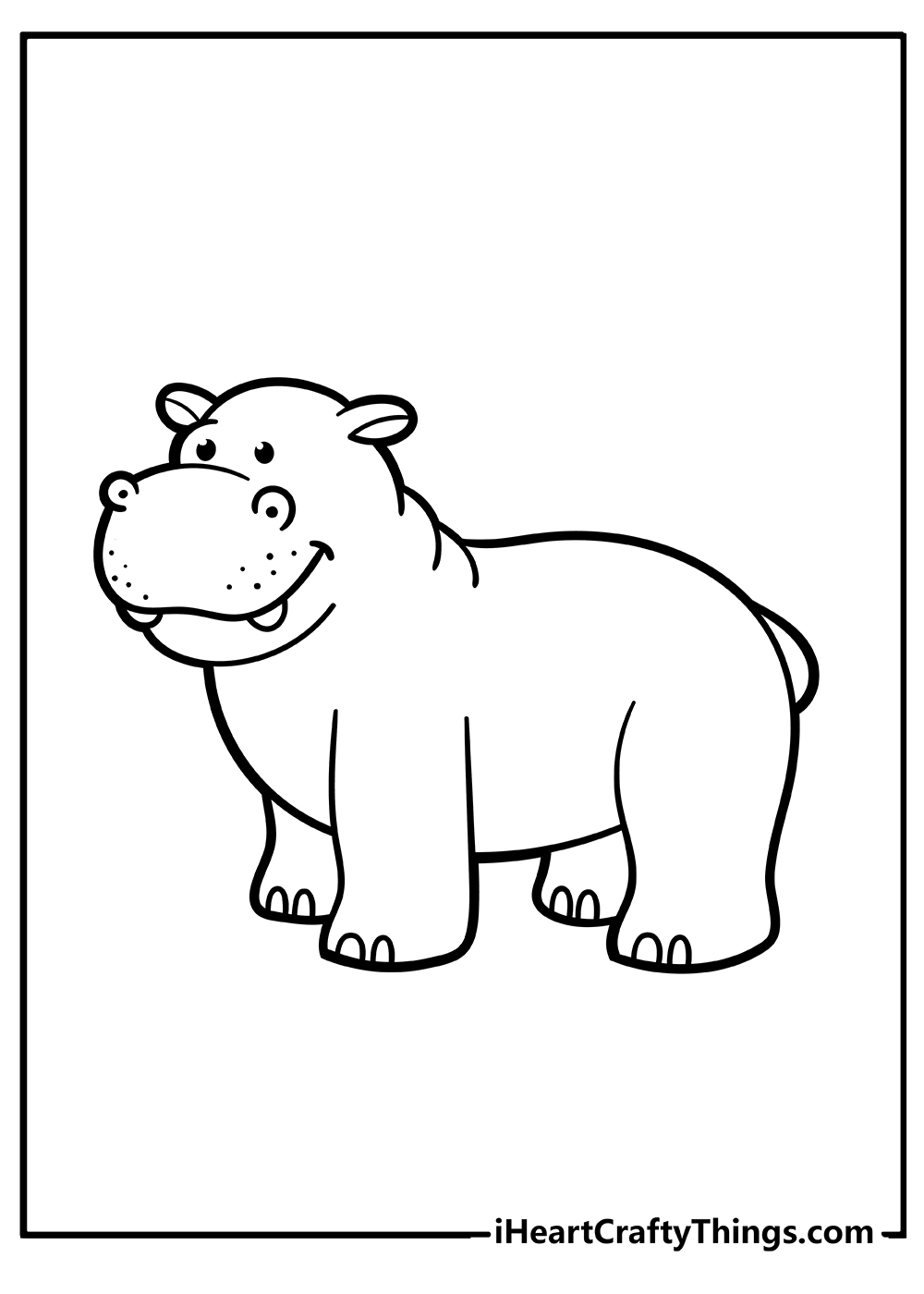 Hippos are social creatures, so they live in groups or herds of 10 to 30 members. A dominant male usually leads these groups.
But hippo families can be much larger, reaching as many as 200 members.
As you can see, this cute mammal on our second hippo coloring page is all alone. We can only assume his family is somewhere nearby.
Maybe you can keep him company and color it until he reunites with his sisters and brothers.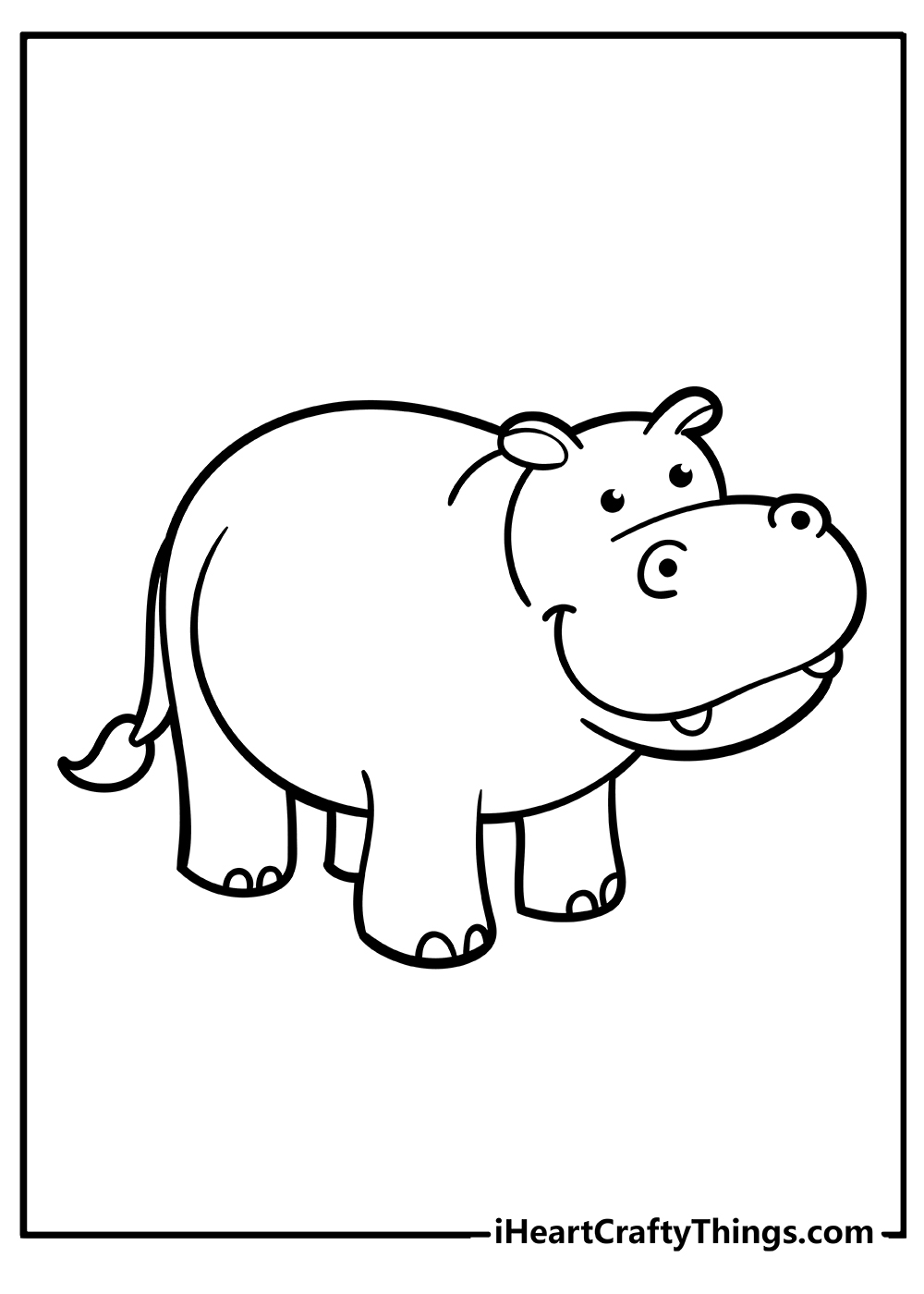 Baby hippos are called calves, and they are adorable. Did you know that female hippo sometimes give birth to their calves underwater?
After birth, the tiny hippos are pushed by their mothers to the surface to breathe.
This cute baby hippo looks like he's already strong enough to charge through the water on its own. But we're sure his mother is still keeping a close eye on him.
You can stick to the usual grey-pink combination, or you could use some softer shades to color this little hippo.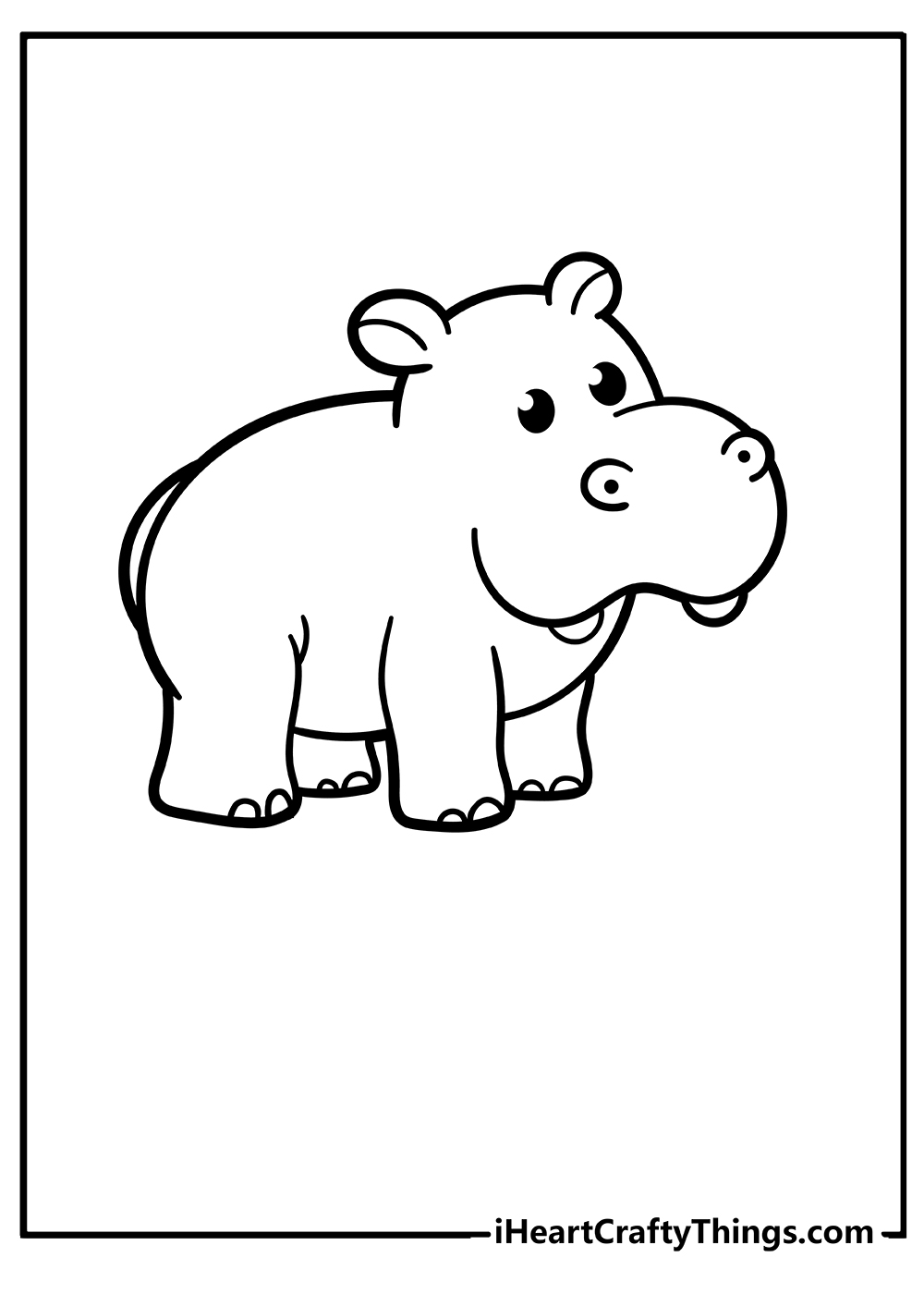 Just like children, young hippos also love to play. They very much enjoy playing games of tag, hide and seek or splashing around in the water. What better way to spend time in the tropical savanna?
It looks like this hippo is in a very playful mood. You can see it has a big smile on its face, and it's looking to one side as if it's waiting for another hippo to join the game.
We don't know what game this hippo is playing, but we see this page would look a lot better with some color.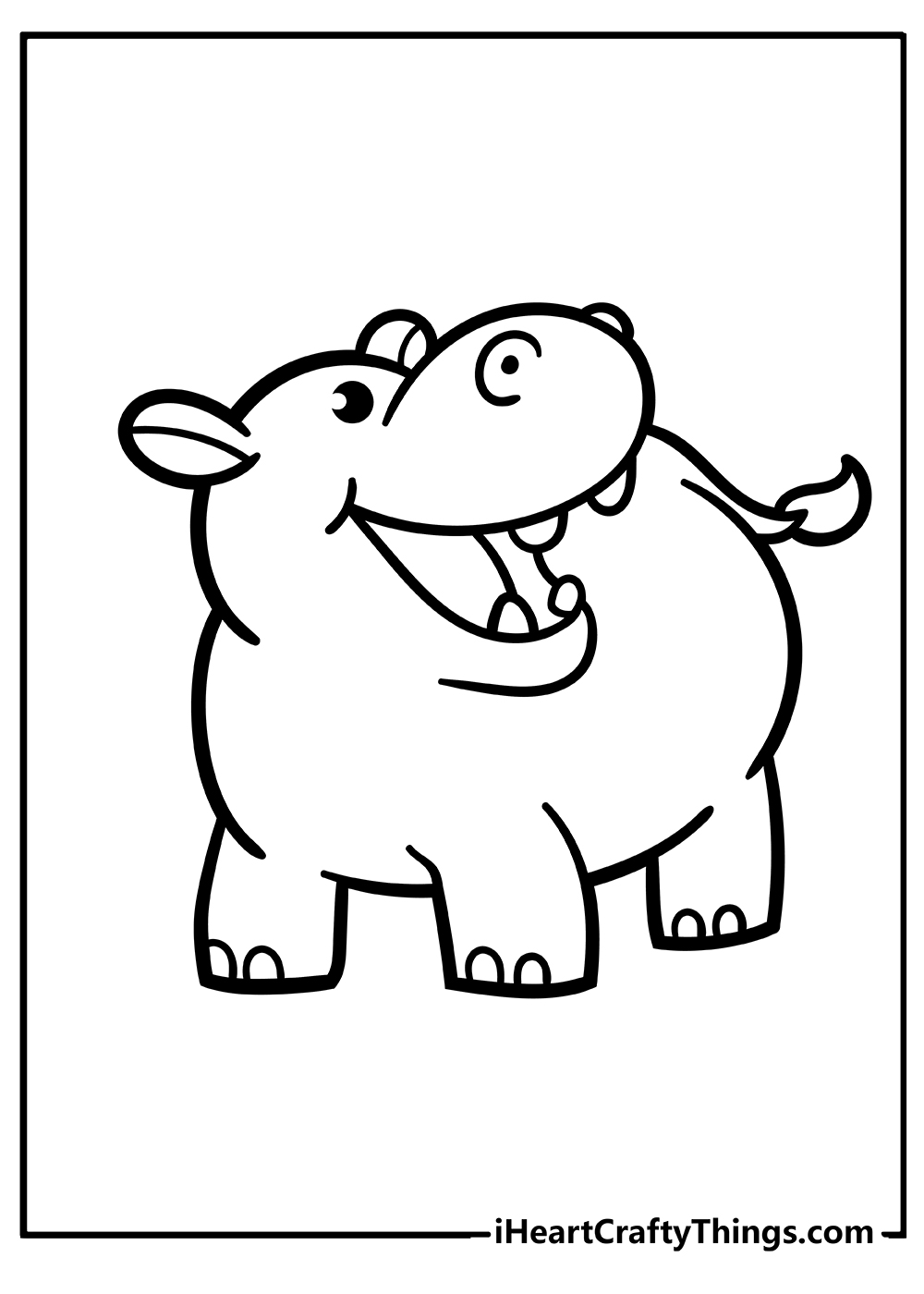 The mammal featured on our next hippo coloring page is quite large. Judging by its size, it may be the leader of the group.
Male leaders are in charge of protecting their territory by fighting off their rivals.
We have a few suggestions if you don't know how to color this hippo. In real life, hippos have greyish to muddy-brown skin on most parts of their bodies.
But the skin around their eyes, ears, mouth, and belly has pink tones.
You can use these shades to bring this friendly hippo to life.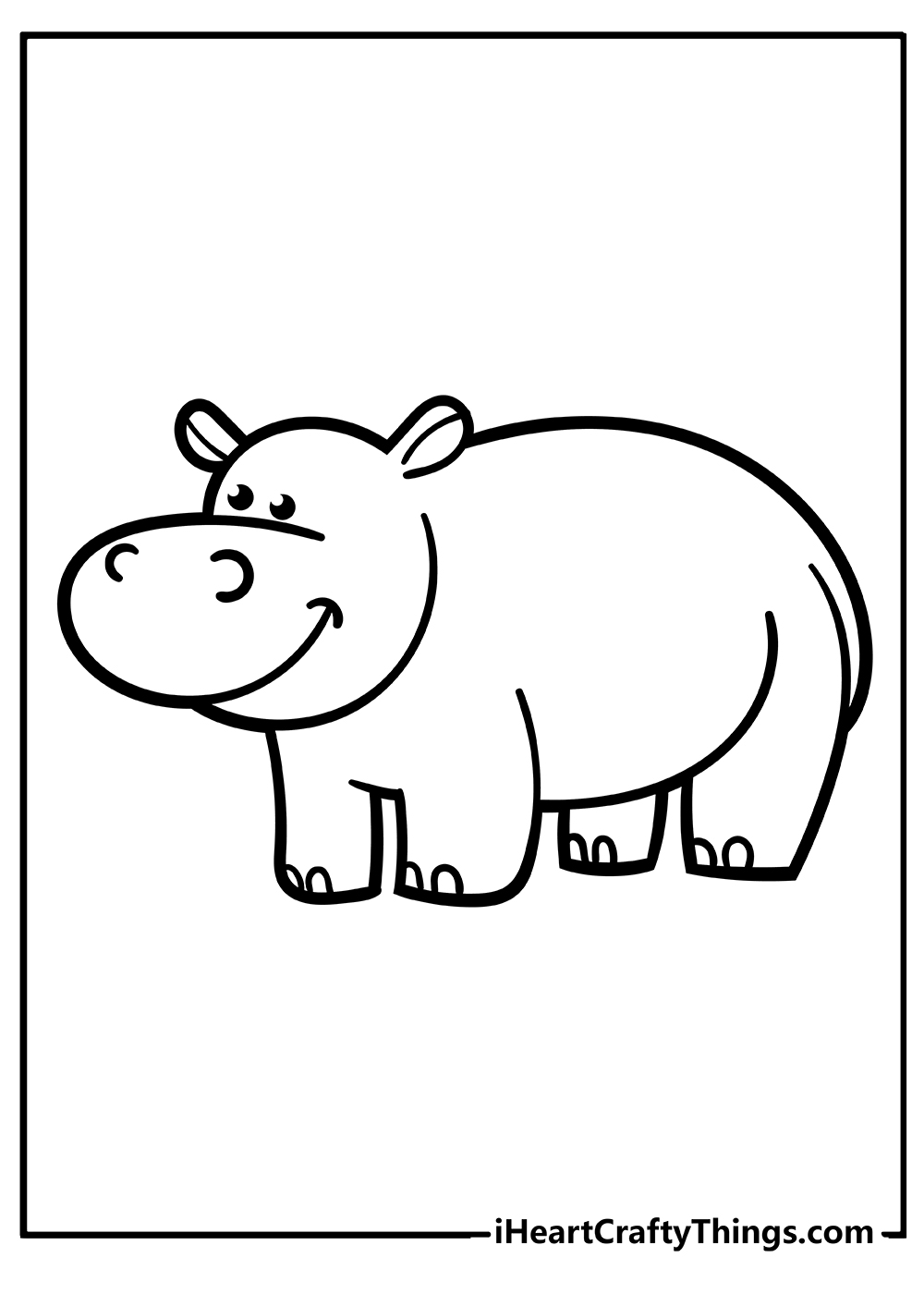 In their natural habitat, hippos are usually surrounded by other creatures. It's not unusual to see birds standing on a hippo's back.
That's because birds help hippos get rid of parasites, so they've developed a close relationship.
We don't see any birds or animals anywhere near this hippo, but by the way, it's looking; it noticed something interesting.
Maybe he saw a crocodile approaching, or he's just inspecting the territory. You could draw a few birds around the hippo to complete the scene.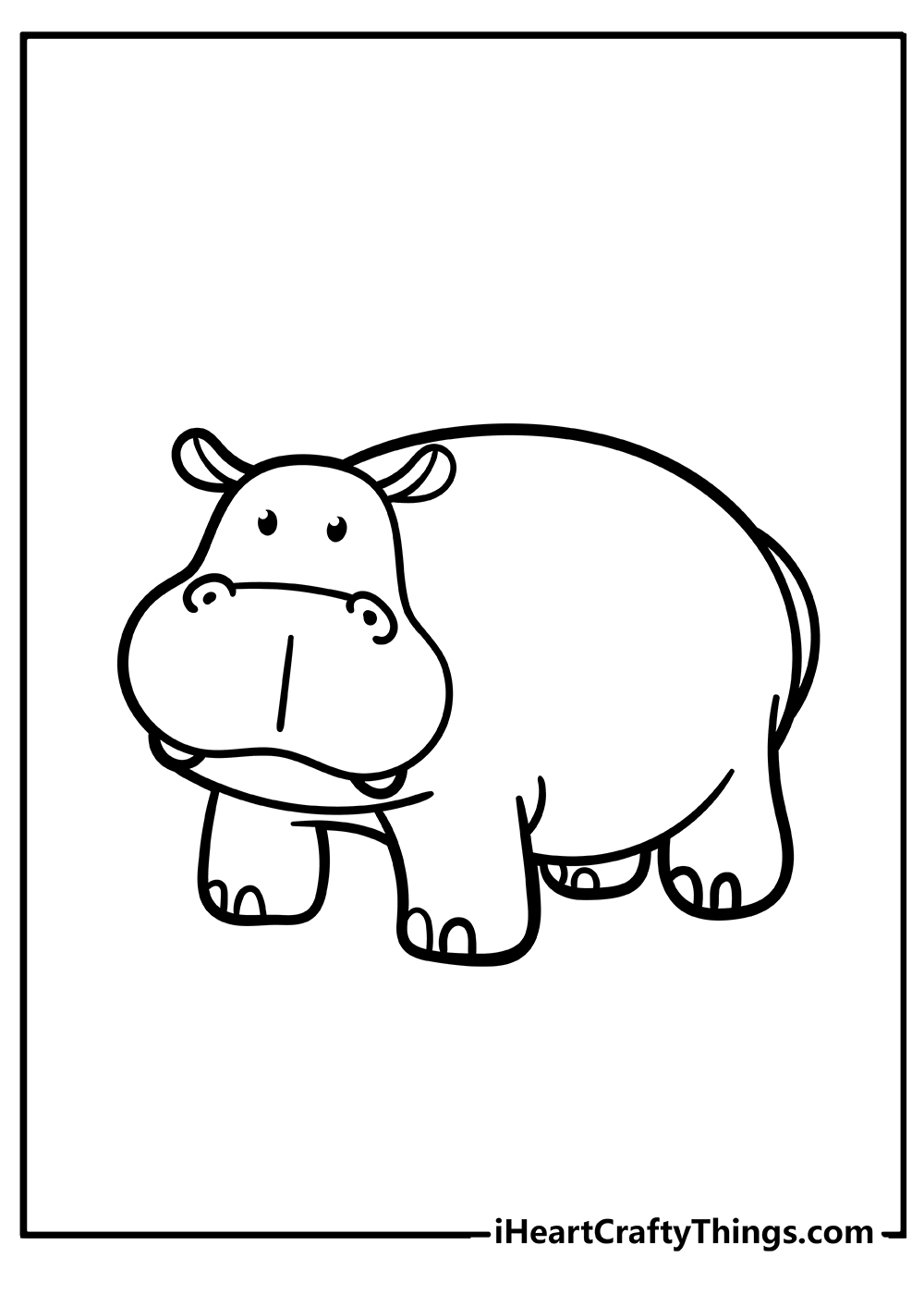 Life in the African savanna is not always easy. Even if hippos spend most of their day submerged in the water, they are a lot more active during the night when they come out to look for food.
This hippo coloring sheet features a giant hippo standing on the ground. Since it's not in the water, we assume it spent the whole night grazing, and now it's time for a well-deserved break.
It would be nice to draw some grass around this hippo to make it look like it just finished its nocturnal meal.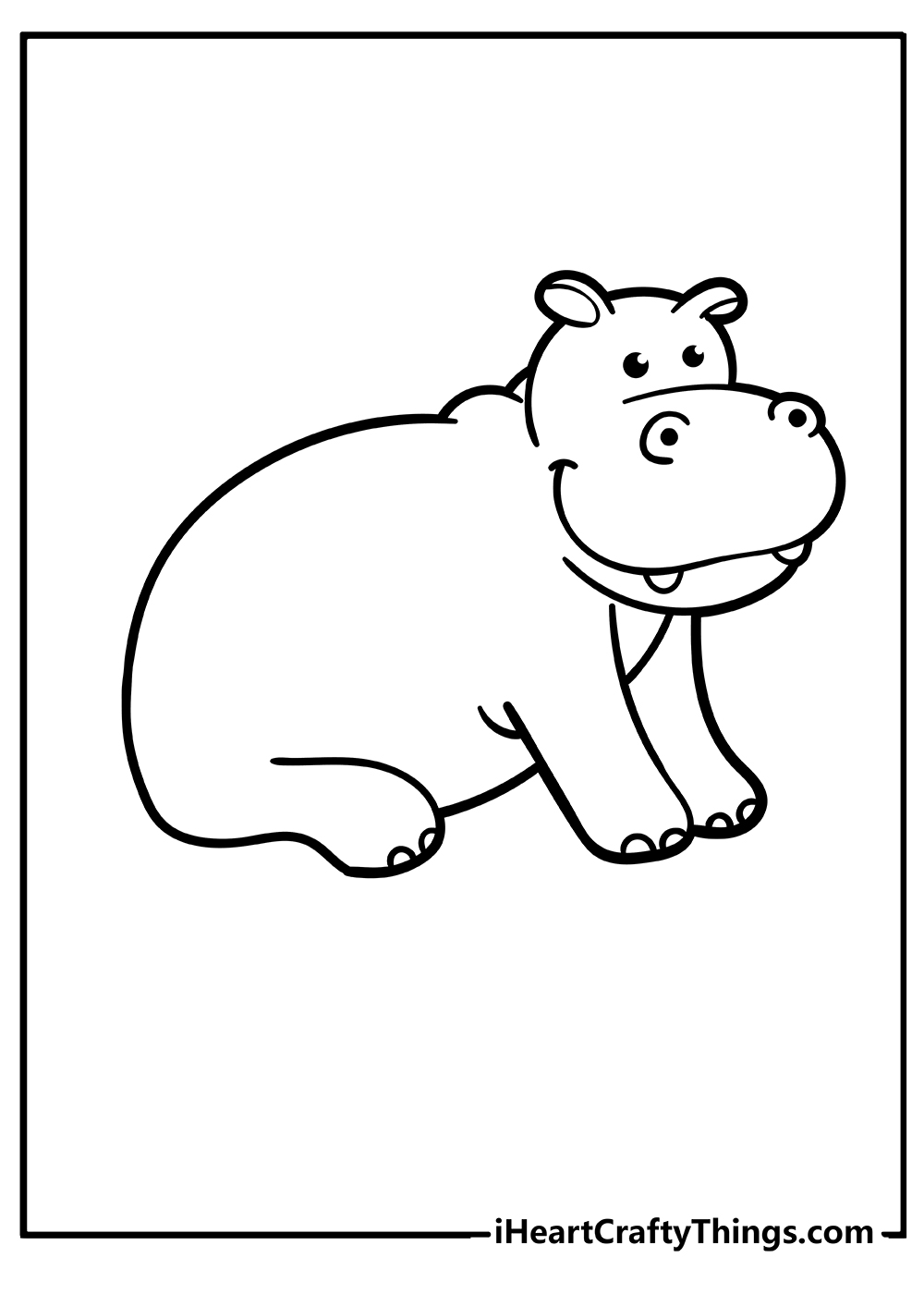 Hippos are semi-aquatic animals. They spend most of their time in rivers and lakes to stay cool in the blistering African heat.
Did you know that hippos can hold their breath underwater for up to five minutes? That's quite a fantastic skill.
In this hippo coloring sheet, you can see clearly how much hippos enjoy living in the water. Here we have a happy hippo bathing in a small pond, surrounded by rocks and grass.
You can join in on the fun by coloring our swampy friend and its surroundings.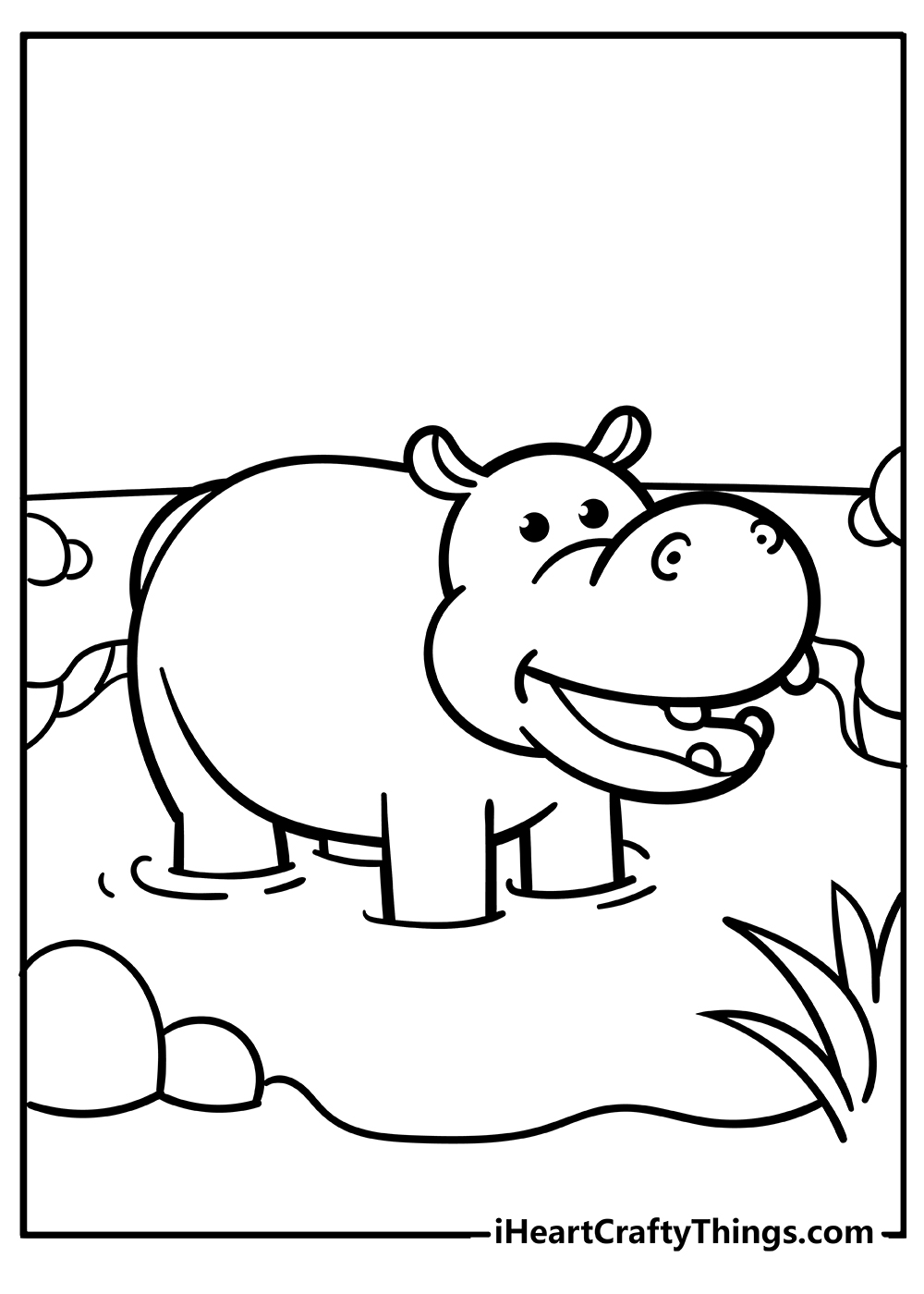 Here's a fun fact about baby hippos: they can suckle underwater. They've developed this ability so they can join their mothers in the water.
However, they can't swim. They just move around by pushing off from the bottom of the water.
This cute hippo right here looks relatively young, but we're sure he already knows how to do a few tricks in the water.
You can use any shades you like to color this little guy. And maybe you can add a splash of water to the picture.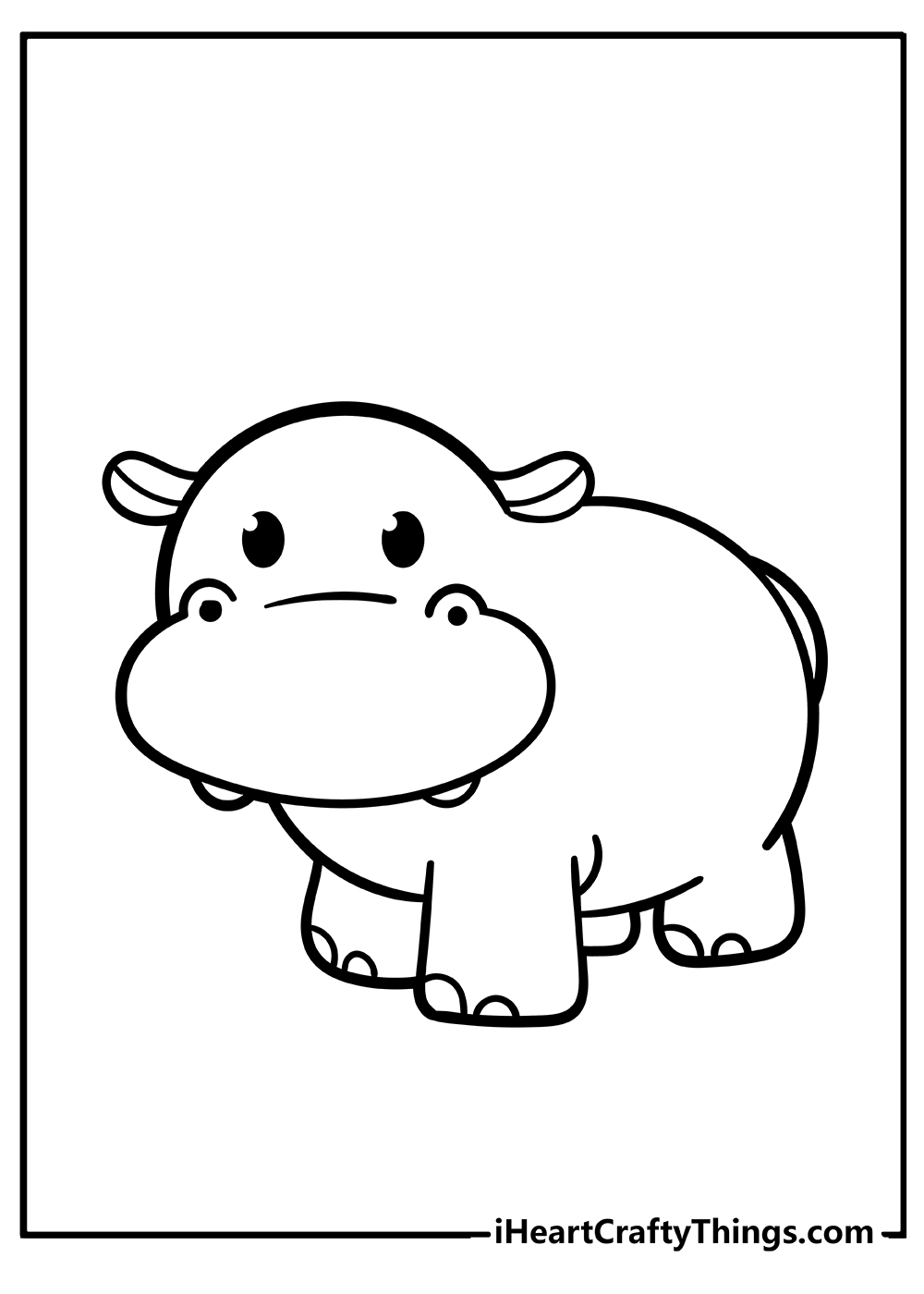 On our last hippo coloring printable, you can see one of these beautiful mammals in its natural habitat.
He's standing near a body of water, with some lush shrubs and bushes behind. Looking at this scenery, we can assume the rainy season has started in the African savanna.
Hippos love the rainy season when the food is abundant, and there's lots of water to bathe in.
Grab your colored pencils and use your creativity to color this mighty hippo and the beautiful landscape around it.