The African savannah is home to many incredible creatures both big and small.
This wildlife is incredibly varied and diverse, and of all these animals the giraffe is arguably the most distinctive of them all.
These gentle creatures stand out from the crowd with their long necks and distinctive coloring. That makes them a perfect subject for coloring fun in these free giraffe coloring pages for kids!
These 25 fun images range from charming and cartoony to more detailed and realistic, so you have plenty of opportunity to get creative with your colors!
You could even try out some fun new art mediums for these pages. Paints, colored pens and pencils are a few you could use to create some unique looks!
Once you've colored in your favorite free giraffe coloring sheets, we'd love it if you would share them to our Facebook page!
We love to see your colorful creativity and can't wait to see your vibrant and cool giraffe creations.
35 Brand New Giraffe Coloring Pages – Free to Print and Color
This giraffe coloring sheet features one that is joined by a small bird friend! It's already a  nice, calm image of a giraffe chomping on some leaves, but the bird helps to make it even more delightful.
It is an image that is true to life as well, as real giraffes will often have birds land on them that will help them out by eating ticks and other bugs off the giraffe.
Now you can finish off this cute partnership by adding all of your wonderful color choices! How do you think you will color these two pals?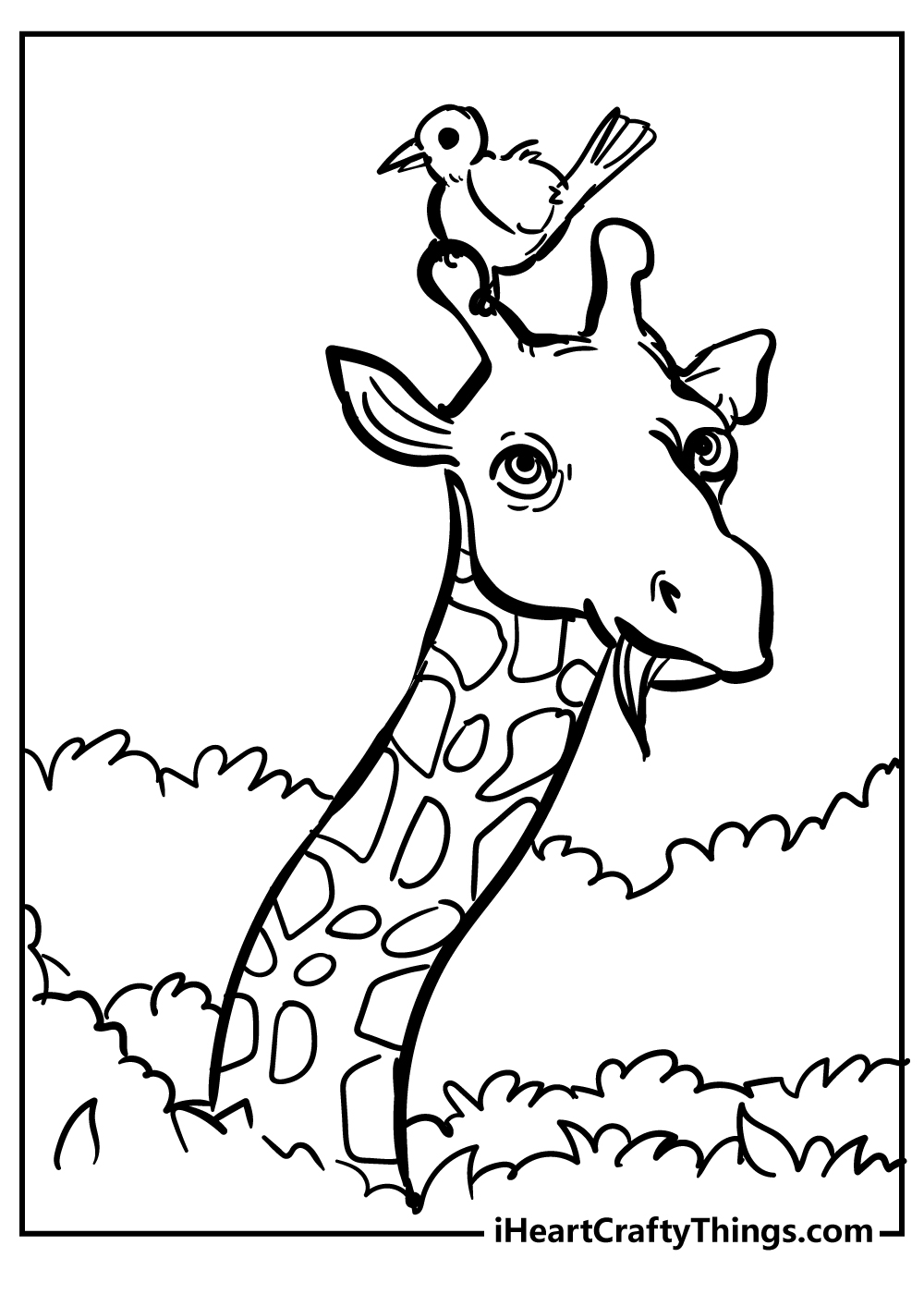 Next up, we have a giraffe that is taking it easy while it lies down on the ground. Because they have such long necks and limbs, simply lying down like this can be a bit of an undertaking!
This giraffe is showing how it's done, however, and it creates a really relaxing scene.
If we were to color this one in, we would go for some milder, lighter colors to emphasize the calming nature of the picture.
Some watercolors or colored pencils would be great mediums to use if you were to go for that kind of approach.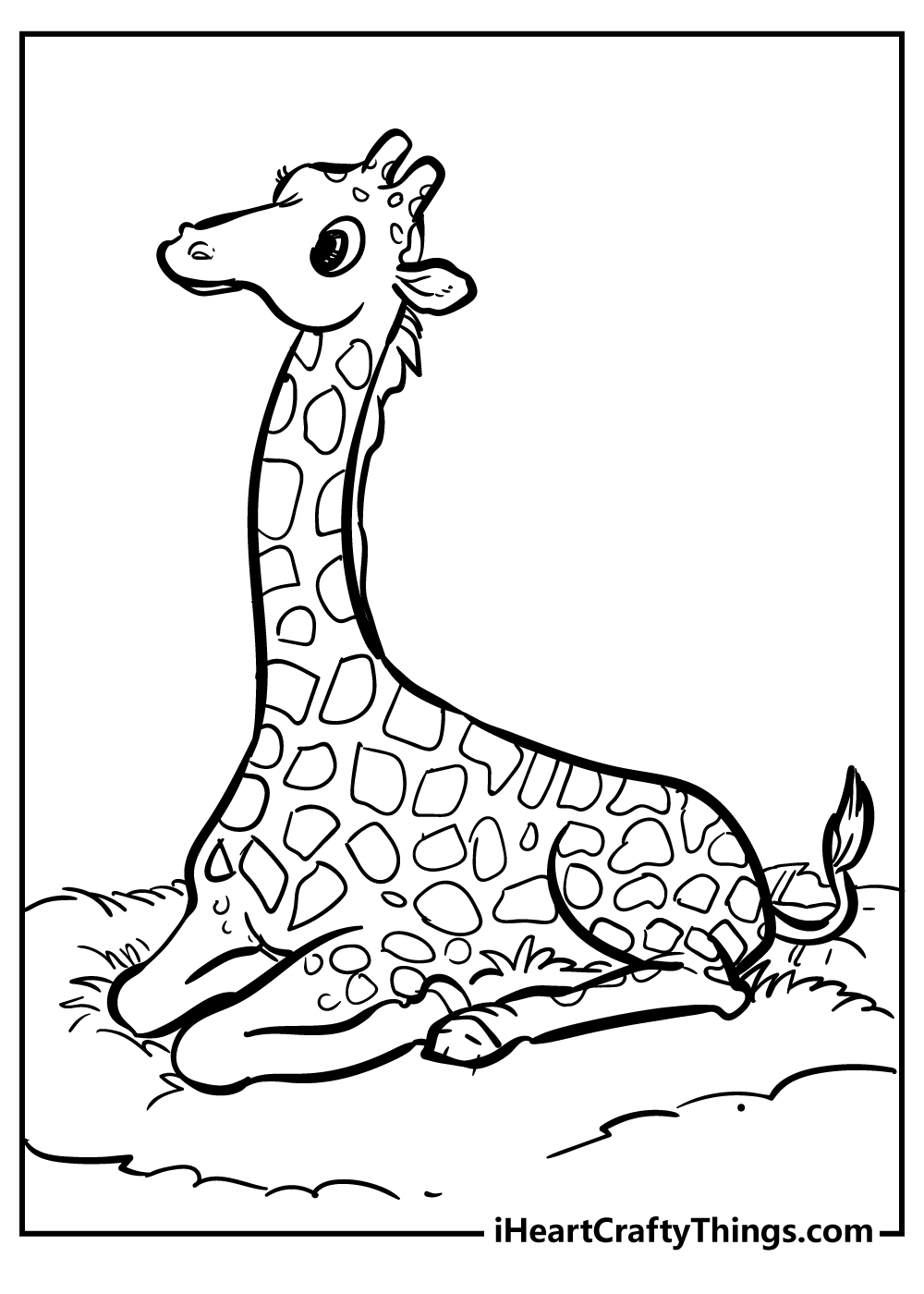 This first free giraffe coloring page for kids has a charming and friendly looking giraffe for you to color in.
Giraffes have a distinctive color scheme with a yellowy brown color with brown spots all over their bodies.
For this more cartoonish image, I would use some bright and bold variations for these colors.
Maybe you could even draw in some fun background details for this first giraffe printable!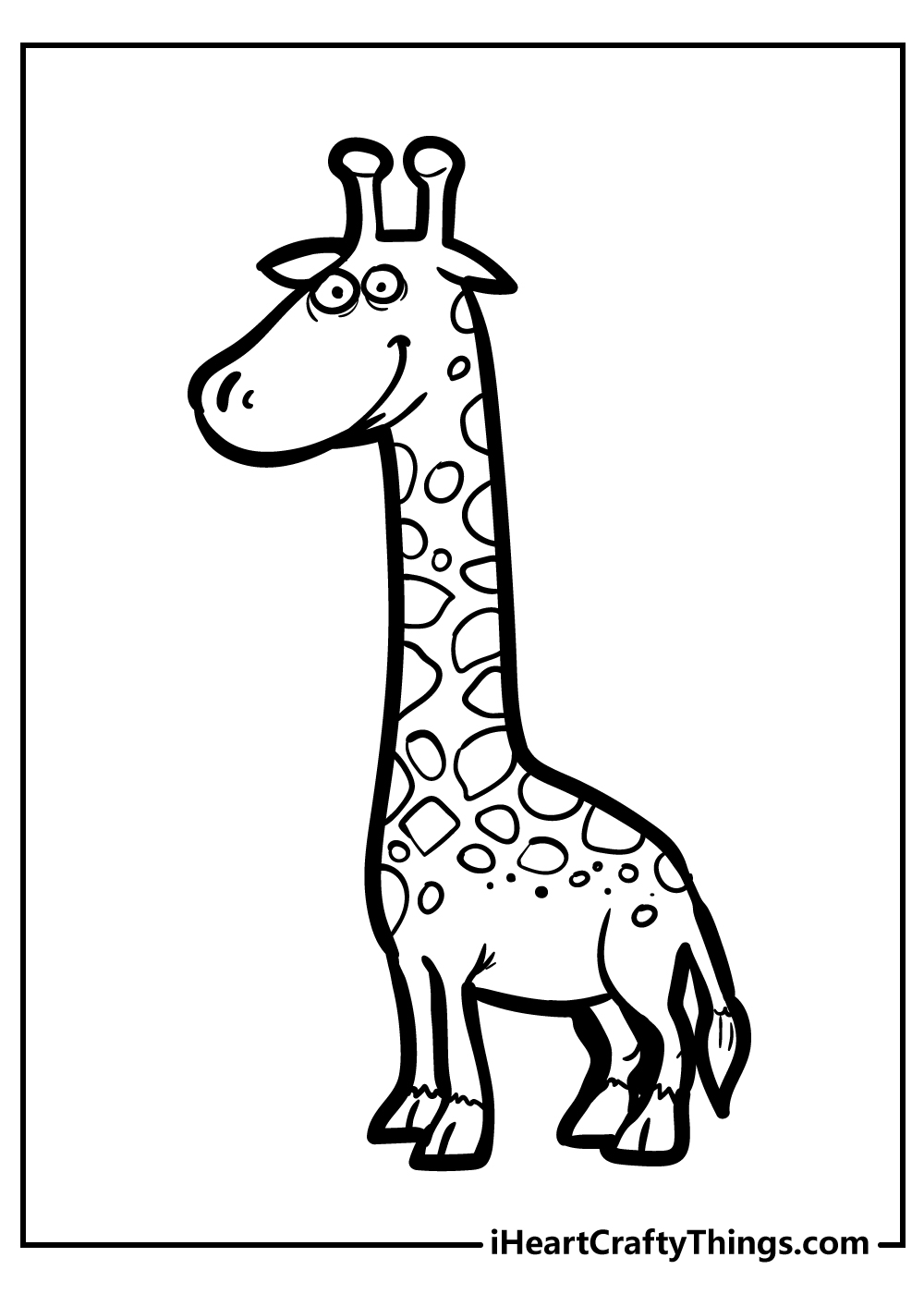 Here is another calming giraffe picture for you to color in, and this one looks especially sleepy as it has a lie down!
What's great about this page is that there are some background details such as trees and bushes that you can have fun using some great colors on.
While there are some nice background elements, there is also a fair amount of empty space.
You could fill that space with all kinds of amazing details and extra touches to create an even more vibrant scene! What other plants, trees or animals would you add to the picture?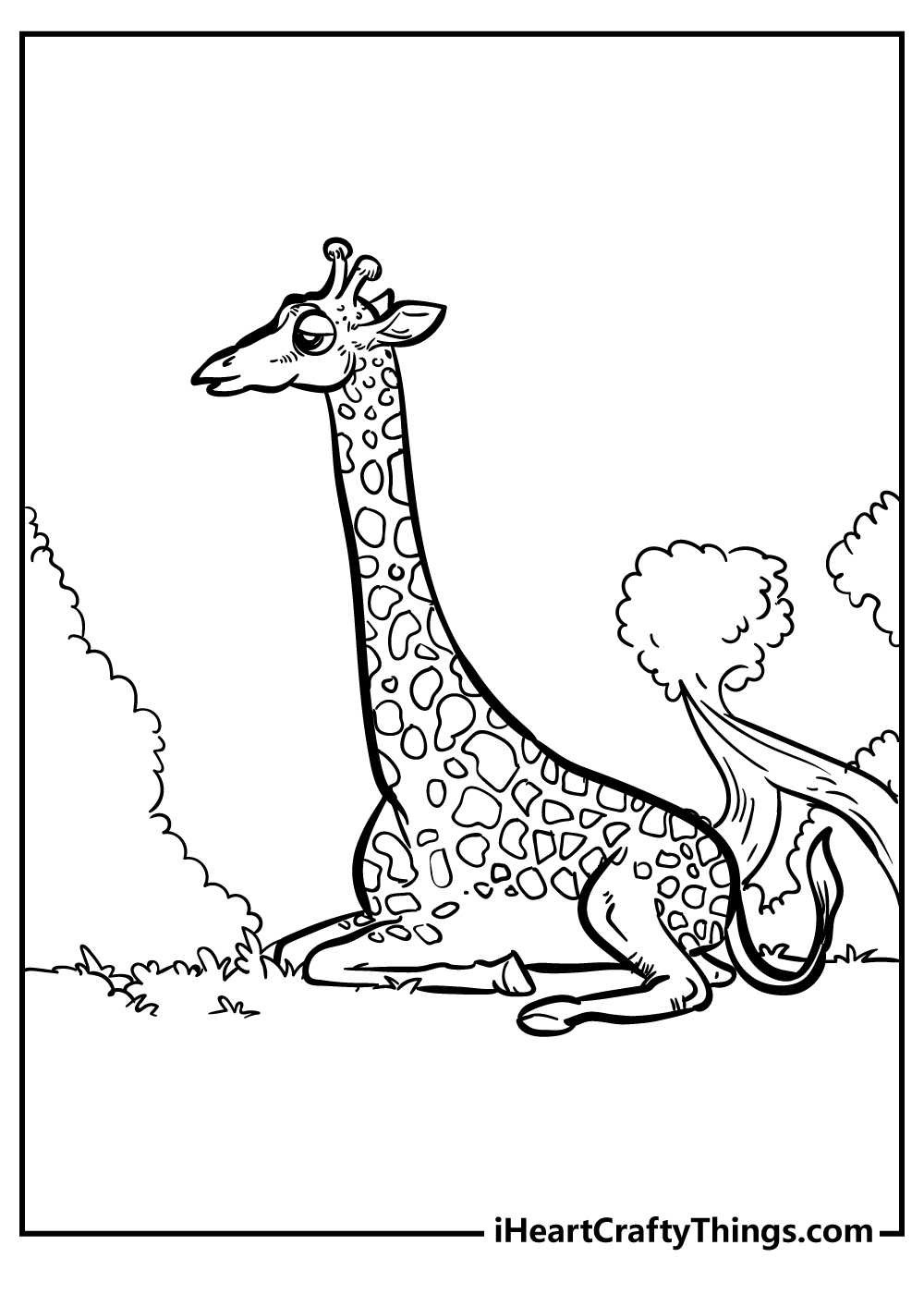 The next page in our collection of free giraffe coloring pages for kids features a very calm and cute giraffe.
It is looking like it is deep in thought, and it makes you wonder what it could be thinking about!
There are a few background details here, but you could again take it even further by creating an even more involved background setting.
You could draw all sorts of animal friends or maybe create a stunning backdrop that you can then fill with some incredible colors. What will you do to finish off this page?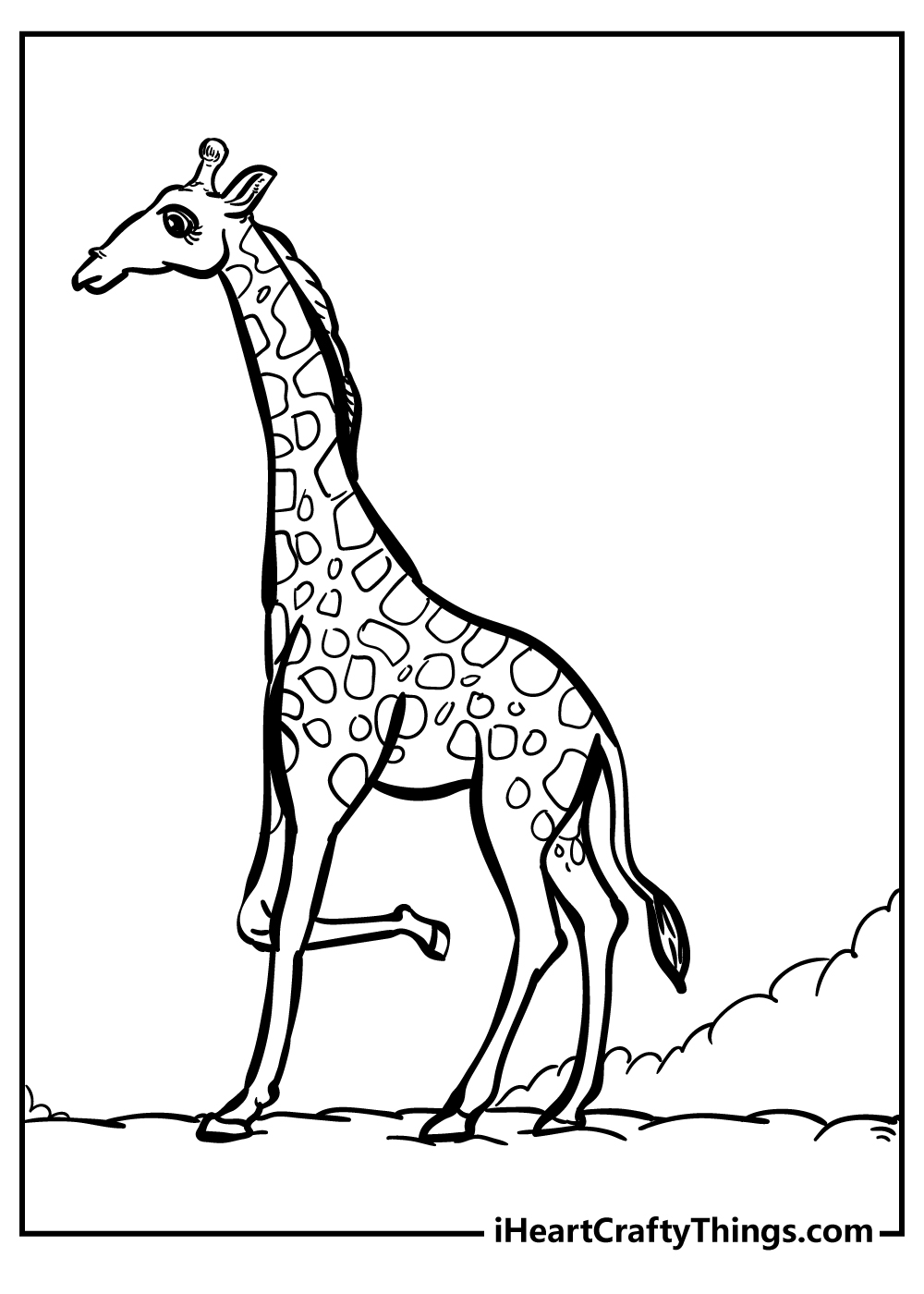 This cute little giraffe is relaxing for a snack in this giraffe coloring sheet. Mood can be conveyed really well with color choices and intensities, so I would use some milder colors for this image.
A medium like watercolor paints would also be perfect to give a softer feel to this relaxed picture.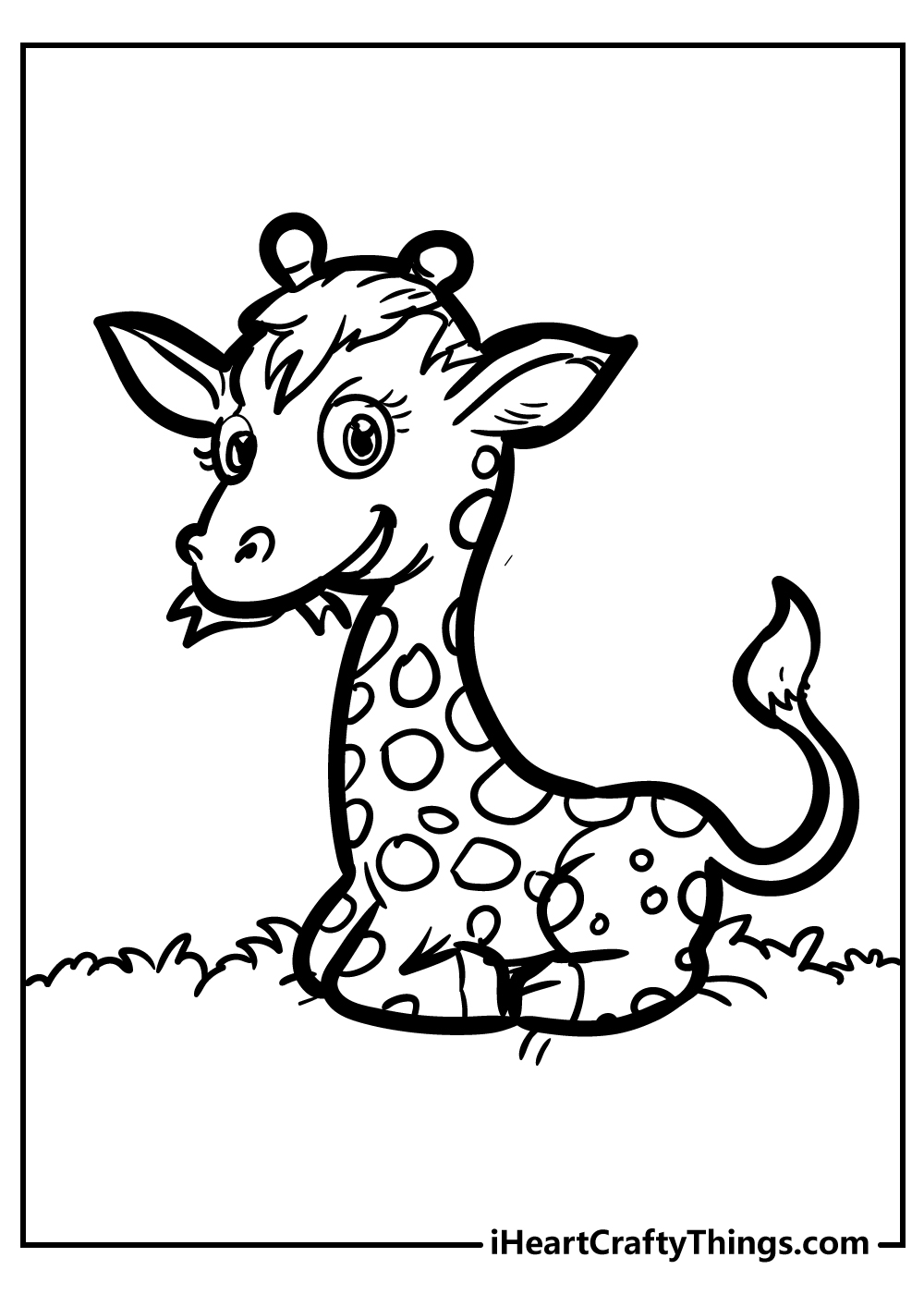 We have a confident and happy looking giraffe standing tall in this giraffe coloring printable! This one contrasts the calm, relaxing giraffe in the last page, wouldn't you say?
For this more confident giraffe, I would use some bright, bold colors for it and the background.
I would use some bold yellows and reds for the background to create a striking image to behold.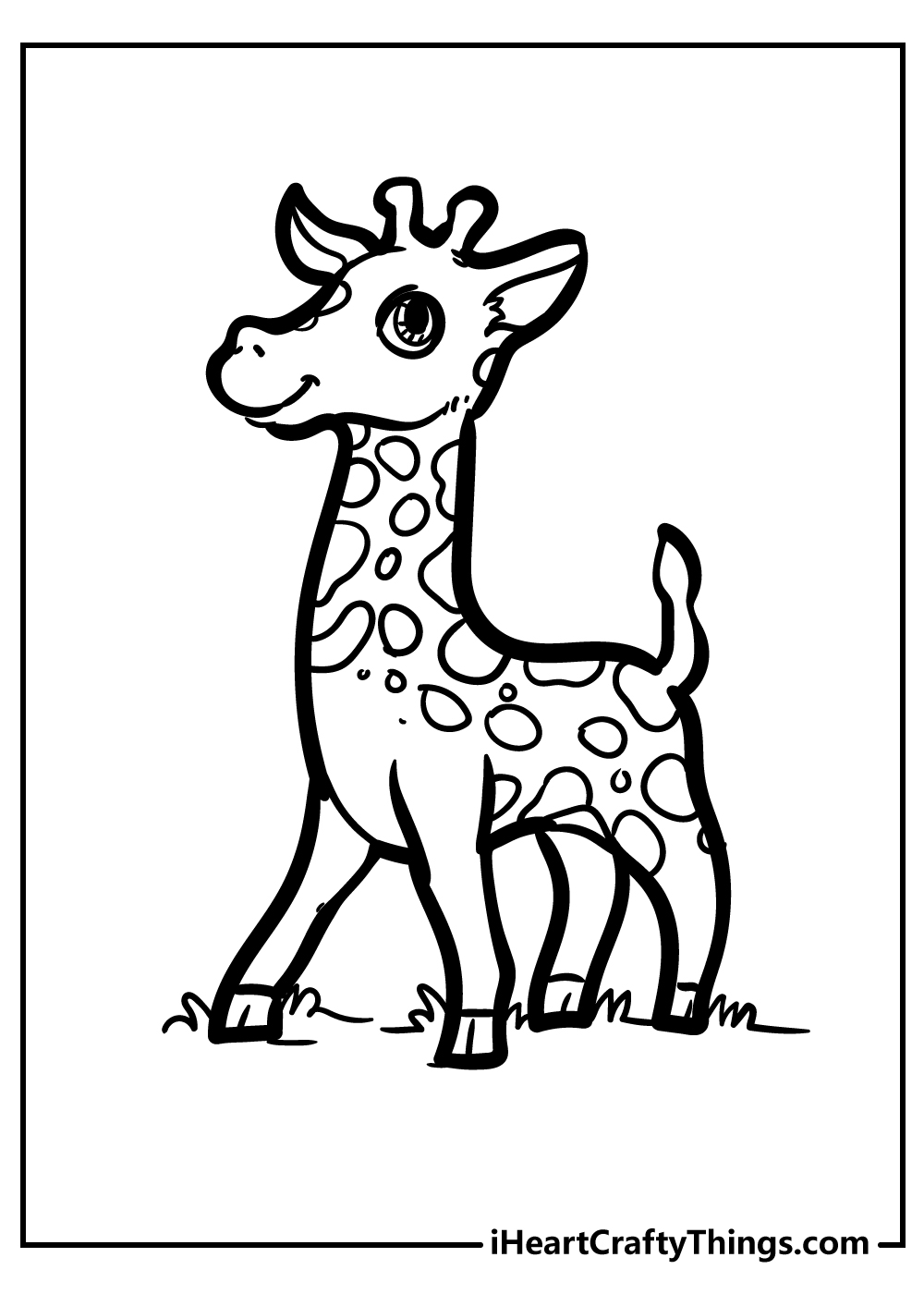 I really love the more minimalist style of this giraffe coloring page. The details are pared back a bit to give a more stylish look.
For this image, I would compliment this simpler style with some more vague color shapes for the background.
You could make some green circles to suggest bushes and brown rectangles for trees.
How will you color in this fun image?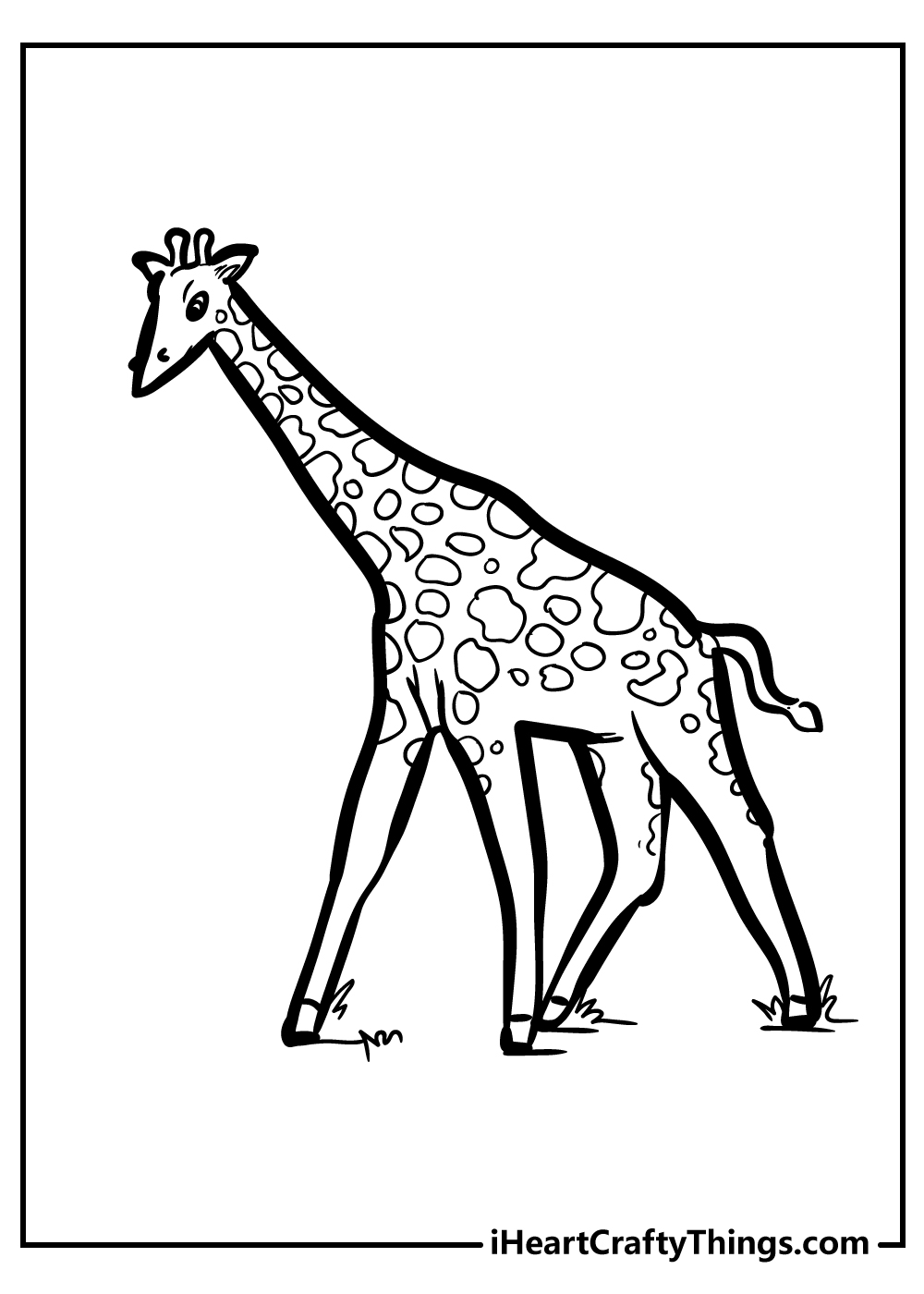 You might want to grab a treat to snack on for this next page, as this giraffe is munching on some leaves!
As much as the giraffe seems to be enjoying it, we don't think we will copy it by eating some real leaves.
It's another pose and scene that gives off a nice relaxing feeling, and you can either keep to that calm feeling with mild colors or contrast it with brighter ones.
Each approach will bring something new to the image, so you should definitely trust your creative instincts and see what happens!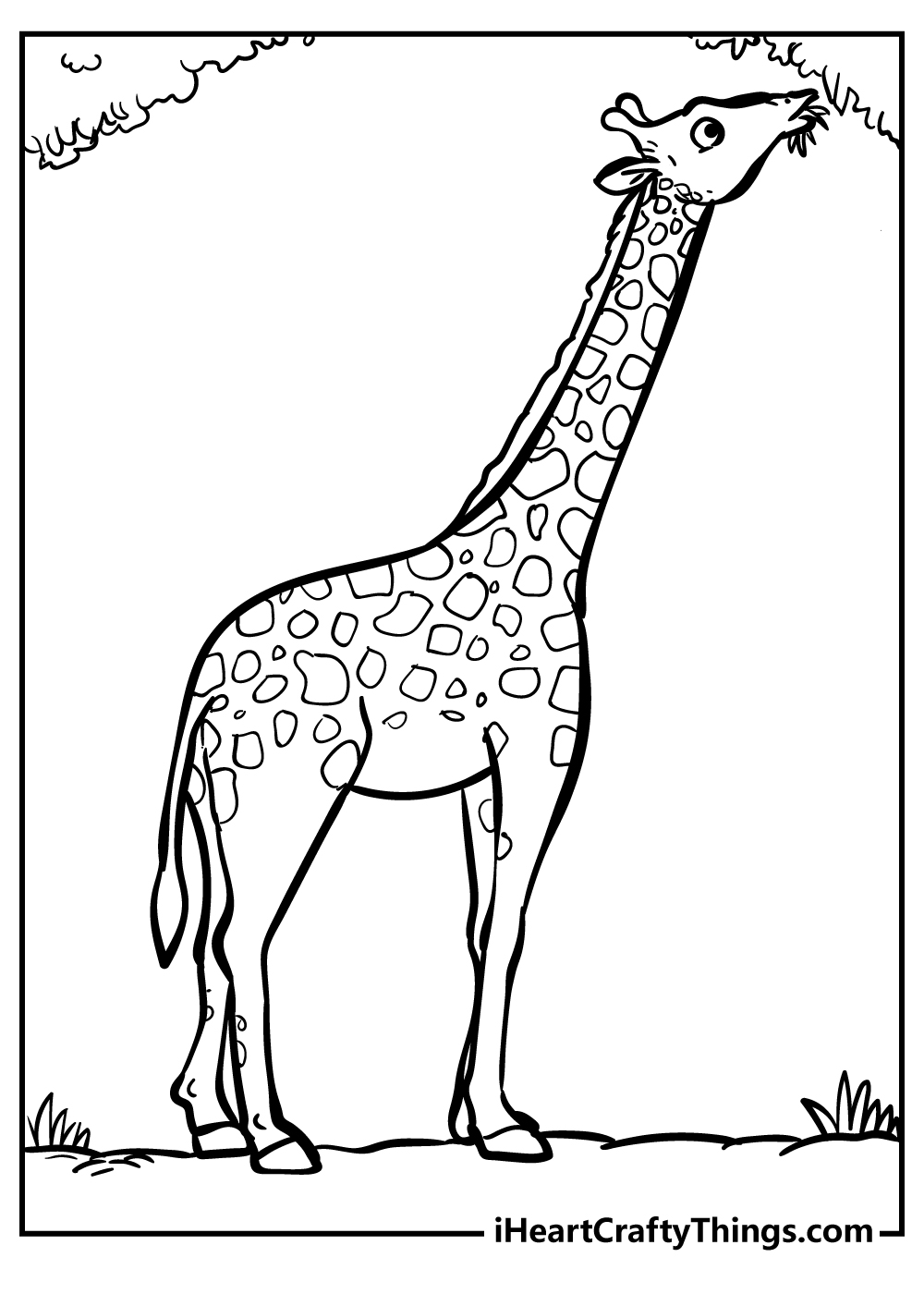 Next, there is a giraffe that is looking rather surprised by something! What do you think could be causing this reaction?
If you wanted to show what you think could be causing it, you could create a fun little scene to explain the scenario you imagine.
You could do this by drawing more characters or other details to make a little story.
Or you could keep it simple by coloring the background details that are already there. It all depends on what you think would suit this picture best, and there are no wrong ways to do that!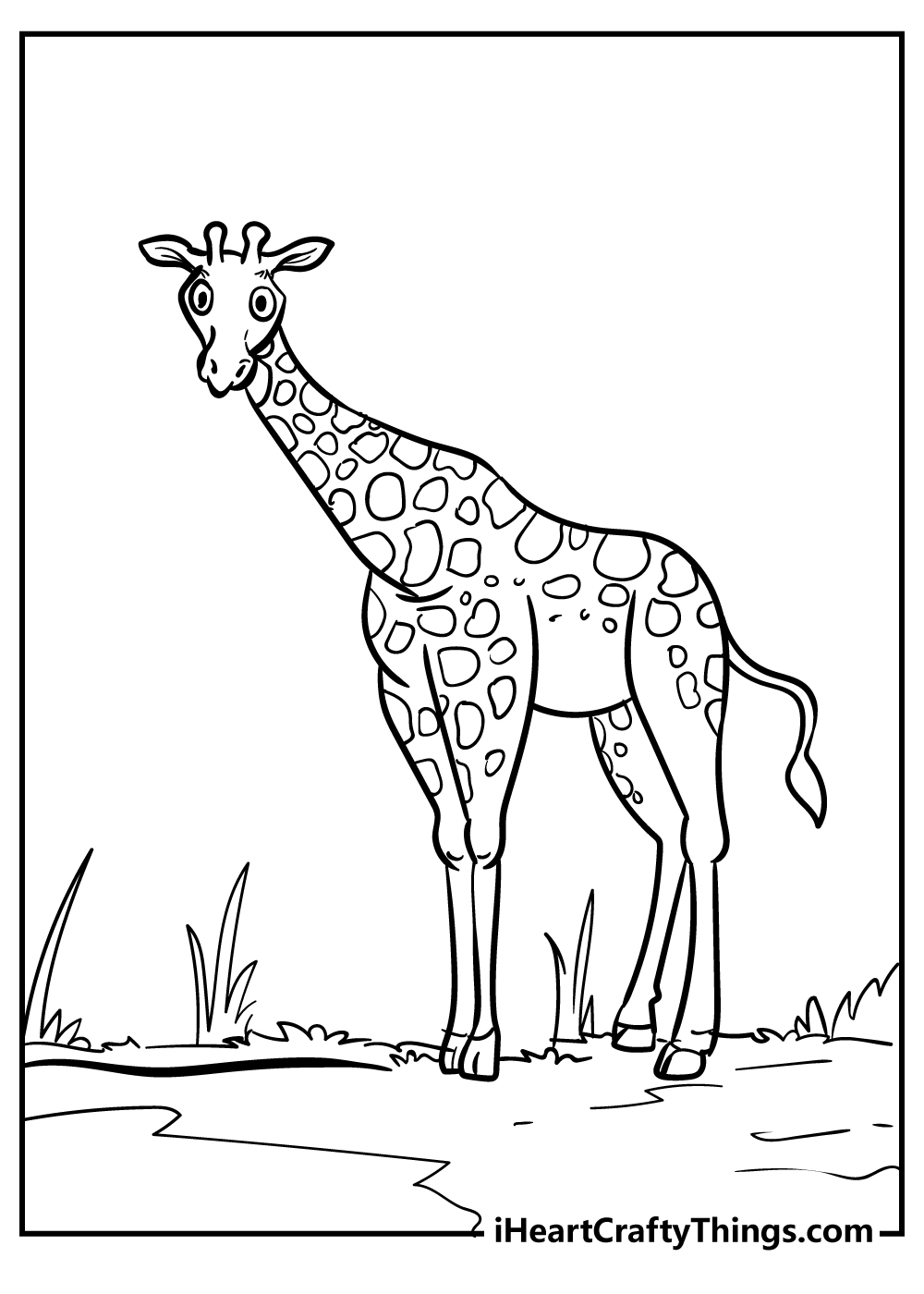 This next adorable giraffe coloring sheet shows one that seems to be struggling to stand! Maybe this is a really young giraffe that's learning to walk.
I would use some bright colored pens and markers to give this giraffe a bright, youthful look.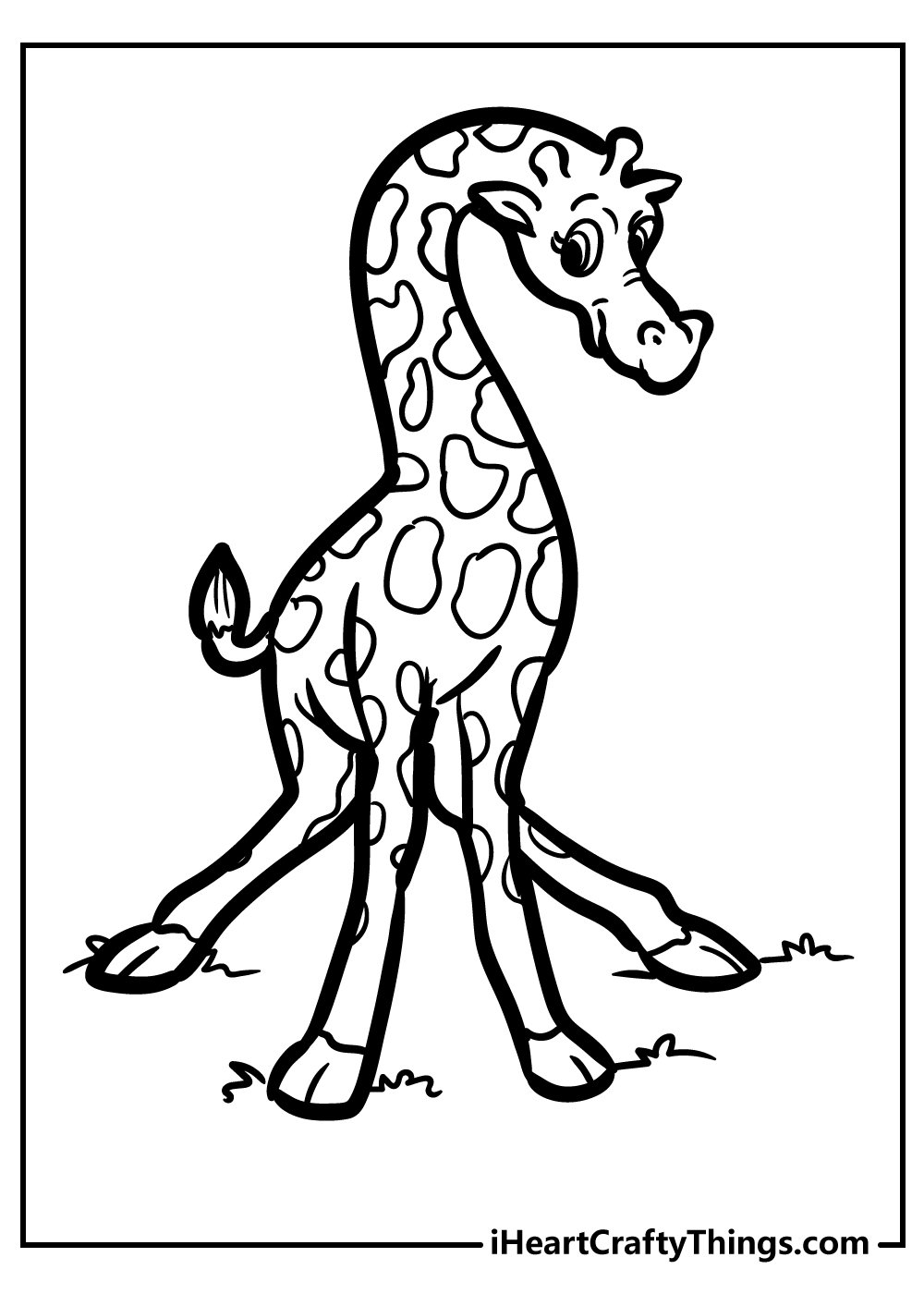 We have a real cutie for this giraffe printable! This little one almost looks like it could be a stuffed animal.
Maybe for this one, you could try out some of your favorite colors, even if they're not what a giraffe would be colored like.
I would use a light blue with green spots on this one to make it look even more like a stuffed animal.
What color scheme will you choose?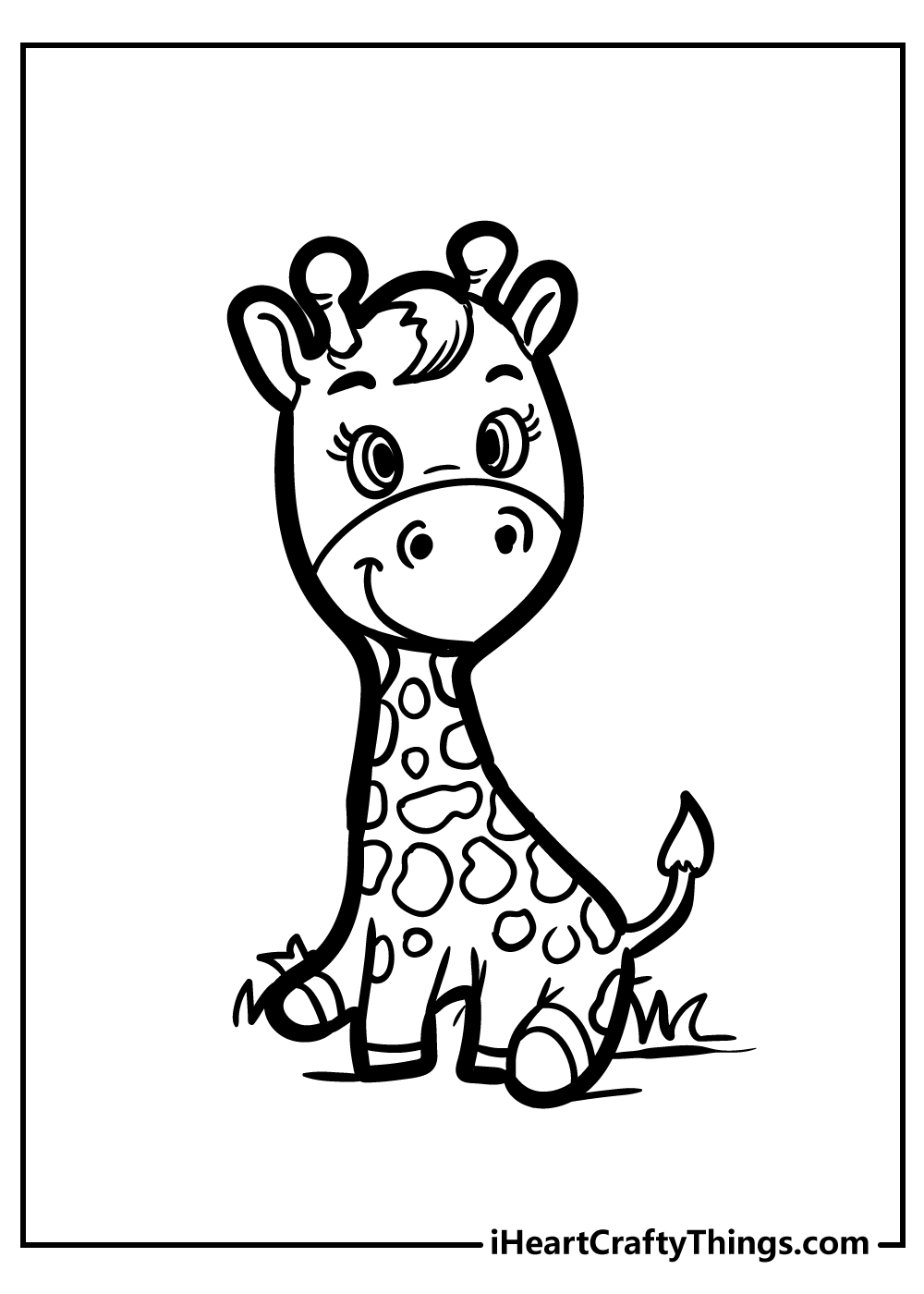 We have another calm and relaxed scene of one of these incredible animals enjoying a leafy snack for this next giraffe coloring printable.
This giraffe is so tall that it has to really crane its neck to get to those precious leaves, and it really shows off just how unique the giraffe is.
The sky is big and blank behind this giraffe, and that gives you the freedom to decide how you want it to look.
You could use some beautiful blues with some clouds, make it grey and rainy or maybe go for an orange sunset for just a few ideas.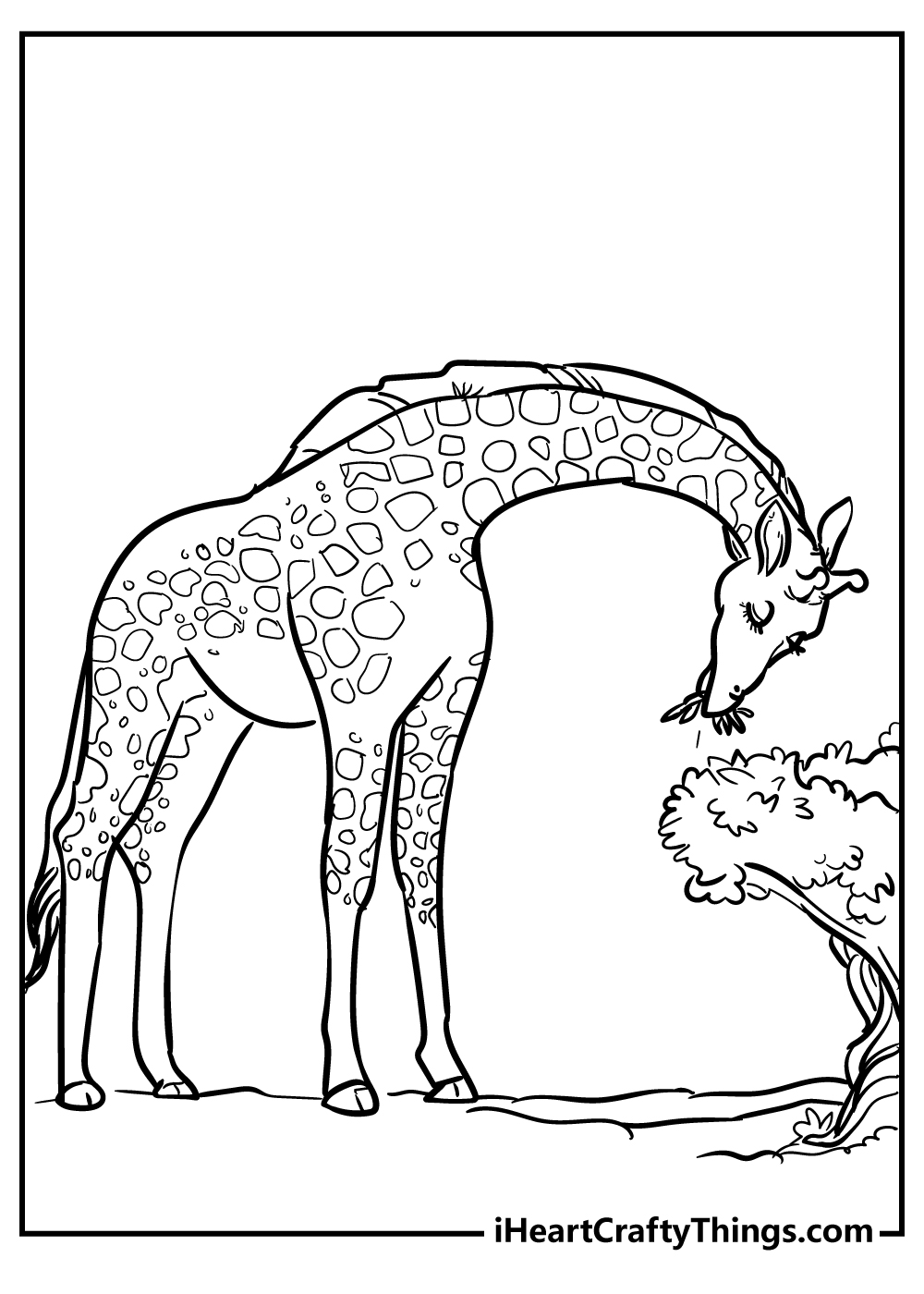 We're keeping things simple for this next page the focus is entirely on the giraffe, and we get a great look at all of the spot details and other elements of this design.
When filling in the background, you could keep to some simple colors, or you can draw other details, objects and elements that you can then color as well.
You're in charge of how this page will look, and you can have a lot of fun trying out different ideas!
By printing out multiple copies of this free page, you can experiment even more and find out what works best for you.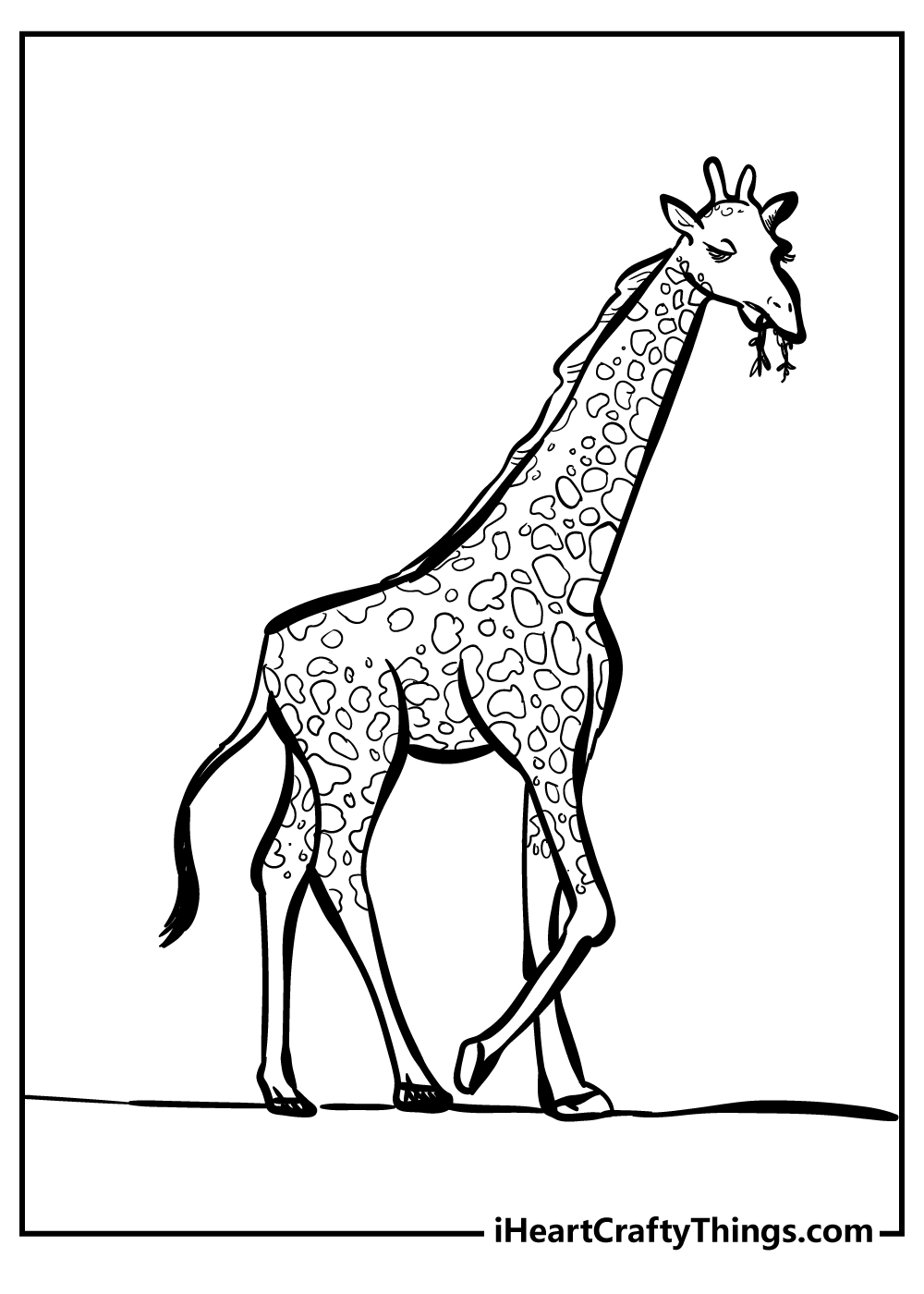 This next giraffe coloring page has another happy looking giraffe! This one is striking a fun pose for us, and I think it would once again look great with some nice happy colors.
I would use a solid dark blue for the background of this one, but I wonder what you will choose for the background!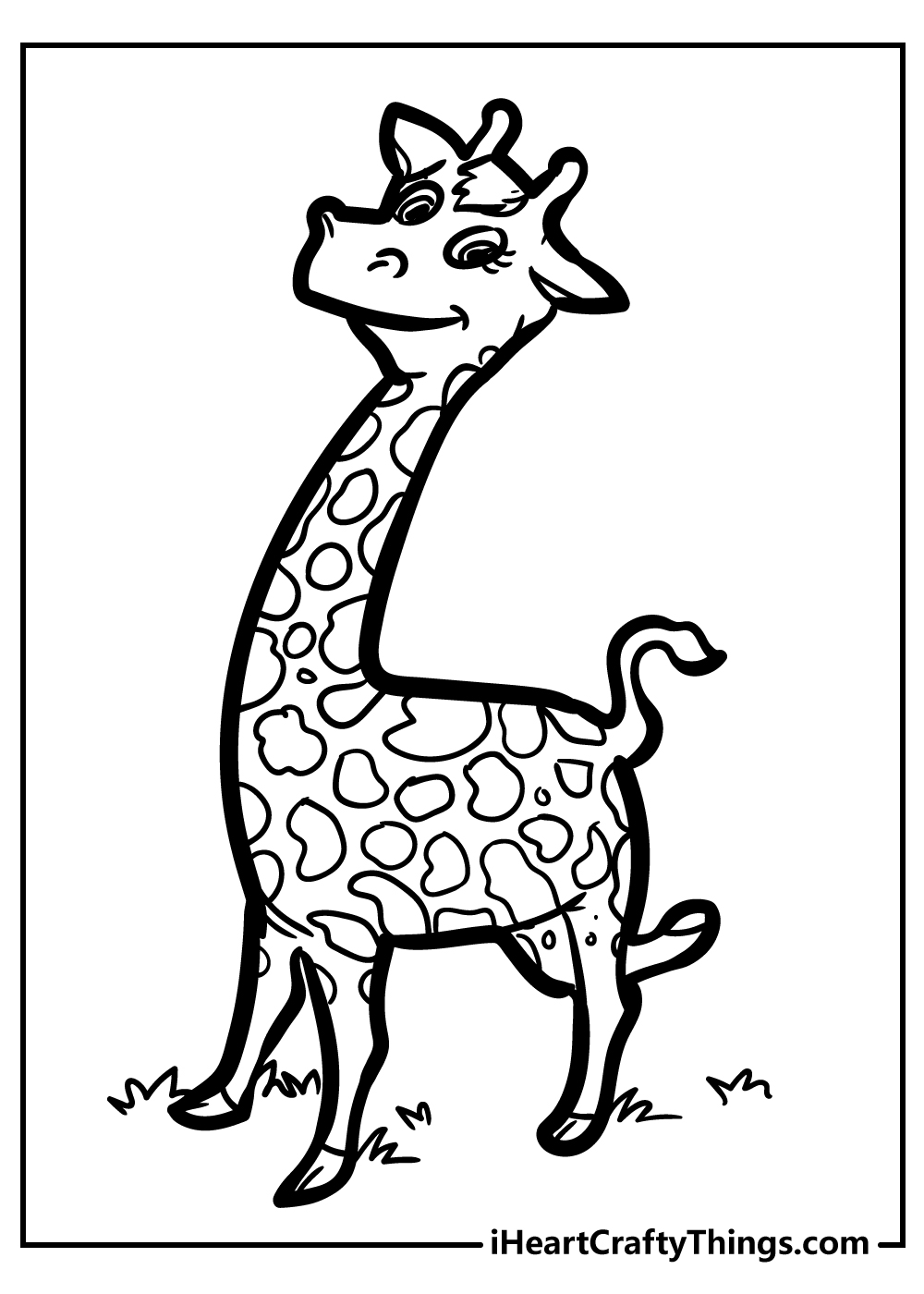 It seems to be a pleasant day out in this free giraffe coloring sheet. This giraffe is looking like he's in a great mood! I think it would be fun to draw in some friends for this giraffe.
Maybe you could draw in a branch nearby that has a cute monkey hanging off it.
How will you portray this happy giraffe?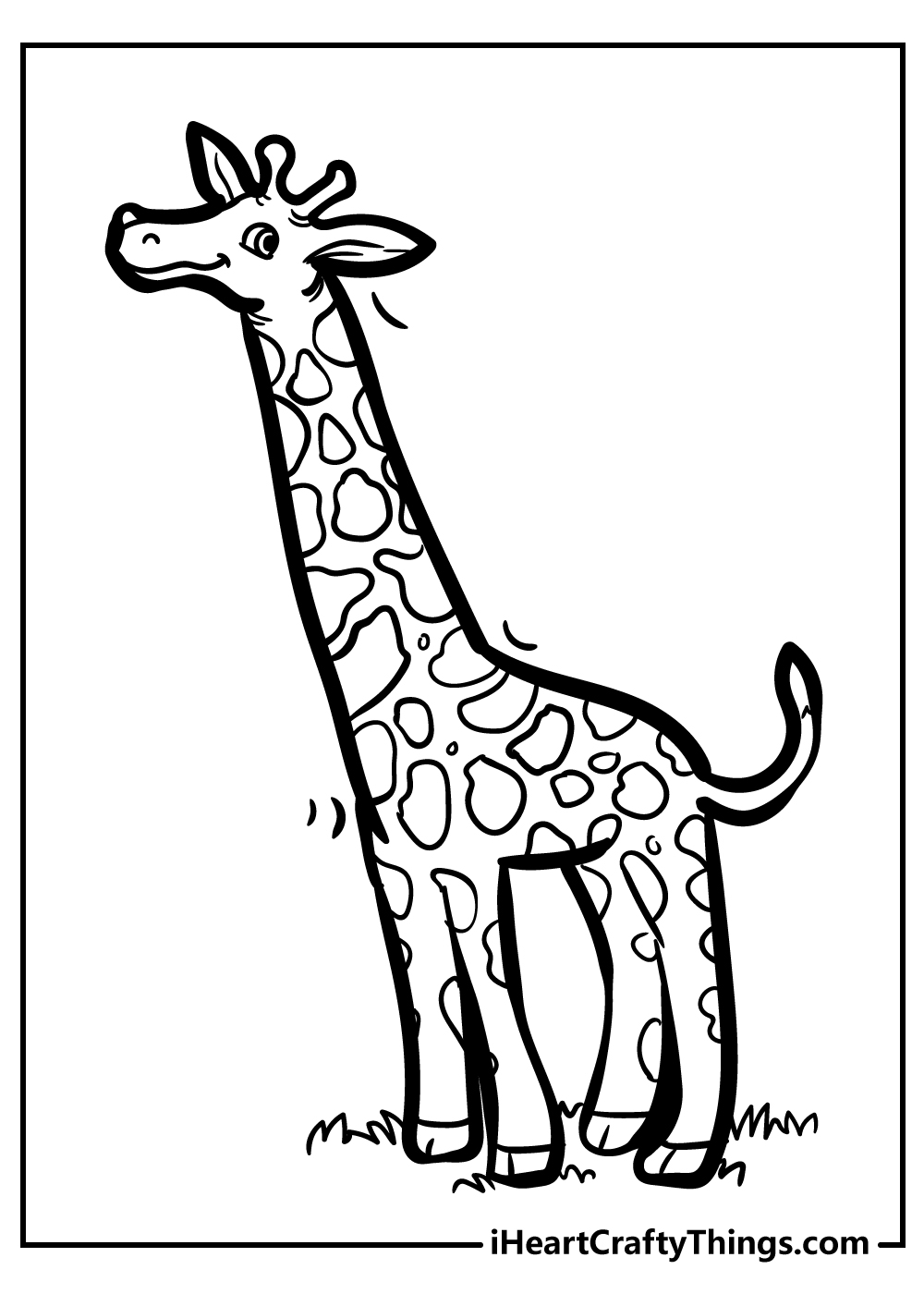 This next giraffe is just so cute! It looks like it could be a younger one, and it has such a happy look on its face.
For this one, if we were to color it in we would use some bright and vibrant colors done with some colored pens and markers.
These kinds of mediums would also make coloring small details such as the spots and the areas in between much easier.
What color schemes and art mediums will you choose for this cute younger giraffe?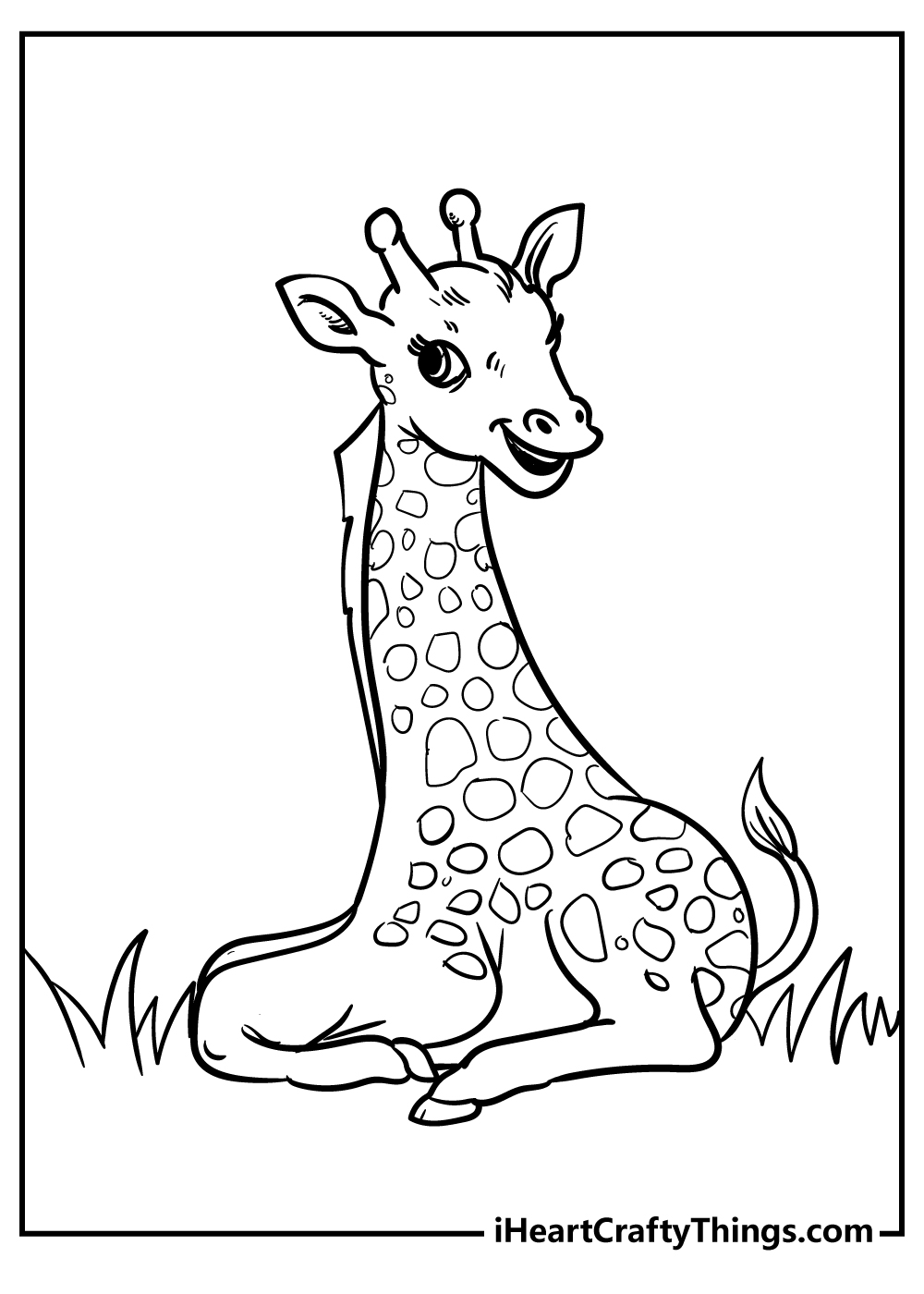 For this giraffe coloring page, we have another cute younger one for you to color.
There are also some nice background details here such as bushes and clouds, and these allow you to use a nice range of different colors.
You have many ways that you could color this page even if you don't add any extra details of your own, but if you do add some you will have even more!
We can't wait to see the incredibly creative ways you bring some colorful life to this adorable depiction of a giraffe.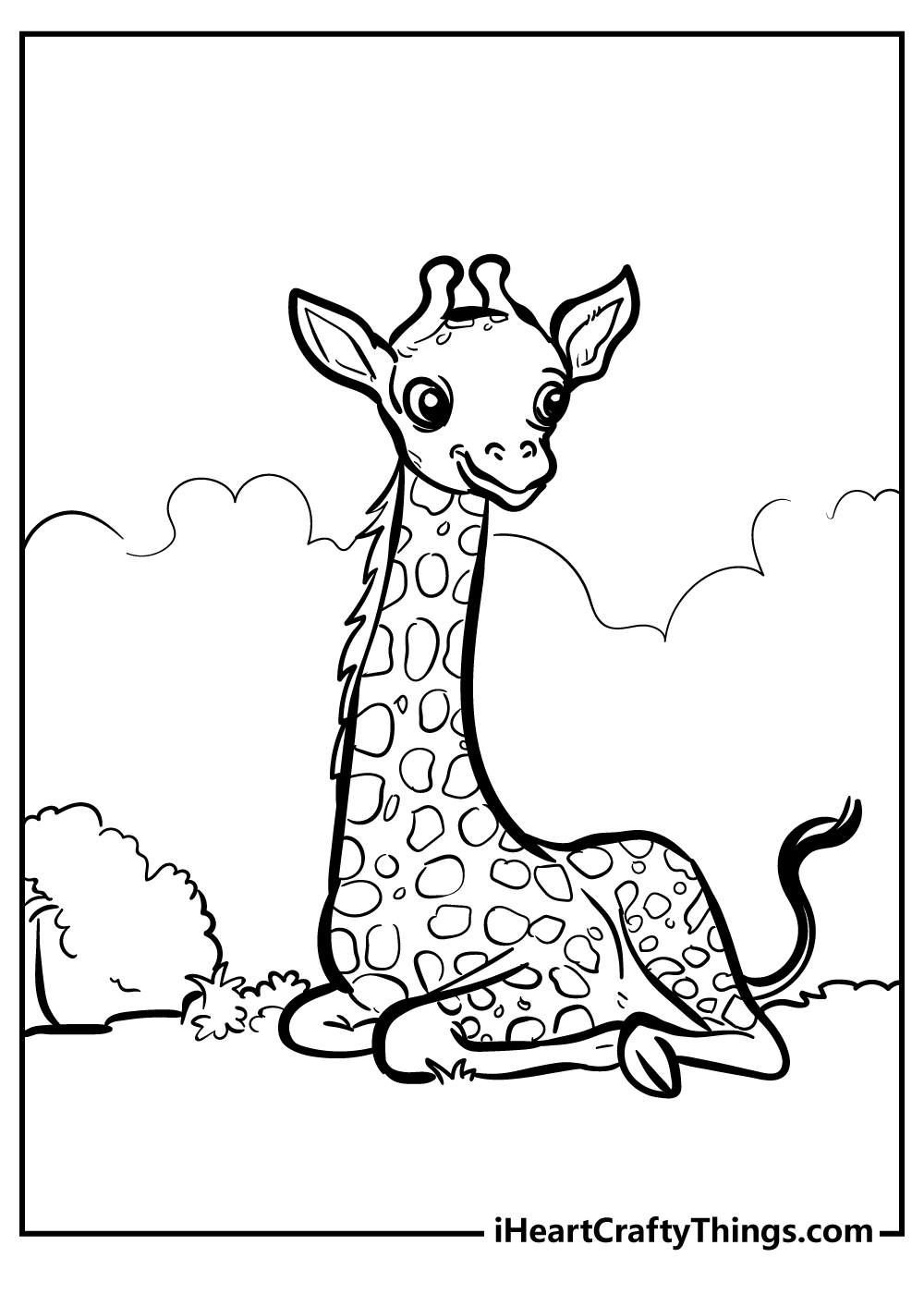 A playful new friend is poking out of the trees in this adorable giraffe printable! This one looks very friendly and happy to see you, and it's popping up to say hello.
For this image, I would use a nice bright blue for the sky and the brightest green I have for the leaves.
I bet that would finish off this friendly new pal perfectly!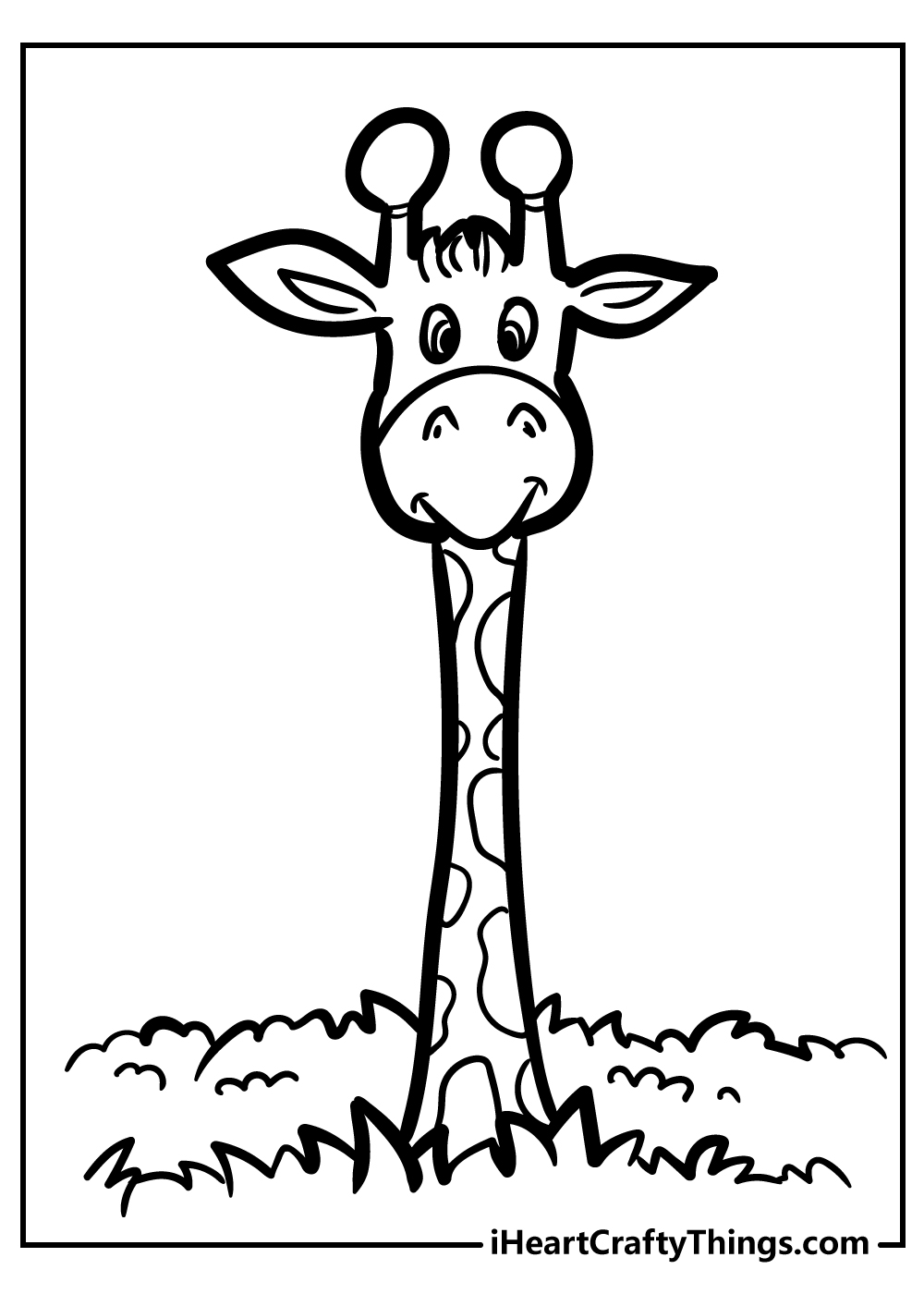 This baby giraffe looks ready to take on the world in this giraffe coloring page. It's standing as tall as it can surveying the world confidently.
This is a picture that I bet would look beautiful with some nice acrylic paints for some color vibrancy.
Any mediums you have would look great too, however! We can't wait to see how you color in this baby giraffe.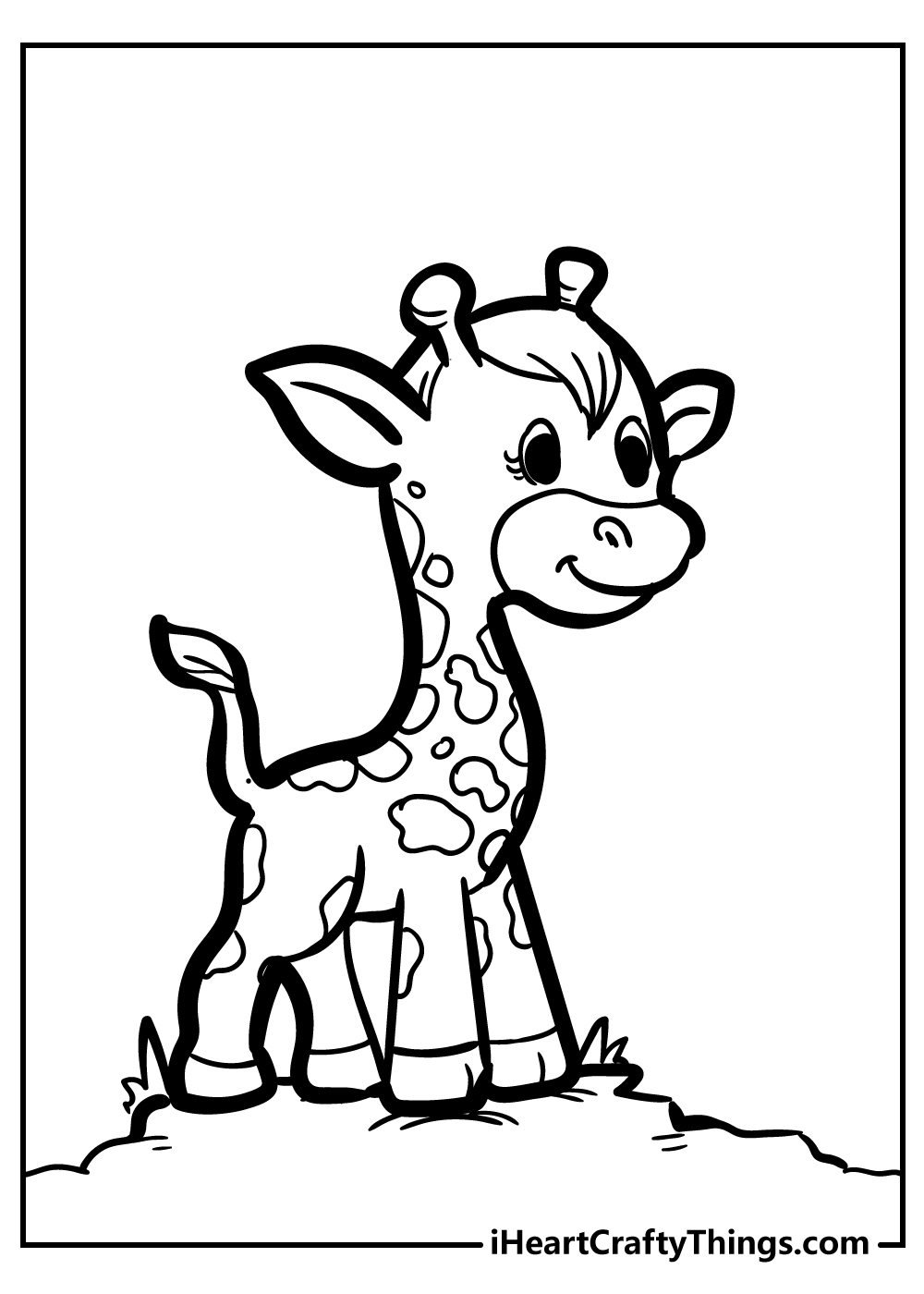 We have another incredibly cute giraffe for you to meet in this giraffe coloring sheet! Perhaps for this picture, you could stray away from the giraffe's typical coloring to use some of your favorite colors.
Which of your favorite colors come to mind for this printable? Will you stick to a giraffe's typical coloring or go more stylistic with your color choices?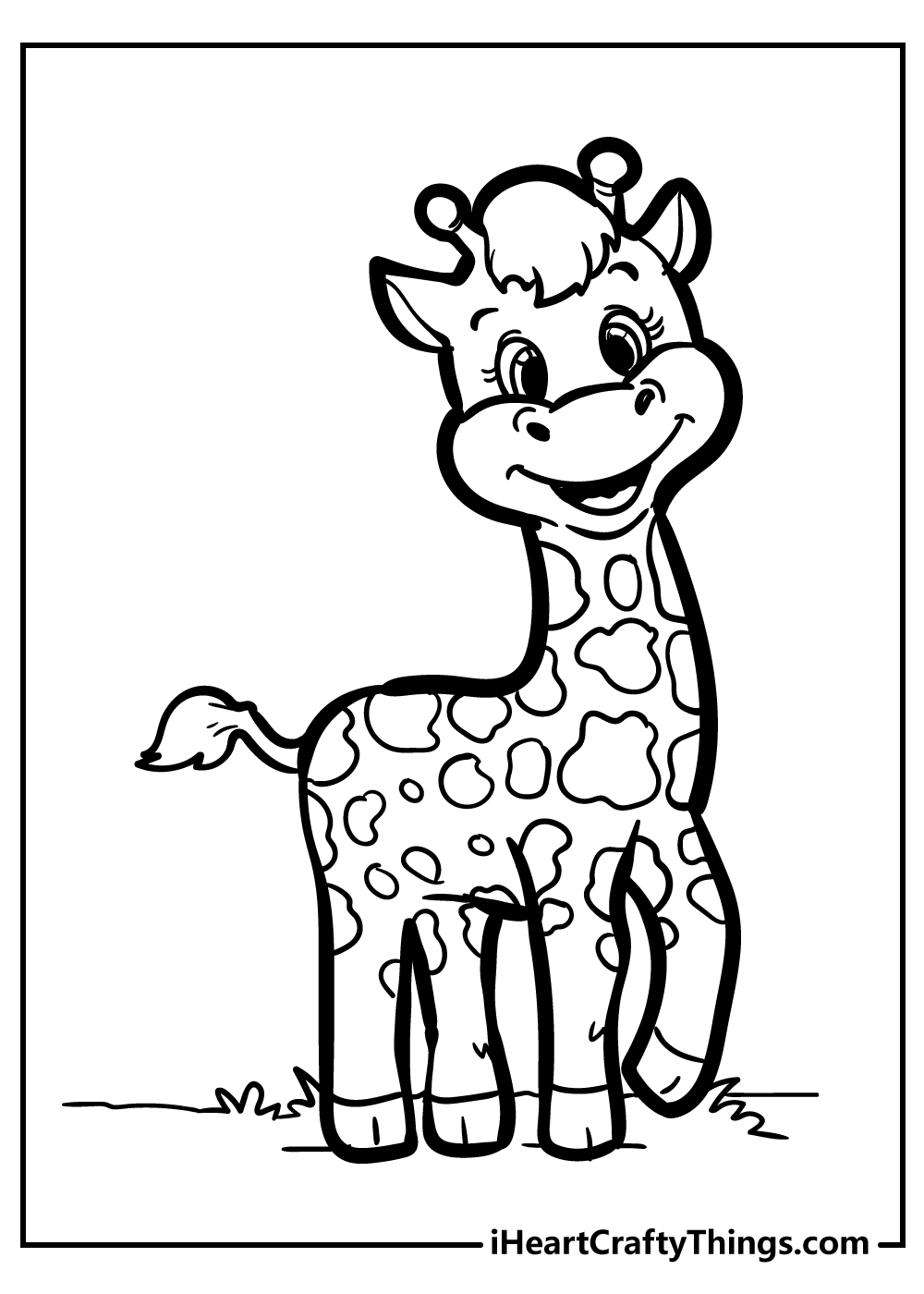 This bright and happy little one is the star of this giraffe printable.
For this one, I would use some bright and fluorescent colored markers to create colors that will pop off of the page for this happy little giraffe.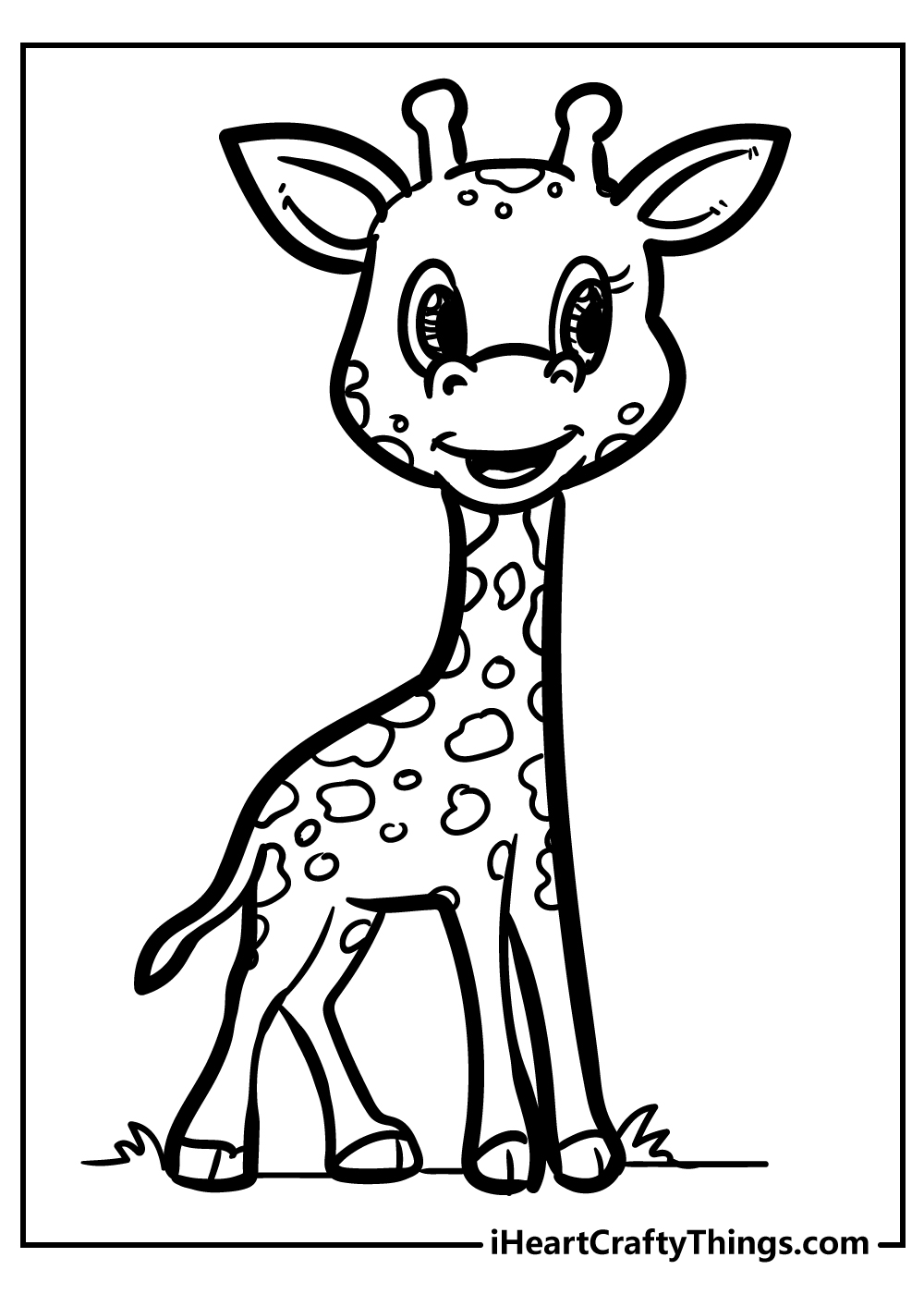 It's playtime in this giraffe coloring page, as this one is leaping up in the same way that a puppy might! Maybe for this picture you could draw in some colorful birds and smaller creatures that this lovable little giraffe could be playing with.
What kinds of animal friends do you think this giraffe would be messing around with?
This smiling giraffe is up next for you to color in this giraffe coloring sheet. What colors make you most happy to look at?
I think it would be great to use colors that bring you joy for this coloring page. Maybe you could make each spot on the giraffe a different variation of these favorite colors!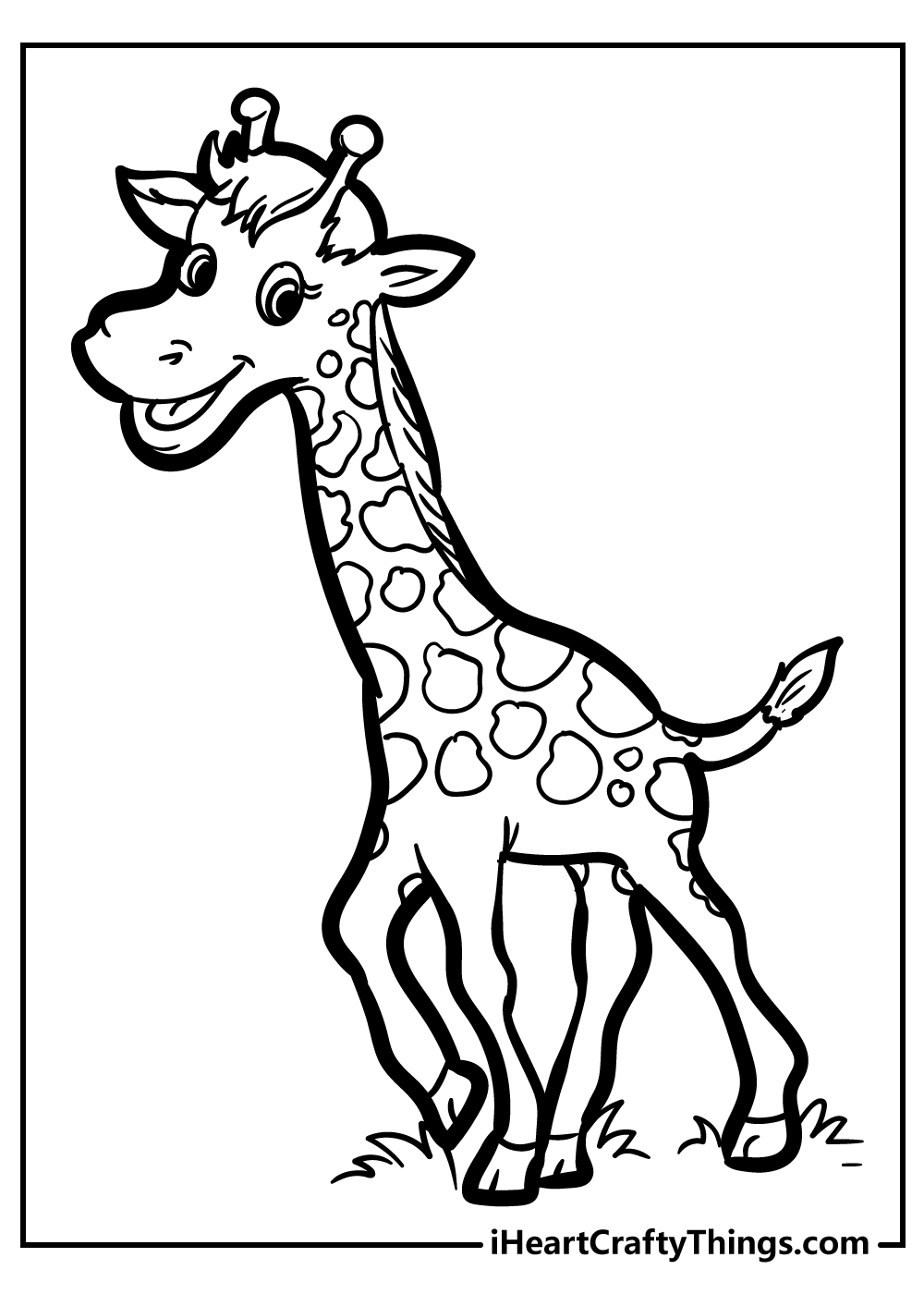 It looks to me that the giraffe in this giraffe printable is up to something! There's a mischievous grin on its face, which makes me think of bright and playful colors.
I would use a combination of rich purples and greens for this picture to compliment the mood of this funny giraffe.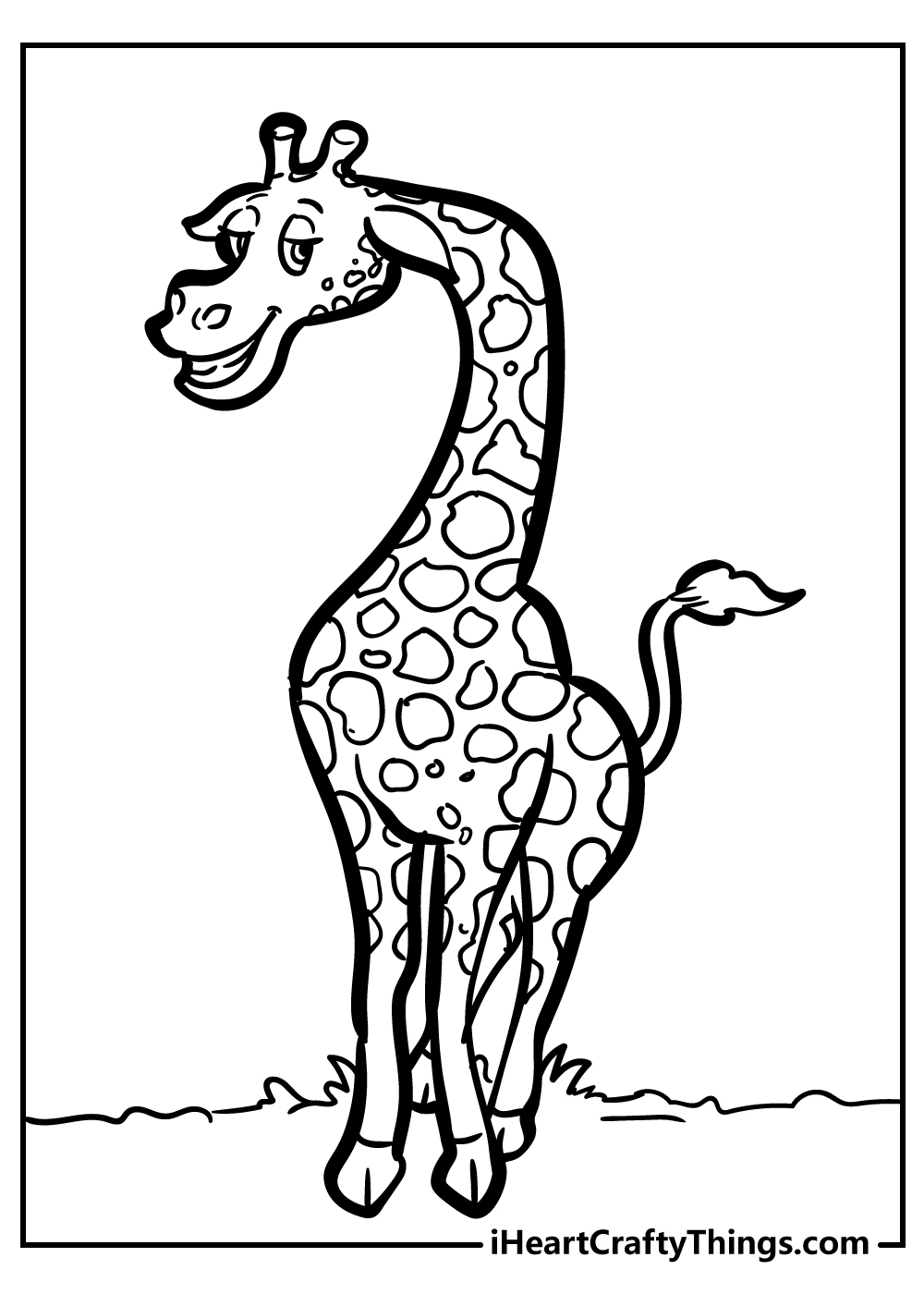 There's a look of surprise on the face of this giraffe! Perhaps you could draw in something that would cause it to make this face.
Maybe it could be a big spider hanging from a branch or a big buzzing bee flying around.
What do you think this startled giraffe has seen? We hope you'll share this giraffe coloring page to our Facebook page once you complete it!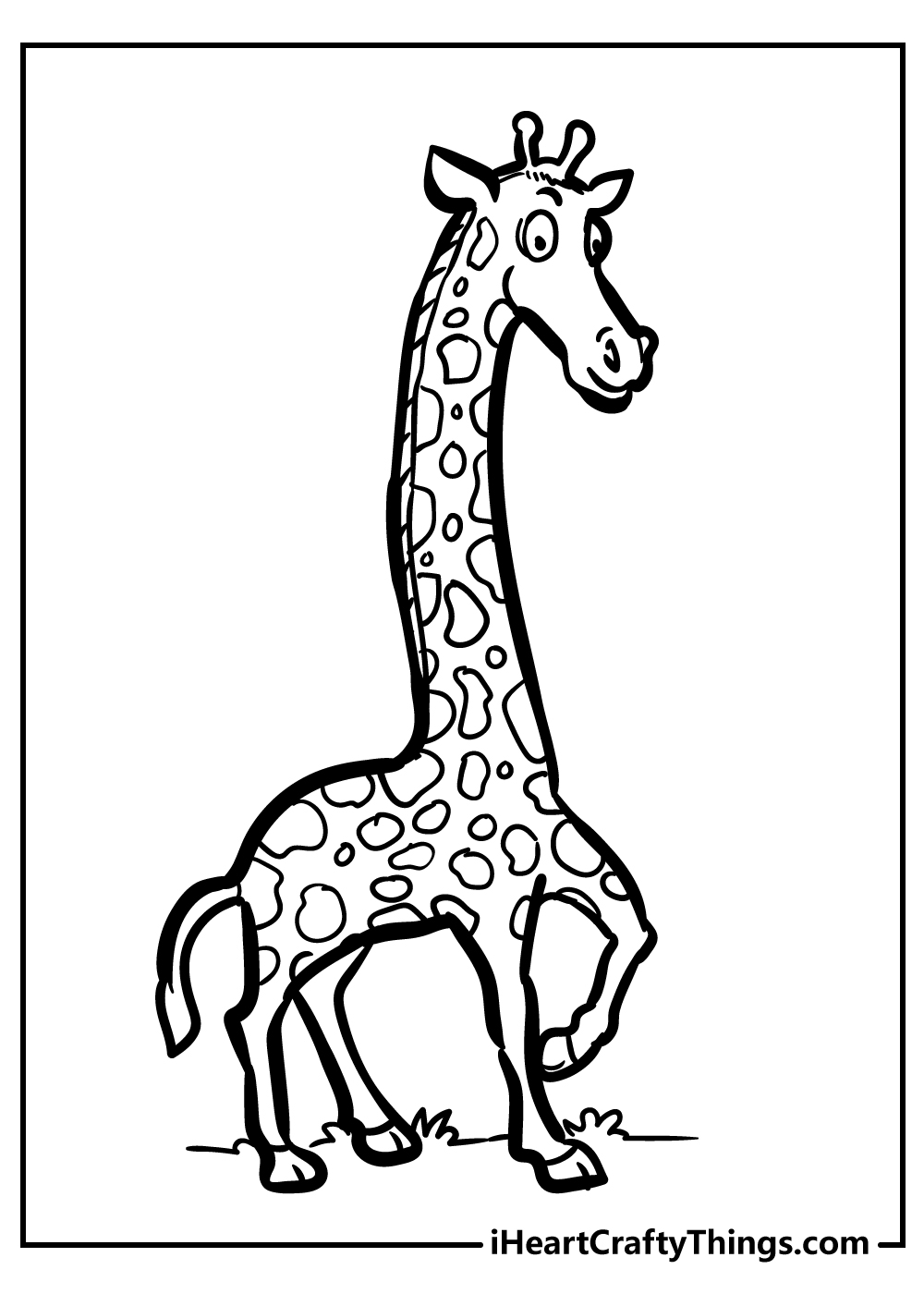 This giraffe coloring sheet shows a giraffe that looks like it's about to embark on a journey.
Maybe you could draw in a big bright, yellow sun in the background to show that it's the sunrise of an adventurous new day for this giraffe.
How will you communicate the sense of adventure in this giraffe printable?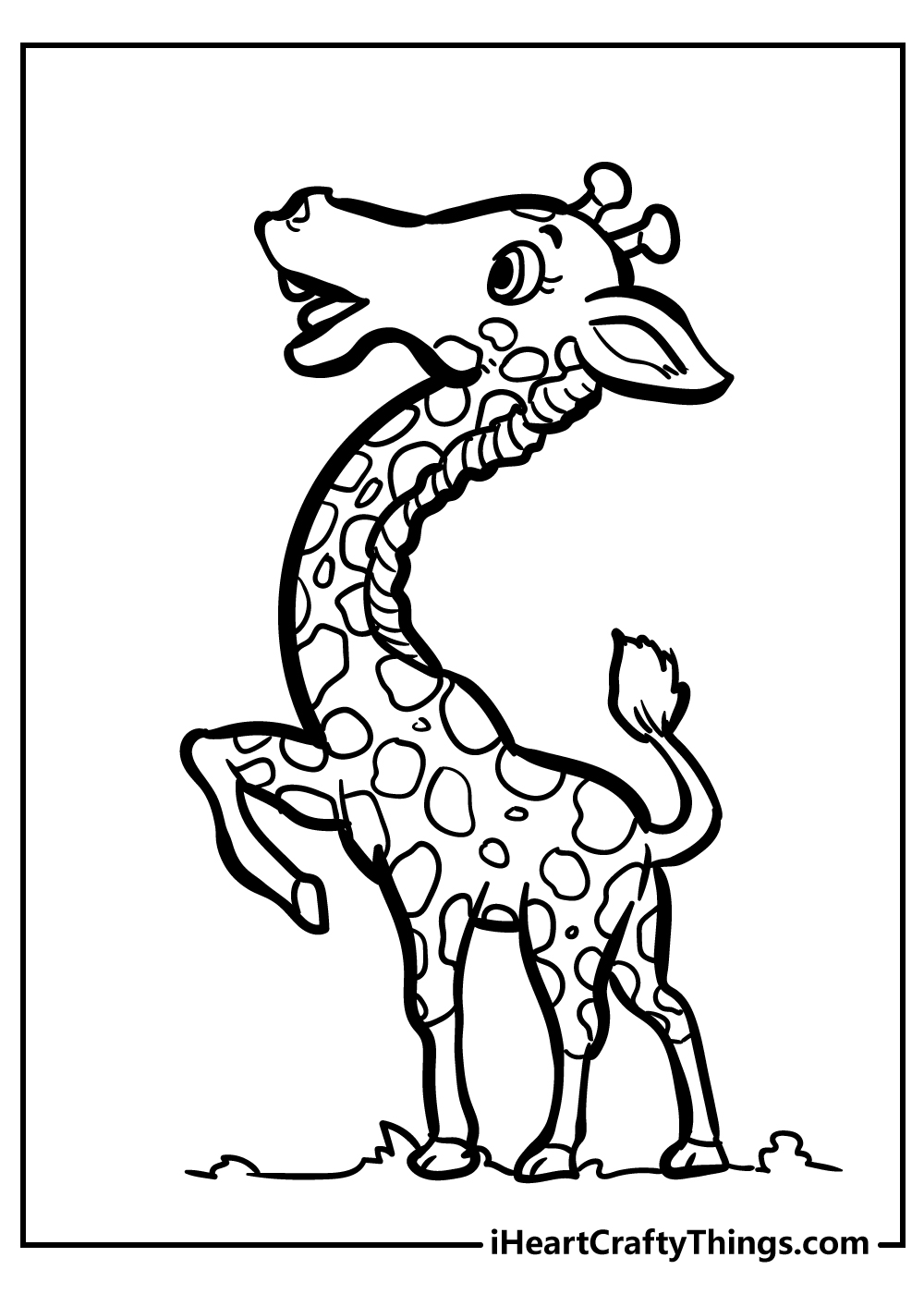 It's time to relax again in this cute giraffe coloring printable. For this cute relaxing giraffe, I would again recommend some milder colors for the sleepier mood of this image.
Using some lighter blues, greens and yellows would suit this gentle giraffe nicely.
Doing the colors in watercolor paints would especially create a softer look for this sleepy guy.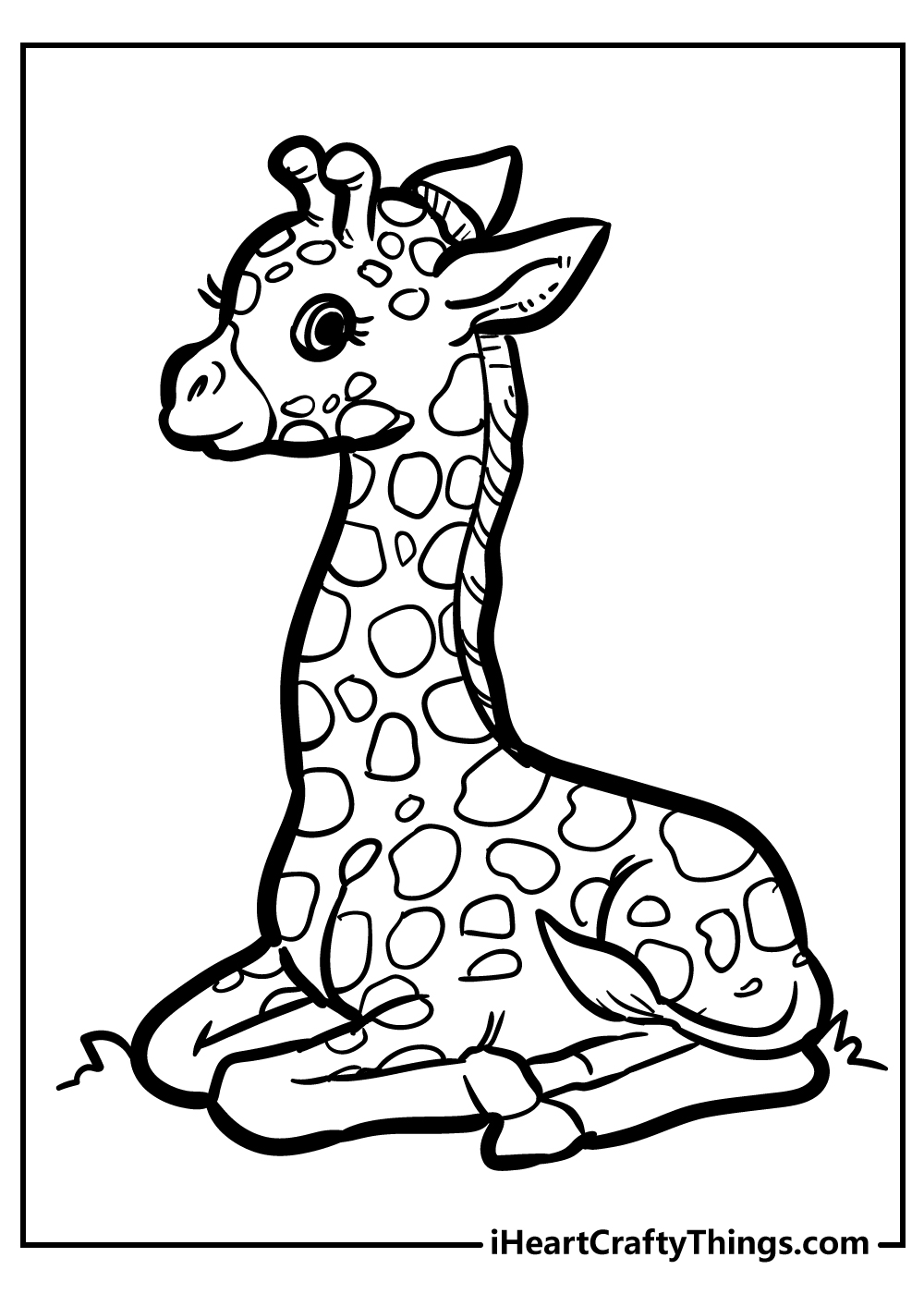 We have what looks like another baby giraffe in this adorable giraffe coloring page. There's a lot of plantlife and shrubbery in the background, so I think it would look really nice to use a mixture of as many greens as you have for it.
Using different green crayons would especially create a beautiful mixture that would suggest leaves and grass in the background.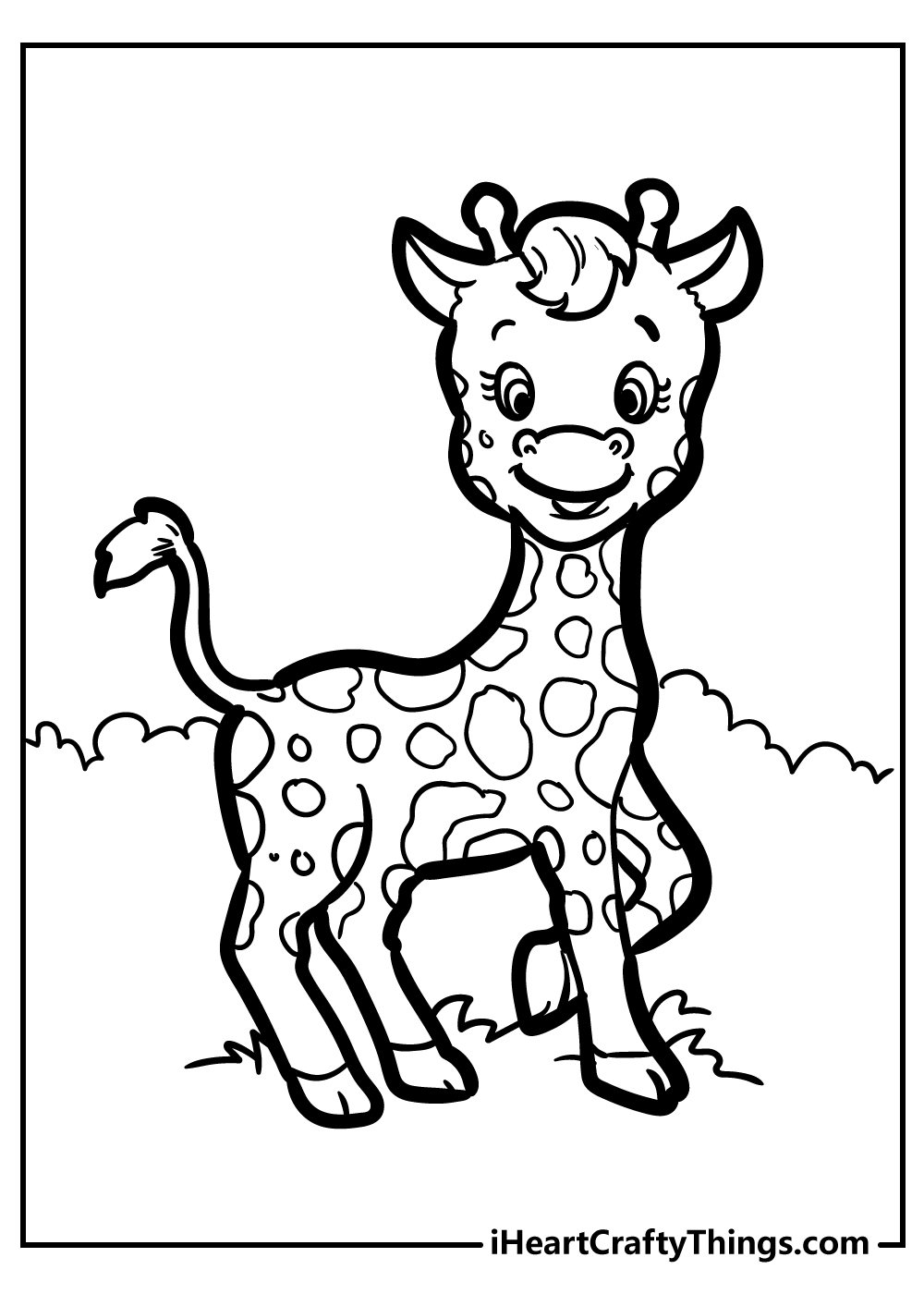 This giraffe coloring sheet has another cutie for you to color in! Maybe for this one you could draw in and color in some beautiful flowers in the background to add some splashes of bright color.
It would also create a nice scene of this giraffe hanging out in a beautiful field! Will you go for this look when coloring in the background or draw in your own details?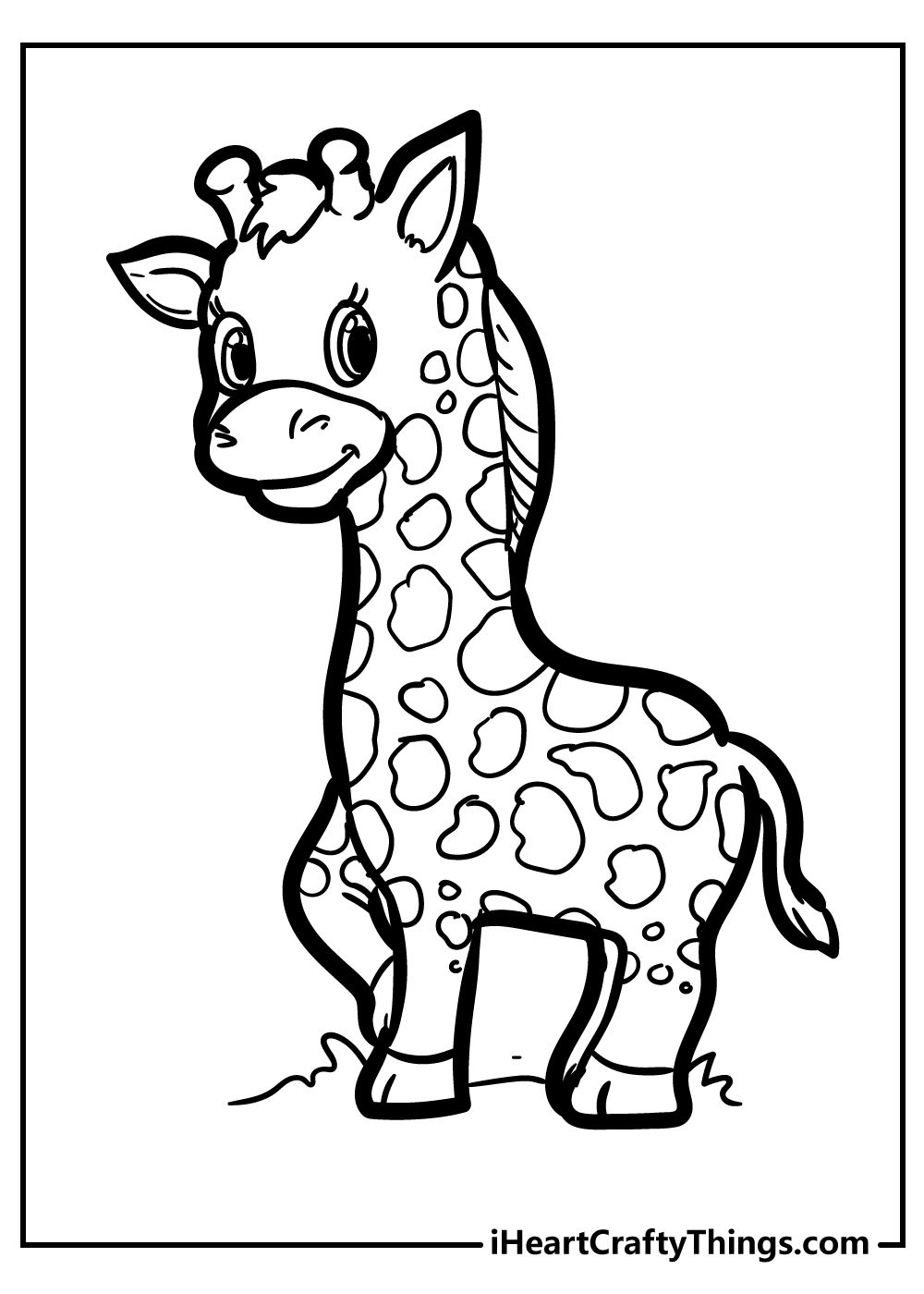 It looks like another young giraffe learning to walk in this image! For this giraffe coloring printable, I would get out my colored pens and markers to give a bright, cheerful look to this younger little giraffe.
The background is blank, so you could either do a solid color that you love or color in some nice extra details.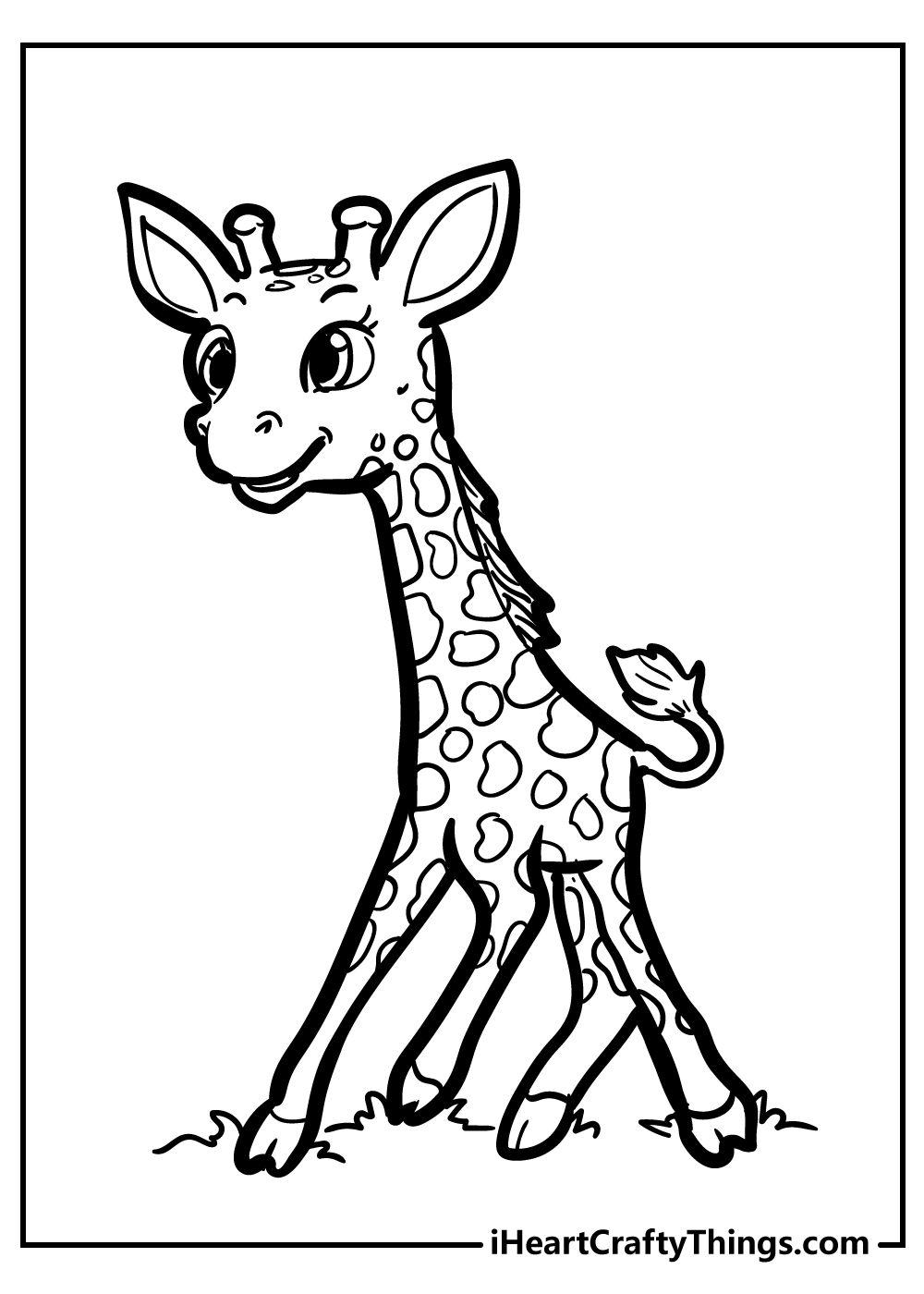 This giraffe coloring page has a bright eyed, friendly little giraffe as its star! I think that colored pencils would look really pretty for this cute giraffe.
They would especially make it easier to add some bright color details to this giraffe's expressive eyes.
I would use a bright, beautiful blue colored pencil to make the eyes stand out nicely on this one.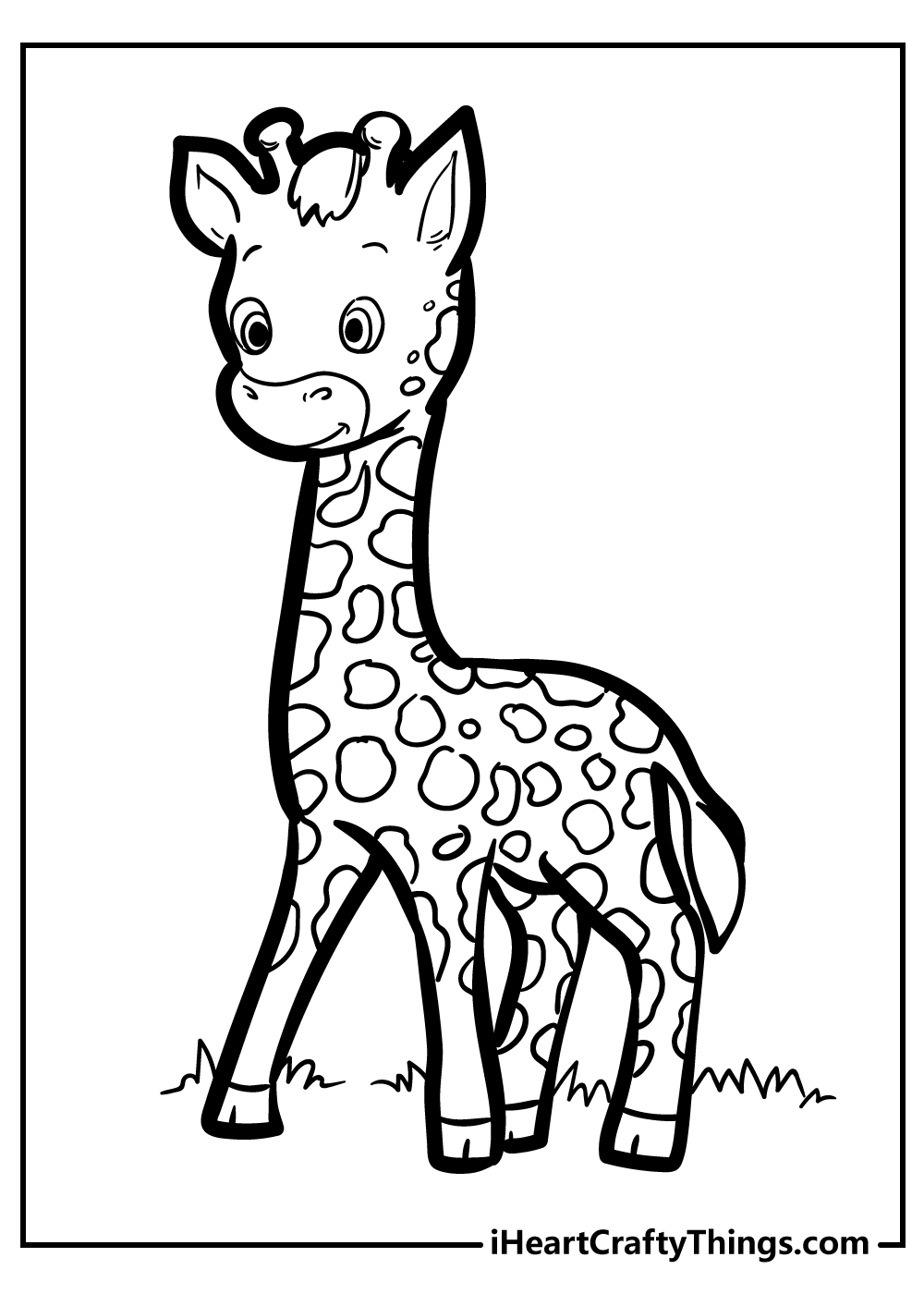 We have a giraffe that's looking a little uncertain in this giraffe coloring sheet. What do you think has made it look a bit unhappy?
For this image, I would use some darker blues and greens to create a color mood that will fit the one of this giraffe.
Like we suggested for a previous giraffe printable, you could draw in a fun extra animal or object that could show why this giraffe looks a bit uneasy.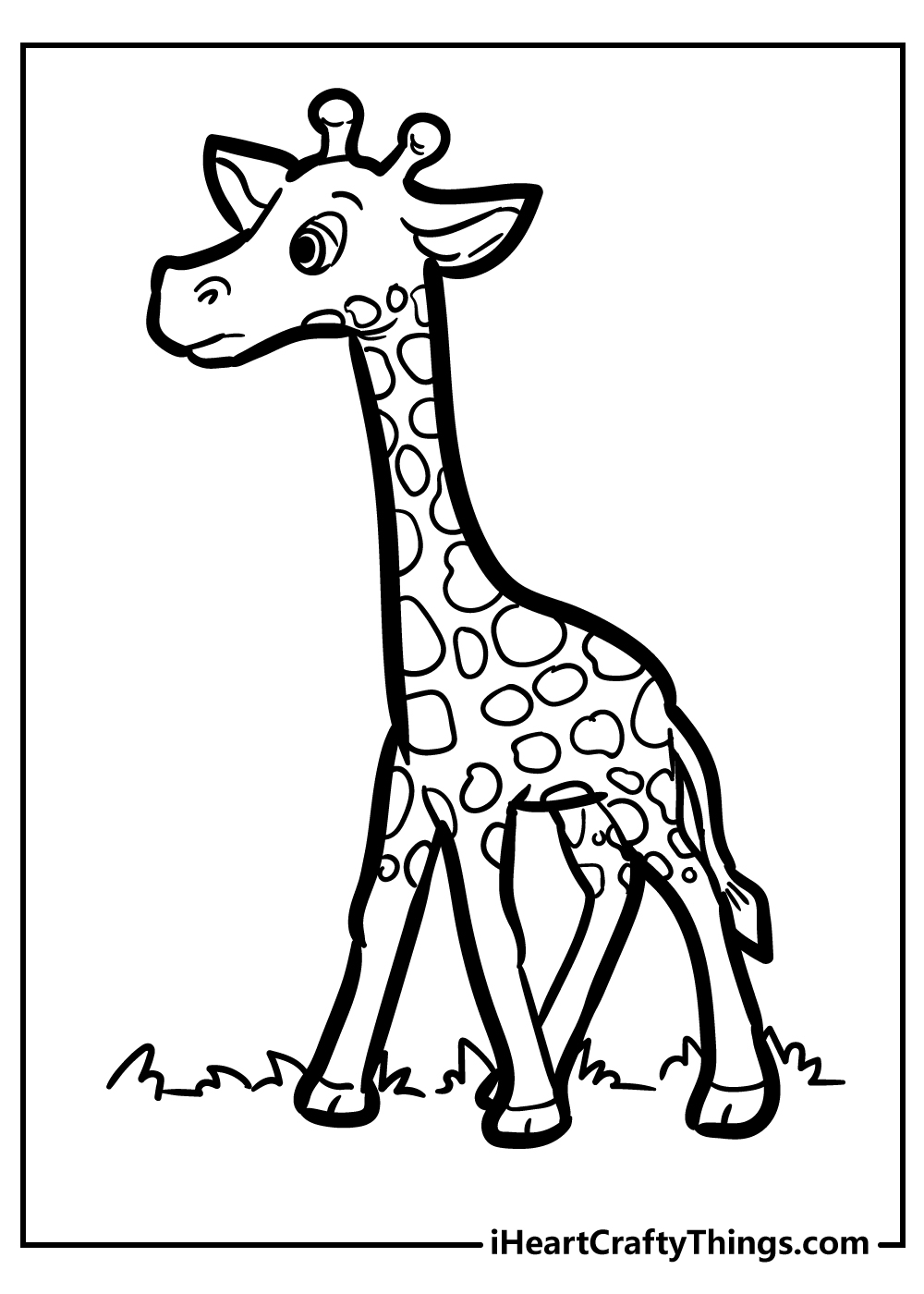 After a less happy giraffe in the previous coloring page, we have another happy giraffe printable for you to fill in!
For this one, I would go back to using some brighter colors like light blues, yellows and oranges for this happier giraffe. Finishing it off with a beautiful green for the grass would look so pretty!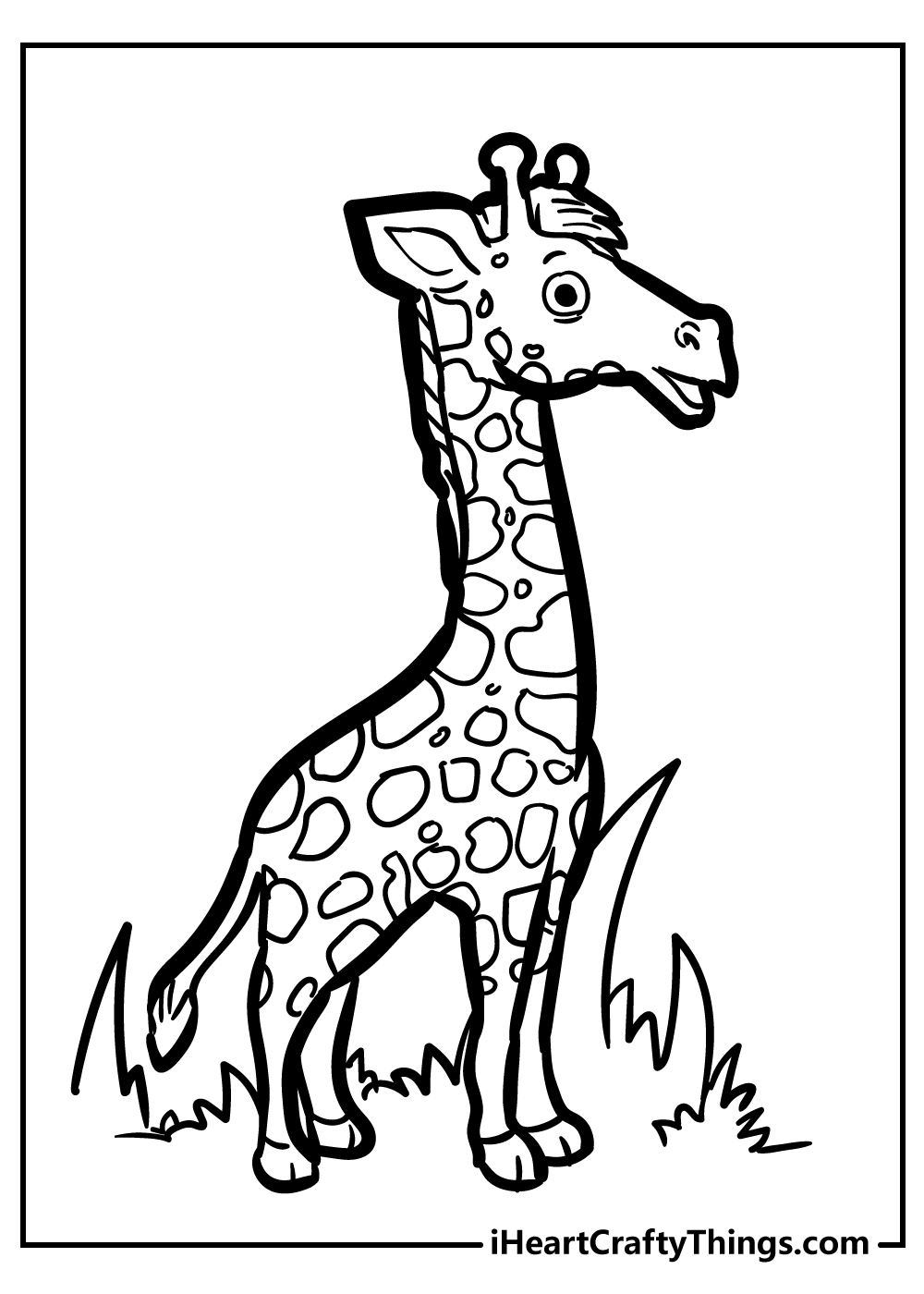 Our final image in this series of free giraffe coloring sheets for kids has possibly the happiest and wackiest giraffe out of all the ones we've seen!
This is definitely a fun image to end this collection on. What fun and bright colors will you use for this last giraffe printable?
I think that using some bright acrylic paints with some colored pens and markers would really help to finish off the fun vibe of this image.
We can't wait to see how you close off this set of coloring pages!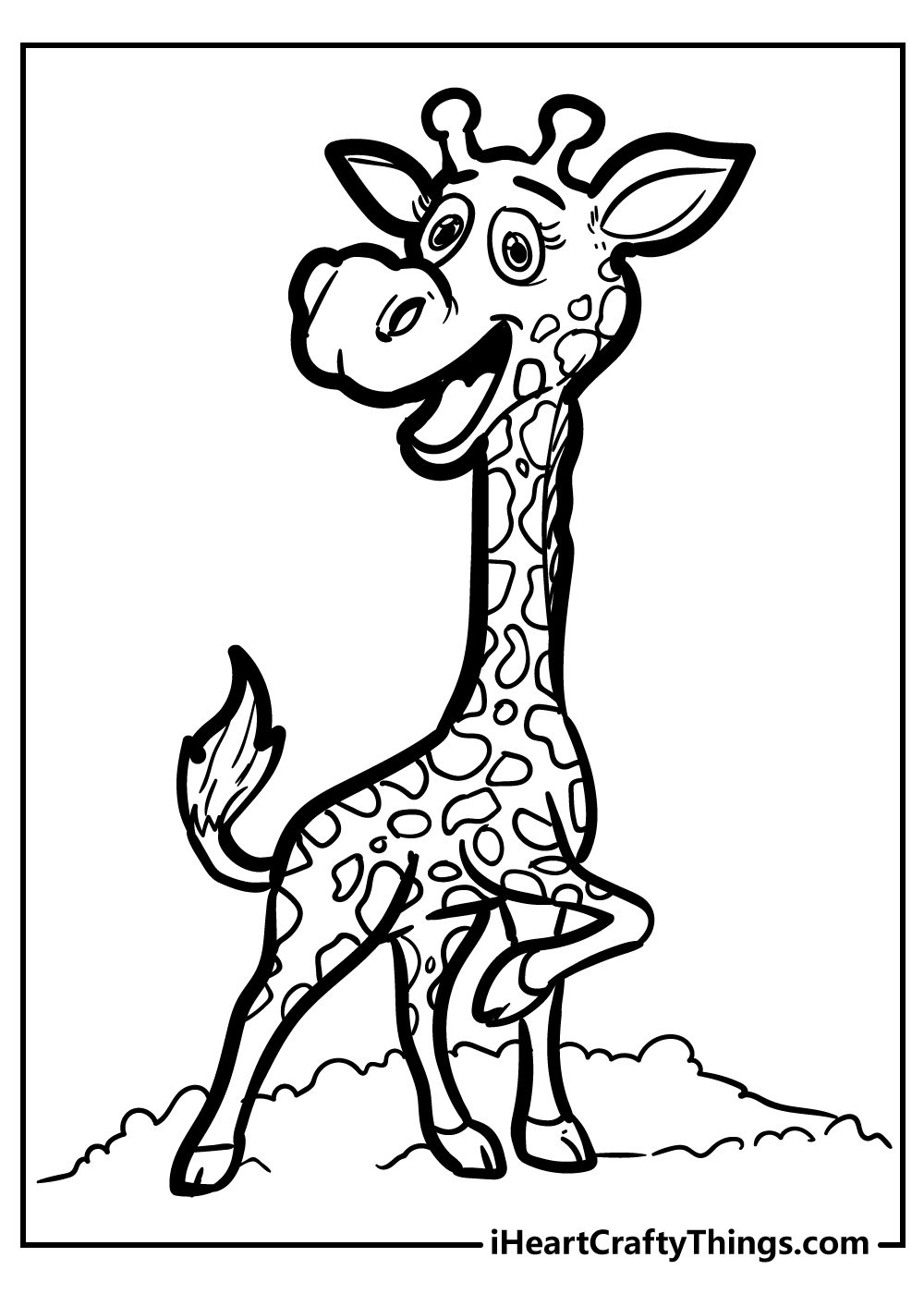 Giraffe Coloring Pages – Which will you choose?
We really hope you had a fun time coloring in this series of free giraffe coloring pages for kids!
Don't forget that all of our coloring pages and art printables are totally free for you to print out and have hours of coloring fun with.
You could print out a few copies of your favorite giraffe coloring sheets to have hours more fun experimenting with colors.
You could even get out some art mediums you don't typically get to use that much to get some awesome new color styles and looks.
We hope that you'll like and share our Facebook page with your friends! That way no one will be missing out on our great free coloring pages and printable goodies that we'll be bringing out.
Lastly, we'd love it if you would share your favorite completed giraffe coloring printables to our Facebook page for us to see!
We always love to see how amazingly creative you all are with coloring, and we look forward to seeing some beautiful giraffes.