Alligators are some of the coolest looking animals out there, and that's why we have a selection of cute, free cartoon alligator coloring pages for you to print out and enjoy!
Alligators typically live in wet areas like swamps and lakes so We're sure to see lots of blues, greens and browns in these coloring pages.
These delightful free printables would be perfect for kids to color in and get creative with. We know that real alligators aren't usually super varied in their coloring, but that doesn't have to be reflected in these coloring pages, and we think a great variety of colors would be a lot of fun to see!
These alligator coloring pages are great for kids to spend hours having fun expressing themselves.
We'd love to see how you all go about coloring in these cute scaly critters, so please be sure to share your new toothy friends on our Facebook page for us to see!
REMEMBER: You can download the COMPLETE set of these coloring pages >> HERE <<
15 Brand New Alligators Coloring Pages – Free to Print and Color
Our first free printable shows an alligator standing and looking very pleased with himself. His tongue poking out of his mouth makes me think that he just had a delicious lunch!
You might immediately think of greens and browns when you think of alligator colors, but I don't think we should feel limited to that!
Maybe his belly can be a bright yellow along with the spikes on his back, that would contrast nicely with a background of cooler colors, wouldn't you agree?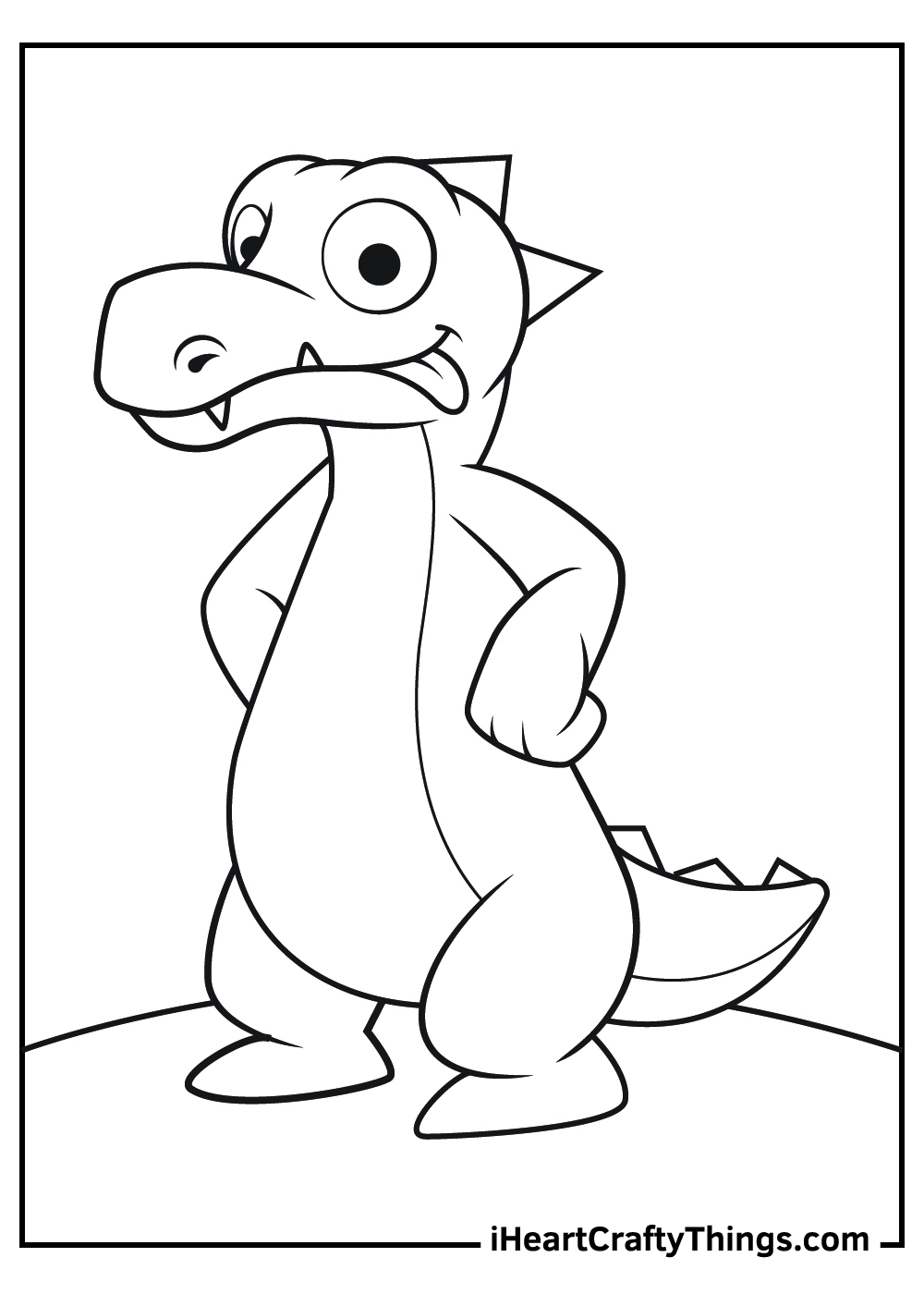 Superheroes are all the rage right now, and we have a new one joining the ranks in this fun coloring page. This alligator in a cape is ready to spring into action and save the day.
I think this printable needs some vibrant and triumphant bright colors to represent the superhero theme, and maybe a bright red cape would finish it off nicely.
Let us know what you would call this alligator superhero when you send us your completed pictures!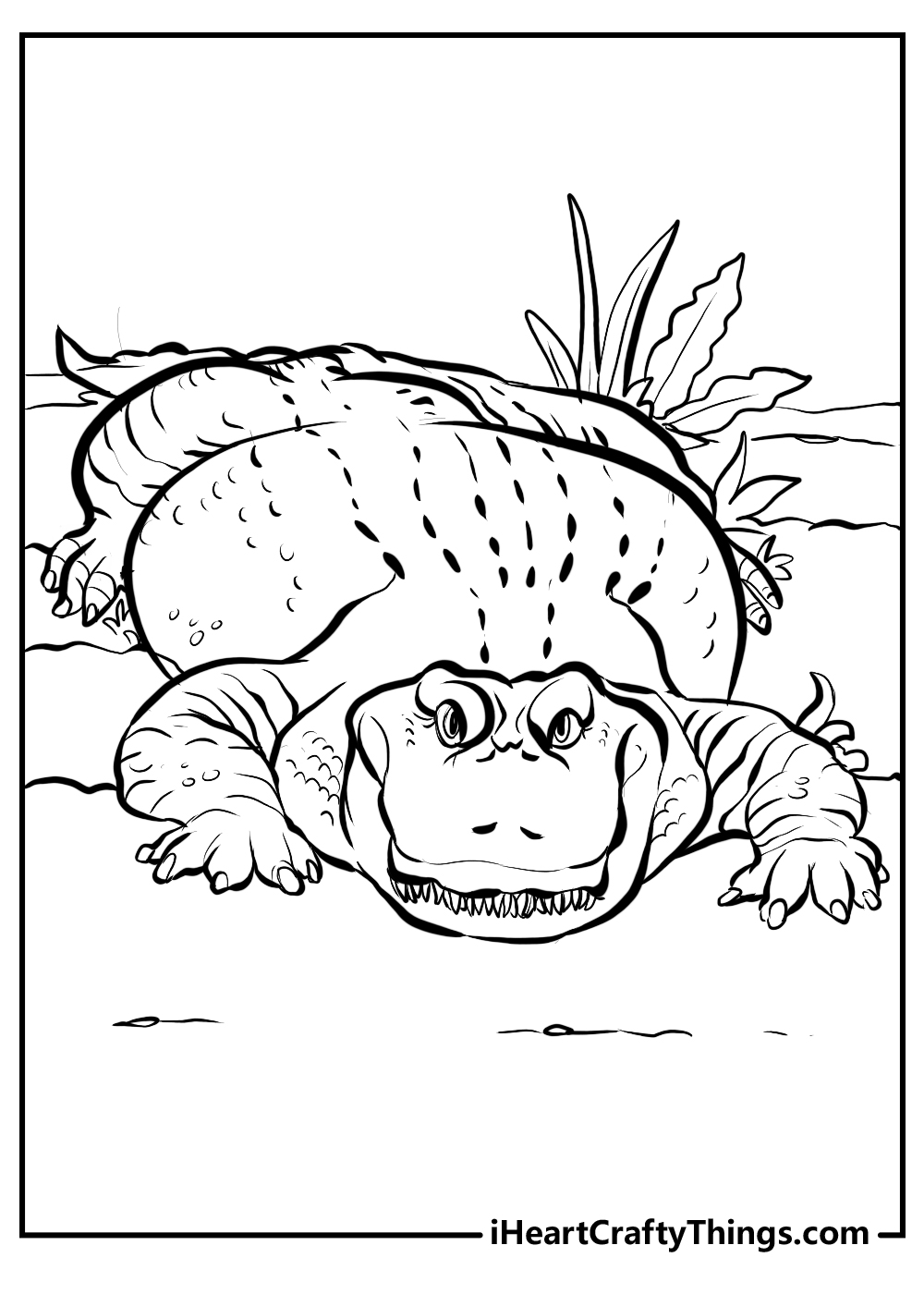 Wow, look at this cool alligator. He has a long snout and sharp teeth. He looks like he is ready for some action. Maybe he is going to hunt for some prey, or maybe he is going to play with his friends. What do you think?
This alligator has a lot of scales on his body. You can color it in any way you like. Maybe you want to make them green or blue.
It's up to you. You can also color the water light blue to make it more realistic.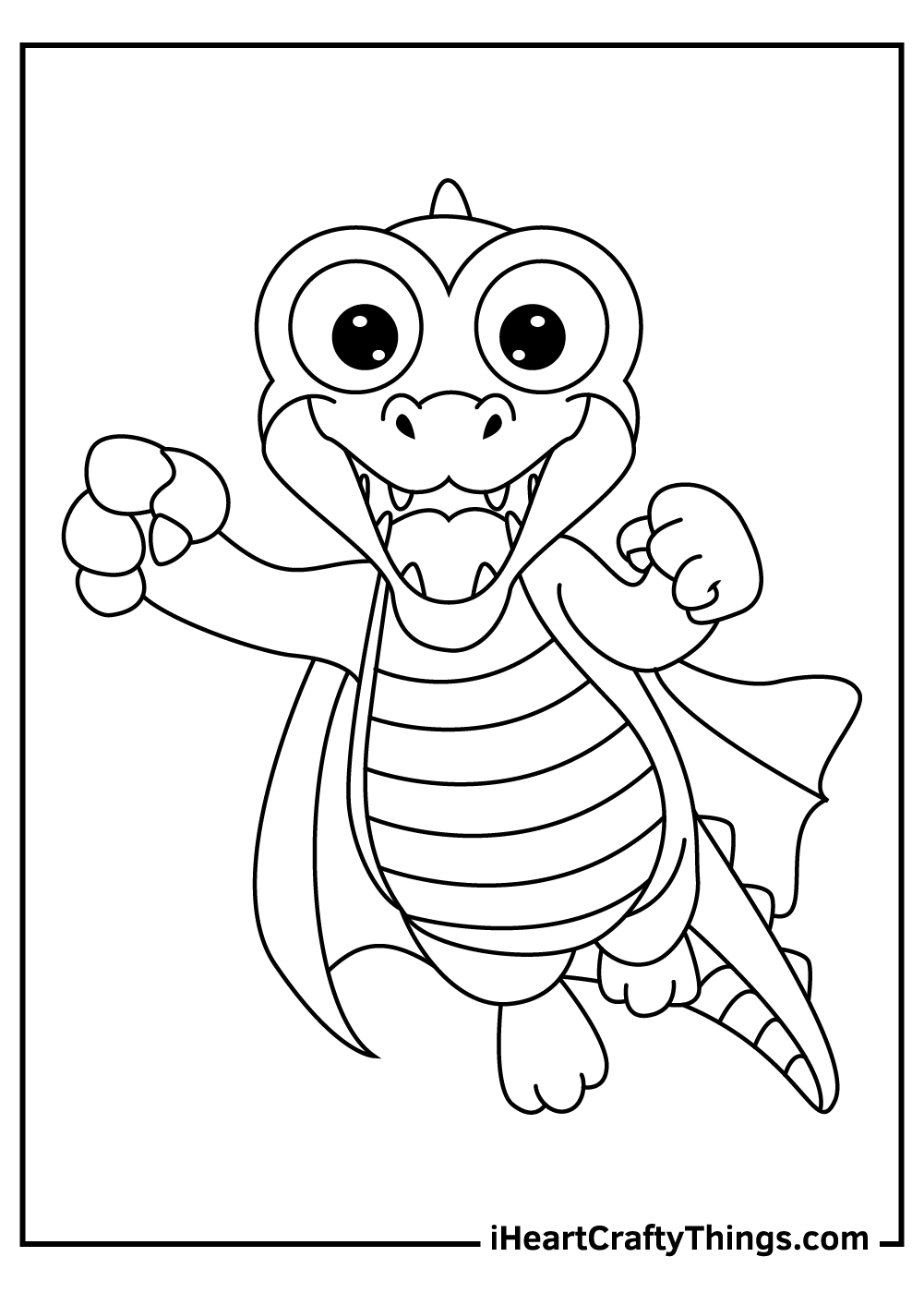 This little guy seems like he's taking a stroll in this next alligator coloring page. I love that his long face and eyes make him seem like such a fun, goofy character.
I don't think this guy should be kept to simple colors, maybe you should go wild and color him in bright, crazy shades!
REMEMBER: You can download the COMPLETE set of these coloring pages >> HERE <<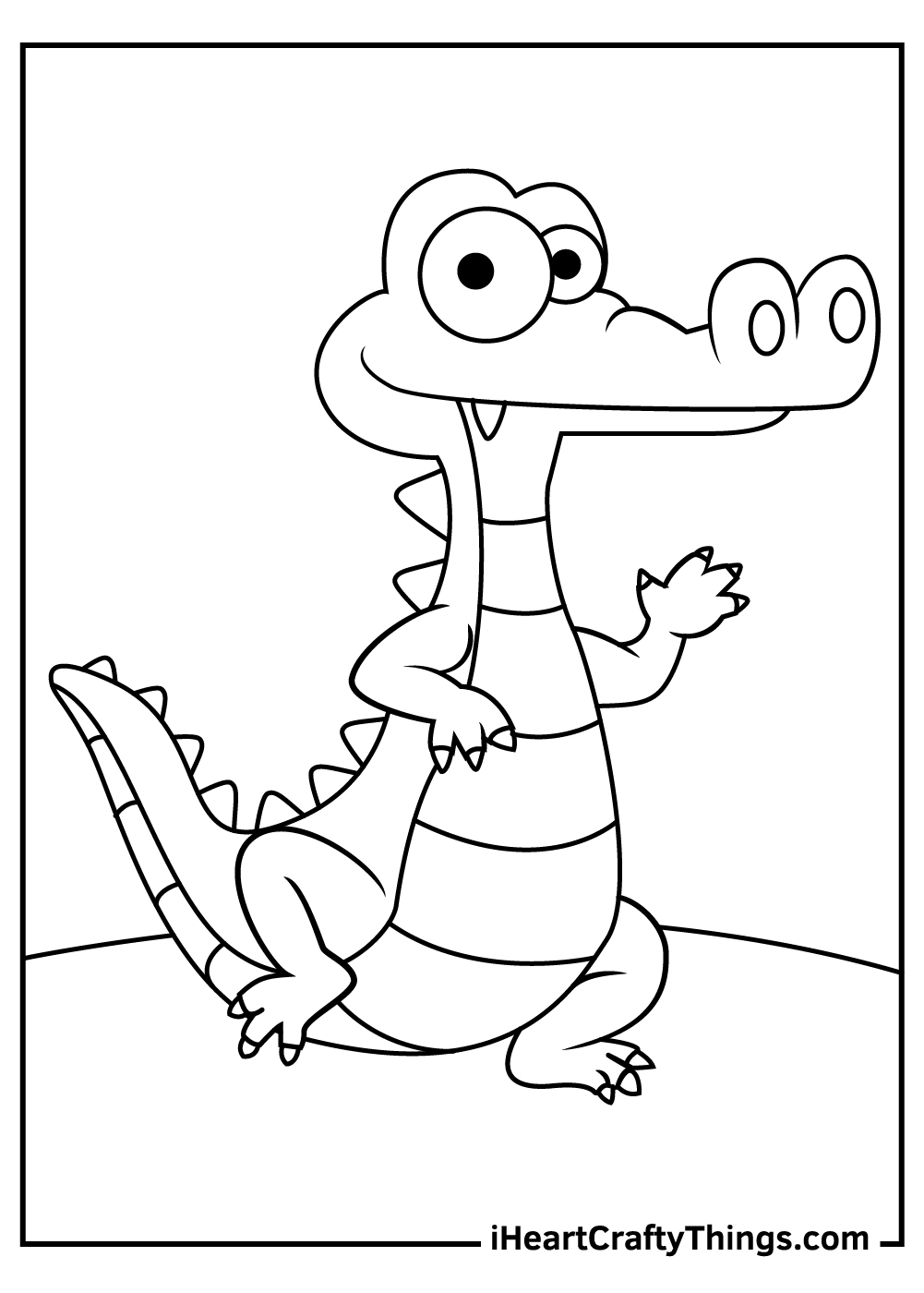 Here's an alligator that looks very excited to meet you! He's extending his claw as if to shake your hand, and I can't help but wonder how it would feel to do that!
This coloring page gives off a friendly vibe to me, so I would keep this one bright and cheerful to match the happy mood of this cute alligator.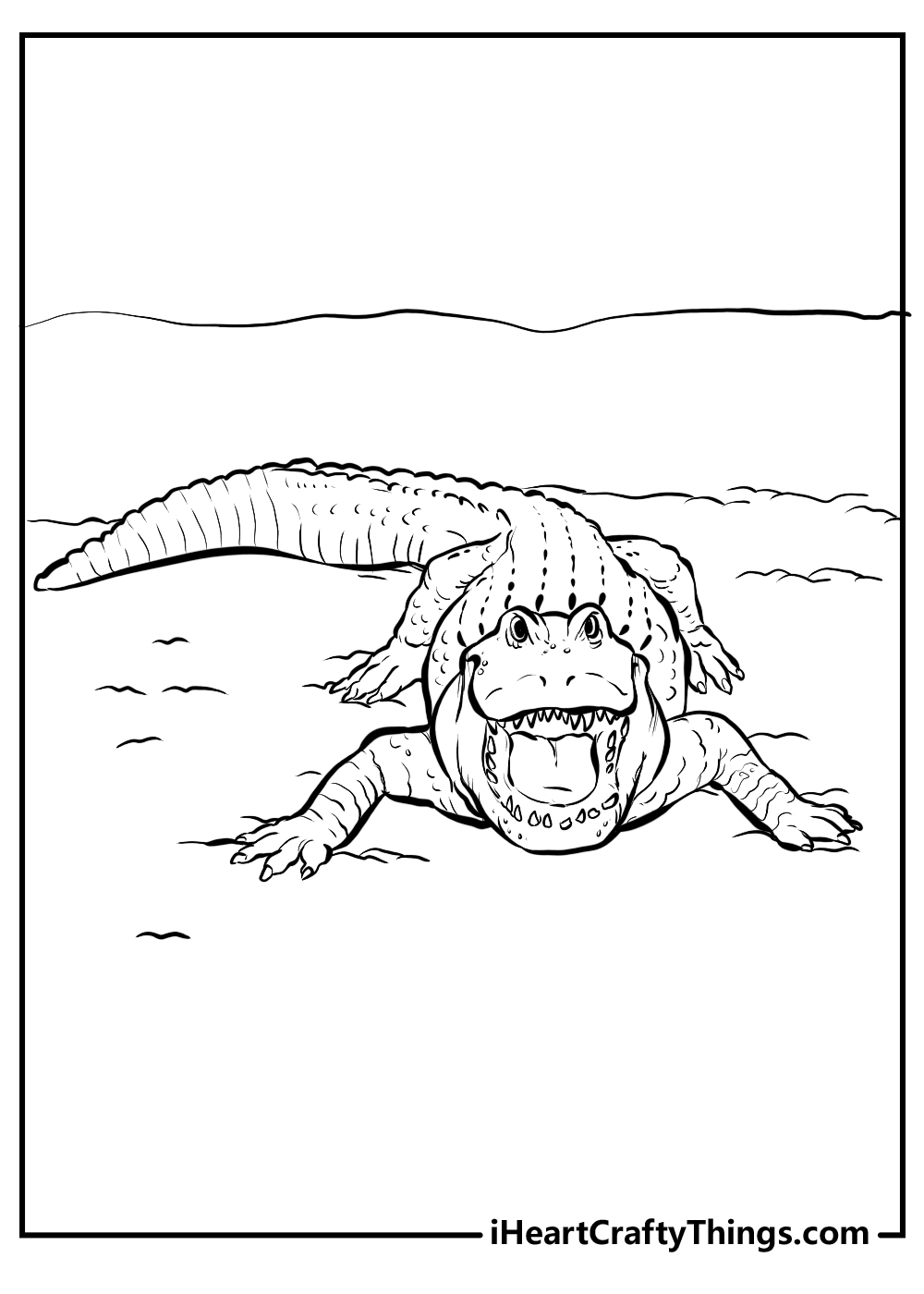 This alligator looks like he's ready to snap his jaws at anyone who comes near him. He has a long, scaly body and his tail curves in the water.
His mouth is wide open, showing off his sharp teeth. He looks like he is hungry for some tasty fish.
I would color this big alligator green, like a real alligator. I would also use some brown and black to add some texture to his skin. What color will you be using to make this alligator stand out?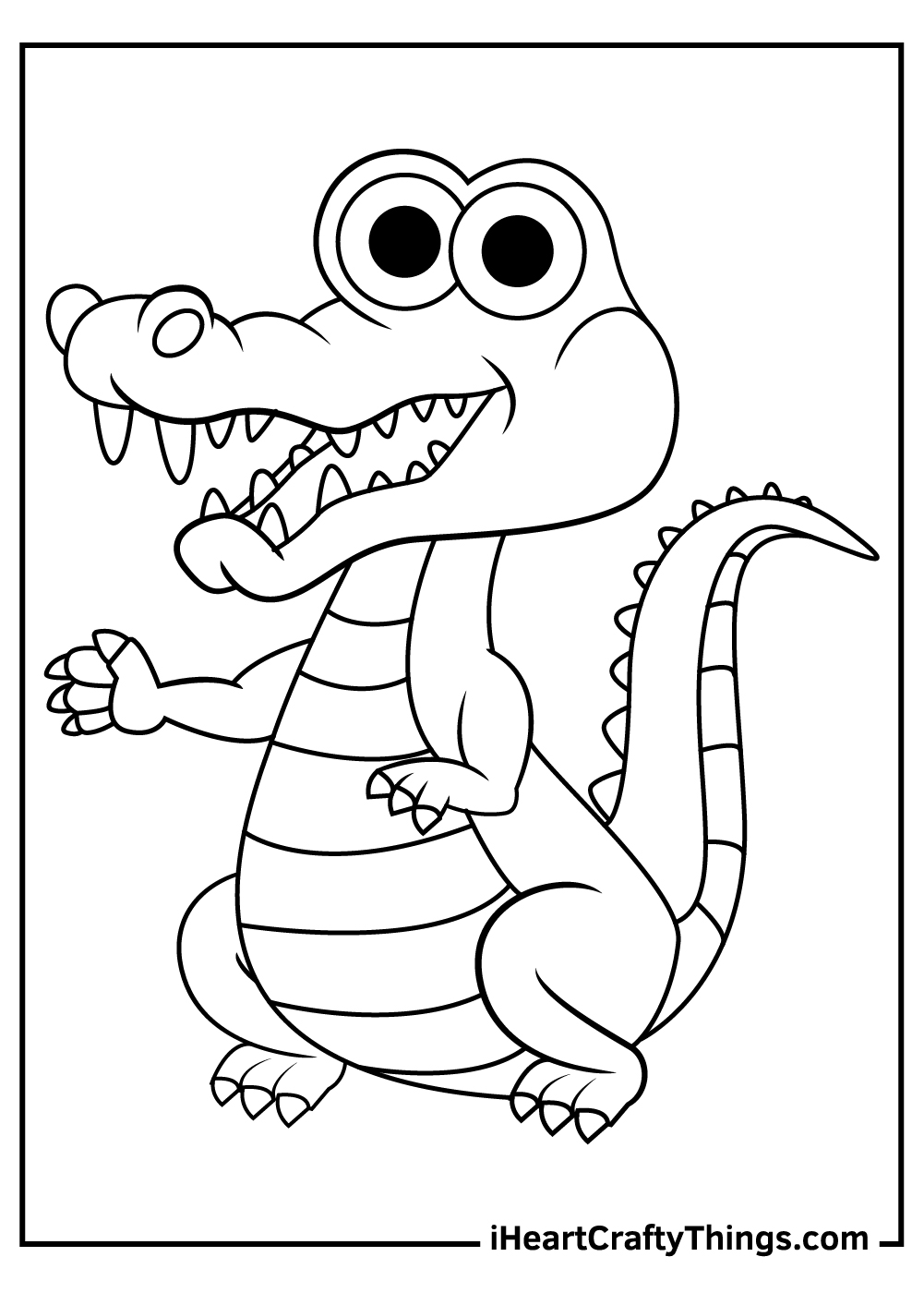 The alligator in our next coloring page looks like he just had a bright idea as he's surrounded by stars!
I think for this one it would look great to have a contrast of a brighter background with the stars on a more muted green scheme for the little alligator.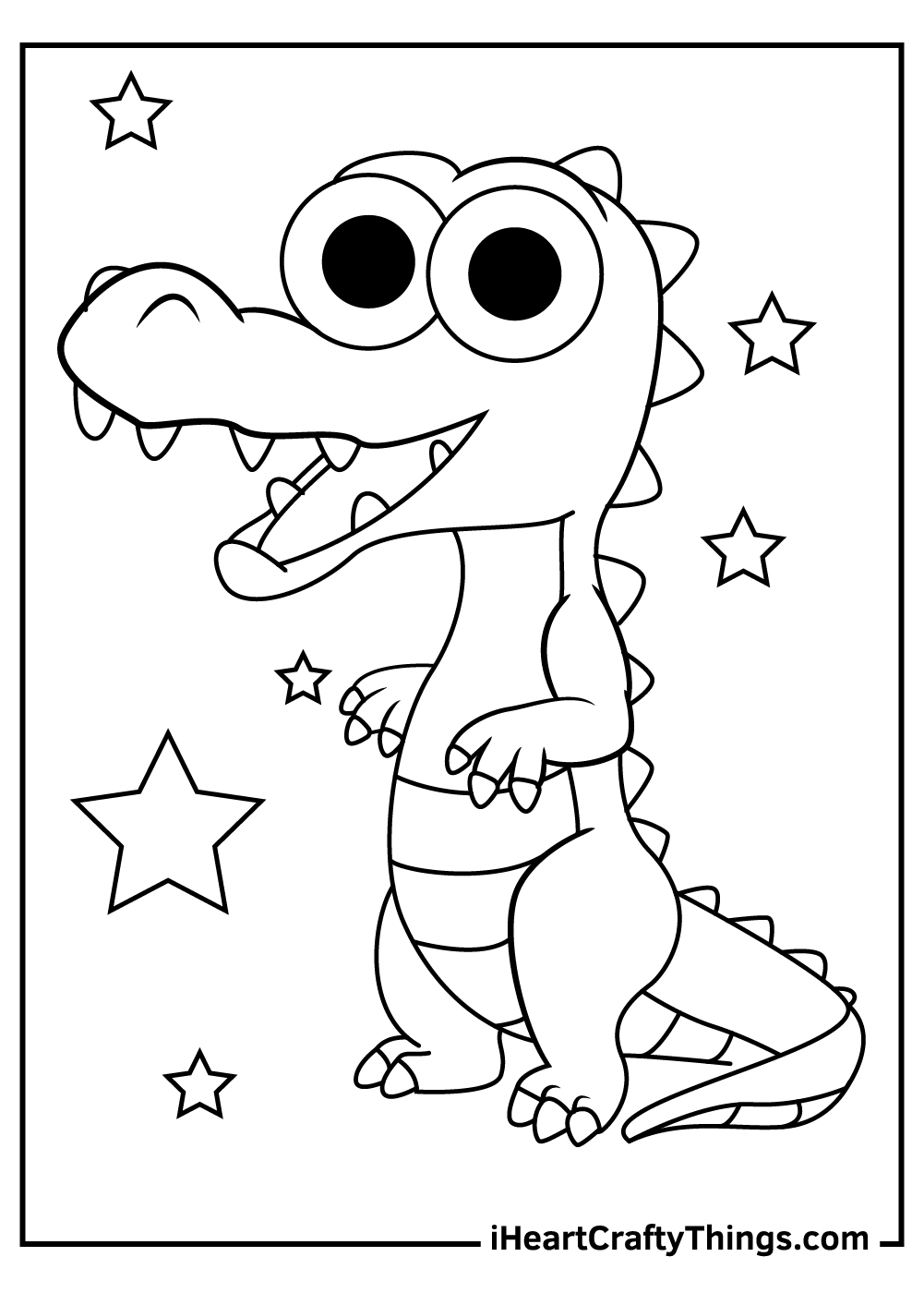 We're getting a friendly alligator wave in the next printable, and he's looking very excited and happy!
The joyful nature of this coloring page makes me think you should go wild with your favorite colors to make a beautiful and vibrant picture that represents the happy feeling this cute little gator gives off.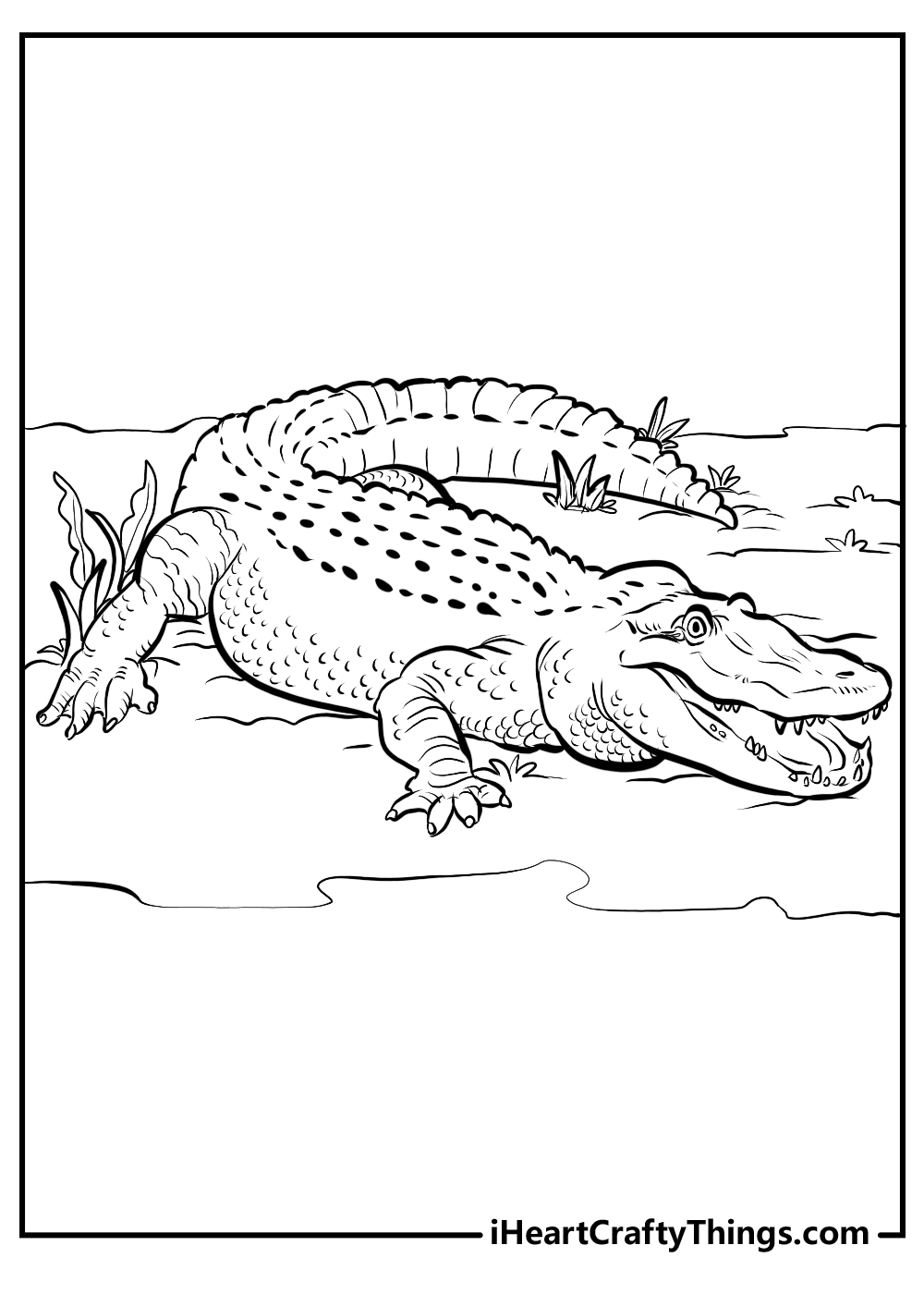 This alligator coloring page features an alligator enjoying a relaxing day by the river bank. His big toothy grin and excited expression makes it seem like he's having a blast.
Since this gator looks like he's full of energy, I would use bright, vivid colors like oranges, greens, and yellows to capture his lively spirit. The bright colors will contrast nicely against the water and really make him pop off the page.
You can also use different shades of green to color the grass and plants. Maybe you can even draw some fish or other animals that live in the river.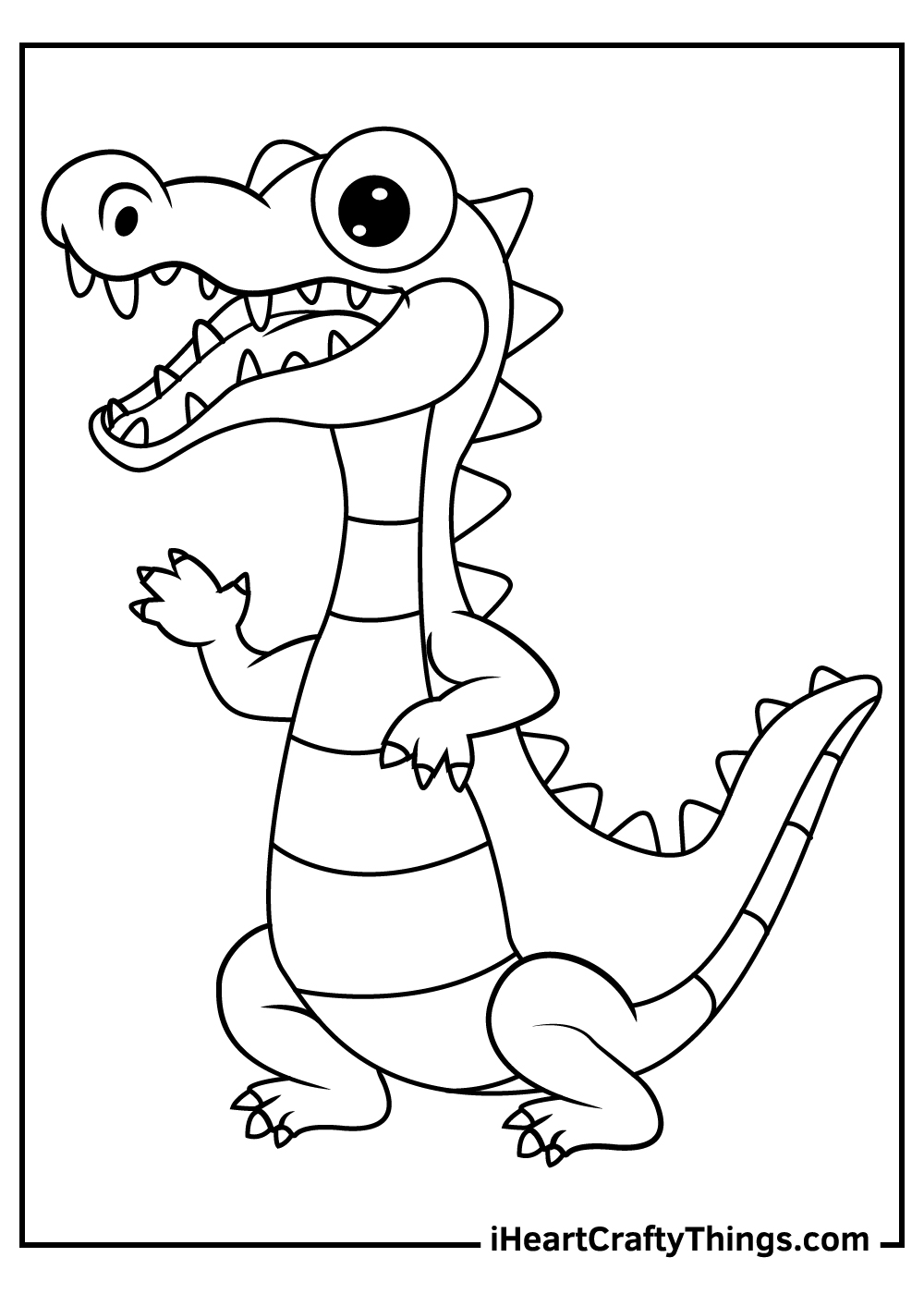 This coloring page shows an alligator that's showing off and maybe doing a cool trick! We've had a few more vibrant images in the previous printables, so maybe you should use cooler greens and blues on this image to create a nice variety of color palettes.
REMEMBER: You can download the COMPLETE set of these coloring pages >> HERE <<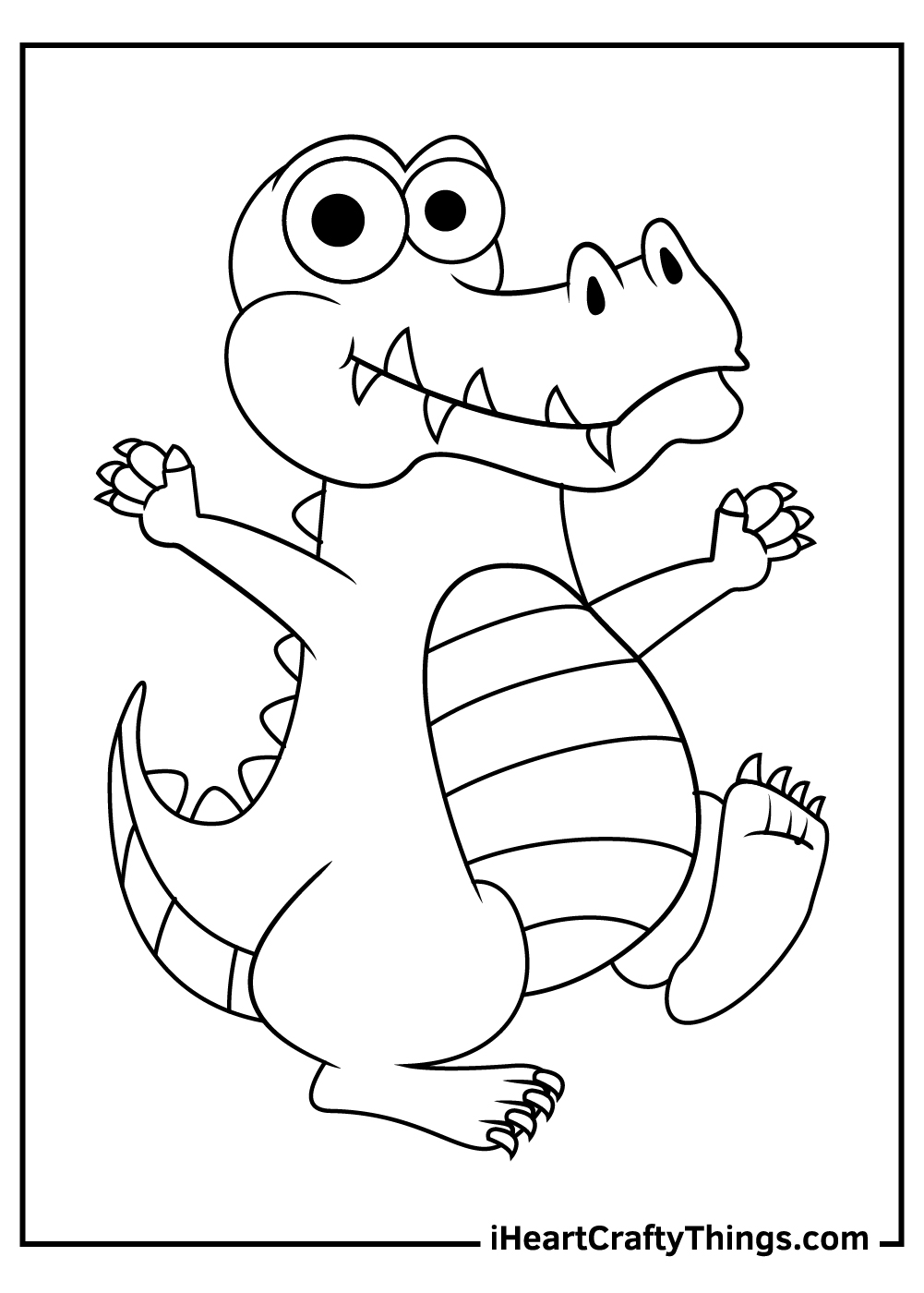 Our next free printable shows a cartoony alligator dancing a happy jig. Now that's something that would be interesting to see in real life!
This coloring page brings an Irish dance to my mind, so maybe different shades of bright and more muted greens would create a cool theme for this dancing alligator.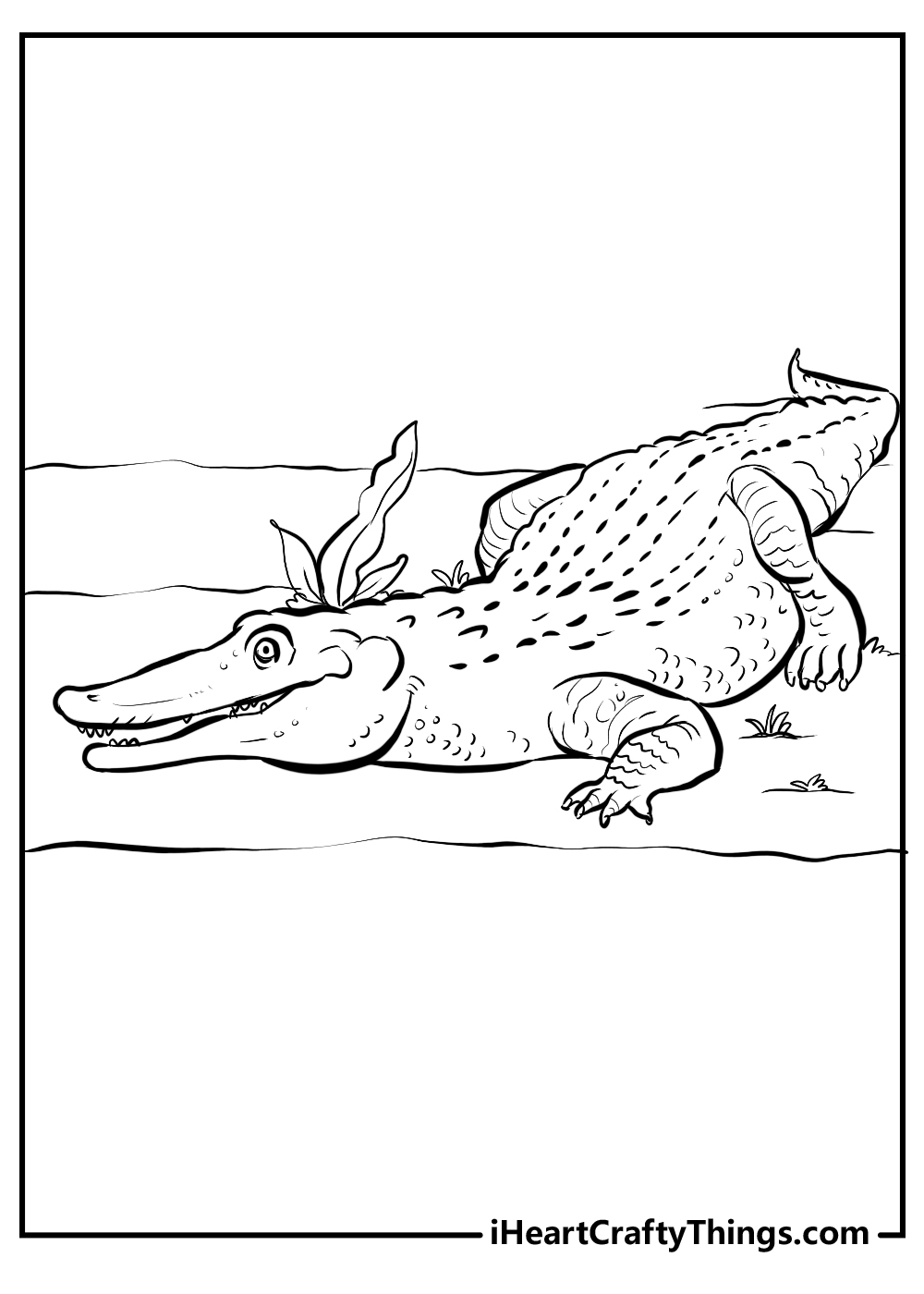 This alligator coloring page shows a sneaky alligator that looks like he's trying to snatch a snack! He's creeping up with a big toothy grin, ready to chomp down on something tasty.
You can use lots of greens and browns to capture the alligator's stealthy presence as he sneaks through the swamp.
Add some brighter colors for the flowers around him to show the cheerfulness of the scene despite his sneaky intentions.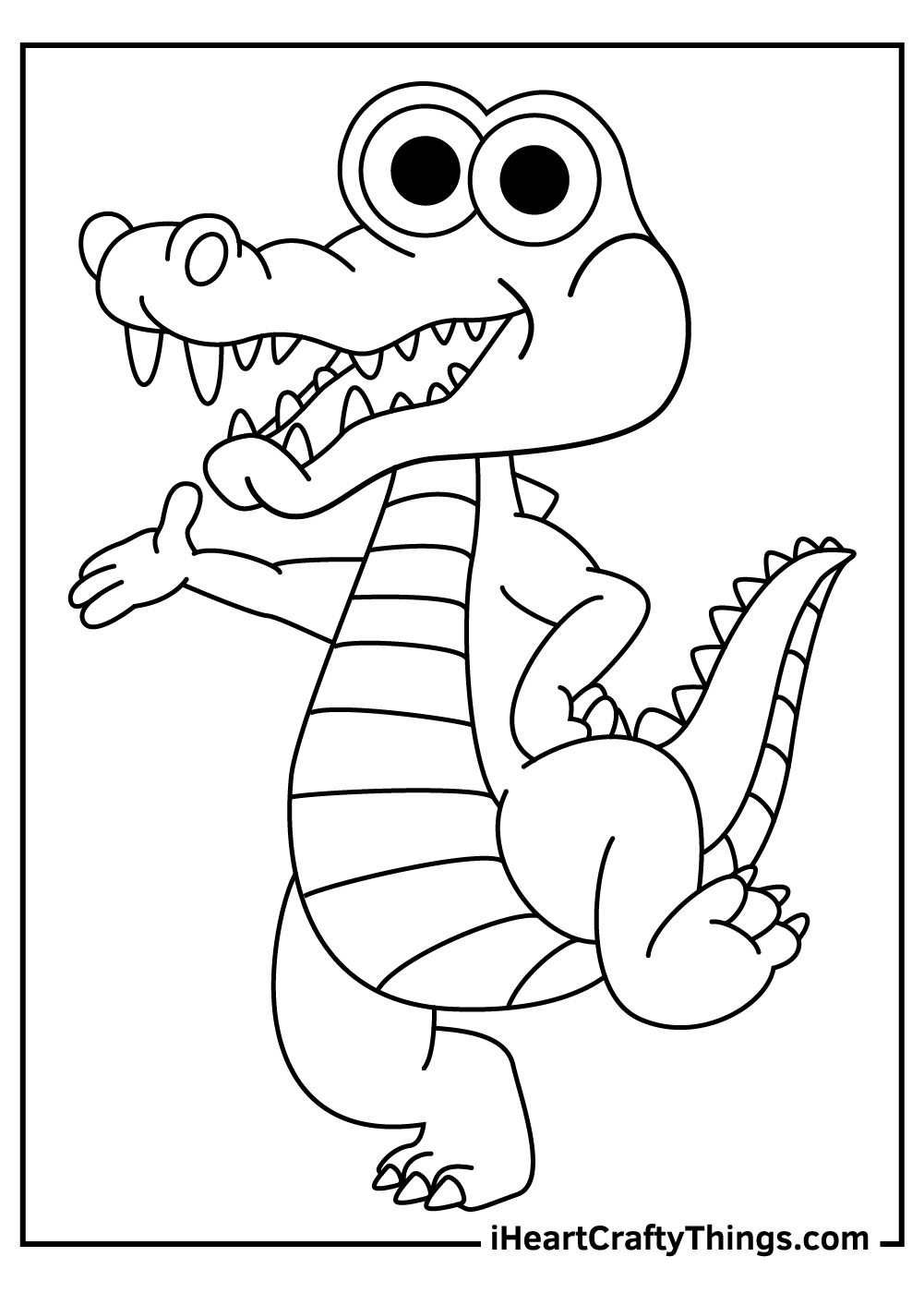 In the previous coloring sheets we've had an alligator wanting to shake our hands and show us their dance moves, and now we have one going in for a hug!
This coloring sheet is showing off a warm, friendly hug, so I think it would be really well complimented with some equally warm reds, oranges and yellows to create a comforting atmosphere.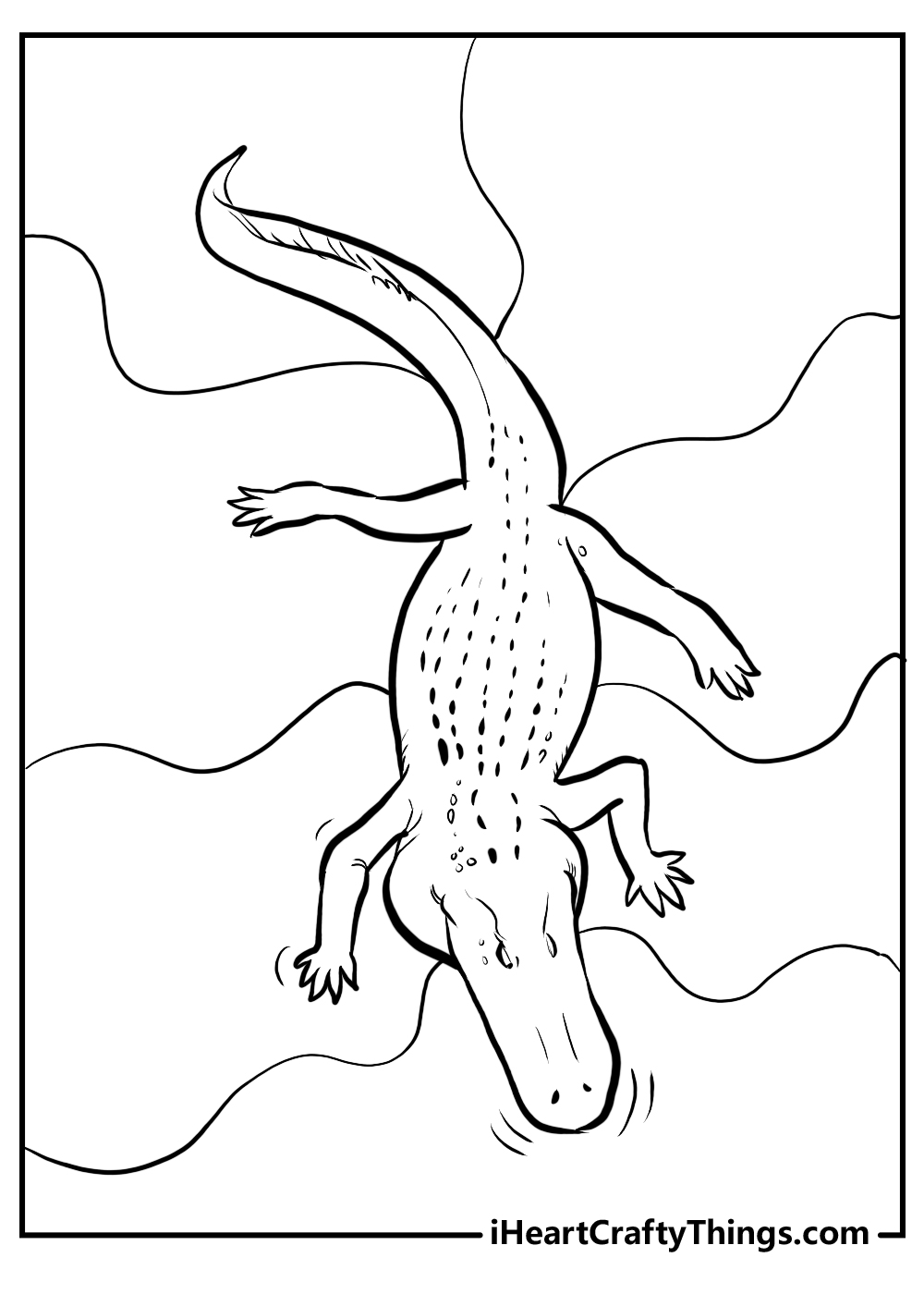 This alligator is having a blast in the water! He's swimming fast and furious, with his mouth wide open and his teeth showing.
He looks like he's ready to catch some fish or maybe just have some fun splashing around.
What colors would you use to make this alligator look more lively and realistic? You can use different shades of green, brown, and yellow to create a natural effect.
Or maybe you want to make him stand out from the water and use some bright and bold colors.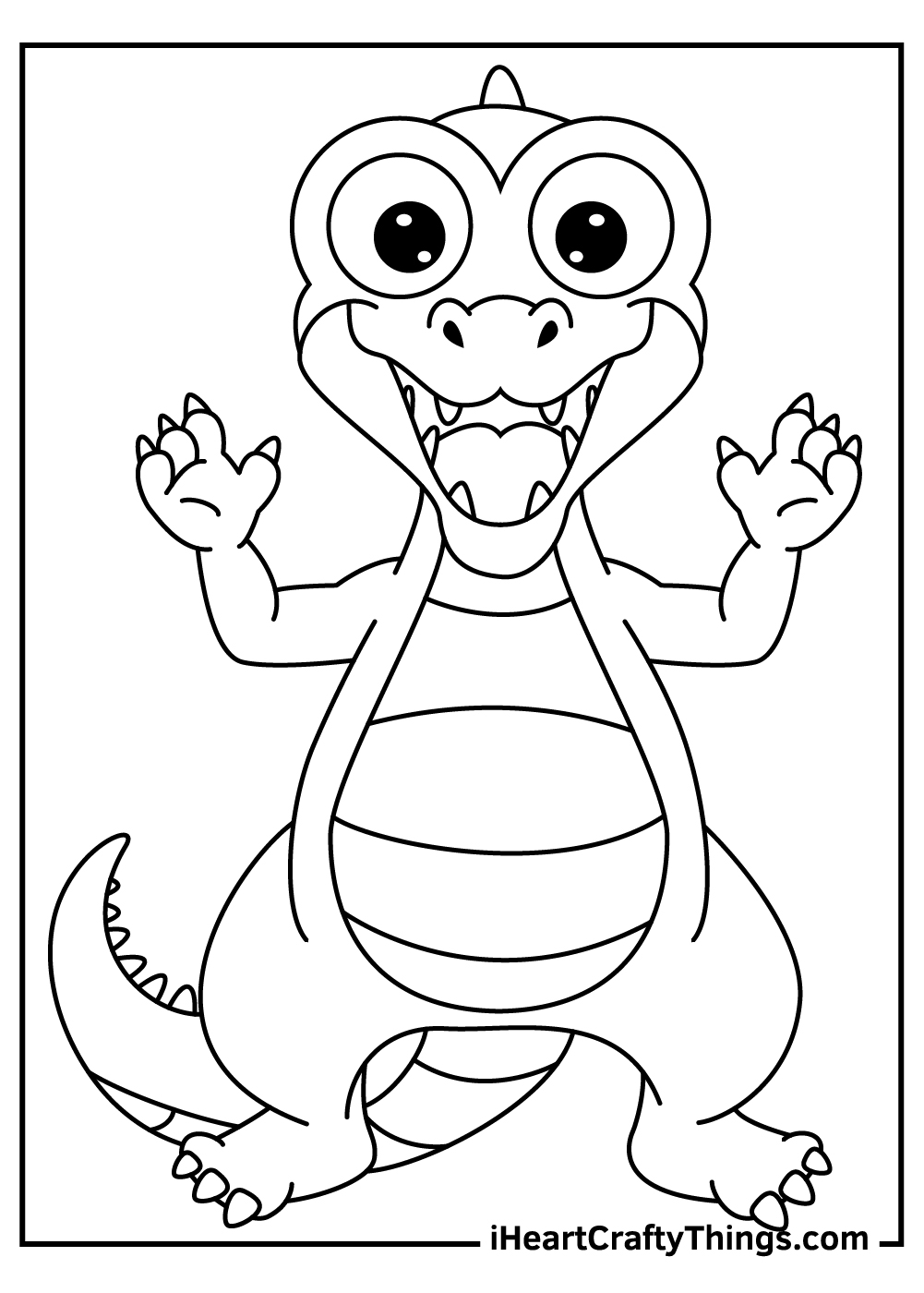 Our final free alligator coloring page printable shows one holding a giant A. I don't think you need three guesses to figure out what that A stands for!
I think that A would look good with any color you choose! It's free to print out multiple copes of this coloring page, so why not do a series with The A in all different colors?
REMEMBER: You can download the COMPLETE set of these coloring pages >> HERE <<
If you choose a warm color for the A maybe you could do a contrast of cool colors for the alligator, and vice versa.
I can't wait to see what you decide to go with.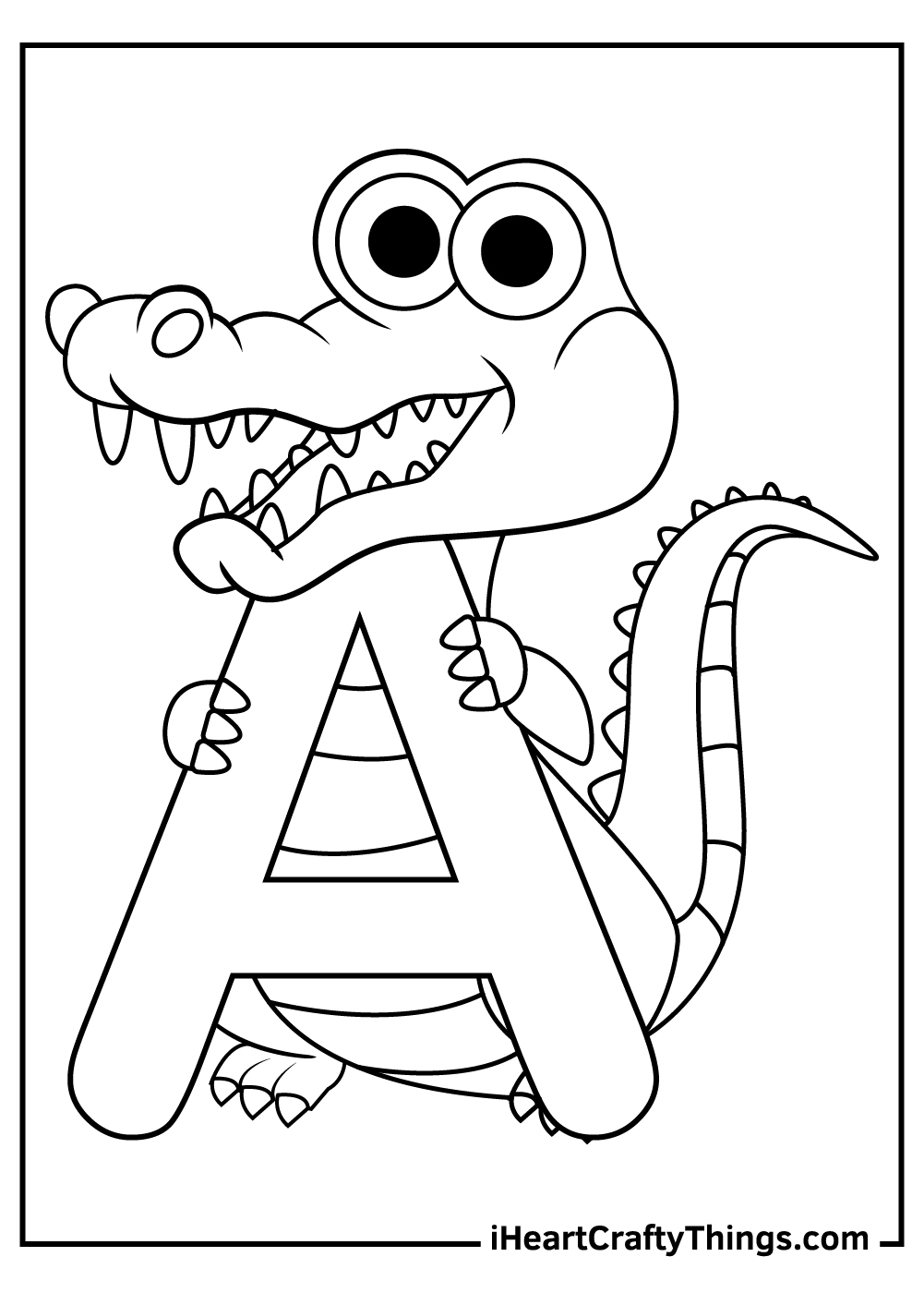 Seasons Coloring Pages – Which will you choose?
We hope you have a great time with these alligator coloring pages. All of our printable coloring sheets are completely free and ready for you to print as many times as you like, so don't be afraid to experiment with different color schemes and mediums!
Maybe you could have some fun playing with crayons, pencils and even paints! If you have some acrylics or watercolors around you can create distinct versions of the same images!
Don't forget to like and share this page for more fun printable coloring book pages, and please be sure to share your colored in pages for us to see.
We always love to see how creative you all can get with these coloring pages!