Everyone loves cute fluffy little critters, and there are many to choose from. From cute mice to sweet little bunnies, everyone has their favorite.
Many people love guinea pigs, and these adorable little rodents are known to be smart, highly social creatures.
They also come in many different variations, patterns and colors, and this is why we have chosen to feature them in this collection of free guinea pig coloring pages for kids.
There are lots of adorable little guinea pigs for you to meet in this collection, and we have included a good variety for you to enjoy.
You will get to use any colors and art mediums you love when coloring these cuties!
When going through the collection, you can pick a few favorites or color in every single page!
The best part is that it is totally free to print, color and enjoy every one. We also hope you will share the cuteness by sharing them with others!
Now, you're ready to begin this adorable colorful journey as you start the collection!
We also hope to see some of your finished artworks shared on our Pinterest and Facebook pages. We can't wait to see how you color them!
10 Brand New Guinea Pig Coloring Pages – Free to Print and Color
We have an adorable little critter waiting to meet you in our first free guinea pig coloring page for kids! This one has such a cute expression on its face, and it certainly looks very friendly.
As we mentioned in the introduction to this collection, guinea pigs can come in many different color schemes and patterns.
We think that some rich, warm colors would suit the mood this one gives off perfectly.
Do you agree, or do you have a different color scheme in mind? We can't wait to see what colors you choose for this first little guy.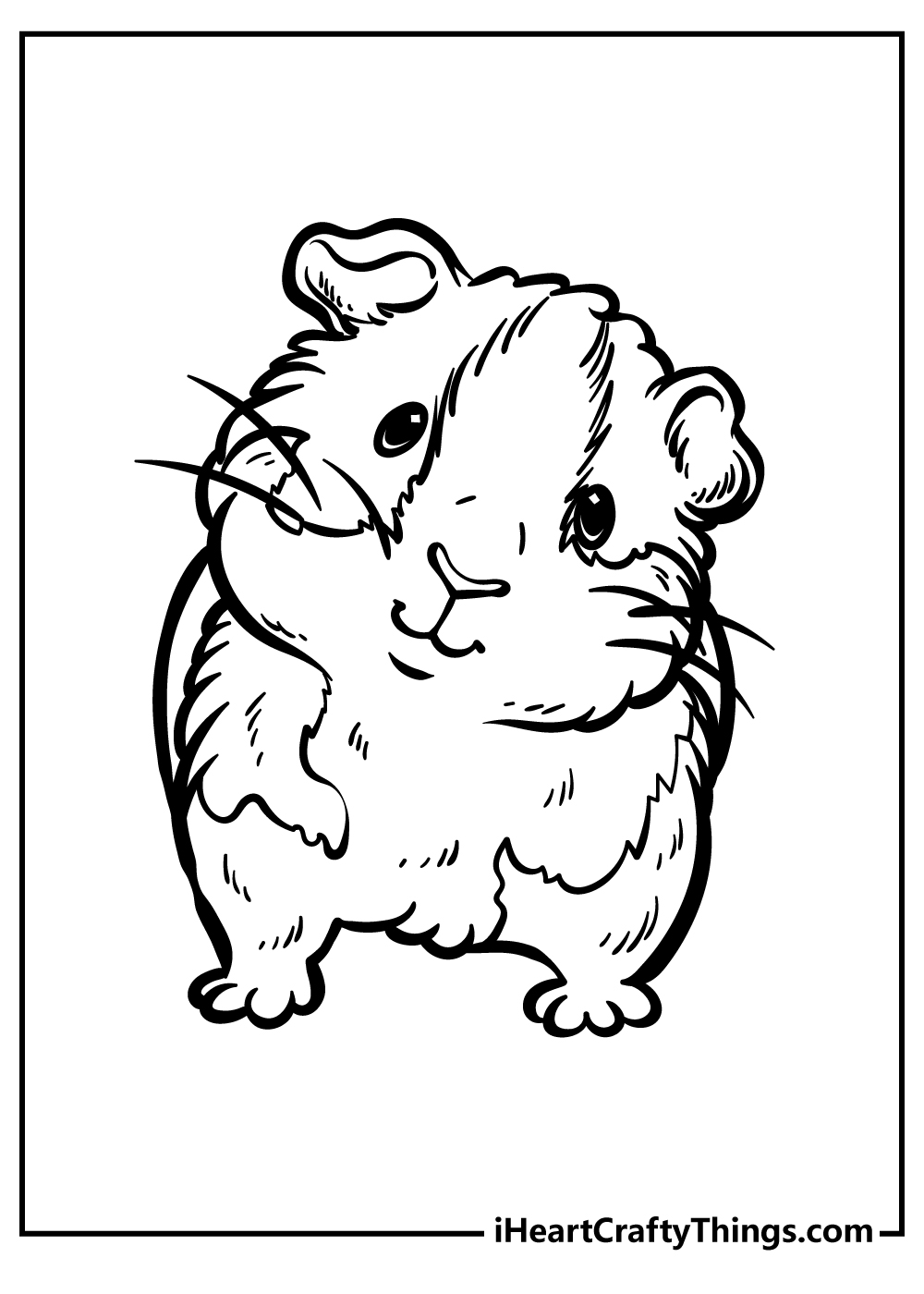 Our second page features a guinea pig that is super fluffy! This little one is certainly one of the fluffiest ones in the collection, and it should be a lot of fun to color.
Because this guinea pig is so fluffy and hairy, there are ways that you can portray that with your colors.
For example, you could use some colored pens or pencils and then use smaller strokes to make it look like there is some hair texture on the body.
This is one trick you could use, but what else can you think of to color this cute little guinea pig?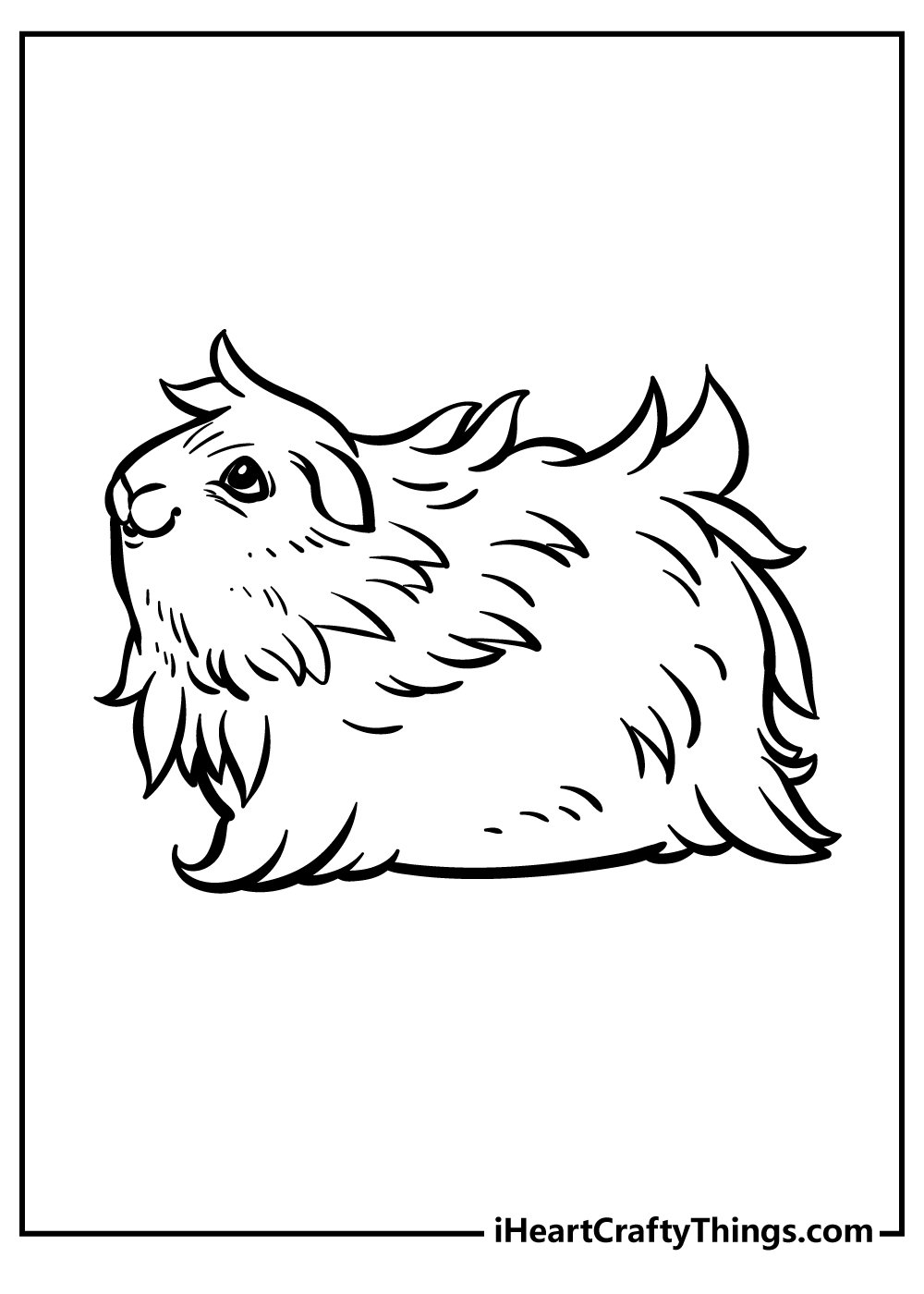 This next guinea pig coloring sheet shows a little guy that is looking a bit sad! What could make this little one feel this way?
When coloring this one, you could portray the mood this one gives off using your colors.
We think that some light blues or greens would help to show the sadder feeling that is given off by this guinea pig.
What color scheme will you choose for this sad critter?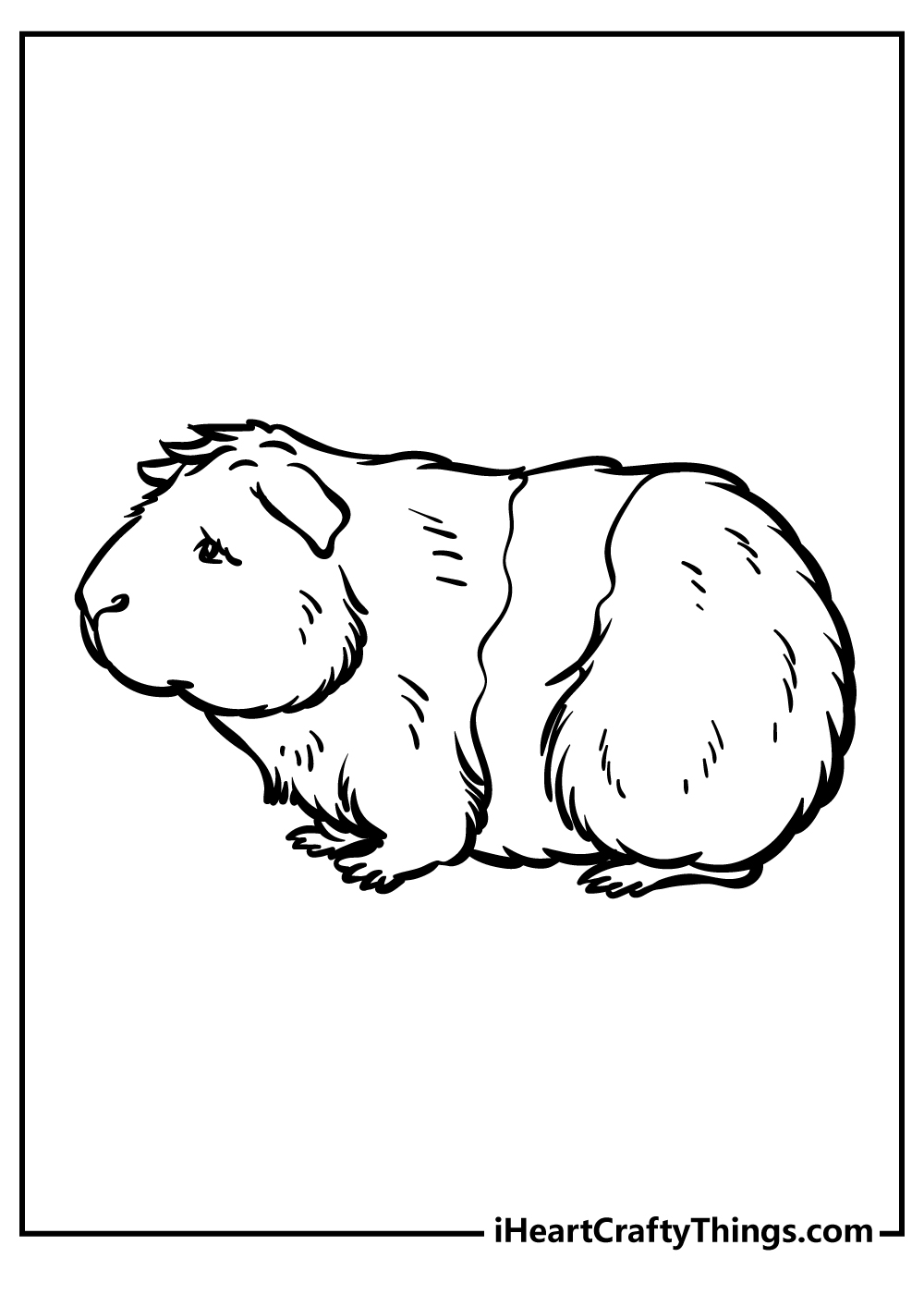 Here's another incredibly fluffy guinea pig to color in! This one is so cute, and it will look even cuter once you have added some color.
Once again, you could create a bit of hair texture by using thin-tipped art mediums with lots of smaller strokes to create the illusion.
Do you think you will color in the background for this one?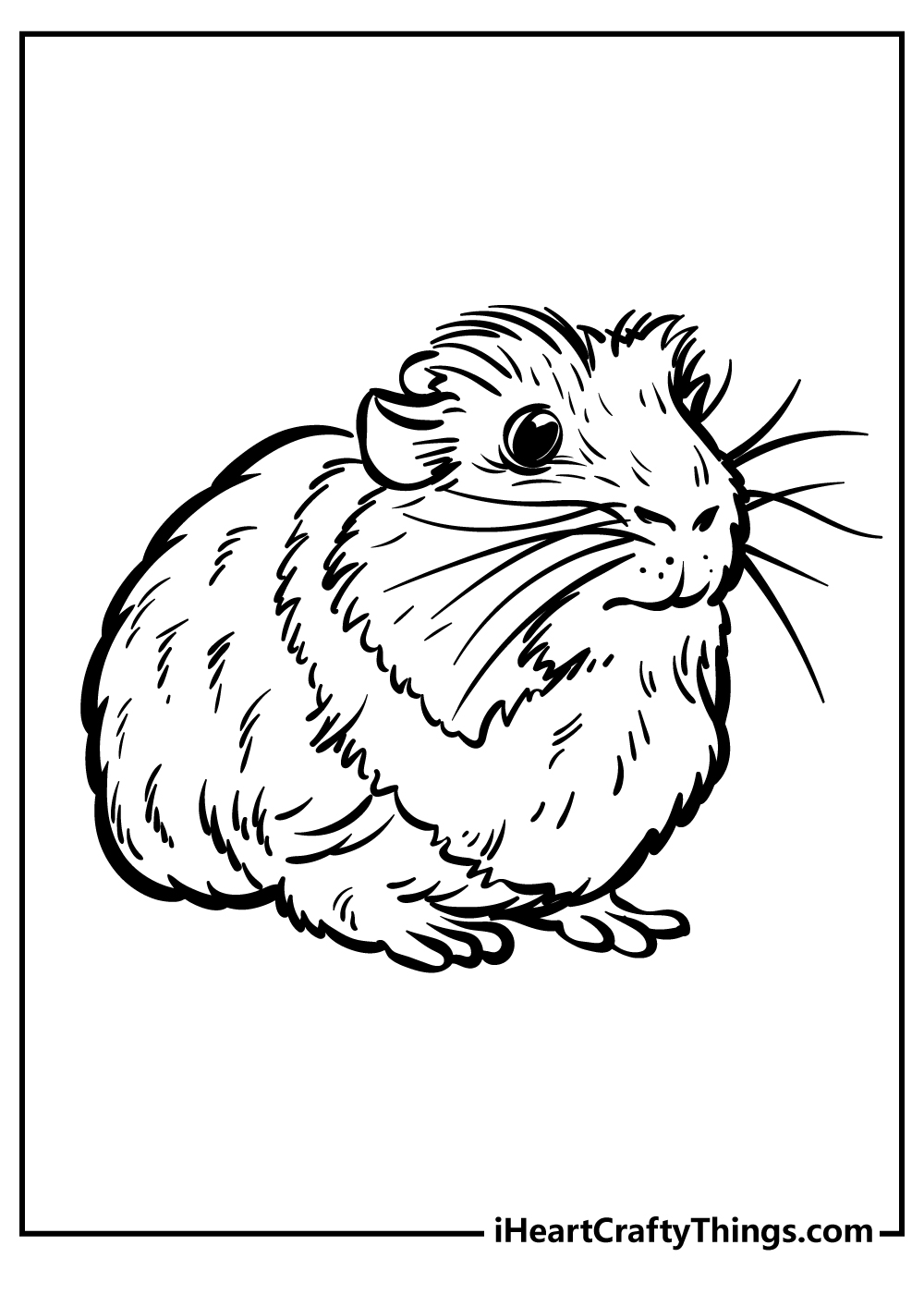 This is an adorable guinea pig that is here to meet you! This particular one has a lot of pattern details on its body and fur.
This means that you can incorporate lots of different colors to go together on the fur and create some contrasts.
You could keep the colors realistic, but you can also use some of your favorite bright colors instead! What approach will you take for this one?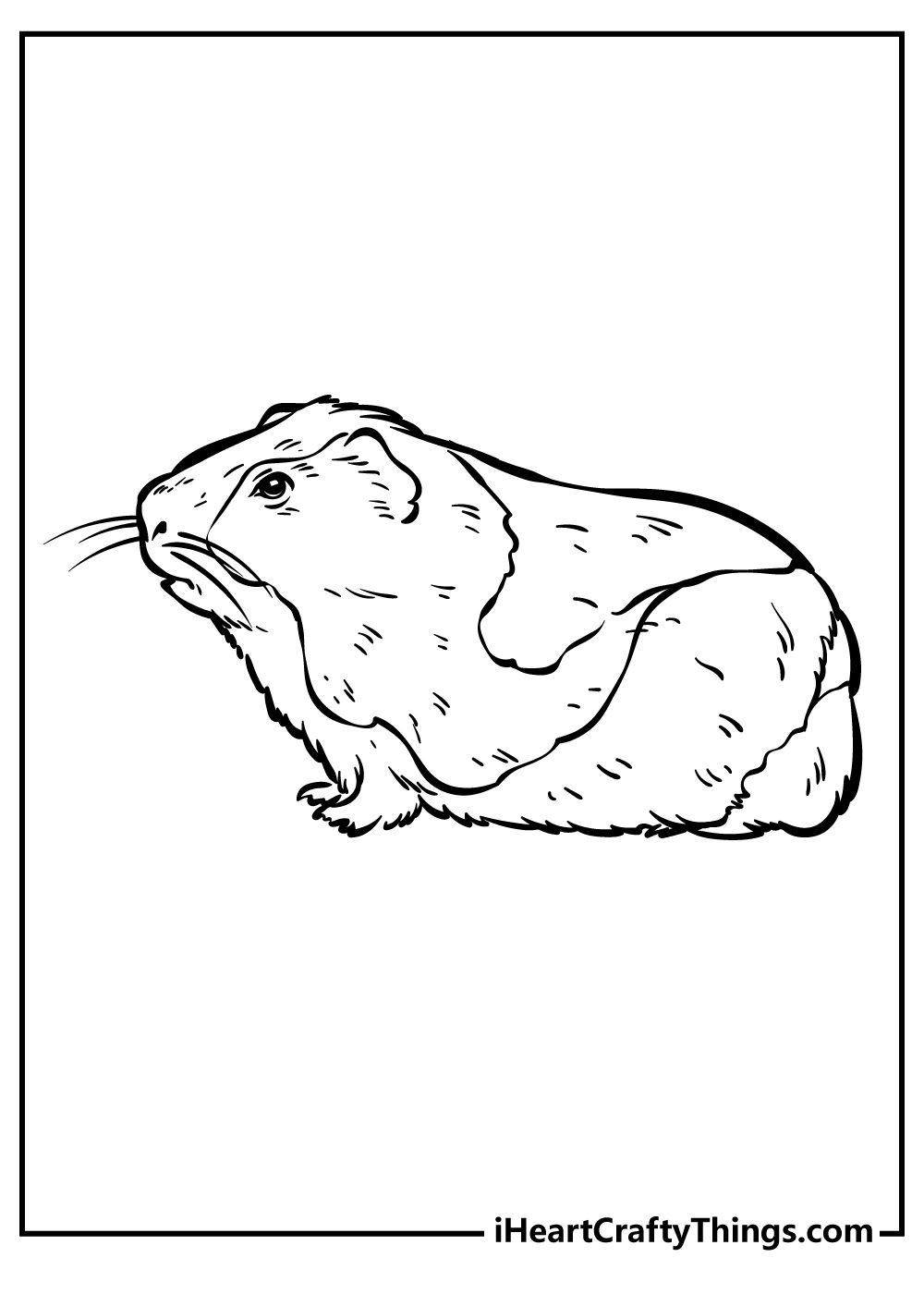 We have a truly cute guinea pig coloring printable up next for you in this sixth image!  This one is looking very stylish with a flower tucked into its fur.
The flower not only makes it much cuter, but it also allows for some extra bright color detail that you can add against more muted colors for the fur.
That would create some lovely contrast for this picture! Does this sound like an approach that you would like to take?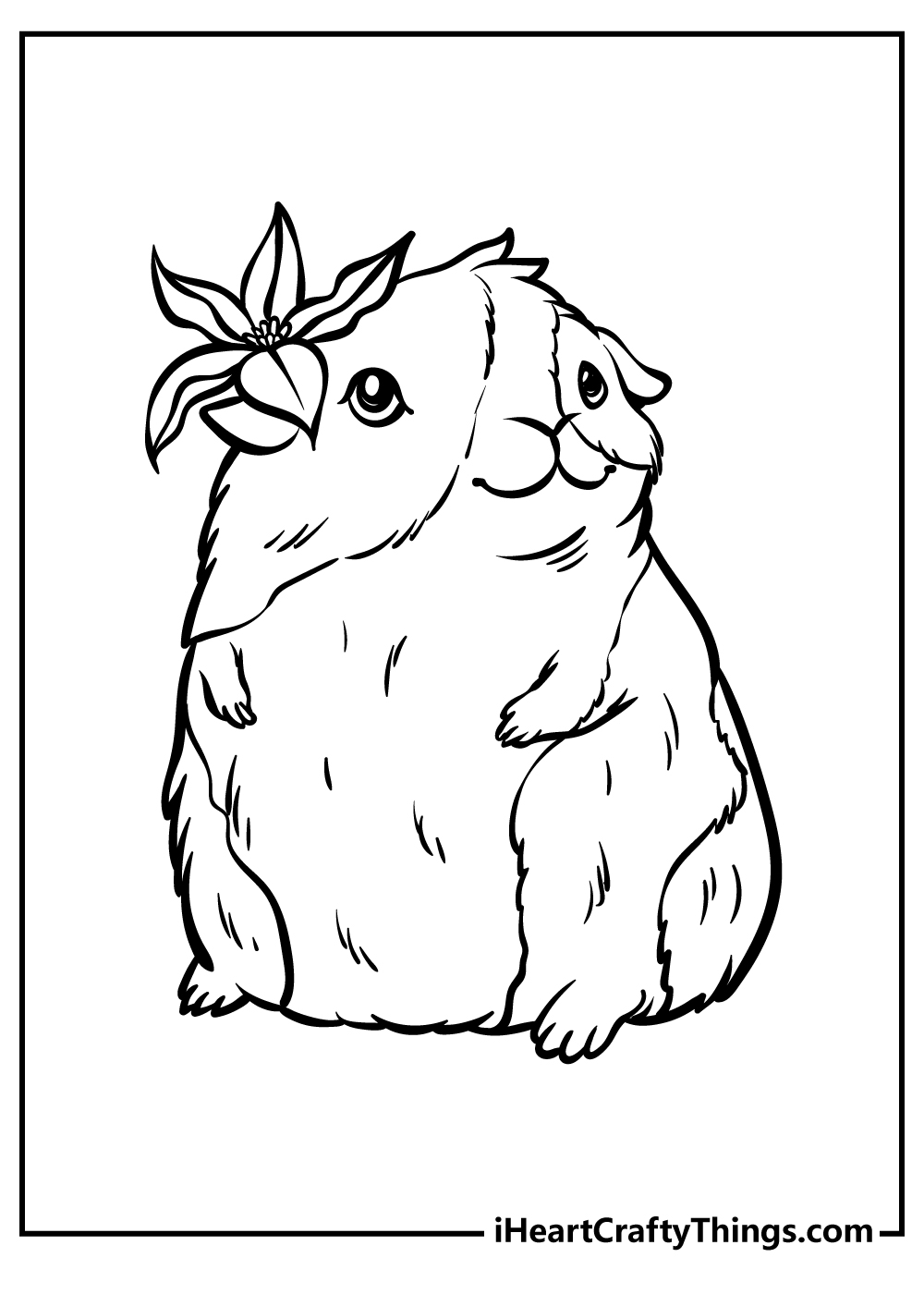 Up next, there is another super fluffy guy for you to color! This one has such a sweet facial expression, and it looks like a really calm little guinea pig.
We think that some milder colors would be perfect to portray the calmer look this one gives off. Remember that you can also draw in or color some background elements to really finish off the scene.
It's completely up to you from this point, so how will you go about finishing up this picture?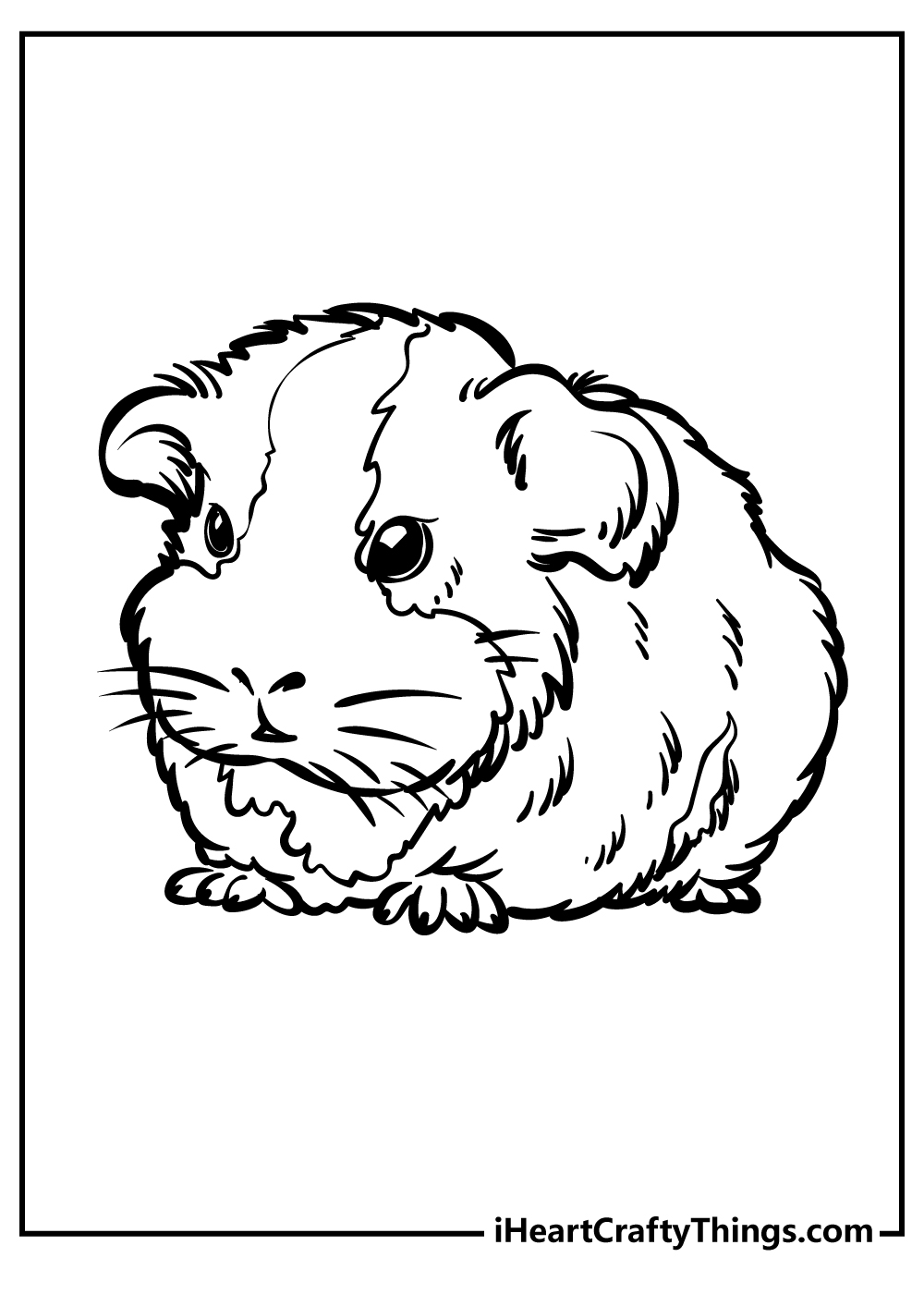 A flower theme is present in this wonderful guinea pig coloring sheet! This one is wearing a flower necklace, but there's an extra cute touch as the guinea pig is nibbling on the necklace.
Once again, this makes for an even cuter image, but it also allows for lots of bright, beautiful colors that you can incorporate.
This one could prove to be one of the most colorful pages in the collection, so we can't wait to see how you finish this one off!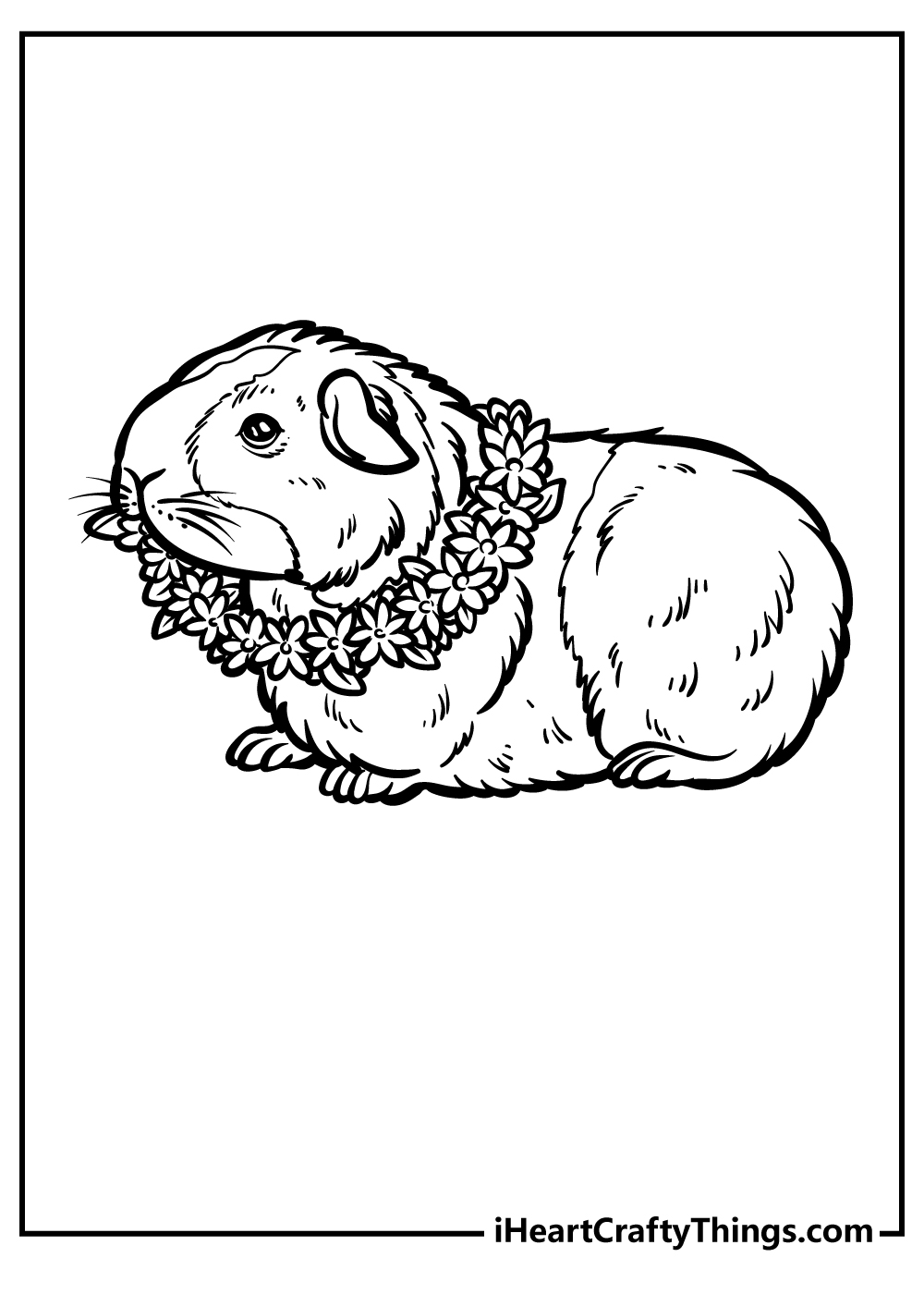 There's some more nibbling going on in this second to last image in the collection. This fluffy little guinea pig is nibbling on some plants, and it looks very content to be doing so!
We think that this is one of the cutest guinea pigs in this collection, and that's really saying something as they are all adorable.
What colors and art mediums will you use to finish off this sweet little fellow?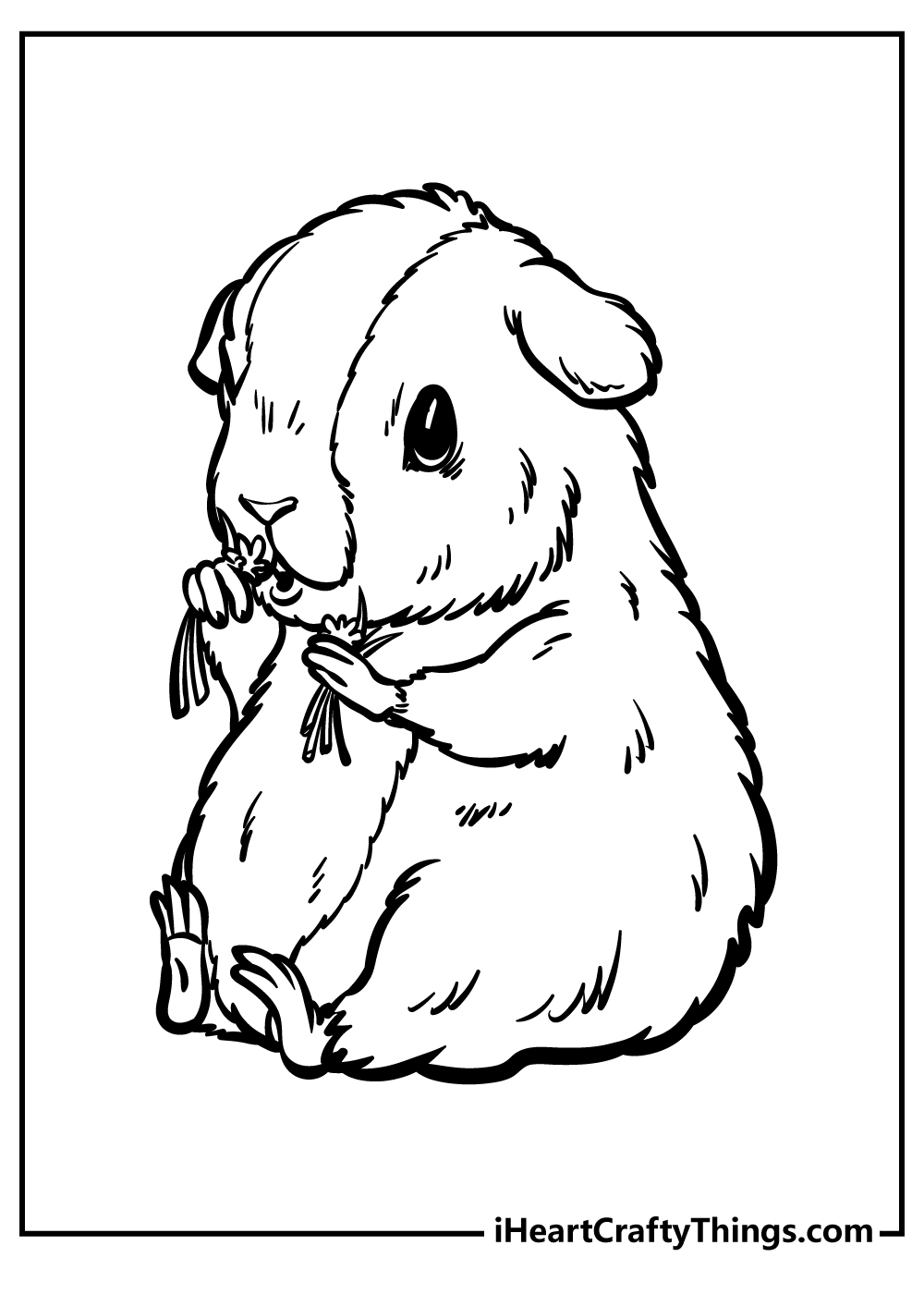 Here's one more fluffy guy for you to color in! This final guinea pig of the collection looks as if it was caught in the path of a hairdryer, as its hair is all over the place.
We think it would be fun to go all out with your favorite colors and art mediums to finish off this final guinea pig. What do you think you will choose for this fluffy cutie?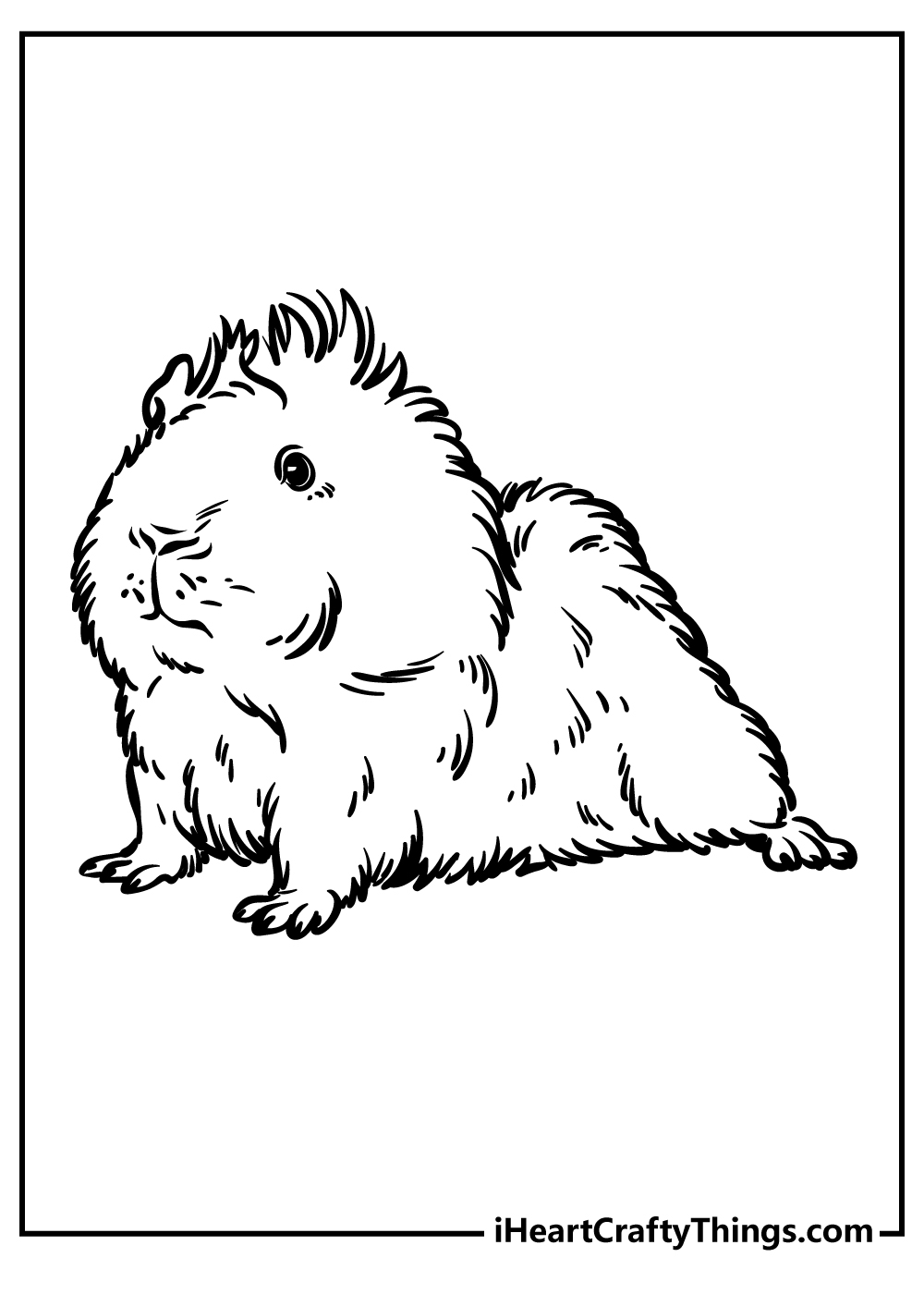 Guinea Pig Coloring Pages – Which will you choose?
This collection of free guinea pig coloring pages for kids had so many adorable little rodents to color in!
We hope that you enjoyed the variety on display with this collection, and we also hope you got to use all of your favorite colors and mediums.
Remember to print them out as many times as you like, and be sure to share the fun with friends and family!
There are tons of amazing coloring page collections that are free and waiting for you on our website. Check in often, as we have many more coloring goodies in store for you!
We would be thrilled to see your artworks, so please go ahead and share some finished guinea pig coloring printables that you've completed on our Facebook and Pinterest pages!