Your kids can now explore their creativity with these beautiful deer coloring pages.
Even better if they love spending their day in nature, as these deer coloring sheets can be easily printed, and your kid can enjoy coloring them outside.
These coloring pages featuring adorable deer that resemble the famous cartoon character Bambi are a fun activity for kids of all ages!
10 Brand New Deer Coloring Pages – Free to Print and Color
When your kid sees this cute deer that appears to be looking straight at them, almost feeling as if you are seeing it in real life, there is no denying that they will be excited to start coloring it.
This first deer coloring sheet shows a deer in a field, surrounded by various wildflowers.
This adorable deer has two large ears and eyes with long lashes and a few patches on its back, which can easily make you think of Bambi.
Its fluffy tail can be slightly seen at the back. To color the deer, you can use a light brown shade and white.
Behind, the flower bushes appear quite close to the deer. Your kid can color them in any shade they want by using yellow or blue and green for the grass.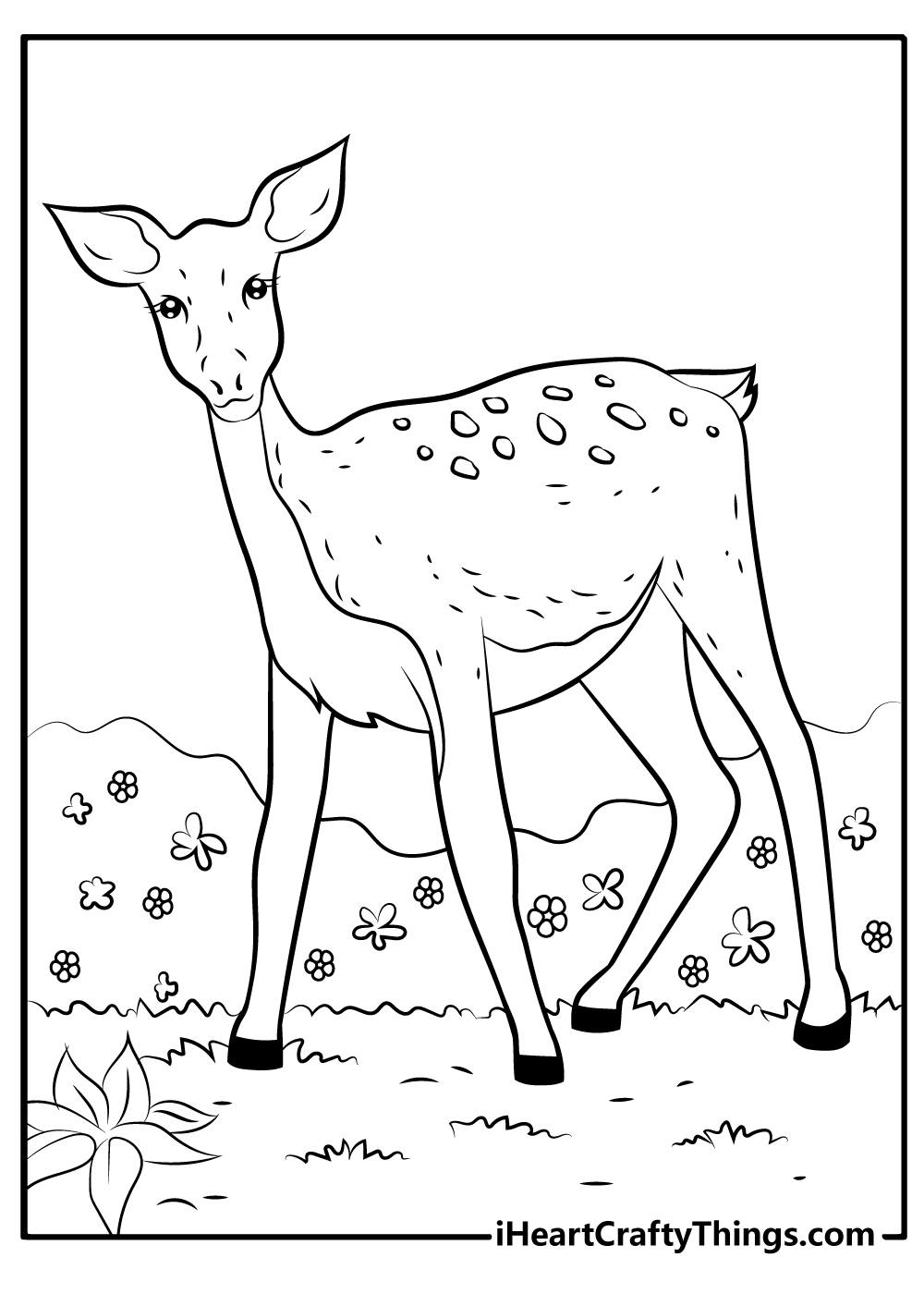 This next deer, which looks as if caught on camera while strolling around, appears on a mountain or plateau.
With fluffy clouds behind and flowers coming from the grass at its feet, the deer with its antlers and a black nose seems to enjoy the view from higher ground. Who wouldn't?
When it comes to coloring, you may want to choose a light blue color for the sky and white with a bit of grey for the clouds.
As for the flowers, your kid can play around with different shades they find appealing.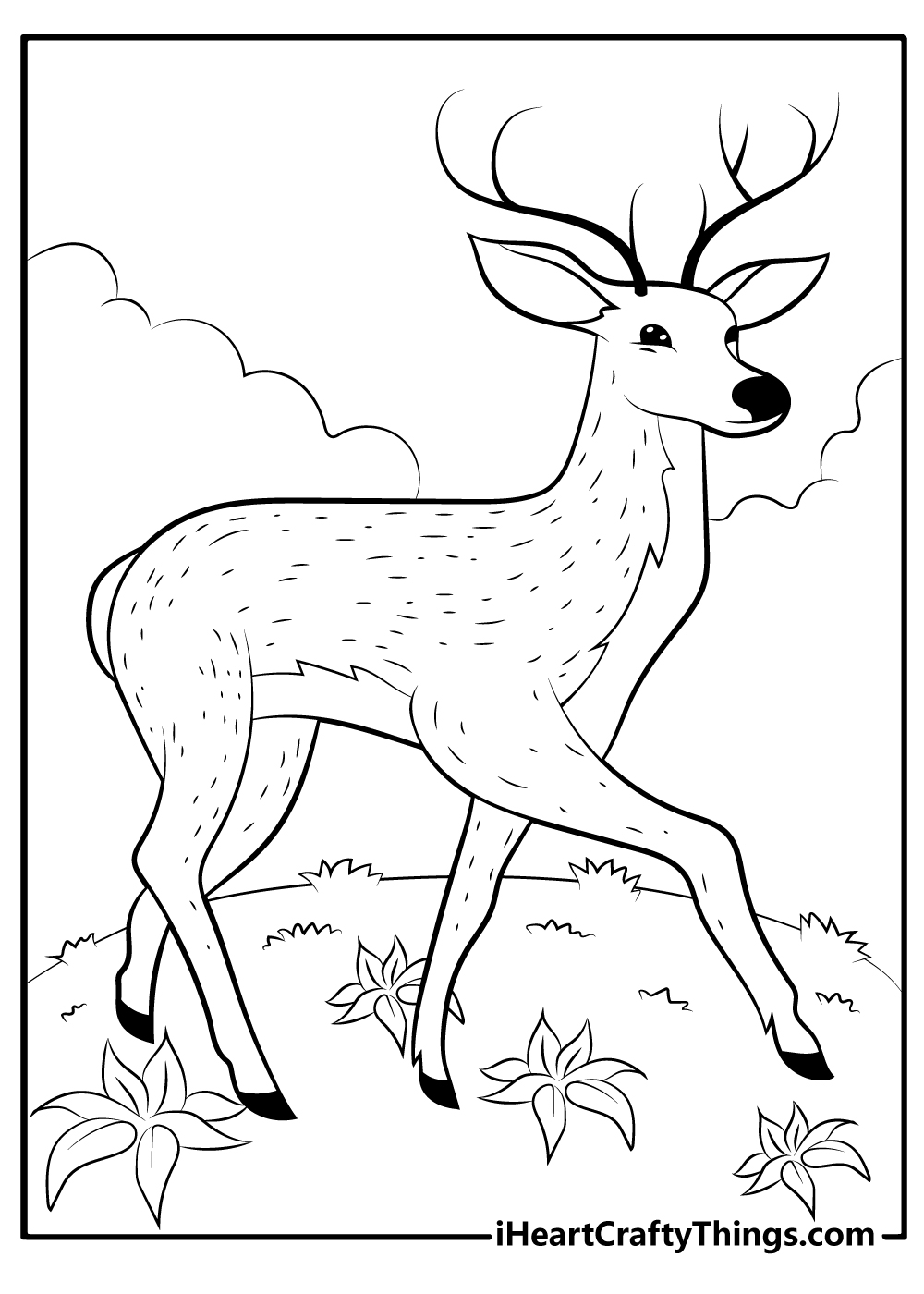 This pretty deer looks curious. Who knows what caught its attention? For example, if you think about Snow White, you could imagine the deer saw a little bird in a tree close by.
The deer's antlers are slightly bigger in this deer coloring sheet. Its eyes are like two black buttons. As for the nose, you can color it yourself, either black or dark brown.
Similar to the previous printables, the deer is in a field with flowers at its feet.
At this point, your child can let their imagination run wild and color the background completely blue as if this deer is also at a higher point, and behind it, you can only see the clear blue sky.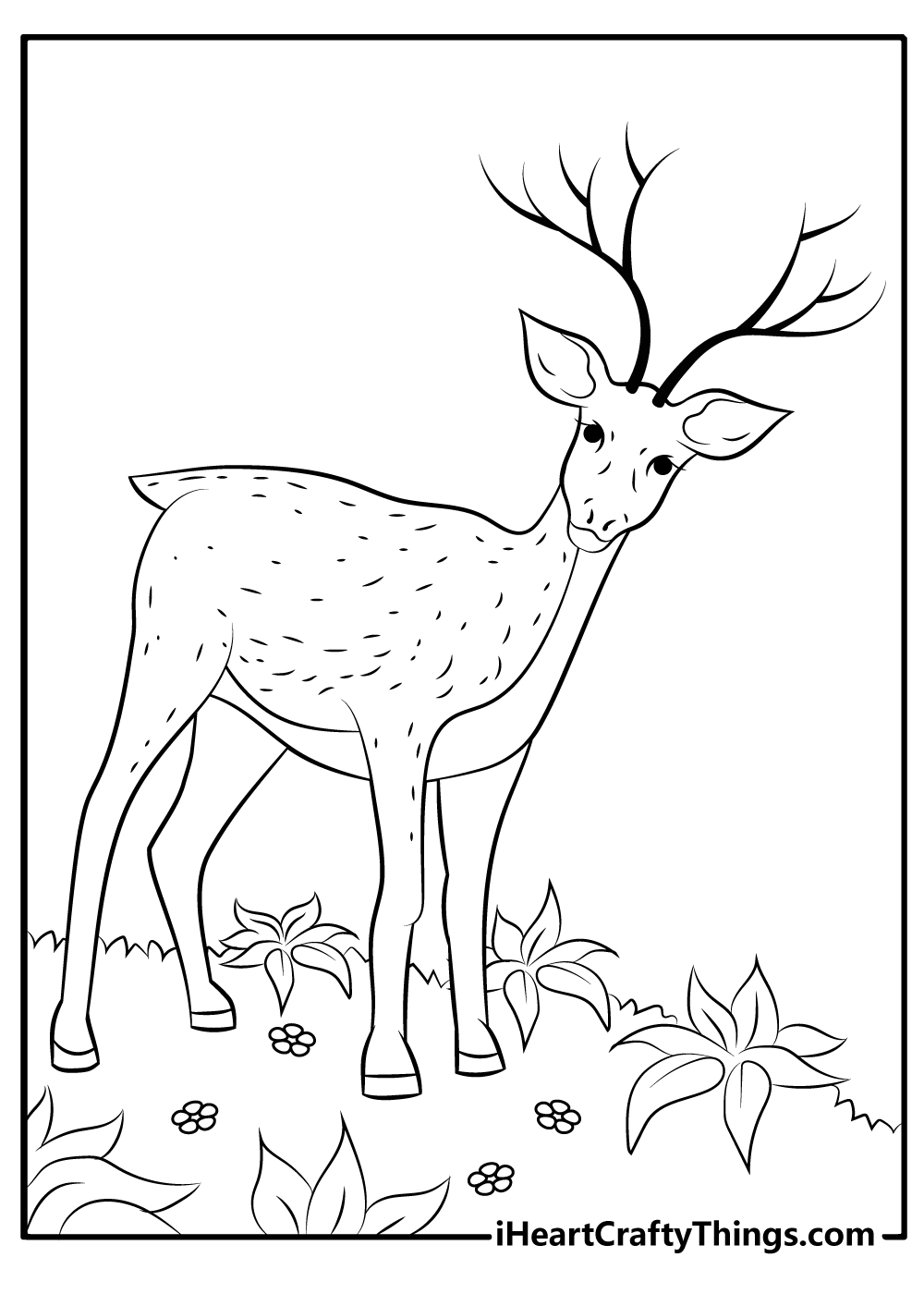 On this deer coloring page, you can see the deer in a field, but with the mountains showing their marvelous peaks appearing one behind the other.
In the far distance, there are a couple of birds. So, with this printable, your kid can enjoy coloring it while also learning.
The deer antlers are imposing, and its hooves are already colored in black.
You can opt for a dark brown to help this deer come to life. It appears to be looking in the distance – perhaps at the flock of birds?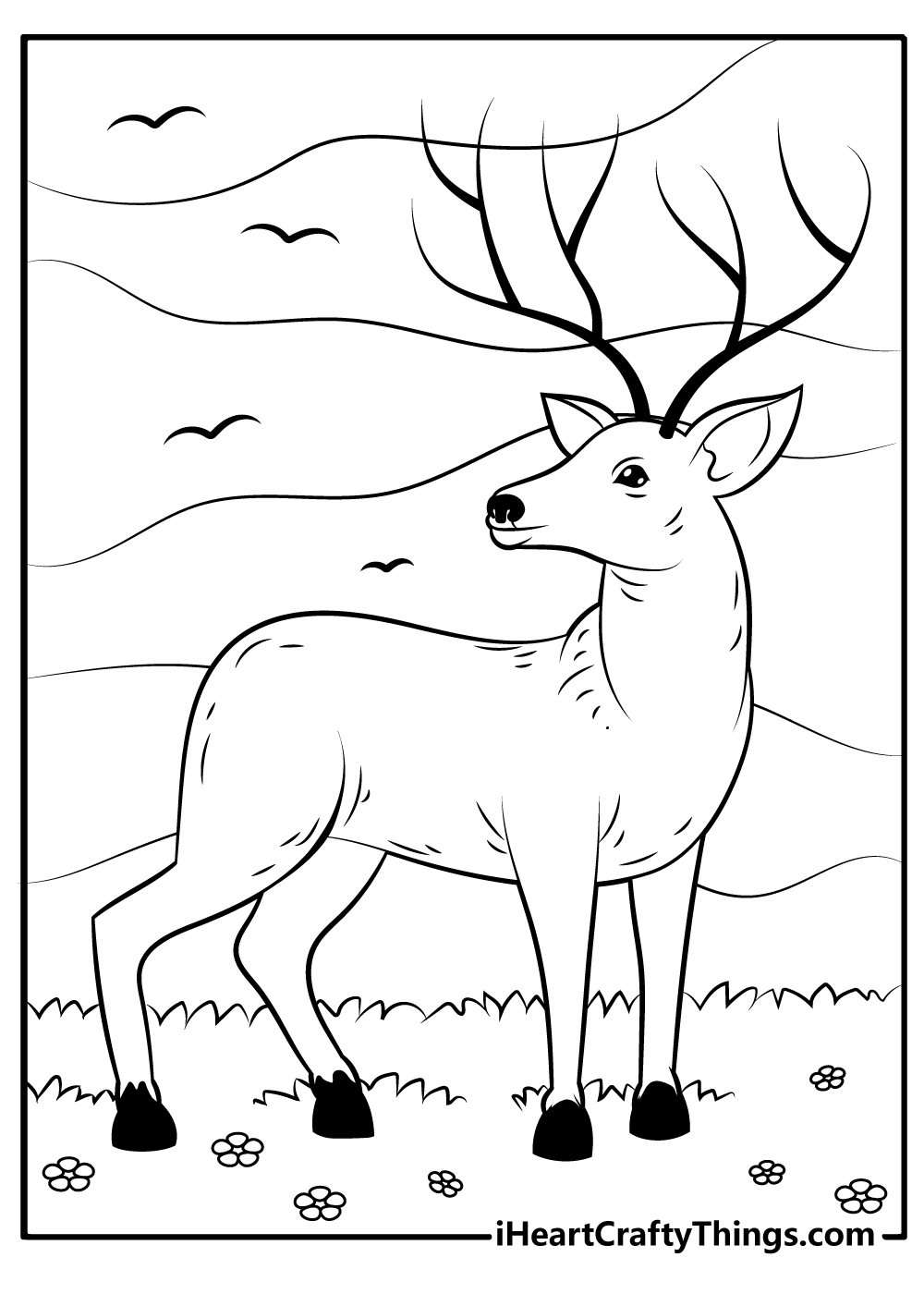 Doesn't it feel like this deer is actually posing for this deer coloring page? It sure does.
With its straight posture and antlers beautifully growing upwards, this cute deer looks like something caught its interest.
Your kid can play around with colors and paint the shrub arising from the ground in the background with different shades of green.
Or, if it is during autumn, you could add yellow to show this season's foliage.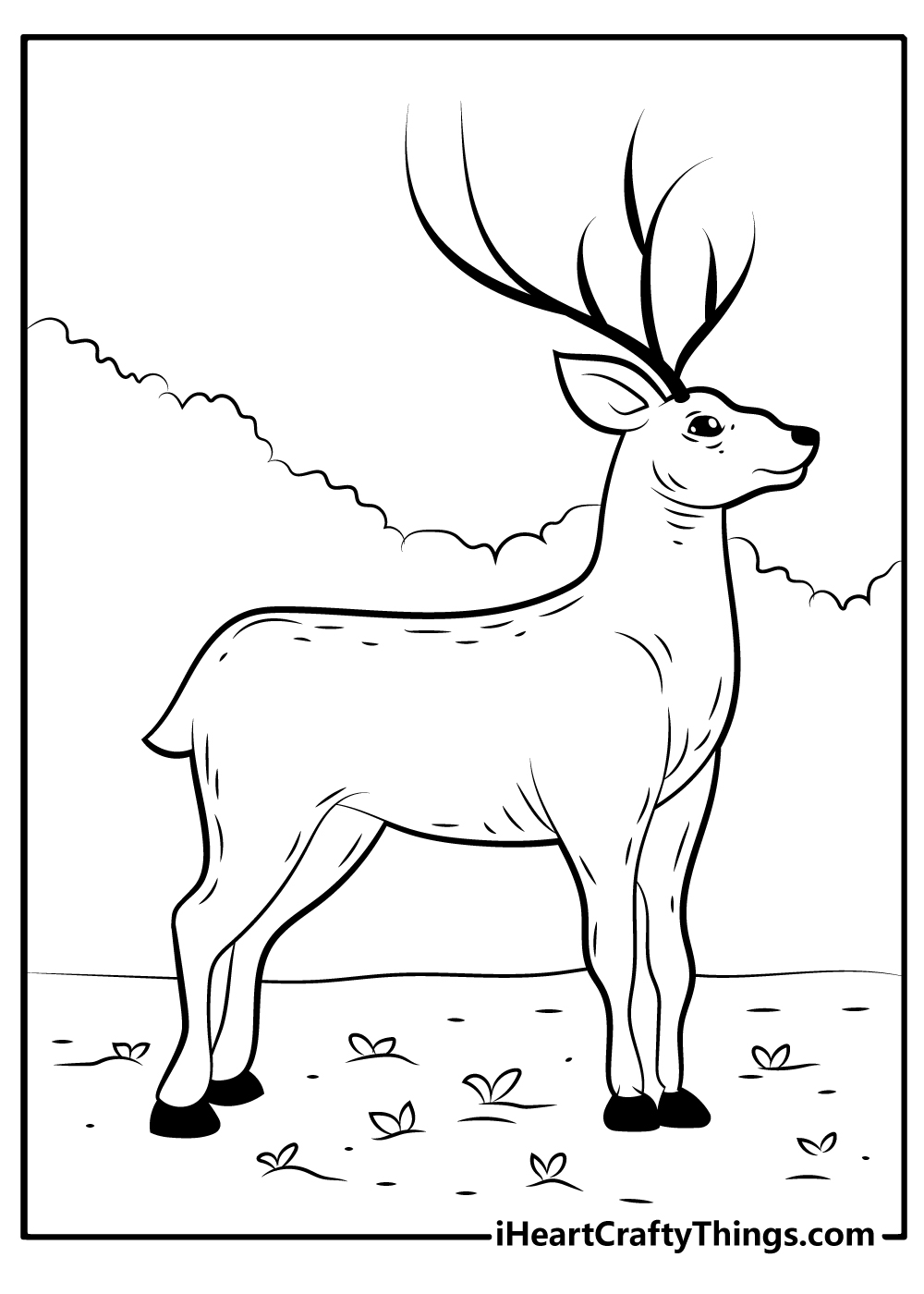 Now, this is an imposing posture! This quite serious deer with smaller yet thicker antlers has a collar-like fur around its neck and a few patches on its back, which you could color in white.
Behind the deer, the scenery is just as imposing. With a mountain's peak showing in the distance, rising from the clouds, this nice-looking deer is beautifully standing on a plateau.
Color-wise, your kid could play around with different shades for the mountains, even putting a bit of white at the top to portray snow.
Don't you think that a deer's antlers are so mesmerizing? We sure do. Just look at this beautiful deer, showcasing its fantastic headpiece.
This deer printable sheet is so easy to color that your kid will find it extremely enjoyable.
In a field surrounded by bushes and trees and a cute deer in the middle of it all, the contrast between various shades of green and the brown and beige for the deer is sure to look beautiful.
Now, you cannot wait to add color to this printable sheet, right?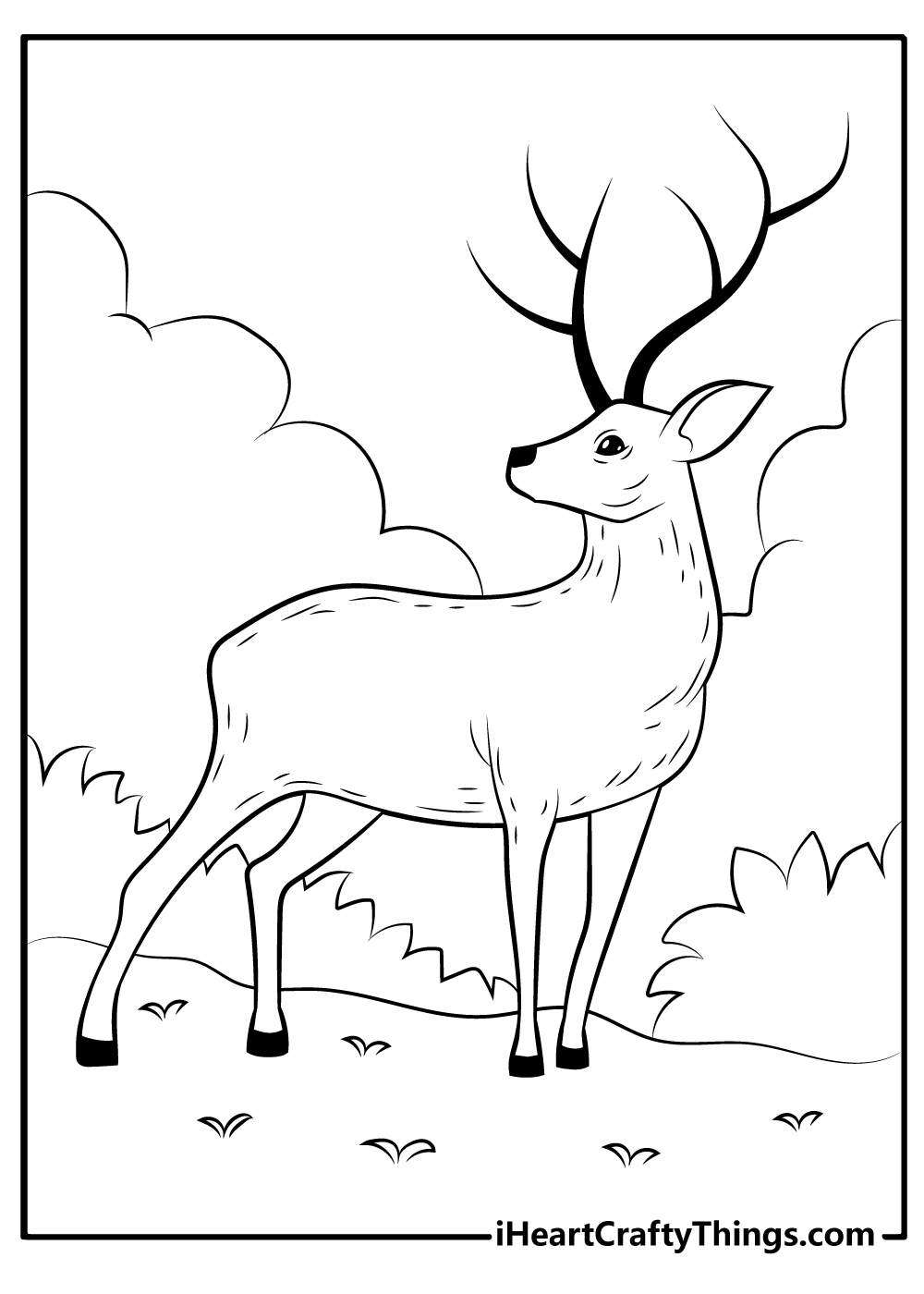 Deep in the woods, there are a lot of wonders! Just watch famous cartoons like Bambi, Snow White, Sleeping Beauty, or a more recent one, like Frozen.
For your creative child, coloring this beautiful deer printable is sure to be an exciting activity.
With full trees behind, this charming deer with a couple of patches on its lower back and long antlers is seen in a beautiful field with a few flowers emerging from the grass.
This would be a beautiful autumn scene if you chose shades of yellow and orange for the trees.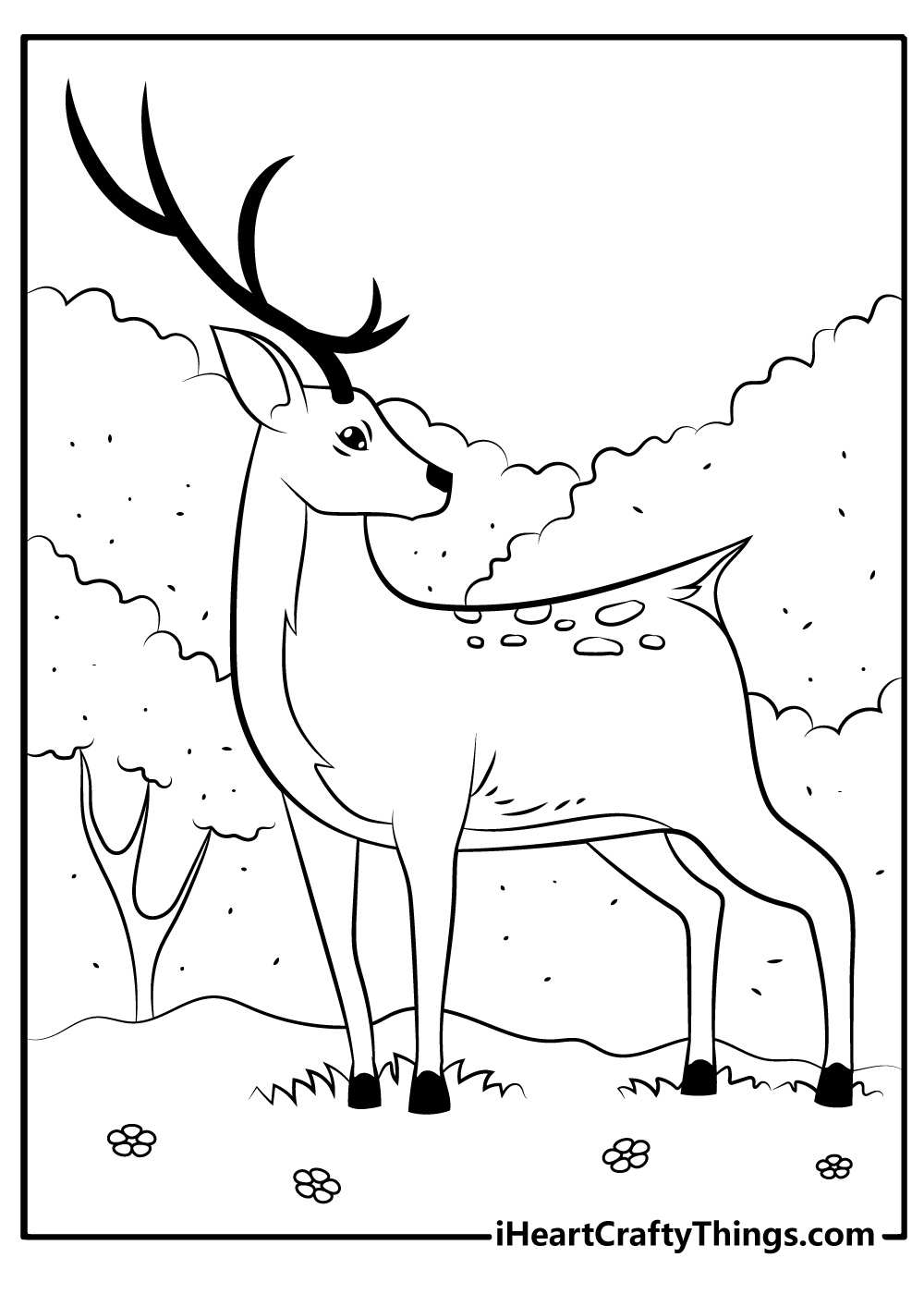 These deer coloring pages are definitely enjoyable for nature-loving kids who are passionate about learning about different animals.
Coloring this beautiful deer with long and marvelous antlers spotted in a forest clearing is a fun activity.
Just imagine coming across this friendly-looking deer while taking a stroll through the forest. It is undoubtedly a sight to see!
If your kid loves spending time outdoors, their creativity will help them bring this printable coloring sheet to life with green, brown, yellow, and red for the flowers.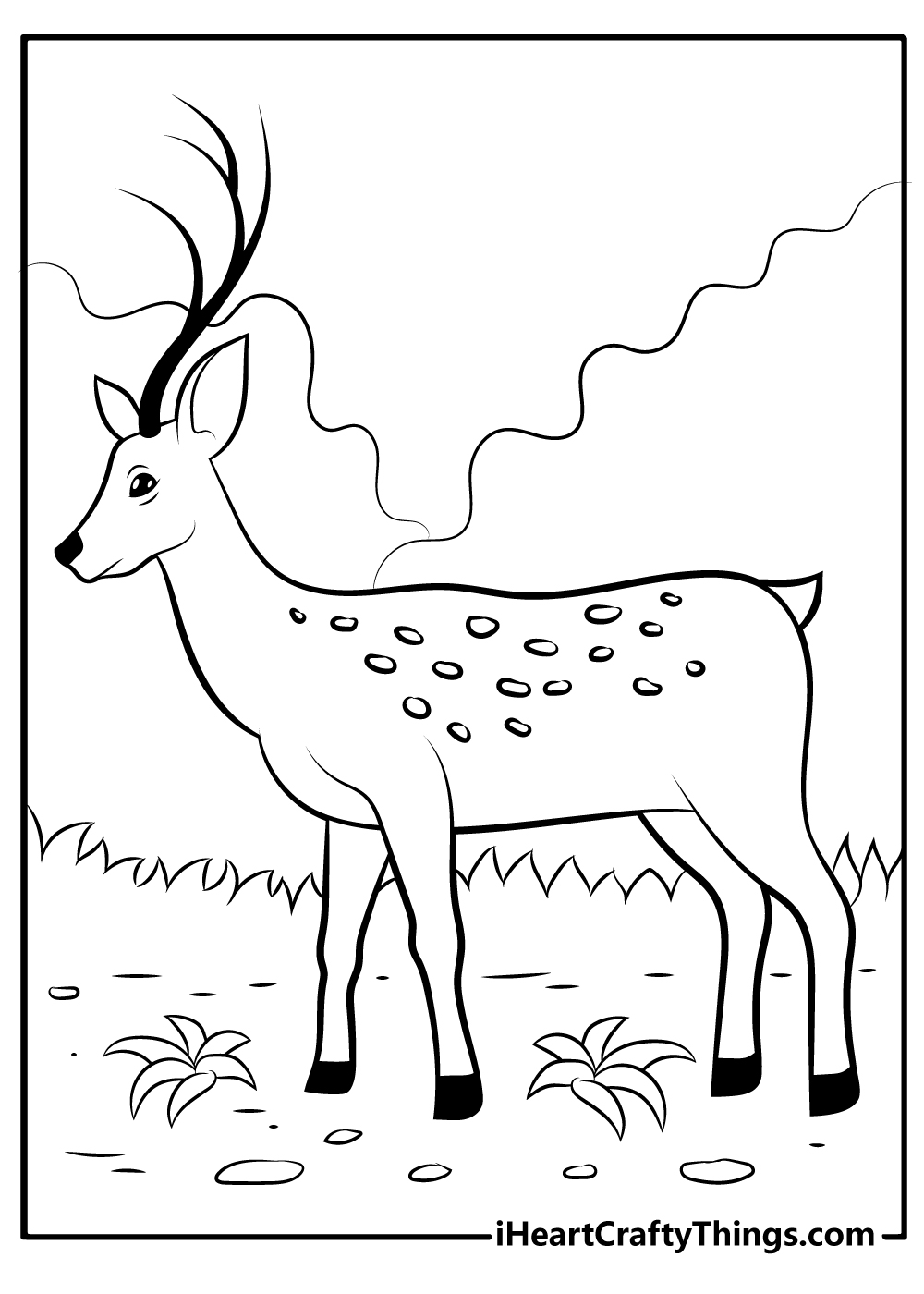 Last but not least, this delicate and adorable deer is surely inspired by the famous cartoon character Bambi. Add a bit of color, and you will see the resemblance straight away!
With a pretty and graceful look in its eyes, the deer on this coloring page has medium-sized years and a small black nose.
It has various patches on its back that with a combination of white and a bit of brown you can color them and they will look like in real life!
All these deer coloring pages are a wonderful pastime activity for your child!